Chocolate Cupcakes
Chocolate Cupcakes with Chocolate Buttercream – From scratch! These are the best chocolate cupcakes with melted chocolate in the batter!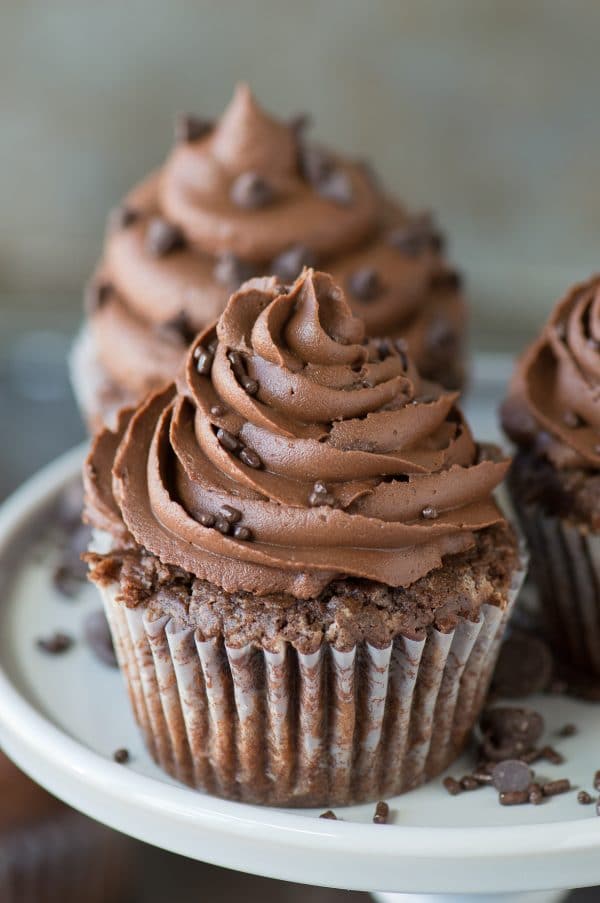 Did you see the photo I posted on Instagram of these cupcakes? You can follow me on
Instagram here
!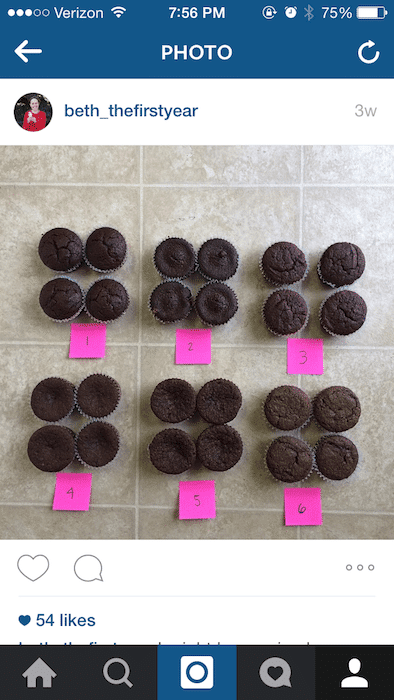 Chocolate Cupcakes Need REAL Chocolate!
6 batches of chocolate cupcakes, all in the name of research, as Ryan would say!
3 of them were awful, 2 of them were good, and 1 was the clear winner! I wanted to create a classic, go-to chocolate cupcake recipe. But I didn't want these cupcakes to get their only chocolate flavor from cocoa powder.. chocolate cupcakes need real chocolate in them!

Making Your Chocolate Cupcakes
But, if you put too much melted chocolate in your cupcake batter, you'll end up with cupcakes that look like batches #4 and #5. Super delicious because of their great chocolate flavor, but WAY too dense.. almost like a brownie.
Which I love brownies, but I was trying to make cupcakes :) Plus they don't look that pretty with caved in centers. So I spent a little more time in the kitchen perfecting this Chocolate Cupcakes recipe.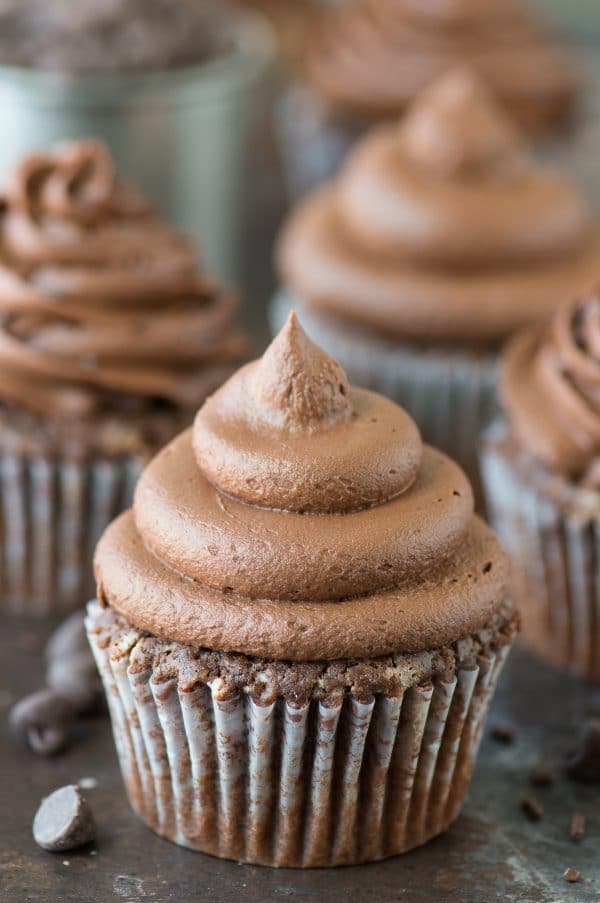 12 eggs and 1 container of cocoa powder later.. I needed more eggs and cocoa powder! But, I had the perfect chocolate cupcakes recipe!

Recipe Substitutions
Let's talk about recipe substitutions for a minute.
I used to be the girl who would substitute one ingredient for another because I thought it would be fine. I've learned the hard way – not all substitutions will give you the same effect.
This recipe calls for sour cream, which is something we usually don't have on hand, and maybe you don't either. However, I would not recommend substituting the sour cream for milk, which is what I tried in one of my batches. The cupcakes will turn out to be dry. So be sure to buy a small container of sour cream.
Our Chocolate Cupcakes recipe also calls for melted chocolate – 2 tablespoons of it. 2 tbsp melted chocolate is about 2 tbsp chocolate chips plus a tad more. I melt the chocolate chips in the microwave with a little bit of vegetable oil. You won't need to microwave that long, try 20 seconds, and add time from there.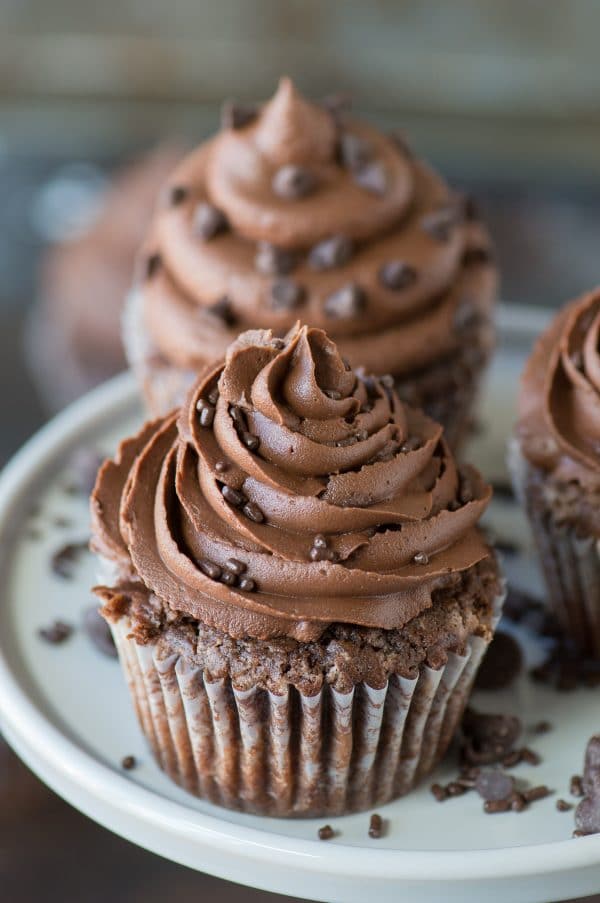 We LOVE this recipe and will make them again and again!
For a step-by-step of how to make this Chocolate Cupcakes recipe, watch this short video: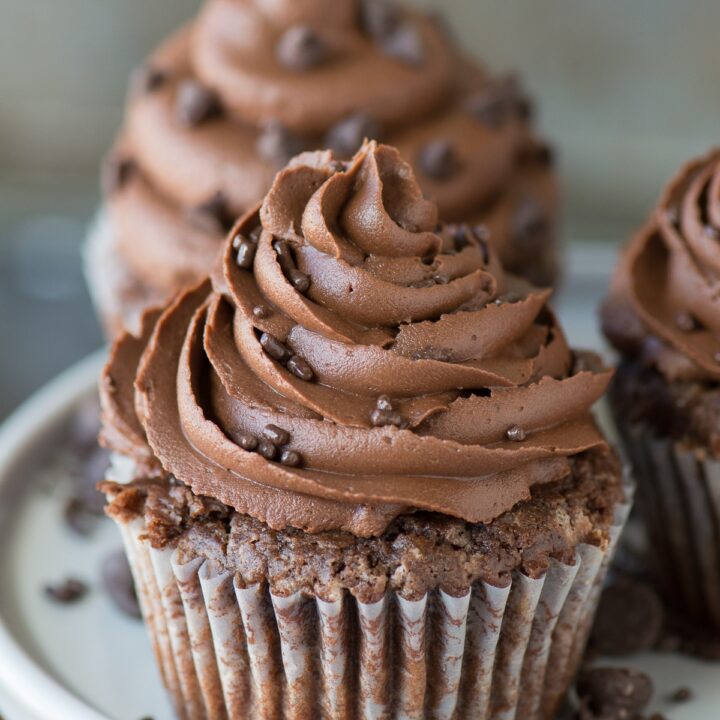 Chocolate Cupcakes
Additional Time:
1 hour
30 minutes
Total Time:
1 hour
30 minutes
From scratch chocolate cupcakes with chocolate buttercream! These are the best chocolate cupcakes with melted chocolate in the batter!
Ingredients
Chocolate Cupcakes
1/3 cup cocoa powder
1 cup all purpose flour
1 tsp baking powder
1/2 tsp baking soda
1/4 tsp salt
1 stick butter, room temperature
3/4 cup sugar
2 eggs
1 tsp vanilla extract
2/3 cup sour cream
2 tbsp melted chocolate, cooled (which is about 2 tbsp of chocolate chips)
Chocolate Buttercream
1 stick butter, room temperature
1/2 cup vegetable shortening
3/4 cup cocoa powder
2-2.5 cups powdered sugar
Instructions
Chocolate Cupcakes
Preheat the oven to 350 degrees F. Line a muffin tin with 12 cupcake liners.
In a small mixing bowl, combine the cocoa powder, flour, baking powder, baking soda and salt. Gently mix using a spoon.
In a larger mixing bowl, combine the butter and sugar, beat using an electric mixer until fluffy. Add in the eggs and vanilla, lightly beat.
Add in the sour cream and melted chocolate, mix by hand using a spatula.
Add half of the flour mixture to the wet ingredients, do not dump it in, rather take spoonfuls of the flour mixture and gently shake it over the wet ingredients, as if you were sifting in the flour. Fold in the mixture until no flour remains. Repeat with the other half of the flour, folding it in and scraping the sides and bottom of the bowl to incorporate everything.
Fill the cupcake liners 1/2 full with batter.
Bake for 17-25 minutes or until a toothpick inserted in the center comes out clean.
Allow the cupcakes to cool completely before adding the frosting.
Chocolate Buttercream
In a mixing bowl, combine the butter and vegetable shortening, beat using an electric mixer until fluffy. Add in the cocoa powder, and gently mix by hand with a spatula. Begin to add the powdered sugar, about 1 cup at a time, mixing by hand. Continue adding powdered sugar until the frosting no longer looks wet and tastes good to you. Then I use my electric mixer one last time to make sure the powdered sugar is really incorporated and ready to go.
To assemble
Place the chocolate buttercream in a piping bag fit with your desired tip. Be sure to push the buttercream down into the bag, and twist the top a few times to secure the bag. Pipe the frosting onto the cupcakes.
Products used to make this recipe
(may include affiliate links)