Coffee Frosting
4 ingredient coffee frosting buttercream recipe with instant coffee granules! This is now our go-to coffee frosting for chocolate cake!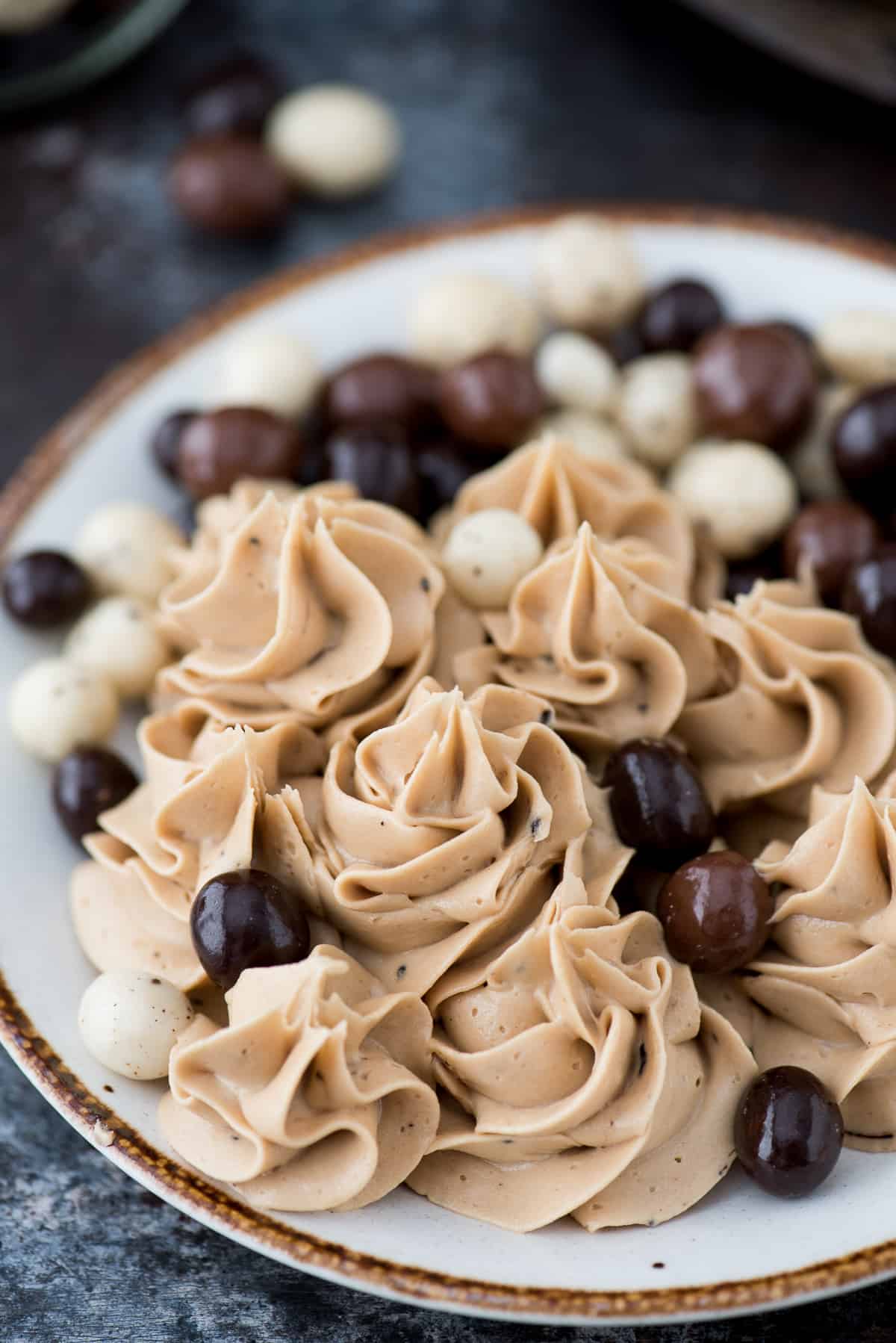 This coffee frosting is dreamy!
I will say this time and time again – my body cannot handle caffeine but I still LOVE the taste and smell of coffee.
It's a bummer that even decaf coffee can still affect me so I usually get my coffee fix through baked goods. Like espresso cheesecake, coffee whipped cream, espresso brownies. They are all good.
And how did I forget about coffee ice cream?! That is probably where it all started.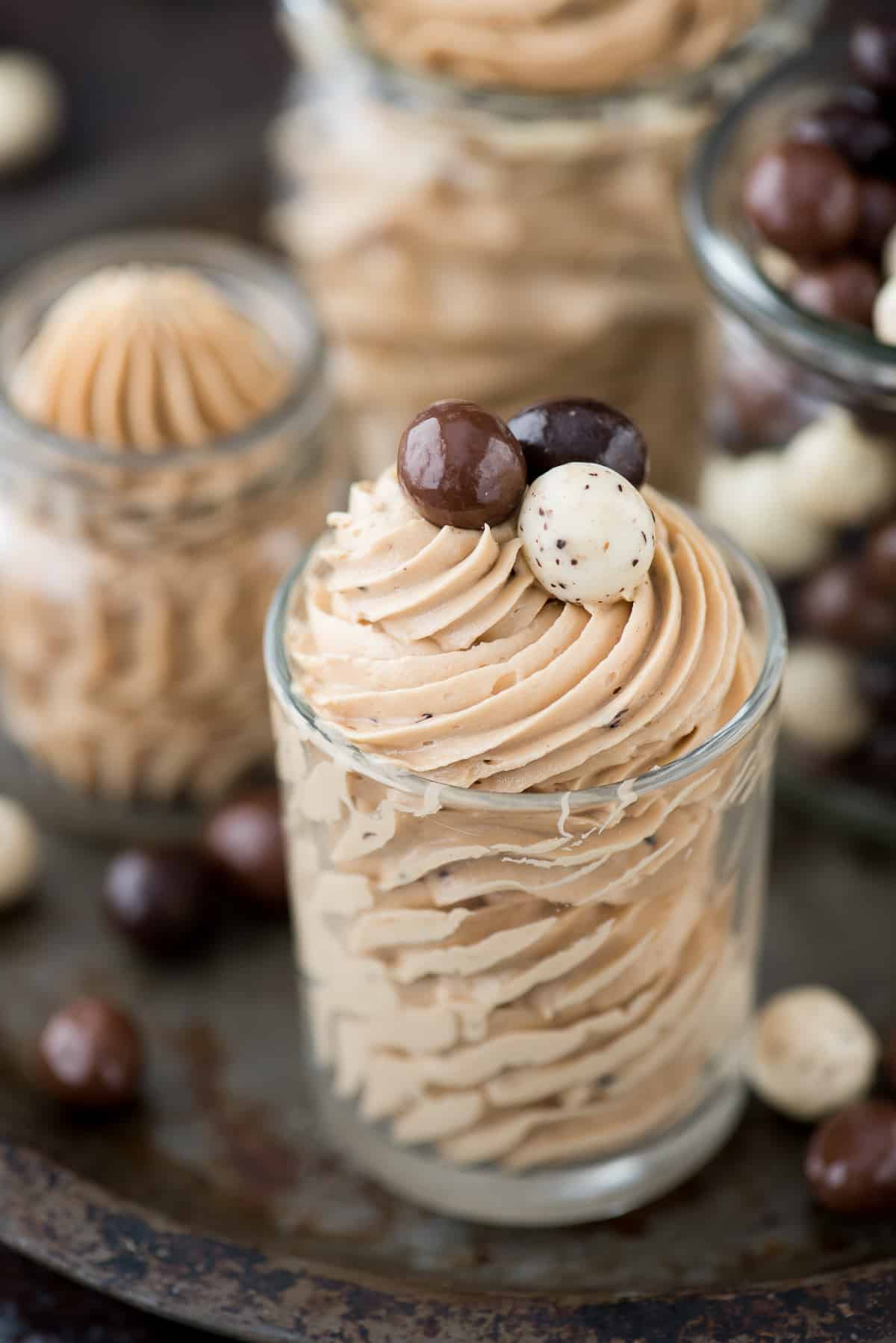 Types of Buttercream
If you're new to the world of buttercream, there's actually different types – American, Swiss, Italian. American buttercream is the sweetest of them and consists of beating butter and powdered sugar together until you have a light, airy texture.
Buttercream is just a fancy name for frosting. I use them interchangeably now, but before I was a blogger I never used the term buttercream.
Why do I have air bubbles in my frosting and how can I get rid of them?
Air bubbles form when whipping the frosting, which is a necessary step in making buttercream! But you can reduce the amount of air bubbles by beating the frosting on low speed for a minute or by hand mixing the frosting. You are essentially pushing out the air bubbles.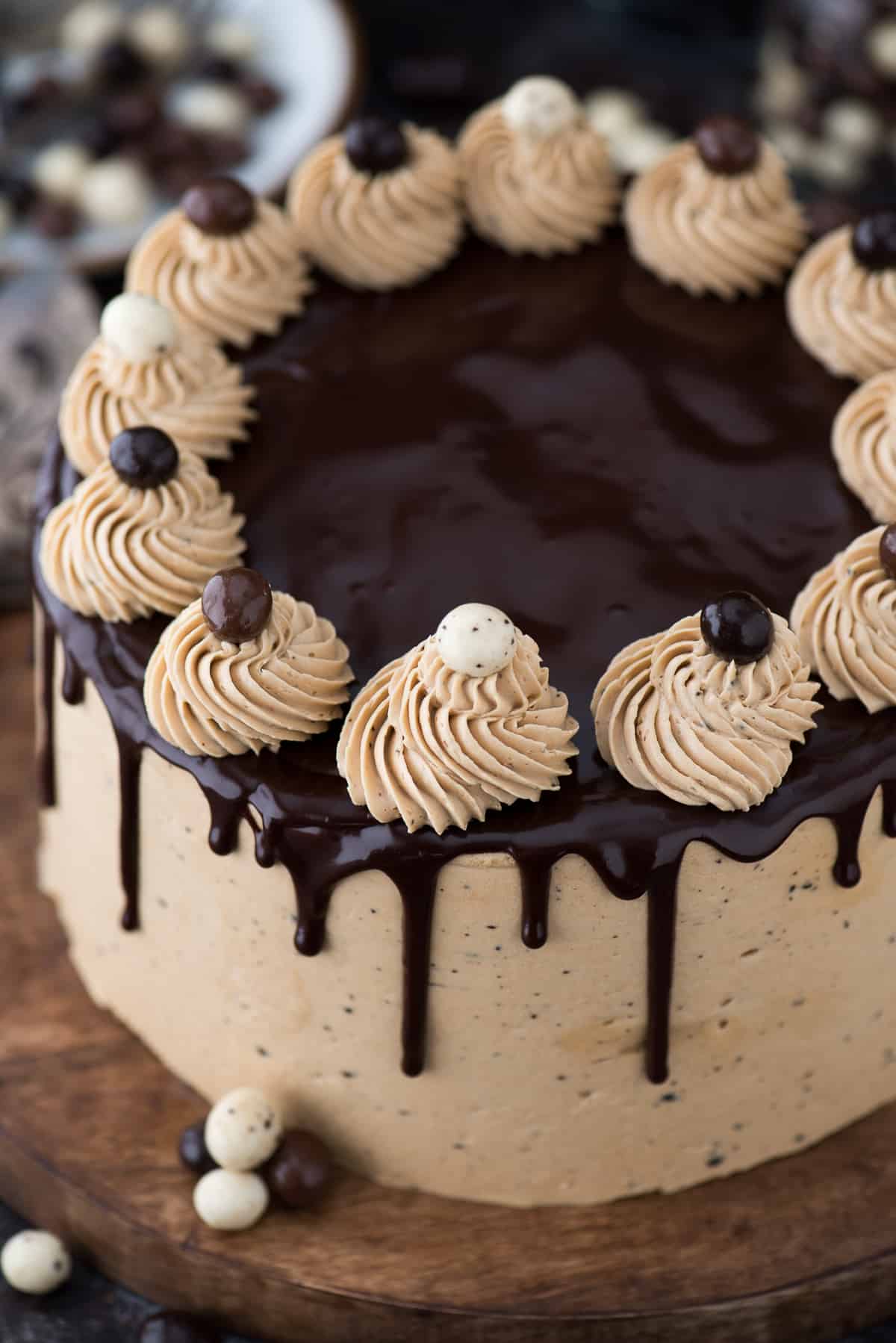 Instant Coffee Granules
One of the easiest ways to make coffee buttercream is to use instant coffee granules. The granules will help give the frosting big espresso flavor without making it too liquid-y, unlike if you were to put actual brewed coffee into the frosting. I like to use decaf instant coffee granules, but you can use regular if you'd like.
I also like that some of the granules don't dissolve completely so the buttercream has flecks of coffee bits in it.
If you need a starting place for what to use this espresso buttercream with 2 layer espresso chocolate cake!
Cake to pair with coffee frosting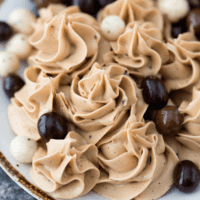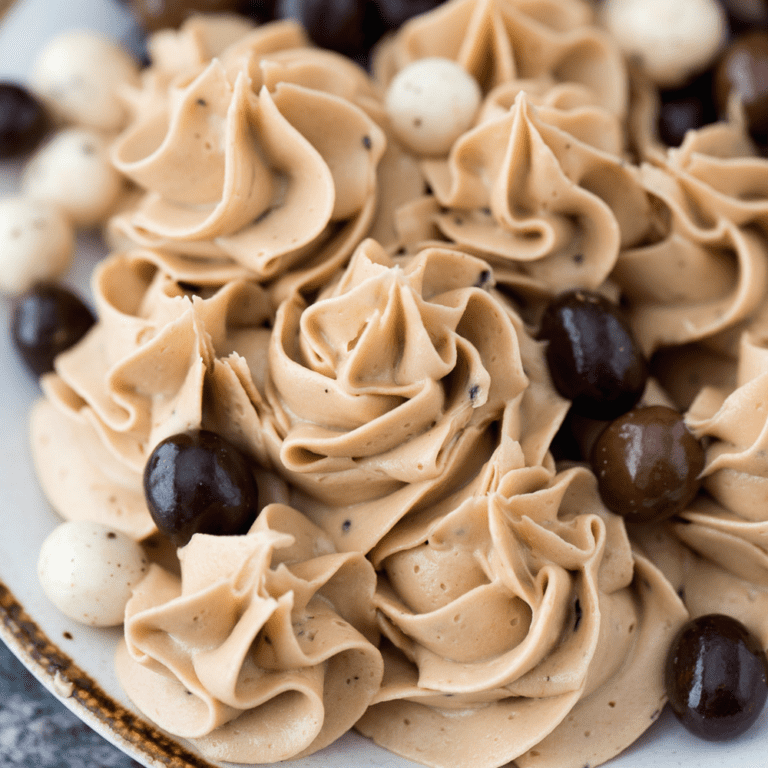 Coffee Frosting
4 ingredient coffee frosting buttercream recipe with instant coffee granules! This is now our go-to coffee frosting for chocolate cake!
Ingredients
2

sticks

unsalted butter

,

room temperature (1 cup)

½

cup

vegetable shortening

,

can substitute with butter

2

tsp

instant coffee granules dissolved in 2 tbsp milk

additional 1-2 tsp instant coffee granules

2-4

cups

powdered sugar
Instructions
In a mixing bowl, combine the butter and vegetable shortening, beat using an electric mixer until fluffy, 1 minute.

Add in the instant coffee granules that you dissolved in the milk.

Add in additional instant coffee granules, about 1 tsp at a time until you get your desired coffee flavor.

Begin to add the powdered sugar, about 1 cup at a time, mixing by hand first, then with the electric mixer. Continue adding powdered sugar until the frosting tastes good to you, is well mixed, and pipe-able.
Notes
This recipe will make enough frosting to pipe 12 cupcakes. If you're wanting to cover a cake, double the recipe.
Serving:
2
tablespoons
,
Calories:
217
kcal
,
Carbohydrates:
15
g
,
Protein:
1
g
,
Fat:
18
g
,
Saturated Fat:
9
g
,
Polyunsaturated Fat:
2
g
,
Monounsaturated Fat:
6
g
,
Trans Fat:
1
g
,
Cholesterol:
30
mg
,
Sodium:
2
mg
,
Potassium:
13
mg
,
Sugar:
15
g
,
Vitamin A:
353
IU
,
Calcium:
4
mg
,
Iron:
1
mg