Lemon Sugar Cookies
Lemon cookies rolled in sugar – a citrus summer cookie!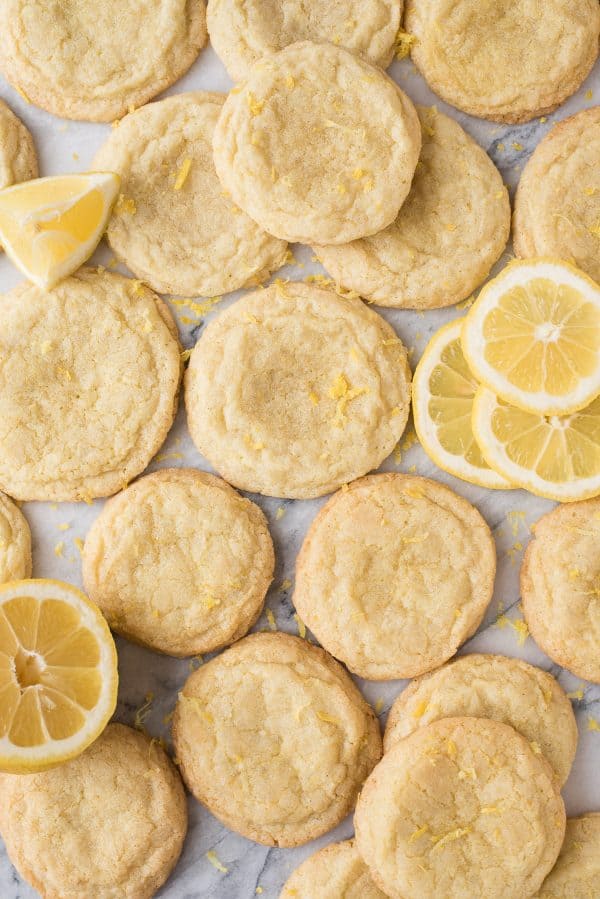 I spent a whole week baking lemon cookies.
The first batch failed miserably. The cookies were paper thin and see through!!
The batches got better as I made small tweaks to the recipe. By the time I was happy with the recipe, I had made it 5 times – that's about 2 dozen cookies per batch, or 120 cookies in total!
Ryan took a lot of those with him to work. He said a few coworkers asked him if we had an industrial sized oven, lol!
But I wish I did have 2 ovens!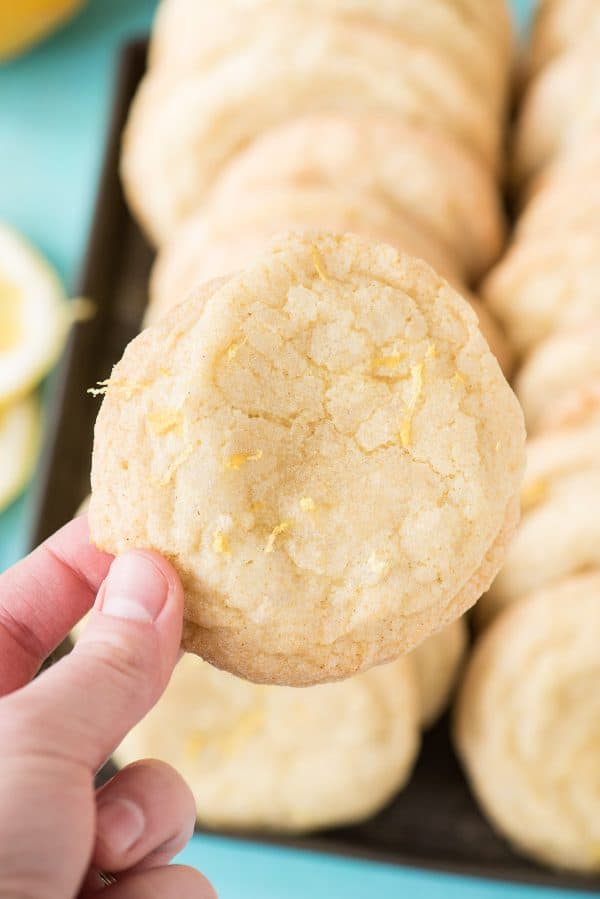 I wanted these lemon sugar cookies to be soft, but chewy – this is the ultimate cookie dichotomy! Isn't it weird how both of those characteristics can be true of a cookie at the same time?
They are chewy on the outside and soft on the inside. And they are just puffy enough! And the lemon flavor is everything you'd want it to be in a cookie.
I want to point out that I recommend chilling the cookie dough for 30-60 minutes for baking, however this step isn't necessary.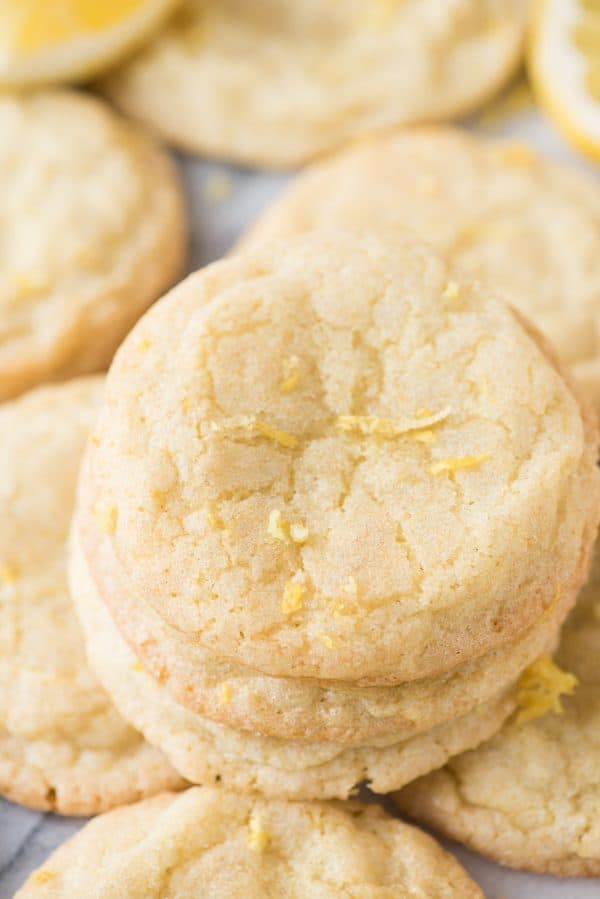 Why refrigerate cookie dough before baking?
The King Arthur website explains, "Chilling cookie dough before baking solidifies the fat in the cookies. As the cookies bake, the fat in the chilled cookie dough takes longer to melt than room-temperature fat. And the longer the fat remains solid, the less cookies spread."
Refrigerating the cookie dough will help produce cookies that are chewier and softer because they won't spread as much.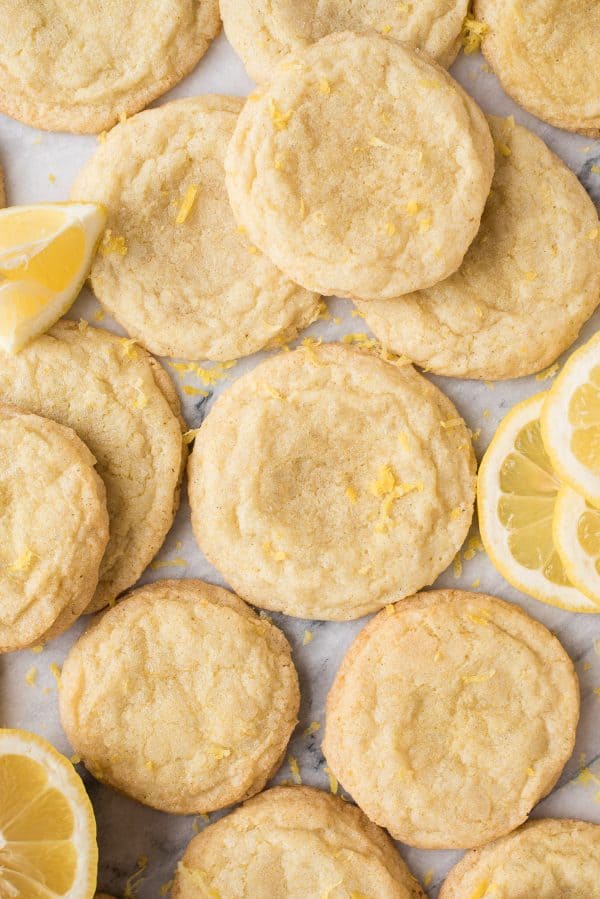 But I get it. Sometimes I really dislike chilling dough. So here's my suggestion – if you can fit it in, refrigerate the dough (even for 15 minutes). If not, at least refrigerate the dough between baking batches. For example, if you can fit 8 cookies on one baking sheet, bake those and put the dough in the fridge while you're waiting.
One more tip – use a silicone baking mat! Are you using one? You can buy them on amazon! I never bake cookies without one!
For a step-by-step of how to make this lemon sugar cookie recipe, watch this short video: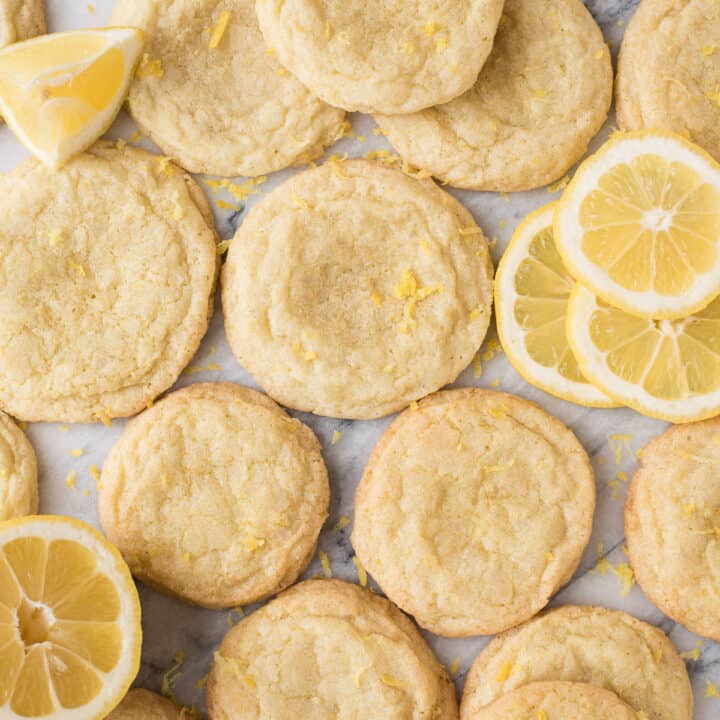 Lemon Sugar Cookies
Lemon cookies rolled in sugar - a citrus summer cookie!
Ingredients
2 sticks unsalted butter, room temperature (1 cup)
1 & 1/2 cups sugar
3 tbsp lemon zest
2 tbsp fresh lemon juice
1 large egg
3 cups all purpose flour (or my fav gluten free flour from King Arthur)
1 tsp baking soda
1/4 tsp salt
1/4 cup sugar, for rolling cookies
Instructions
In a mixing bowl, beat the butter, sugar, and lemon zest with an electric mixer for 1-2 minutes.
Add in the lemon juice and egg, beat again to combine.
Gradually add in the flour, baking soda and salt, mixing by hand with a spatula until combined.
Cover the bowl with plastic wrap and refrigerate for 30-60 minutes. This step isn't necessary, but refrigerating the dough helps to produce thicker cookies.
Remove the dough from the fridge. Pre-heat the oven to 350ºF. Place 1/4 cup sugar in a bowl for rolling the cookies.
Use a cookie scoop to form balls, rolling each ball into the sugar. Place the cookies 2 inches apart on a silicone lined baking sheet. Bake for 11-13 minutes or until the edges have a faint golden color.
Allow the cookies to cool on the baking sheet for 5 minutes, then move to a cooling rack to cool completely.
Products used to make this recipe
(may include affiliate links)