Cream Cheese Swirl Brownies
Cream cheese swirl brownies are my favorite dessert mash up! These cheesecake brownies are the right amount of fudgy and chewy with a ribbon of cream cheese swirled in. We also tested this recipe multiple times and found it makes AWESOME gluten free brownies!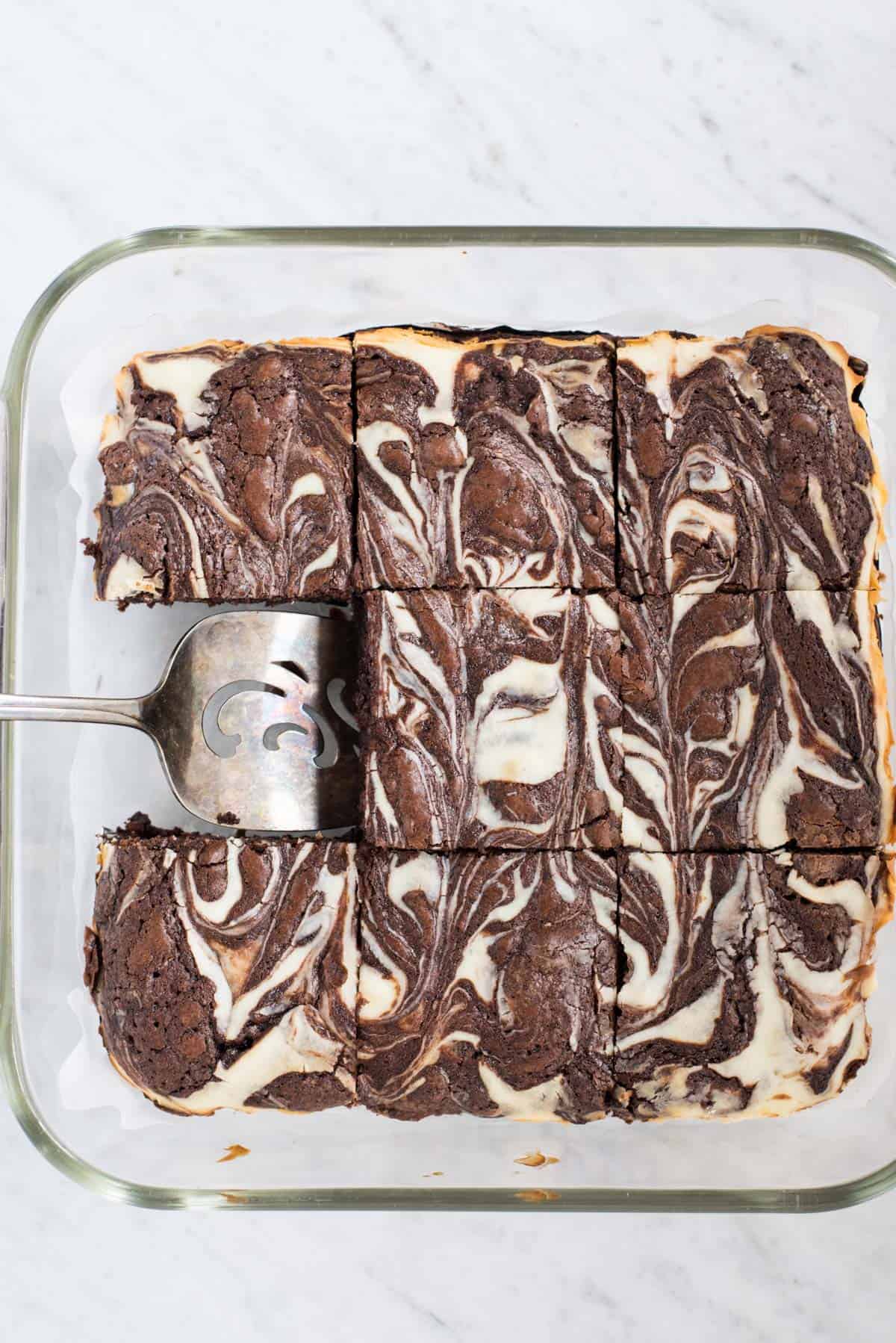 I spent an entire week working on developing our classic homemade brownie recipe.
I had never shared MY classic brownie because I didn't even know what that meant to me. Do I like fudgy, chewy, or uber chocolatey brownies best?
It was tough, but I spent a week figuring it out!
After I nailed my version of a classic brownie – which is still fudgy but definitely chewy – I wanted to make a cream cheese swirled brownie variation too!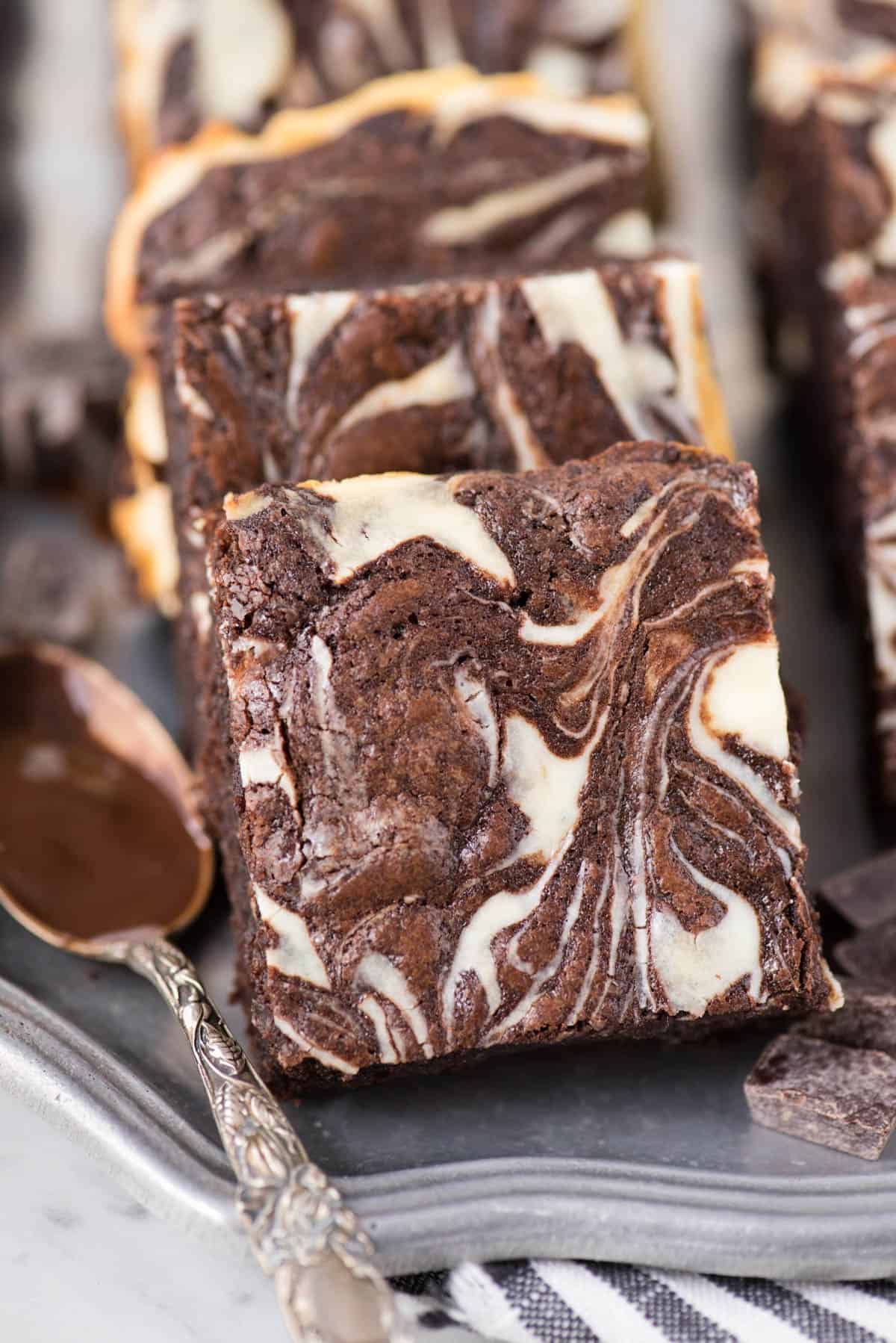 How would I describe this brownie?
It's fudgy, but not "I'm eating a molten chocolate fudgy brownie". Its got that crispy and shiny outside. And it's slightly chewy (and can be more chewy if you bake it longer). Then there's the ribbon of cream cheese swirled in! This brownie reminds me that there is nothing better than cheesecake & brownies in one.
Are you interested in the science behind brownies? Keep reading!
How to make a chewy cheesecake brownie
I originally started with a brownie that was really heavy on melted chocolate. Lots of melted chocolate is what makes a brownie super fudgy. But in order to achieve a chewier texture, I cut back on the amount of melted chocolate and increased the amount of cocoa powder.
How to make a brownie with a crispy, shiny top
After consulting many sites, beating the sugar with the eggs is what I discovered works the best to get the crispy, shiny top on the brownies. I suppose it's not that simple – the amount of granulated sugar in the recipe plays an important part too.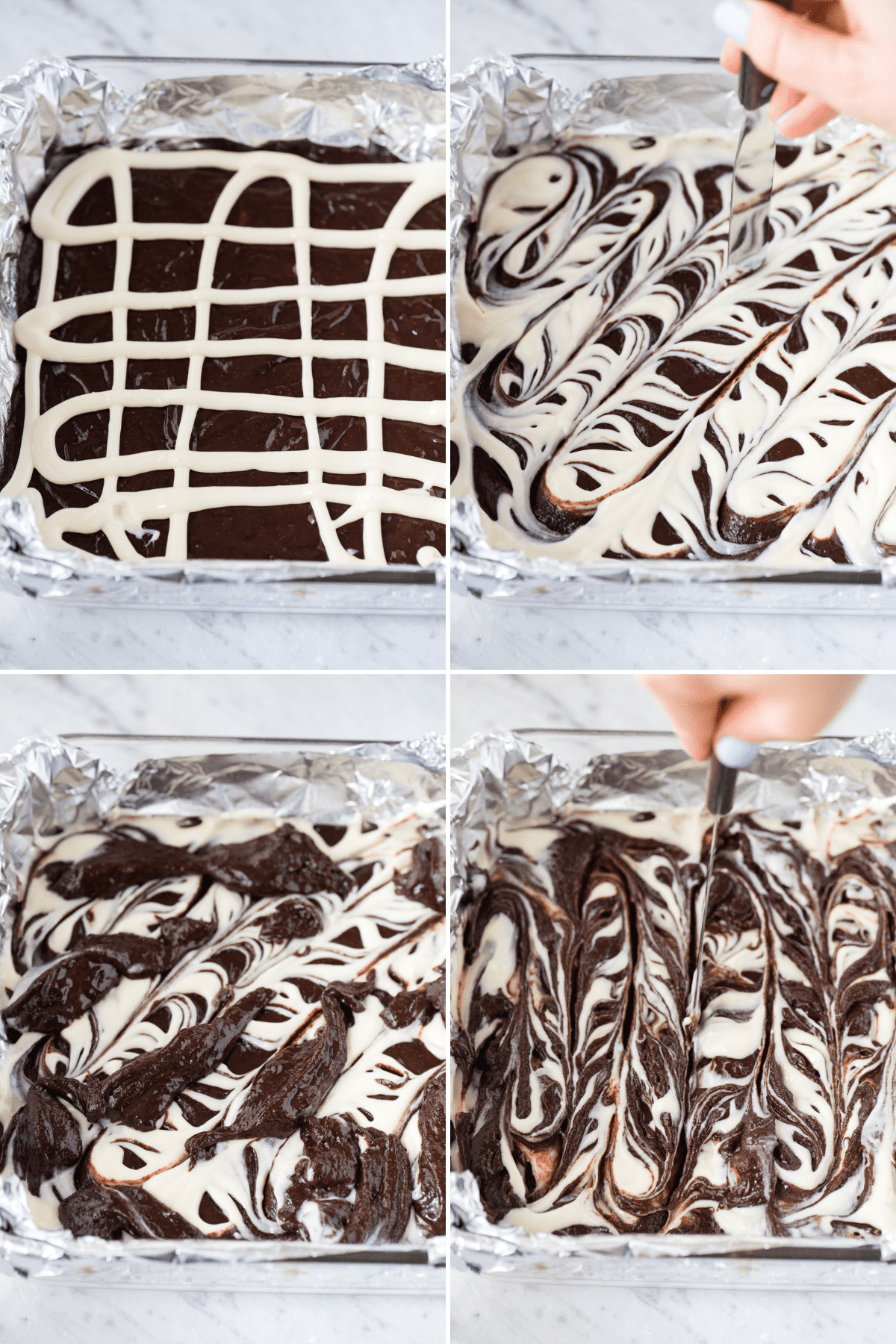 Butter VS. Oil in Brownies
For my personal tastes, I found that my optimal brownie uses a combination of butter and vegetable oil. Butter enhances the natural chocolate flavor but oil helps to produce a chewier brownie.
How many eggs should I put in homemade brownies
Lastly, the egg debate. I found that I liked 2 eggs plus an additional egg yolk. The additional egg yolk adds more fat, creating a fudgier brownie.
Glass or metal pan to bake brownies
I used a glass 8×8 inch baking pan because that's what I have in my kitchen! You can use a metal pan and I would recommend decreasing the baking time by 5 minutes. Metal pans heat up faster and can produce chewier brownies.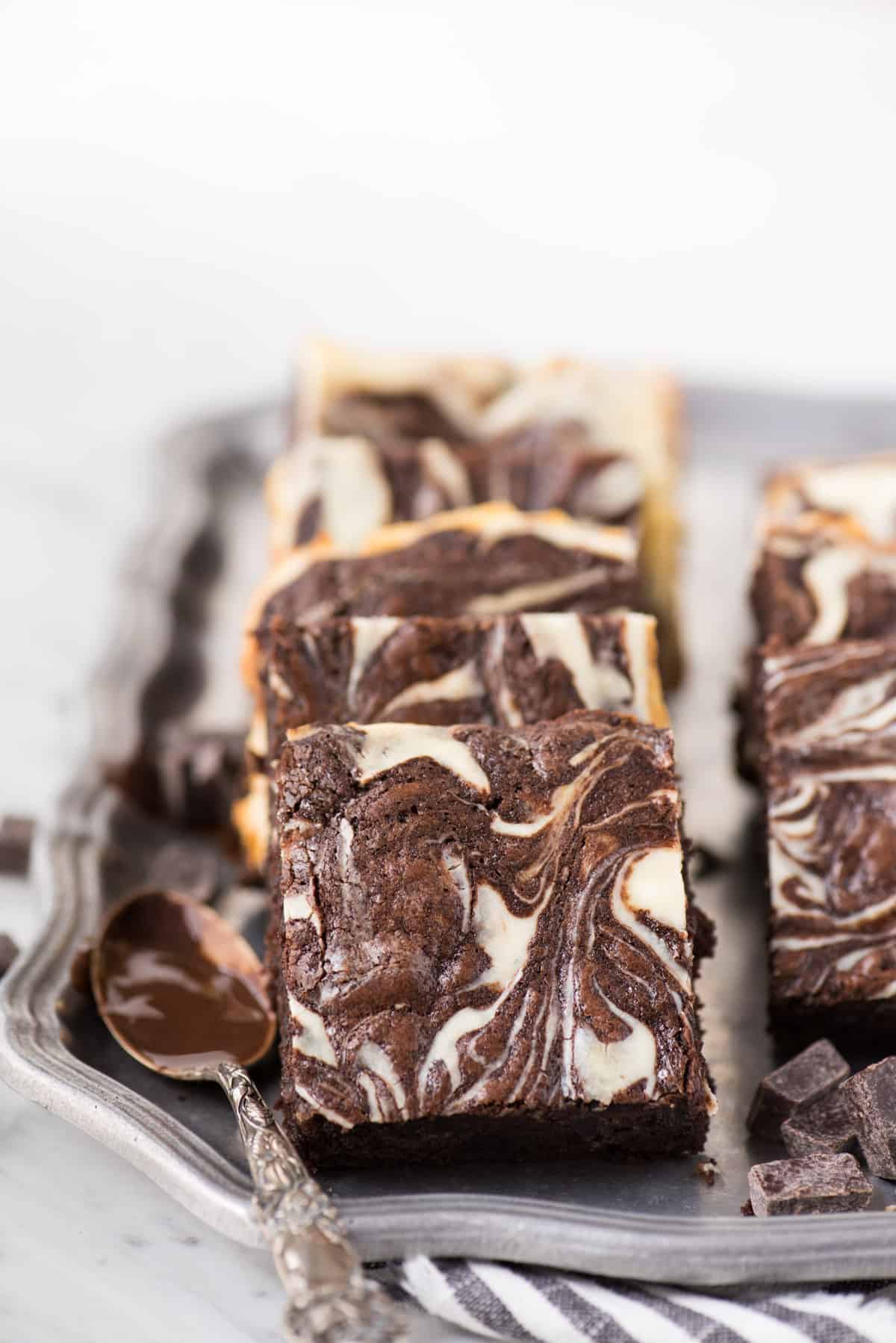 What type of gluten free flour should I use to make gluten free brownies?
I recommend and tested this recipe multiple times with King Arthur's Measure for Measure All Purpose Gluten Free Flour.
How to make cream cheese swirl brownies
This recipe can be separated into 2 parts – the brownie batter and the cream cheese swirl.
For the brownie batter it's key to not overmix the dry ingredients into the batter. Mix BY HAND just until the majority of the flour is no longer visible.
For the cream cheese swirl..
Tip 1
be sure to start with room temperature cream cheese. Room temperature cream cheese is easier to beat and get nice and smooth.
Tip 2
I found it's best to pipe the cream cheese layer over the brownie batter. That way you end up with nice, beautiful swirls instead of big blobs of cream cheese.
Tip 3
Want more cream cheese in these brownies? Increase the amount of cream cheese from 4 oz to 6 oz.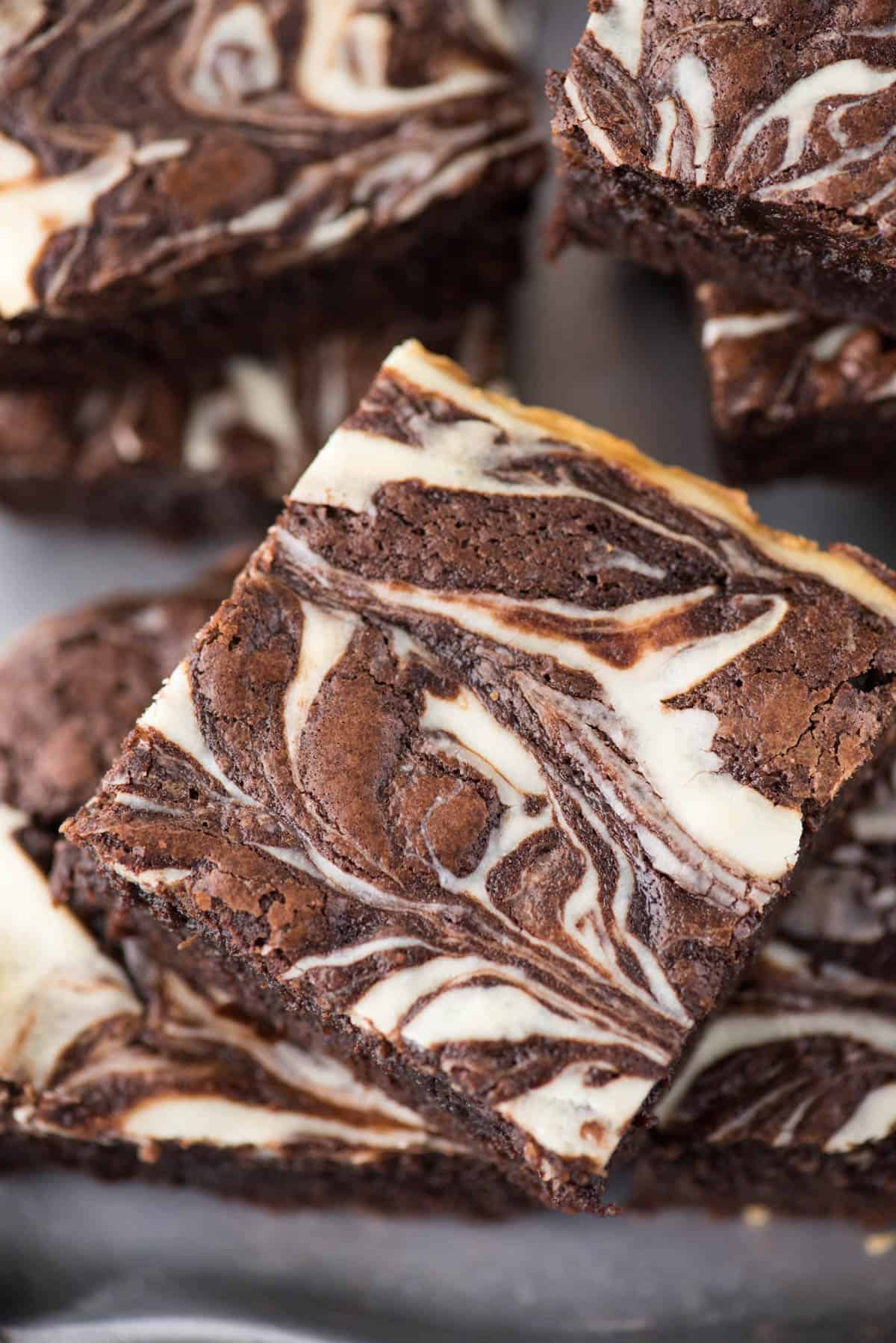 How to cut brownies cleanly
To get really nice clean brownie squares, I like to refrigerate my brownies for at least 30 minutes before cutting. Then I use a long 8 inch chef's knife to cut them. But here's the MOST IMPORTANT TIP —> wipe the knife CLEAN between each cut. Yes, it's annoying, but it works!
More brownies & bar recipes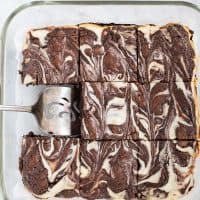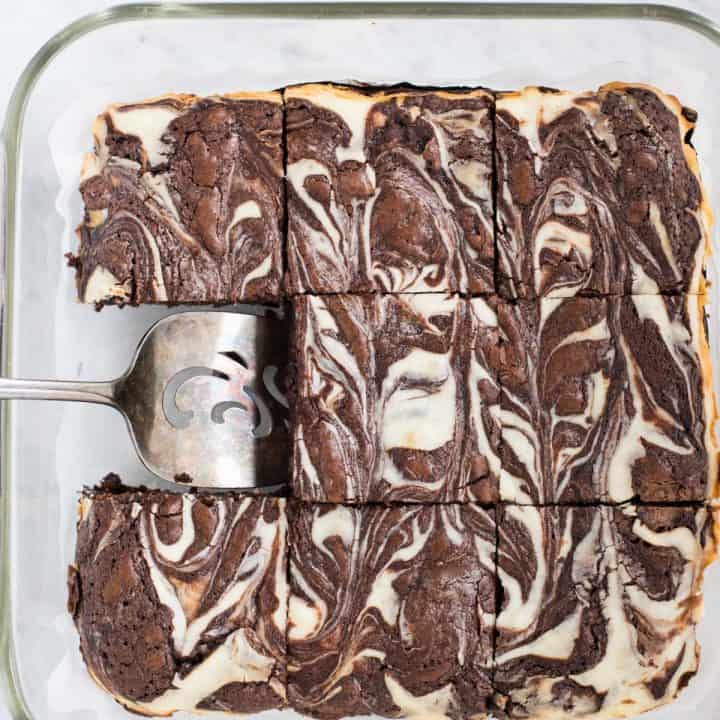 Cream Cheese Swirl Brownies
Cream cheese swirl brownies are my favorite dessert mash up! These cheesecake brownies are the right amount of fudgy and chewy with a ribbon of cream cheese swirled in. We also tested this recipe multiple times and found it makes AWESOME gluten free brownies!
Ingredients
¾

cup

properly measured all purpose flour OR gluten free flour

,

I recommend King Arthur's GF Measure for Measure Flour

½

tsp

salt

⅓

cup

unsweetened cocoa powder

2

oz

unsweetened chocolate

,

chopped

8

tbsp

unsalted butter, cubed

,

1 stick

1 ¼

cups

granulated sugar

2

large

eggs

1

large

egg yolk

¼

cup

vegetable oil

1

tsp

vanilla extract
Cream cheese swirl
4

oz

cream cheese

,

room temperature

¼

cup

granulated sugar

1

large

egg
Instructions
Preheat the oven to 350º F. Line a 8×8 or 9×9 inch pan with aluminum foil or parchment paper. Spray lightly with non-stick cooking spray. 

In a mixing bowl, combine the properly measured flour, salt and cocoa powder. Stir together with a spoon until mixed. Set aside. 

In a small saucepan over low heat, combine the chopped unsweetened chocolate and cubed butter. Stir occasionally until it's fully melted, about 5 minutes.

Meanwhile, in a larger mixing bowl, beat the sugar and eggs plus additional egg yolk with an electric mixer for 1 minute, until the mixture is pale yellow and doubled in volume. 

Once the chocolate is melted, pour it into the egg mixture. Then add the vegetable oil and vanilla extract. Stir with a spatula to combine. 

Spoon the flour mixture into the wet ingredients, mixing with a spatula just until combined. Do not continue to mix the batter once you can no longer see flour. 

Reserve 1/3 cup of the batter – add the remaining batter to the pan. Set aside.

In a mixing bowl, combine the cream cheese, sugar and egg, beat using an electric mixer until smooth, 1-2 minutes. Transfer the cream cheese mixture to a piping bag or ziplock bag with corner cut off.

Pipe the cream cheese filling in a grid pattern, then use a butter knife and drag it across the grid to create swirls. Add in the remaining 1/3 cup of batter where you see it. Swirl again with the knife.

Bake for 35-38 minutes (glass pan) 30-35 minutes (metal pan) or until a toothpick inserted in the center comes out clean. For a chewier, less fudgy brownie, bake for 38-43 minutes in a glass pan or 35-38 minutes in a metal pan. 

Allow the brownies to cool completely before cutting.
Calories:
277
kcal
,
Carbohydrates:
34
g
,
Protein:
4
g
,
Fat:
15
g
,
Saturated Fat:
9
g
,
Polyunsaturated Fat:
1
g
,
Monounsaturated Fat:
4
g
,
Trans Fat:
1
g
,
Cholesterol:
92
mg
,
Sodium:
149
mg
,
Potassium:
119
mg
,
Fiber:
2
g
,
Sugar:
25
g
,
Vitamin A:
448
IU
,
Calcium:
30
mg
,
Iron:
2
mg