Strawberry Whipped Cream
Homemade strawberry whipped cream using only 3 ingredients!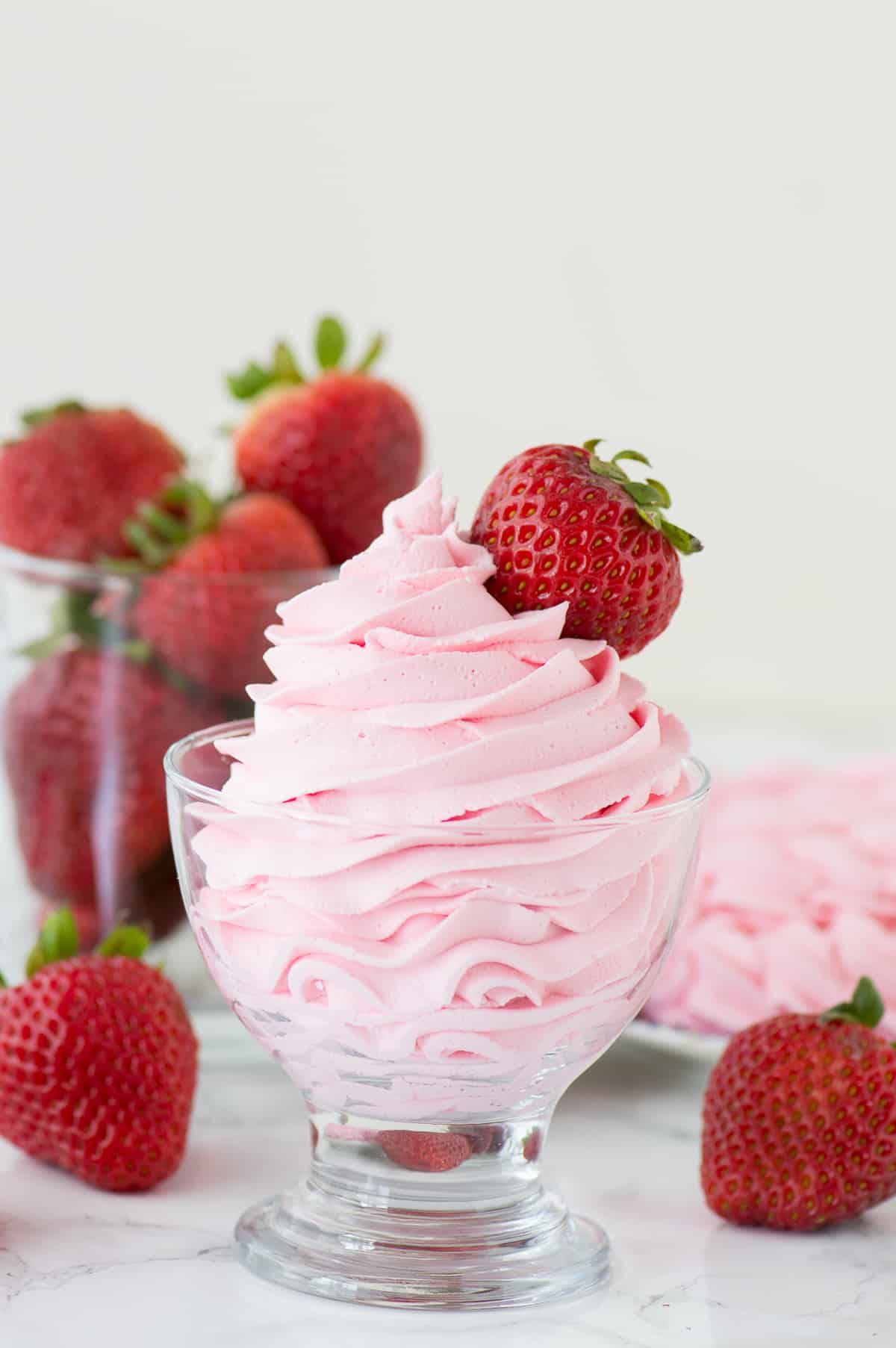 Over a year ago we posted a recipe for homemade
chocolate whipped cream
, and it's now one of the top 10 recipes people come to our site for!
Before I learned how to make chocolate whipped cream, I was really partial to cool whip.
I know.. I'm a dessert blogger. I should probably like homemade whipped cream more than cool whip. But cool whip is easy.
And it's definitely something I'll still use, but I think my heart is changing to love homemade whipped cream more <3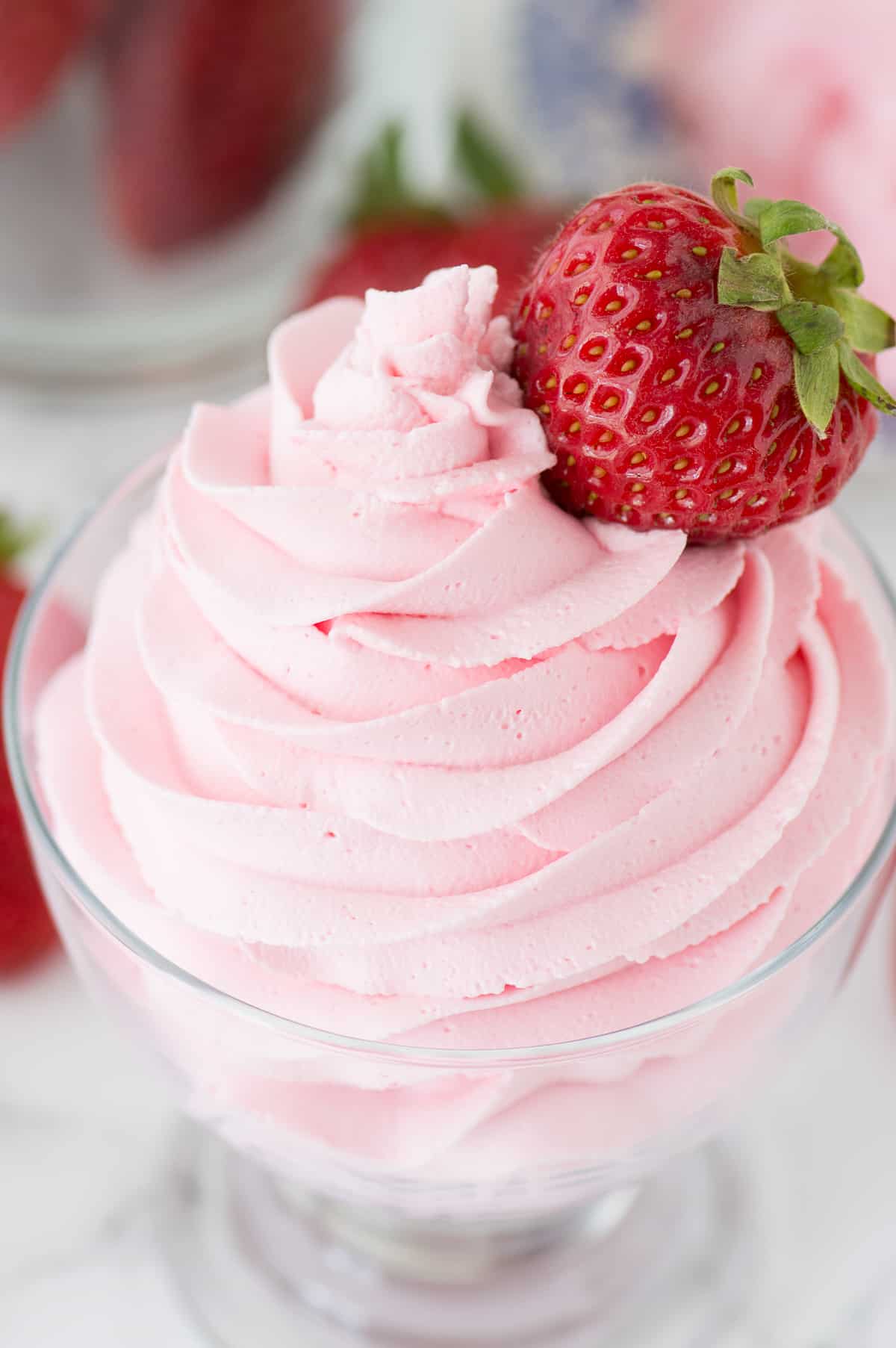 So I set out to make flavored whipped cream, thinking there has got to be a way I can do this, and there is!!
Beside regular whipped cream and chocolate whipped cream, I figure a lot of people like strawberry flavored things, plus strawberry whipped cream goes well with a lot of desserts – vanilla and chocolate or whatever!
You can use it to top a pie, in hot cocoa, use it to ice cupcakes or a cake, use it to cover a homemade ice cream cake, or use it as the filling in cookies sandwiches.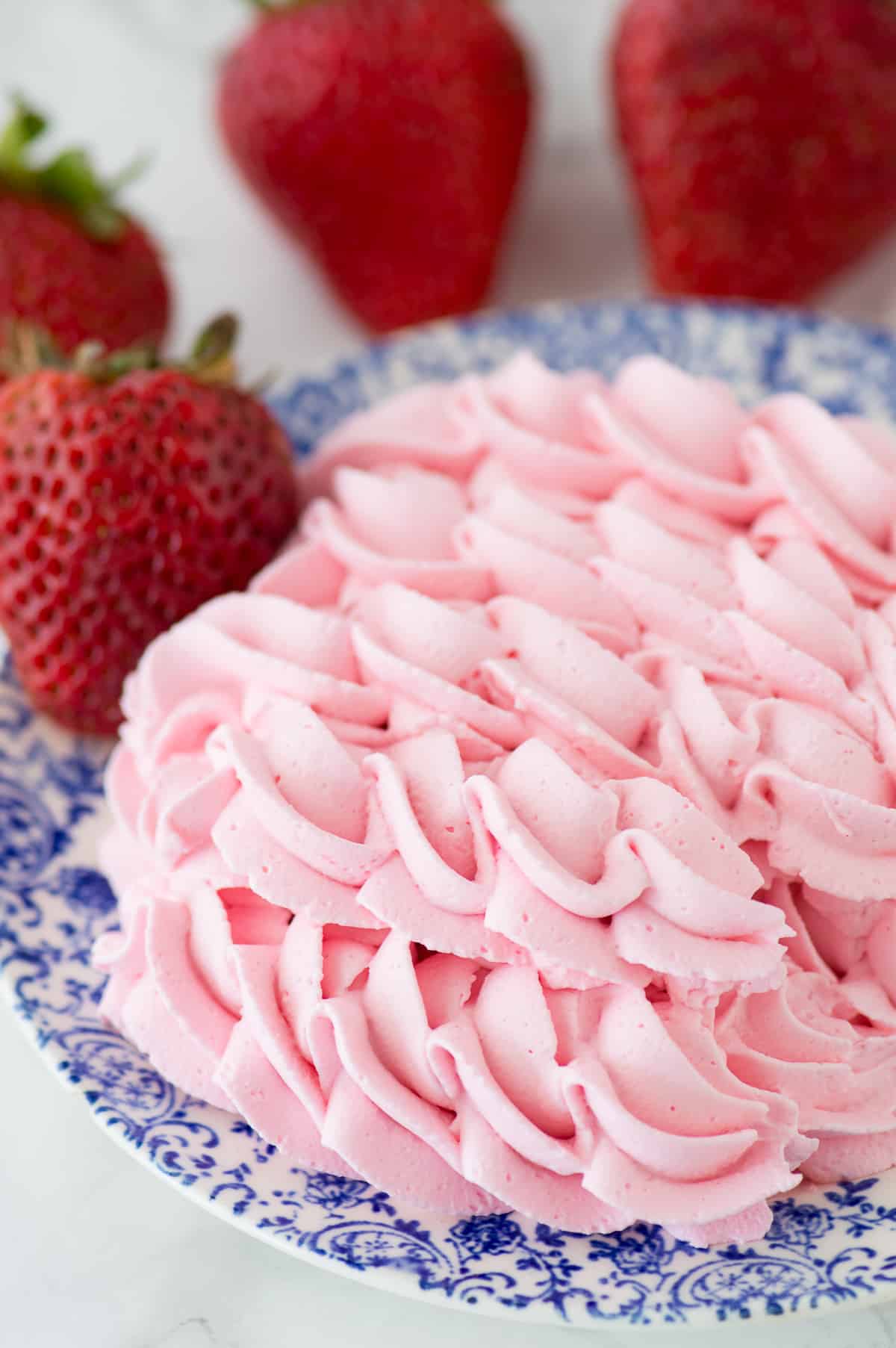 Ingredients for strawberry whipped cream
You'll need 3 ingredients – heavy cream, strawberry jello powder and powdered sugar.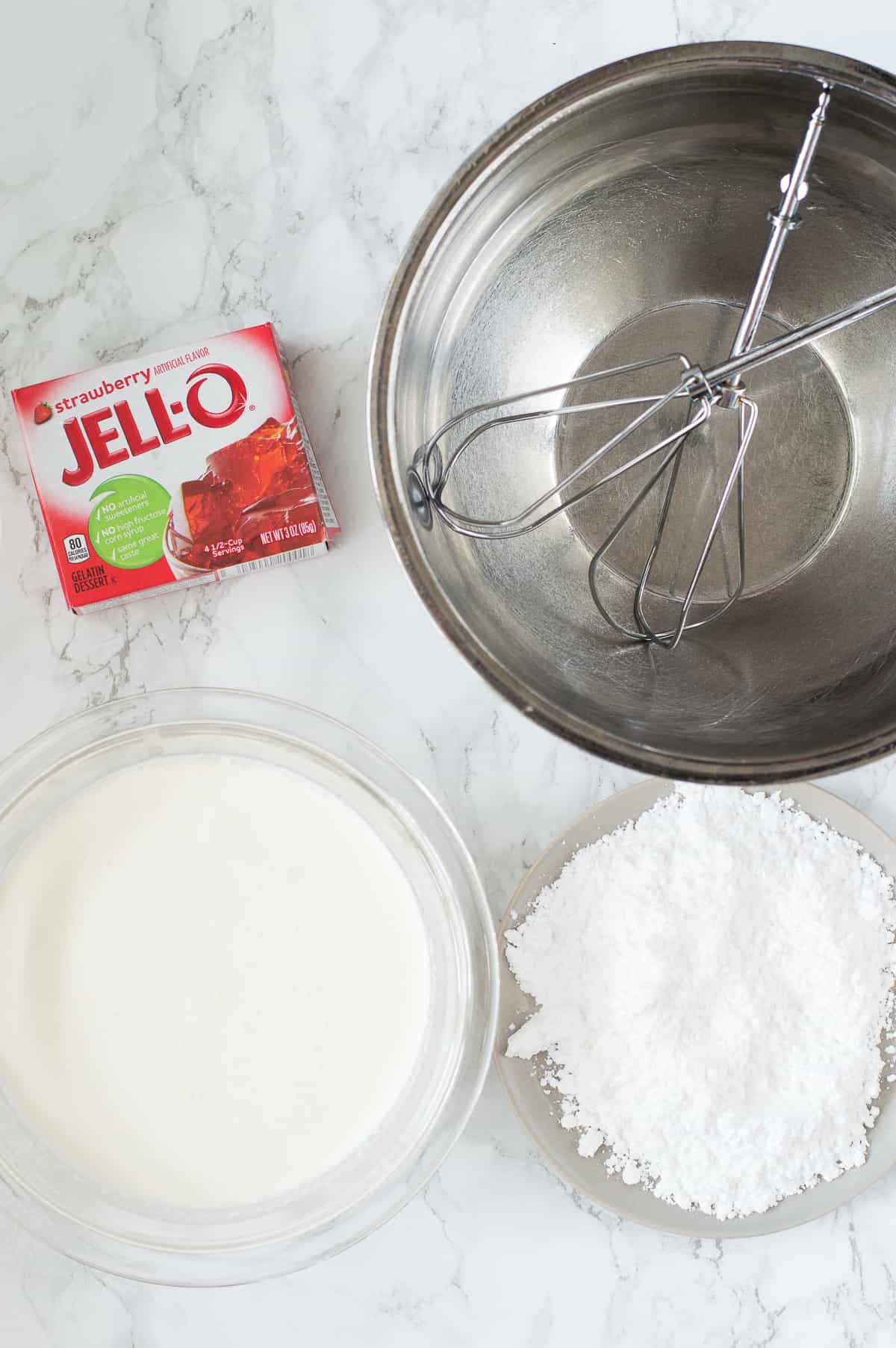 How to make strawberry whipped cream
1. Chill a metal mixing bowl and beaters in freezer for 15 minutes.
You're wondering if this step is necessary. I have made whipped cream by sort of chilling the bowl ahead of time.. meaning last minute I stick it in the freezer or I pull it out of the freezer too early and by the time I actually whip the cream, the bowl isn't chilled anymore.
Here's what I've observed – chilling the bowl and beaters ahead of time produces whipped cream that has stiffer peaks (that's a fancy way of saying it's more stable).
Overall, I do recommend chilling these items ahead of time, but if you completely forget, putting them in the freezer for at least 5 minutes is better than nothing.
2. Put all 3 ingredients in the chilled bowl and beat with an electric mixer for 4-5 minutes, or until stiff peaks form / it's scoopable with a spoon and holds its shape.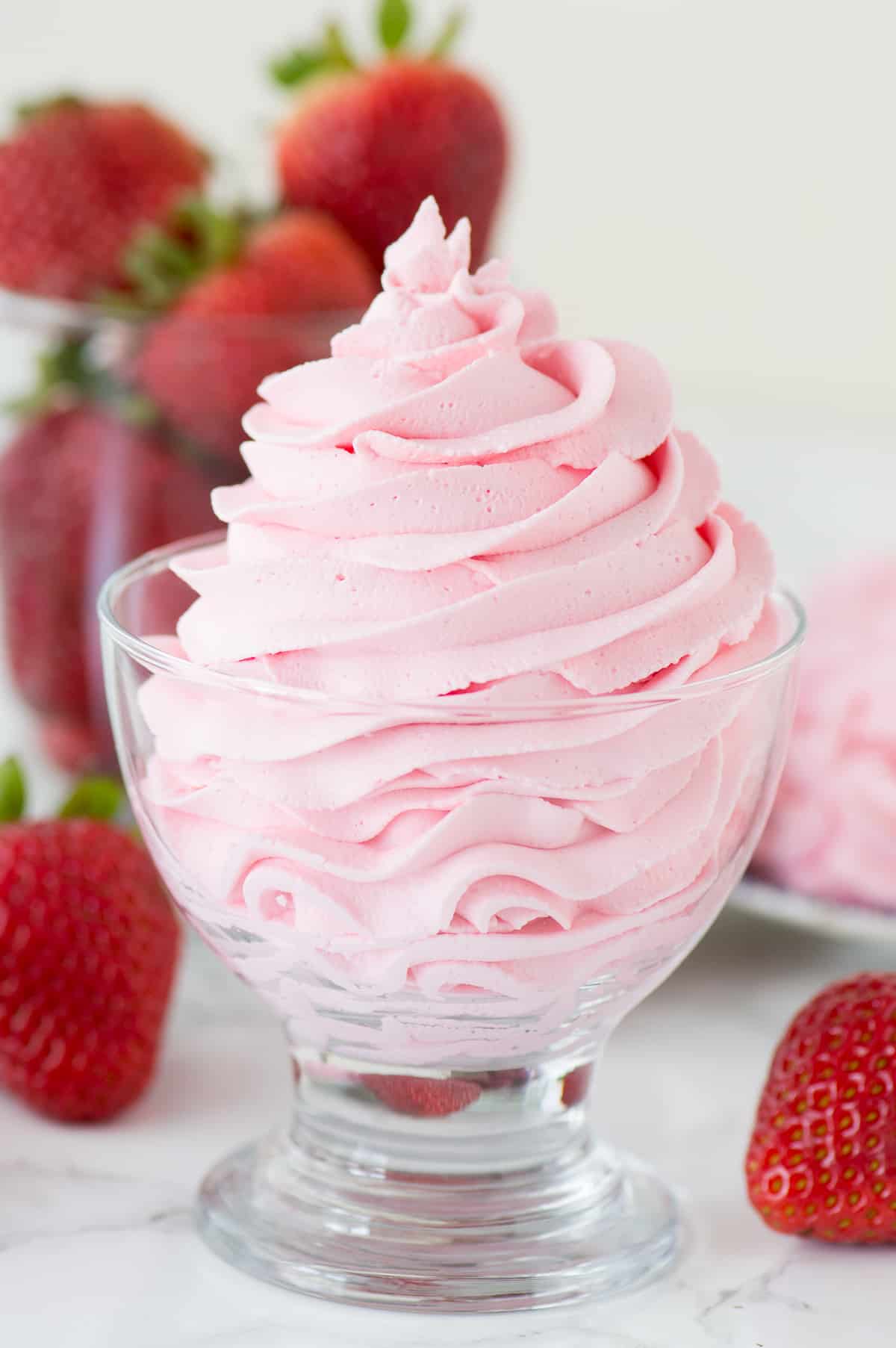 Pair this strawberry whipped cream with:
Chocolate cupcakes: Bakery style "doctored up" chocolate cupcakes! This is an easy, one bowl chocolate cake mix cupcake recipe without pudding or coffee.
Angel food cake: This is the recipe that everyone will ask you for! This recipe shows you how to use all purpose flour instead of cake flour, and you can easily make it gluten free!
Strawberry cake: From scratch 9×13 inch fresh strawberry cake with cream cheese frosting! Uses real strawberries and strawberry yogurt.
---
Subscribe to
The First Year newsletter
to get our recipes sent to your inbox! Follow along on
Instagram
,
Facebook
,
Pinterest
, and
Youtube
. If you make this recipe, tag
@beth_thefirstyear
on instagram!
---
For a step-by-step of how to make this strawberry whipped cream recipe, watch this short video: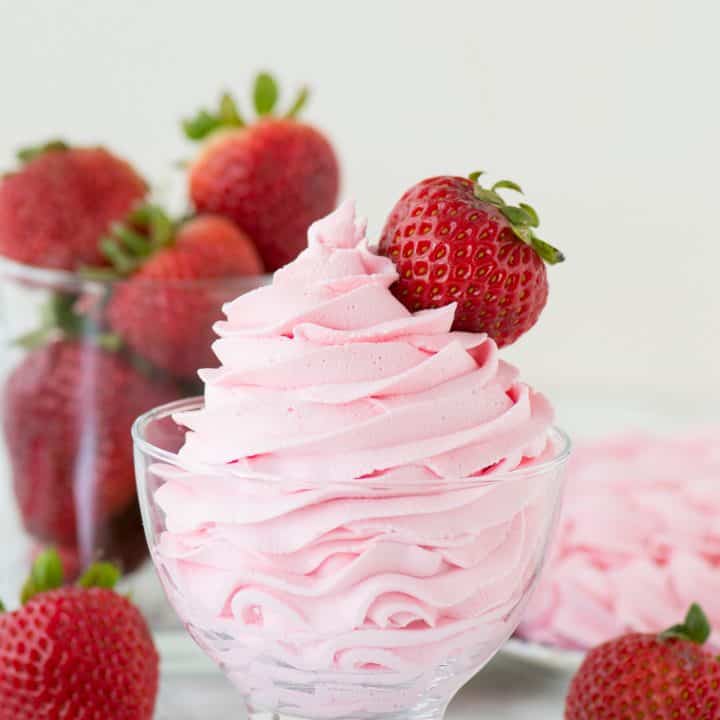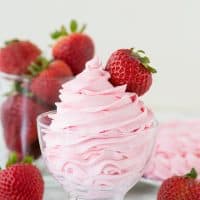 Strawberry Whipped Cream
Additional Time:
5 minutes
Homemade strawberry whipped cream using only 3 ingredients!
Ingredients
2 cups heavy cream
1/2 cup powdered sugar
4 tbsp strawberry jello powder
Instructions
Place a metal mixing bowl and beaters in the freezer for 15 minutes.
Remove the bowl from the freezer. Add the heavy cream, powdered sugar, and strawberry jello powder, and beat with an electric mixer for 4-5 minutes, or until stiff peaks form / it's scoop-able with a spoon and holds its shape.
Use on cakes, cupcakes, pies, hot cocoa, etc. Place leftovers in a container and store in the fridge for up to 3 days.
Recommended Products
As an Amazon Associate and member of other affiliate programs, I earn a small commission from qualifying purchases.


Products used to make this recipe
(may include affiliate links)