Want our top 10 essential dessert recipes?
Get our favorite classic recipes in your inbox! It's 100% free, but we might make you hungry!
Strawberry Cake
From scratch 9×13 inch fresh strawberry cake with cream cheese frosting! Uses real strawberries and strawberry yogurt.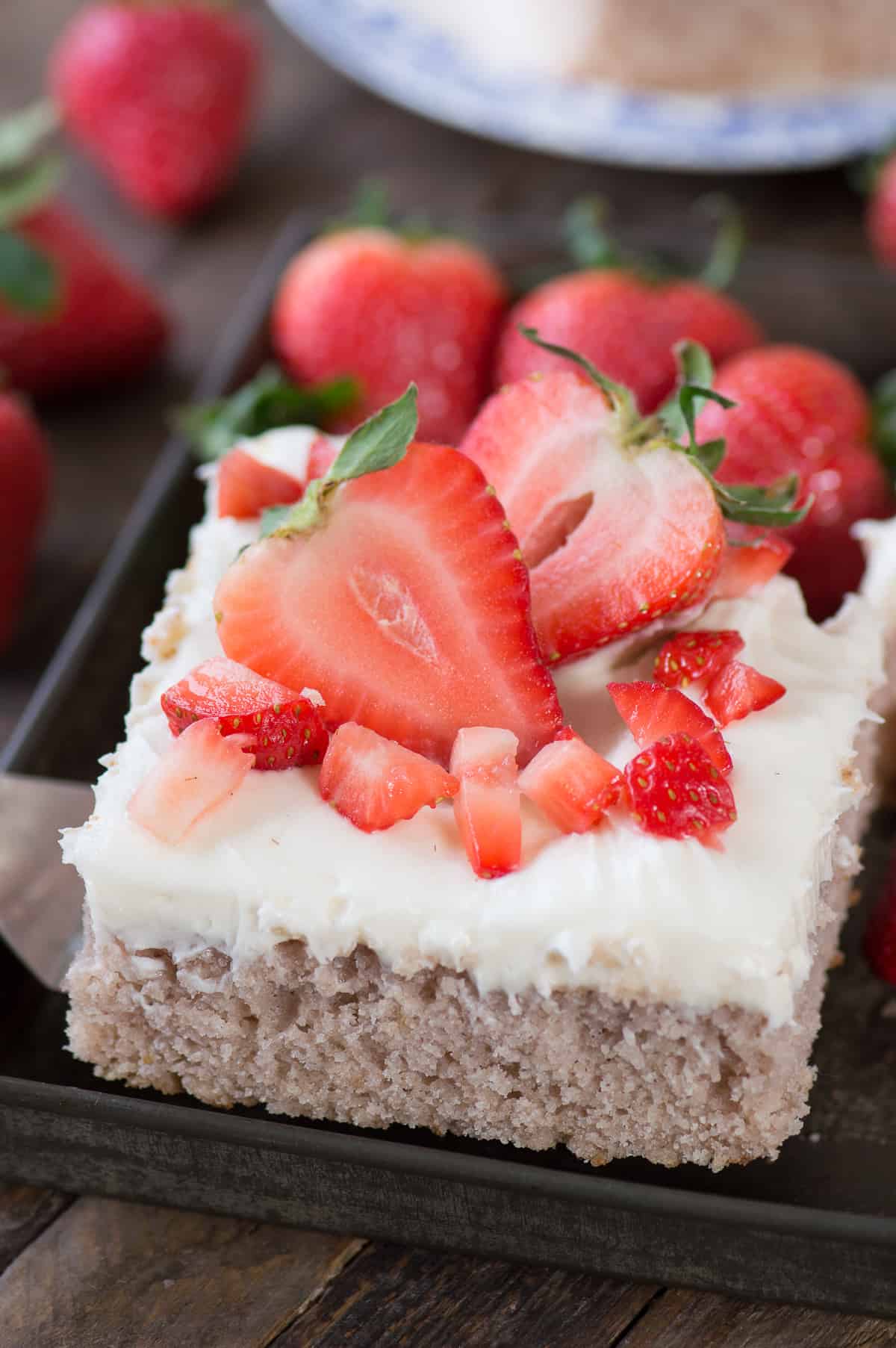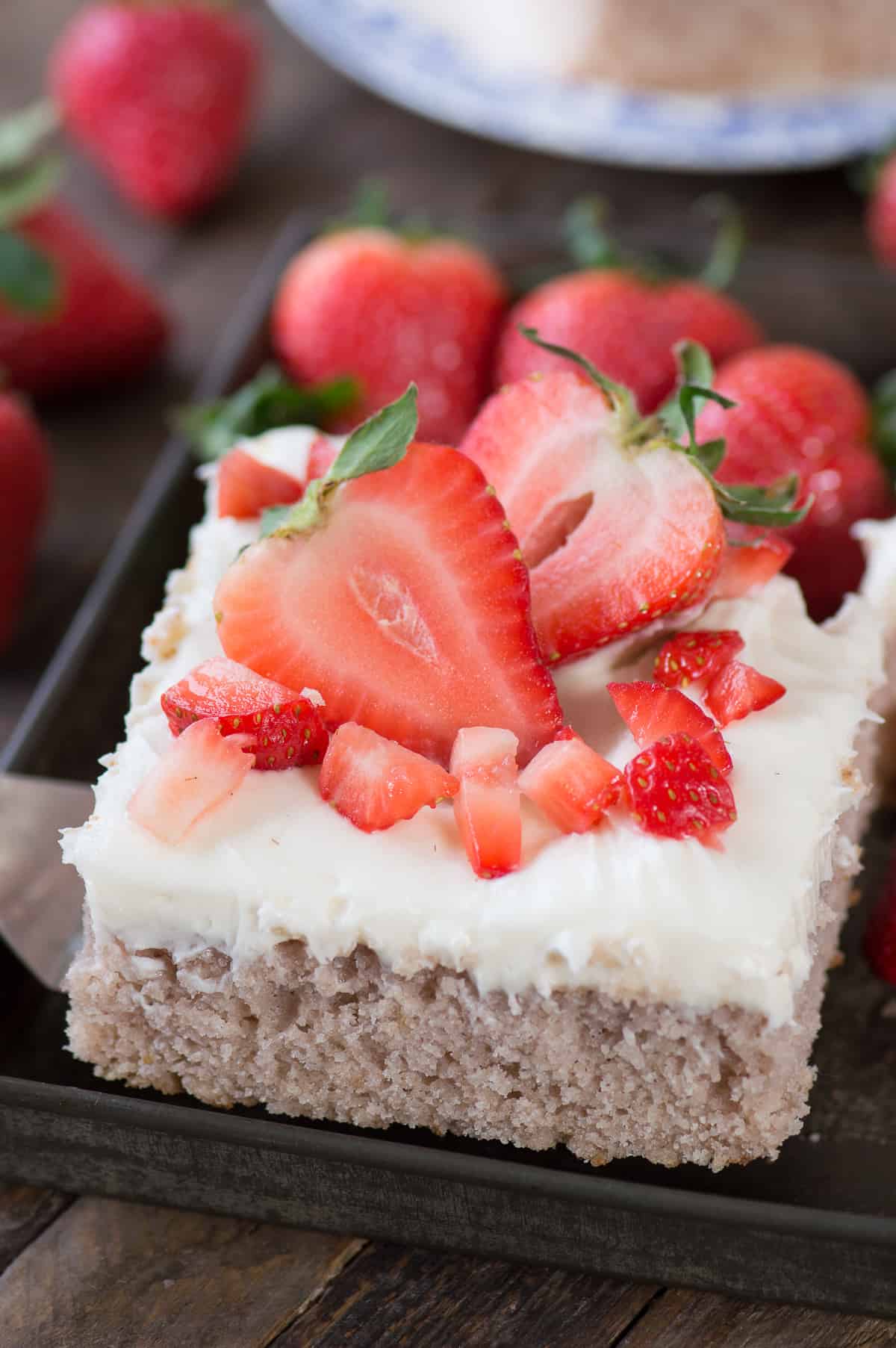 I'm a little obsessed with this thing called CREAM CHEESE FROSTING!!
Yeah. I know, I'm a little late to the game, but I just figured I didn't like cream cheese frosting. Just like I thought I didn't like cheesecake when I was younger because it had the word "cheese". Same deal goes for cream cheese frosting.
Ryan suggested I pair this strawberry cake with cream cheese frosting and I was like "okay… *insert my uncertain face here*… maybe."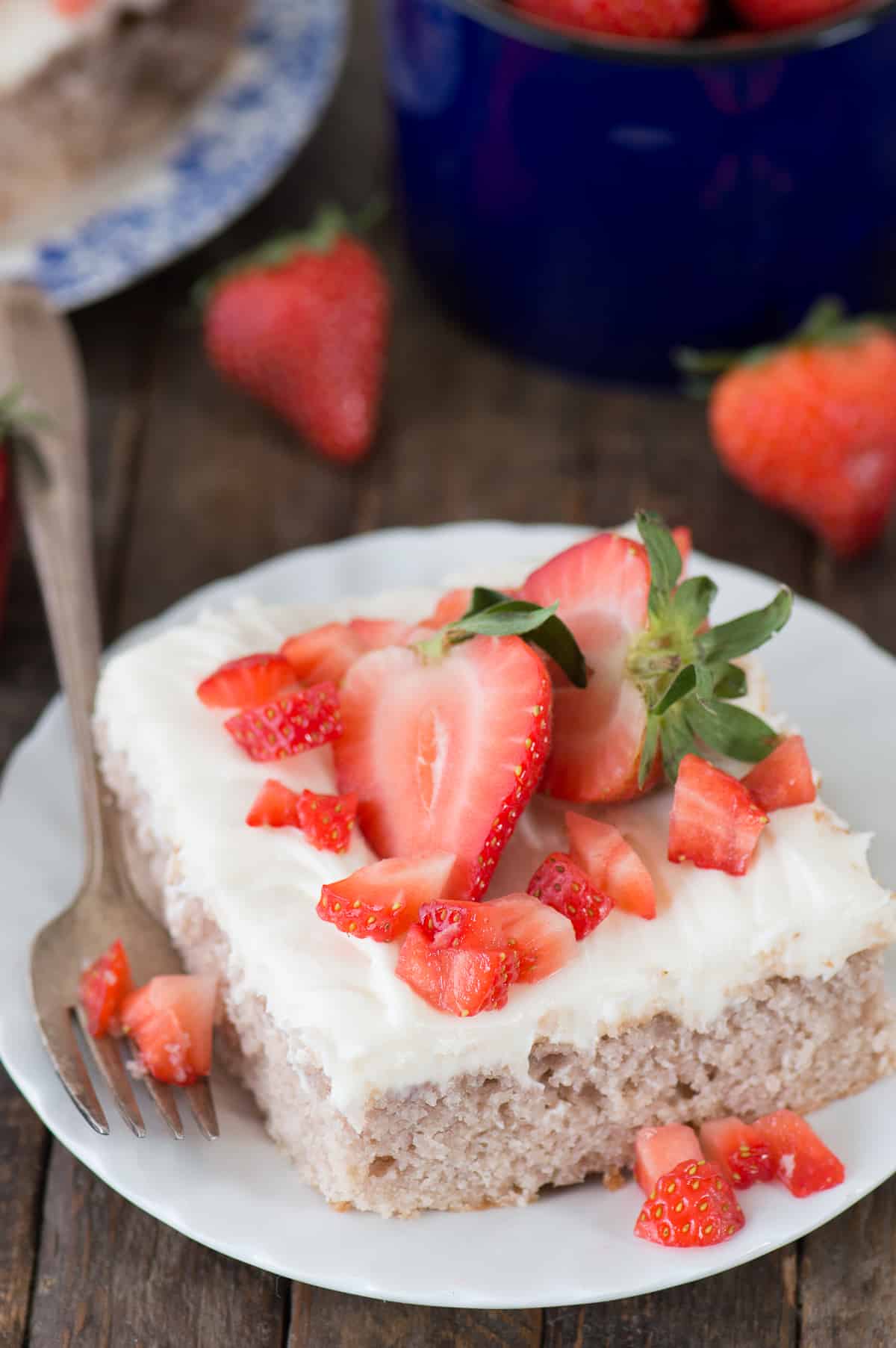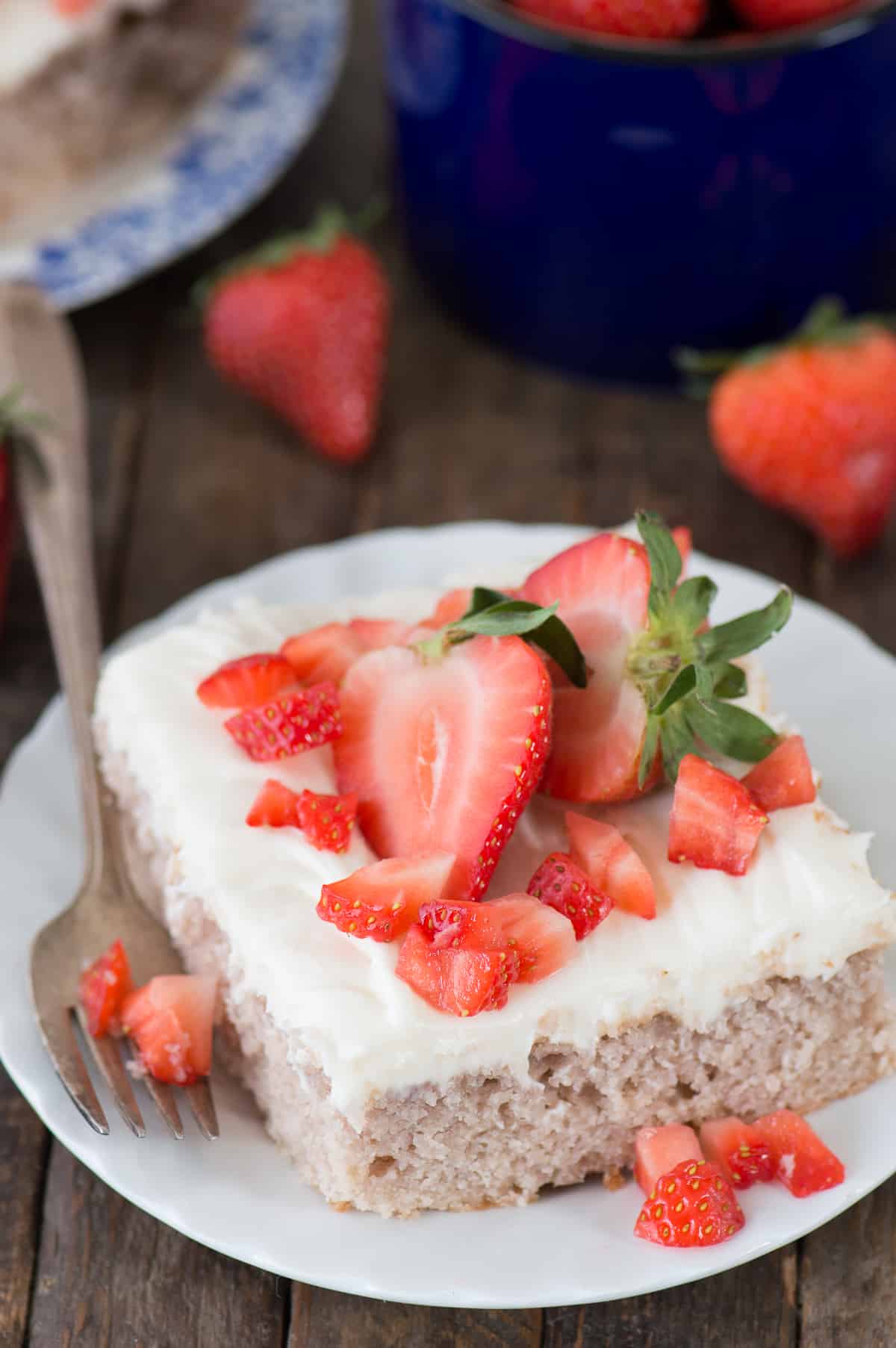 But a miracle must have happened because I decided to pair it with cream cheese frosting. And it was the best decision ever.
Since then I've used cream cheese frosting in 2 other recipes, this florida orange cake and another recipe coming soon.
Enough about the AMAZING frosting, unto the CAKE!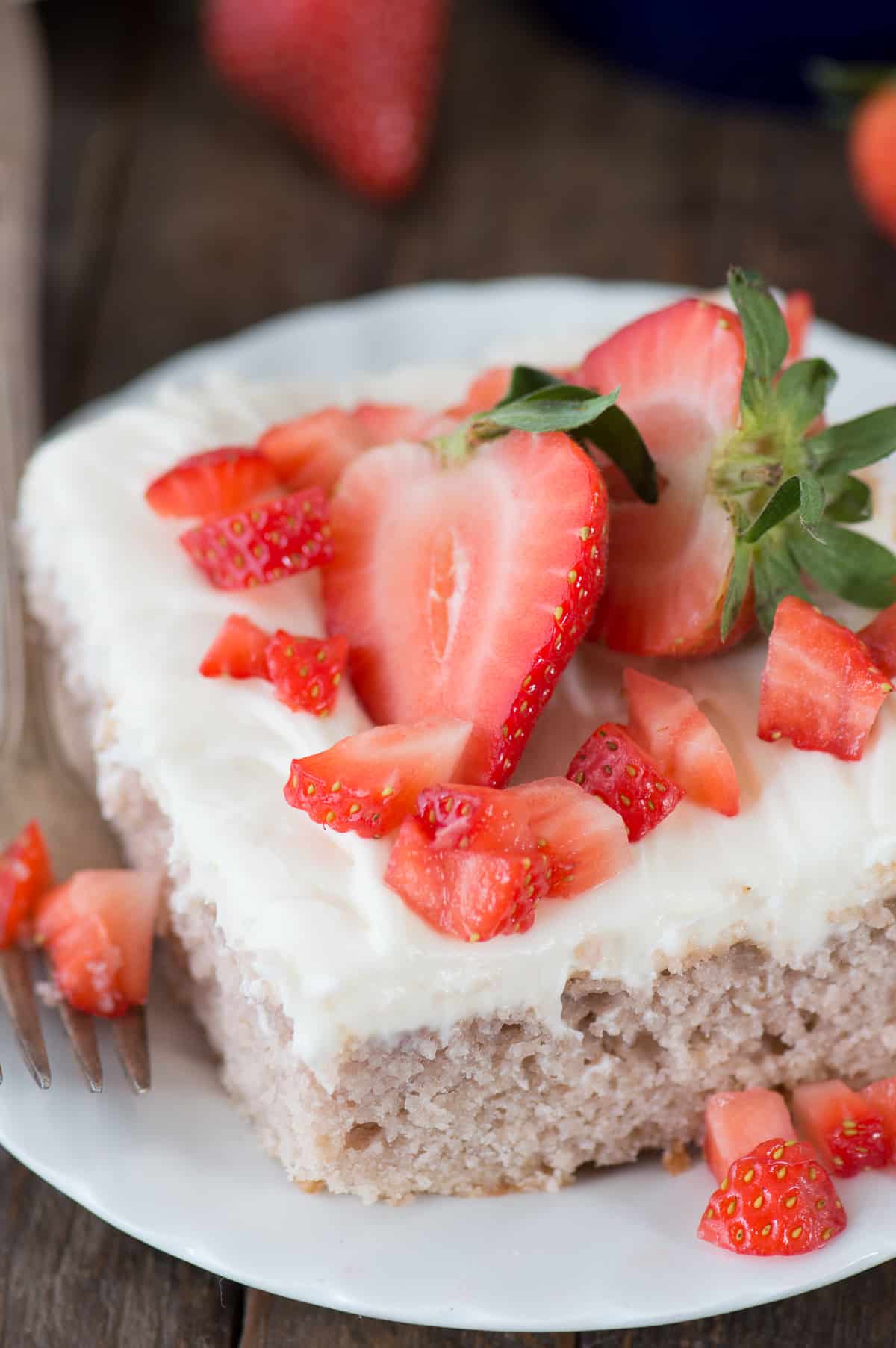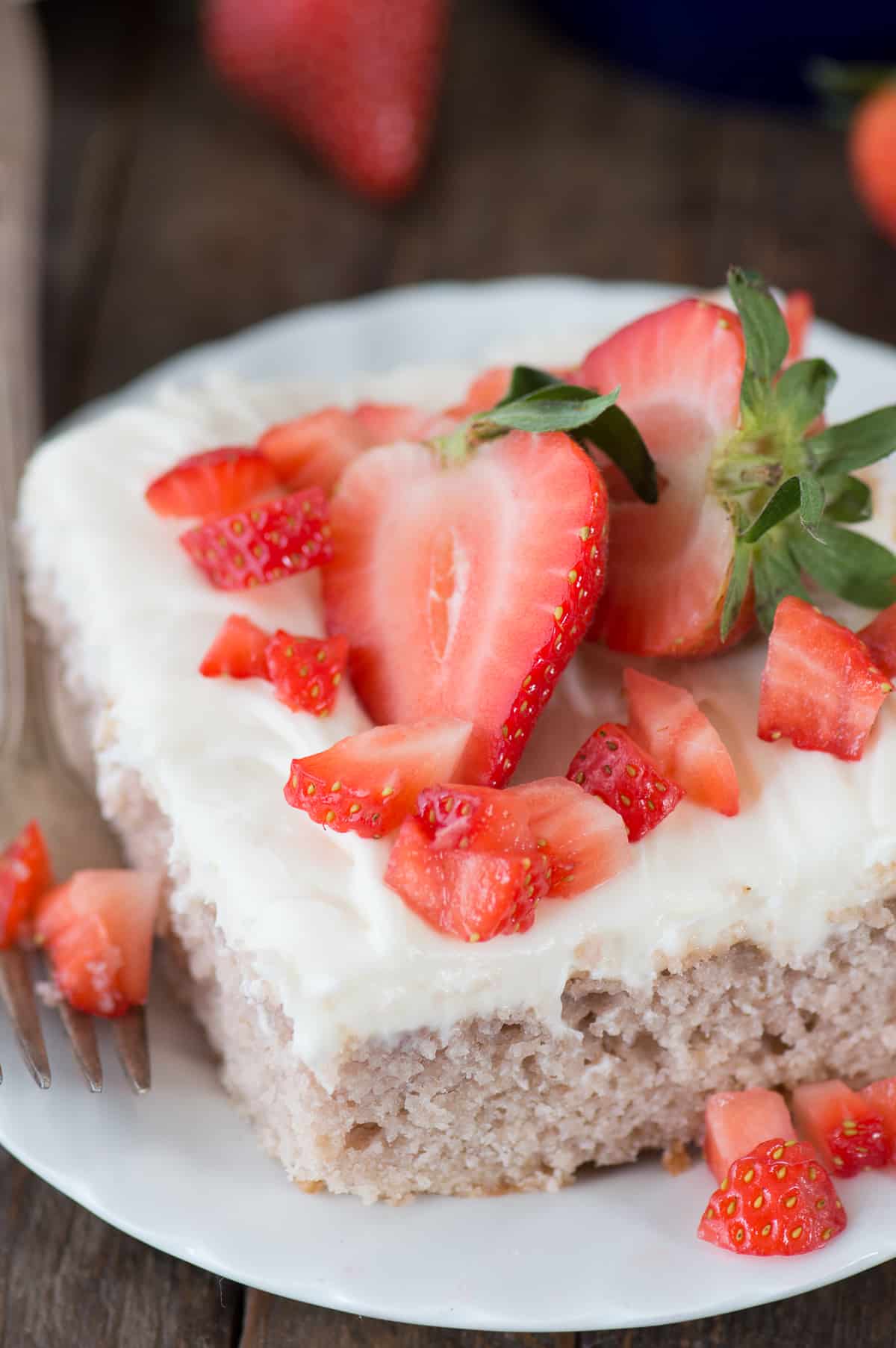 We didn't take any shortcuts with this strawberry cake. No strawberry "flavored" box mixes, no strawberry pudding or jello, just real strawberries friends! And strawberry yogurt, for extra moistness.
The strawberry flavor in this cake is light, sweet, and subtle. The cream cheese frosting adds that tang that helps break up the sweetness. We added fresh chopped strawberries, which gives the cake another layer of flavor and texture.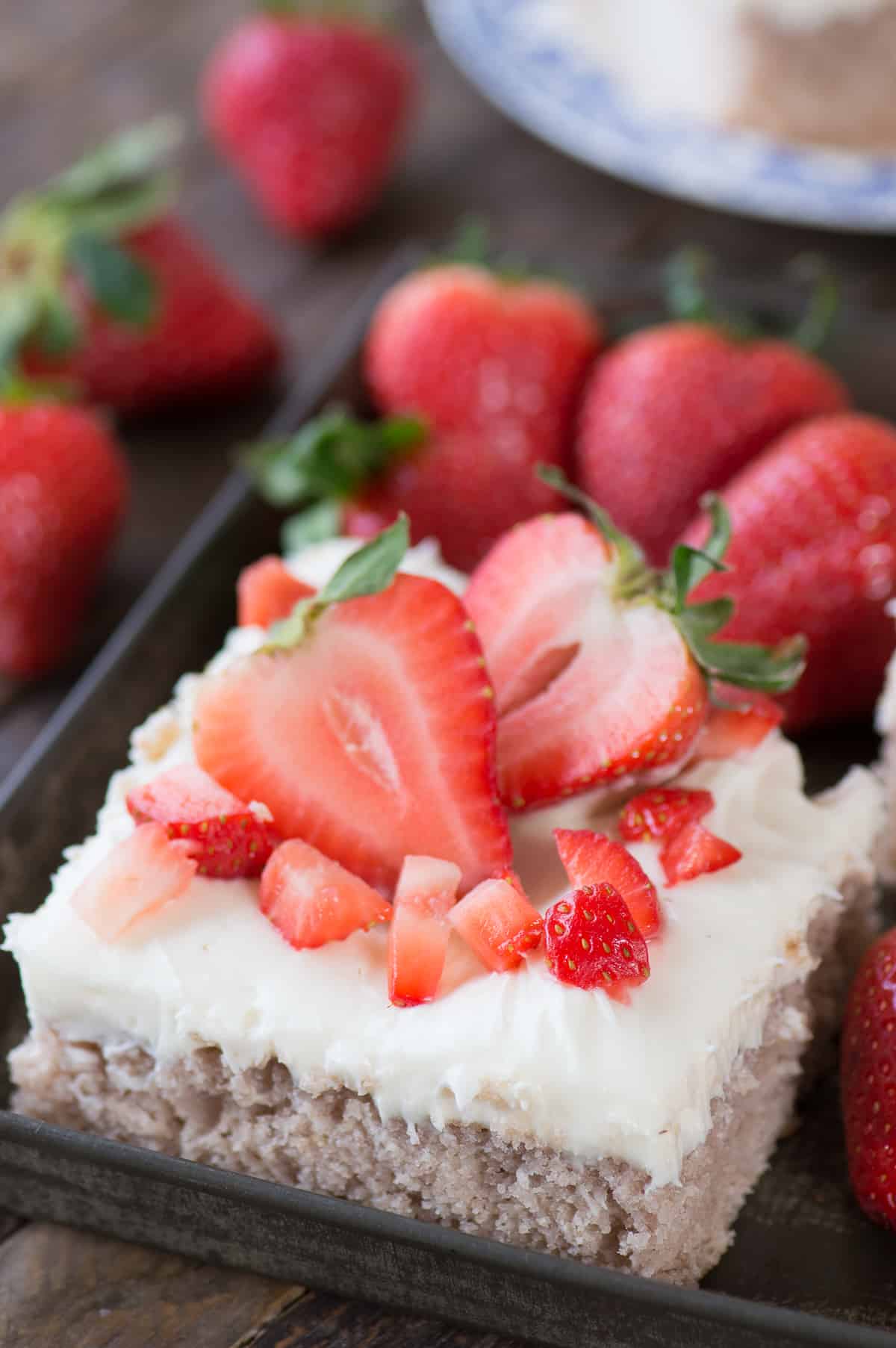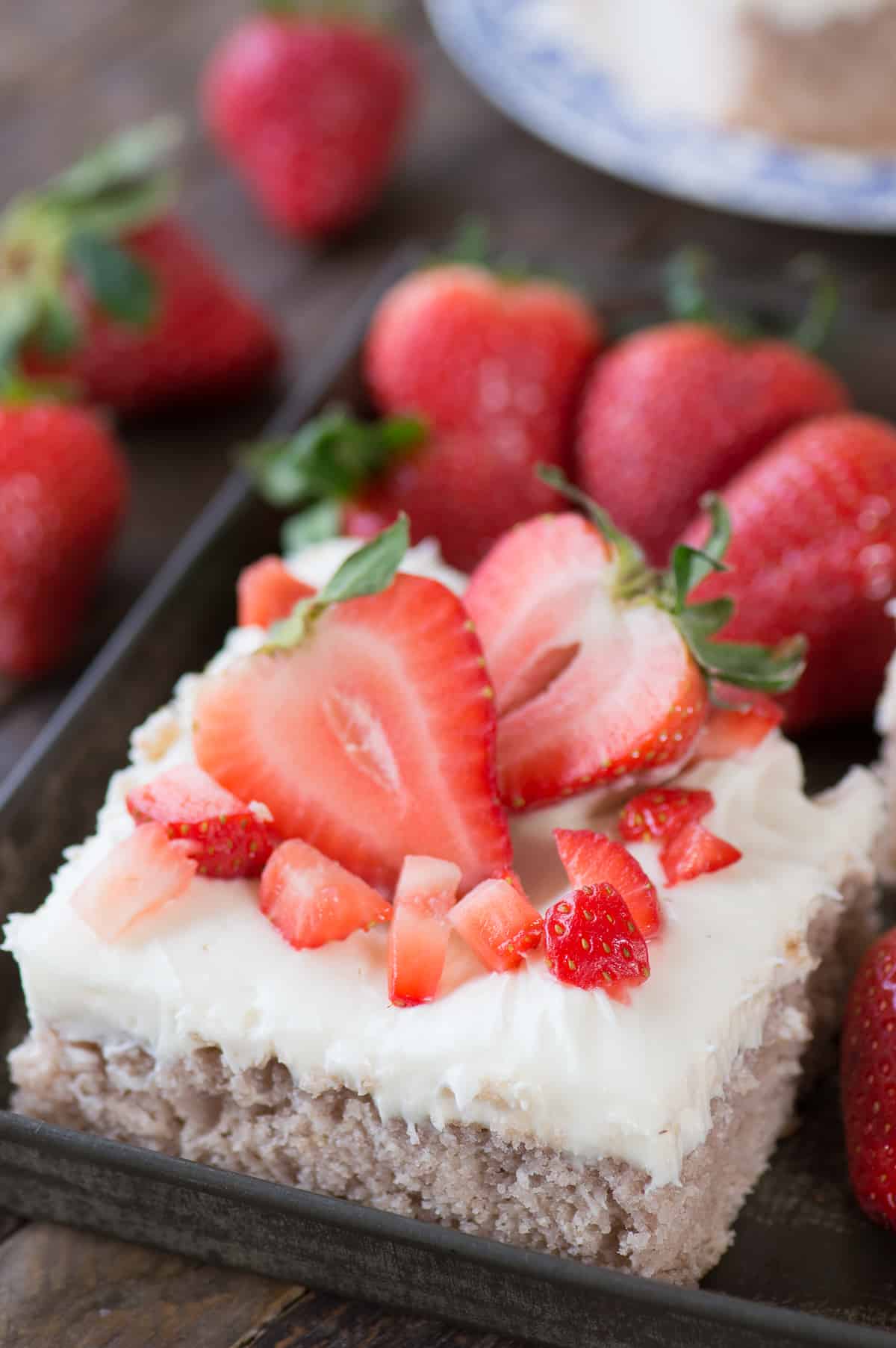 A few notes about the recipe:
-place fresh strawberries (tops removed) in a blender and blend until you have strawberry puree
-I have only used regular strawberry yogurt in this recipe, not greek yogurt
-Remember to store cake with cream cheese frosting in the fridge. I recommend pulling it out of the fridge 30 minutes before serving.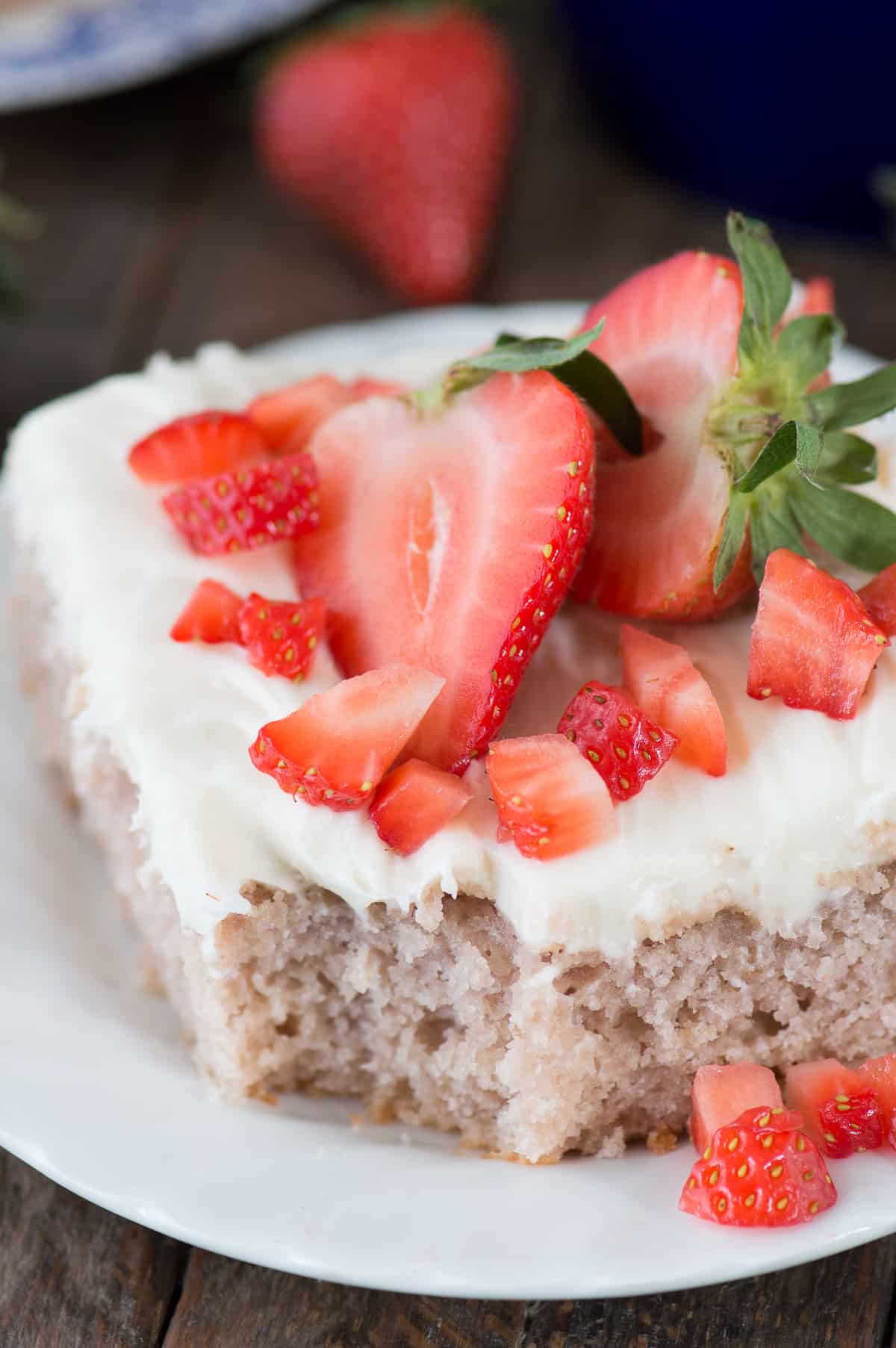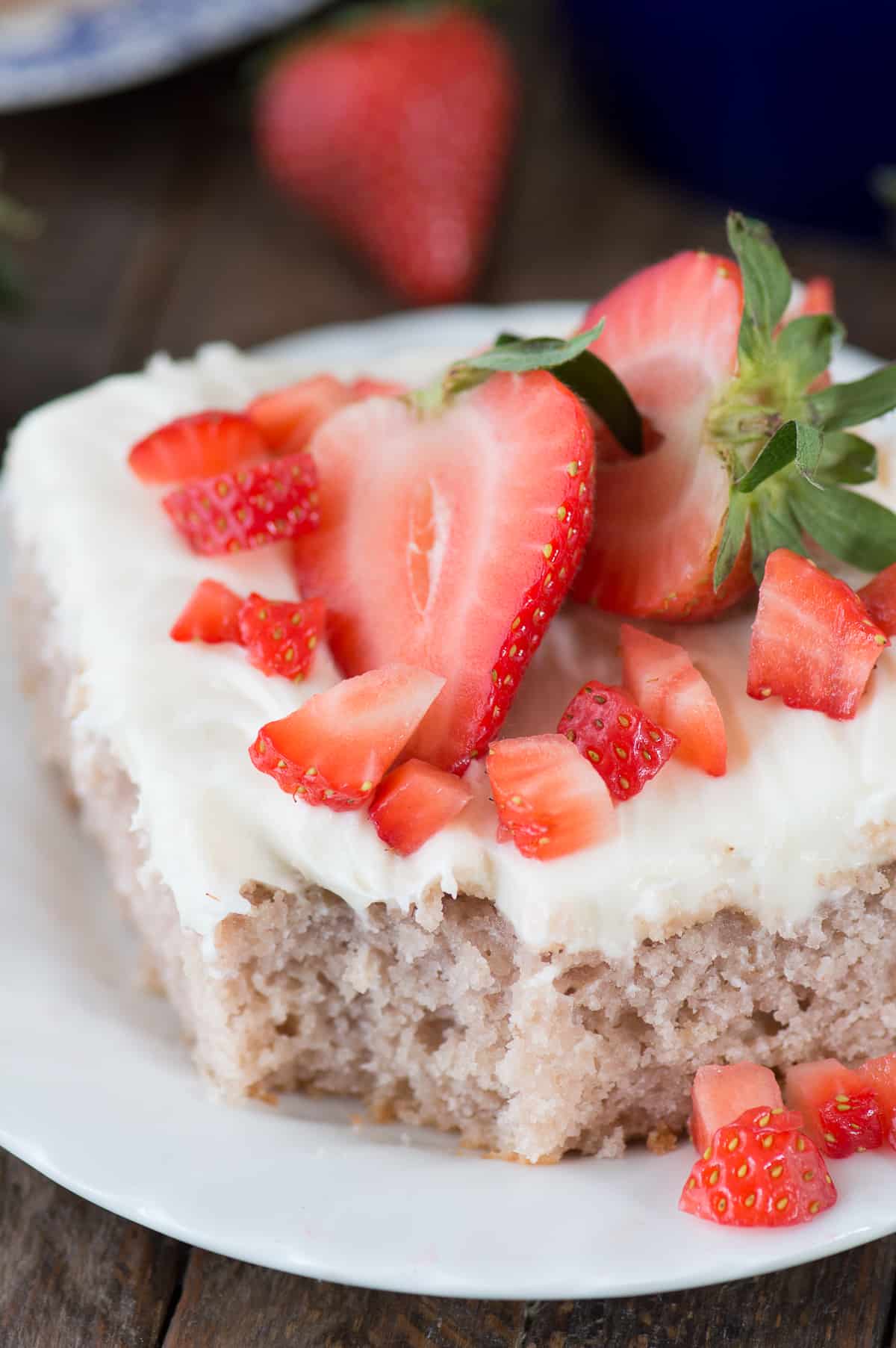 9x13 inch Strawberry Cake
Yield: 9x13 inch cake
Total Time:1 hour 30 minutes
From scratch 9x13 inch fresh strawberry cake with cream cheese frosting! Uses real strawberries and strawberry yogurt.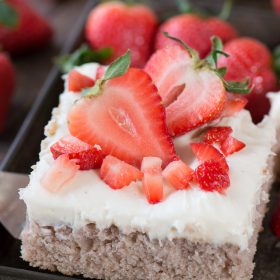 Ingredients:
Cake
2 cups all purpose flour
1 tsp baking powder
1/2 tsp baking soda
1/4 tsp salt
1 & 1/4 cup sugar
1 stick butter, softened
2 eggs
2/3 cup pureed strawberries
1 cup strawberry yogurt
1/4 cup milk
Cream Cheese Frosting
8 oz cream cheese, softened
1 stick butter (1/2 cup), softened
1 tsp vanilla extract
3-4 cups powdered sugar
Directions:
Cake
Preheat the oven to 350º F. Spray a 9x13 inch pan with non-stick cooking spray.
In a smaller bowl, combine the flour, baking powder, baking soda, and salt. Mix gently. Set aside.
In a larger mixing bowl, beat the sugar and butter with an electric mixer until fluffy, 1-2 minutes.
Add in the eggs, lightly beat with the mixer.
Add in the pureed strawberries, strawberry yogurt and milk. Mix.
Gradually add in the flour mixture, mixing with a spatula until the flour is incorporated.
Pour the batter into a sprayed 9x13 inch pan. Bake for 27-35 minutes or until a toothpick inserted in the center comes out clean. Allow the cake to cool completely before adding the frosting.
Cream Cheese Frosting
In a mixing bowl combine the cream cheese and butter, beat with an electric mixer for 1-2 minutes, until smooth. Add in the vanilla extract and gradually add the powdered sugar. Beat with the mixer until well combined. Spread the frosting over the cooled cake.
Products used to make this recipe
(may include affiliate links)