Want our top 10 essential dessert recipes?
Get our favorite classic recipes in your inbox! It's 100% free, but we might make you hungry!
Strawberry Sangria
Homemade Strawberry Sangria – Fruity and refreshing! Gather up the juiciest strawberries, white wine, and a few other ingredients because you'll want to make this recipe whenever warm weather hits!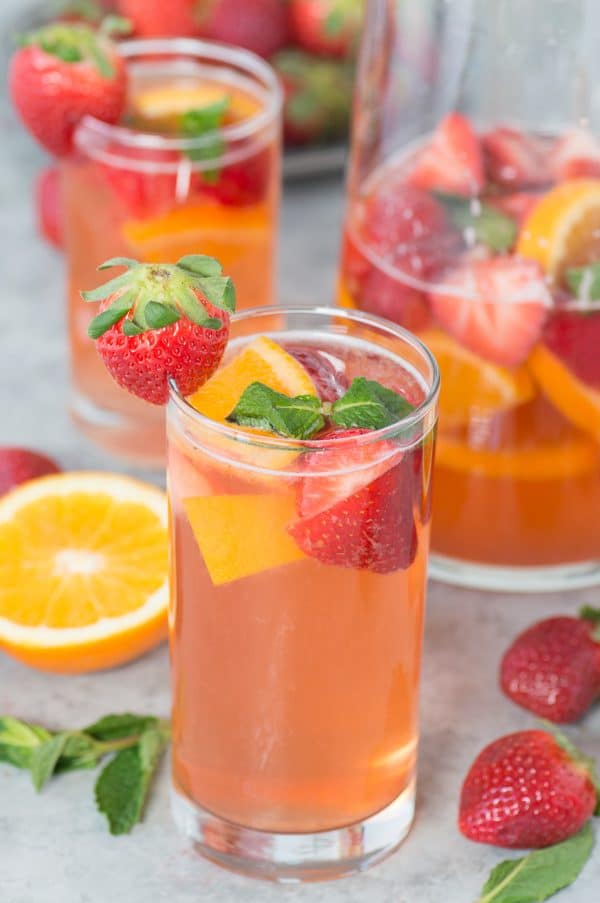 Sangria options are endless! If you've got some wine and fruit, really you're good to go, right?!
But as it's getting warmer out, you may find that you're looking for a berry based sangria recipe and this one is all about STRAWBERRIES!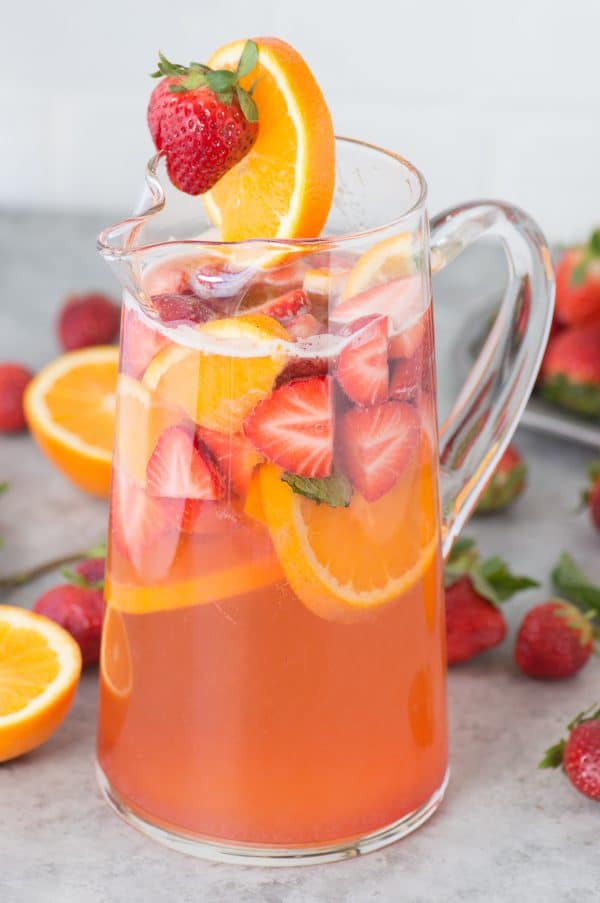 Strawberry Sangria
Before I made this Strawberry Sangria recipe I reached out to several friends and asked them for their recommendations. Let's just say my friends are passionate about their sangria!
Plus I would have never thought to add mint leaves until my friend Hannah suggested it, and it really made a difference in the taste! Plus it adds a nice pop of color :)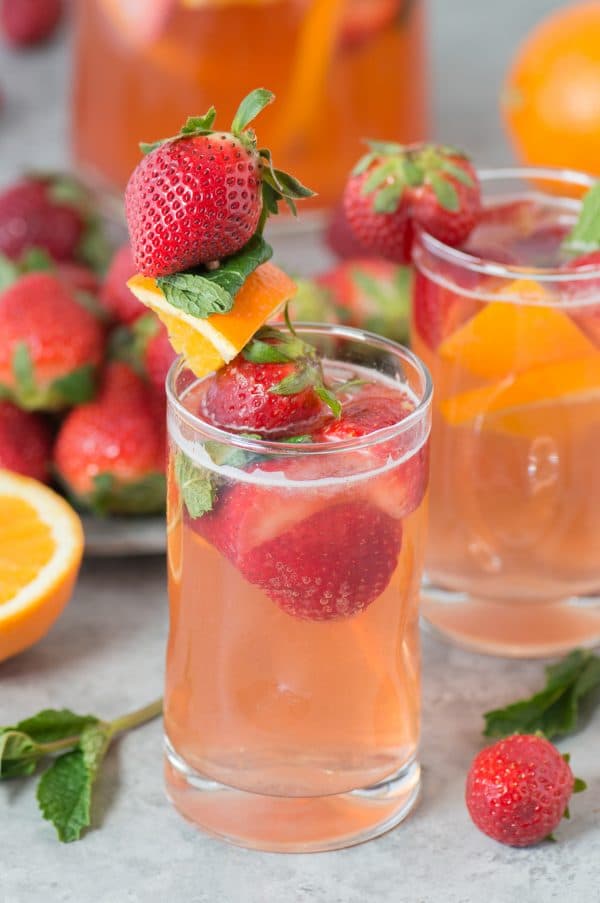 When you see strawberries on sale in the grocery store for 2/$4 or 3/$5 then you know it's a good time to make strawberry sangria! You'll for sure need 2 containers of strawberries, possibly 3 because it's hard to know how many cups you'll get out of each container.
Our strawberry sangria recipe calls for 7 ingredients:
-strawberry simple syrup (strawberries, water and sugar – we'll tell you how to make it!)
-white wine
-club soda
-sliced strawberries
-sliced oranges
-mint leaves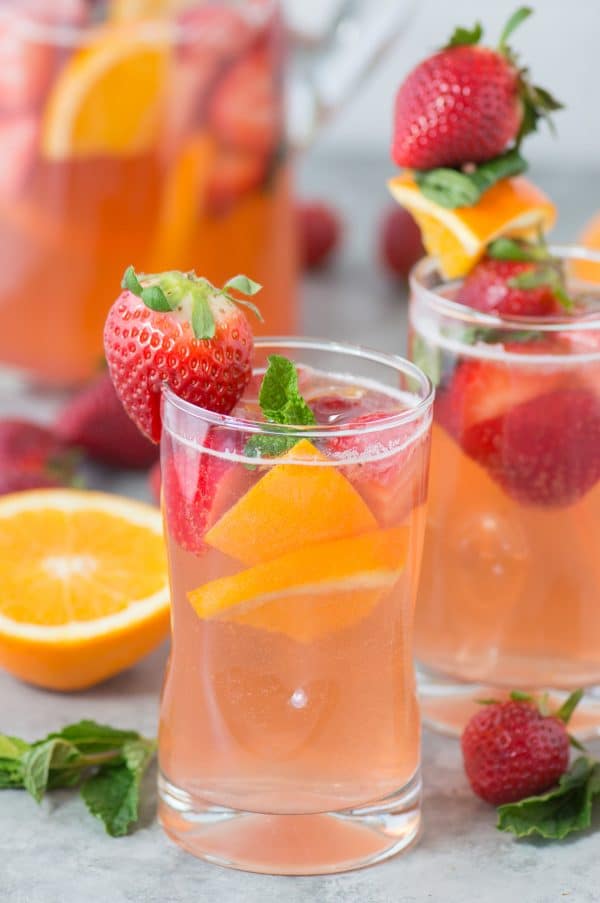 We used a pinot grigio, but you can use whatever your favorite white wine is, or even a rosé wine.
Trust me, I am no expert.. I had to look all these up, but I can guarantee that you could just pick the cheapest white wine available at the store and you'll still end up with a great strawberry sangria!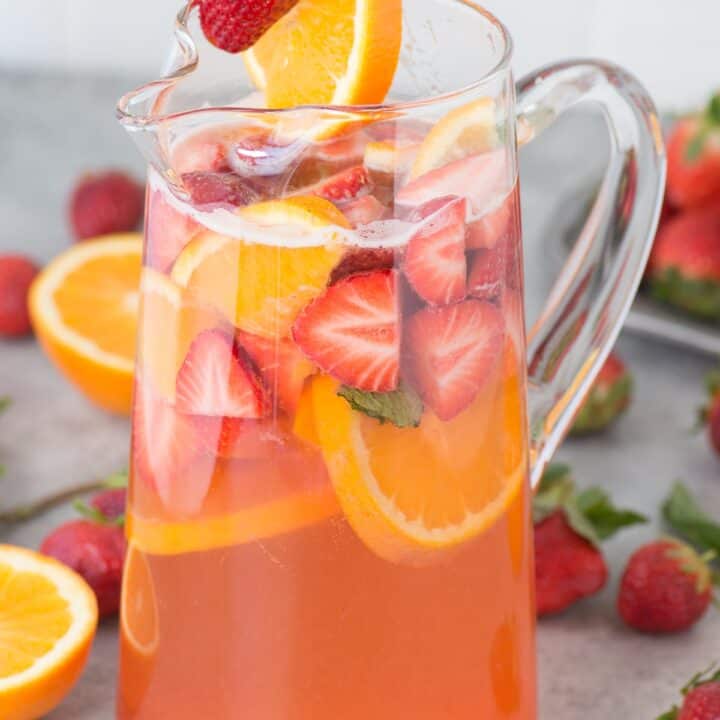 Strawberry Sangria
Ingredients
Strawberry Simple Syrup
3 cups fresh strawberries, sliced
1/2 cup water
1/3 cup sugar
Sangria
Strawberry Simple Syrup, recipe above
1 bottle white wine
1/2 cup club soda, or more to taste
2 cups fresh strawberries, sliced
1/2 orange, sliced
Fresh mint leaves
Instructions
Prepare strawberry simple syrup: In a medium-sized pot over high heat, combine sliced strawberries, water and sugar. Allow mixture to come to a boil and let it boil for 5 minutes. Then turn heat to low and allow mixture to simmer for 10 minutes.
Place a sieve on top of a glass bowl. Carefully pour strawberry mixture into the sieve, allowing liquid to flow into glass bowl. Use the back of a spoon to lightly press strawberries, extracting all liquid. 
Allow strawberry simple syrup to chill in refrigerator until cold. Can be stored in an airtight container for up to 1 week.
When ready to make sangria, combine strawberry simple syrup, white wine, club soda, sliced strawberries, sliced oranges, and mint leaves in a large pitcher. Stir to combine. If serving right away, add ice. Otherwise, refrigerate 1 hour or overnight.