Cinnamon Spice Crazy Cake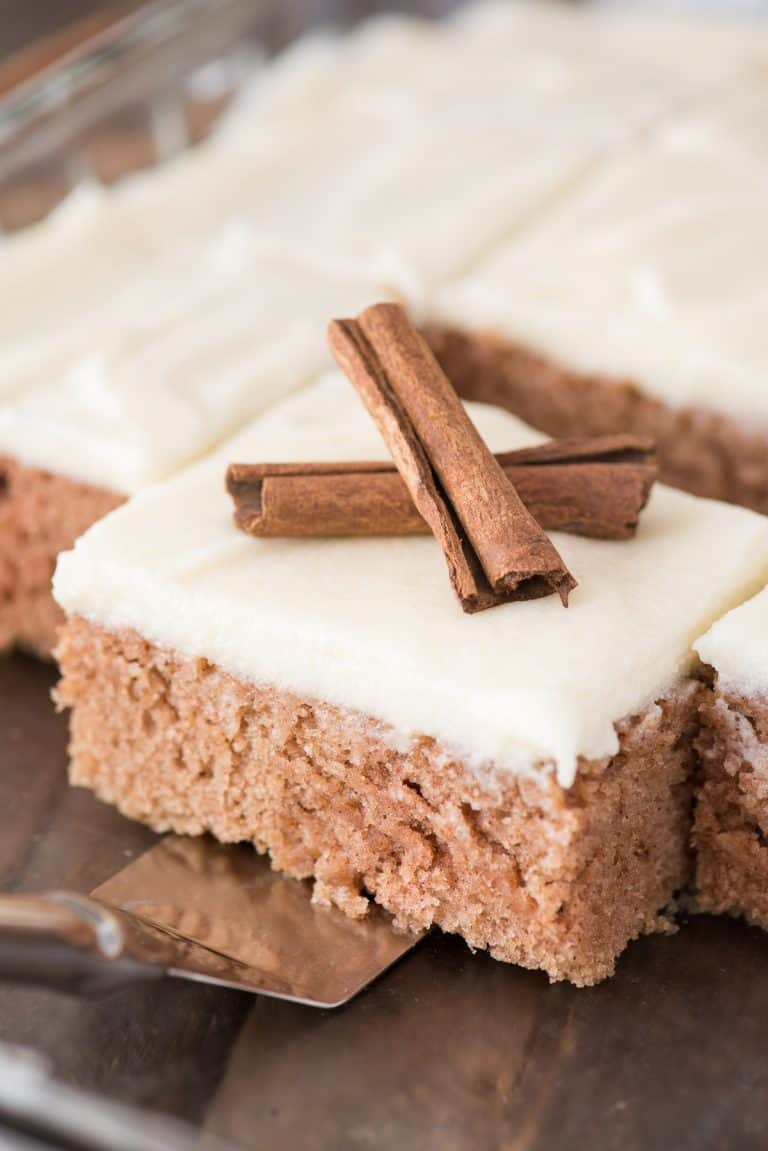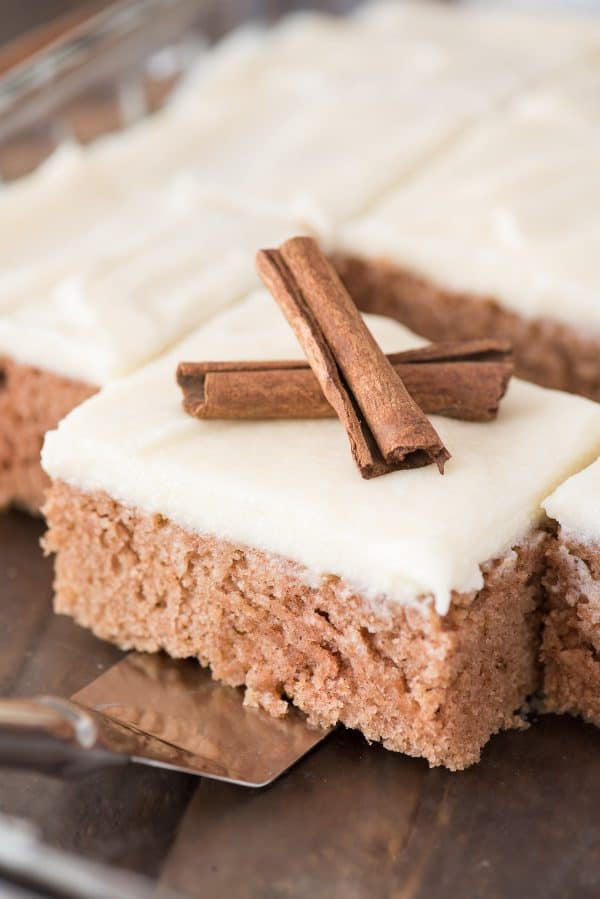 This cinnamon spice crazy cake is an amazing fall cake recipe! Also called a wacky cake, this cake is made without eggs, milk or butter. This is our family's favorite fall cinnamon cake because it's so easy to make!
It's already that time of year!
Before I start my fall recipe development, but when I know it's coming up and I'll have to start brainstorming fall recipes, I'm like noooooooooooo!!!!
I don't want summer to end. I don't want the berries to disappear from the store. I don't want to have to wear closed toe shoes or lots of layers.
BUT give me a few days and once I actually start testing my fall recipes, I get so excited for fall flavors again!
It's all about the spice, apple, caramel, pumpkin, warm baked goods. Those flavors are like a hug!
I wish I could enjoy all those fall flavors without the change in weather. I could live with sunshine and warm weather every day!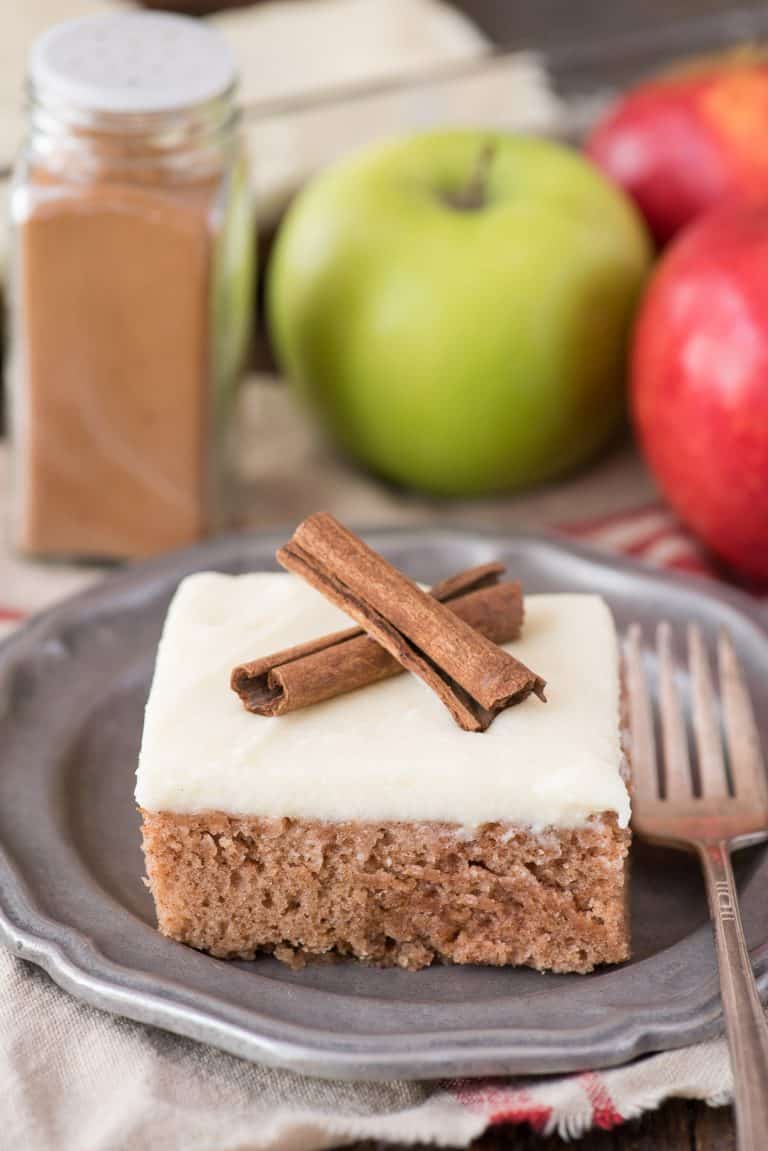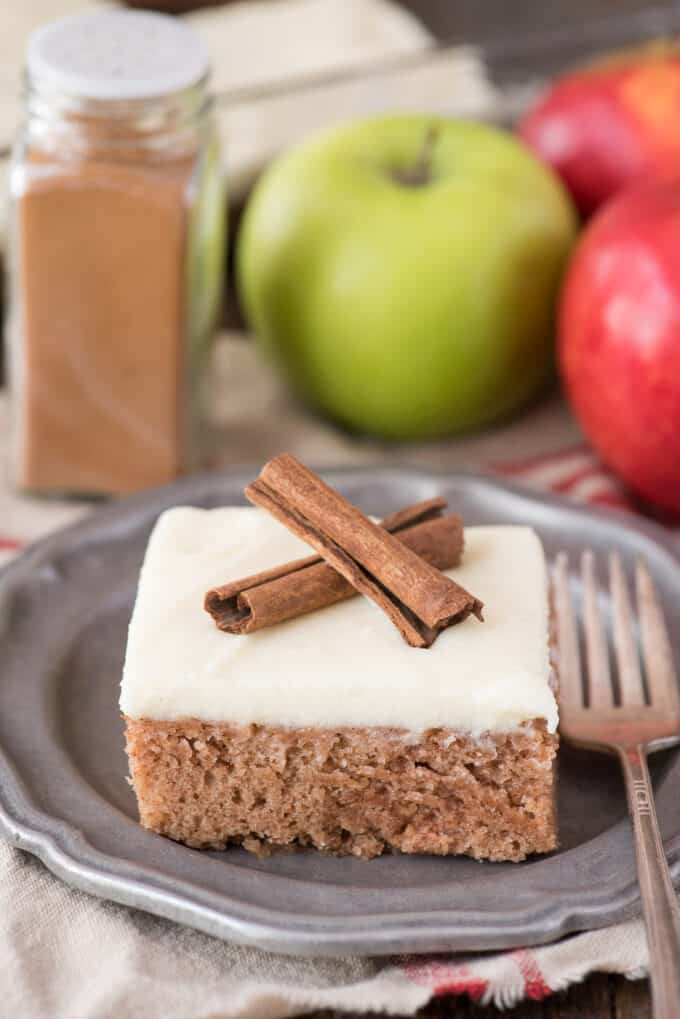 What is Crazy Cake
This is the very first recipe I'm sharing for a crazy cake. This type of cake is also referred to as a wacky cake and it comes from the 1940s during the depression era when eggs, milk and butter weren't readily available.
So why did I choose a crazy cake?
I always have every single ingredient from this recipe in my pantry and most of the items have long expiration dates. So even if you don't use vinegar often (we hardly use it) you at least have some.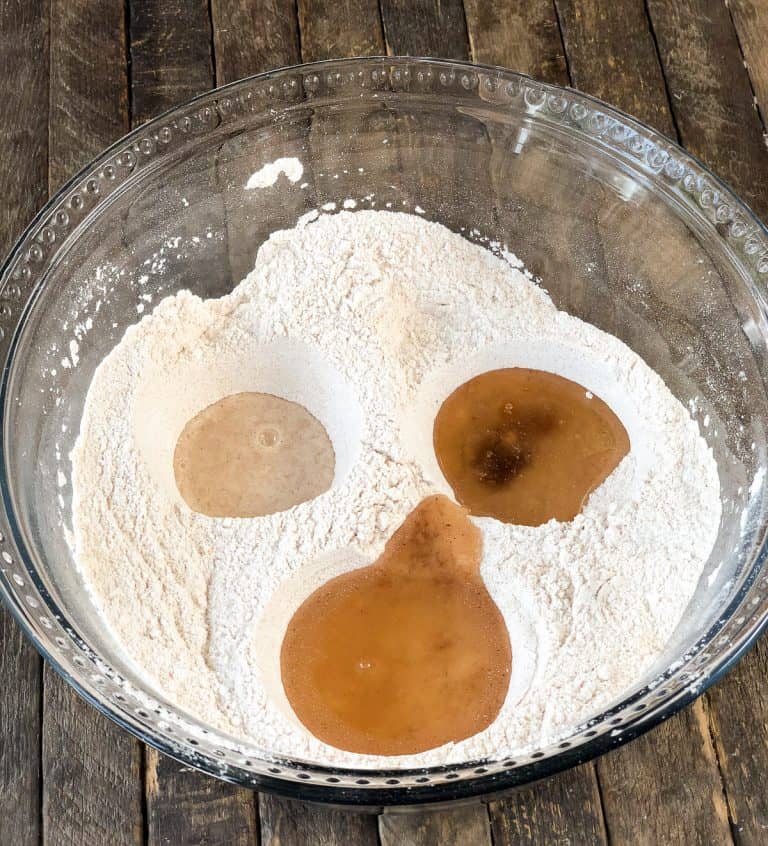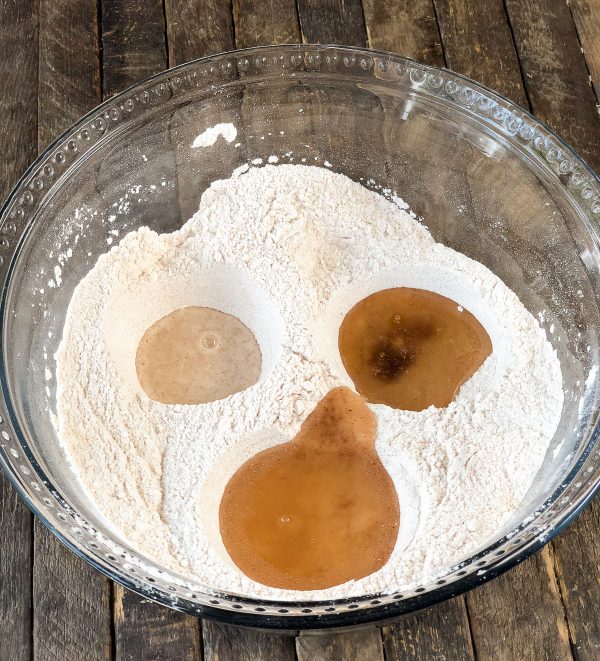 Cake Without Eggs, Milk or Butter
The first time I tested the recipe, it had this weird bitter aftertaste. But I adjusted the recipe, tested it twice more and it turned out amazing.
However, Ryan was a little skeptical about trying it the second time, given the first batch didn't turn out that great. I told him it was SO good and to just try it. He took a bite and said "this is the same cake using vinegar?!"
Yeah! It's moist and bursting with spice flavor, you'd never know it's made without eggs, milk or butter.
Total Time Required
10 minutes to prep the cake
25-28 minutes to bake
30 minutes to cool the cake
10 minutes to make the frosting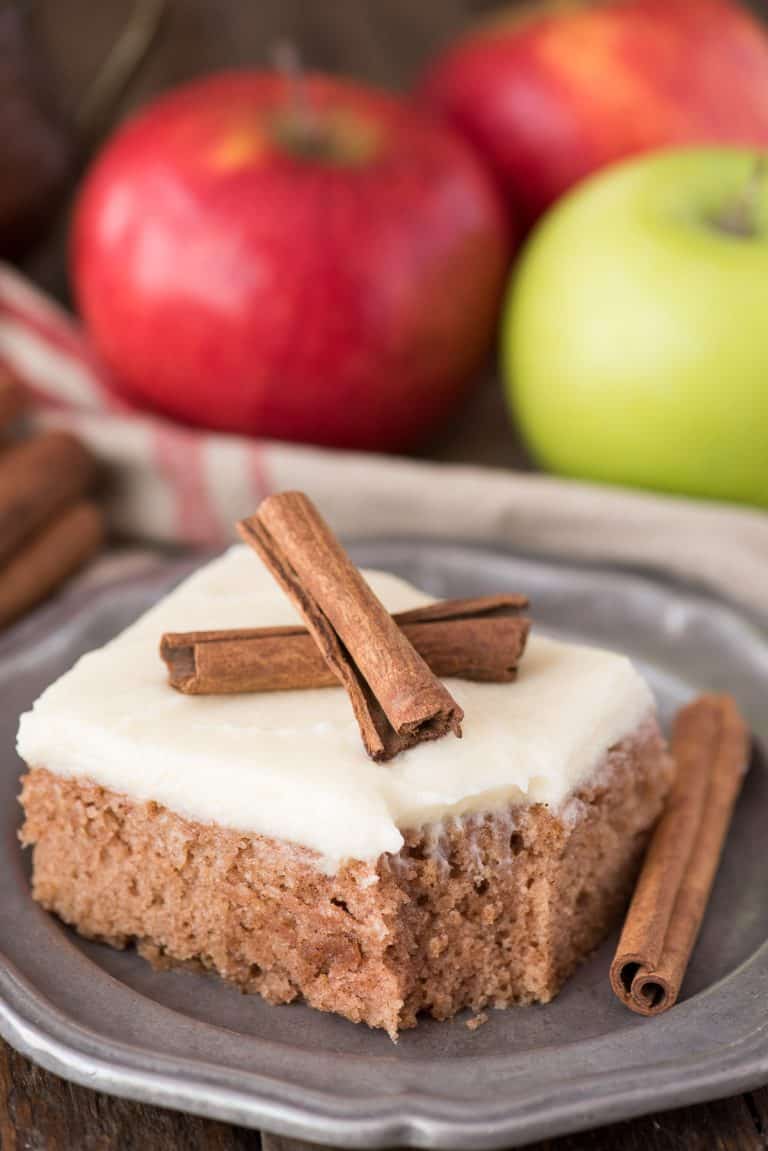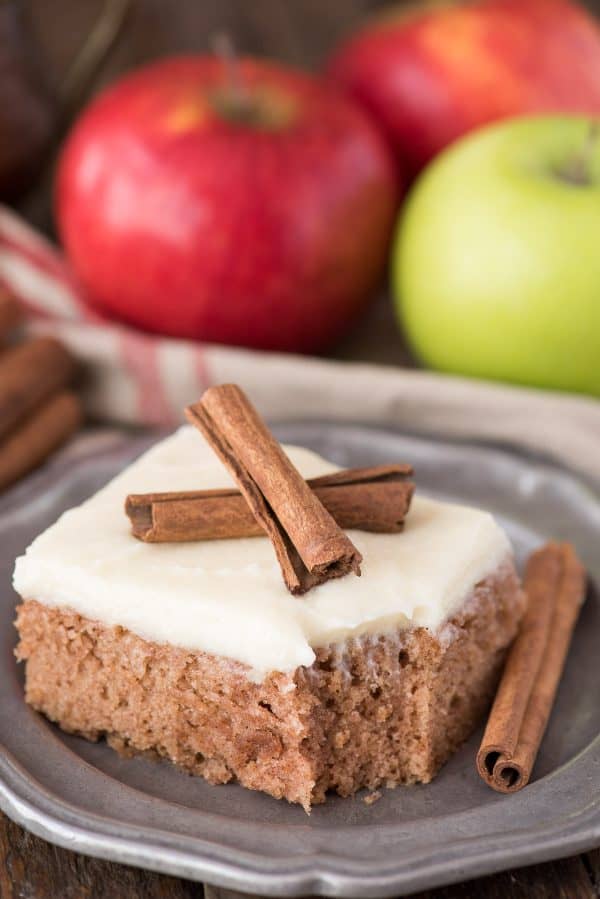 Tips
Properly measure the all purpose flour using the spoon and level method.
Bake in a non-greased pan.
Store leftover cake topped with cream cheese frosting in the fridge.
For a step-by-step of how to make this cinnamon spice crazy cake recipe, watch this short video:
More Fall Desserts
Stay Connected

Subscribe to The First Year newsletter to get our recipes sent to your inbox! Follow along on Instagram, Facebook, Pinterest, and Youtube. If you make this recipe, tag @beth_thefirstyear on instagram!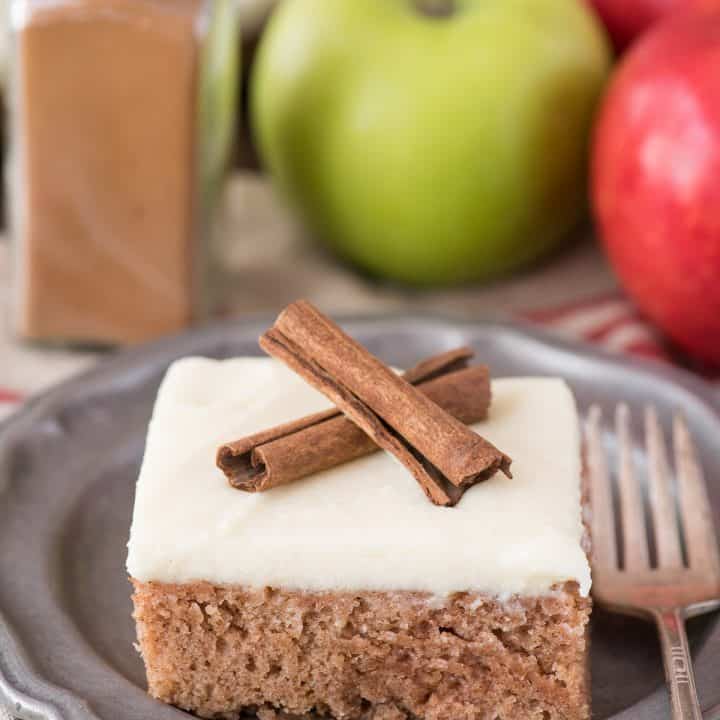 Cinnamon Spice Crazy Cake
Yield: 9x13 inch cake
Prep Time: 10 minutes
Cook Time: 30 minutes
Additional Time: 1 hour
Total Time: 1 hour 40 minutes
This cinnamon spice crazy cake is an amazing fall cake recipe! Also called a wacky cake, this cake is made without eggs, milk or butter. This is our family's favorite fall cinnamon cake because it's so easy to make!
Ingredients
Cake
2 & 1/2 cups all purpose flour
1 & 1/2 cups granulated sugar
1 tsp baking soda
3/4 tsp salt
3 tsp cinnamon
1/2 tsp nutmeg
1/4 tsp ground cloves
1/4 tsp ginger
1/2 cup vegetable oil
1/2 tbsp distilled white vinegar
1 & 1/2 tsp vanilla extract
1 & 1/2 cups cold water
Cream cheese frosting
1 package cream cheese, 8 oz, softened
1 stick (1/2 cup) unsalted butter, softened
1 tsp vanilla extract
3 cups powdered sugar
Instructions
CAKE
Preheat the oven to 350ºF. In a large mixing bowl, whisk together the all purpose flour, sugar, baking soda, salt, cinnamon, nutmeg, ground cloves and ginger.
Make 3 wells in the dry ingredients using the bottom of a measuring cup. Pour the vanilla extract in one, the vinegar in the second and the vegetable oil in the third. Before mixing, pour the cold water over everything, then mix by hand with a spatula until the batter is combined
Pour the batter into an UN-GREASED 9 x13 inch pan and bake for 25-28 minutes or until a toothpick inserted in the center comes out clean. Allow the cake to cool completely before adding the frosting.
Cream cheese frosting
In a mixing bowl combine the softened cream cheese and butter, beat using an electric mixer for 1-2 minutes. Add in the vanilla extract and some of the powdered sugar, mixing by hand or on low, continuing beating in the powdered sugar until the frosting is smooth.
Spread the frosting over the cooled cake.
For easy cutting, refrigerate the cake for 20 minutes to help set the frosting.
Store leftovers in the fridge.
Notes
This recipe turned out great using gluten free flour too! We love King Arthur Gluten Free Measure for Measure Flour.