Apple Butter Muffins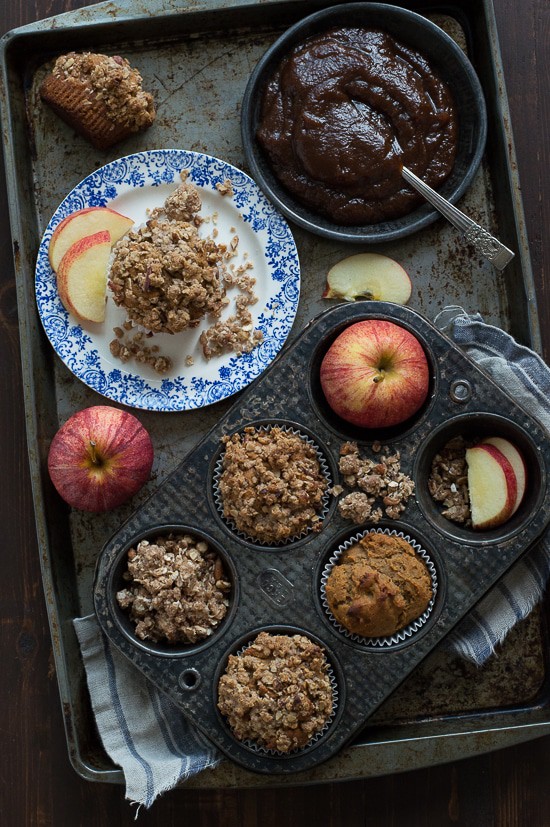 Have you made it to the apple orchard yet?
We're lucky to have one just 5 minutes from us.
But don't get all sad and sappy on me if you live 1 hour from the nearest orchard, because it seems like the apple orchard is the only thing we have. No DSW shoes, Trader Joe's, or Crate & Barrel!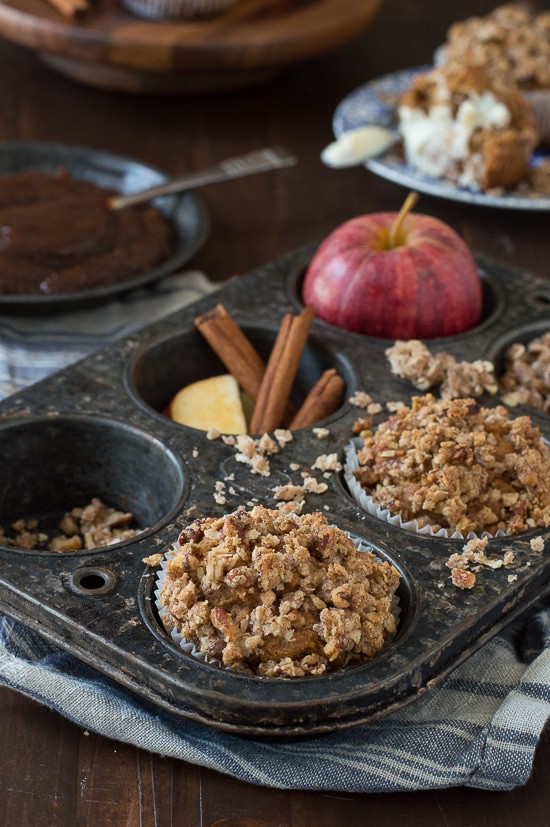 We went to the apple orchard a few weeks ago, but instead of leaving with apples, we left with mini pumpkins, haha. Such is the life of a food blogger, always working about a month a head.
The apples weren't even ready for picking yet so that made me feel a little better about not getting apples. But I did get a cute birch wood spreader to add to the ever growing collection of blog props :)
If you're making a trip to the orchard this fall, be sure to pick up extra apples for things like slab apple pie and skillet apple pie. Let's just apple pie all the things! If your orchard sells apple butter, grab a jar of that too and you'll be set to make these apple butter muffins!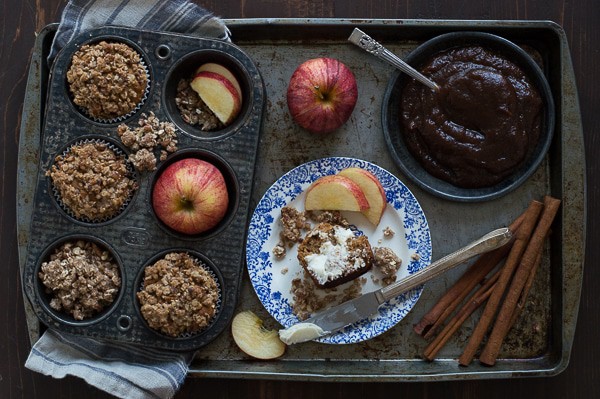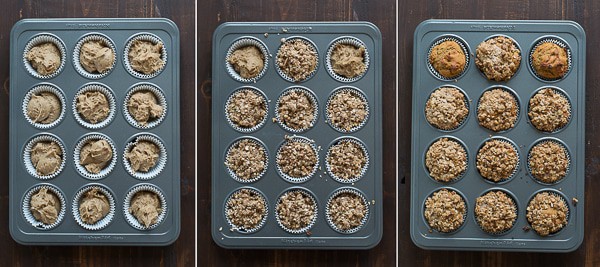 These could be breakfast muffins or snack time muffins or bedtime muffins, I seriously love muffins.
They have an awesome oat & nut streusel that gives the muffins some crunch and let's be honest.. these are definitely healthier than the cupcakes that have been reappearing on the blog :)
Our favorite way to enjoy these muffins was with extra apple butter spread on them!
Apple Butter Muffins
Yield: 14-18 muffins
Total Time:30 minutes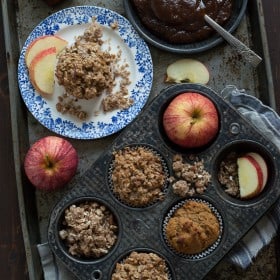 Ingredients:
Muffins
2 cups all purpose flour
2 tsp baking powder
1 tsp baking soda
1/2 tsp salt
1/2 tsp cinnamon
1 egg
1/2 cup brown sugar
1 & 1/4 cups apple butter
8 tbsp melted butter, cooled slightly
1/4 cup milk
Oat & Nut Streusel
2 tbsp all purpose flour
1 tsp cinnamon
1/4 cup brown sugar
1/2 cup steel cut oats
1/2 cup chopped pecans
4 tbsp butter, cold and diced
Directions:
Preheat the oven to 350ºF.
Line a muffin pan with 12 muffin cups.
In a medium bowl, combine the flour, baking powder, baking soda, salt, and cinnamon. Stir until combined.
In a larger bowl combine the egg and brown sugar. Mix with a whisk or fork until a paste forms. Stir in the apple butter, butter, and milk, mix until combined.
Using a cookie scoop, fill the muffins cups 3/4 full.
Prepare the streusel. In a medium bowl, combine the flour, cinnamon, brown sugar, oats, and pecans. Add in the diced butter and cut in the butter in using a pastry cutter or your fingers.
Evenly divide the streusel among the muffins, pushing it slightly into the batter to ensure it doesn't fall off when baking.
Bake for 15-18 minutes or until a toothpick inserted in the center comes out clean.
Run a knife or offset spatula around each muffin to loosen it.
Allow the muffins to cool for 5-10 minutes before removing them from the pan.
Allow them to cool on a cooling rack. Store in an air tight container.
If you bake the muffins without the streusel bake for 15 minutes. These can also be made into mini muffins, baking for 9-11 minutes and the recipe will make a ton of mini muffins.
Products used to make this recipe
(may include affiliate links)