Caramel Apple Fudge
One of the best fall treats – homemade caramel apple fudge! This fudge reminds me of those green caramel apple suckers! SO good!

For as long as I can remember, I have loved those green caramel apple suckers. The ones that are flat, with the green sour apple candy that's dipped in caramel. I don't know why, but there's something about the combination of sour and sweet. And admittedly I like the ones that have more caramel the best.
If someone was to hand me one right now, I would instantly open it and put it in my mouth. I feel weird admitting that I'm an adult and I like suckers :D
This fudge reminds me of those suckers!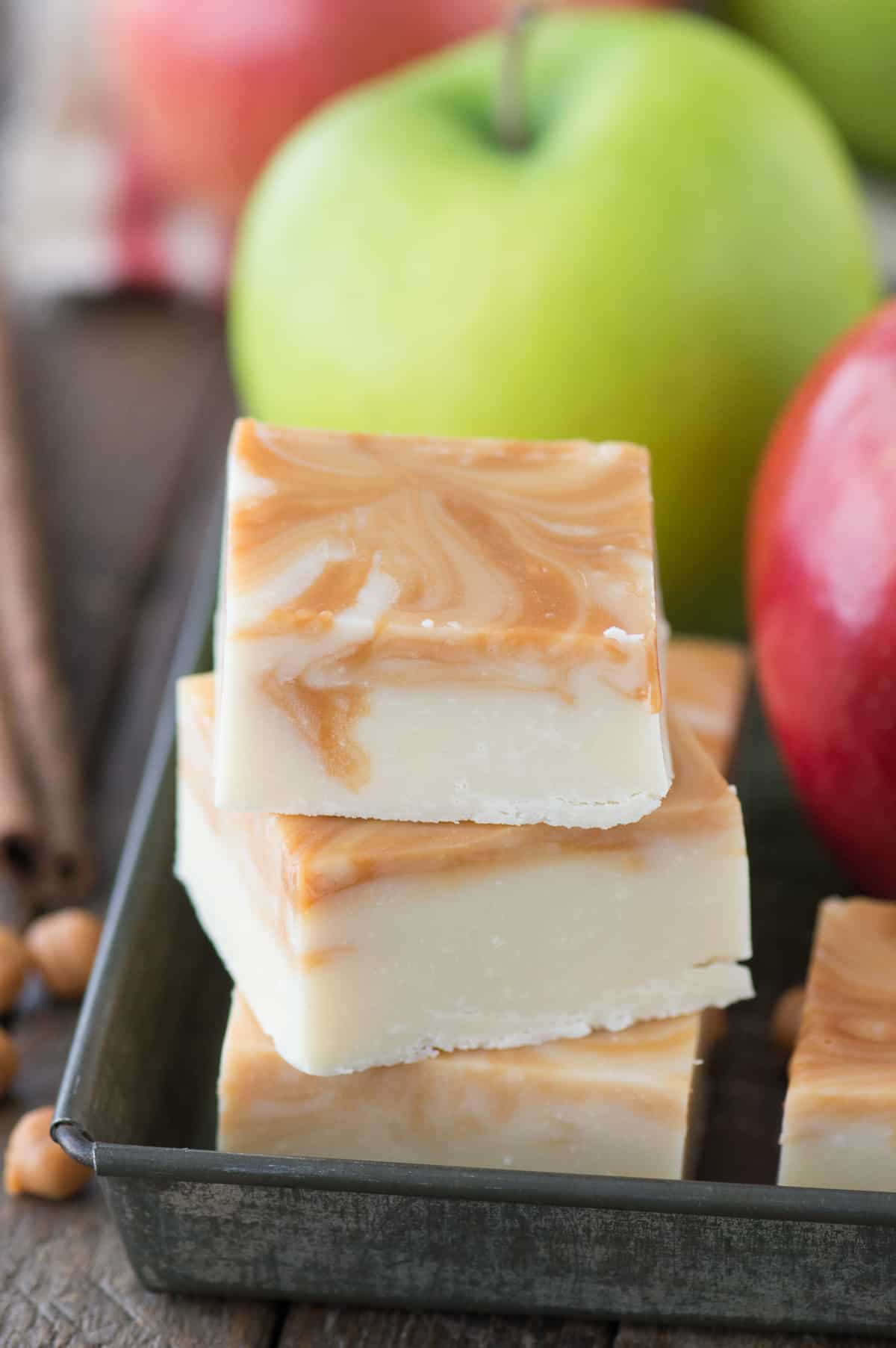 To achieve that sour apple taste, this recipe calls for 3 packets of apple cider drink mix. You can find this near the tea and hot cocoa mix in your grocery store. I actually use the same apple cider drink mix in these caramel apple snickerdoodles which are SO good!
Of course this caramel apple fudge wouldn't be complete without the caramel, and when you swirl the two together, you get this fun combination of flavors!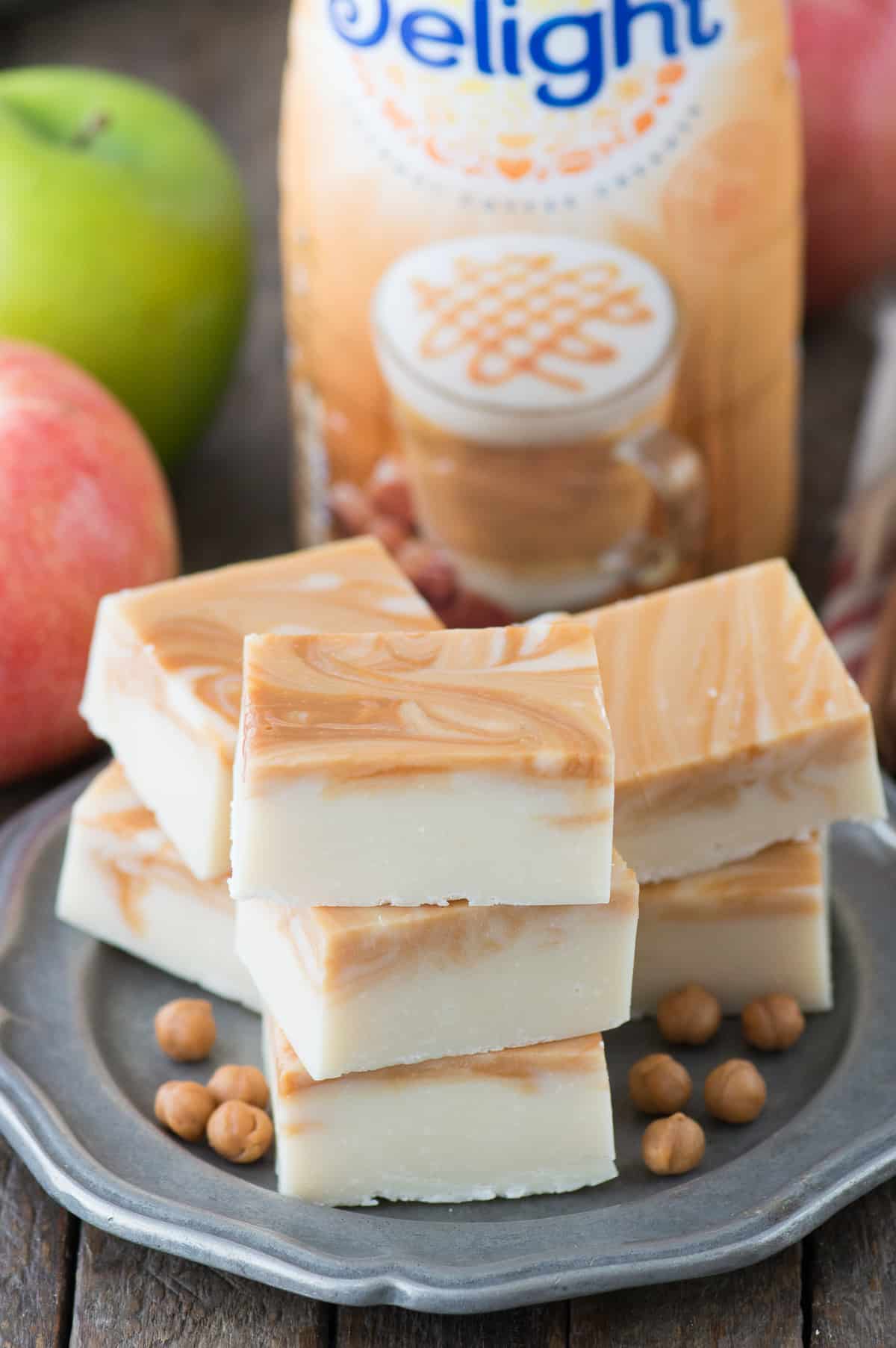 This fudge is definitely something you could make in the morning and serve in the afternoon. The actual cooking of the fudge only takes 15 minutes and we recommend putting the fudge in the fridge for 3 hours to set before cutting it into pieces.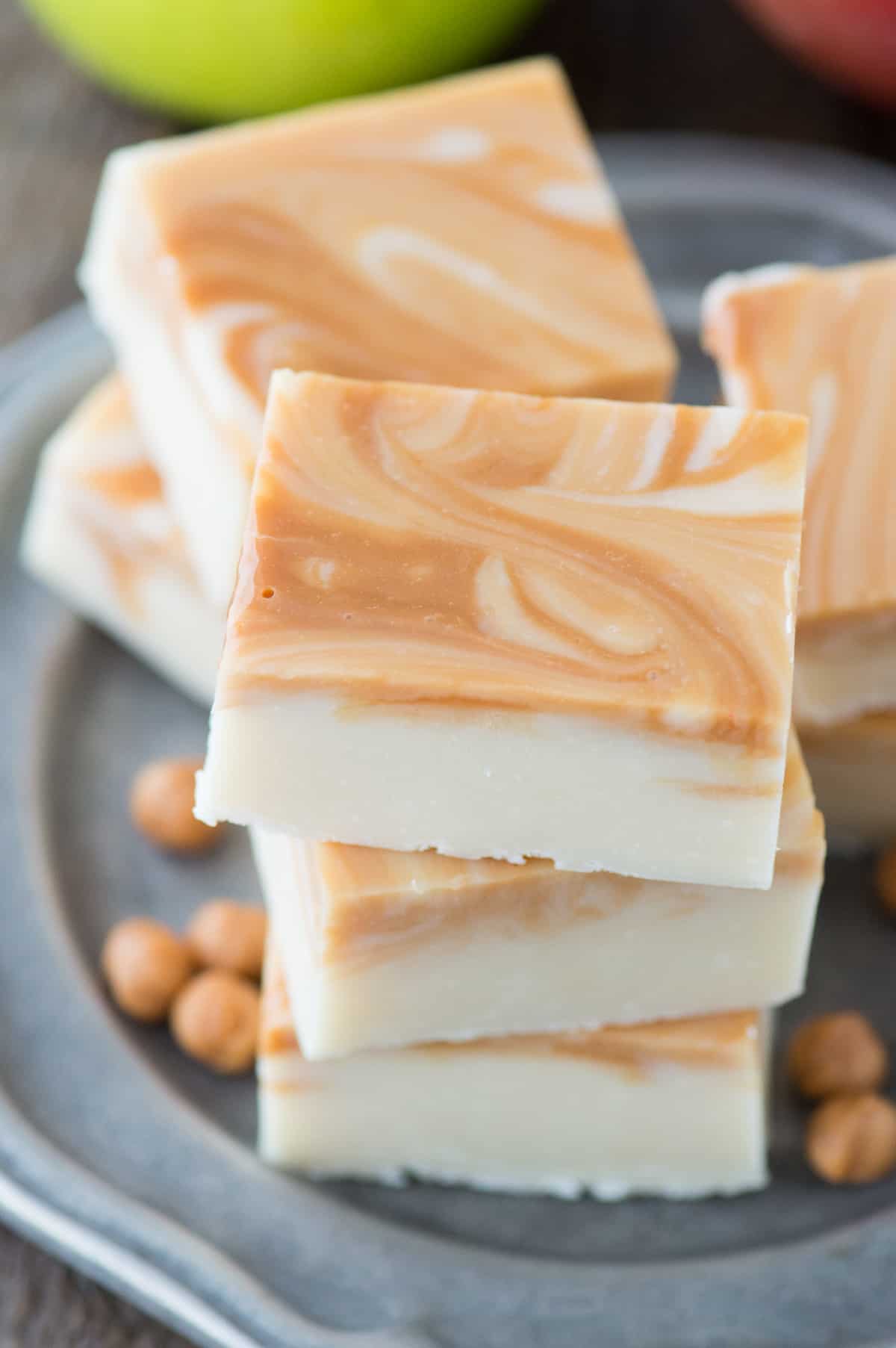 I used International Delight caramel macchiato creamer in this recipe to add sweetness and a nice caramel flavor. I love International Delight because it's super versatile and you can use it in a lot of recipes, in addition to in your coffee! See all of our International Delight recipes.
Visit International Delight to sign up to receive new offers, recipes and delightful surprises in your email all year long.
This is a sponsored conversation written by me on behalf of International Delight. The opinions and text are all mine.
For a step-by-step of how to make this caramel apple fudge recipe, watch this short video:
Caramel Apple Fudge
Yield: 8x8 inch pan of fudge
Total Time:3 hours 30 minutes
One of the best fall treats - homemade caramel apple fudge! This fudge reminds me of those green caramel apple suckers! SO good!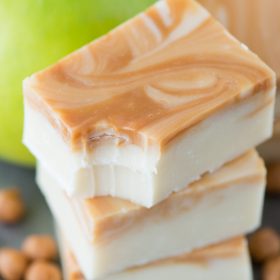 Ingredients:
1/2 stick butter (1/4 cup)
3 cups mini marshmallows
1/2 cup sugar
1/2 cup heavy cream
3 packets of Apple cider drink mix (0.74 oz each)
3 cups white chocolate chips
1/2 cup caramel bits
1 & 1/2 tbsp International Delight caramel machiatto creamer
Directions:
Line an 8x8 inch baking pan with 2 layers of tin foil, leaving an overhang.
In a large pot combine the butter, marshmallows, sugar, heavy cream, and packets of apple cider, cook over medium heat, stirring occasionally until the marshmallows are melted, about 8-10 minutes.
Meanwhile, place the caramel bits and International Delight creamer in a microwave safe bowl. Microwave the caramel at 45 second intervals at 50% power until they are melted and smooth. Set aside.
Remove the pot from the heat and stir in the white chocolate chips until they are completely melted.
Pour the fudge into the pan. Drizzle the caramel on top of the fudge, use a small metal spatula to create swirls in the fudge.
Refrigerate for 3 hours. Cut into small squares, for best result keep the fudge in the fridge.
Products used to make this recipe
(may include affiliate links)