Pumpkin Dump Cake
 This Pumpkin Dump Cake is the BEST no fail pumpkin dump cake! Just mix, dump, and bake – it's ready in under 1 hour! This will be a family favorite!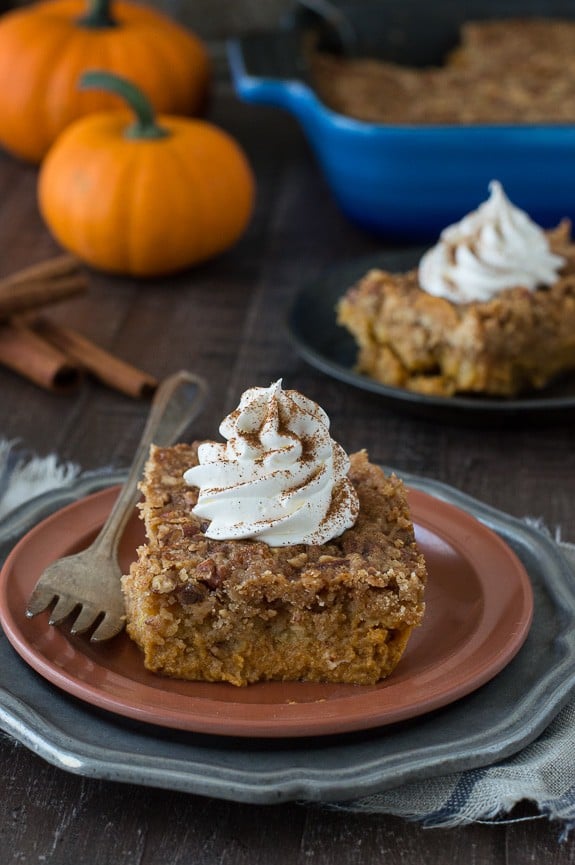 This post was updated September 2015 with new photos, but it's still the same great recipe that everyone will love!
If you've been keeping up with our posts, you know that I am pumpkin crazy. I mean, I'm that crazy lady who walks out of the grocery store with 10 cans of pumpkin and that's it. Well and maybe some butter, I'm always running out of butter!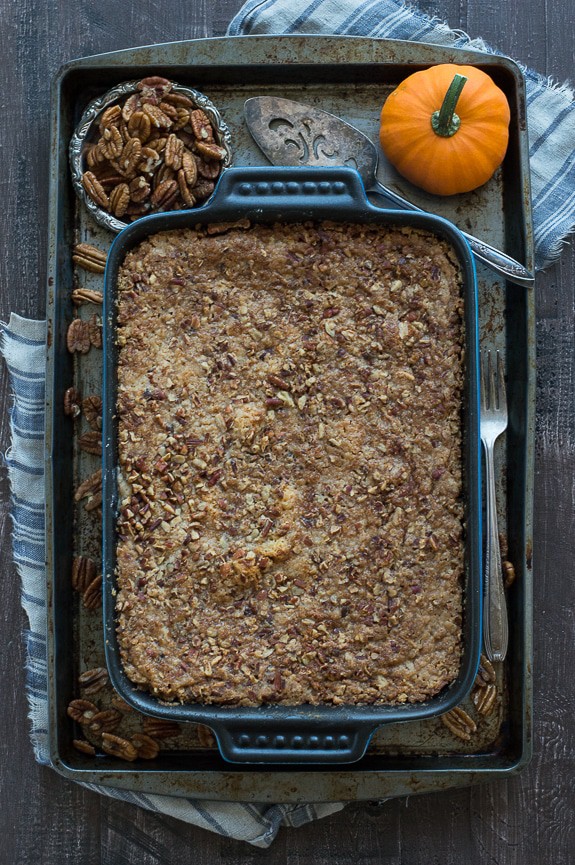 Pumpkin Cans
It was a good thing I stocked up when I did because I noticed our grocery store didn't have any left on the shelf this week.
That must be my type A personality coming through, plus I hate having to drive to multiple stores looking for one item. Uh..that was me last week looking for safety pins!
I don't mind having tons of cans of pumpkin around the house. You never knew if you'll need pumpkin in June when you're a food blogger!
But for all you regular folk, if you have lots of cans around your house towards the end of the season, offer to bring pumpkin pie (or 2) and this spectacular dump cake for Thanksgiving.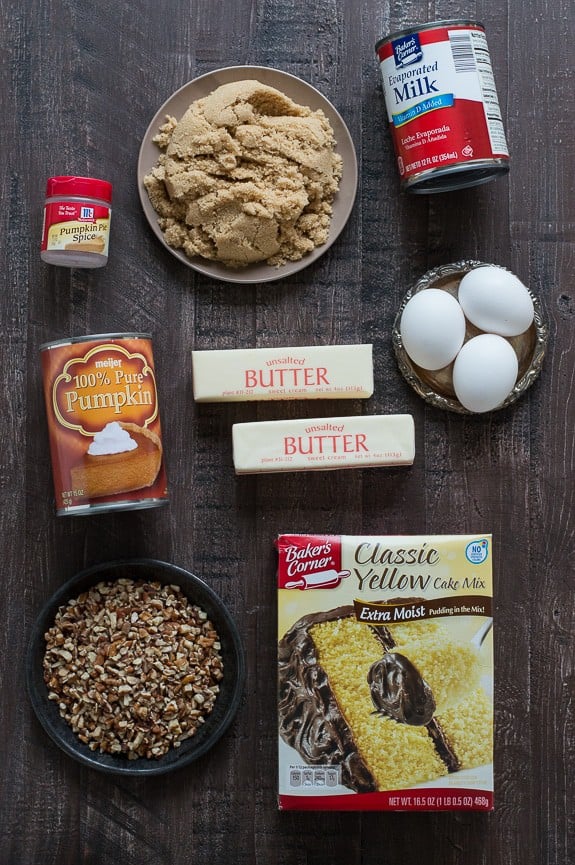 Simple Pumpkin Dump Cake Recipe
This pumpkin dump cake is super easy, I promise!
Above is a shot of everything you'll need – yellow cake mix, pecans, pumpkin puree, butter, eggs, evaporated milk, brown sugar, and pumpkin pie spice.. which I like to abbreviate as PP spice on my grocery list, haha.

For those of you who've had pumpkin dump cake before, you know it's amazing and probably one of those fall desserts you make each year. This cake could replace pumpkin pie at thanksgiving in our house, it's that GOOD.
How to make pumpkin dump cake:
1. In a bowl combine the pumpkin puree, eggs, evaporated milk, brown sugar, and pumpkin pie spice. Mix well with a fork, spatula, or electric mixer.
2. Pour the mixture into a well buttered pan.
3. Sprinkle the dry cake mix evenly over the mixture in the pan.
4. Sprinkle the pecans evenly on top of the cake mix.
5. Drizzle the melted butter evenly on top of everything.
Ta da! You'll only have 3 items to clean – the mixing bowl, the cake pan, and a bowl or pot you used to melt the butter in.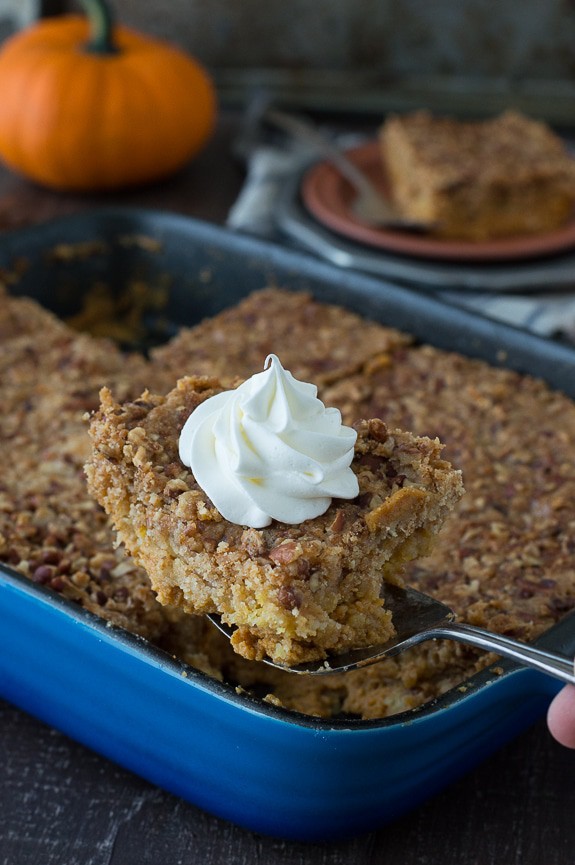 This Pumpkin Dump Cake recipe is Ryan's favorite dessert in just about the whole wide world, so I made sure to save him an extra big piece before bringing it to bible study and pawning it off on neighbors and friends.
And some of you might be skeptical, but trust me there is nothing 'dumpy' about this cake, haha.. get it? :)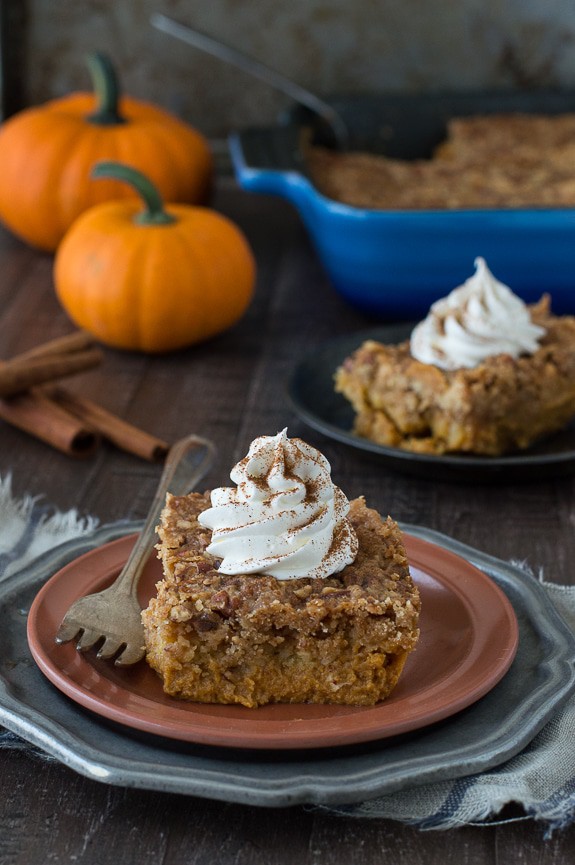 Readers say..
Betty – THIS WAS ABSOLUTELY FABULOUS!!!! I WILL BE MAKING THIS FOR OUR THANKSGIVING DINNER. MUCH BETTER THAN A PLAIN PUMPKIN PIE, HANDS DOWN. THANKS!
Hope- Ohhhhhhh my is this delicious! Made this today and wow! Buttery rich delicious goodness.. i would eat this any time of the year and will def make it again! Thank you for the recipe
For a step-by-step of how to make this pumpkin dump cake recipe, watch this short video: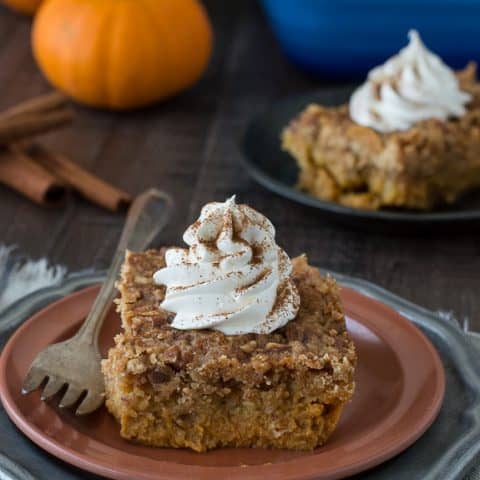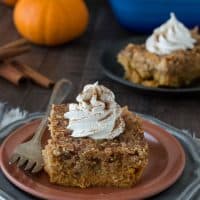 Pumpkin Dump Cake
Yield: one 9x13 inch pan
Additional Time: 1 hour
Total Time: 1 hour
This pumpkin dump cake is the best fall dessert! Just mix, dump, and bake - it's ready in under 1 hour! This will be a family favorite!
Ingredients
1 can (15 oz) pumpkin puree
1 can (12 oz) evaporated milk
1 cup packed brown sugar
3 eggs
2 tsp pumpkin pie spice
1 box yellow cake mix
2 sticks butter, melted
1 cup chopped pecans
Instructions
Preheat the oven to 350º F.
Butter the bottom and sides of a 9 x 13 inch cake pan.
In a large bowl combine the pumpkin, evaporated milk, brown sugar, eggs and pumpkin pie spice.
Whisk until combined. Pour this mixture into the buttered pan.
Sprinkle the cake mix powder on top of the batter as evenly as possible.
Sprinkle the pecans evenly over the batter.
Pour the melted butter evenly over the top of the cake.
Bake for 45-50 minutes, until the edges are browned and the center is set. A knife inserted in the middle should come out clean.