Pumpkin Dump Cake (Easy!)
This 8 ingredient pumpkin dump cake has 718,000 views and counting, which is no surprise since it's equally easy and delicious.
Just mix, dump and bake – in under 1 hour you'll have a family favorite pumpkin dessert that will have guests begging for more!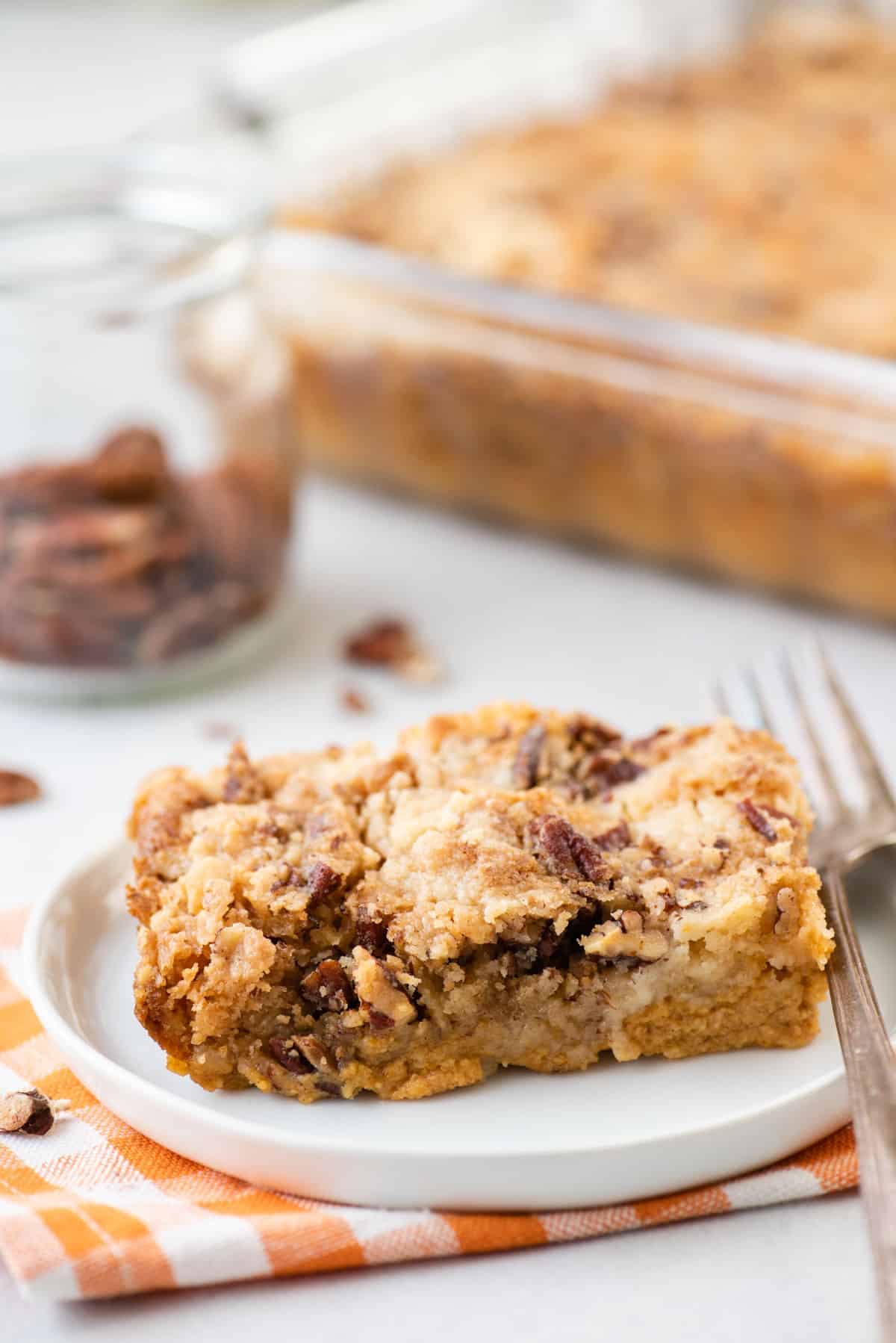 This was absolutely fabulous!! I will be making this for our thanksgiving dinner. Much better than a plain pumpkin pie, hands down. Thanks!

-Betty
This recipe for Pumpkin Dump Cake is sure to be a family favorite!
If you've been keeping up with our posts, you know that I am pumpkin crazy. I mean, I'm that crazy lady who walks out of the grocery store with 10 cans of pumpkin and that's it. Well and maybe some butter, I'm always running out of butter!
It was a good thing I stocked up when I did because I noticed our grocery store didn't have any left on the shelf this week.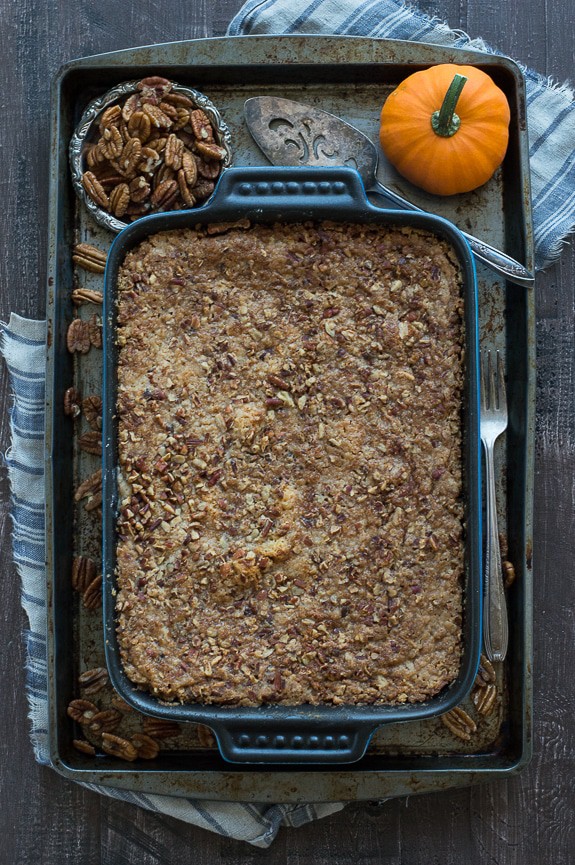 That must be my type A personality coming through, plus I hate having to drive to multiple stores looking for one item. Uh..that was me last week looking for safety pins!
I don't mind having tons of cans of pumpkin around the house. You never knew if you'll need pumpkin in June when you're a food blogger!
But for all you regular folk, if you have lots of cans around your house towards the end of the season, offer to bring pumpkin pie (or 2) and this spectacular dump cake for Thanksgiving.
You Will Love This Pumpkin Dump Cake Recipe
Our easy dump cake recipe will become a family favorite, you might even like it more than traditional pumpkin pie! Serve it with a scoop of vanilla ice cream or even add toffee bits and a drizzle of caramel sauce.
It's an easy fall dessert to make because it only requires a handful of ingredients. It has classic pumpkin pie vibes and will leave pumpkin fans wanting more!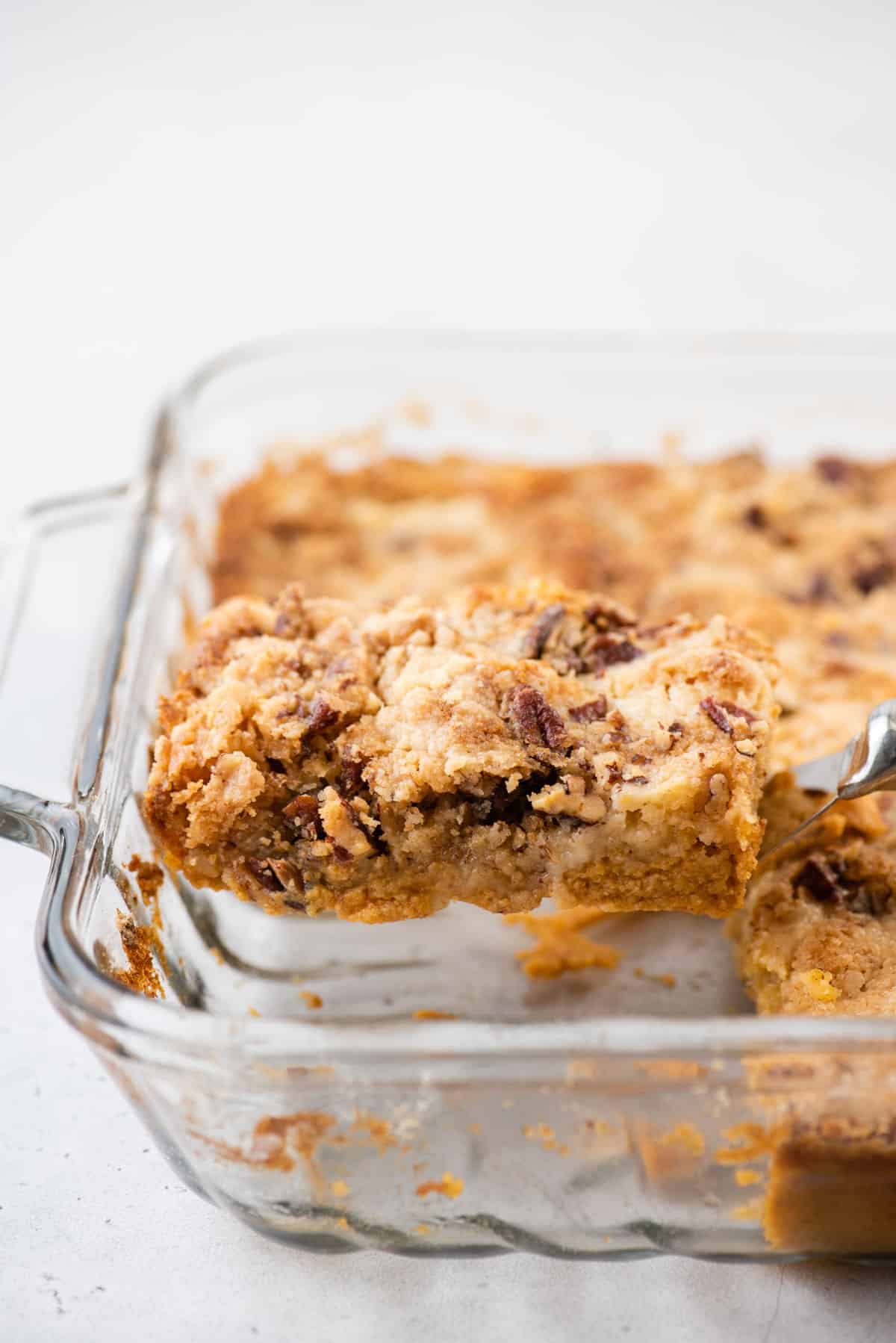 Oh my is this delicious! Made this today and wow! Buttery rich delicious goodness.. i would eat this any time of the year and will def make it again! Thank you for the recipe.

-Hope
What is Dump Cake?
A dump cake is known for ease because you dump ingredients into the cake pan. Most dump cake recipes are made in a 9×13 inch baking dish.
Most dump cakes use either canned, frozen, or fresh fruit, fruit filling or canned pumpkin.
Dump cakes are known for sprinkling a box of dry cake mix over the ingredients in the pan and then adding melted butter on top of the cake mix.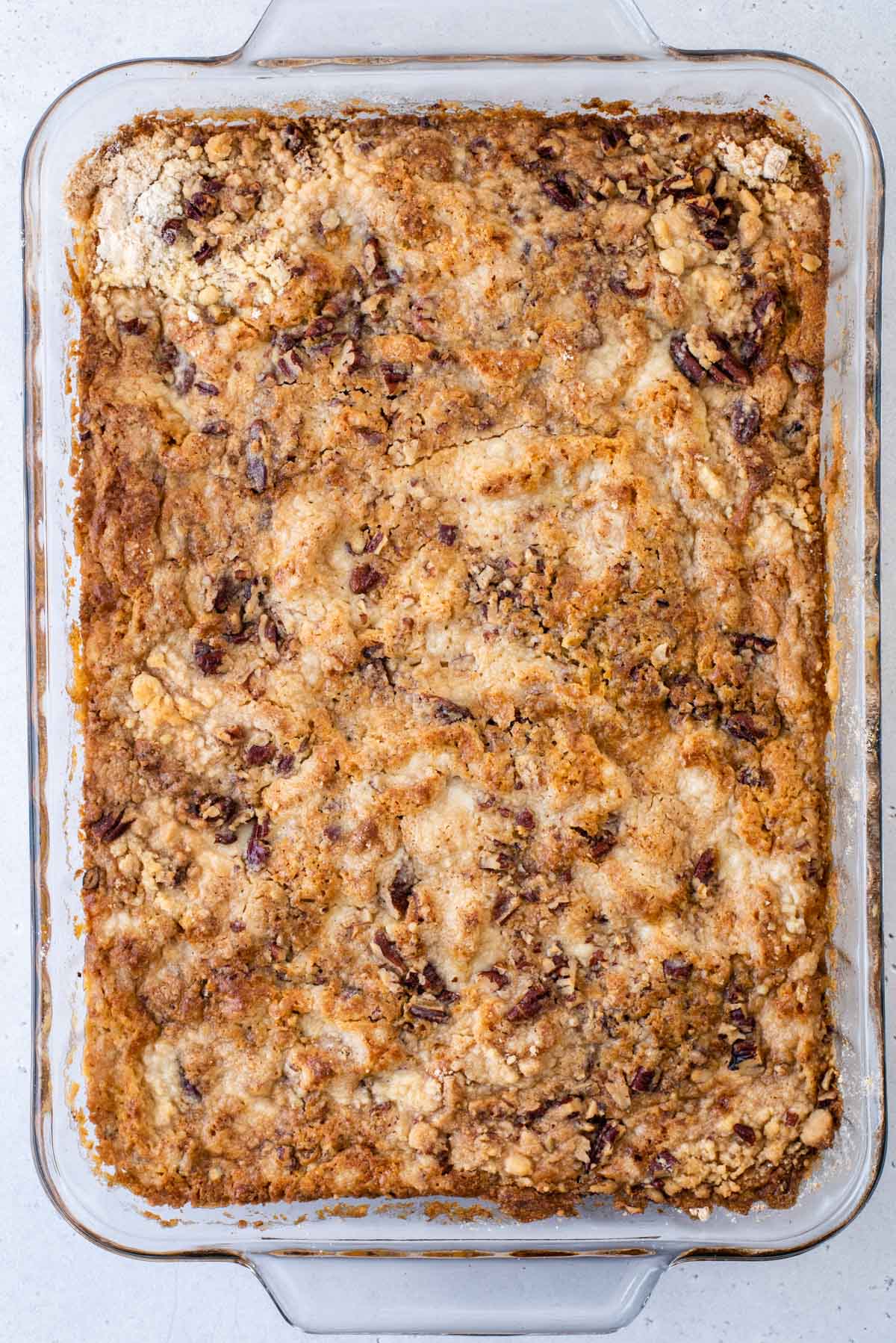 It's magical what happens inside the oven. Even I was like "Is this going to work??"
The result is a cobbler like dessert with pumpkin filling and cake mixed together! It's not the type of cake you cut into neat squares, just scoop it onto your plate and eat!
You can eat it warm, at room temperature, or even cold… when it comes to this tasty dessert I'm not picky about the temperature!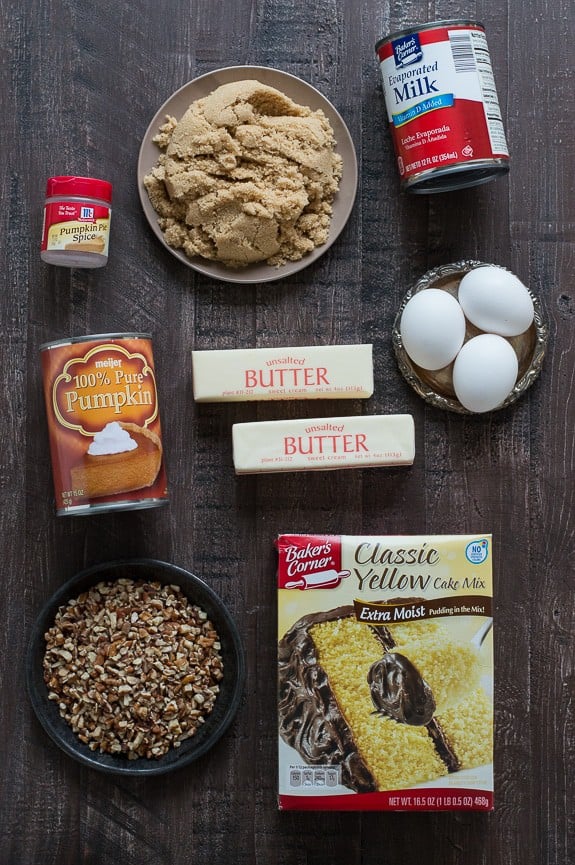 Easy Pumpkin Dump Cake ingredients
pumpkin puree – not pumpkin pie filling
evaporated milk
light brown sugar
eggs
pumpkin pie spice
yellow cake mix
butter
chopped pecans, optional
Easy Pumpkin Dump Cake Variations
Switch up the box of cake mix. In place of the yellow cake mix, use a box of white cake mix, vanilla, butter pecan, or french vanilla. For chocolate lovers, try chocolate fudge, devil's food cake, or milk chocolate cake mix for a chocolate pumpkin dump cake!
Add chocolate chips. To add a chocolate twist, sprinkle 1 cup of chocolate chips over the cake before baking.
How to Make Pumpkin Dump Cake with Yellow Cake Mix
In a large bowl combine the pumpkin puree, eggs, evaporated milk, brown sugar, and pumpkin pie spice. Mix well with a fork, spatula, or electric mixer.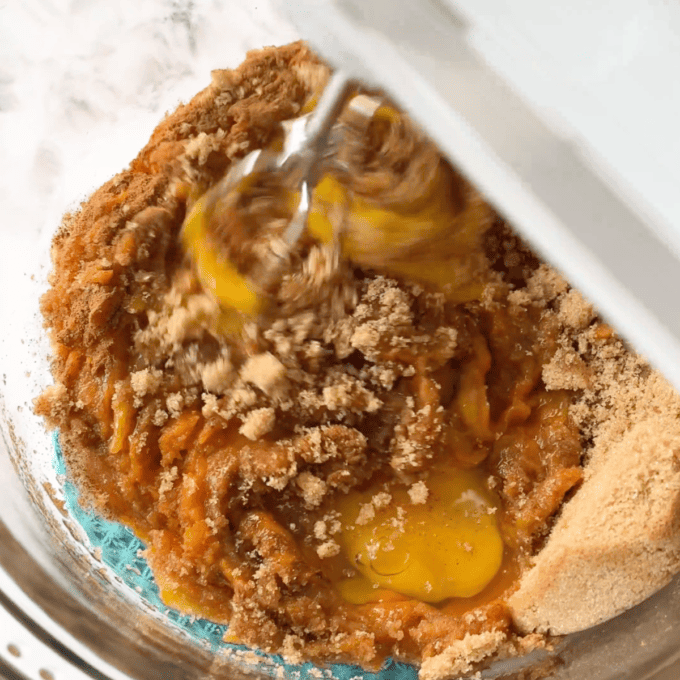 Pour the pumpkin mixture into a well buttered pan.
Sprinkle dry cake mix evenly over the pumpkin layer in the baking pan.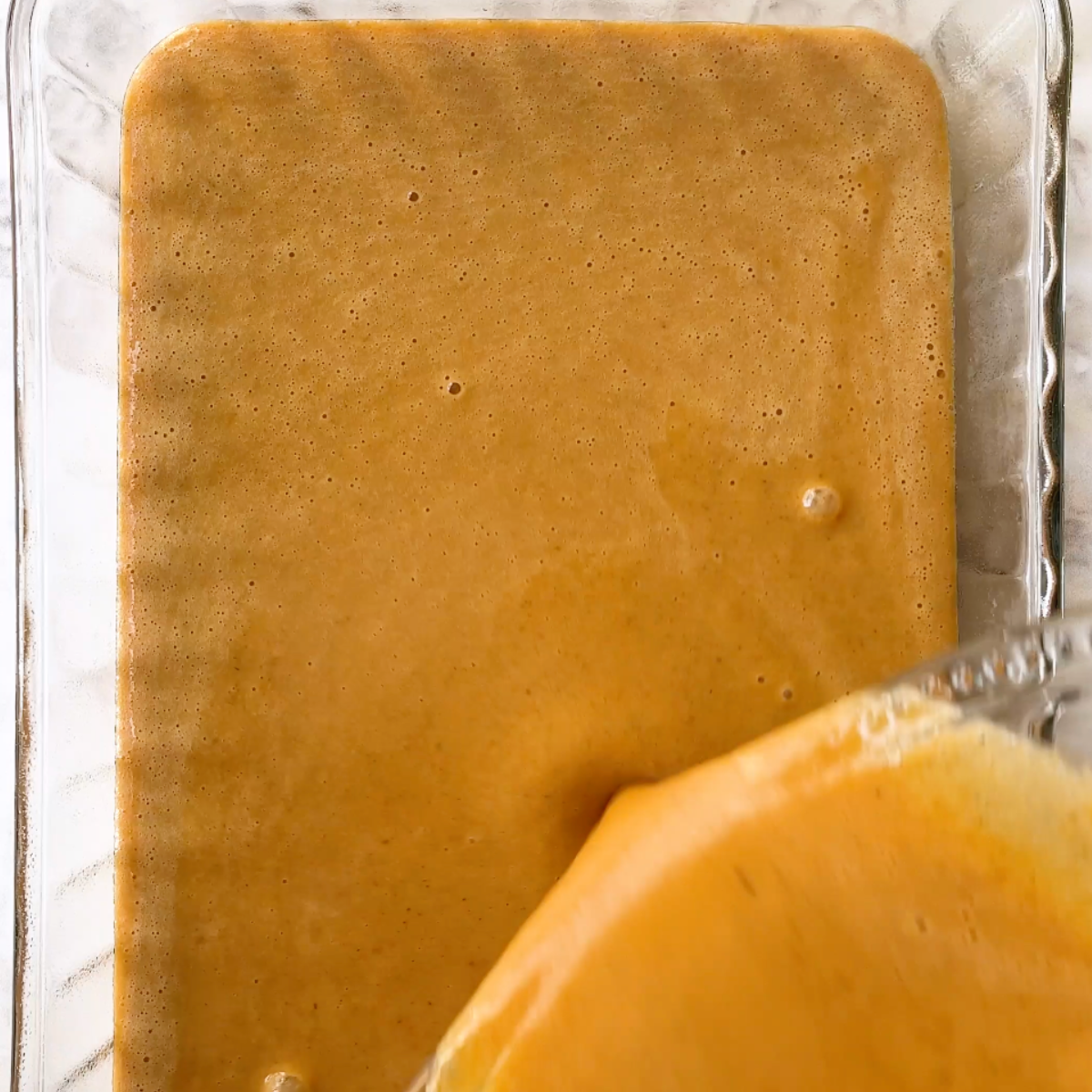 Sprinkle pecans evenly on top of the cake mix.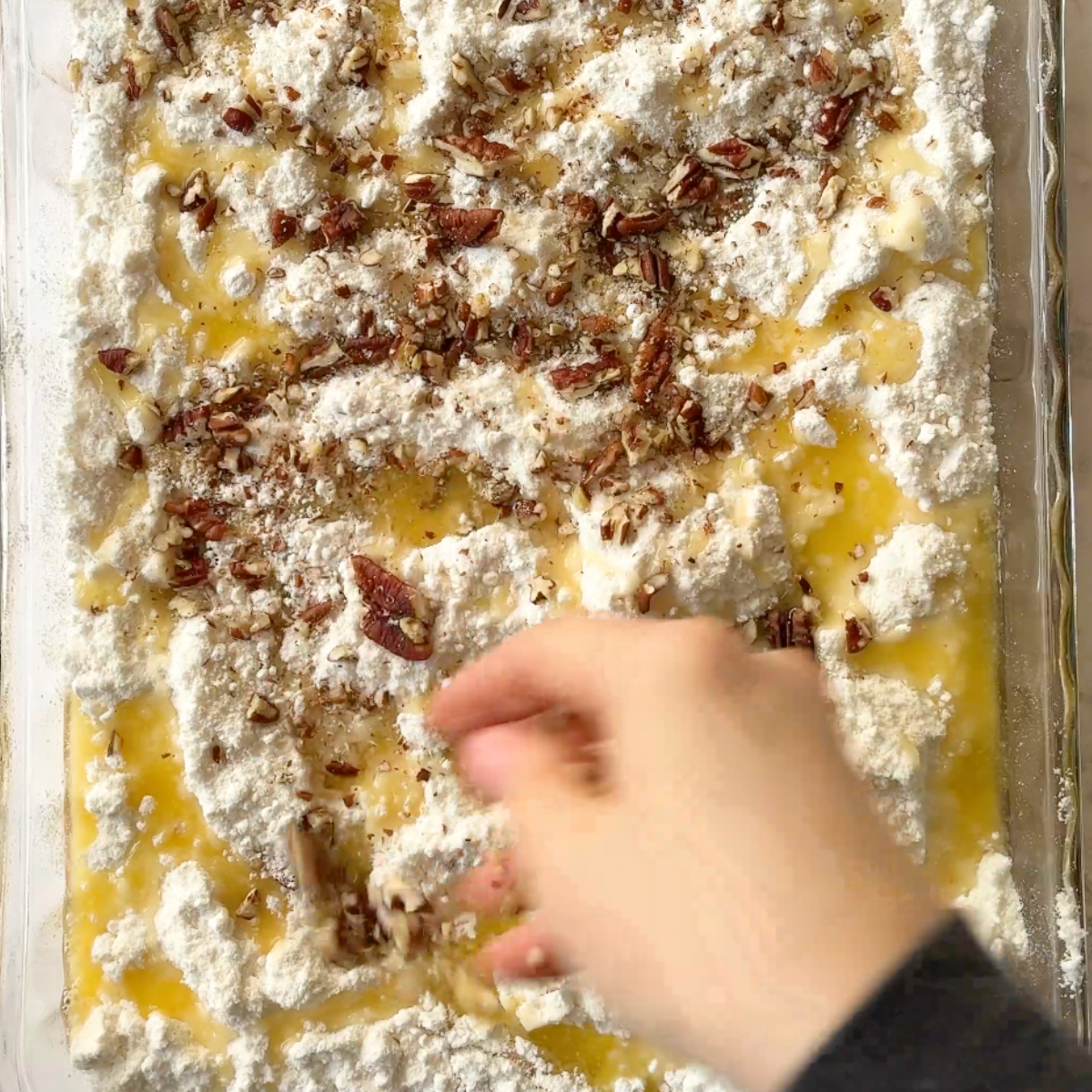 Drizzle the melted butter evenly on top of everything.
Ta da! You'll only have 3 items to clean – the mixing bowl, the cake pan, and a bowl or pot you used to melt the butter in.
How to Know When My Pumpkin Dump Cake is Done
Unlike traditional cakes, the toothpick method won't work for a pumpkin dump cake recipe.
The top of the dump cake should look golden in color and look and feel like a "crust", but once you break the the crust, the cake will be moist because of the pumpkin.
Rule of thumb: look for the top of the cake to be golden in color.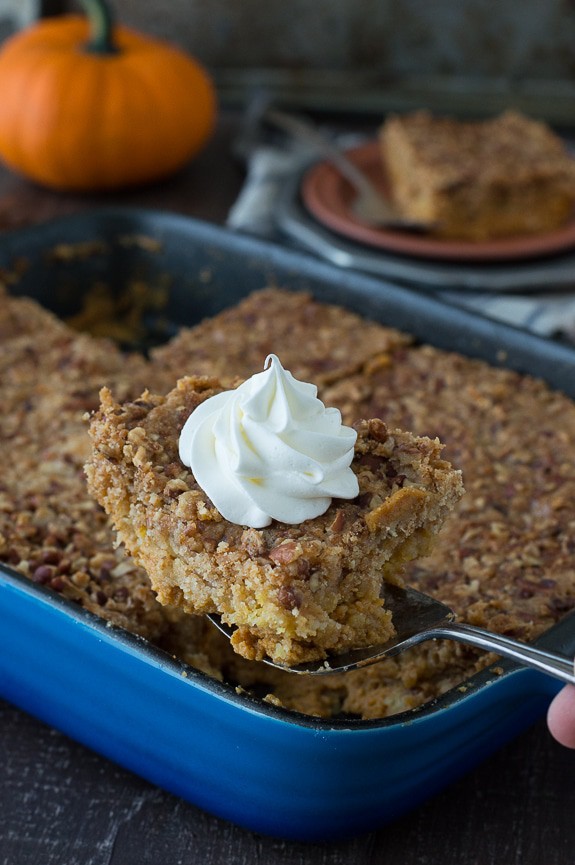 This Pumpkin Dump Cake recipe is Ryan's favorite dessert in just about the whole wide world, so I made sure to save him an extra big piece before bringing it to bible study and pawning it off on neighbors and friends.
And some of you might be skeptical, but trust me there is nothing 'dumpy' about this cake, haha.. get it?
Can this recipe for Pumpkin Dump Cake be made ahead of time?
Most people prefer a warm dump cake, since it does resemble a cobbler. So with that in mind, yes, you can make apple spice dump cake ahead of time, but I would recommend not making it more than 1 day in advance. You can re-heat the entire pan in the oven.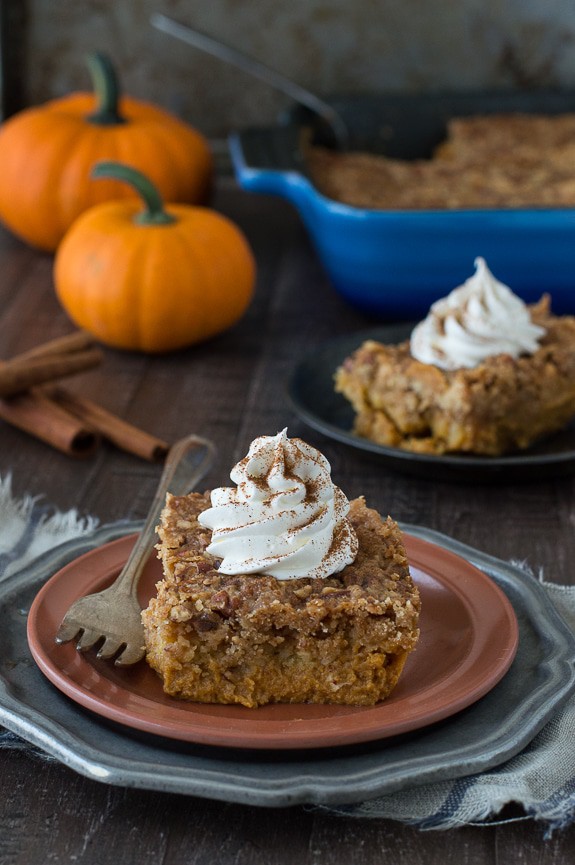 How to store Pumpkin Dump Cake
To store leftovers, cover the pan with a lid, plastic wrap or scoop the leftovers into an airtight container.
To reheat the whole pan of dump cake, cover the dish with tin foil and warm at 350º F for 15 minutes or until warmed through.
To freeze, bake the cake in a freezer safe container. Allow it to cool completely then wrap the pan well in plastic then again in foil. Label and place in the freezer. To thaw place in the fridge overnight
Pumpkin Dump Cake Recipe Pro Tips
Use canned pumpkin puree, not pumpkin pie filling.
It's okay if the melted butter doesn't cover all of the cake mix!
Use a spice cake mix instead of yellow cake mix.
This recipe turned out great using a box of gluten free yellow cake mix.
If you bake this in a smaller pan, the baking time will need to be increased.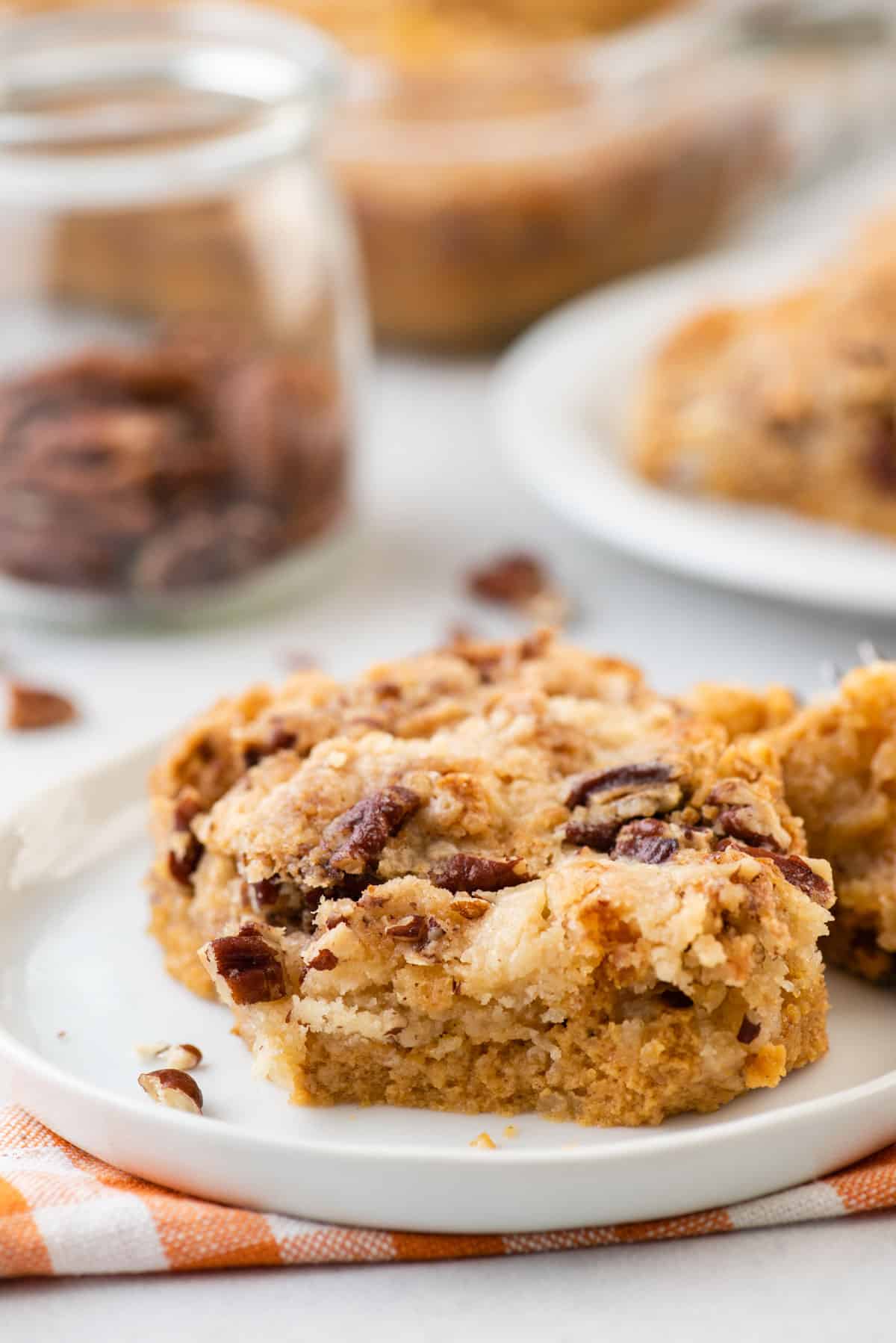 Pumpkin Dump Cake Recipe FAQs
Is dump cake mushy?
It's important to remember that a dump cake isn't like a traditional cake in terms of a light, fluffy texture. A dump cake is a mash up between a cake and a cobbler, where the layers separate into a filling and a crust. Because they contain a lot of moisture from the added fruit, the bottom layer (the filling) of the dump cake will be moist.
Why don't you mix dump cakes?
Even though it might seem odd, arranging ingredients in layers instead of mixing them is the secret to achieving a perfect dump cake that is crispy, crumbly, buttery on top with a soft, gooey inside.
Why is my dump cake still powdery?
If your dump cake has a powdery texture, it's probably because the cake mix or butter wasn't evenly spread. If you notice this happening while baking, you can use a spoon to spoon juice from the corners onto the dry spots and put it back in the oven.
Easy Pumpkin Recipes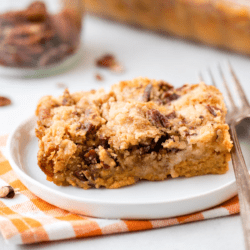 Easy Pumpkin Dump Cake
This 8 ingredient pumpkin dump cake has 718,000 views and counting, which is no surprise since it's equally easy and delicious. Just mix, dump and bake – in under 1 hour you'll have a family favorite pumpkin dessert that will have guests begging for more!
Ingredients
1

can

15 oz pumpkin puree

1

can

12 oz evaporated milk

1

cup

packed brown sugar

3

large

eggs

2

tsp

pumpkin pie spice

1

box

yellow cake mix

,

15.25 oz

2

sticks

unsalted butter, melted

,

1 cup

1

cup

chopped pecans
Instructions
Preheat the oven to 350º F.

Butter the bottom and sides of a 9×13 inch cake pan.

In a large bowl combine the pumpkin, evaporated milk, brown sugar, eggs and pumpkin pie spice.

Whisk until combined. Pour this mixture into the buttered pan.

Sprinkle the cake mix powder on top of the batter as evenly as possible.

Sprinkle the pecans evenly over the batter.

Pour the melted butter evenly over the top of the cake.

Bake for 45-50 minutes, until the edges are browned and the center is set. A knife inserted in the middle should come out clean.
Calories:
296
kcal
,
Carbohydrates:
36
g
,
Protein:
4
g
,
Fat:
16
g
,
Saturated Fat:
8
g
,
Polyunsaturated Fat:
2
g
,
Monounsaturated Fat:
5
g
,
Trans Fat:
1
g
,
Cholesterol:
54
mg
,
Sodium:
221
mg
,
Potassium:
158
mg
,
Fiber:
1
g
,
Sugar:
25
g
,
Vitamin A:
3671
IU
,
Vitamin C:
1
mg
,
Calcium:
125
mg
,
Iron:
1
mg