Mini Oreo Cheesecakes
7 ingredient Mini Oreo Cheesecakes recipe made in a muffin pan!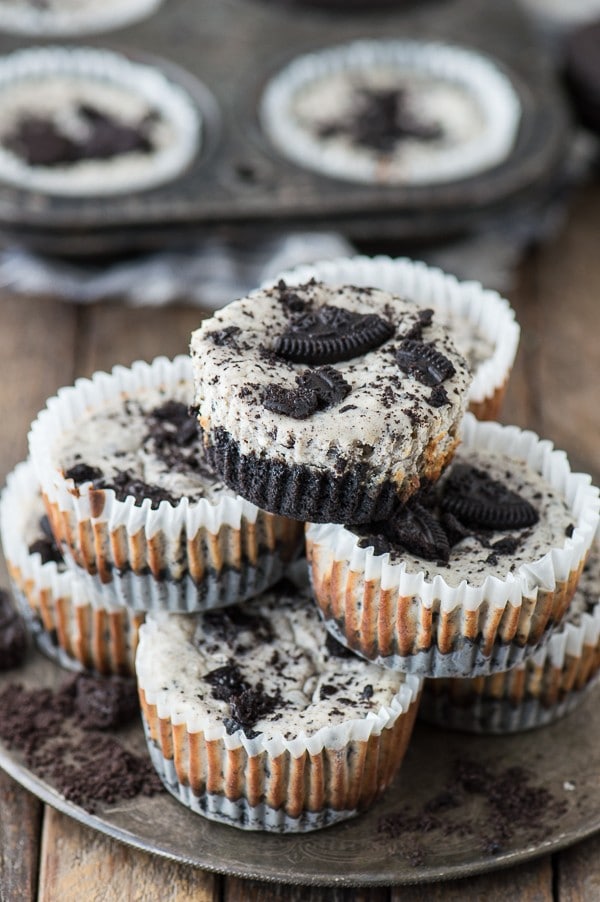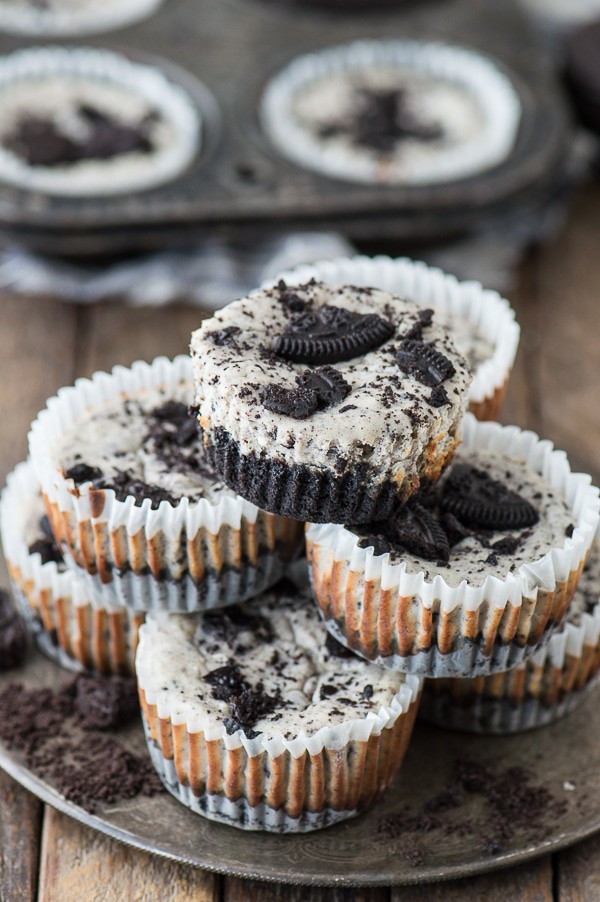 Last week I mentioned that I didn't like cheesecake when I was little. I probably thought there was actual cheese inside and I didn't like cheese, which is a shocker because I thought all kids LOVED cheese.
I am so glad there isn't real cheese inside cheesecake and I am so glad that I actually like cheesecake now.
Cheesecake
Actually I like cheesecake so much I ate an entire 8 piece cheesecake by myself in the summer. Granted, it took like 3 weeks. And I think I might have shared one slice with Ryan. But it was the kind of cheesecake you keep in the freezer (so dangerous) because you can pull out a piece whenever the craving hits.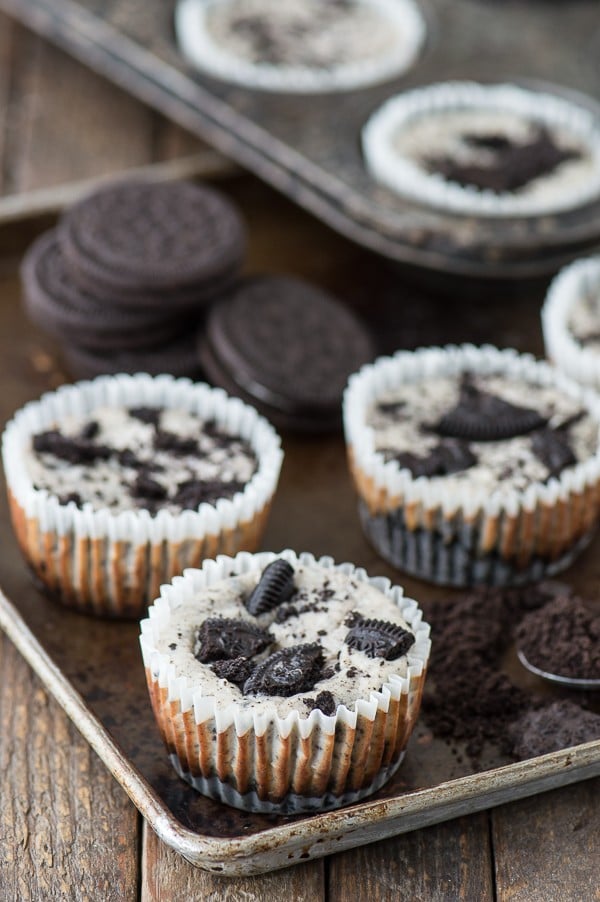 I've also learned cheesecake is the only dessert I can't say no to. I'll pass on ice cream, brownies, cookies or pie if I'm full, but there is ALWAYS room for a bite of cheesecake.
Although, I am partial to having chocolate in my cheesecake so if you offer me a fruit cheesecake, I'll probably ask for chocolate sauce :)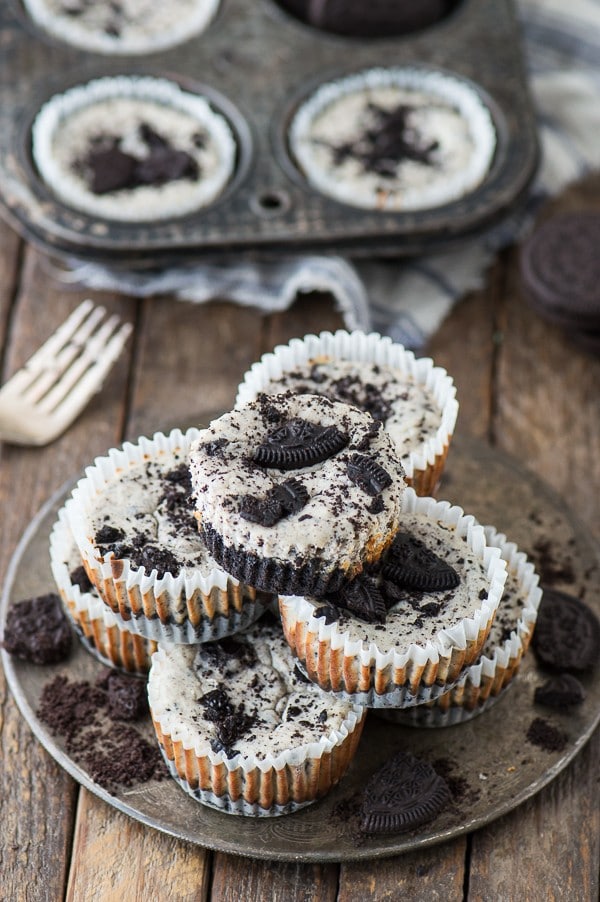 Pin this recipe!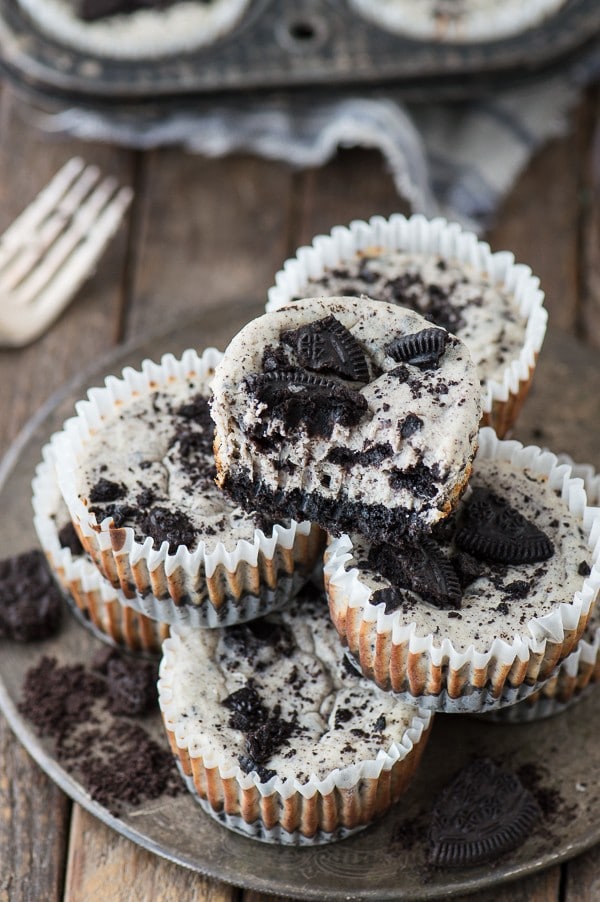 Making individual cheesecakes in a muffin pan is an awesome way to get all of that delicious cheesecake flavor without the time commitment and water bath that larger cheesecakes require. Plus when you make mini cheesecakes you don't have to worry about your cheesecake cracking or sinking in the center – thumbs up!!
How to Make Mini Oreo Cheesecakes
These mini oreo cheesecakes only call for 7 ingredients! Oreo crumbs and butter for the crust and cream cheese, sugar, vanilla extract, eggs, and oreos pieces for the cheesecake batter.
The time breakdown is – 5 minutes to prep crust, 5 minutes to bake crust, 5 minutes to prep cheesecake, 15 minutes to bake cheesecake, then at least 2 hours to refrigerate the cheesecake before serving.
Waiting is the hardest part, right?!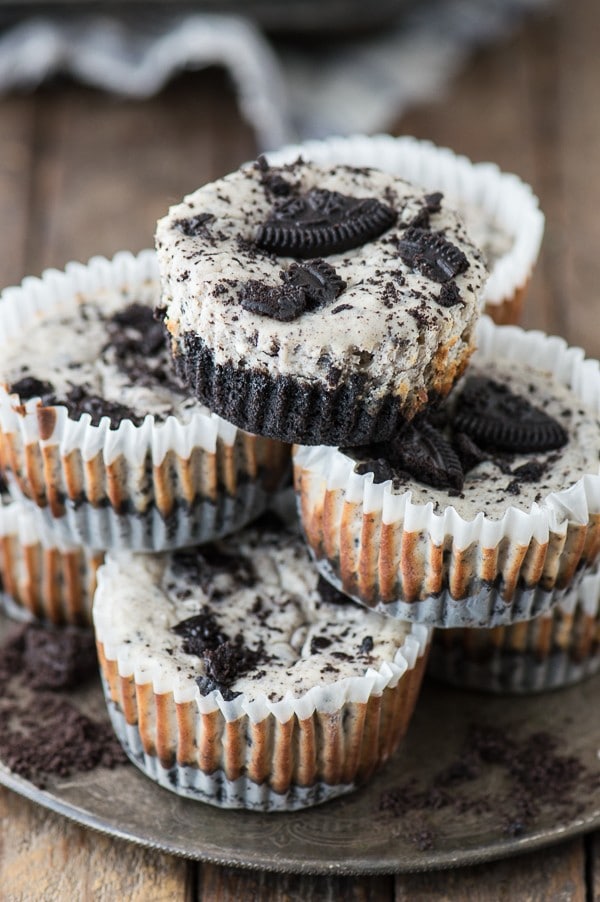 For a step-by-step of how to make this mini oreo cheesecake recipe, watch this short video:
Mini Oreo Cheesecakes
Yield: 12 mini cheesecakes
Total Time: 30 minutes plus refrigeration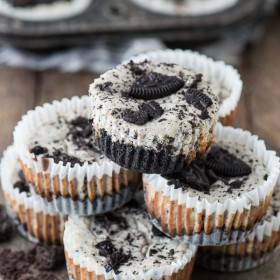 Ingredients:
Crust
1 & 1/2 cups oreo crumbs
4 tbsp melted butter
Cheesecake
1 and 1/2 (8 oz) packages cream cheese, softened
1/3 cup sugar
1 tsp vanilla extract
2 eggs, added one at a time
1/4 cup oreo crumbs plus 4-5 whole oreos broken into larger pieces (just not crumbs)
Directions:
Crust
Preheat the oven to 350º F.
Line a regular sized muffin pan with 12 muffin liners.
In a mixing bowl, combine the oreo crumbs and melted butter until it resembles coarse sand.
Put 1-2 tbsp of oreo crumbs in each muffin cup.
Use a 1/3 cup (or similar) to press the oreo crumbs down firmly into the pan.
Bake the crust for 5 minutes. Remove the pan from the oven and allow it to cool while prepping the cheesecake.
Cheesecake
In a mixing bowl, beat the cream cheese with an electric mixer until smooth, 2-3 minutes.
Beat in the sugar and vanilla extract until smooth.
Beat in the eggs, one at a time.
Then add the oreos crumbs and larger oreo pieces, mix with a spatula.
Place a little more than 2 tbsp of cheesecake batter in each muffin cup.
Top the cheesecakes with additional oreo crumbs or larger oreo pieces if desired.
Bake for 15-17 minutes or until the center of the cheesecake is only slightly jiggly.
Allow the cheesecakes to cool to room temperature then place them in the fridge for at least 2 hours to chill before serving. If refrigerating overnight, loosely cover the cheesecakes in plastic wrap.
Products used to make this recipe
(may include affiliate links)