Caramel Apple Snickerdoodles

Caramel apple snickerdoodles – a fall twist on snickerdoodle cookies! These actually taste like caramel apple and remind me of those green caramel apple suckers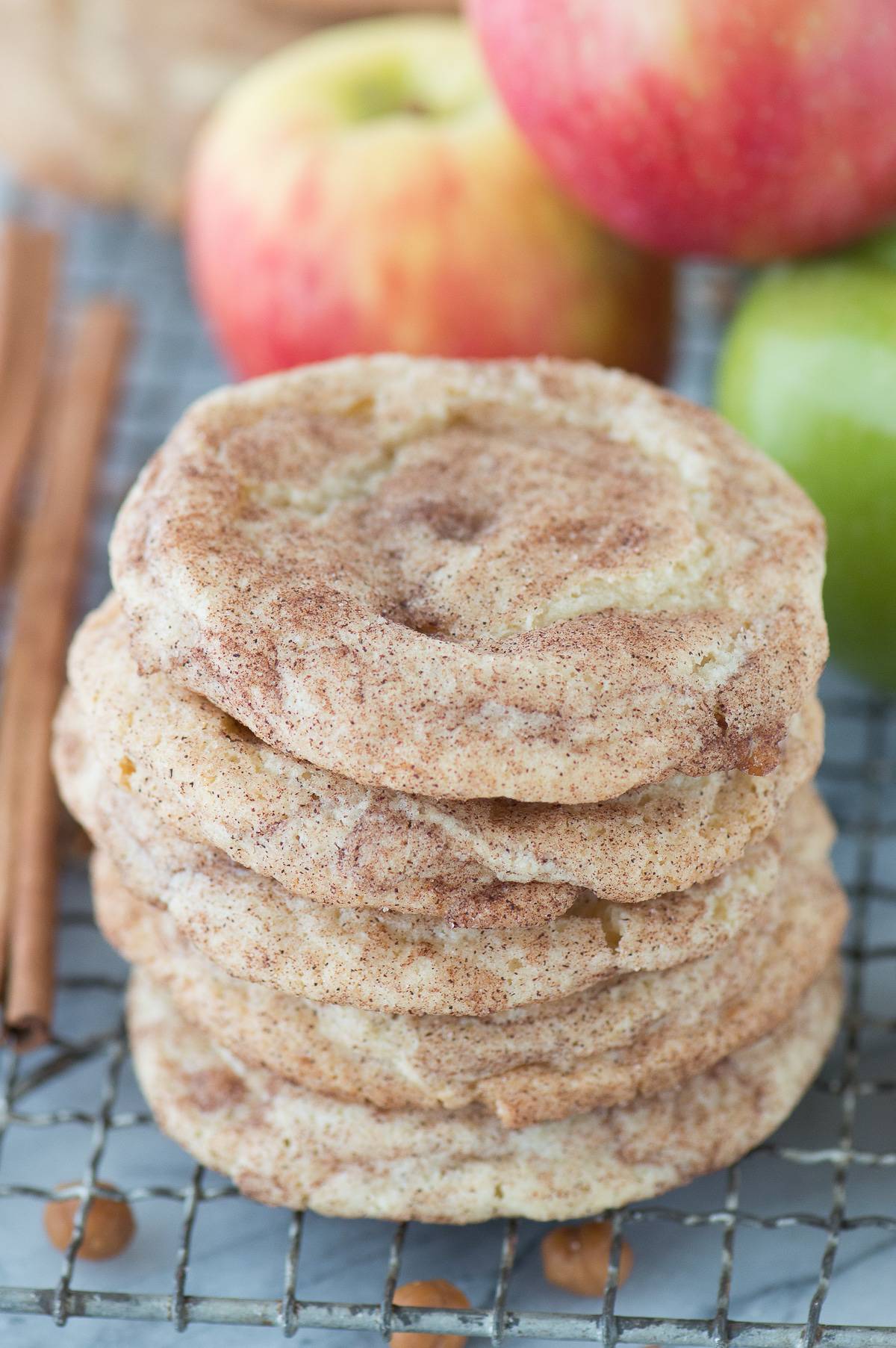 A few weeks ago I shared a recipe for turtle cookies (they are so delicious!) and in that post I vowed to share more cookie recipes. So I'm keeping good on my word!
Growing up I loved snickerdoodles – what kid doesn't like any kind of cookie though?! But it's been years since I've had one.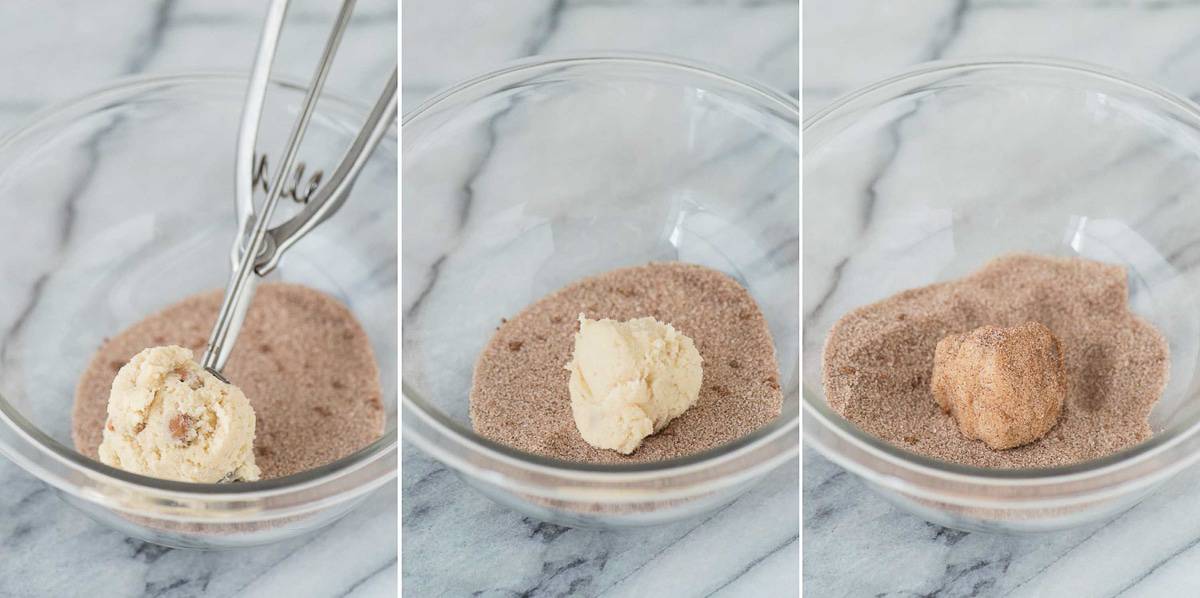 The mixture of cinnamon sugar that the cookie is rolled in is spot on and irresistible. Plus one of the draws to snickerdoodle cookies is the tanginess from the cream of tartar. The cream of tartar reacts with the baking soda to leaven the cookies and it also gives snickerdoodles their chewy texture.
I decided to take the traditional snickerdoodle recipe and give it a fall twist with 2 iconic flavors – caramel and apple!
So I got to work and baked and baked and baked. I baked 6 batches of caramel apple snickerdoodles to find the best recipe! I tried apple juice, apple cider and powdered apple cider drink mix to add apple flavor to the cookies.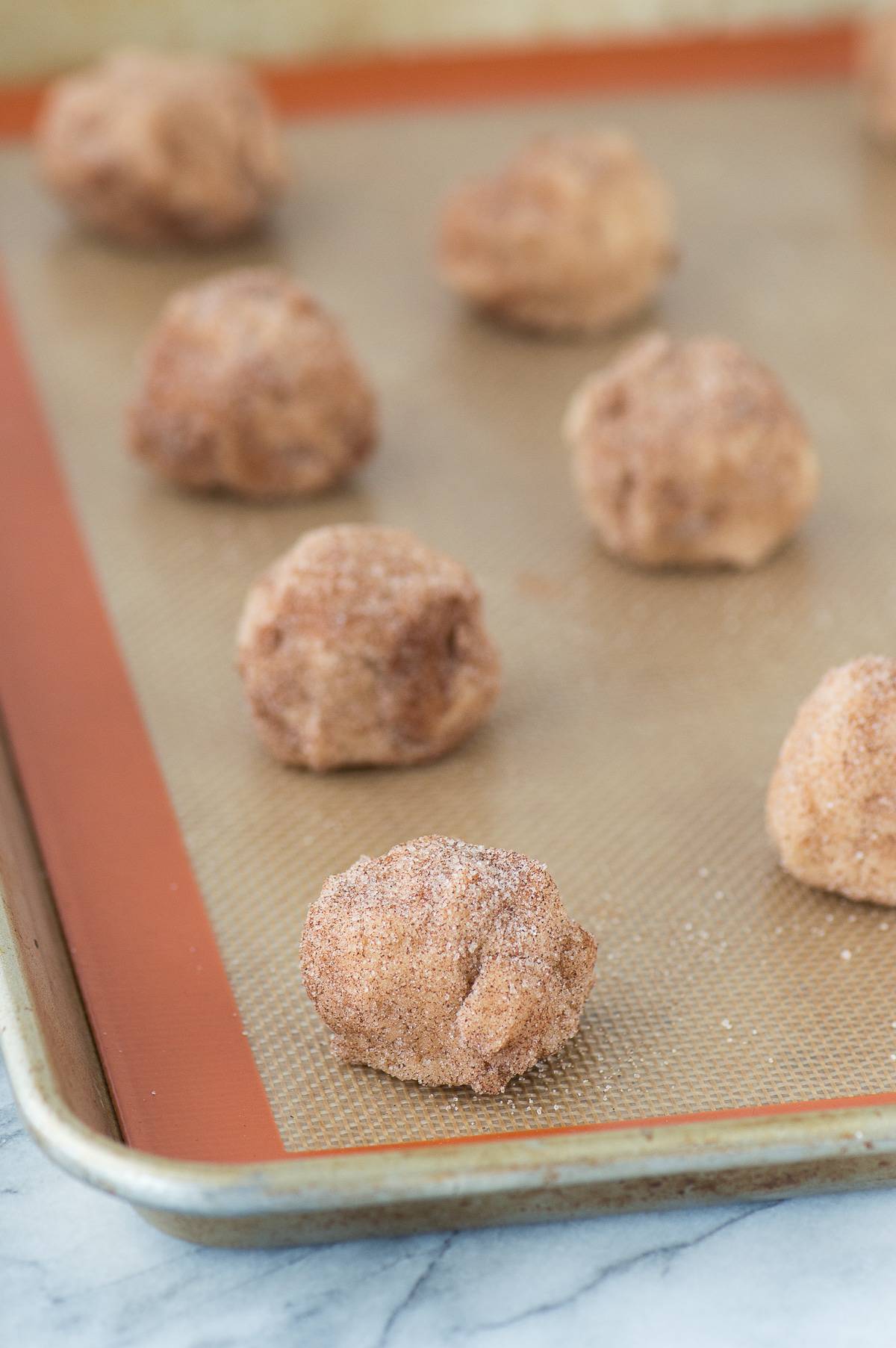 The verdict?
The apple juice and apple cider didn't really provide any apple flavor to the cookies after I baked them.
Apple Cider Drink Mix in Cookies
But the apple cider drink mix added nice apple flavor to the cookies! I also added caramel bits (the tiny caramel balls that Kraft makes for baking and melting for caramel apples) to the dough making these cookies truly caramel apple snickerdoodles!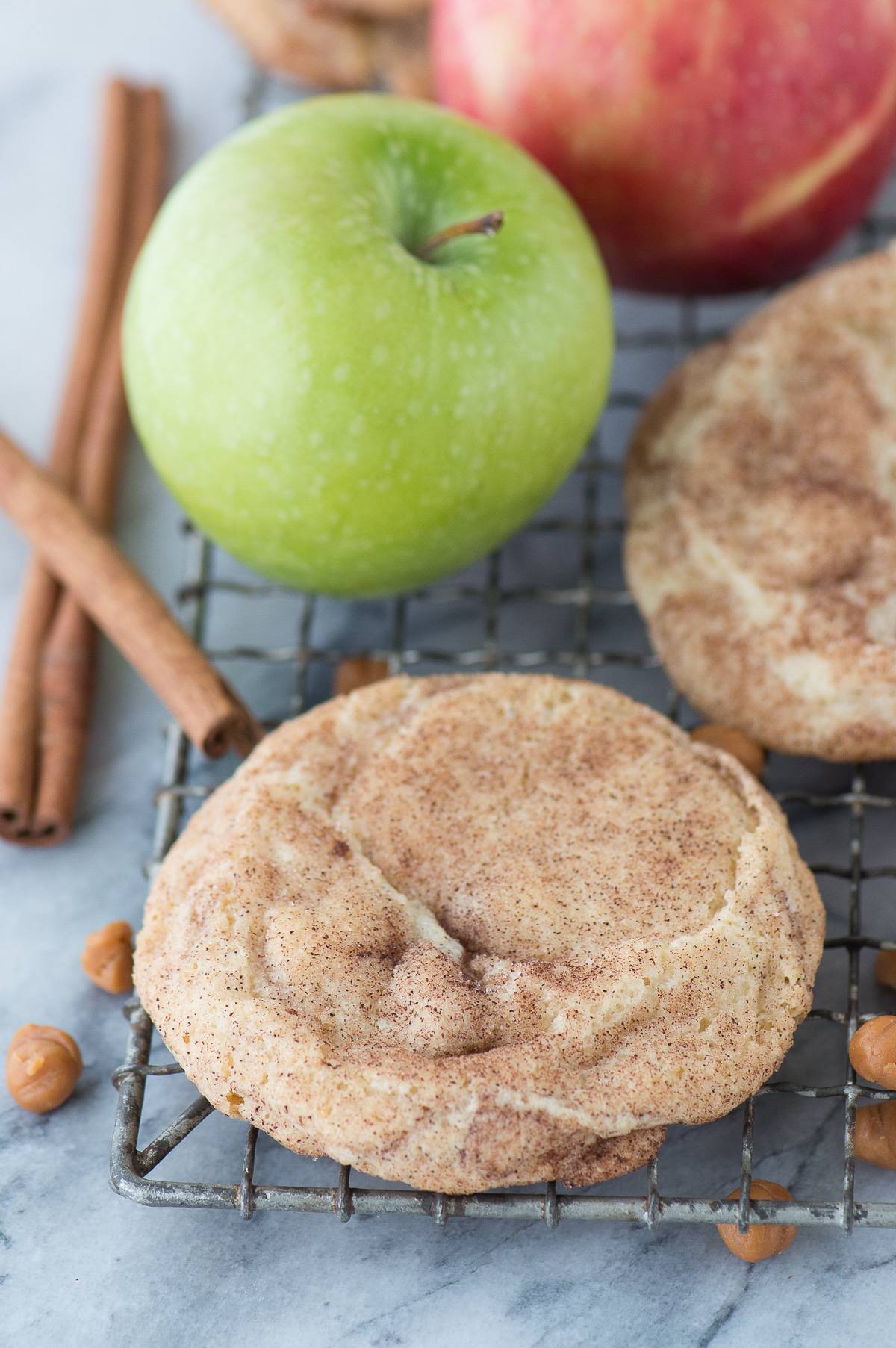 The cookies actually remind me of those caramel apple suckers – the green ones that are dipped in caramel – mmmmm!! The cookies have a sweet and sour taste and I think they smell like sour apple candy!
Why Chill Cookie Dough
I also experimented with chilling the dough in the bowl, chilling the dough in balls and not chilling the dough. Not chilling the dough at all produced cookies that spread out more.
But I couldn't really see a significant difference between chilling the dough in the bowl versus chilling the dough in balls. The dough chilled in balls maybe seemed to produce a slightly taller cookie – but again, nothing that made a significant difference.
I chilled the dough for 30 minutes in the fridge before scooping them into balls and baking them.
These little fall cookies are irresistible.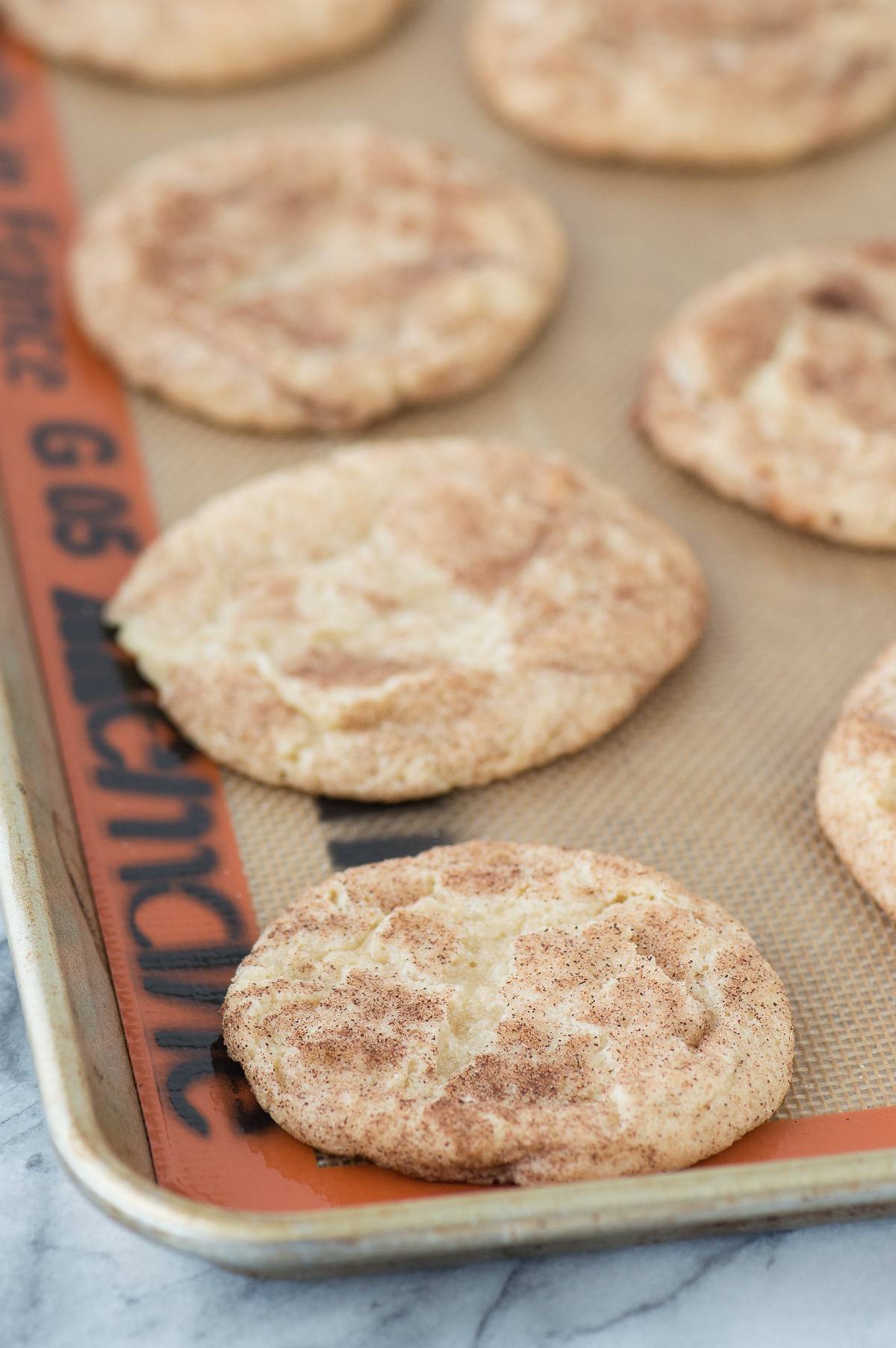 Total Time Required
5 minutes to prep the dough
30 minutes to chill the dough
10 minutes to bake
10 minutes to cool
Tips
Properly measure the all purpose flour using the spoon and sweep method.
Use room temperature butter for easier creaming of the butter and sugar.
Refrigerate the cookie dough for 30 minutes.
Use a cookie scoop to form cookie dough balls.
Bake cookies on a silicone baking mat.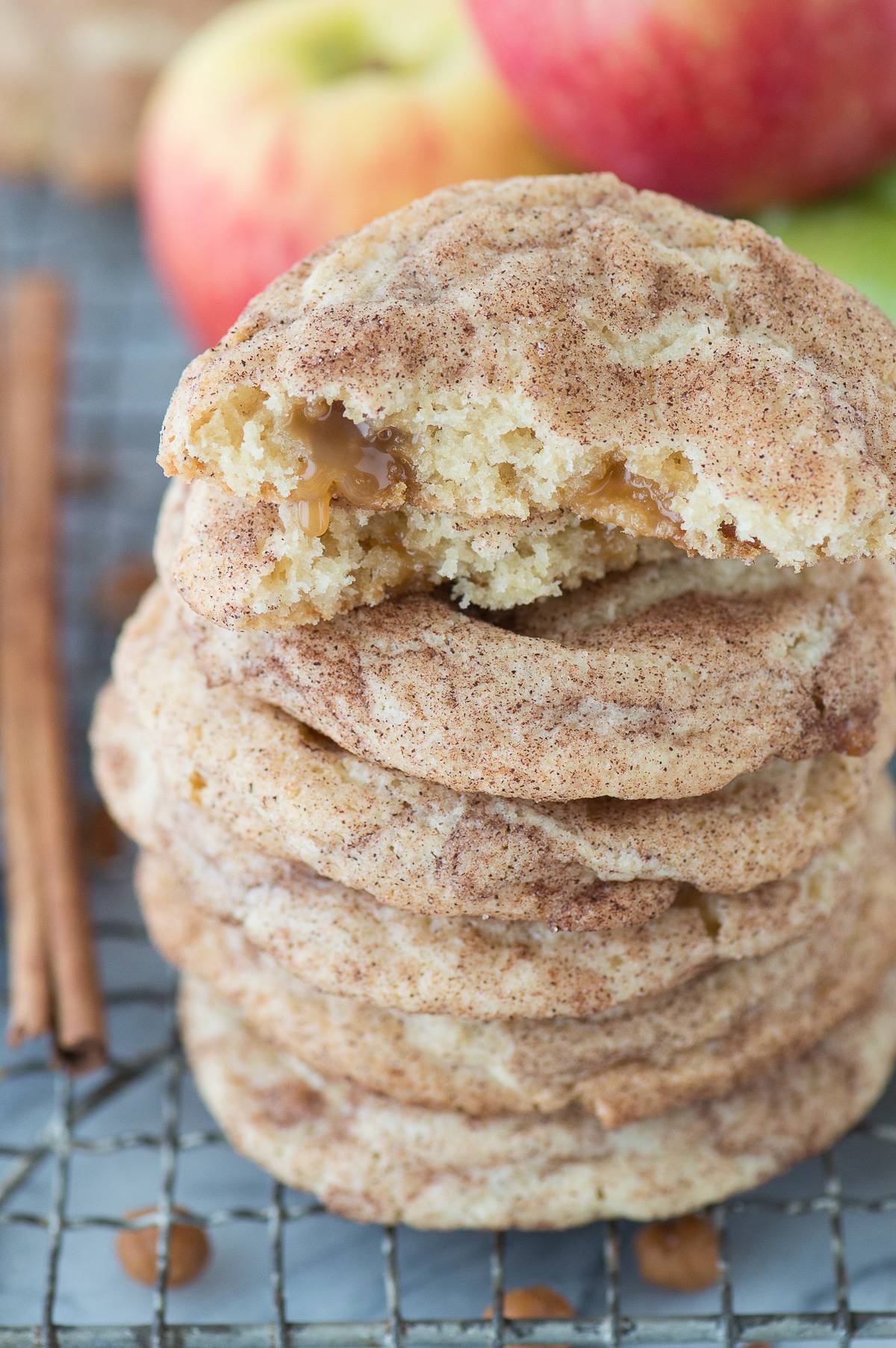 More Fall Recipes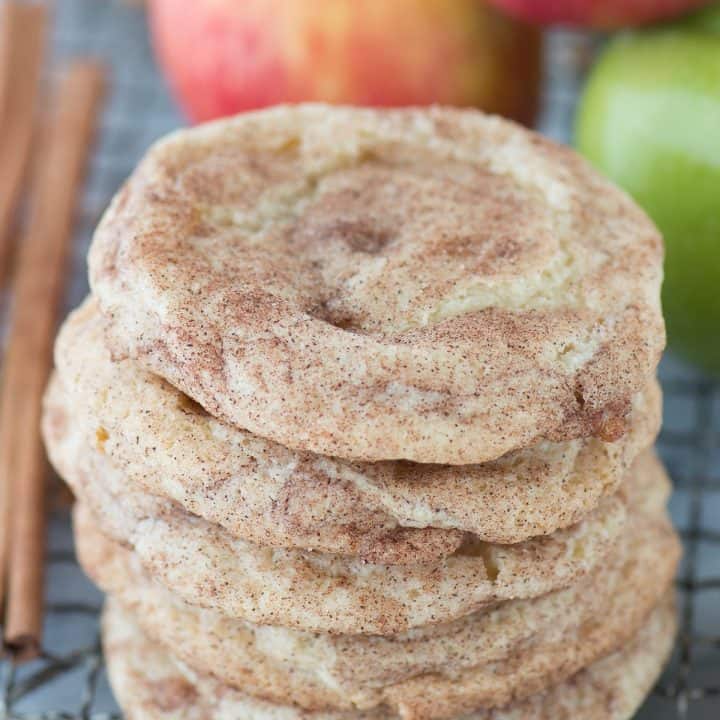 Caramel Apple Snickerdoodles
Yield: 26-30 cookies
Prep Time: 40 minutes
Cook Time: 10 minutes
Additional Time: 10 minutes
Total Time: 1 hour
Caramel apple snickerdoodles - a fall twist on snickerdoodle cookies! These actually taste like caramel apple and remind me of those green caramel apple suckers!
Ingredients
Cookies
2 & 1/2 cups all purpose flour
2 tsp cream of tartar
1 tsp baking soda
1/2 tsp salt
2 packets (.74 oz) apple cider drink mix
2 sticks (1 cup) unsalted butter, softened
1 & 1/2 cups granulated sugar
2 large eggs
1/2 cup caramel bits (like Kraft brand)
Topping
1/4 cup granulated sugar
1 tbsp cinnamon
Instructions
In a medium mixing bowl, combine the flour, cream of tartar, baking soda, salt and apple cider drink mix. Set aside.
In a large mixing bowl, beat the butter and sugar with an electric mixer for 2 minutes. Beat in the eggs. Mix in the caramel bits with a spatula. Slowly add the flour mixture to the wet mixture, mixing until the flour is just combined.
Cover the bowl with plastic wrap and place it in the refrigerate for 30 minutes.
Preheat the oven to 350ºF.
In a small bowl, mix together the cinnamon sugar topping.
Remove the dough from the fridge. Using a small cookie dough scoop, scoop dough and roll it into a ball. Roll the ball into the cinnamon sugar mixture. Place them on a baking sheet lined with a silicone baking mat. Bake for 9-11 minutes or until the tops become a little crackly. Allow the cookies to cool for 5-10 minutes before moving them to a cooling rack or eating them!
Recommended Products
As an Amazon Associate and member of other affiliate programs, I earn a small commission from qualifying purchases.