Easy Apple Coffee Cake with Cake Mix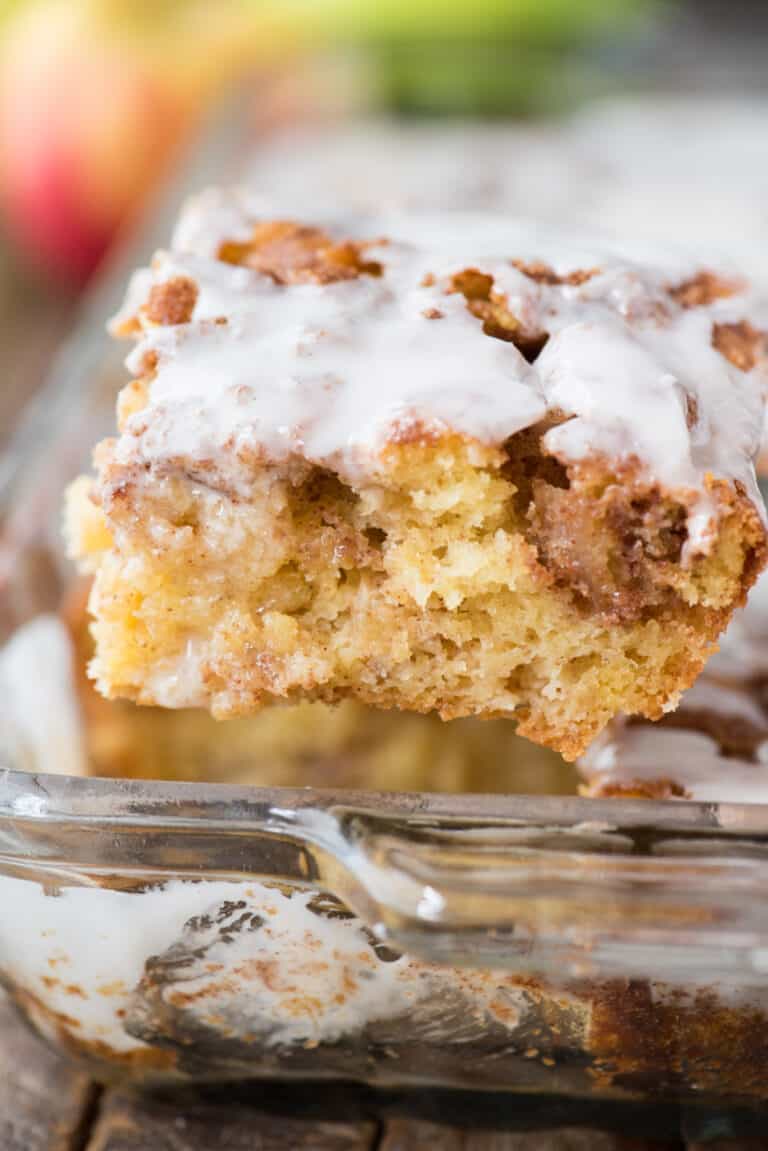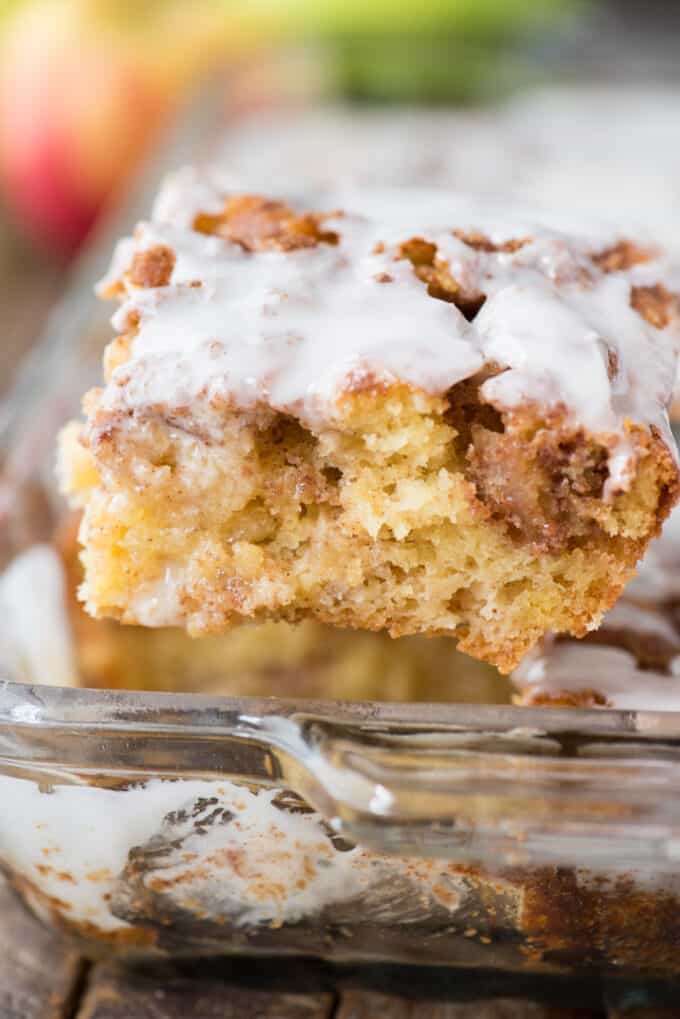 Easy apple coffee cake made with yellow cake mix, fresh apples and lots of cinnamon sugar swirled in. This easy apple cinnamon cake will become your favorite fall cake and your house will smell like Cinnabon
I was initially concerned that I couldn't call this a "coffee cake." But google says that a coffee cake is a cake, often cinnamon flavored, with drizzled white icing – this cake definitely fits that description!
There are so many names you could call this cake – doctored up apple cinnamon cake, easy apple cinnamon crumb cake, apple coffee cake.
So let's break it down.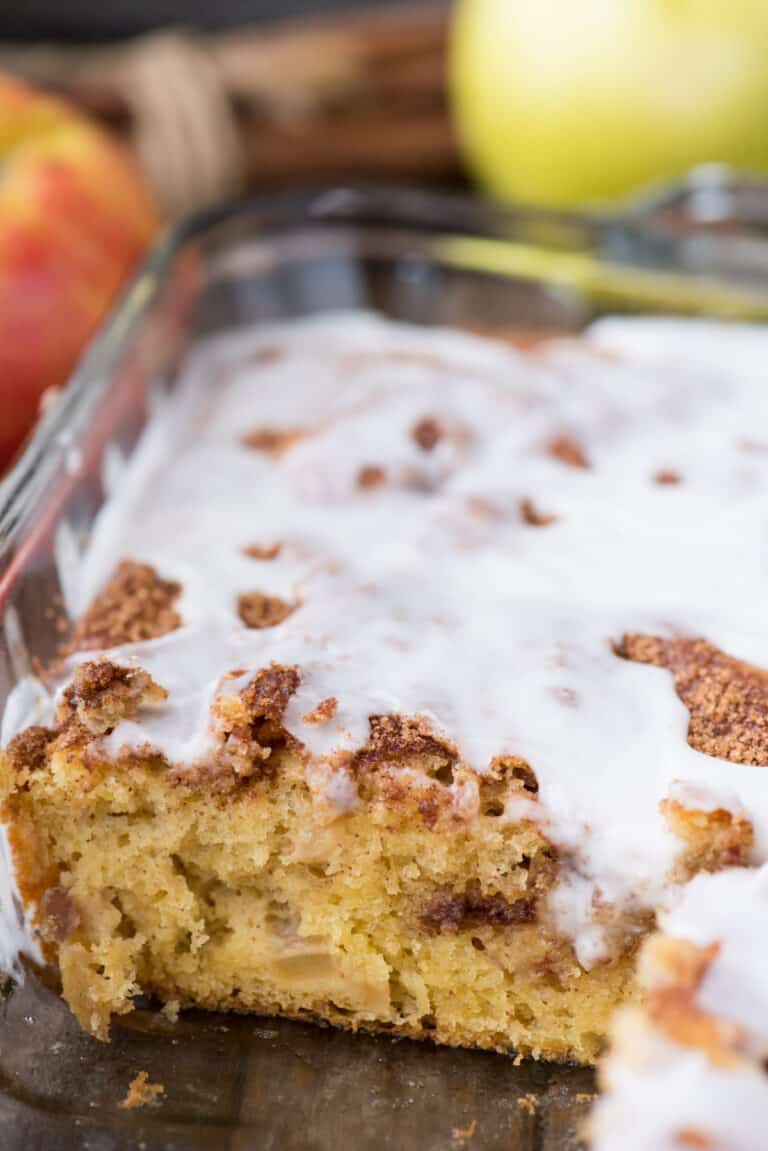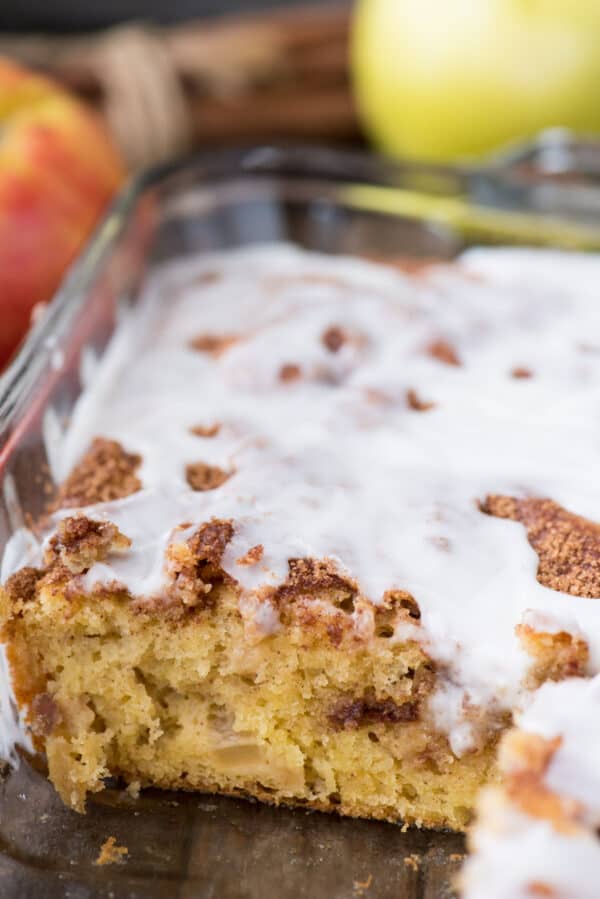 Ingredients
apples, diced into small pieces
brown sugar
cinnamon
sour cream
vegetable oil
eggs
vanilla extract
yellow cake mix (can use a gluten free mix!)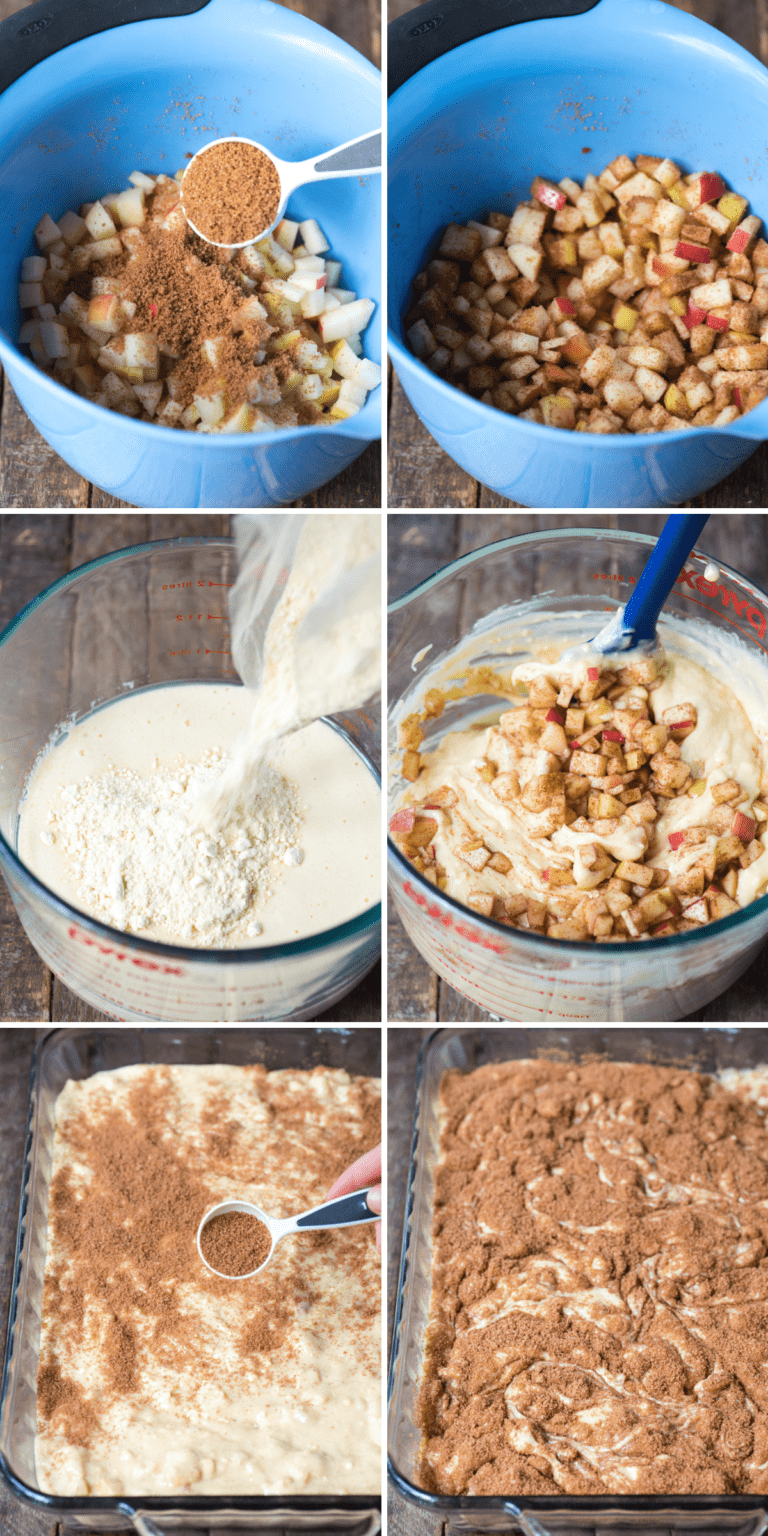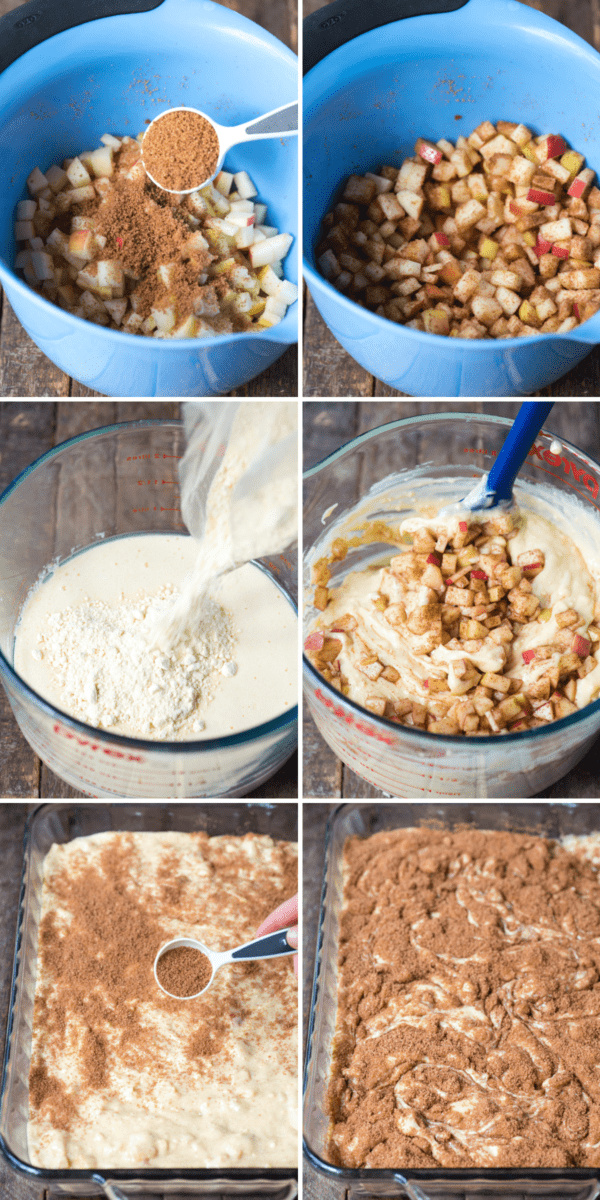 How To Make Cake Mix Coffee Cake
Follow the detailed instructions below, but essentially make the cake batter, mix in the chopped apples, and pour batter into a 9×13 inch pan.
Then swirl in the brown sugar cinnamon mixture on top of the cake. Bake and let your house smell like cinnabon!
Once the cake is done baking, drizzle the glaze over the cake.
This is for sure the easiest way to make apple coffee cake!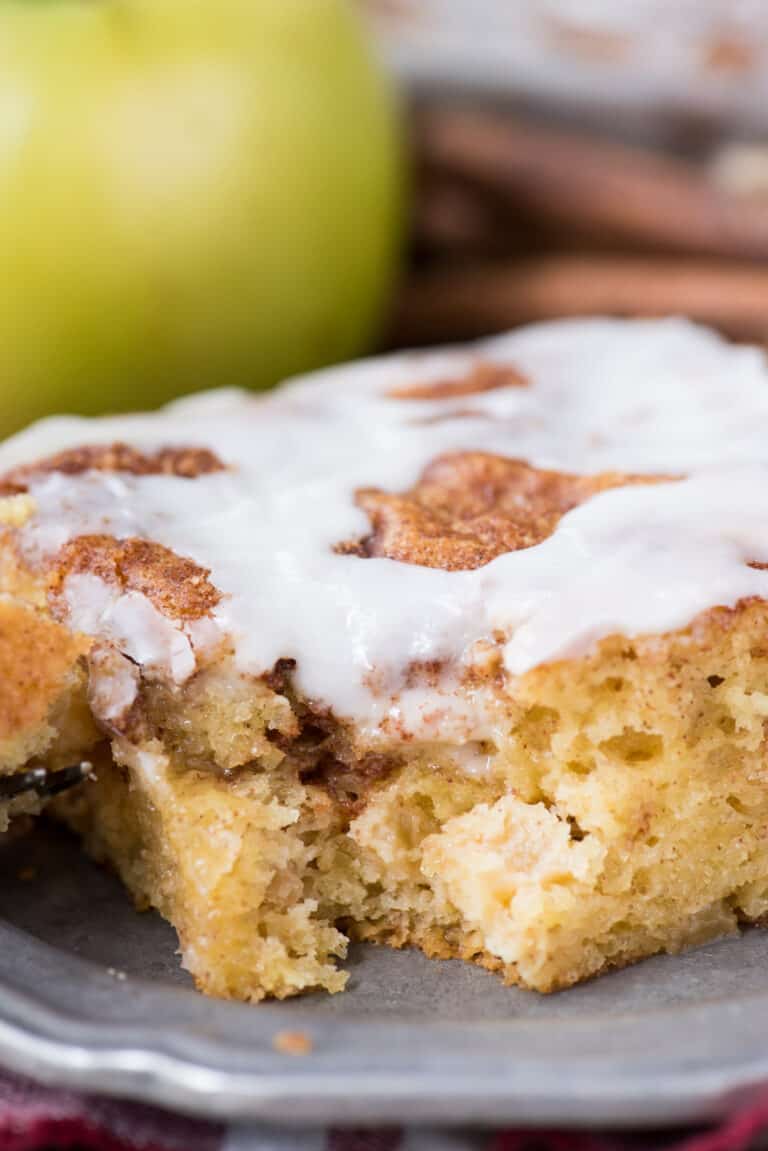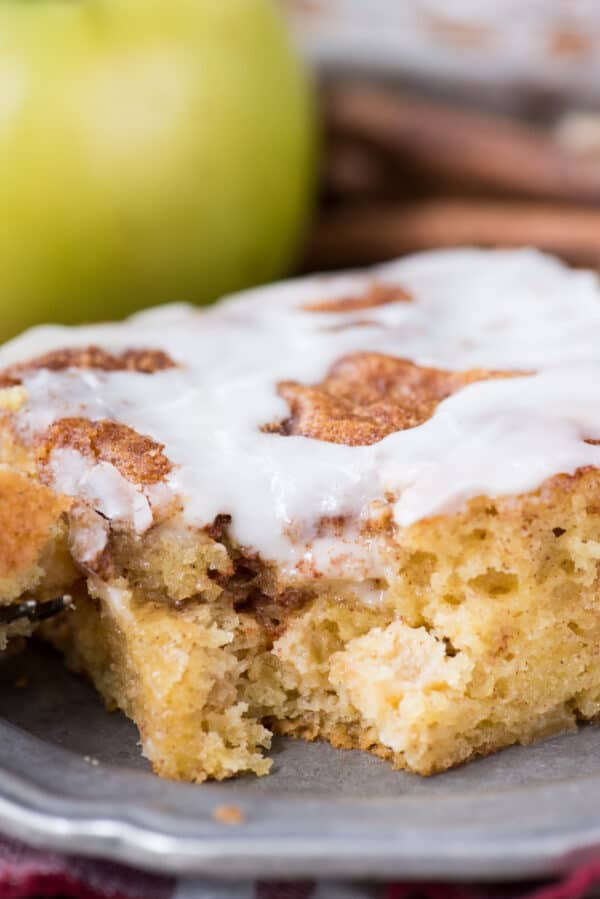 Can I Make Ahead of Time?
Yes. You can make this apple coffee cake with sour cream the day before you serve it and store it on the counter in an airtight container. However, I recommend waiting to add the glaze until the day of, otherwise the glaze can make the cake soggy.
Does Apple Cinnamon Cake Need To Be Refrigerated?
No. The cake can be kept on the counter in an airtight container for up to 3 days.
What Can I use In Place Of a Box of Yellow Cake Mix?
You can replace the 15.25 oz box of yellow cake mix with another 15.25 oz cake mix. Other flavors I recommend are white, butter golden, spice, and french vanilla!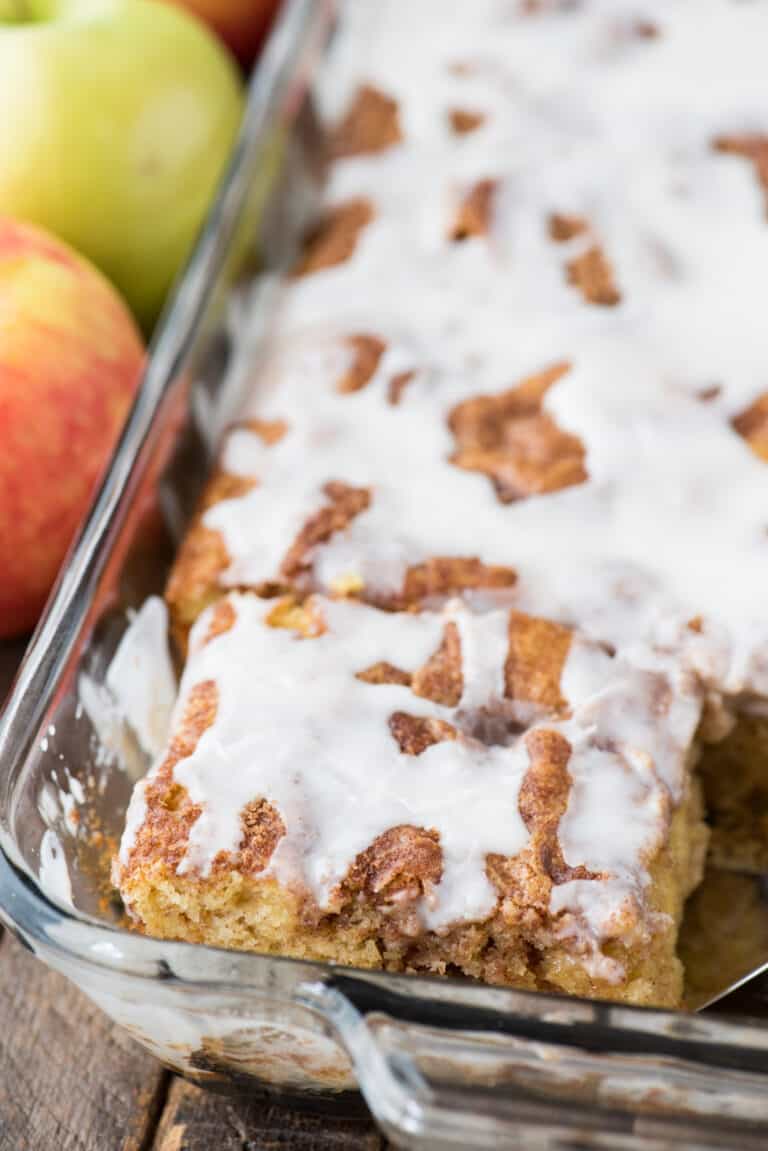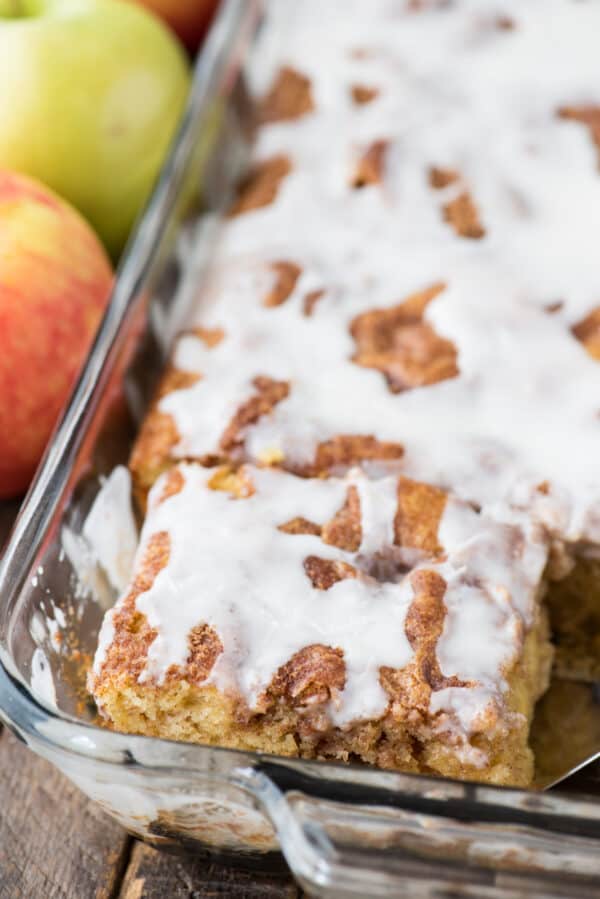 Gluten Free Apple Coffee Cake
I tested this recipe with a gluten free yellow cake mix and it turned out SO good!
Tips
Be sure to dice the apples into small pieces so they soften during baking. If the apple pieces are too large, they won't become fully soft.
Don't be afraid to really swirl in the cinnamon sugar mixture. Use a butter knife or small spatula.
Recommended apples include: granny smith, honey crisp, or gala.
Want Cream Cheese Icing Instead?
Beat 4 oz softened cream cheese with 2 cups powdered sugar and 1/4 cup milk until thick. If too thick, beat in more milk (1 tsp at a time).
More Apple Cinnamon Recipes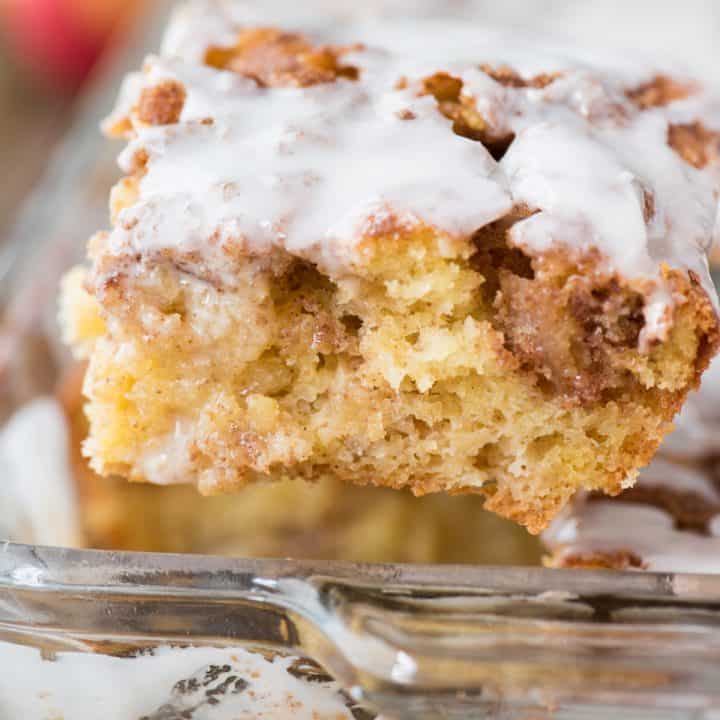 Easy Apple Coffee Cake
Yield: 9x13 inch cake
Prep Time: 10 minutes
Cook Time: 35 minutes
Additional Time: 10 minutes
Total Time: 55 minutes
Easy apple coffee cake made with yellow cake mix, fresh apples and lots of cinnamon sugar swirled in. This easy apple cinnamon cake will become your favorite fall cake and your house will smell like Cinnabon!
Ingredients
2 apples, diced into small pieces (I recommend granny smith, honey crisp, or gala)
1/2 cup brown sugar
1 & 1/2 tbsp cinnamon
1 cup sour cream
3/4 cup vegetable oil
4 eggs
1 tsp vanilla extract
1 box yellow cake mix, 15.25 oz (can use a gluten free mix!)
GLAZE
2 cups powdered sugar
3 tbsp milk or more in needed
1 tsp vanilla extract
Instructions
Preheat the oven to 350º F. Spray a 9x13 inch pan with non-stick cooking spray. Set aside.
Dice the apples into small pieces. Set aside.
In a small bowl, combine the brown sugar and cinnamon, mix with a spoon to combine. Remove 3 tbsp and sprinkle over the apples. Set aside the remaining cinnamon sugar mixture. And set aside the apples.
In a large mixing bowl, combine the sour cream, vegetable oil, eggs, and vanilla extract, beat with an electric mixer for 1 minute or until combined. Add in the cake mix, gently mixing with the beater. Add in the apples and mix by hand until incorporated. Pour the cake mixture into the 9x13 inch pan, smooth with a spatula.
Sprinkle the remaining cinnamon sugar mixture all over the cake. Use a butter knife or spatula to swirl this mixture into the cake batter.
Bake for 32-35 minutes or until a toothpick inserted in the center comes out clean. Remove the cake from the oven and allow it to cool while you make the glaze.
In a mixing bowl combine the powdered sugar, milk and vanilla extract. Use a whisk to stir the mixture until it's smooth.
YOUR CHOICE: pour the glaze over the warm cake or let the cake cool completely then add the glaze. Serve right away or cover the cake pan with a lid and store on the counter until serving.
Notes
Be sure to read the post for answers to questions like:
can I make the cake ahead of time / does it need to be refrigerated
what to use in place of a yellow cake mix
cream cheese frosting recipe