Cinnamon Swirl Bread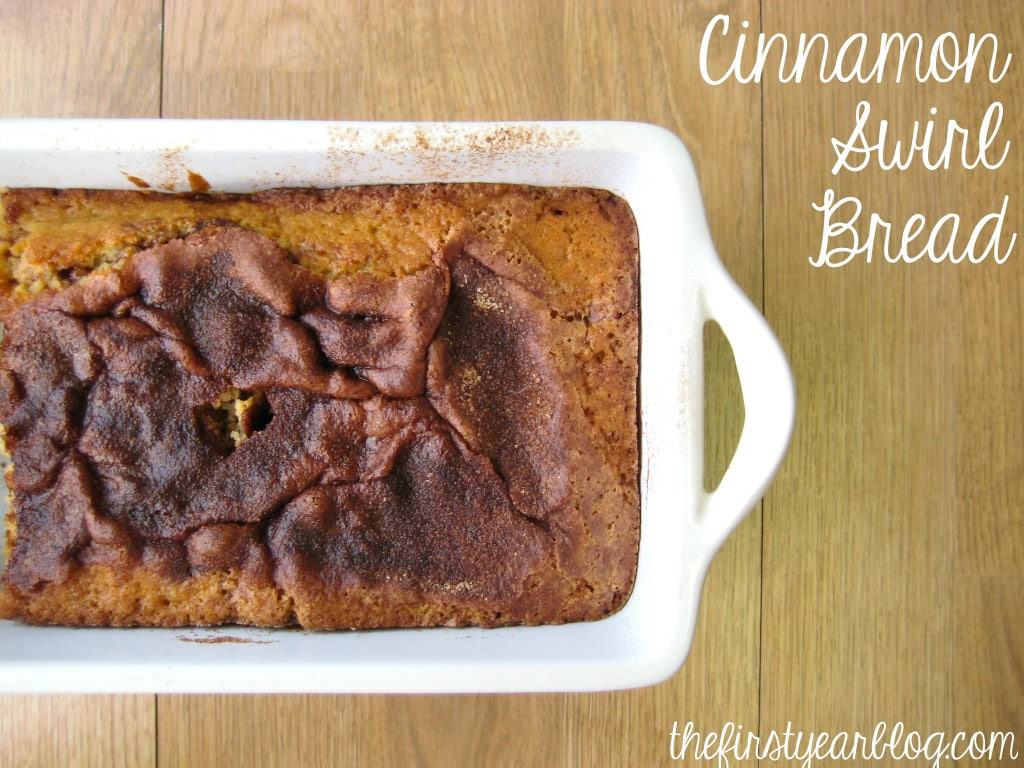 I am like most Americans and love baked goods. Bread, bagels, muffins, cinnamon swirl bread.. mmm, oh and donuts. I haven't had a donut in years because of my gluten allergy. You know.. tomorrow is my birthday and maybe I'll get a donut pan so I can bake my own! :)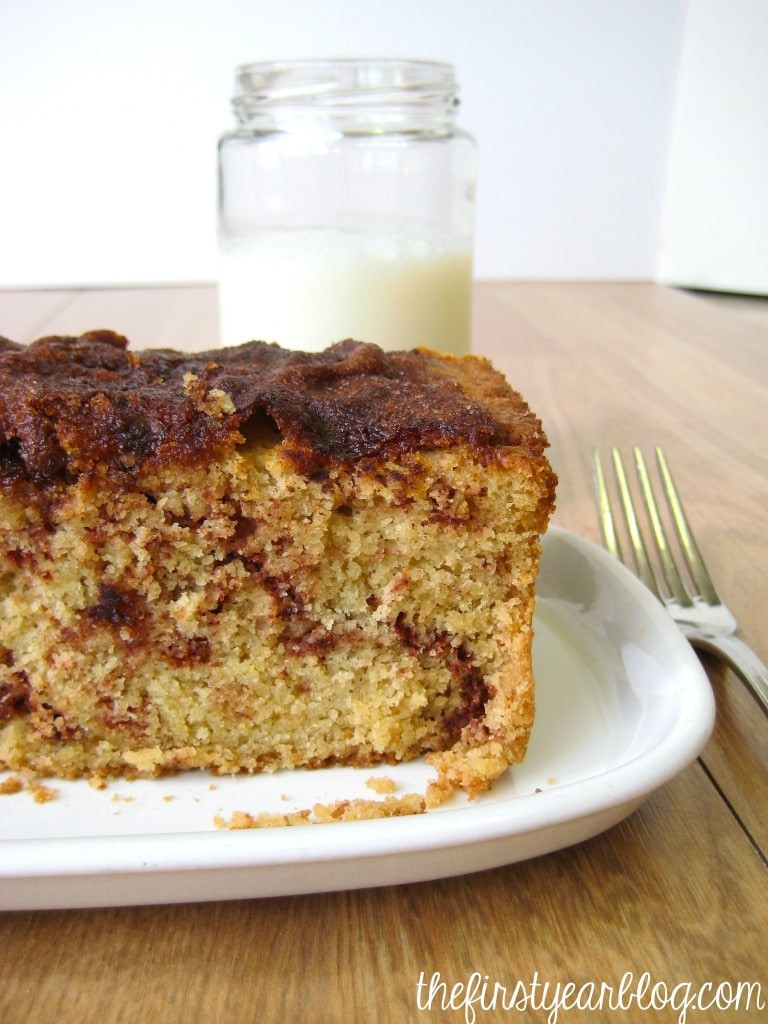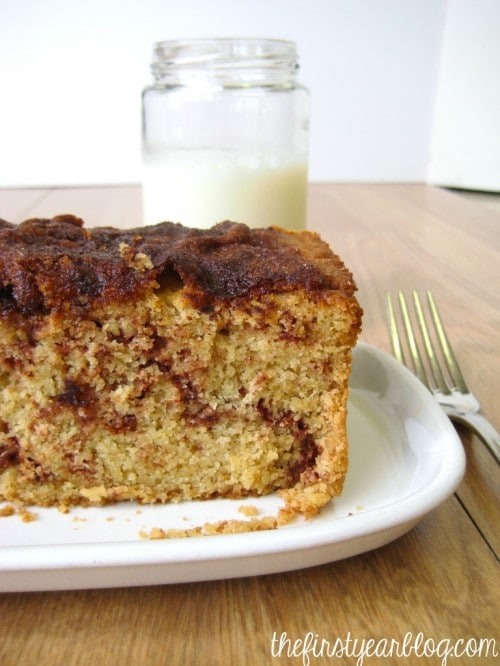 Look at that cinnamon crunch topping.. nom nom.
That's as best as my swirling technique can get – but I could bake more bread and refine my technique! I'll tell Ryan I baked 10 cinnamon swirl loaves because I needed the practice.

Ingredients
Batter

1/2 cup (1 stick) butter, softened
3/4 cup sugar
1 egg
1 cup buttermilk (or 1 cup milk + 1 tbsp vinegar or lemon juice)
2 cups all-purpose flour
1 teaspoon baking soda

Cinnamon Sugar Mixture

1/4 cup sugar
1 teaspoon cinnamon
Instructions
Preheat the oven to 350 degrees and grease a loaf pan.
Cream together butter, sugar, and egg.
Add buttermilk or buttermilk substitute, flour, and baking soda. Mix until just incorporated. It's okay if there are small lumps in the final mixture.
Pour half of the batter into the loaf pan, then sprinkle with cinnamon sugar mixture.
Use a knife to create a swirl pattern if you wish.
Pour the rest of the batter into the pan and sprinkle with the rest of the cinnamon sugar mixture.
Bake for 45-50 minutes, or until a toothpick comes out clean.
https://thefirstyearblog.com/cinnamon-swirl-bread/
Recipe adapted from
Pass the Cocoa
.
You might not have been able to tell from the pictures, but I couldn't resist eating some of the bread before I photographed it.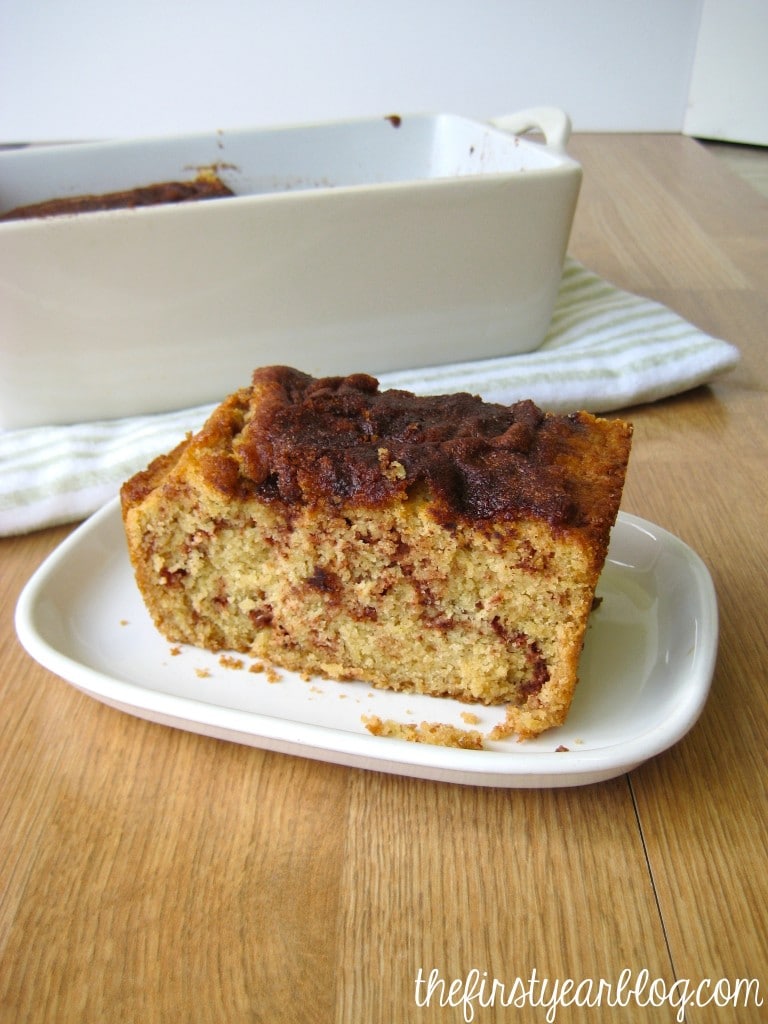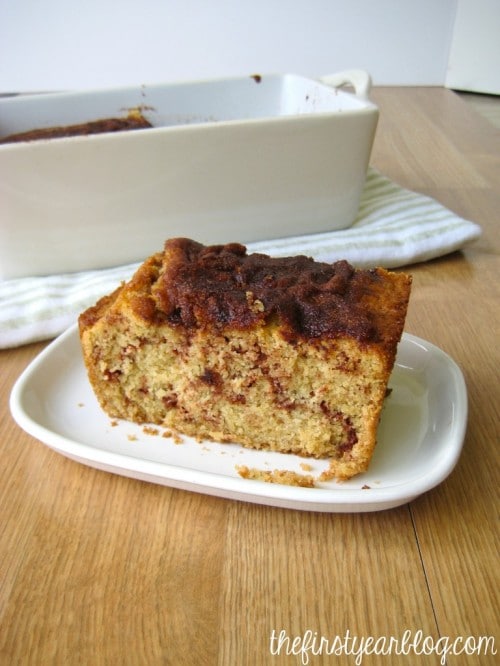 Want to learn more about Ryan and I, and our quirky neighborhood? Click here to read the post.
Wishing you a fantastic weekend filled with cinnamon swirl bread!