Want our top 10 essential dessert recipes?
Get our favorite classic recipes in your inbox! It's 100% free, but we might make you hungry!
Healthier Banana Bread
One bowl healthier banana bread recipe with no sugar, butter, or oil!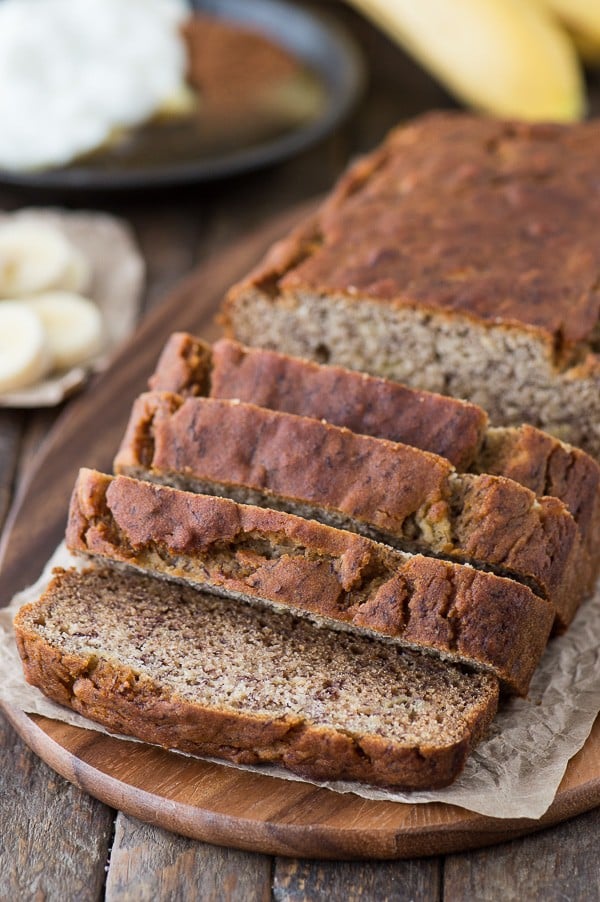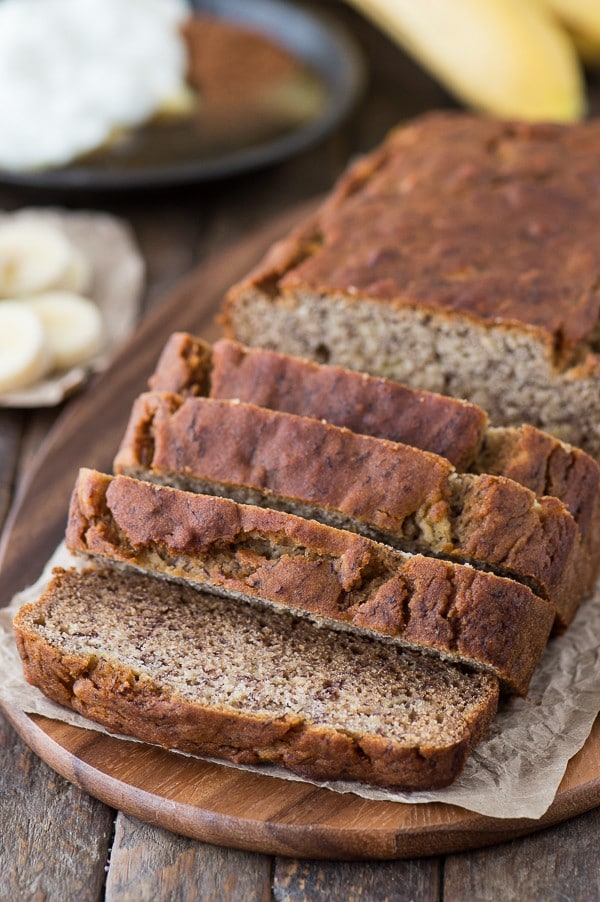 When I started blogging I didn't really have an interest in making "healthier" recipes. I am pretty sure my thought process was if the original recipe tastes good (butter, sugar & all) why mess with a good thing?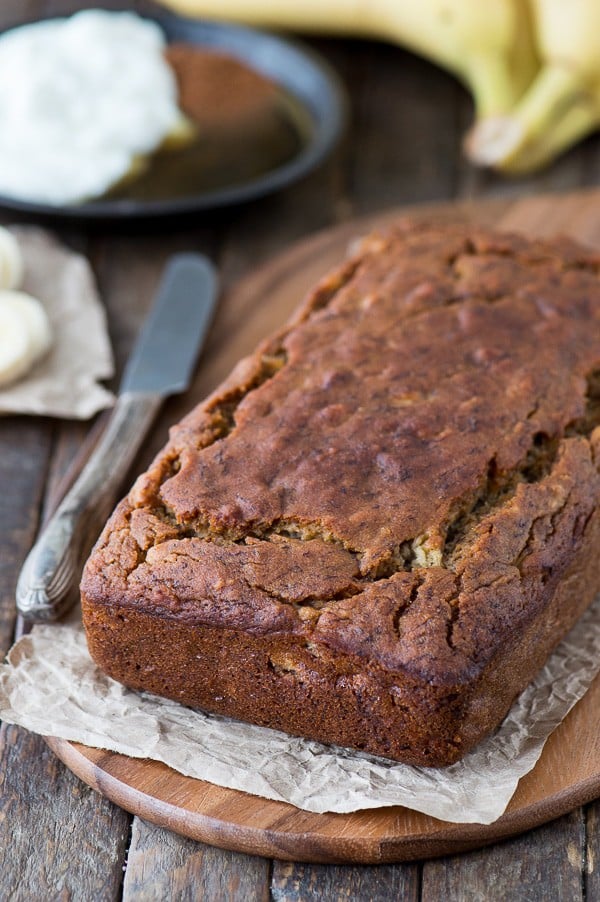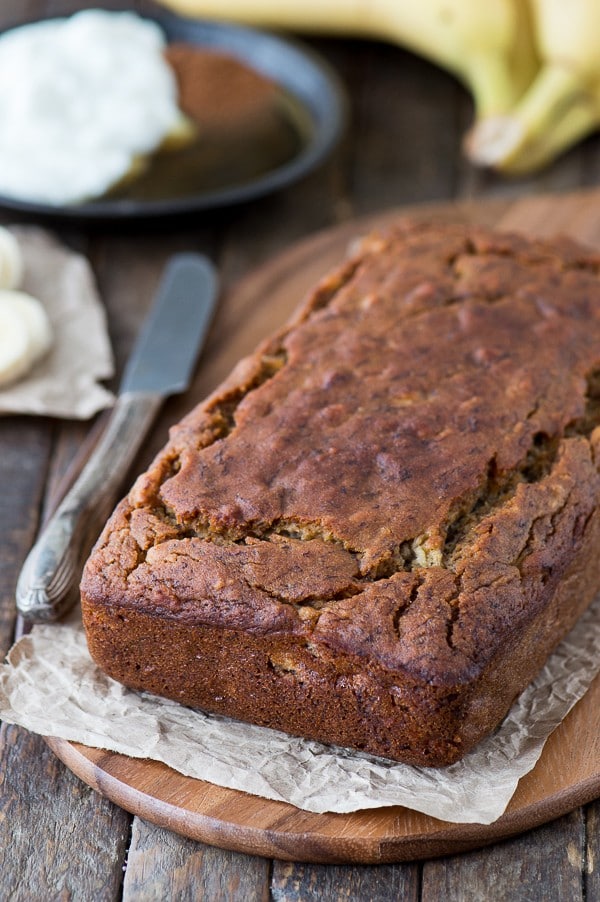 I've always been on the leaner side, except for my chub stage in 4th and 5th grade (didn't we all have a chubby stage?!) so I haven't had to worry too much about what I eat.
I thought because I ate a balanced diet, I had some wiggle room to fit in dessert. But now that I am creeping up on 27, I'm pretty sure my body is changing. I know a lot of you 30-40 somethings are probably laughing at me, saying "Just you wait!"
And I haven't even had any babies yet.. I know I'm in for some changes after that!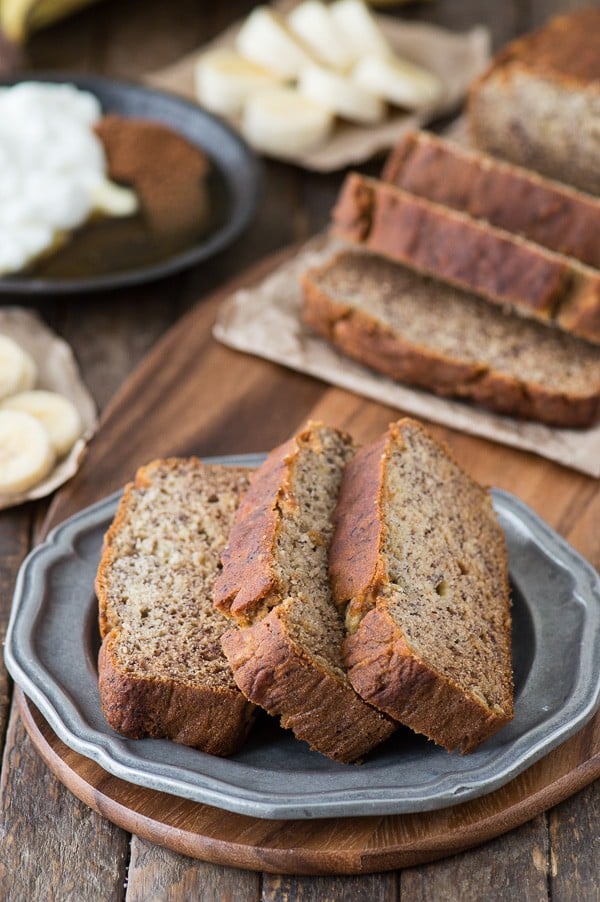 How to make healthier banana bread
So all in all, I am getting more curious about healthier ingredient swaps. Honey for granulated sugar, greek yogurt for butter or oil, applesauce for oil, bananas for fats and sweetness. I'm also learning that a recipe doesn't need to have 1 cup of sugar or 1 stick of butter to taste good. We can create a healthier banana bread alternative that is just as delicious!
Our one bowl 10 minute prep banana chocolate chip bread is one of the top recipes on our site, and for good reason (1 bowl and 10 minutes!) so we created a healthier one bowl 10 minute prep banana bread. No chocolate chips this time, but if you're wanting to add them in, I'd suggest 1/3 cup mini chocolate chips.
If I calculated the calories correct, the whole loaf is about 900 calories! If you slice it into 8 pieces, that's 112 calories per slice.
healthy banana bread with yogurt and no sugar
Because I love quick breads and muffins, and I probably won't ever stop eating them, I thought healthier banana bread would be a good place to start!
Healthy banana bread never tasted so good :)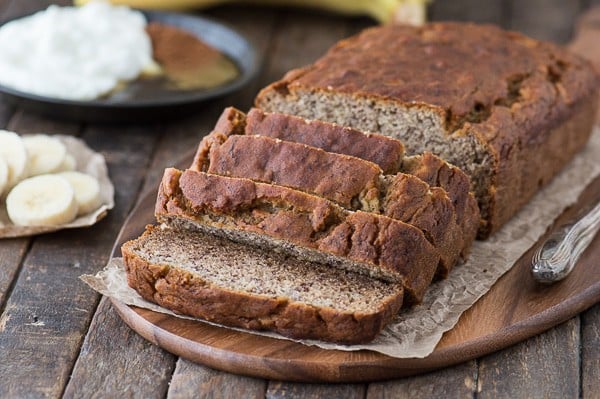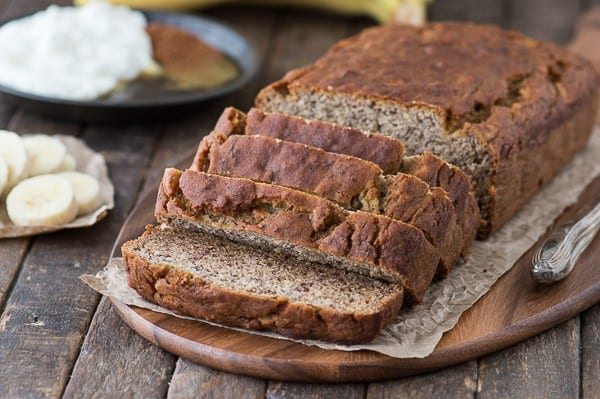 For a step-by-step of how to make this healthier banana bread recipe, watch this short video: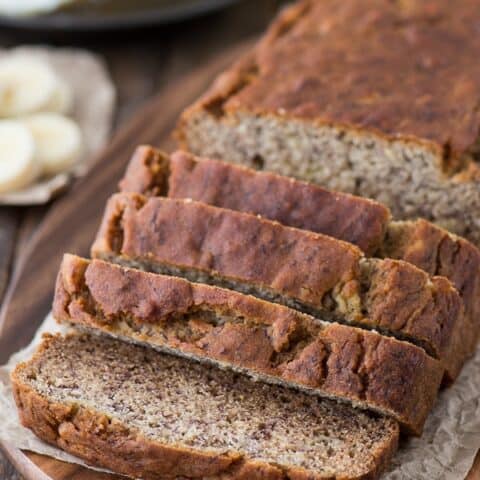 Healthier Banana Bread
Total Time:
1 hour
10 minutes
One bowl healthier banana bread recipe with no sugar, butter, or oil!
Ingredients
3 ripe bananas
1/2 cup greek yogurt (plain or vanilla)
1/2 cup honey
1 tsp vanilla extract
2 eggs
1 & 1/2 cups all purpose flour or whole wheat
1 tsp baking soda
1 tsp baking powder
1/4 tsp cinnamon
Pinch of salt
Instructions
Preheat the oven to 350º F. Spray a loaf pan with non-stick cooking spray.
In a large mixing bowl, mash the bananas until smooth.
Add in the greek yogurt, honey, and vanilla, mix.
Stir in the eggs.
Combine the flour, baking soda, baking powder, cinnamon, and salt in a separate bowl.
Gradually mix in the flour until no streaks remain.
Pour the batter into the pan and bake for 45-55 minutes or until a toothpick inserted in the center comes out clean.
Products used to make this recipe
(may include affiliate links)