Peanut Butter Bread
1 hour Peanut Butter Quick Bread! Easy to make and delicious with chocolate chips too!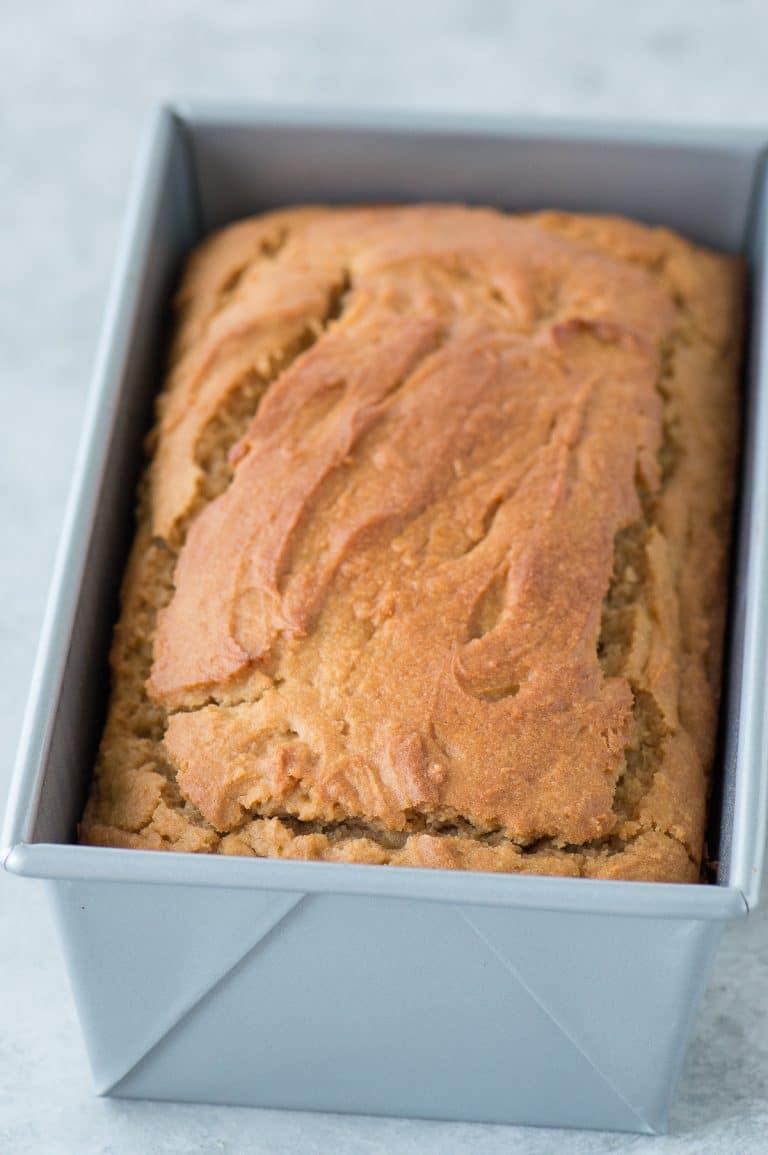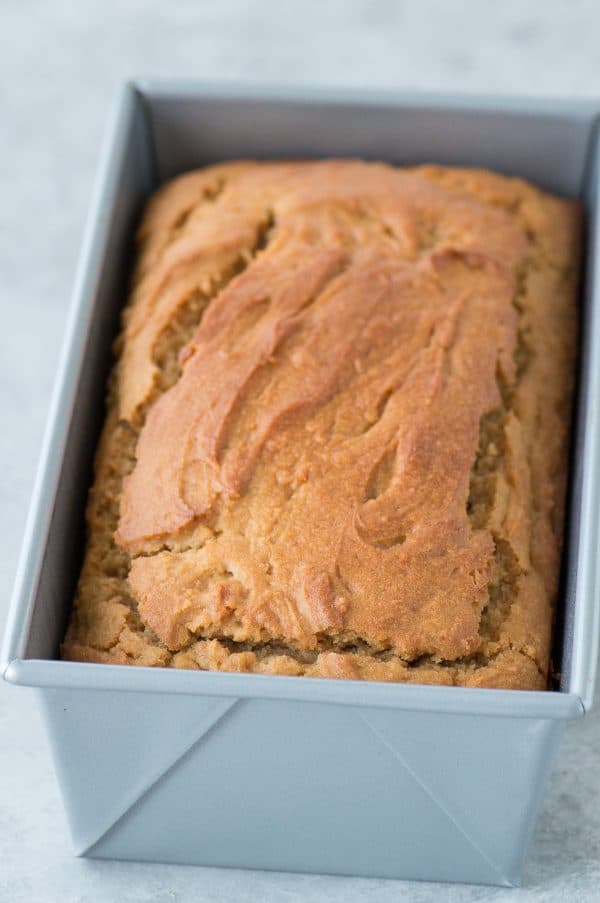 All these years I've been baking and I've never made or even tried peanut butter bread!
Banana bread is one of my favorites so if I am going to make a quick bread, that's my go-to. But I also like lemon bread and our healthy green monster bread.
But once I tried peanut butter bread, I realized it's a contender for the top spot in my heart against banana bread, haha.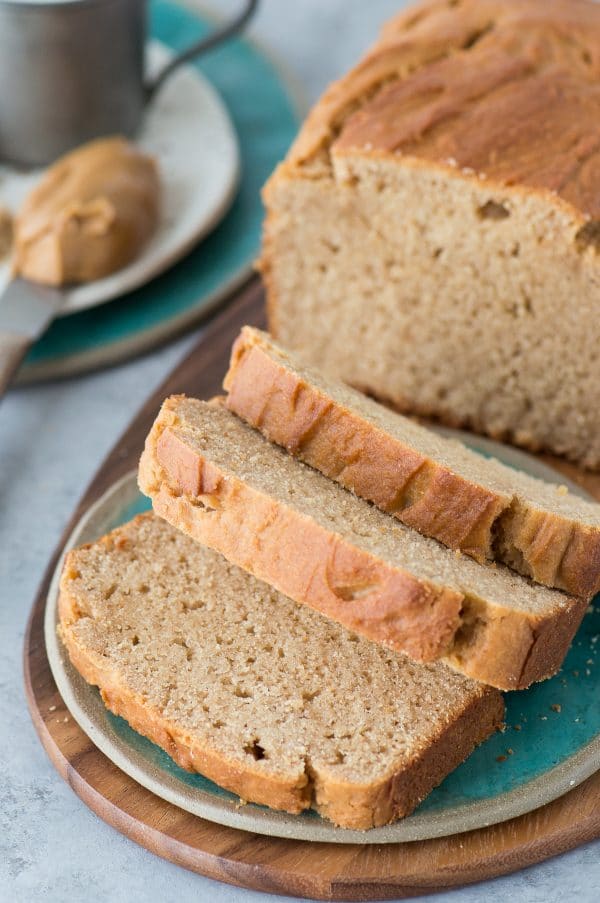 I even took it one step further and spread some peanut butter on the bread and added a small handful of mini chocolate chips and devoured that with an iced latte. That is some good afternoon snacking!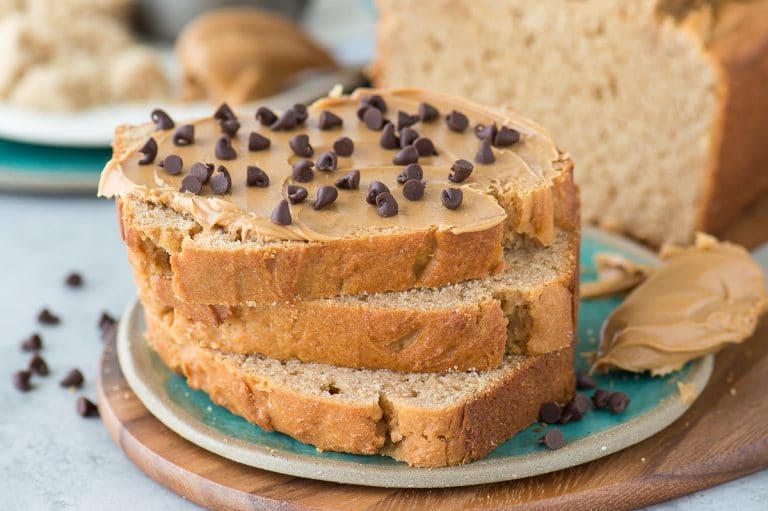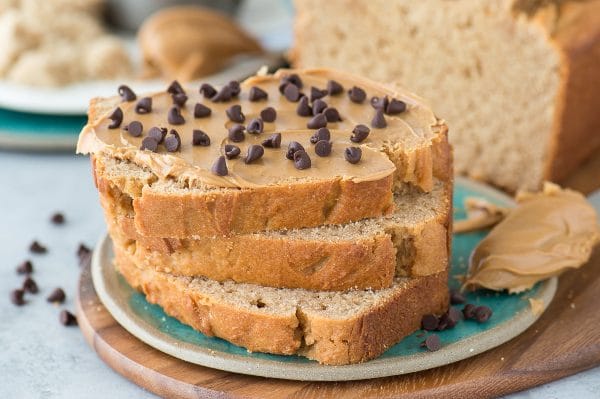 One of the most common questions I get is "can I substitute A for B?" While these are good questions, most likely I haven't tried making the recipe myself substituting A for B, so I can't guarantee that the recipe will turn out the same.
So if you're wondering if you can make this recipe with almond butter or cashew butter instead of peanut butter – my answer is I'm not sure how the switch will affect the texture and the baking time.
How about, can I substitute creamy peanut butter for homemade or natural peanut butter? These types of peanut butter tend to separate, which could affect the texture or taste.
But you could give these substitutions a try and let me know!
I love when readers try out their own substitutions and come back and comment on how they worked. We can learn from each other's successes and failures.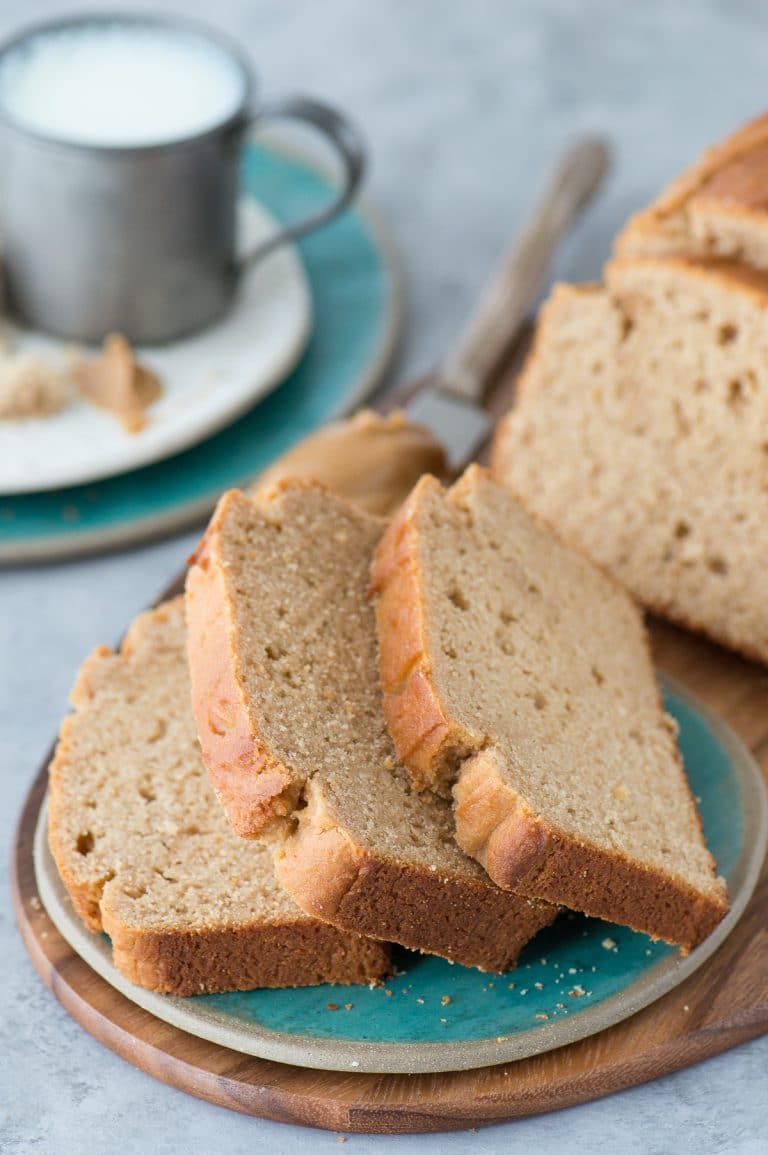 Baking quick breads can be tricky and lead to frustration if you accidentally over bake the item. No one likes dry, crumbly, or burnt bread!
So here are a few words on the most common problems..
-do not over mix the batter. I have been guilty of this myself and I am learning to be okay with lumps in my batter. For a quick bread, do not use your electric mixing to beat in the dry ingredients, using a spatula and mixing by hand will give you more control. "Mix just until incorporated" means mixing the dry ingredients with the wet ingredients until you can just no longer see any flour streaks. Yes you should still scrap the sides and the bottom of the bowl, but do that as you're mixing in the flour.
-do not over bake the bread. Sometimes the bread can trick you, it can look done on the outside but still be doughy in the middle. That's when tenting the bread with aluminum foil comes in handy. It protects the top from becoming too brown, overcooked or crusty. Check the bread 10-15 minutes before the done time and tent it then if needed!
I did need to tent this peanut butter bread with aluminum foil.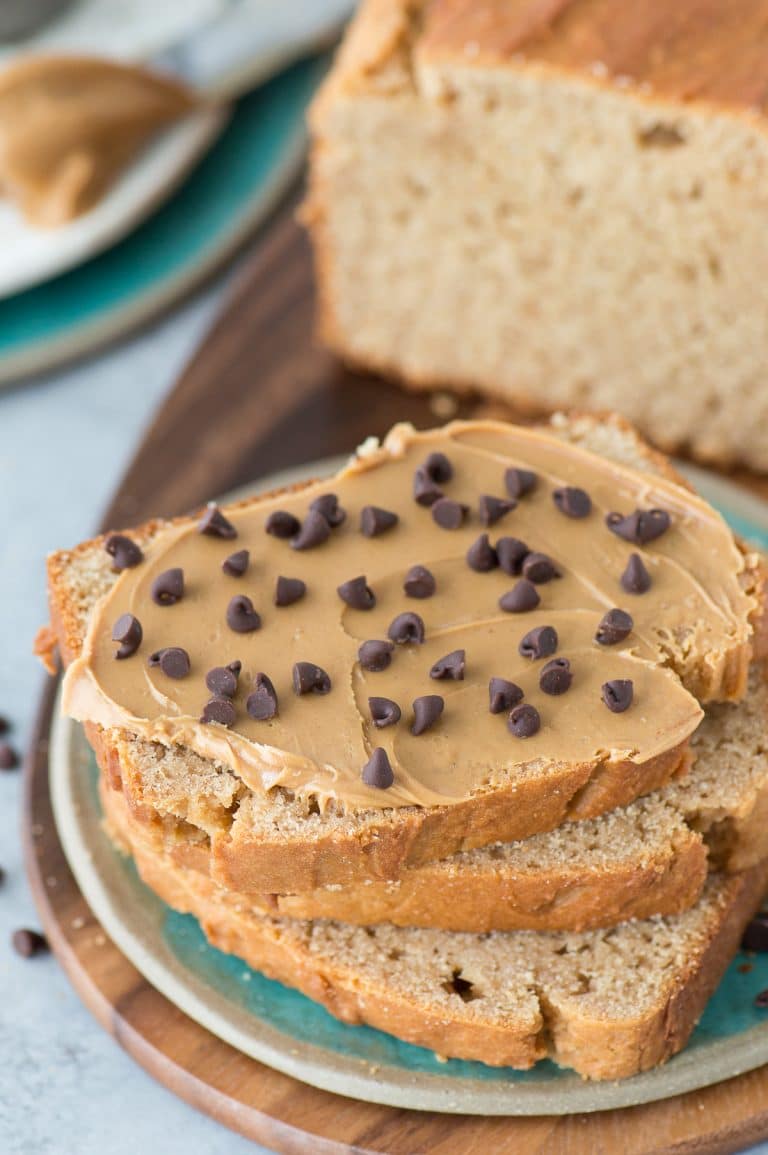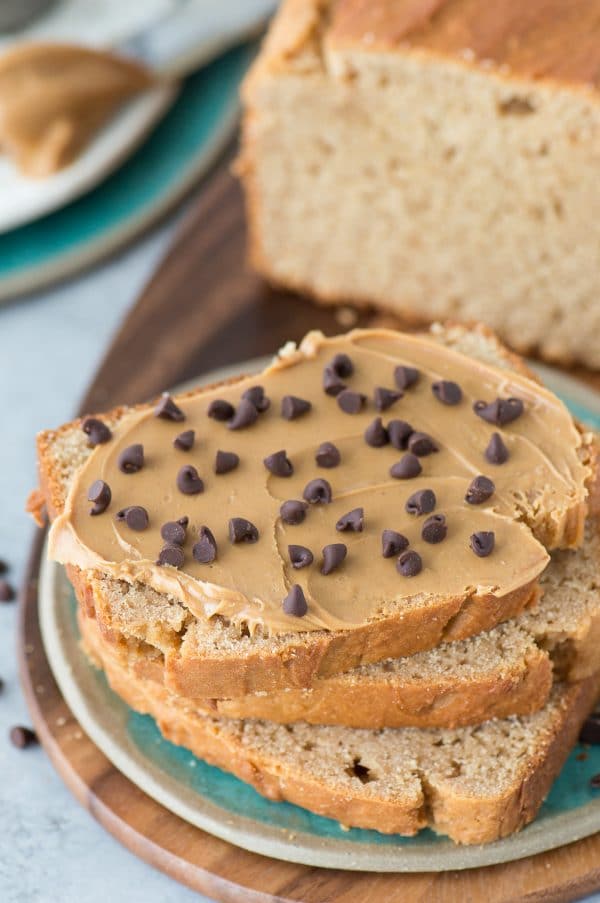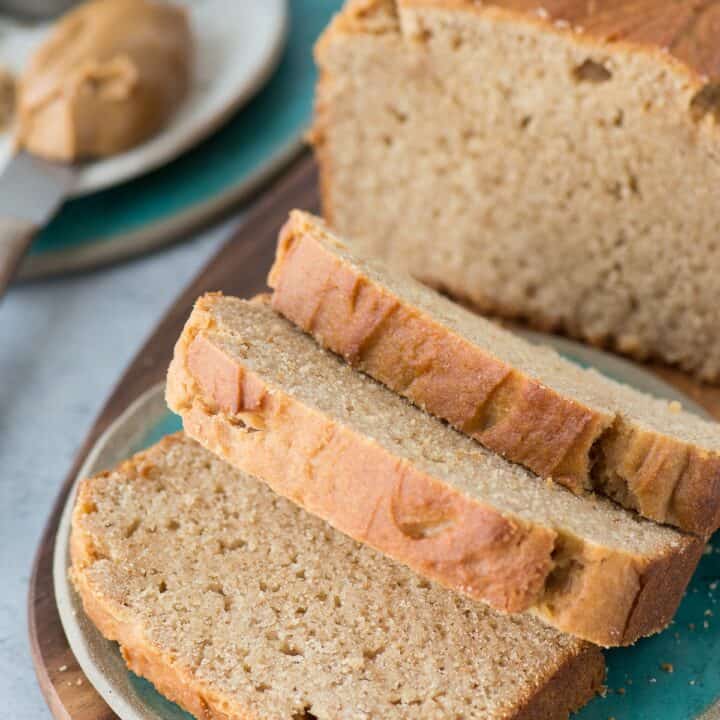 Peanut Butter Bread
Yield: 1 standard loaf
Additional Time: 1 hour
Total Time: 1 hour
Ingredients
1 cup creamy peanut butter, not natural
1/3 cup granulated sugar
1/3 cup brown sugar
2 eggs
3/4 cup milk
1/2 cup sour cream
1 tsp vanilla extract
2 cups all purpose flour
1 tbsp baking powder
1/4 tsp salt
Instructions
Preheat the oven to 350º F. Spray a loaf pan with non-stick cooking spray. In a large mixing bowl, beat together the peanut butter, sugar and brown sugar with an electric mixer until combined, 1-2 minutes. Beat in the eggs. Add the milk, sour cream and vanilla extract, mix briefly. Gradually add the flour, baking powder, and salt, mixing with a spatula to prevent over mixing. Be sure to mix just until combined meaning it's okay if there are lumps or a few flour streaks.
Pour into the loaf pan and bake for 48-52 minutes or until a toothpick inserted in the center comes out with a few moist crumbs. See step 3!!!
Check the bread 10-15 minutes before the timer goes off, if the top of the bread is browning too much, tent the loaf with aluminum foil and then continue baking until the bread is cooked. Or if you are concerned about the top of the load being too dry, tent the bread as well.
Allow the loaf to cool completely before slicing or removing it from the pan.
Notes
I hear that adding 1/2 cup of chocolate chips to the batter makes this peanut butter bread extra delicious!