Banana Muffins
Bakery style banana muffins with domed tops. These one bowl banana bread muffins are for the whole family. Plus turn these into banana chocolate chip muffins with chocolate chips!
I joke and say that muffins are my love language. Muffins are probably one of my favorite "treats" because you can eat them anytime of the day.
This recipe for banana bread muffins has been a long time coming.
I shared my recipe for easy one bowl banana chocolate chip bread back in 2013 (in the baby years of blogging!!) but I haven't shared a banana muffin since!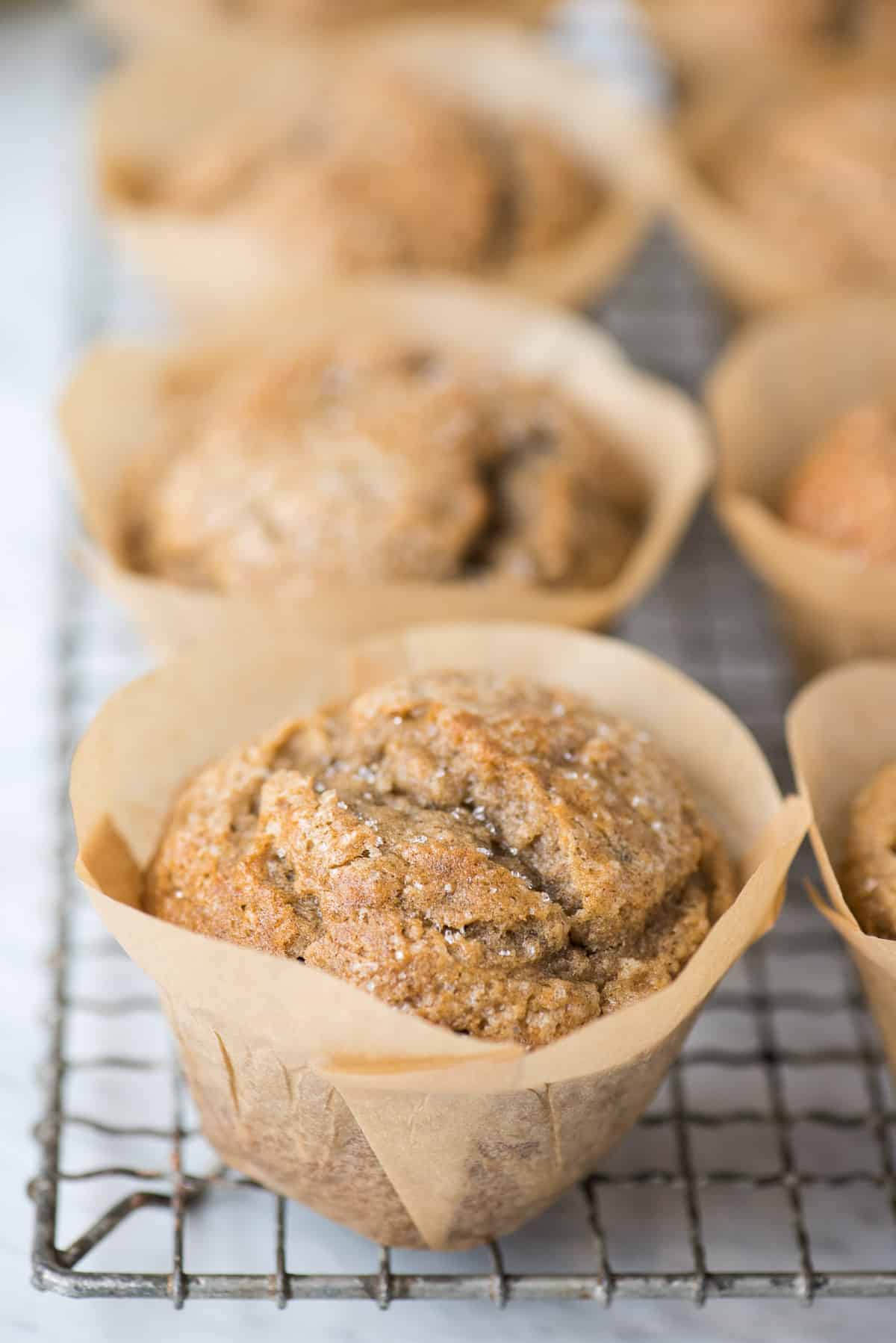 I am 100% more likely to make muffins versus a whole loaf, unless I'm making the loaf for a specific occasion like a baby or bridal shower. I feel like loafs are fancy and muffins are more practical.
Plus the baking time for muffins is about 75% faster – meaning you get to eat muffins faster!
My favorite thing about this banana bread muffin recipe is that you make it in ONE bowl! I do a lot of dishes as a food blogger, so one bowl recipes are very convenient.
Banana muffins and chocolate chips
Growing up we always put chocolate chips in our banana bread. I thank my momma for passing her love for chocolate onto me! I figured everyone put chocolate chips in their banana bread. I remember meeting friends when we lived in Illinois who had never heard of putting chocolate chips in banana muffins. I was shocked!
I made this recipe without chocolate chips but its so easy to add them in that you don't need a separate recipe specifically for banana chocolate chip muffins. If you want chocolate chips, add 1/2 cups chocolate chips to the batter when mixing in the dry ingredients. I do prefer semi-sweet mini chocolate chips, but use whatever you like!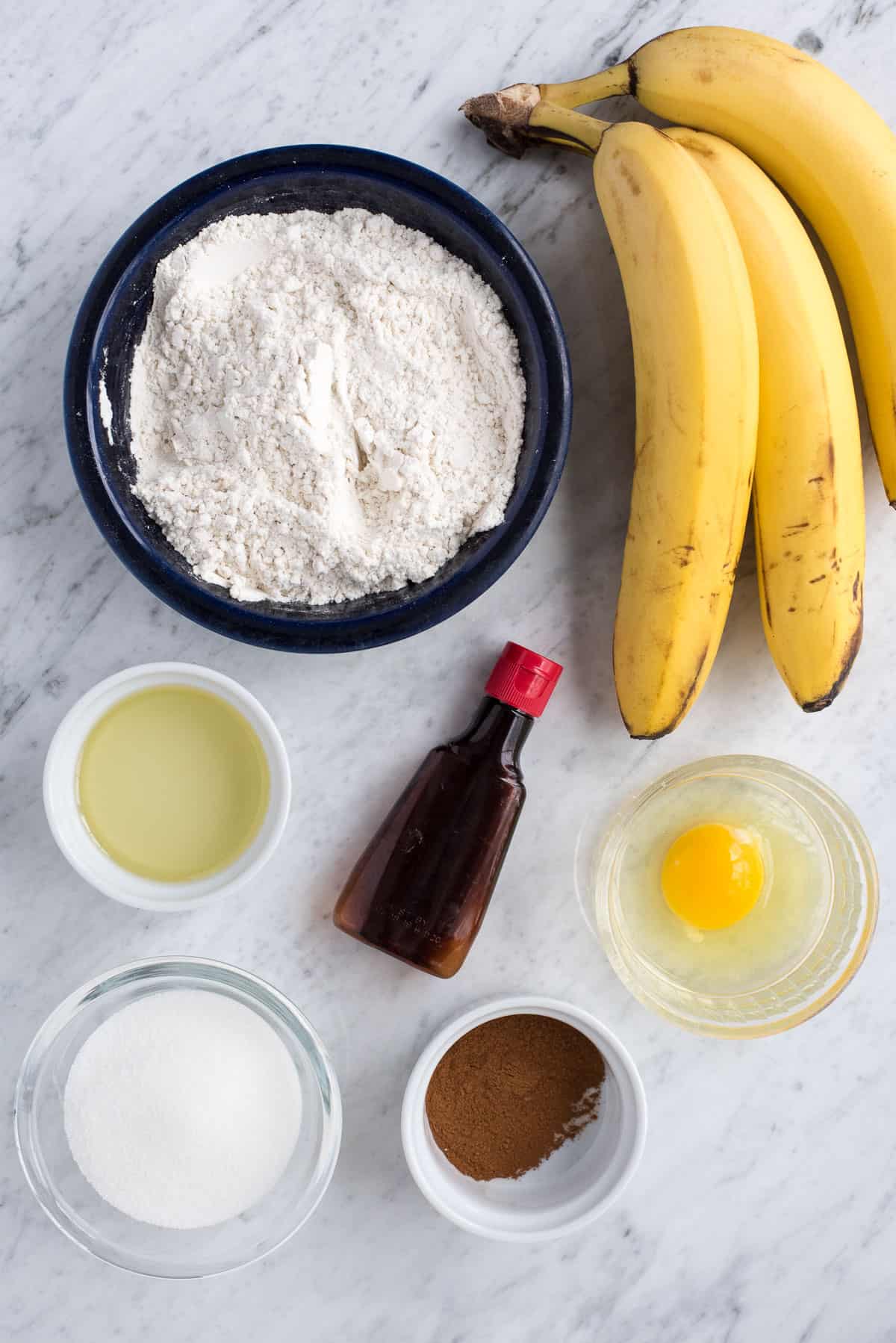 How to make bakery style banana muffins from scratch
Any good banana muffin starts with ripe or (even better) over ripe bananas! You want to mash those babies well. Use a potato masher, electric mixer or blender for this step. You need about 1 cup mashed bananas.
Ingredients
bananas
oil
granulated sugar
large egg
vanilla extract
all purpose flour
baking soda
cinnamon
salt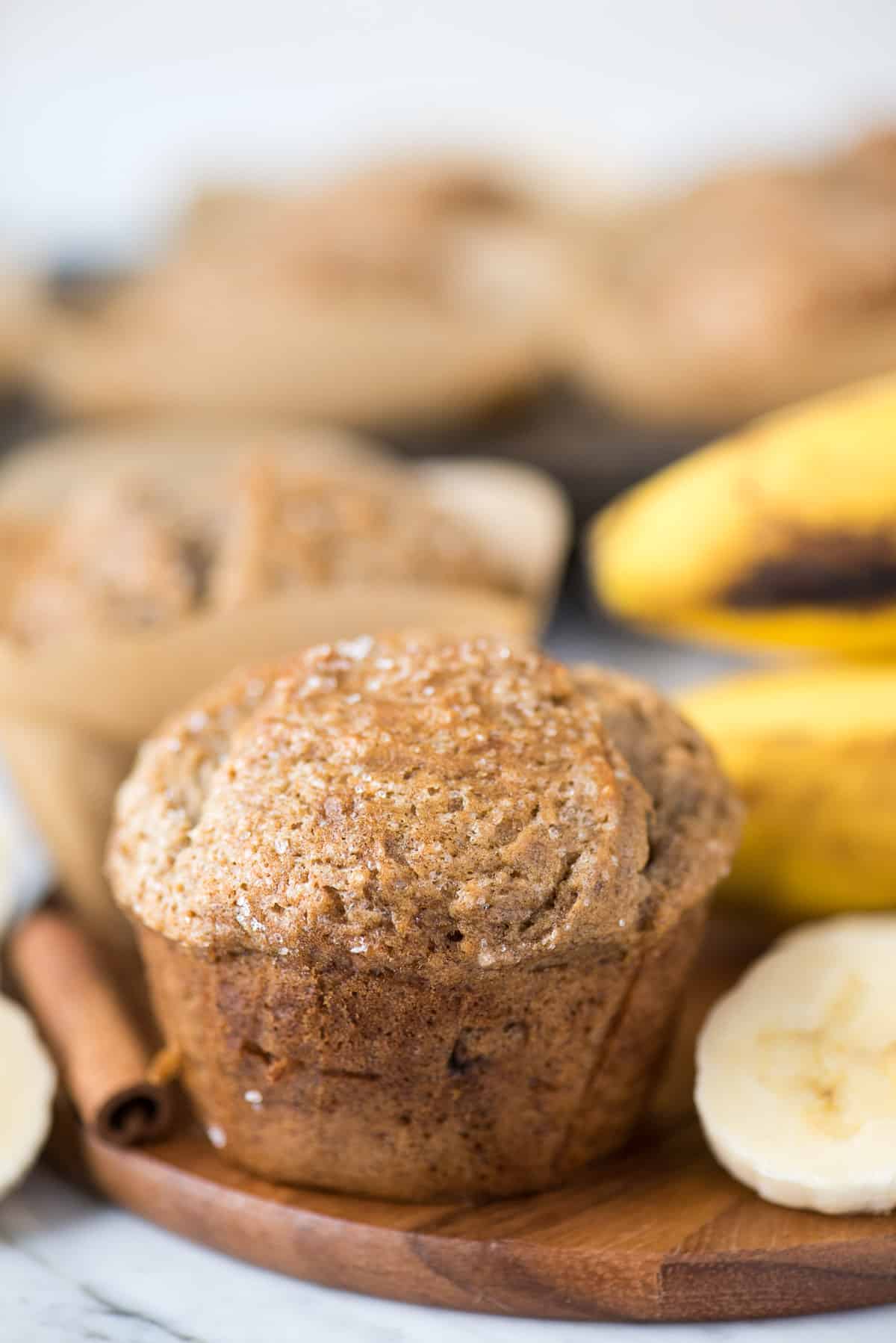 How to create bakery style high domed muffin tops
Bakery style muffins are known for their domed tops. Plus who doesn't love them? I used a few techniques to help "lift" these muffins so they would have domed tops.
1. The rest period
Let the batter rest for 15 minutes after it's mixed and before you scoop it into the muffin pan. During the resting period, starch molecules in the flour are absorbing the liquid in the batter, causing them to swell and giving the batter a thicker consistency (ref the kitchen whisper)
Our 15 minute rest is just a quick rest. You can also cover and refrigerate the dough for 1 hour before scooping into the pan. The longer the batter has to rest, the thicker the batter will become.
2. Bake at high temperature initially
Bake the muffins at a high temperate (425ºF) for 7 minutes then lower to 375ºF. Starting the muffins off at a higher temperature causes the batter to rise rapidly, producing a domed shaped.
3. Fill them to the top
Fill your muffin liners to the top with batter. Yes, this goes against everything you're heard but it's important in helping the muffin gain that height.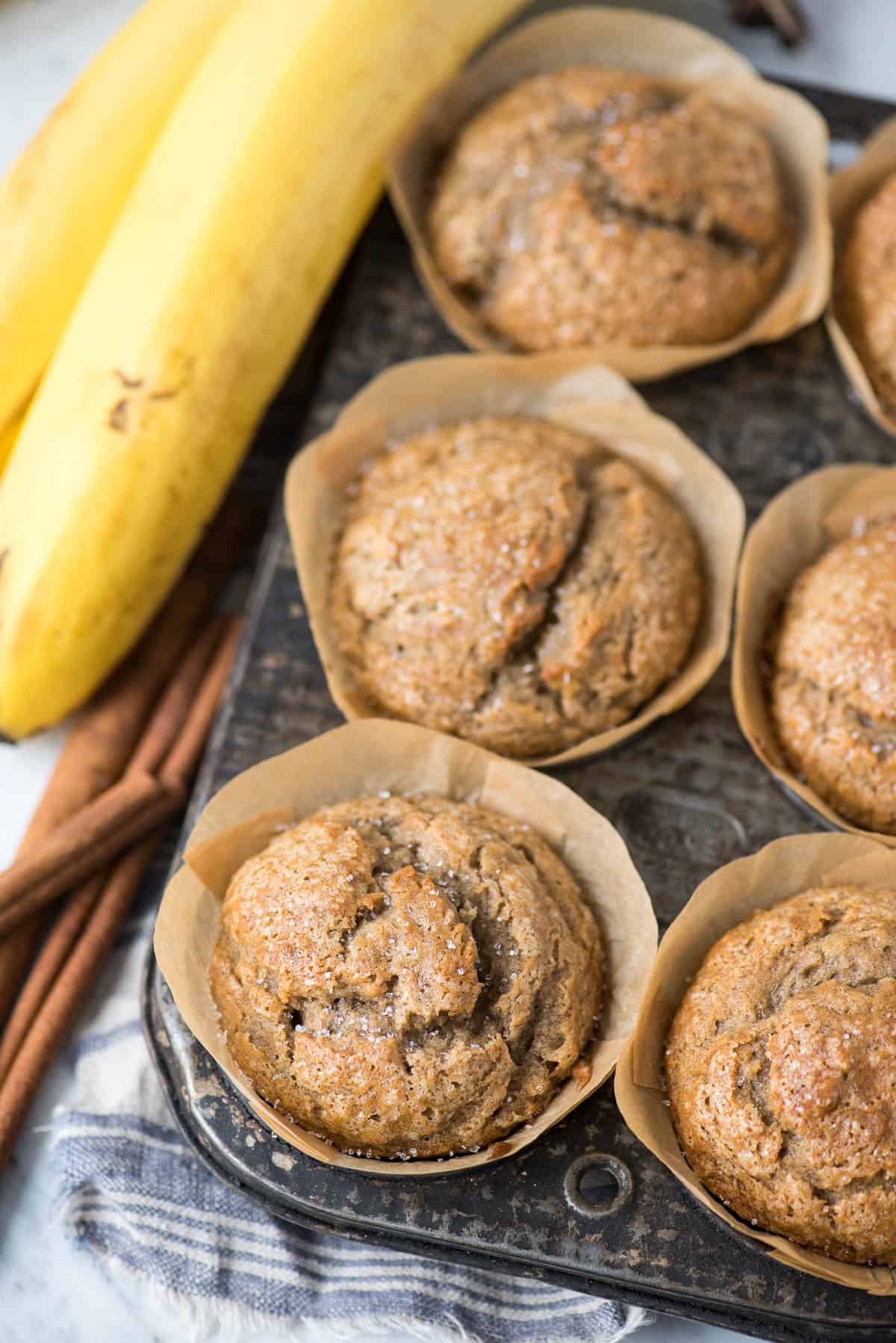 Those muffin liners are so cute, where did you get them?
I used these tulip scalloped parchment paper liners from amazon.
Gluten free banana muffins
I've made these muffins with both regular and gluten free flour with AWESOME results on multiple occasions. I recommend King Arthur's Gluten Free Measure for Measure Flour. Use it as a one for one substitute for regular flour.
How to freeze banana muffins
Yes! Allow the muffins to cool completely first. I like to wrap two muffins together (the bottoms of the muffins touching) in plastic wrap, then place all the wrapped bundles in a ziplock bag.
To thaw, either let them come to room temperature on the counter or place as many as you need in the microwave for 15 second intervals.
Total time required
5 minutes to prep the batter
15 minute rest (this helps produce domed tops!)
bake for 7 minutes at 424º
bake for 12-14 minutes at 375º
More Muffin Recipes
Banana muffins video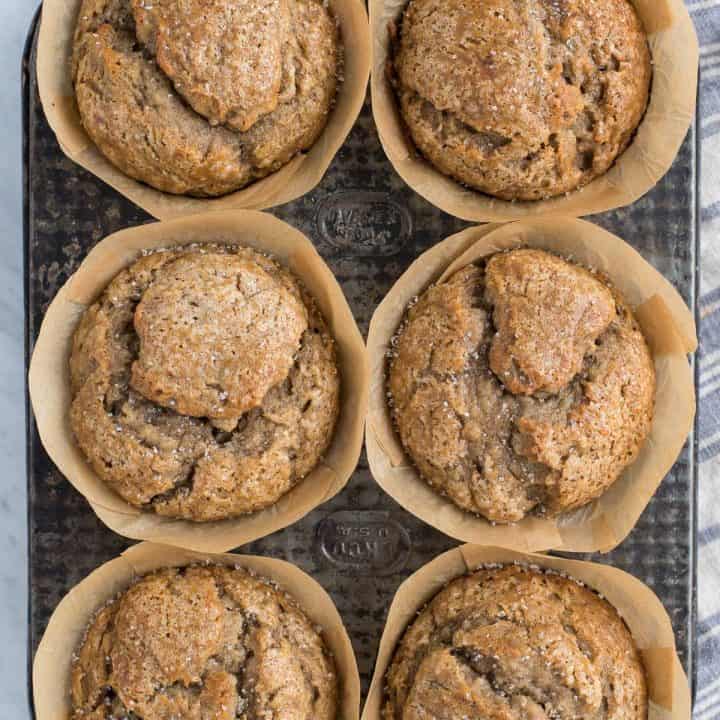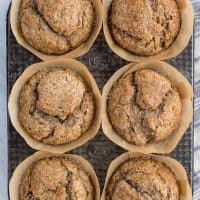 Bakery Style Banana Bread Muffins
Bakery style banana muffins with domed tops. One bowl banana bread muffins for the whole family (including kids & toddlers). Awesome banana muffin recipe to use with gluten free flour! Plus turn these into banana chocolate chip muffins with chocolate chips!
Print
Pin
Rate
Servings: 9 -10 muffins
Ingredients
3 large ripe bananas about 1 cup mashed
⅓ cup vegetable oil
½ cup granulated sugar
1 large egg
1 tsp vanilla
1 ½ cups all purpose flour
1 tsp baking soda
½ tsp cinnamon
½ tsp salt

½ cup mini chocolate chips optional
Instructions
Mash the bananas in a blender, mixing bowl or with potato masher.

In a mixing bowl combine the mashed bananas, vegetable oil, sugar, egg and vanilla extract. Stir to combine with a spatula.

Add in the flour, baking soda, cinnamon, and salt, stir together with a spatula.

If adding chocolate chips, mix them in now.

Cover the bowl with a towel and allow the batter to rest for 15 minutes. During this time, preheat the oven to 425ºF.

Line a muffin pan with muffin liners. Fill the liners to the top with batter.

Bake for 7 minutes at 425ºF, then keeping the muffins in the oven turn the temperature down to 375ºF and bake for 12-14 minutes or until a toothpick inserted in the center comes out clean.
Notes
Read the notes in the post above for information about why we let the batter rest and why we bake the muffins at a higher initial temperature.
Nutrition
Calories: 219kcal | Carbohydrates: 44g | Protein: 4g | Fat: 3g | Saturated Fat: 2g | Polyunsaturated Fat: 1g | Monounsaturated Fat: 1g | Trans Fat: 1g | Cholesterol: 22mg | Sodium: 267mg | Potassium: 194mg | Fiber: 2g | Sugar: 23g | Vitamin A: 82IU | Vitamin C: 4mg | Calcium: 21mg | Iron: 1mg