Applesauce Spice Crumb Muffins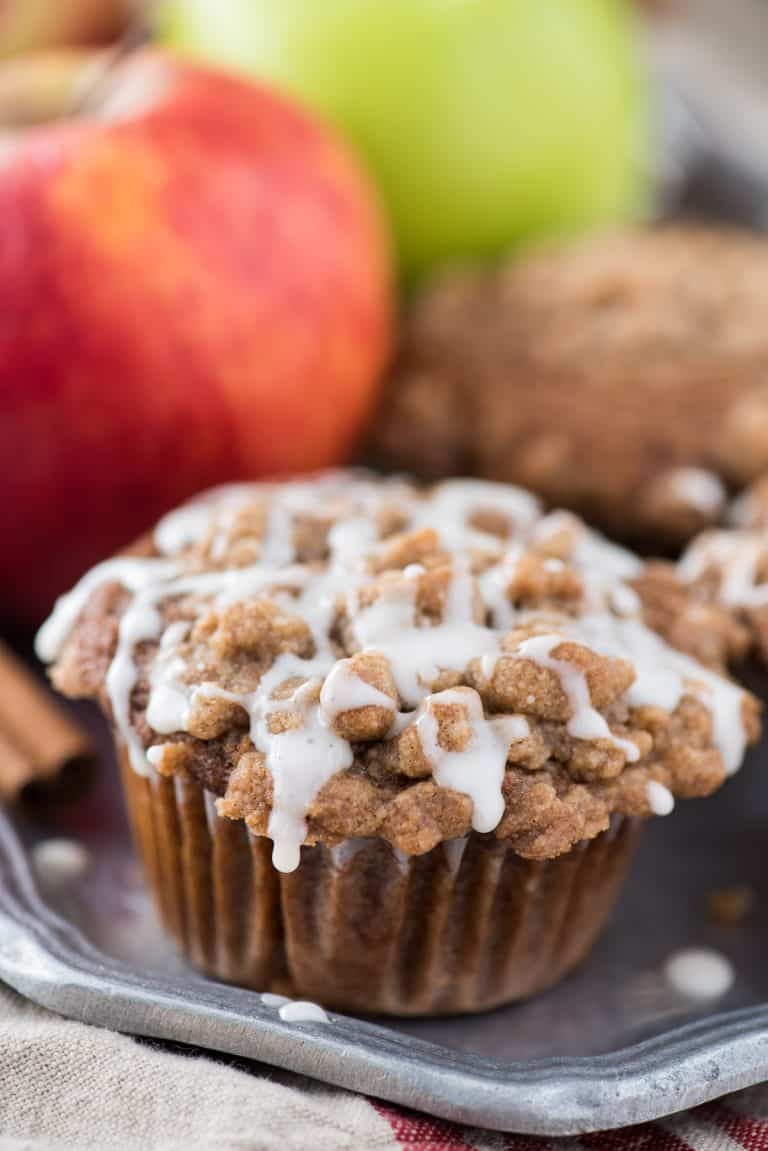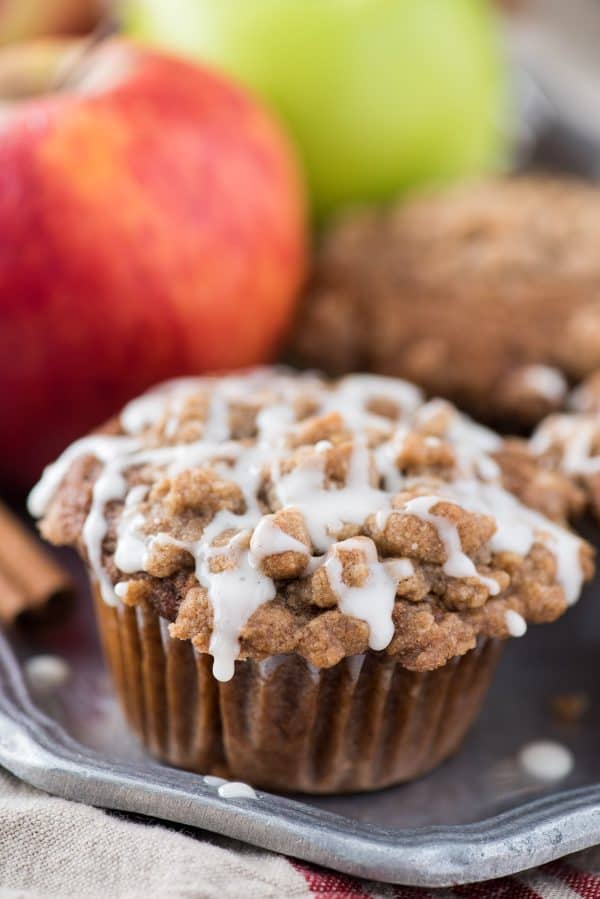 A family favorite fall apple muffin recipe – applesauce spice muffins with a brown sugar crumb topping. Every time we make these spice muffins, we get tons of compliments! Made with everyday ingredients from your pantry!
How many times have I said that muffins are my love language?!
It's 100% possible to have a food love language. Ribs and mashed potatoes would be another top contender.
I think I love muffins so much because in my book they are an anytime food. Breakfast. Morning snack. Afternoon snack. Dessert.
It covers all the bases!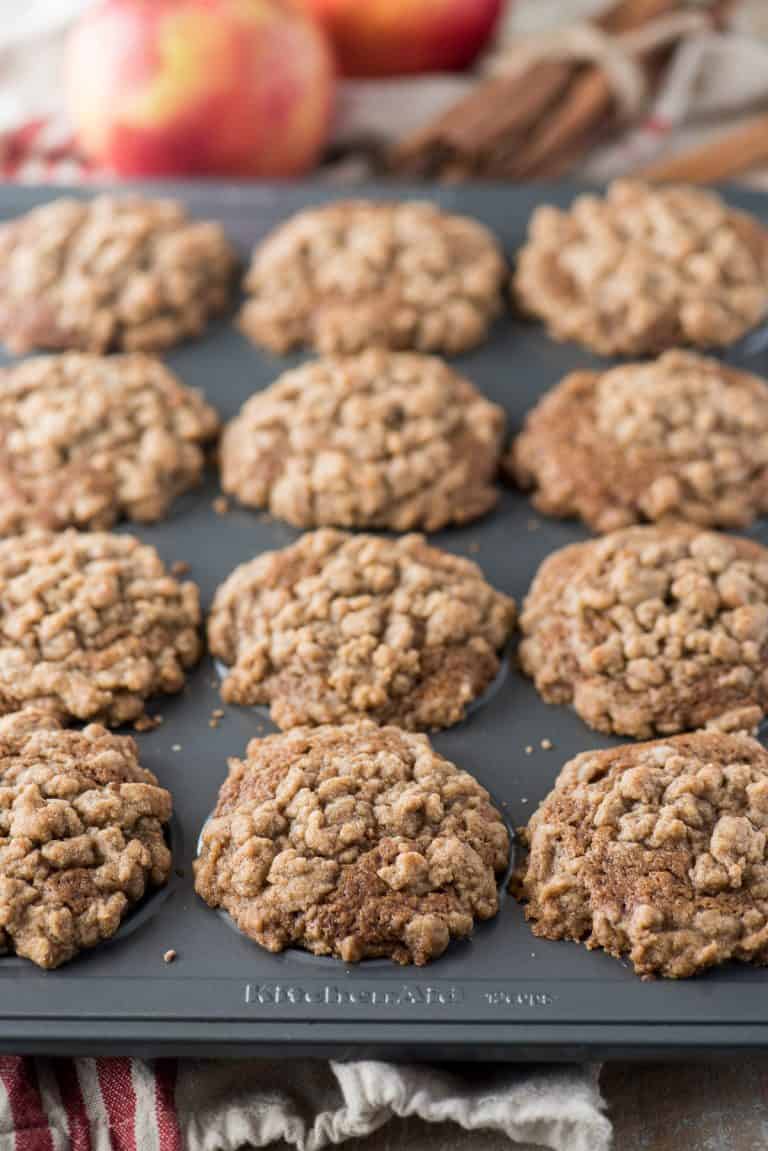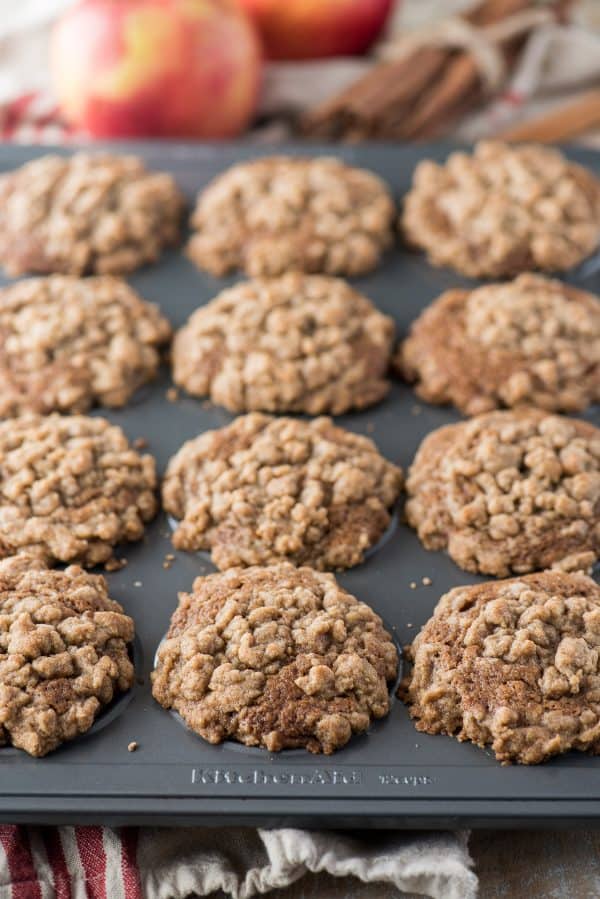 We've been swimming in muffin land since I started working on this recipe.
For almost every recipe I'll make a regular batch and a gluten free batch.
Then I was testing out different crumb toppings.. 48 muffins later.
Total Time Required
10 minutes to make the batter
7 minutes at 425ºF
12-14 minutes at 350ºF
10 minutes to cool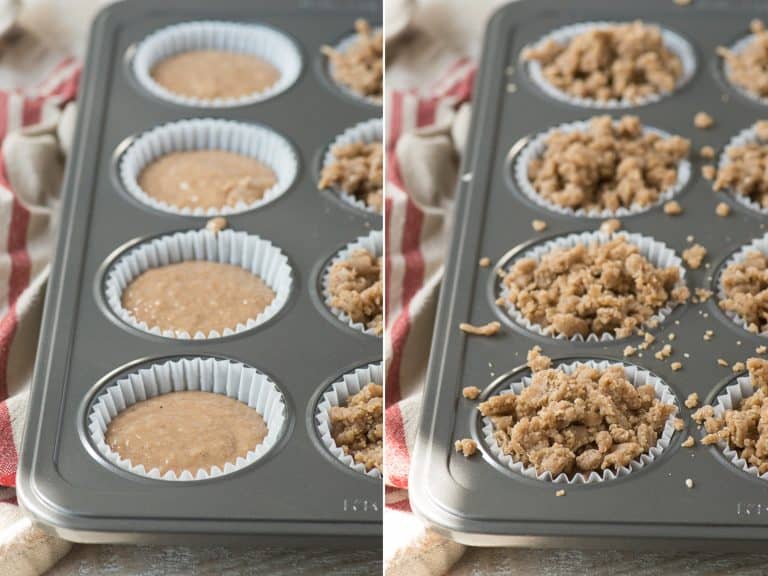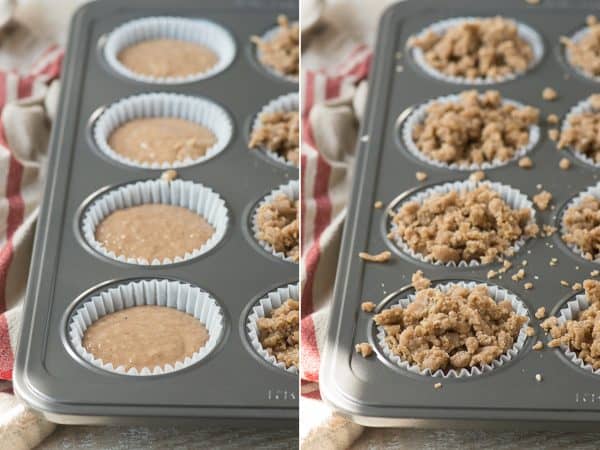 There is no way Ryan and I can consume all of the food I make & test, so a ton of it goes to work with Ryan on a pretty regular basis.
But this week I dropped some muffins off at our church and they were a bit hit! I should make that a regular thing.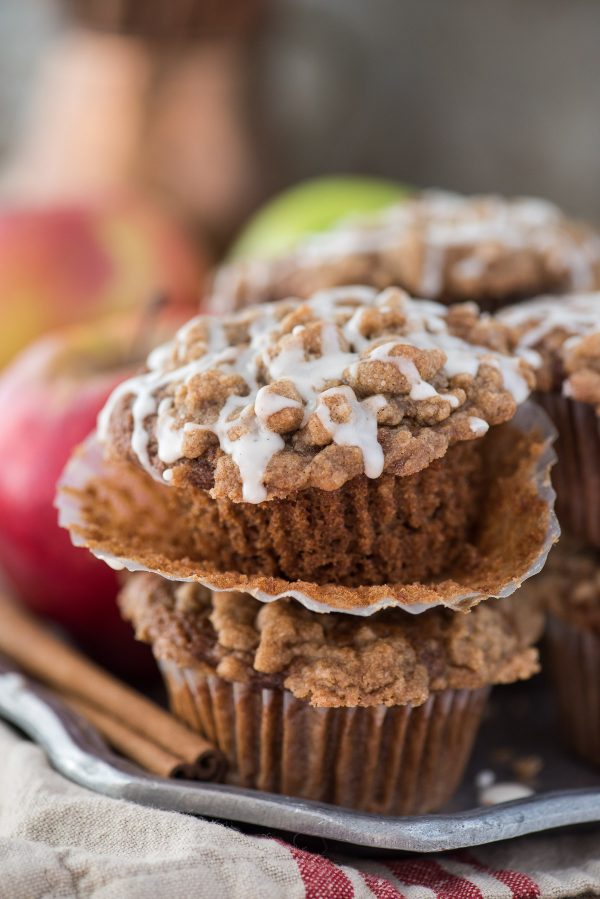 Do I have to use unsweetened applesauce?
No. That's what I choose to use, but you could use regular applesauce or even cinnamon applesauce. I wouldn't suggest using chunky applesauce as it will change the texture of the muffins.
Do I have to put the crumble on top?
Nope! Crumble is gooooood, but sometimes I want a less sweet muffin so skip the crumble if you want to! The baking time will be about the same.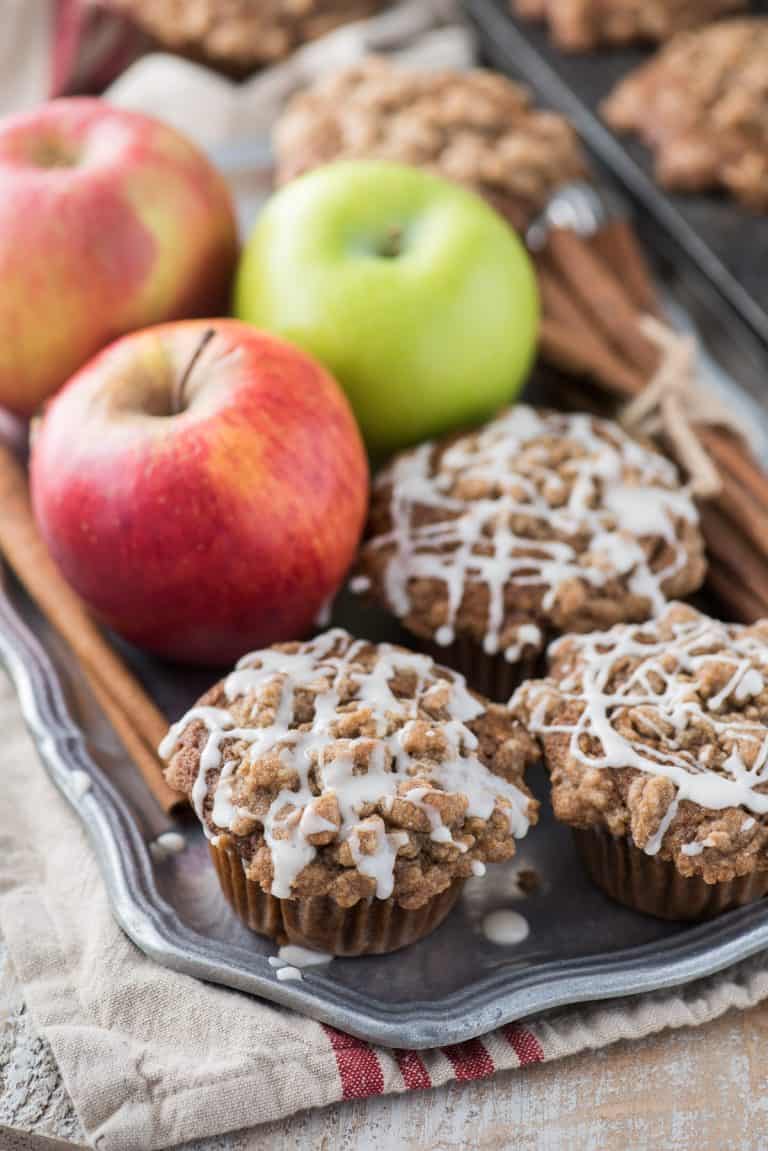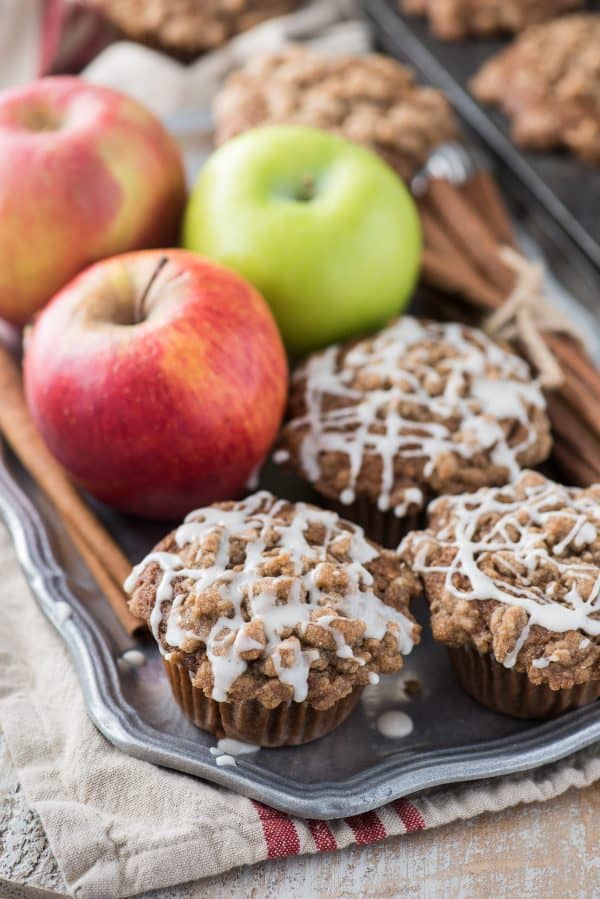 Why should I bake the muffins at 425ºF for 7 minutes then turn the temperature down to 350ºF?
Baking the muffins at an initial higher temperature helps the muffins rise quickly, creating more of a domed muffin top – which everyone loves!
Can I bake these muffins without liners?
I'm not sure! I almost always use muffin liners but if you don't and you've had good success without them, comment and let me know!
How to freeze apple muffins
Allow the muffins to cool completely. I like to wrap two muffins together (the bottoms of the muffins touching) in plastic wrap, then place all the wrapped bundles in a ziplock bag.
To thaw, either let them come to room temperature on the counter or place as many as you need in the microwave for 15 second intervals.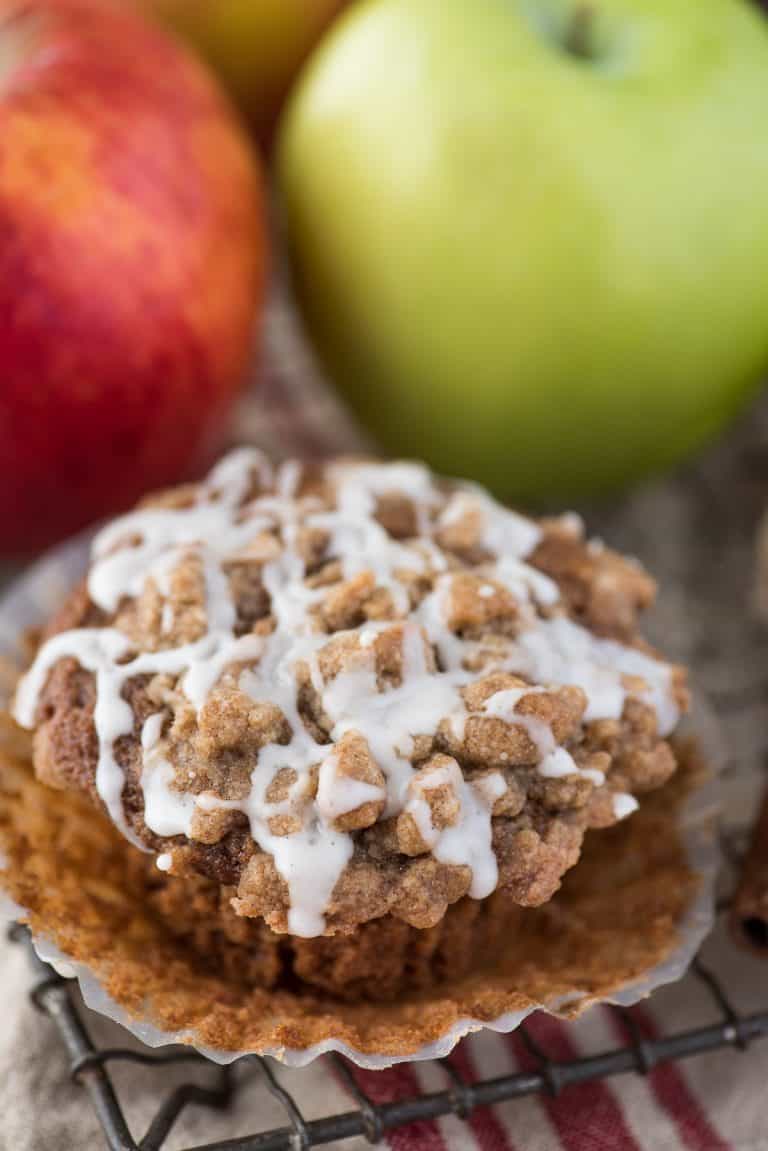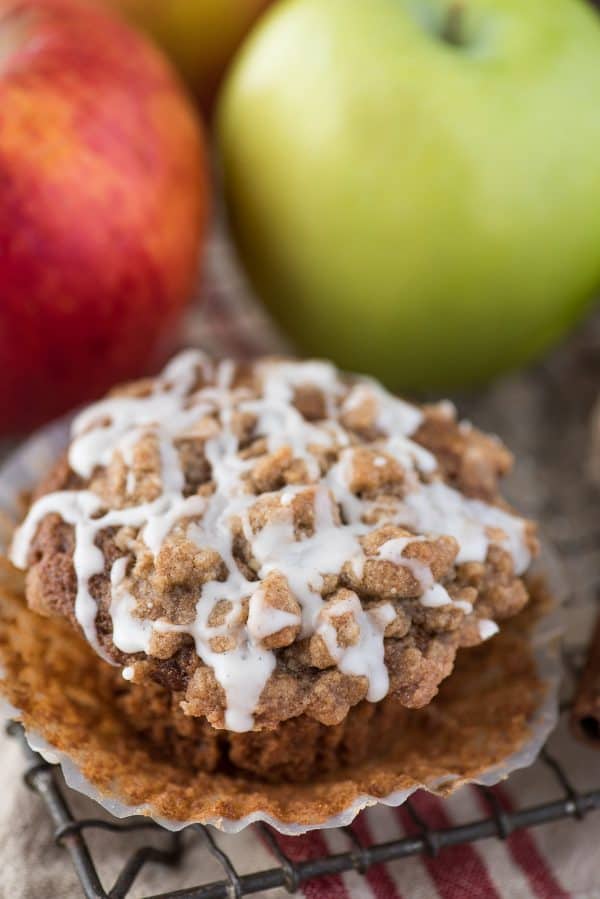 Stay Connected

Subscribe to The First Year newsletter to get our recipes sent to your inbox! Follow along on Instagram, Facebook, Pinterest, and Youtube. If you make this recipe, tag @beth_thefirstyear on instagram!
For a step-by-step of how to make this applesauce spice crumb muffin recipe, watch this short video: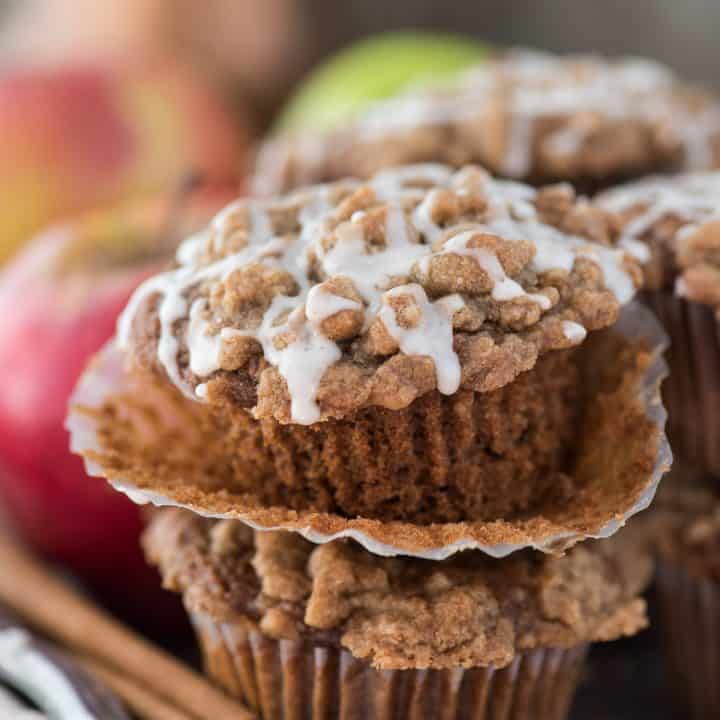 Applesauce Spice Crumb Muffins
Yield: 12 muffins
Prep Time: 10 minutes
Cook Time: 14 minutes
Total Time: 24 minutes
A family favorite fall apple muffin recipe - applesauce spice muffins with a brown sugar crumb topping. Every time we make these spice muffins, we get tons of compliments!
Ingredients
Muffins
1 & 1/2 cups all purpose flour
1 tsp baking powder
1 tsp baking soda
1/2 tsp salt
2 tsp cinnamon
1/2 tsp nutmeg
1 cup unsweetened applesauce
1/2 cup brown sugar
1/2 cup vegetable oil
2 eggs
Crumb Topping
1 cup all purpose flour
1/2 cup brown sugar
1 tsp cinnamon
1 stick (1/2 cup) unsalted butter, melted
Instructions
Preheat the oven to 425ºF. Line a regular sized muffin pan with liners.
Make the crumb topping: In a small mixing bowl combine the flour, brown sugar, cinnamon, and melted butter. Mix together with a fork until crumbly and wet. Set aside.
Make the muffins: In a smaller mixing bowl, combine the flour, baking powder, baking soda, salt, cinnamon, and nutmeg.
In a separate larger mixing bowl, combine the applesauce, brown sugar, and vegetable oil, whisk together. Add in the eggs, whisk again. Using a spatula, gently mix in the dry ingredients until just combined.
Fill each muffin cup almost to the top. The 12 muffin cups will be full, but that's good! Using your fingers, crumble a generous amount of topping on each muffins.
Bake at 425ºF for 7 minutes. Then keeping the muffins in the oven, turn the oven down to 350ºF and bake for 12-14 minutes or until a toothpick inserted in the center comes out clean.
Allow the muffins to cool for 10 minutes, then remove from the muffin pan. Once the muffins cool, you can add a powdered sugar glaze (powdered sugar + milk) if you'd like!