Coconut Chocolate Chip Muffins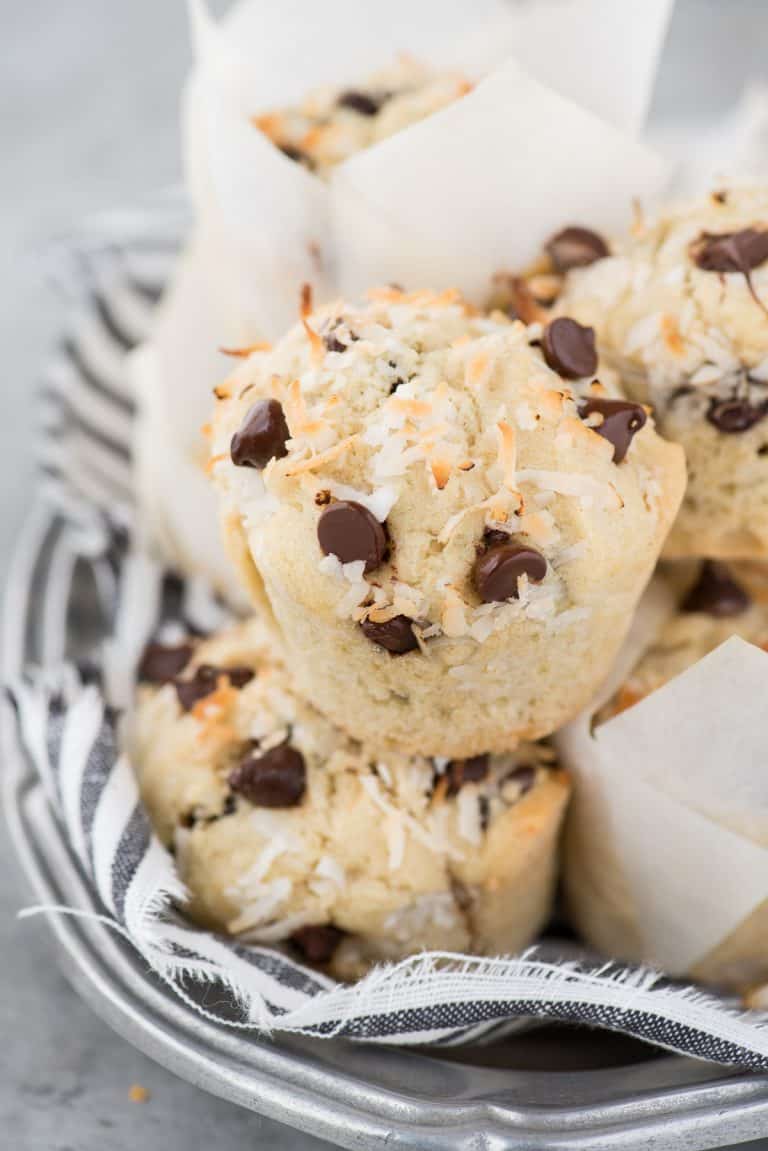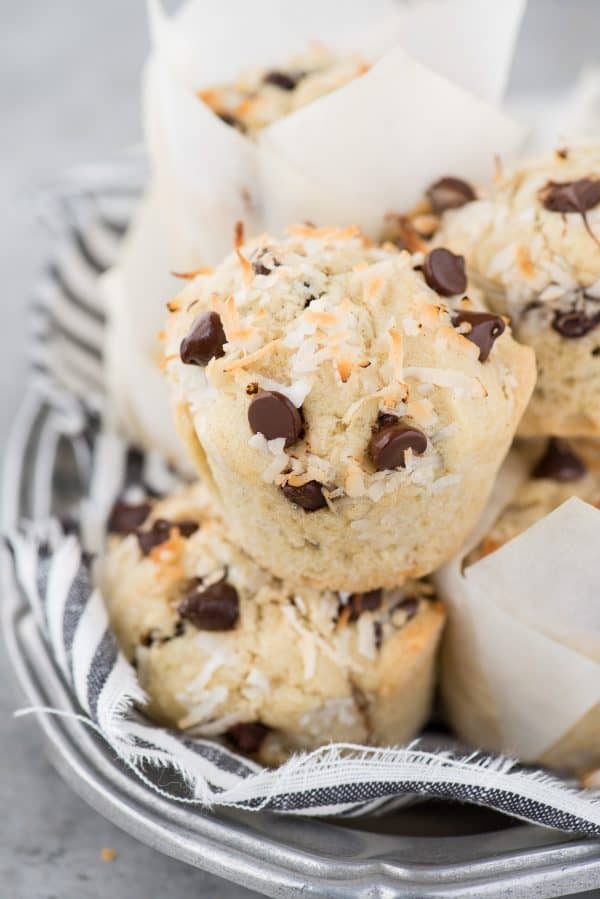 These coconut chocolate chip muffins have FOUR types of coconut that make a sweet, tender muffin with the perfect amount of coconut flavor. Want to know how to make coconut oil bakery style muffins? There's so many tips and explanations in this recipe!
Muffins are one of my major weaknesses because they are an anytime food.
I'm not the type to get suckered into eating brownies or cookies at 9am while baking, but muffins hook me every time.
I use to think I wasn't a coconut fan, but these coconut cookies changed my mind. Once again, I fell in love with the coconut flavor of these beauties, so much so that I would leave out the chocolate chips if I was wanting a "healthier" muffin. Heather needs to be in quotations because these still have 1/2 cup of sugar.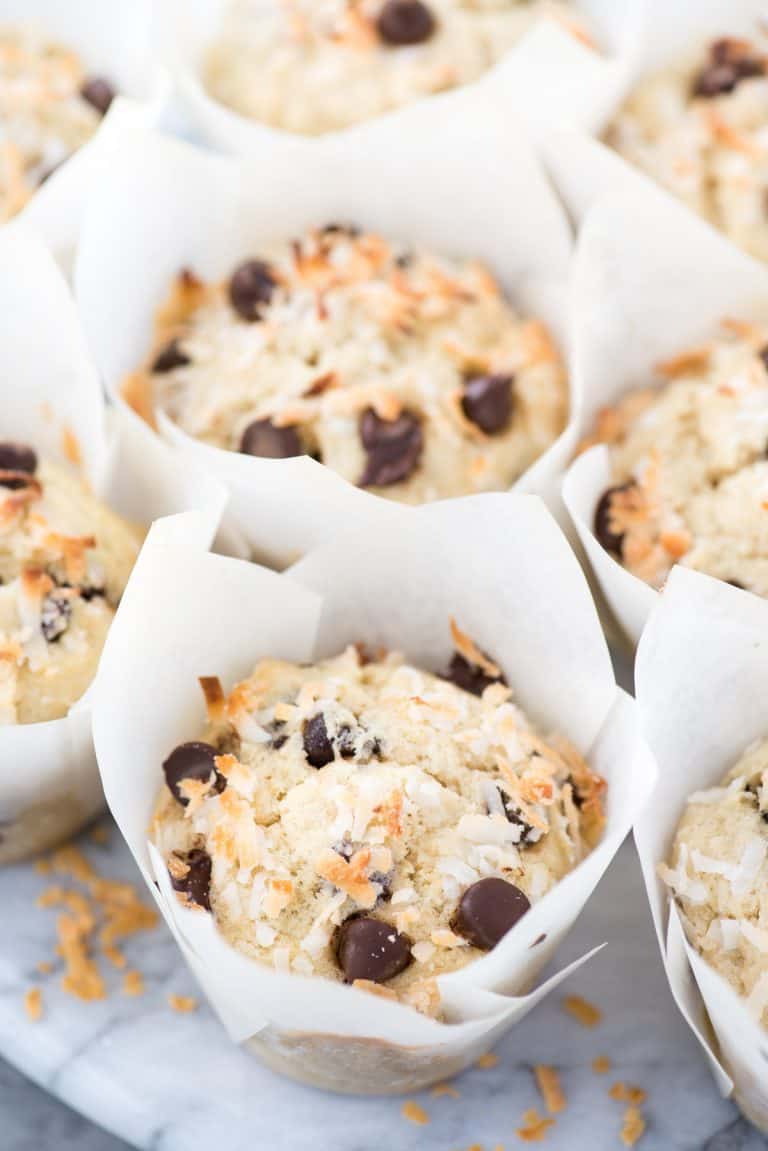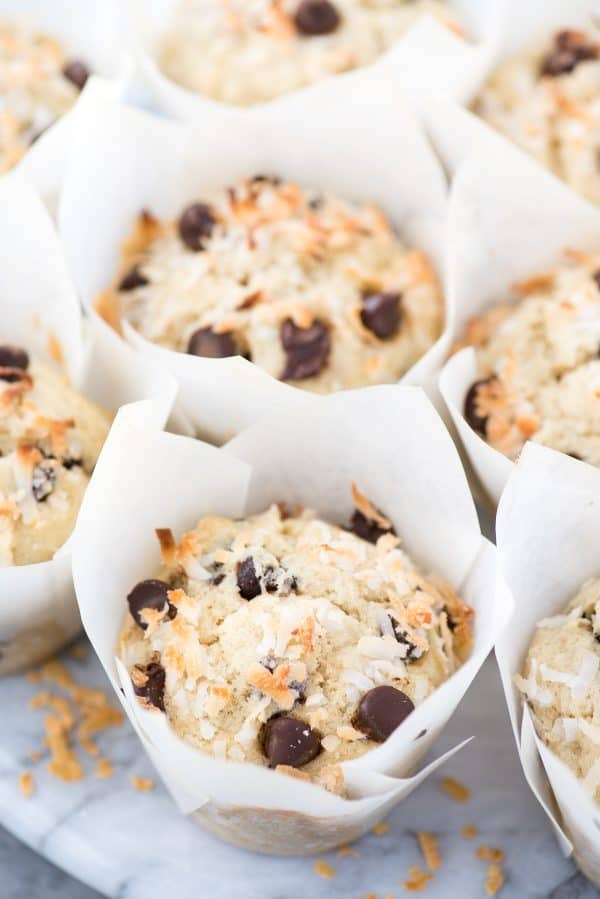 How to make coconut muffins
There are 4 important coconut elements in these coconut oil muffins.
Coconut oil – It adds a subtle coconut flavor, but the muffins are not getting the majority of their coconut flavor from the coconut oil. If you need to substitute the coconut oil, use the same amount of vegetable oil
Coconut milk – this adds a big coconut flavor, plus healthy fat to the muffins!
Coconut extract – a 1/2 tsp goes a long way in adding flavor! Plus, I love how coconut extract smells and reminds me of summer beach days.
Shredded coconut – for texture and flavor!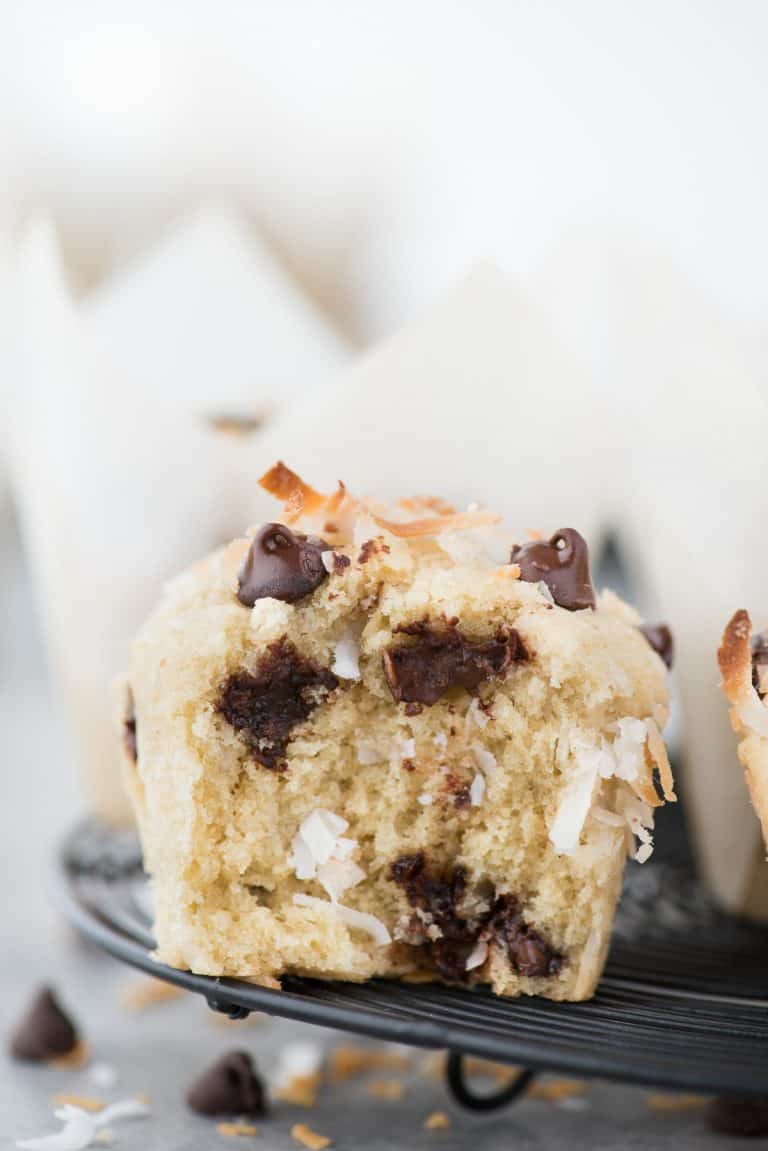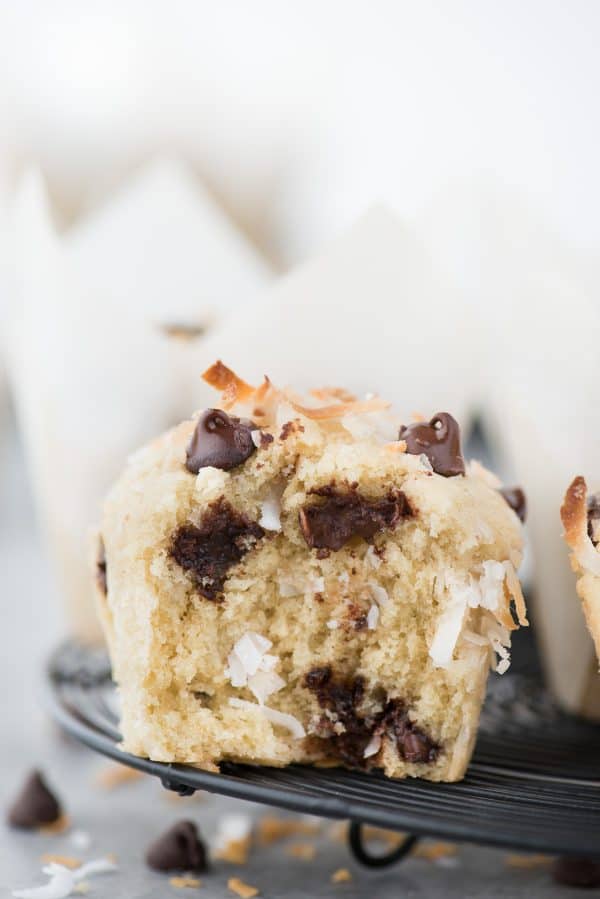 How to create bakery style coconut chocolate chip muffins
Bakery style muffins are known for their domed tops. Plus who doesn't love them? I used a few techniques to help "lift" these muffins so they would have domed tops.
1. THE REST PERIOD
Let the batter rest for 10 minutes after it's mixed and before you scoop it into the muffin pan. During the resting period, starch molecules in the flour are absorbing the liquid in the batter, causing them to swell and giving the batter a thicker consistency (ref the kitchen whisper).
Our 10 minute rest is just a quick rest. You can also cover and refrigerate the dough for 1 hour or overnight before scooping into the pan. The longer the batter has to rest, the thicker the batter will become – meaning more DOME!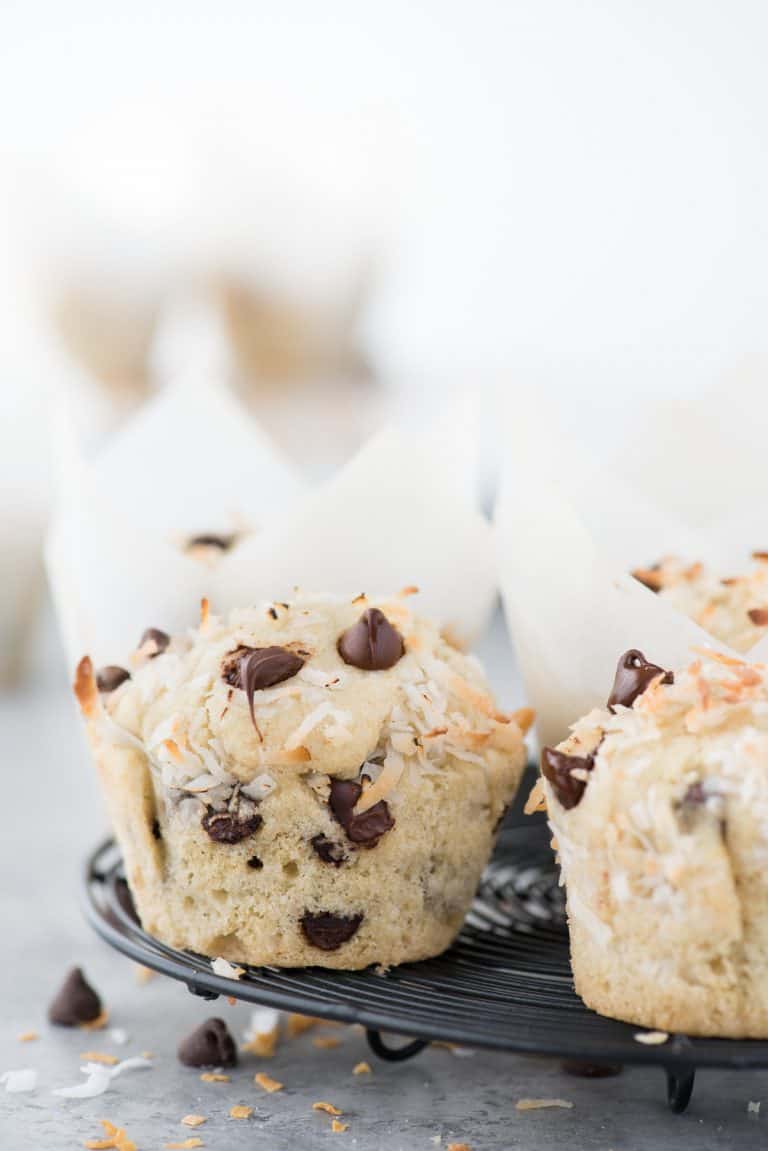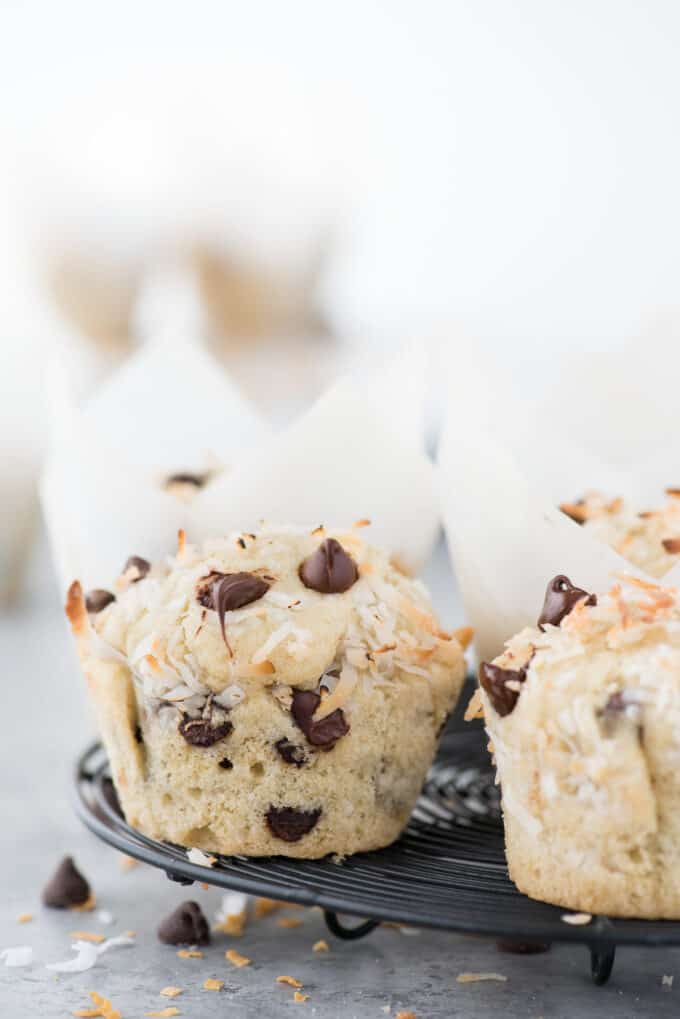 2. BAKE AT HIGH TEMPERATURE INITIALLY
Bake the muffins at a high temperate (425ºF) for 7 minutes then lower to 350ºF. Starting the muffins off at a higher temperature causes the batter to rise rapidly, producing a domed shaped.
3. FILL THEM TO THE TOP
Fill your muffin liners to the top with batter. Yes, this goes against everything you've heard but it's important in helping the muffin gain that height.
How to make gluten free coconut muffins
I've made these muffins with both regular and gluten free flour with AWESOME results on multiple occasions. I recommend King Arthur's Gluten Free Measure for Measure Flour. Use it as a one for one substitute for regular flour.
To make these coconut muffins dairy free, use dairy free chocolate chips, or omit the chips and substitute nuts if you'd like!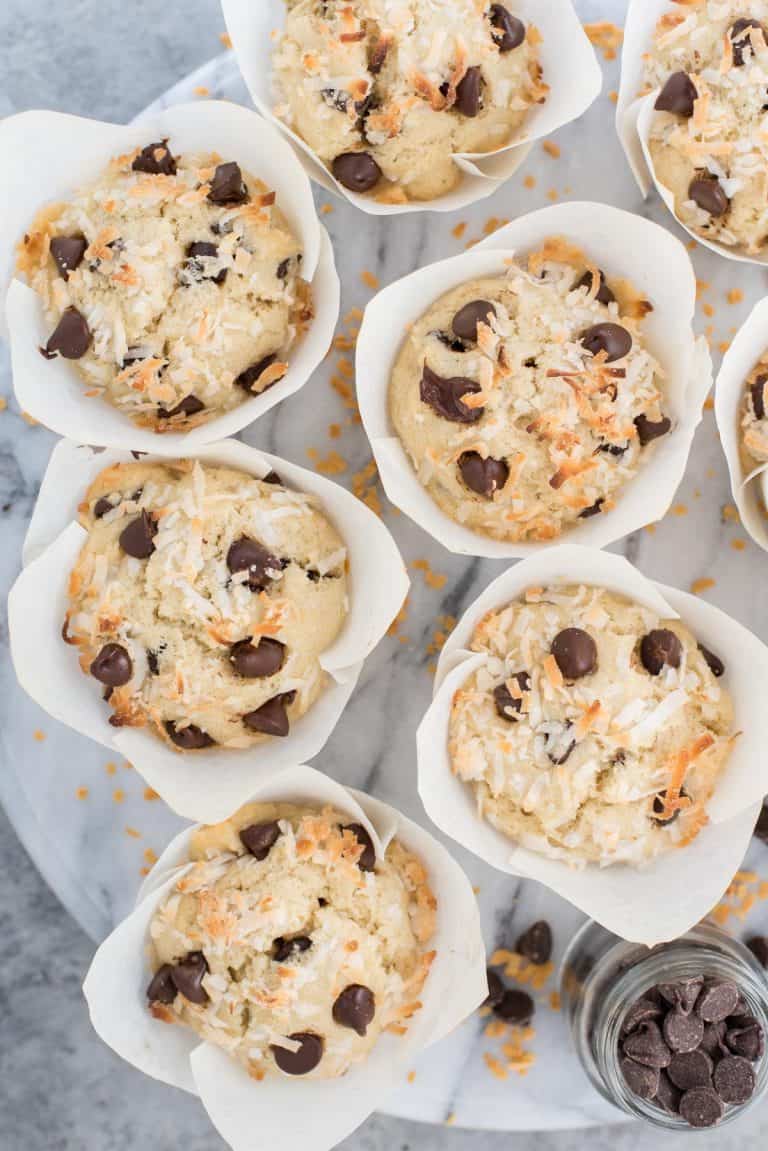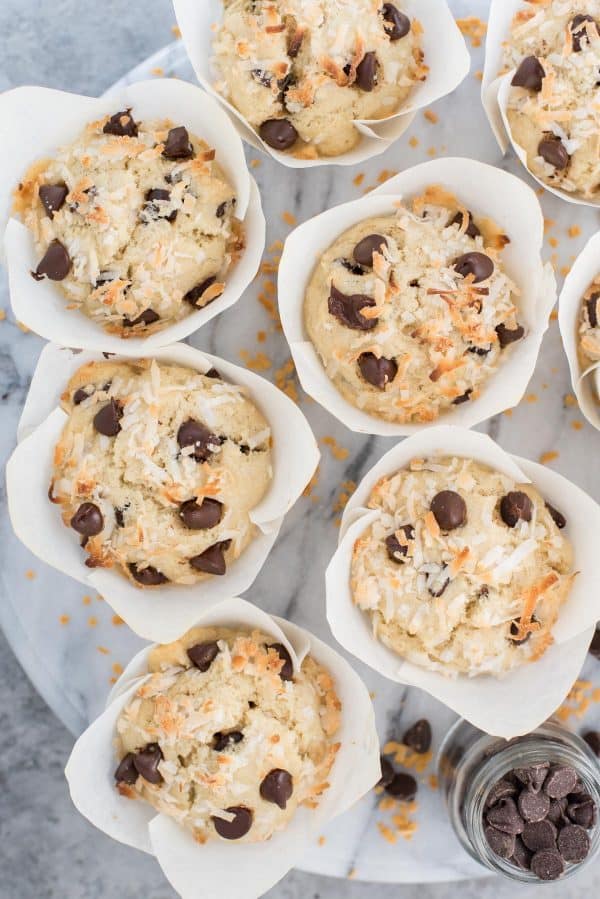 How to Freeze Muffins
Yes! Allow the muffins with coconut milk to cool completely. I like to wrap two muffins together (the bottoms of the muffins touching) in plastic wrap, then place all the wrapped bundles in a ziplock bag.
To thaw, either let them come to room temperature on the counter or place as many as you need in the microwave for 15 second intervals.
Those muffin liners are so cute, where did you get them?
I used these tulip liners from amazon.
More muffins recipes
Stay Connected

Subscribe to The First Year newsletter to get our recipes sent to your inbox! Follow along on Instagram, Facebook, Pinterest, and Youtube. If you make this recipe, tag @beth_thefirstyear on instagram!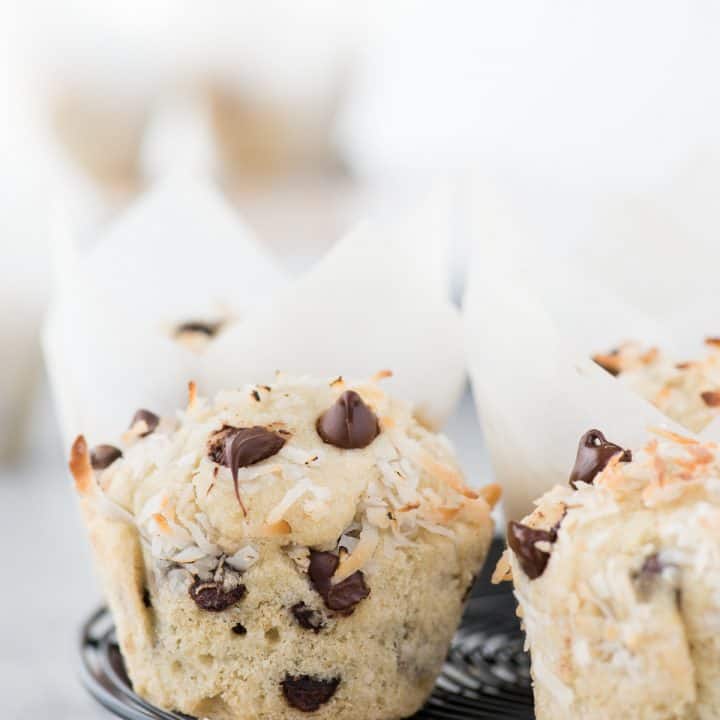 Coconut Chocolate Chip Muffins
Yield: 10-12 muffins
Additional Time: 30 minutes
Total Time: 30 minutes
These coconut chocolate chip muffins have FOUR types of coconut that make a sweet, tender muffin with the perfect amount of coconut flavor. Want to know how to make coconut oil bakery style muffins? There's so many tips and explanations in this recipe!
Ingredients
2 cups all purpose flour **see note for gluten free!
1 tsp baking powder
1/4 tsp baking soda
1/2 cup granulated sugar
1/2 cup coconut oil, melted
1 cup coconut milk
1 large egg
1 tsp vanilla extract
1/2 tsp coconut extract
1/2 cup semi-sweet chocolate chips, plus more for topping the muffins
1/3 cup shredded coconut, plus more for topping the muffins
Instructions
In a small mixing bowl, combine the flour, baking powder, and baking soda. Set aside.
In a larger mixing bowl, combine the sugar, coconut oil, coconut milk, egg, vanilla extract and coconut extract, beat using an electric mixer for 1 minute, or until combined.
Gradually add spoonfuls of the flour mixture to the wet ingredients, combining the mixture with a spatula. Do not over mix.
Add in the chocolate chips and coconut, mix gently once more.
Cover the bowl with a towel and allow the batter to rest for 15 minutes. During this time, preheat the oven to 425ºF.
Line a muffin pan with muffin liners. We used these tulip liners. Fill the liners to the top with batter. Add additional chocolate chips and shredded coconut to the tops of the muffins.
Bake for 7 minutes at 425ºF, then keeping the muffins in the oven, turn the temperature down to 375ºF and bake for 16-18 minutes or until a toothpick inserted in the center comes out clean. Allow the muffins to cool for 10 minutes in the pan, then remove them and allow them to cool on a cooling rack.
Recommended Products
As an Amazon Associate and member of other affiliate programs, I earn a small commission from qualifying purchases.