Swimming Peeps Jello Cups
Swimming Peeps Jello Cups – a cute and easy Easter recipe that uses peeps!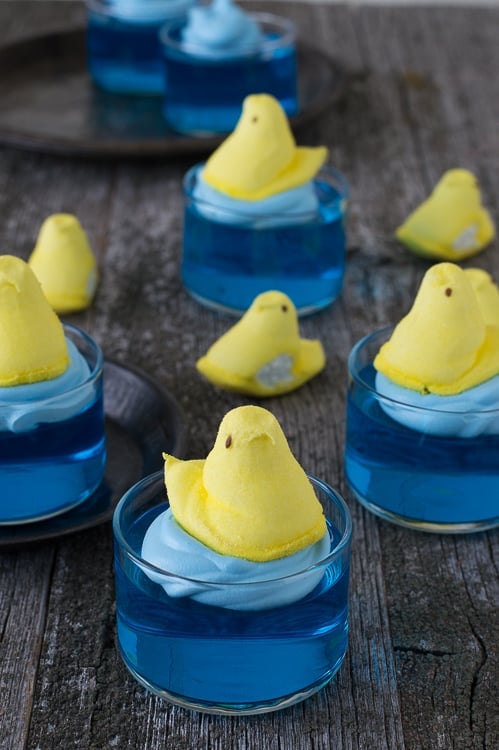 I think your kids are going to want this cute Easter treat. Geez, I mean I want one of these Swimming Peeps Jello Cups!
Peeps seem like an obligatory treat to include in an easter basket. Some kids love them and some don't. Do your kids like them?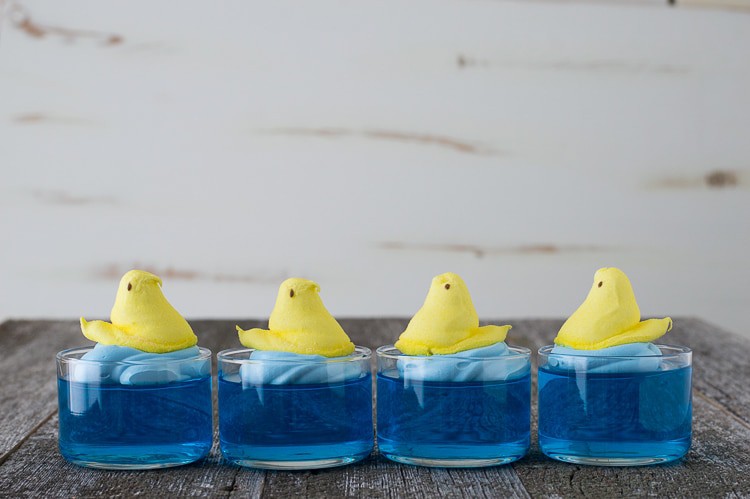 When I was little, I usually went for the jelly beans or the chocolate easter eggs first. If I did open my peeps, I would usually only eat one and then the rest of them would go stale over the next few days, ha.
When we have kids, I will probably still include Peeps in their easter baskets because they are iconic. But instead of giving each kid a package of peeps, I think it could be fun to buy one package of peeps for the whole family and then use them in a new recipe each easter. How fun would that be?!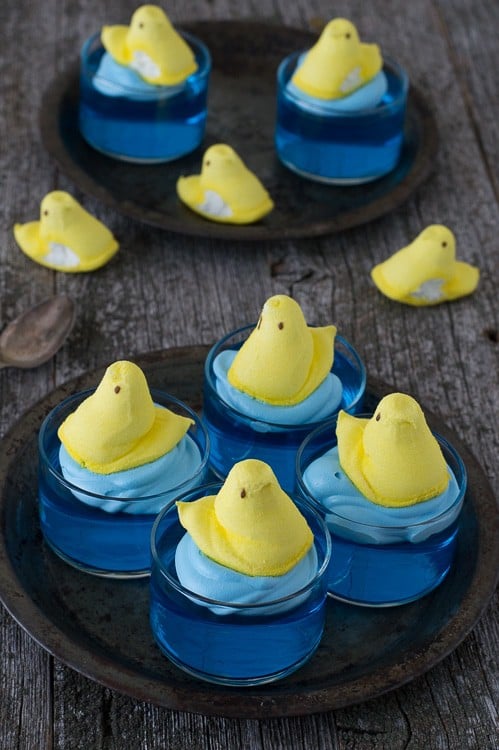 The idea of eating peeps in a recipe is more appealing to me than just eating them.
Some of my other favorite uses for peeps include..
-making peeps rice krispie bars
-popping a peep into your hot chocolate
-melt the peeps and pour them over ice cream or popcorn
-using them to decorate a cake
Easy Swimming Peeps Jello Cups Recipe
This Swimming Peeps Jello Cups recipe for swimming peeps jello cups is super easy to make! You'll need 2 boxes of blue jello mix, or more depending on how many jello cups you plan to make, water, cool whip, blue food coloring and peeps. The jello will take about 4 hours to set, sometimes I wish it would set instantly.. maybe I could ask the resident chemist to develop a type of jello that would set in seconds :)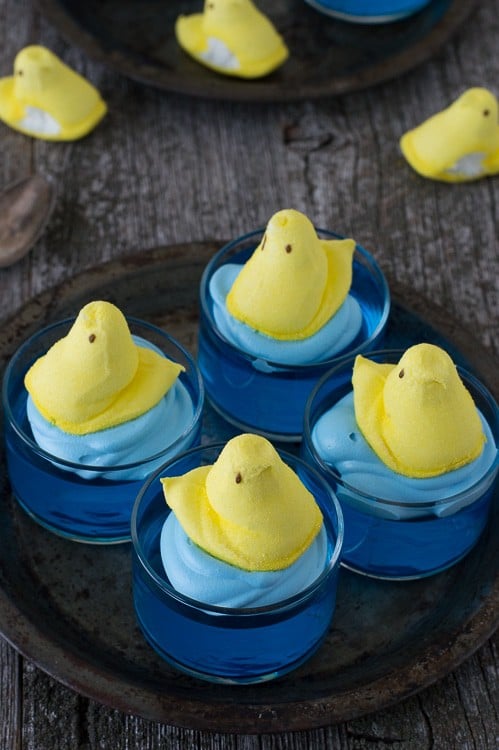 I better start brainstorming now for next year's peep recipe!
Swimming Peeps Jello Cups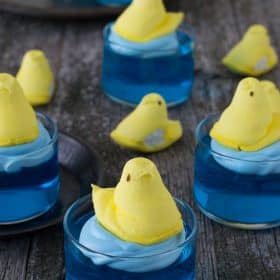 Ingredients:
2 boxes blue jello mix
2 cups boiling water
2 cups cold water
1 container cool whip
Blue food coloring
Chick peeps
Directions:
Empty 2 boxes of blue jello mix into a mixing bowl.
Heat 2+ cups of water in a tea pot or on a stove until boiling.
Once it boils, measure out 2 cups and carefully pour it into the bowl with the jello mix.
Use a spatula to dissolve the powder, stirring for 1-2 minutes.
Add 2 cups of cold water to the bowl, and stir until combined.
Divide the jello among the bowls you want to use.
Place them in the refrigerator for 4 hours or until they are completely set.
Before serving, add a few drops of blue food coloring to a container of cool whip. Mix until the color is even.
Top each jello cup with a dollop of cool whip and a chick peep.
Products used to make this recipe
(may include affiliate links)