Peeps Bunny Pudding Cups
Simple, no bake easter dessert! Peeps bunny pudding cups with oreos, pudding, coconut, a mini carrot and peeps!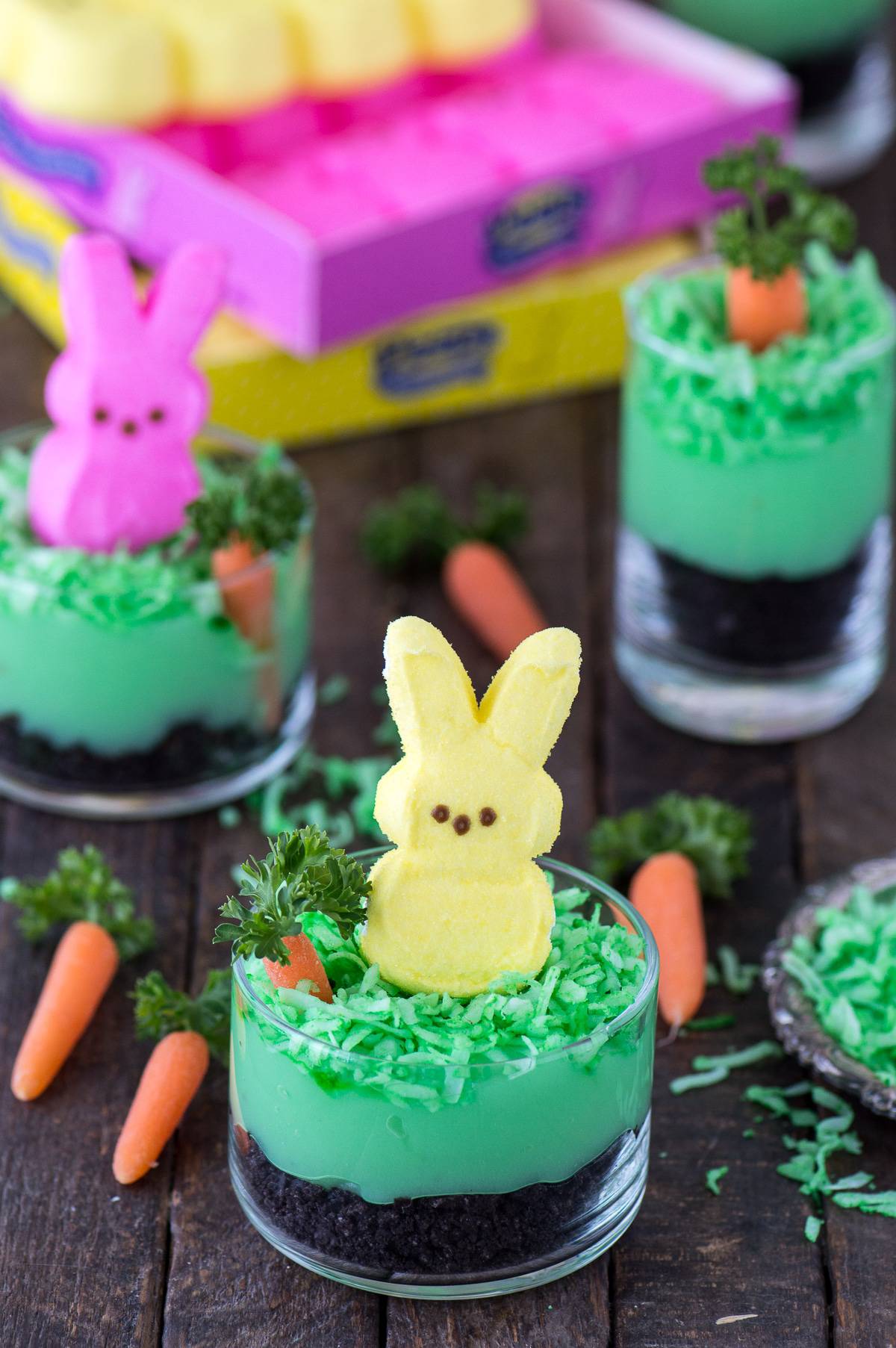 I am a sucker for peeps because they are like tiny marshmallow-y animals that make any treat instantly cuter.
Last year's recipe for swimming peeps jello cups was a huge hit! And they are so simple to make – blue jello, cool whip, blue food coloring, and chick peeps. We followed suit and decided to do another fun peep treat this year. We'll probably share a new recipe each easter season because peeps are such an iconic easter treat, and the possibilities seem endless!
We're calling this recipe peeps bunny pudding cups!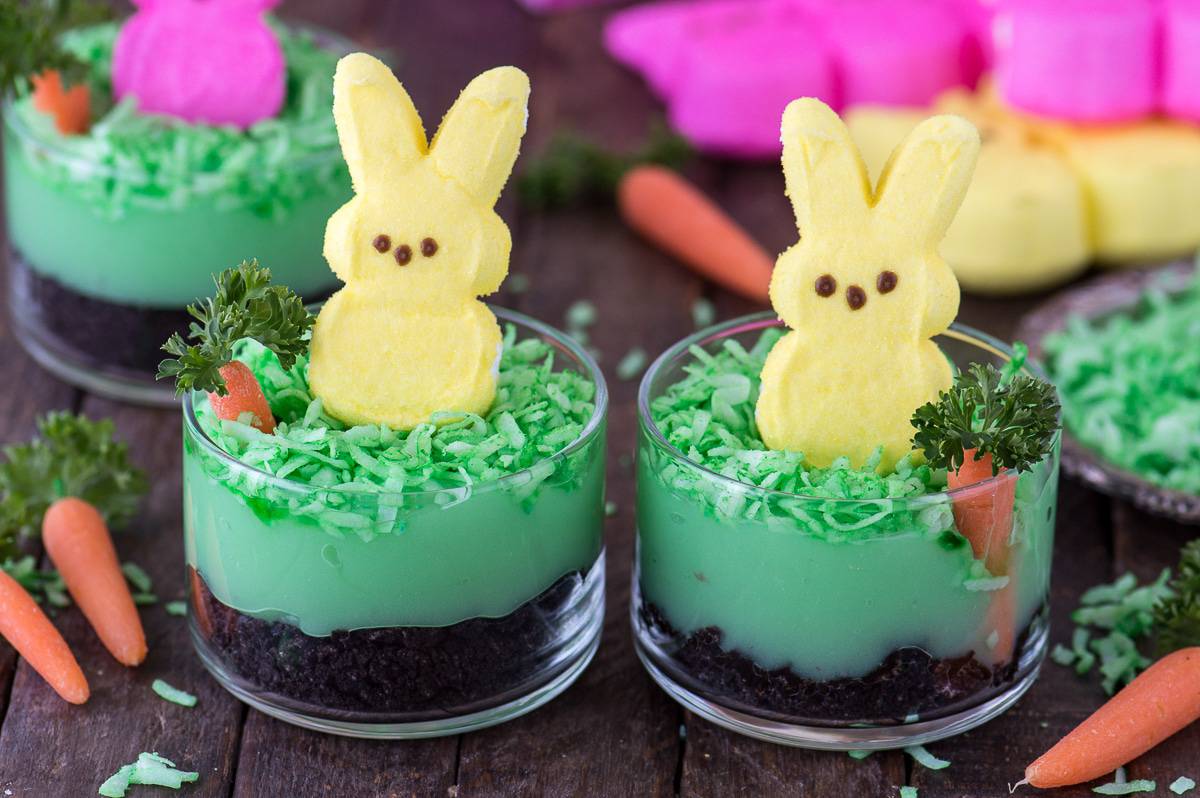 Ingredients
pistachio pudding (plus 2 cups milk listed on back)
oreos, crushed into crumbs
shredded coconut
green food coloring
baby carrots
parsley
peeps bunnies
The amount of each ingredient you'll need is dependent on how many cups you want to make.
To make about 6 pudding cups (in 5.3oz glasses)..
-1 package of oreos should be plenty
-1 package of pudding will make five to six pudding cups if using wider bowls like I did
-1/2 cup of shredded coconut will be plenty
-a baby carrot per cup will be needed
-a small amount of parsley
-a bunny peep per cup will be needed
I'd estimate that it'd take less than 25 minutes to prep the ingredients – to pulse the oreos in a food processor or blender, make the pudding, dye the coconut, and make toothpick holes in the baby carrots. You could do all of that in advance, even a few days in advance of when you want to serve the cups.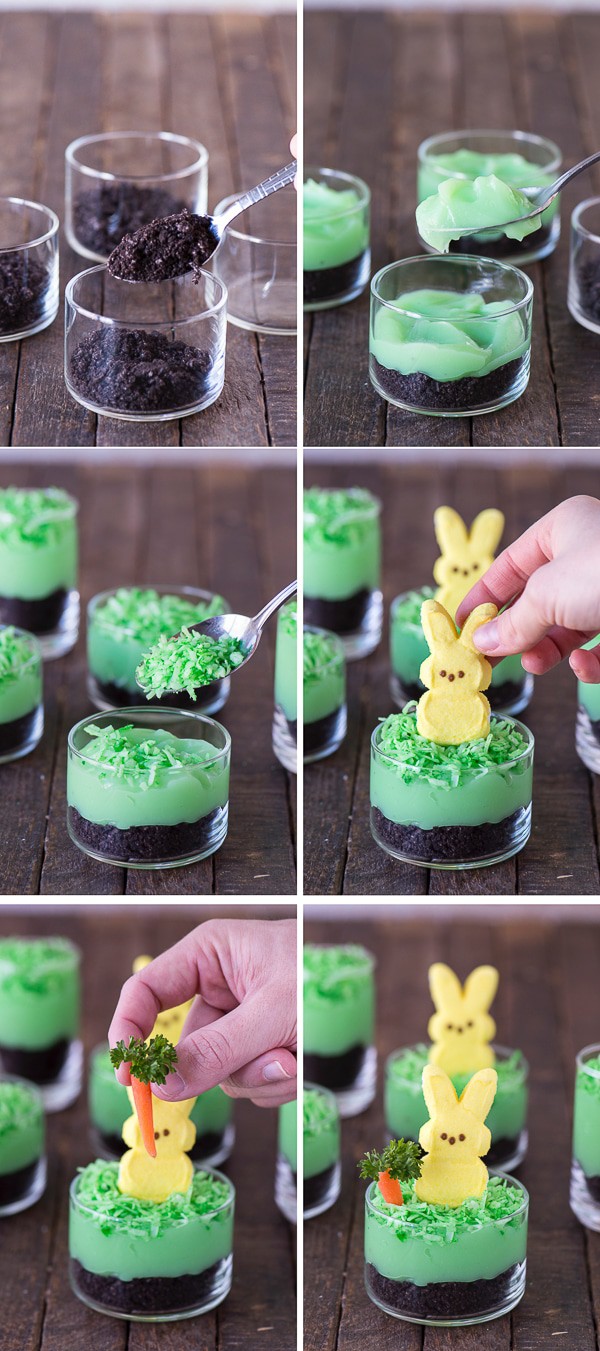 How to assemble peeps bunny pudding dirt cups
In small cups, bowls or glasses (these are the bowls I used) add a few tablespoons of oreo crumbs, a few spoonfuls of pistachio pudding, sprinkle on green coconut, insert a small amount of parsley into the hole in your carrot, put the carrot in the pudding, and top the pudding cup with a bunny peep! You could have quite a few assembled in 10 minutes.
If you don't think your kids will be a big fan of pistachio pudding, you could use vanilla, white chocolate or cheesecake pudding (or any pudding that is white) plus a small amount of green food coloring to turn the pudding green.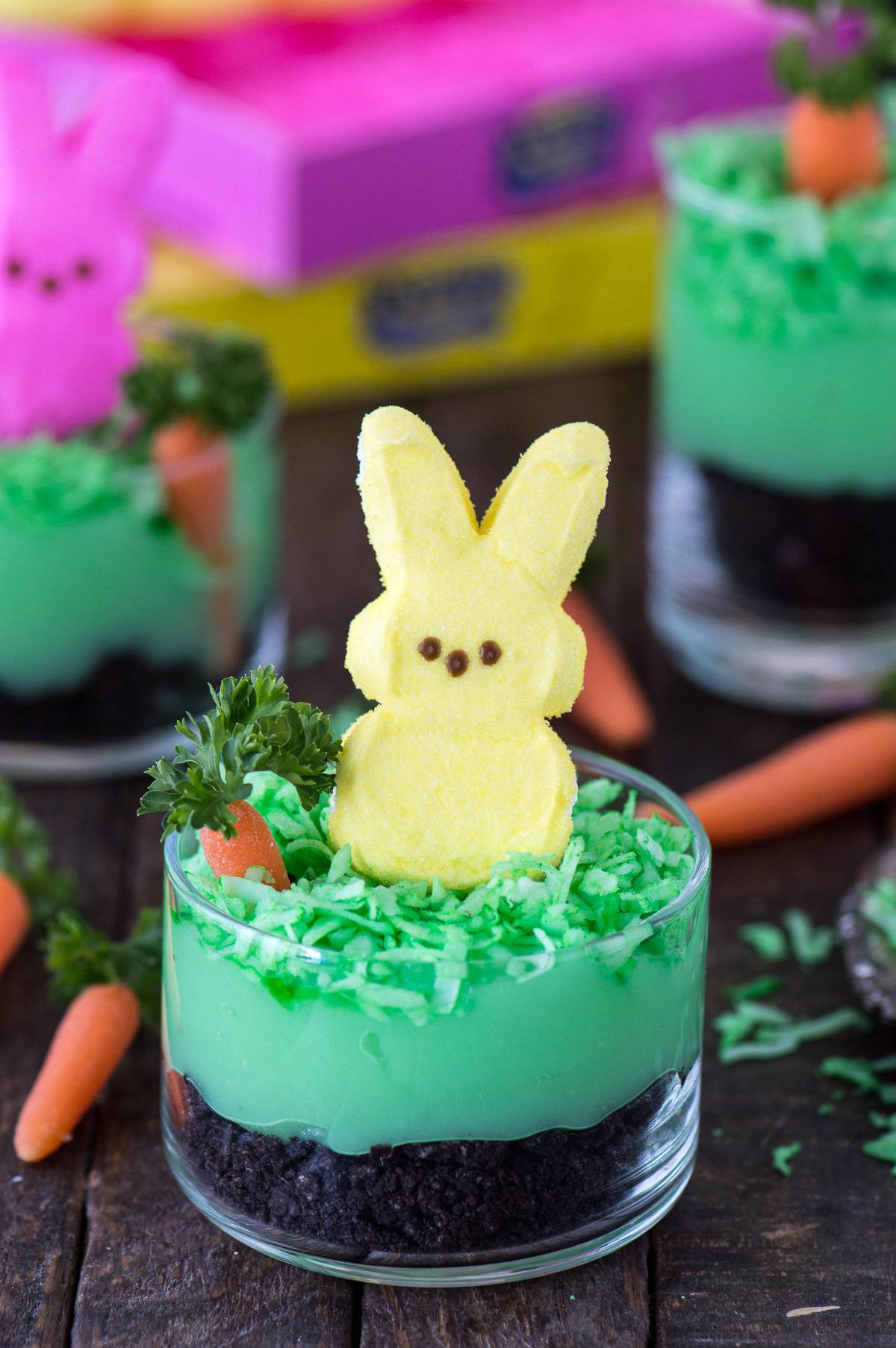 This would be a fun treat to serve during the spring season to anticipate Easter or you could keep this recipe handy after the eater bunny delivers his goodies!
I'm thinking peeps should develop a whole line of marshmallow animals – would anyone else be excited about dinosaur peeps?!
[mv_create key="30″ type="recipe" title="Peeps Bunny Pudding Cups" thumbnail="https://thefirstyearblog.com/wp-content/uploads/2016/03/peeps-pudding-cups-1.png"]