Want our top 10 essential dessert recipes?
Get our favorite classic recipes in your inbox! It's 100% free, but we might make you hungry!
Healthier Chocolate Cake
Healthier Chocolate Cake tastes like a double chocolate chip banana muffin! No sugar, butter or oil but uses bananas, greek yogurt and honey instead!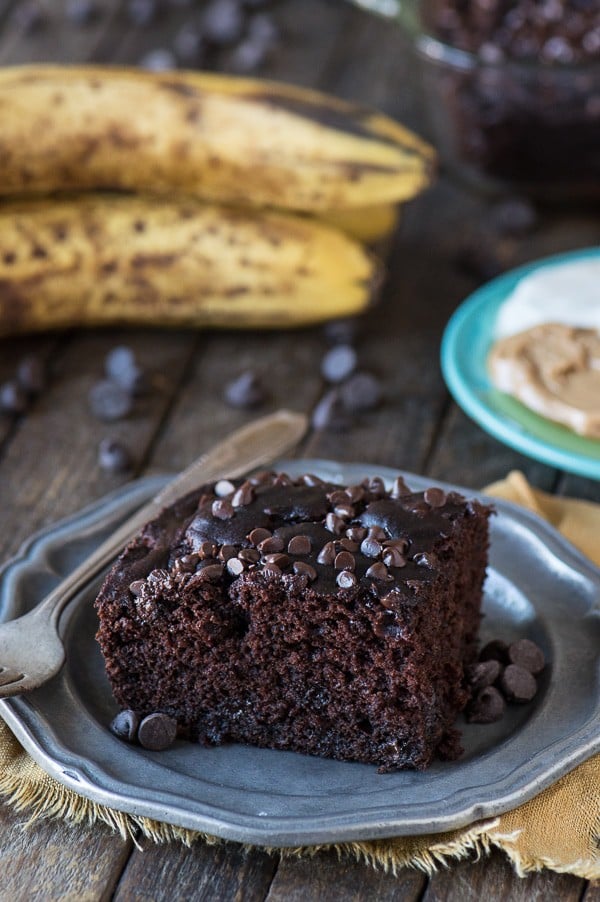 This is a momentous day.
This Healthier Chocolate Cake recipe contains ZERO sugar, butter, or oil. And this is just the first recipe out of several that we're going to share that is healthier.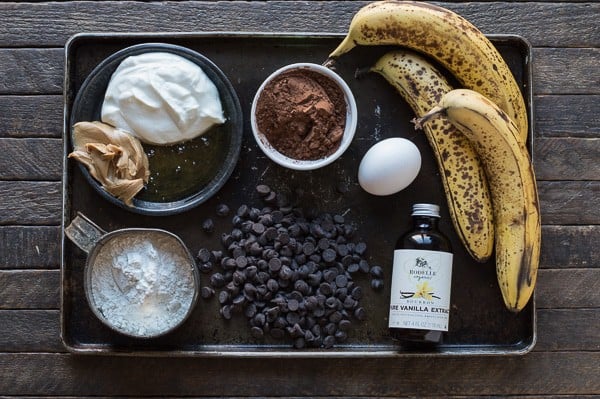 Is It Even Possible To Make a Healthier Chocolate Cake?
WHAT?! I know.. I was wondering if I was going crazy because butter & sugar are like my BFFs.
I never really saw this day coming.. it wasn't really intentional. Well, kind of. Obviously with it being January and everyone is jumping on the gym and healthy eating train.. what's a dessert blogger to do?
I wallowed with a big bowl of ice cream for a while, but than I thought "Is it possible to make a baked recipe with NO sugar?"
All of my friends who are healthy and paleo bloggers are probably laughing right now since that's their jam, but I set out to discover if this whole no sugar thing could work.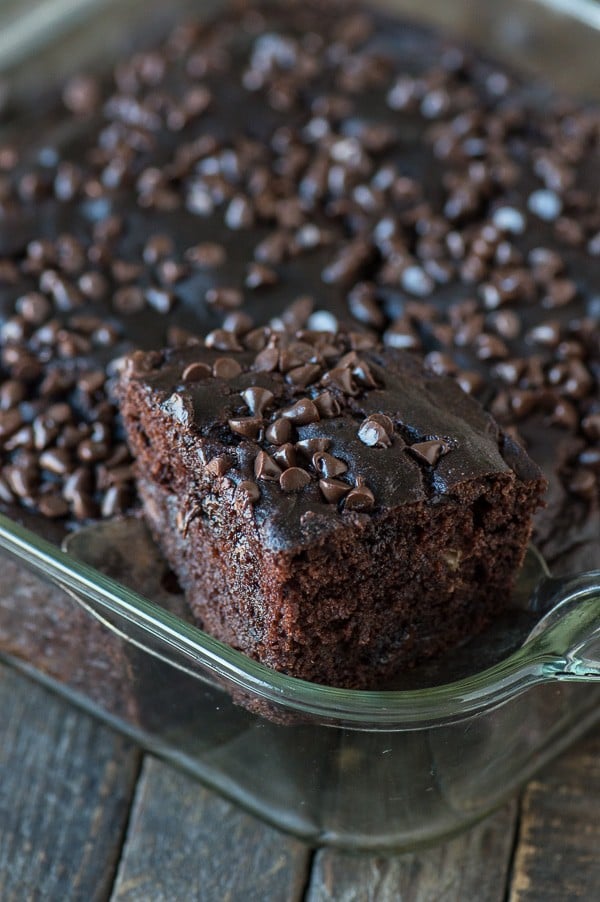 After I baked up this awesome chocolate cake, I was bragging to Ryan that it didn't have any sugar, but that it's sweetened by bananas and honey, but being the chemist he is, he totally called me out and said that honey is sugar.
Well yeah.. but it's more natural sugar I replied, and then he ate like 4 pieces of this cake. Booyah, honey for the win!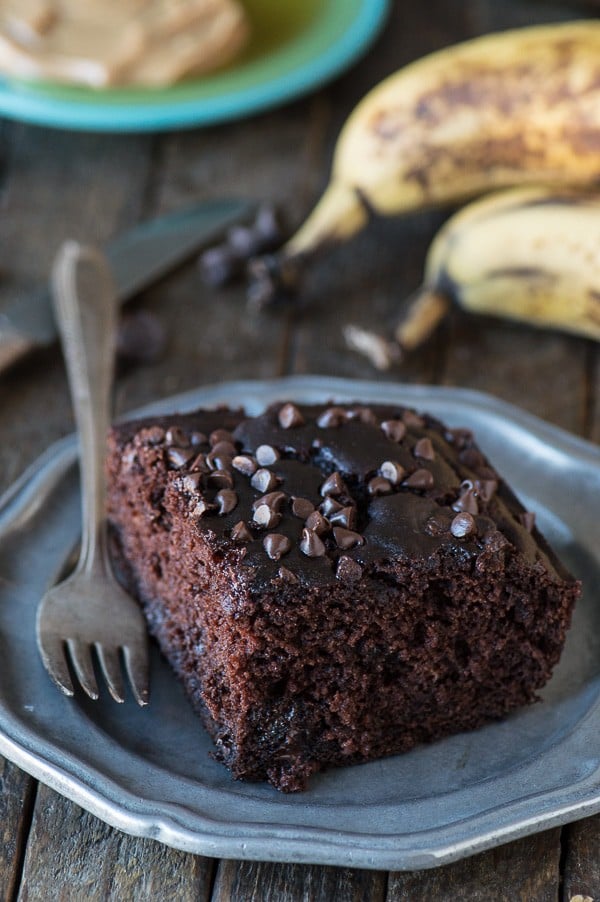 How to make healthier chocolate cake from scratch
It's all about ingredient swaps! Honey and bananas are used in place of sugar. Yes, this recipe does contain chocolate chips, which contain sugar unless you buy the sugar-free ones.
You could also eliminate the chocolate chips altogether and this cake is still going to be SO good and healthier!
Greek yogurt is used in place of oil or butter.
What does healthier chocolate cake taste like?
The best way to describe this Healthier Chocolate Cake is that it tastes like a GIANT banana chocolate chocolate chip muffin! It's so good by itself and it's also really good with ice cream (espresso chip, just in case you were curious :)
Whenever I get a hankering for brownies, I'm going to bust out this recipe. I love that it's better for me but taste just as good!
For a step-by-step of how to make this healthier chocolate cake recipe, watch this short video: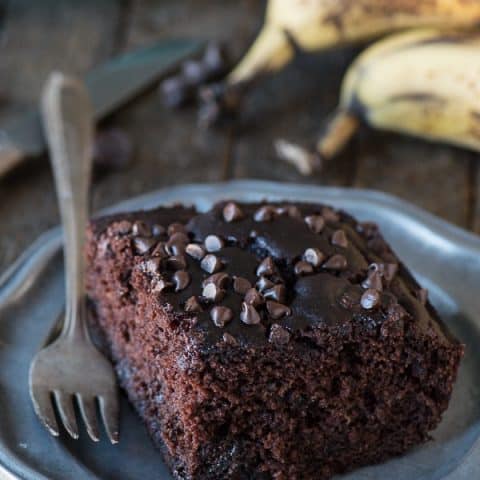 Healthier Chocolate Cake
Additional Time:
50 minutes
Total Time:
1 hour
25 minutes
This healthier chocolate cake tastes like a double chocolate chip banana muffin! No sugar, butter or oil but uses bananas, greek yogurt and honey instead!
Ingredients
3 bananas, ripe
1/2 cup greek yogurt (vanilla or plain)
1/3 cup honey
1 tsp vanilla
2 tbsp creamy peanut butter
1 egg
1 & 1/2 cups all purpose flour
1/3 cup cocoa powder
1 & 1/2 tsp baking soda
1/2 cup chocolate chips
mini chocolate chips for sprinkling on top
Instructions
Preheat the oven to 350º F.
Spray an 8 inch square pan with cooking spray.
In a blender, combine the bananas, greek yogurt, honey, vanilla, and peanut butter. Blend until smooth, 1-2 minutes.
Pour the blended mixture into a mixing bowl. Add the egg and mix in.
Add the flour, cocoa powder, and baking soda, mix until incorporated.
Add the 1/2 cup of chocolate chips, mix.
Pour the cake into the prepared pan. Sprinkle addition chocolate chips on top of the cake if desired.
Bake for 27-35 minutes or until a toothpick inserted in the center comes out clean.
Products used to make this recipe
(may include affiliate links)