Starbucks Pumpkin Pound Cake
This Pumpkin Pound Cake recipe tastes just like Starbucks Pumpkin Pound Cake – takes 15 minutes to prep! Can be made in muffin, mini muffin or mini loaf pans.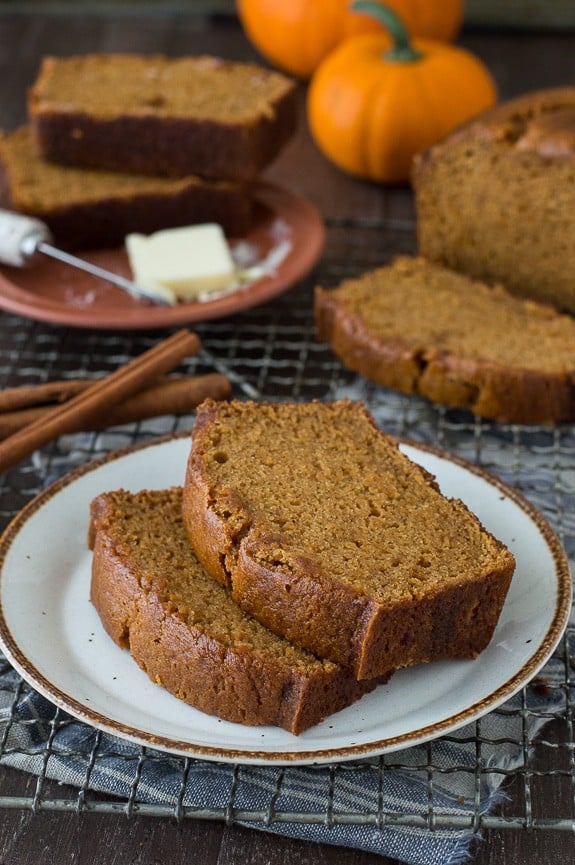 This post was updated September 2015 with new photos, but it's still the same great recipe that everyone will love!
Did you stock up on canned pumpkin yet? Either grab that can from your pantry or go out and buy a can because is the best pumpkin bread ever!

Pumpkin Spice
The pumpkin spice craze has unleashed for the the season. The most notable pumpkin spice item is probably the pumpkin spice latte (PSL!). We should thank coffee shops everywhere for creating the best fall beverage ever :)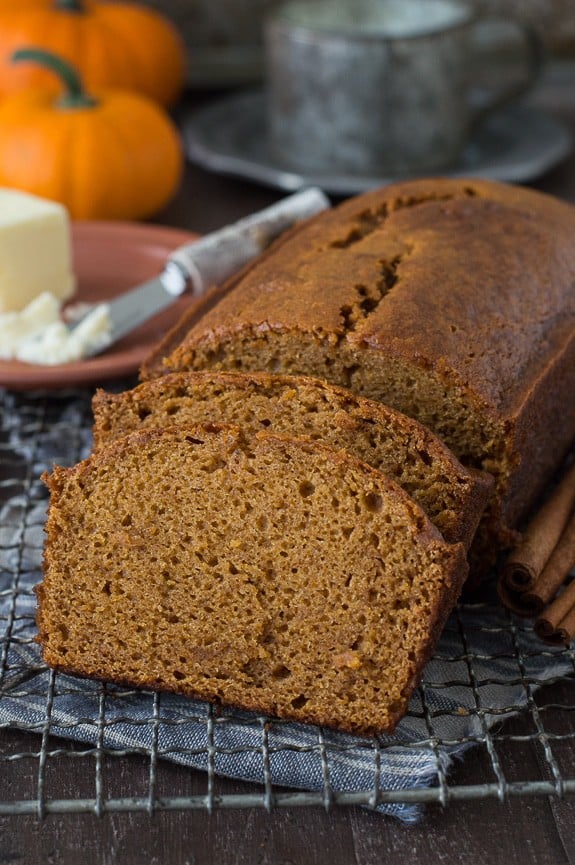 There are definitely some PSL haters out there who want nothing to do with pumpkin spice. I personally love the craze, within reason. But I found some weird products that definitely shouldn't have been pumpkin spiced. Yes, I just made it into a verb. Here's my take on the good and the ugly of all things pumpkin spice.
GOOD: PSL, pumpkin spice coffee creamer, pumpkin spice pudding, pumpkin spice almonds, and pumpkin spice kettle corn.
UGLY: pumpkin spice dental chews for pets, pumpkin spice pringles, pumpkin spice lasagna, pumpkin spice seltzer water, and pumpkin spice skittles.
Do you have something to add to the list, on the good or ugly side?! Leave a comment telling us!

Copycat Starbucks Pumpkin Pound Cake
This copycat version of Starbucks pumpkin pound cake rivals the real deal, so much so you won't have to fork over $2-3 for a single slice anymore. Bake up a whole loaf in your own kitchen in under 90 minutes, which the majority of that time is baking and cooling, aka a great time to watch Fixer Upper!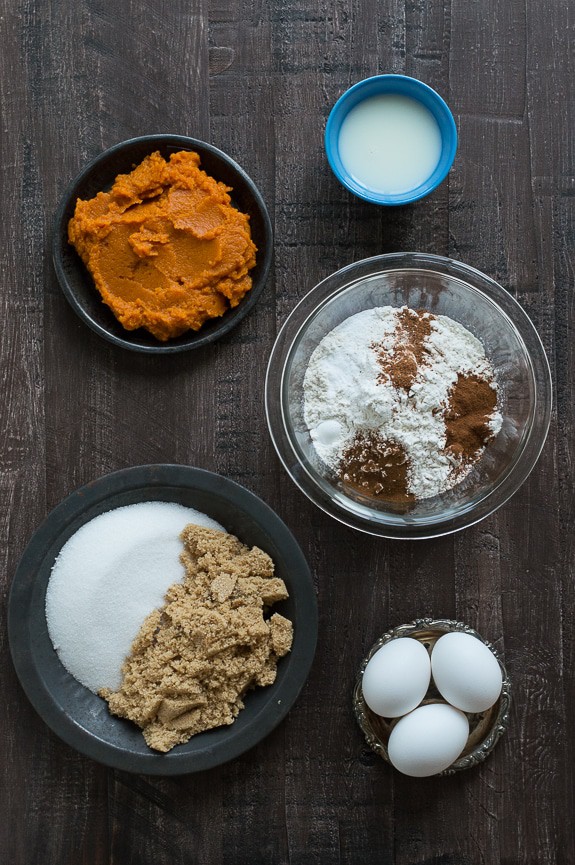 12 ingredients is all you need.
The dry ingredients: flour, cinnamon, salt, baking soda, baking powder, cloves and nutmeg.
The sweeteners: granulated sugar and brown sugar.
The wet ingredients: milk, egg whites, and pumpkin.
The best part about this pumpkin pound cake is that you'll only dirty up 3 things – a small bowl, a larger bowl, and the loaf pan.
In a small bowl combine all of the dry ingredients. In a larger bowl combine the sugar and brown sugar, milk, and egg whites. Add in the pumpkin. Gently mix in the flour mixture. Pour into a greased loaf pan and bake at 350ºF for 55-60 minutes.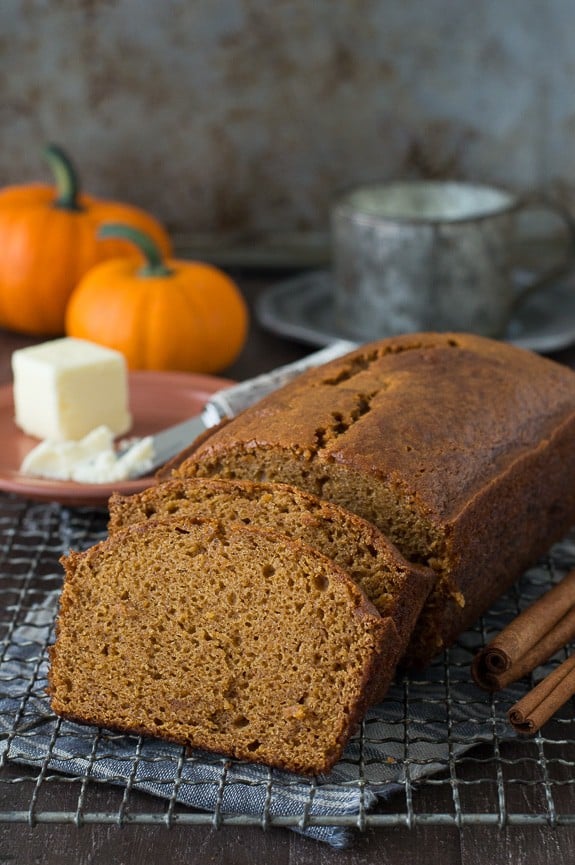 With over 150 comments, this Pumpkin Pound Cake is a classic fall recipe that will soon be a favorite in your family!
For a step-by-step of how to make this starbuck's pumpkin pound cake recipe, watch this short video:
Starbucks Pumpkin Pound Cake
Yield: one loaf
Total Time: 90 minutes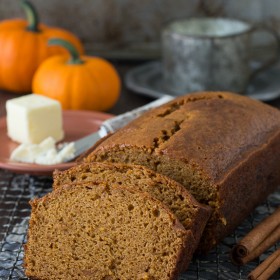 Ingredients:
1 & 1/2 cups all purpose flour
1/2 tsp ground cinnamon
1/2 tsp salt
1/2 tsp baking soda
1/2 tsp baking powder
1/4 tsp ground cloves
1/4 tsp ground nutmeg
2/3 cup sugar
2/3 cup brown sugar
1/4 cup milk
3 egg whites
1 cup canned pumpkin puree
Directions:
Preheat oven to 350º F.
In a medium bowl, combine the flour, cinnamon, salt, baking soda, baking powder, cloves, and nutmeg.
In a large bowl, combine the sugar, brown sugar, milk, and egg whites with a spatula or whisk. Add in the canned pumpkin, and mix together well.
Slowly add the dry ingredients to the pumpkin mixture, stirring until everything is combined.
Throughly spray a loaf pan with non-stick cooking spray.
Pour the batter into the loaf pan and bake for 55-60 minutes, or until a toothpick comes out clean.
Allow the bread to cool in the pan before removing.
Store in an air tight container.
Recipe adapted from Something Swanky.
Products used to make this recipe
(may include affiliate links)