Mini Pumpkin Cheesecakes
These mini pumpkin cheesecakes are easy to prep and bake in a muffin pan! This easy thanksgiving cheesecake can be made with a oreo crust or a classic graham cracker crust.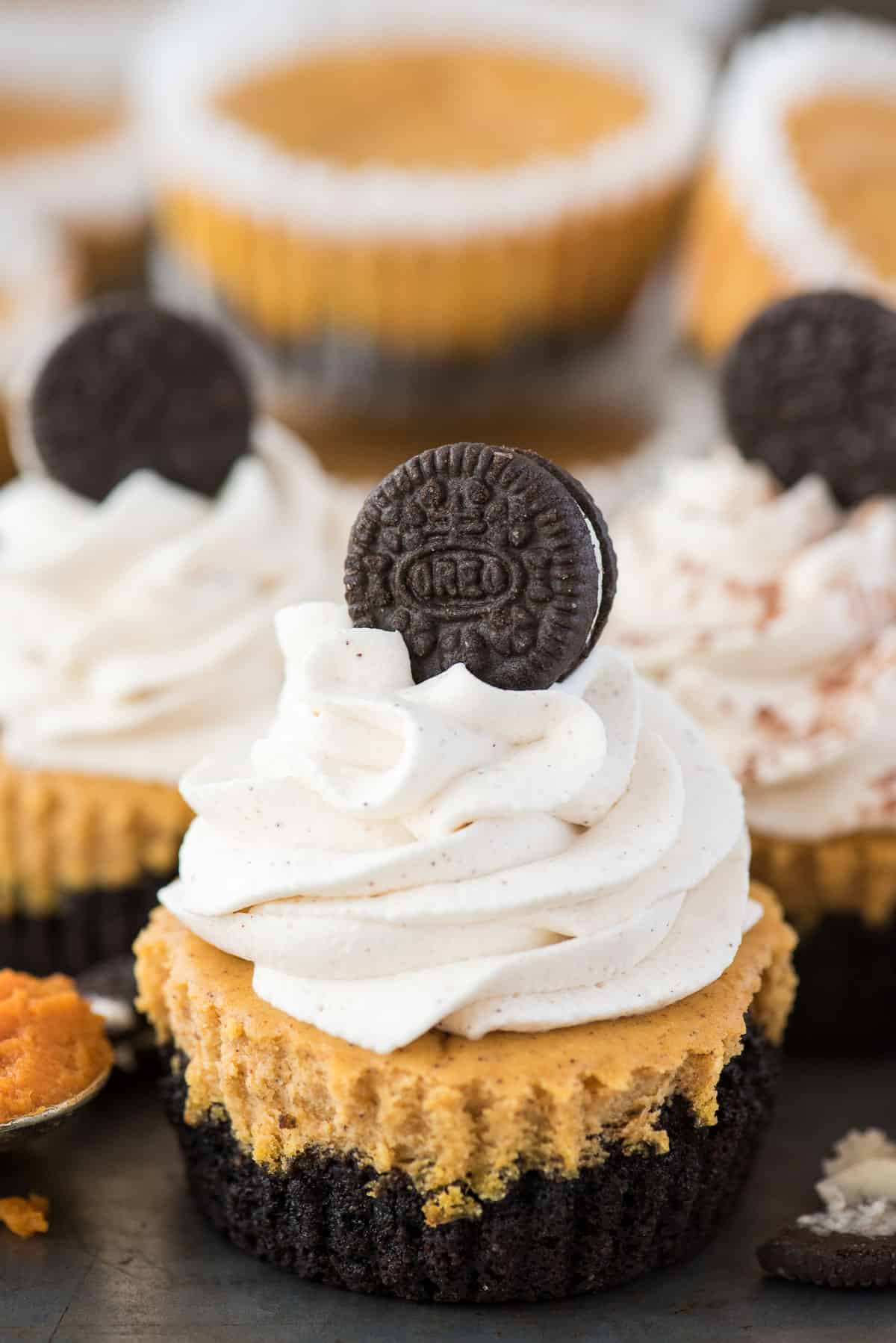 Our mini oreo cheesecakes are pretty popular during the months of November and December!
So sticking with the same theme of mini cheesecakes, we're bringing you a new recipe for mini pumpkin cheesecakes with an oreo crust!
Consider this recipe to be like pumpkin cheesecake bites! They are the perfect dessert to serve during pumpkin season.
The pumpkin cheesecake filling is full of warm spices like making this dessert a recipe you should add to your Thanksgiving menu!
Easy to Make
Mini cheesecakes are a breeze to make. If the normal baking time for a regular 8 inch cheesecake is 60-75 minutes, mini cheesecakes are done baking in under 25 minutes!
The best news is that you do not need a special mini cheesecake pan to make mini pumpkin cheesecakes!
I actually did buy a specific mini cheesecake pan a few years ago, and I've used it TWICE.
It sits in that cupboard along with margarita glasses, the world's largest chili pot, a thermos, a salad spinner, and the glass pitcher we only pull out when we have company.
You won't need a springform pan, these mini desserts are baked in a standard muffin tin.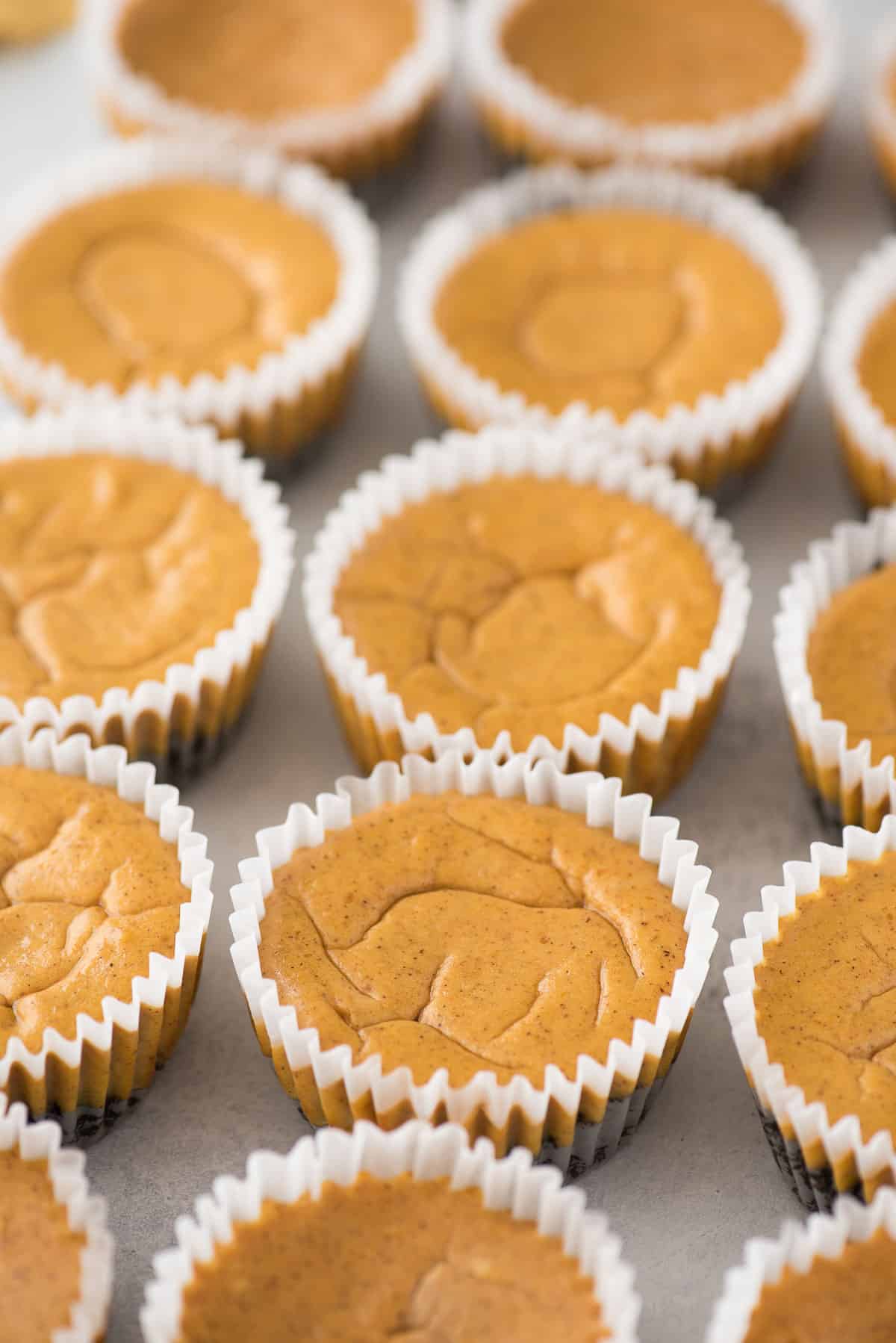 Tools to Make Mini Cheesecakes
standard size muffin pan
paper liners (like muffin / cupcake liners)
large mixing bowl
blender, food processor or rolling pin to make the cookies into crumb
Making individual cheesecakes in a muffin pan is a great way to scale down a regular cheesecake recipe.
Mini cheesecakes don't require a water bath or any special tools, plus they bake faster than regular cheesecake.
What You'll Need
Scroll down to the recipe card below this post for ingredient quantities and full instructions.
FOR THE CRUST:
Oreo crumbs
Unsalted butter – Melt this in the microwave or in a small saucepan on your stove.
FOR THE CHEESECAKE:
Full-fat cream cheese – Let the cream cheese come to room temperature so it's easy to whip up into a smooth filling. Also note that you'll need bars of cream cheese, not the kind that comes in tubs.
Granulated sugar
Vanilla extract
Pumpkin pie spice: the quintessential fall and pumpkin spice!
Pumpkin puree: a crucial ingredient for pumpkin cheesecakes. Adds moisture and flavor.
Eggs – Let these come to room temperature, too.
CAN I SUBSTITUTE THE OREO CRUMBS?
You sure can!
Use graham cracker crumbs for a classic cheesecake, chocolate wafers for a chocolate crust, or try vanilla wafers or ginger snaps for something different.
These mini cheesecakes can also be made without a crust at all.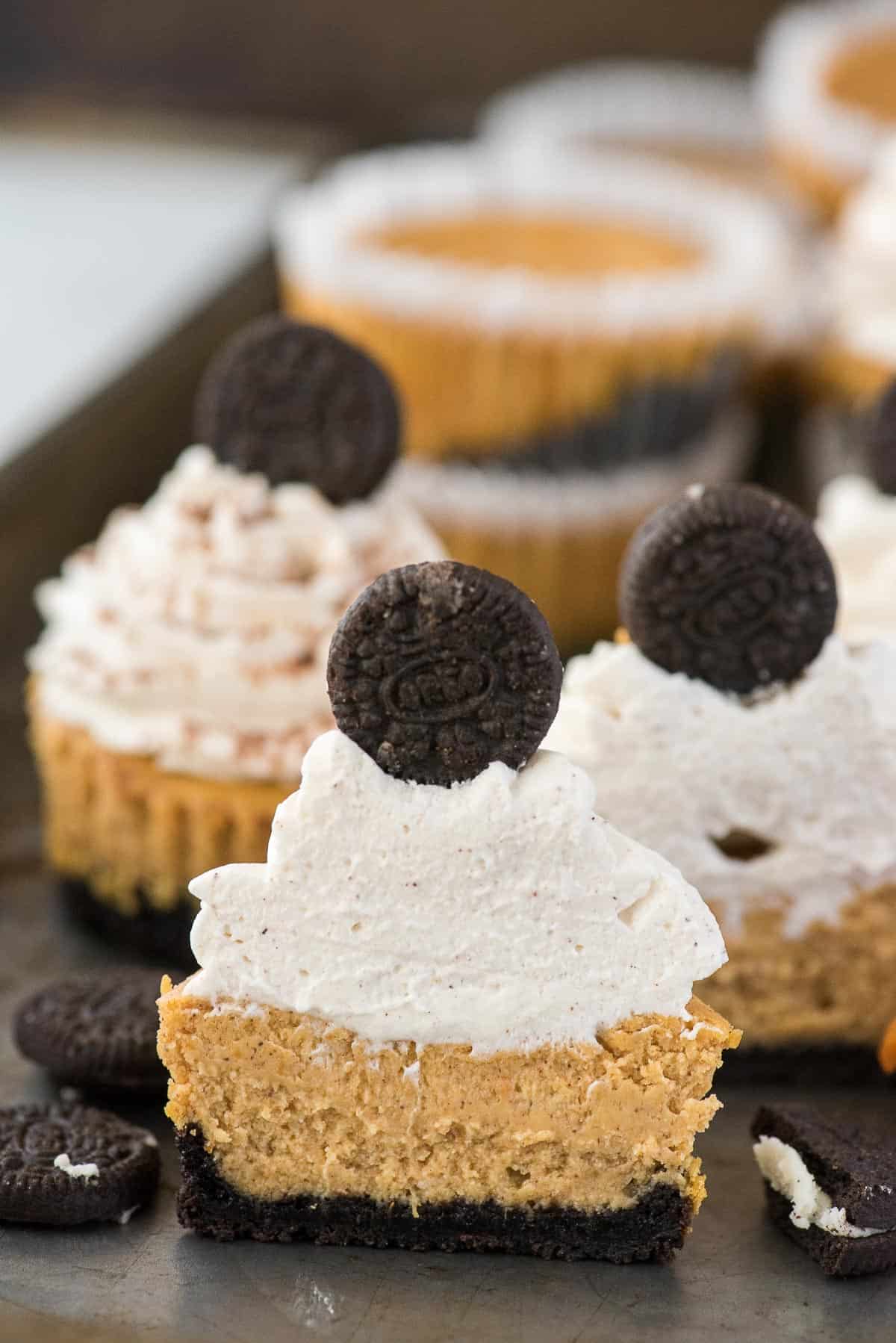 How to Make Mini Cheesecakes
THE CRUST:
Prepare. Preheat your oven to 350º F and line a standard-sized muffin pan with paper muffin liners.
Blend. Blend the whole oreo (the cookie & cream) in a blender or food processor until you have fine crumbs. 16 whole oreos equals about 1 & 1/2 cup oreo crumbs.
Make the crust mixture. In a mixing bowl, stir together the oreo crumbs and melted butter until the mixture resembles coarse sand.
Form the crusts. Press 1 to 2 tablespoons of the crumb mixture into each muffin cup using the bottom of a 1/3 cup (or similar) to create a flat, even surface.
Bake. Place the pan in the oven and bake the crust for 5 minutes. Let the crusts cool while you work on the rest of the recipe.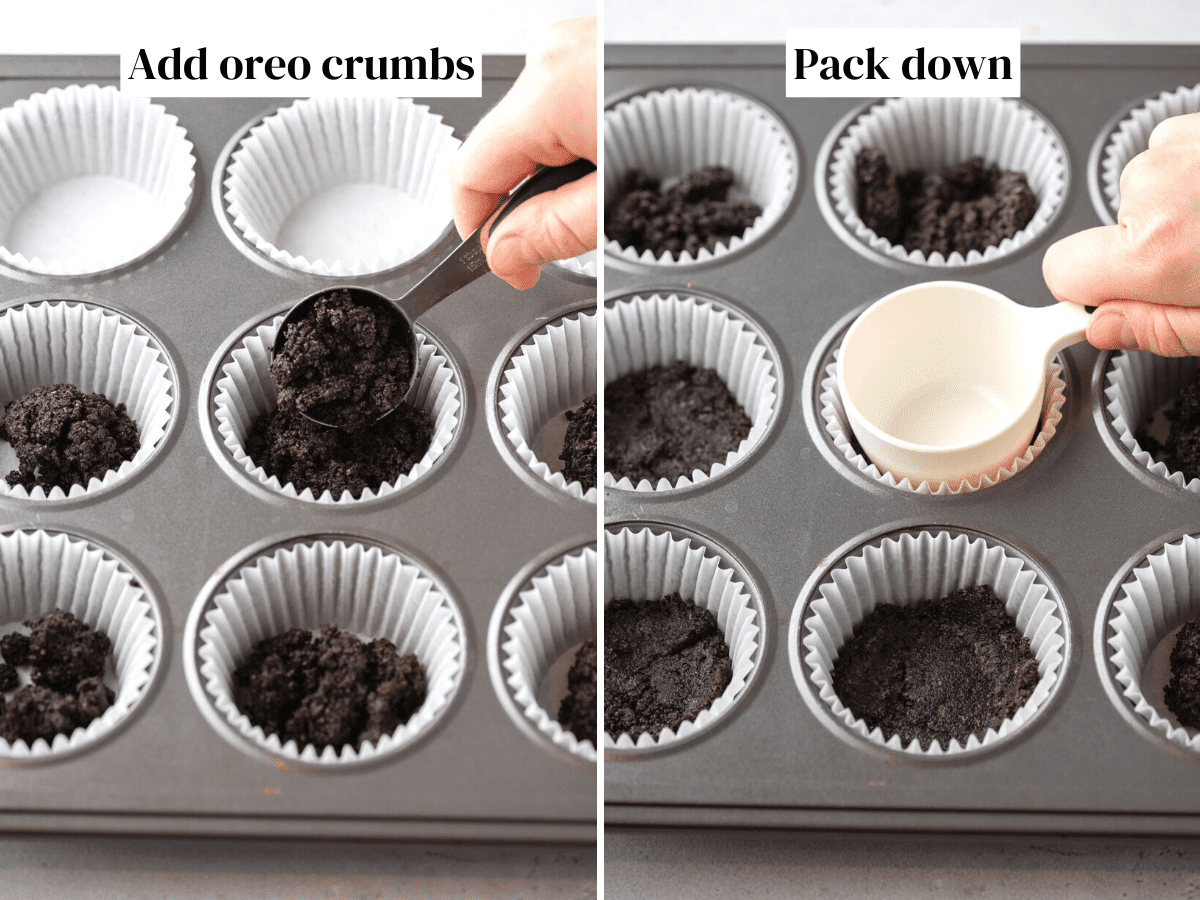 CHEESECAKE Filling:
Cream the cheese and sugar. In a mixing bowl, use a hand mixer on medium-high speed to beat the cream cheese and sugar with an electric mixer for a minute or two, or until the mixture is smooth.
Finish the cheesecake batter. Beat in vanilla extract, pumpkin pie spice, pumpkin puree, followed by the eggs.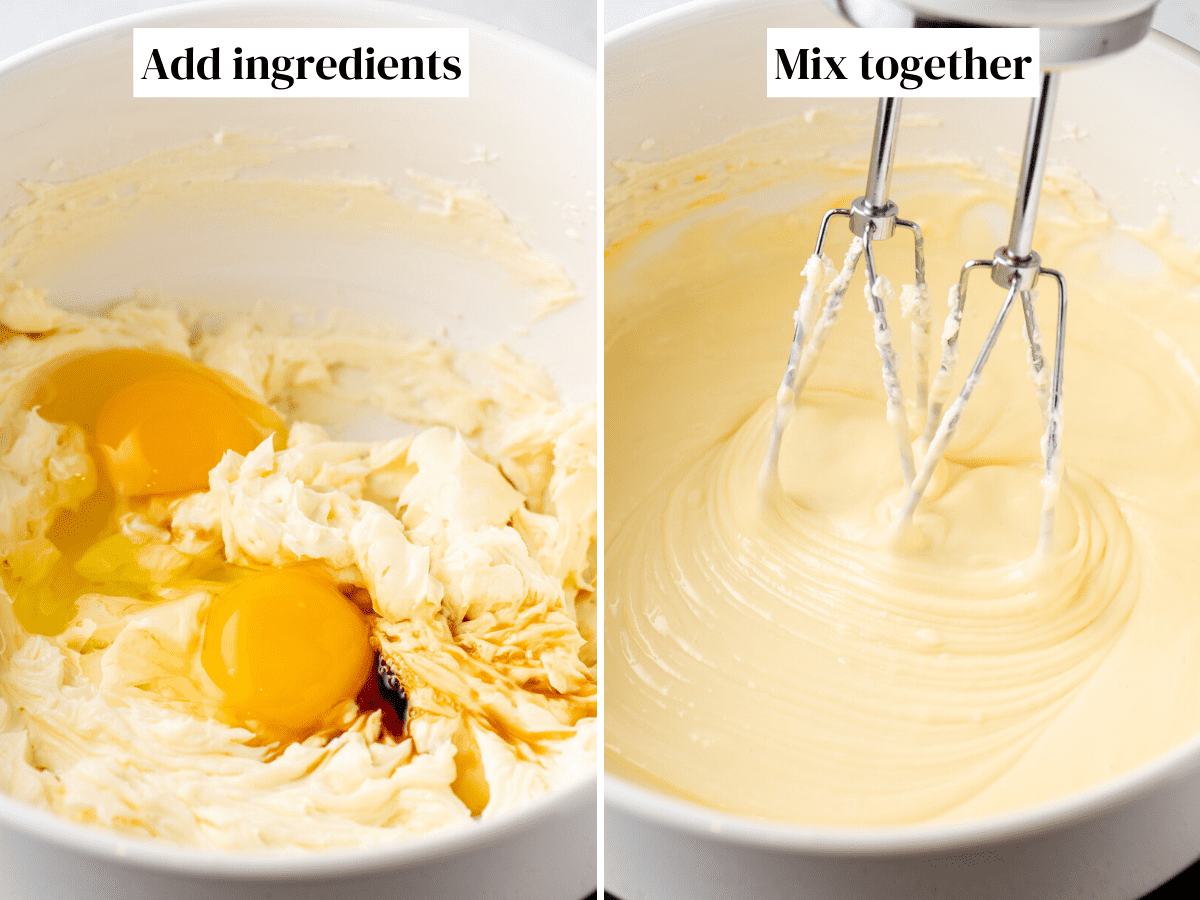 Assemble. Divide the cheesecake batter among the muffin cups, filling the liners full.
Bake. Return the pan to the oven and bake for 21 to 24 minutes, or until the centers of the cheesecakes are slightly jiggly.
Cool. Let the cheesecakes cool to room temperature, then refrigerate them for at least 4 hours before serving. Loosely cover the cheesecakes in plastic wrap if you're chilling them overnight or longer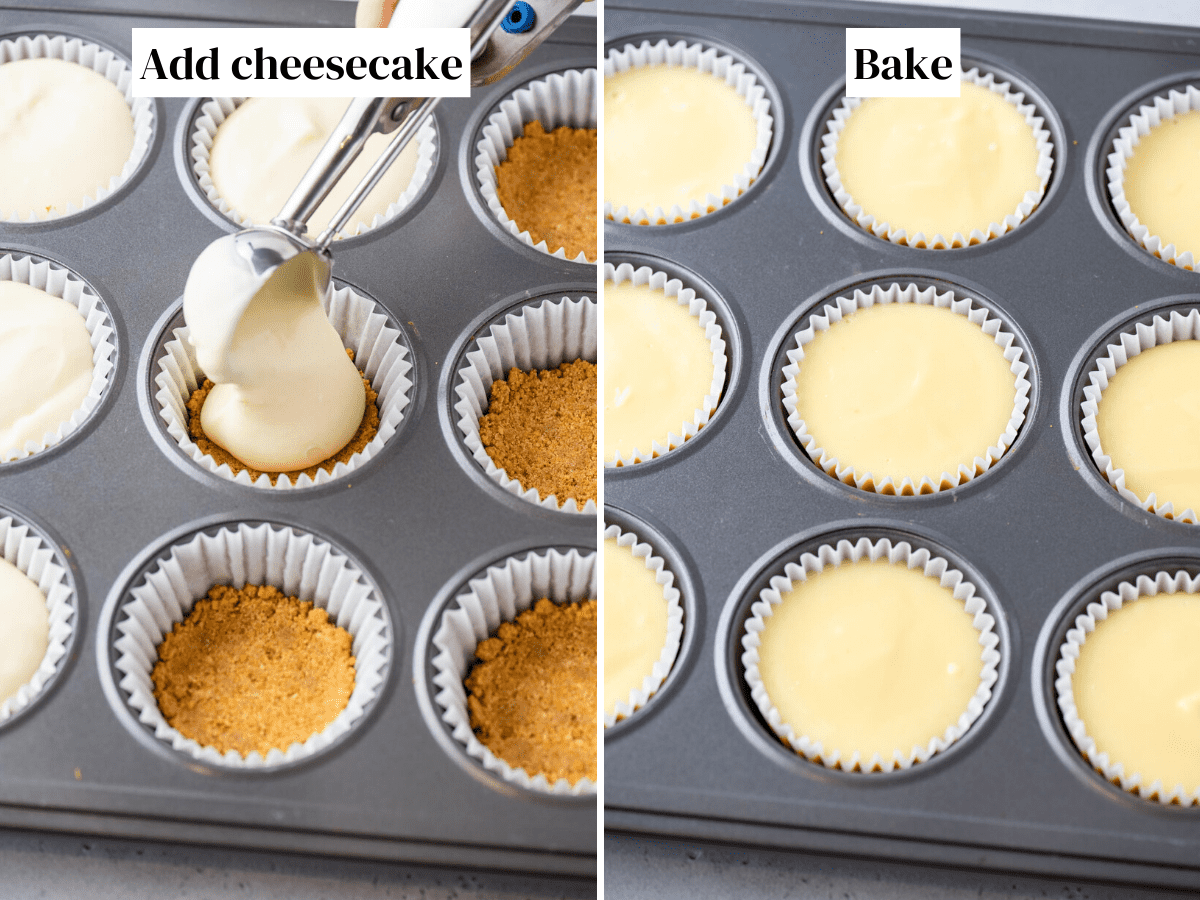 Time Required
4 minutes to prep the crust
5 minutes to pre-bake the crust
5 minutes to prep the cheesecake
20 ish minutes to bake cheesecake
at least 4 hours to refrigerate the cheesecake before serving.

I prefer to refrigerate mine overnight. Waiting is the hardest part, right?!
How to Tell When Mini Cheesecakes are Done Baking
The best way to tell when the mini cheesecakes are done is the jiggle test.
The center of the cheesecake should jiggle slightly when you shake the pan and the edges of the cheesecake will be slightly more puffy or airy.
How to Cool Mini Cheesecakes
Once the cheesecakes are done baking, remove the pan from the oven and place it on the counter or wire rack until the cheesecakes have cooled to room temperature.
How to Store
Then loosely cover the muffin pan with plastic wrap or place the cheesecakes in an airtight container and place in the fridge overnight to chill.
Why Did my Mini Cheesecakes Sink?
Over beating the eggs is the number one cause of air bubbles in cheesecake.
Air bubbles cause the cheesecakes to sink in the middle as they cool.
Be sure to mix the eggs in, one at a time, just until the yolk breaks. Once all the eggs have been added to the cheesecake batter, beat for only 30-60 seconds, until the eggs are fully incorporated.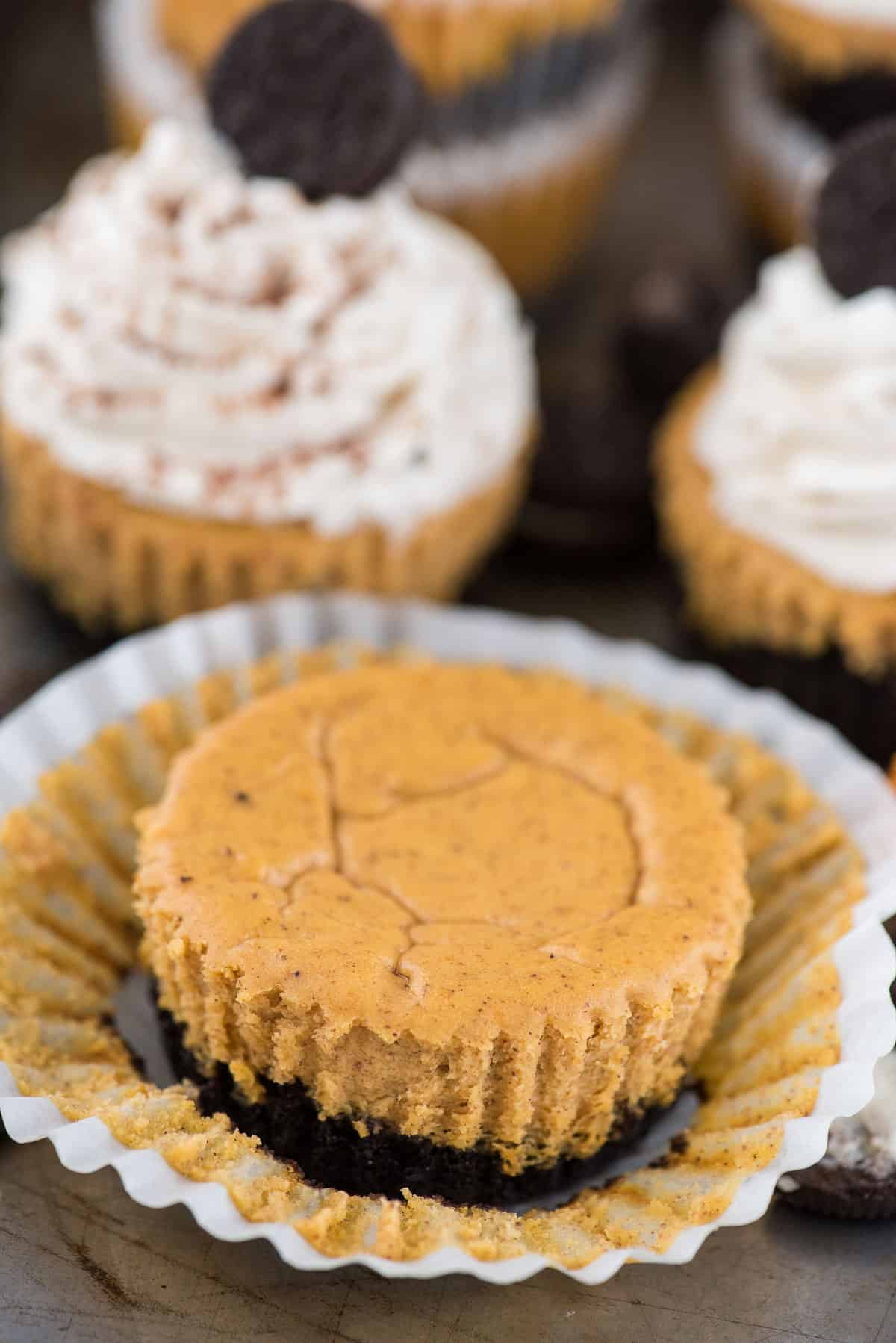 Tips for Success
Mini pumpkins cheesecakes are a lot less fussy than making a big, traditional cheesecake, which is good news if this is your first time making a cheesecake recipe!
These tips will help you make sure they turn out perfect.
Don't over-mix the cheesecake batter. Once you add the eggs, beat them in just until the yolk breaks. Over-beating the eggs is the most common cause of air bubbles and cracking.
Don't over-bake either. When you (gently!) shake the baking pan back and forth, the centers should jiggle slightly. If, instead, the centers move like a liquid, they need more time in the oven.
Allow enough time for chilling. Warm cheesecake is not very appetizing, so be sure to account for the chilling time needed when planning your baking.
You do have a back-up plan. If the tops crack or have some bubbles, no worries! Once you add the toppings, no one will notice.
How to Top Mini Pumpkin Cheesecakes
Top pumpkin cheesecake with pumpkin whipped cream, chocolate whipped cream, or chocolate ganache.
Swap out the oreo crust for..
graham cracker crust
snickerdoodle cookie crust
gingersnap cookie crust
Substitute the same amount of crumbs.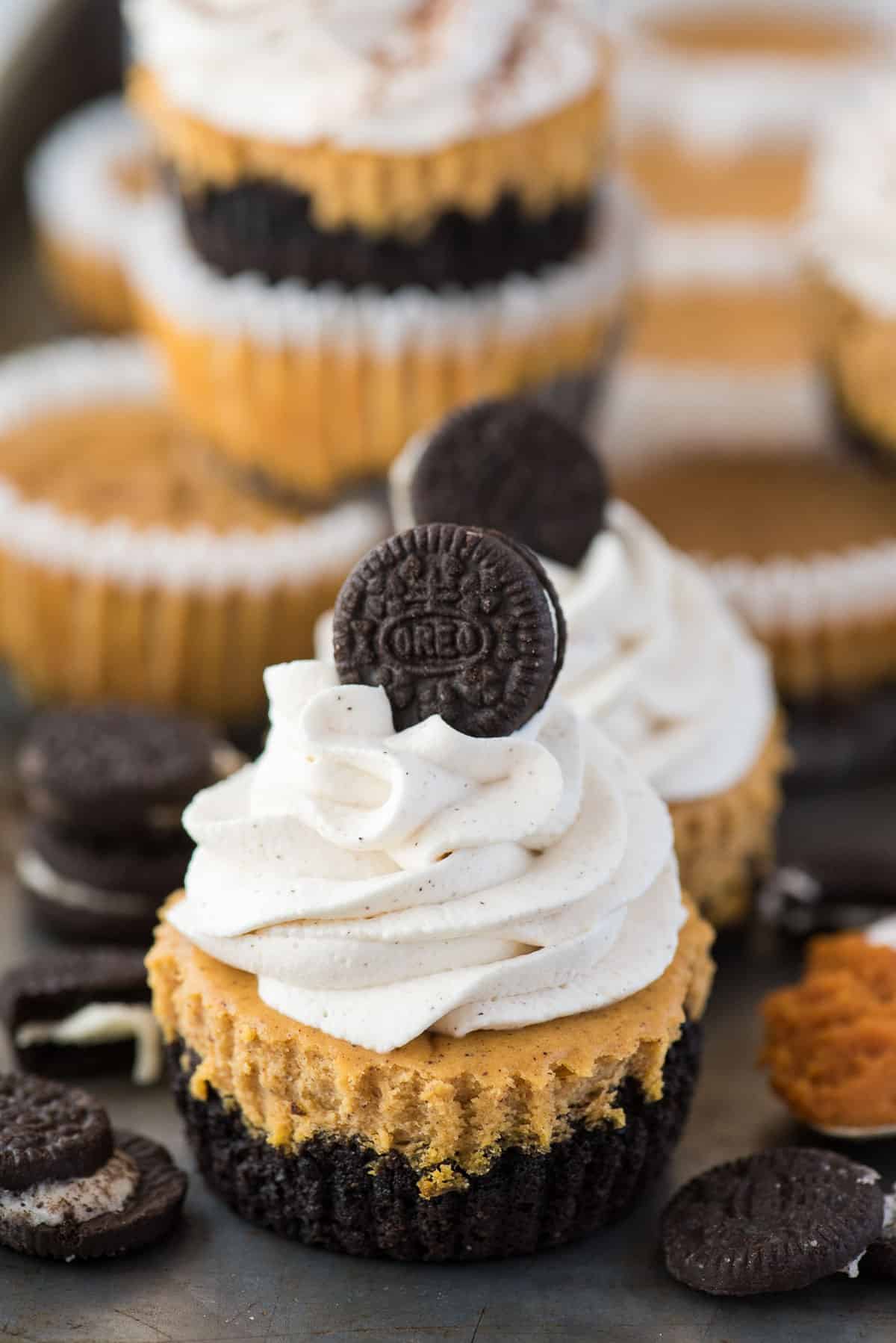 How to Freeze Mini Cheesecakes
Cool the cheesecakes completely before freezing.
Place the mini cheesecakes, without any garnishes, on a baking sheet, uncovered, and place in the freezer until frozen.
Once frozen, wrap each cheesecake in aluminum foil and place them inside a ziplock bag in the freezer. They can be frozen for 4 months. To thaw, place them in the refrigerator overnight.
Before serving add your desired toppings.
These delicious mini cheesecakes are the perfect fall dessert. Follow our step by step photos and you'll have a flawless thanksgiving dessert!
More Pumpkin Desserts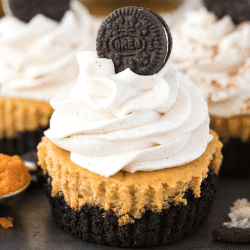 Mini Pumpkin Cheesecakes
Yield:
12
mini cheesecakes
The best pumpkin cheesecakes that only take 30 minutes to prep and bake in a muffin pan!
Ingredients
CRUST
1 ½

cups

oreo crumbs

,

about 16 whole oreos

3

tbsp

unsalted melted butter
CHEESECAKE
1 ½

packages

full fat cream cheese

,

8 oz packages – for a total of 12 oz for this recipe, room temperature

⅓

cup

granulated sugar

1

tsp

vanilla extract

2

tsp

pumpkin pie spice

½

cup

100% pumpkin puree

2

large

eggs
Instructions
CRUST
Preheat the oven to 350º F.

Line a regular sized muffin pan with 12 paper muffin liners.

In a mixing bowl, combine the oreo crumbs and melted butter until it resembles coarse sand.

Put 1-2 tbsp of oreo crumbs in each muffin cup.

Use a 1/3 cup (or similar) to press the oreo crumbs down firmly into the pan.

Bake the crust for 5 minutes. Remove the pan from the oven and allow it to cool while prepping the cheesecake.
CHEESECAKE
In a mixing bowl, beat the cream cheese and sugar with an electric mixer until smooth, 1 minute.

Beat in the vanilla extract, pumpkin pie spice, and pumpkin puree until smooth.

Beat in the eggs, one at a time.

Place a little more than 2 tbsp of cheesecake batter in each muffin cup.

Bake for 21-24 minutes or until the center of the cheesecake is only slightly jiggly.

Allow the cheesecakes to cool to room temperature then place them in the fridge for at least 4 hours to chill before serving. If refrigerating overnight, loosely cover the cheesecakes in plastic wrap.
Notes
1 & 1/2 cup oreo crumbs is equal to about 16 whole oreos. Blend the cookie & the cream. 
Crust Variations
Swap out the oreo crumbs for graham cracker crumbs, snickerdoodle cookie crumbs, or gingersnap cookie crumbs. You'll still need 1 & 1/2 cups of crumbs – no matter which crumb base you pick. Follow the rest of the directions as written.
Calories:
221
kcal
,
Carbohydrates:
18
g
,
Protein:
4
g
,
Fat:
15
g
,
Saturated Fat:
8
g
,
Polyunsaturated Fat:
1
g
,
Monounsaturated Fat:
4
g
,
Trans Fat:
1
g
,
Cholesterol:
70
mg
,
Sodium:
200
mg
,
Potassium:
105
mg
,
Fiber:
1
g
,
Sugar:
11
g
,
Vitamin A:
2103
IU
,
Vitamin C:
1
mg
,
Calcium:
43
mg
,
Iron:
1
mg