Chocolate Fudge
Looking for an EASY fudge recipe? This chocolate fudge calls for 4 ingredients and makes super tall & thick fudge! This microwave fudge is guaranteed to be foolproof!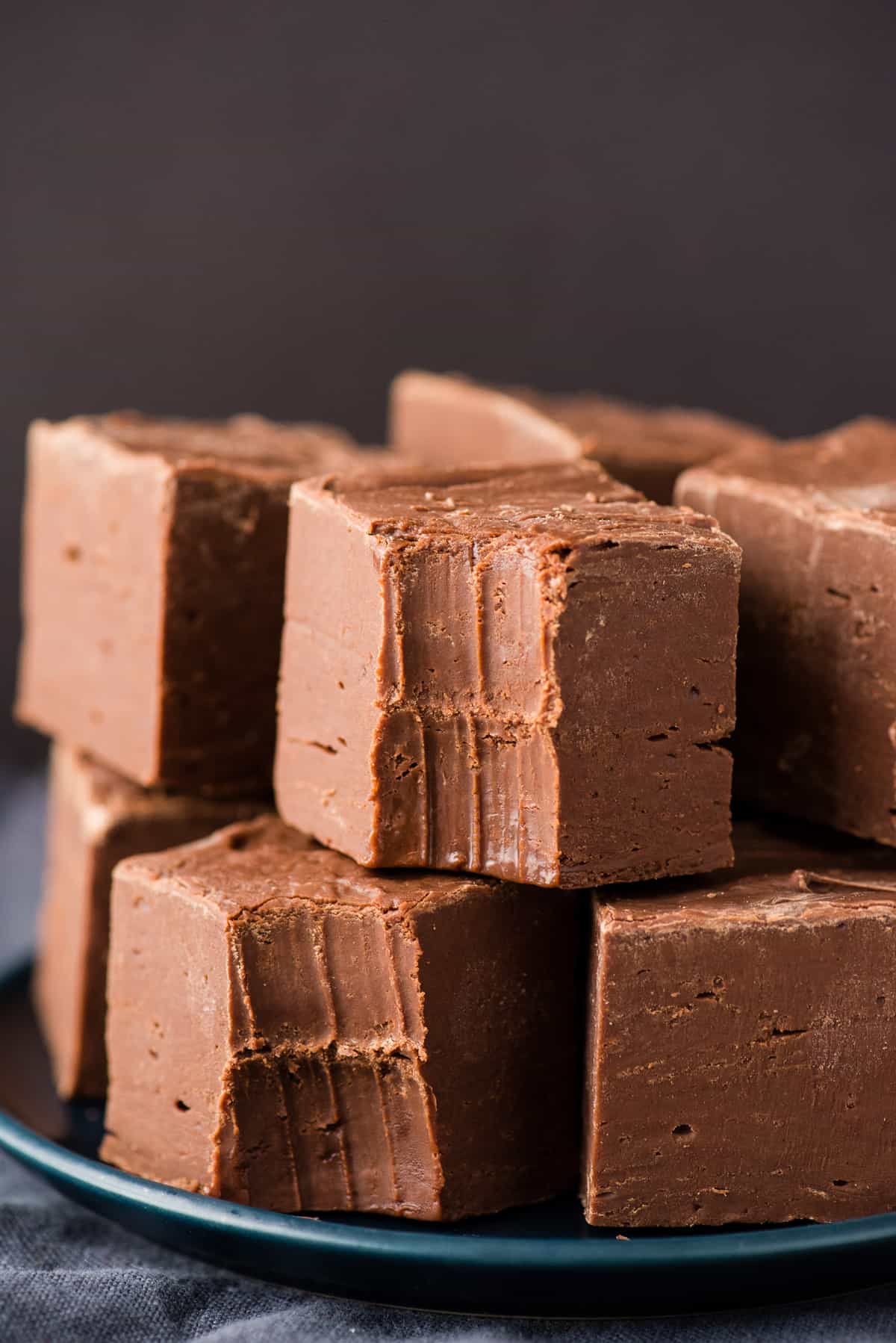 One of my favorite things about this fudge is that it makes super tall fudge! No more short, stumpy fudge. Our recipe is like true candy store fudge because of it's height!
When we make our Christmas cookie tins each year, we always add fudge! Christmas fudge is easy to make and takes about 5 minutes to prep. 
Sea salt caramels are another favorite Christmas candy to include in cookie tins!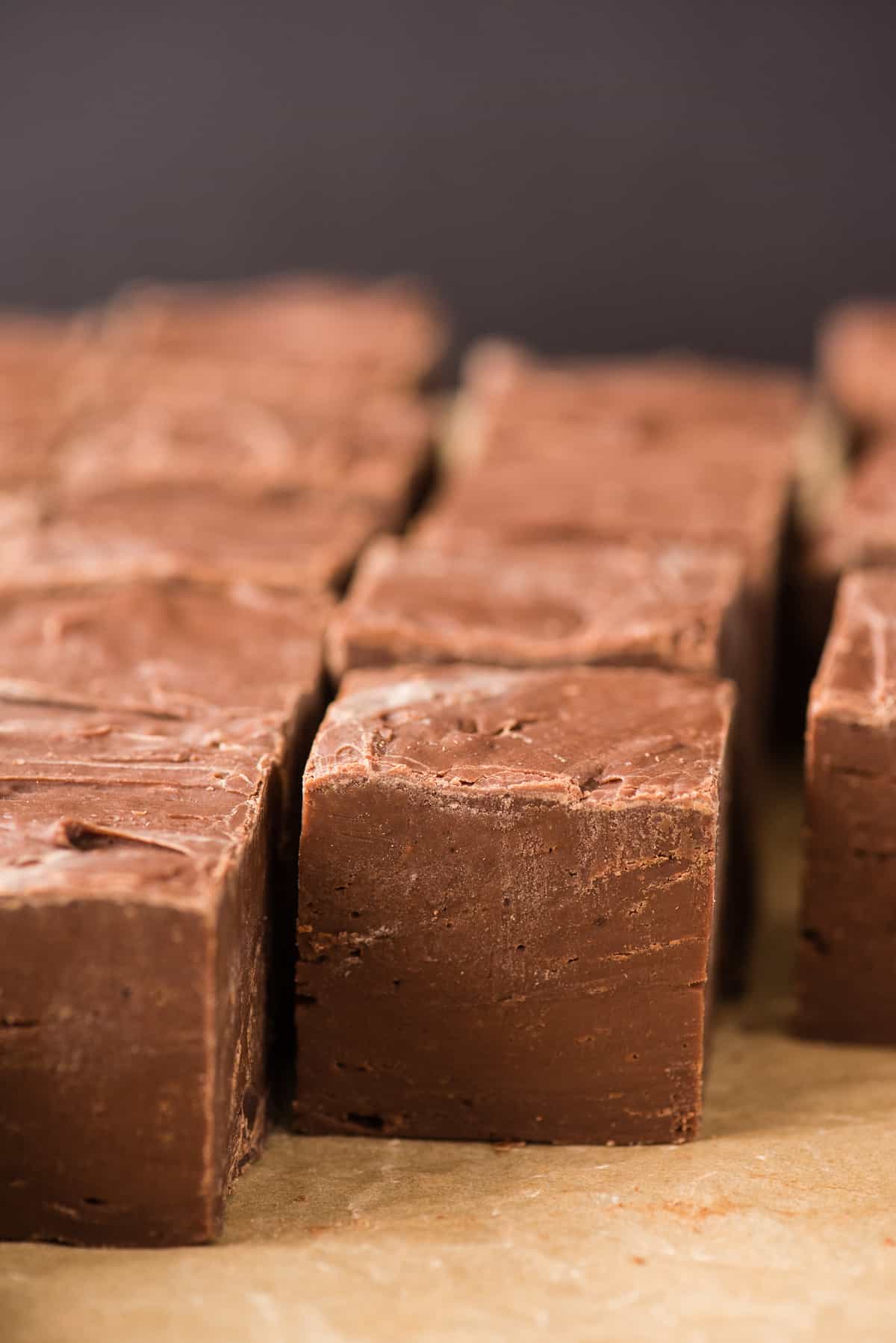 Very Important Fudge Tip
There is one very important tip when making fudge with sweetened condensed milk. Do NOT over heat it while microwaving!
For this recipe you'll microwave the chocolate chips and sweetened condensed milk for 1 minute. Once you pull the bowl out of the microwave, it may look like it needs more time in the microwave, but trust me, the chocolate chips will fully melt while you stir everything together.
Over heating the fudge during the microwaving process is a guaranteed way of creating dry, crumbly fudge that can't be fixed.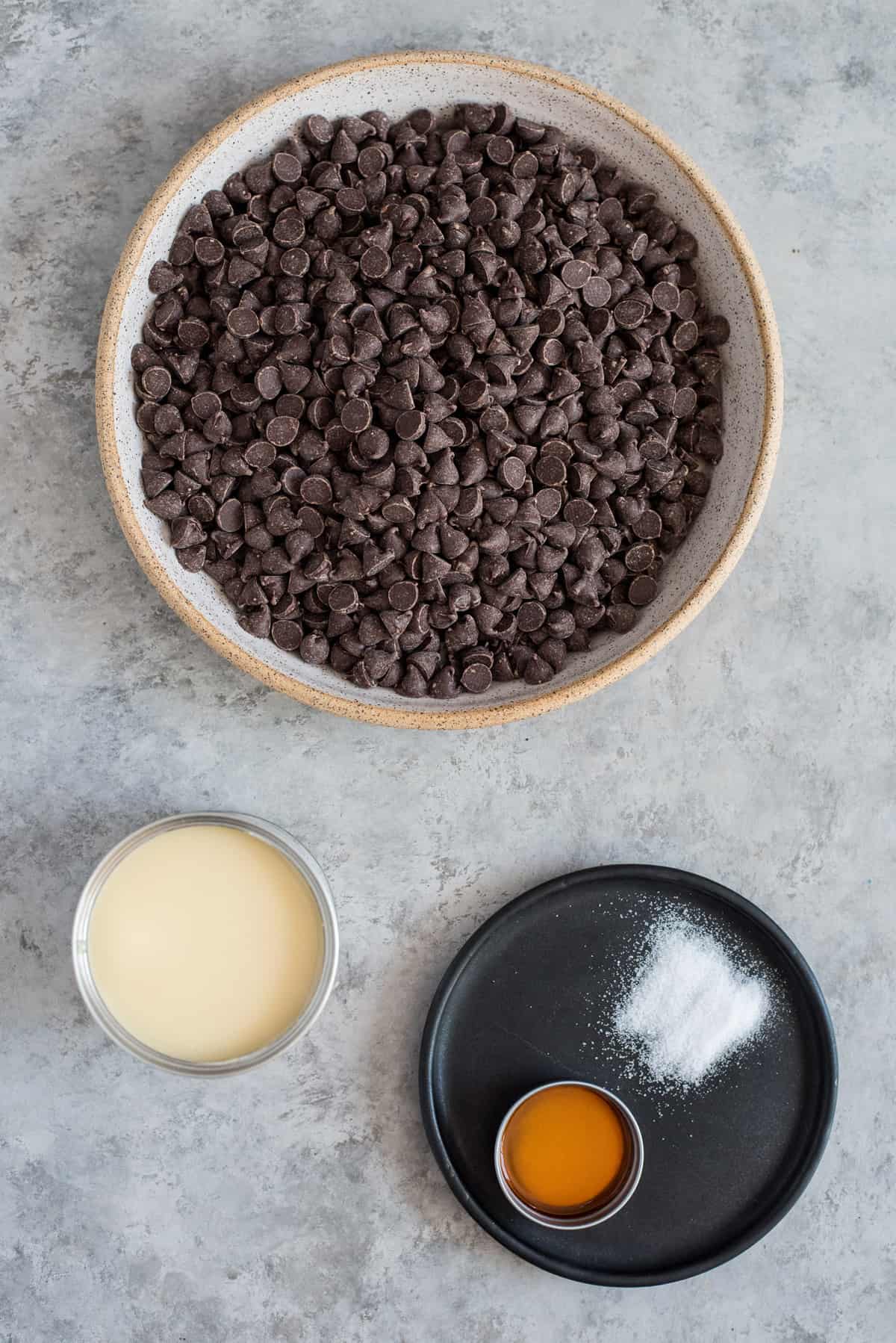 Ingredients For Fudge
Sweetened condensed milk: Use two 14 oz cans.
Chocolate chips: I used Ghirardelli semi-sweet chocolate chips. For best results use a higher quality brand.
Vanilla extract and Salt: adds flavor and the salt balances the sweetness.
If you're looking for a fudge recipe that is vegan, low carb and keto try this easy chocolate fudge recipe.
Why Is My Fudge Dry and Crumbly?
Fudge is all about sugar crystallization. The number one reason fudge turns out dry and crumbly is because the fudge mixture was overcooked / overheated.
Unfortunately, with microwave fudge there is no good way to salvage overcooked fudge. I recommend microwaving the fudge ingredients in a glass bowl for the most even heating. Be sure to microwave the fudge exactly as the directions state, do not add additional time.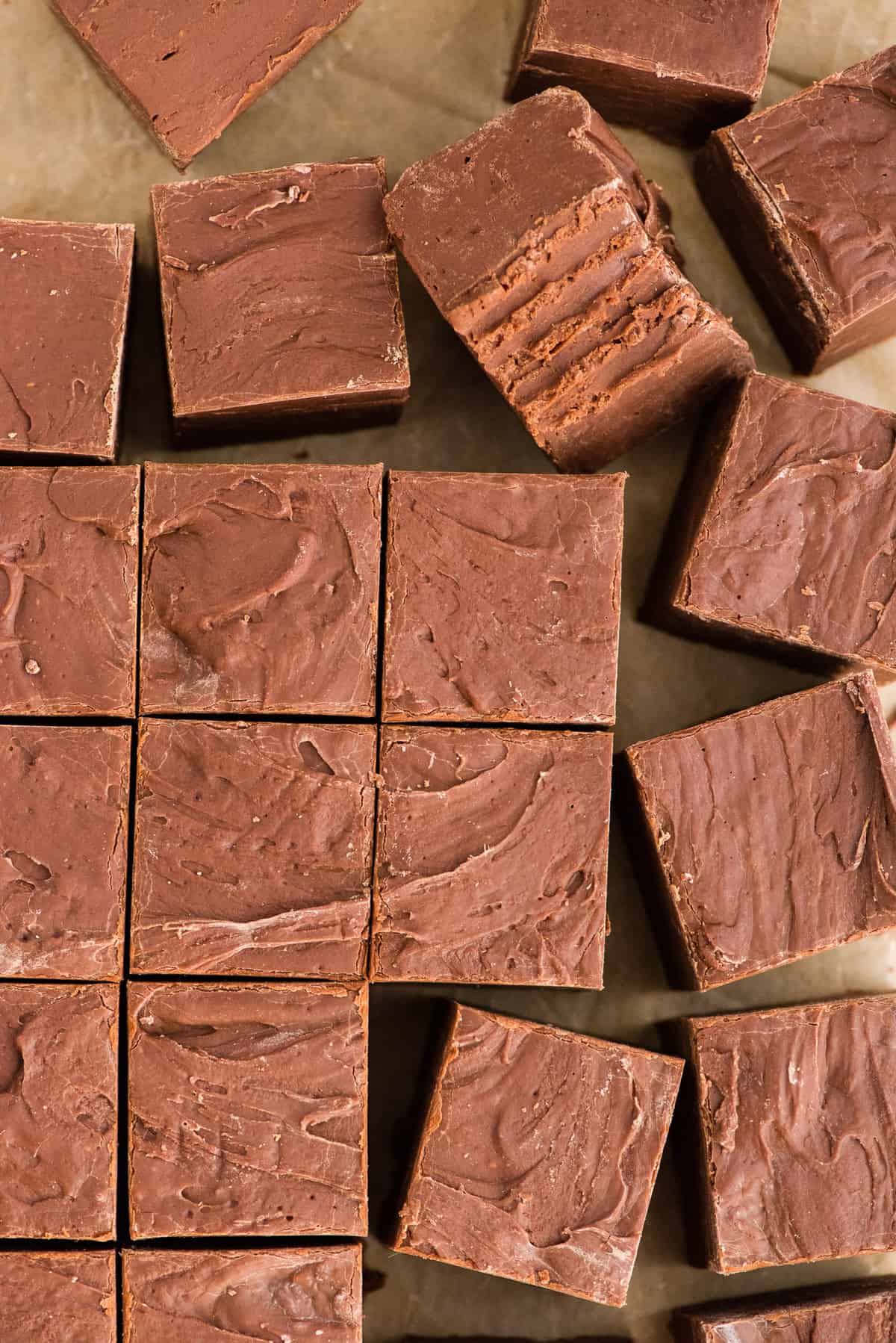 How To Cool Fudge
I recommend cooling fudge on the counter. This allows the fudge to cool slowly.
If you place the fudge in the fridge to speed up the cooling process, the rapid change in temperature can cause the sugar to crystallize too quickly, causing a grainy texture.
How To Store Fudge
Store fudge in an airtight container. Fudge will last for 1-2 weeks in a container on the counter.
How To Freeze Fudge
You can freeze fudge as a large slab or fudge that's been cut into pieces. For either method, wrap the fudge tightly in plastic wrap and place inside a zip lock freezer bag. Fudge can be stored in the freezer for up to 3 months.
To thaw, place the fudge in the fridge for 24 hours.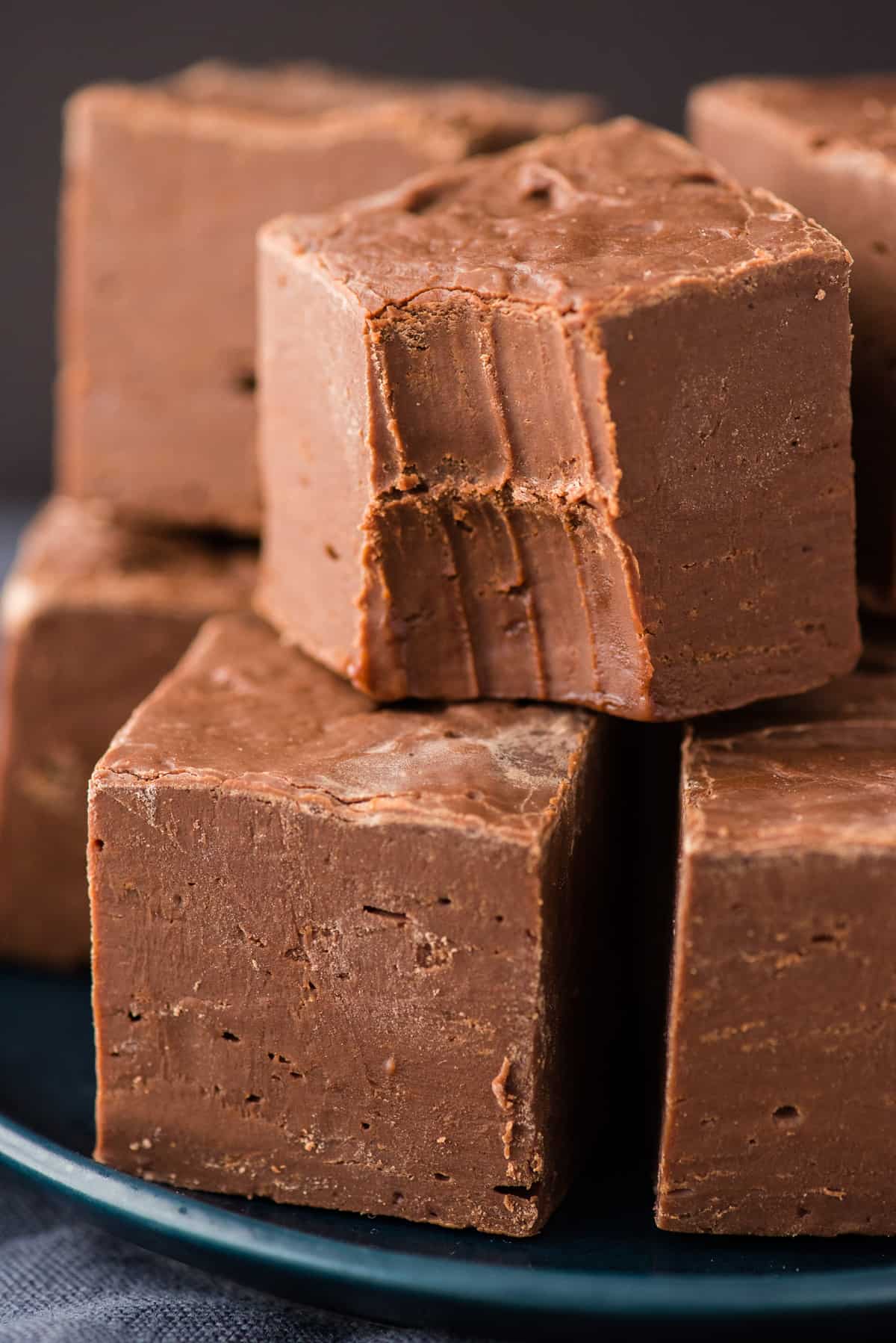 Walnut Fudge
To give this fudge a nutty crunch, add 2 cups of chopped walnuts once the chocolate chips are melted.
Tips for Making Fudge
For best results, use high quality chocolate chips.
Line the pan with aluminum foil or parchment paper for easy removal of the fudge.
Allow the fudge to set completely before cutting into pieces.
For perfect squares, I recommend using a ruler while cutting the fudge.
More Fudge Recipes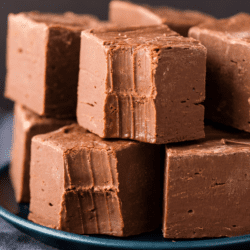 Chocolate Fudge
Looking for an EASY fudge recipe? This chocolate fudge calls for 4 ingredients and makes tall fudge! Guaranteed to be foolproof, we love this Christmas fudge! 
Ingredients
2

cans

sweetened condensed milk, 14 oz each

5

cups

semi-sweet chocolate chips

¼

tsp

salt

½

tsp

vanilla extract
Instructions
Line a square 8 or 9 inch baking dish with aluminum foil. Make sure the foil goes up the sides of the pan because this fudge is tall! Set aside.

In a glass microwave safe bowl, combine the sweetened condensed milk and chocolate chips. Stir with a spatula until combined. 

Microwave on full power for 1 minute and 30 seconds. Do not microwave longer, the mixture will melt and come together as you stir. Add in the salt and vanilla extract. Stir until the chocolate chips are melted and combined. Over microwaving can cause the chocolate to scorch and the fudge will be crumbly. 

Transfer the fudge to the pan and spread into an even thickness. Allow the fudge to set on the counter for at least 6 hours, overnight is great too. You can loosely cover the top of the fudge with foil or plastic wrap.

Once the fudge is set, cut into squares. Store in an airtight container on the counter for up to 1-2 weeks. 
Notes
To make chocolate walnut fudge, add 2 cups of chopped walnuts once the chocolate chips are melted.

 
Calories:
310
kcal
,
Carbohydrates:
36
g
,
Protein:
5
g
,
Fat:
17
g
,
Saturated Fat:
10
g
,
Polyunsaturated Fat:
1
g
,
Monounsaturated Fat:
5
g
,
Trans Fat:
1
g
,
Cholesterol:
13
mg
,
Sodium:
67
mg
,
Potassium:
322
mg
,
Fiber:
3
g
,
Sugar:
30
g
,
Vitamin A:
103
IU
,
Vitamin C:
1
mg
,
Calcium:
112
mg
,
Iron:
2
mg