Oreo Cookies
These oreo cookies are loaded with 3 cups of chopped oreos! Some of the best cookies and cream cookies we've tried! Crispy on the outside and chewy on the inside, this is an awesome oreo cookies recipe!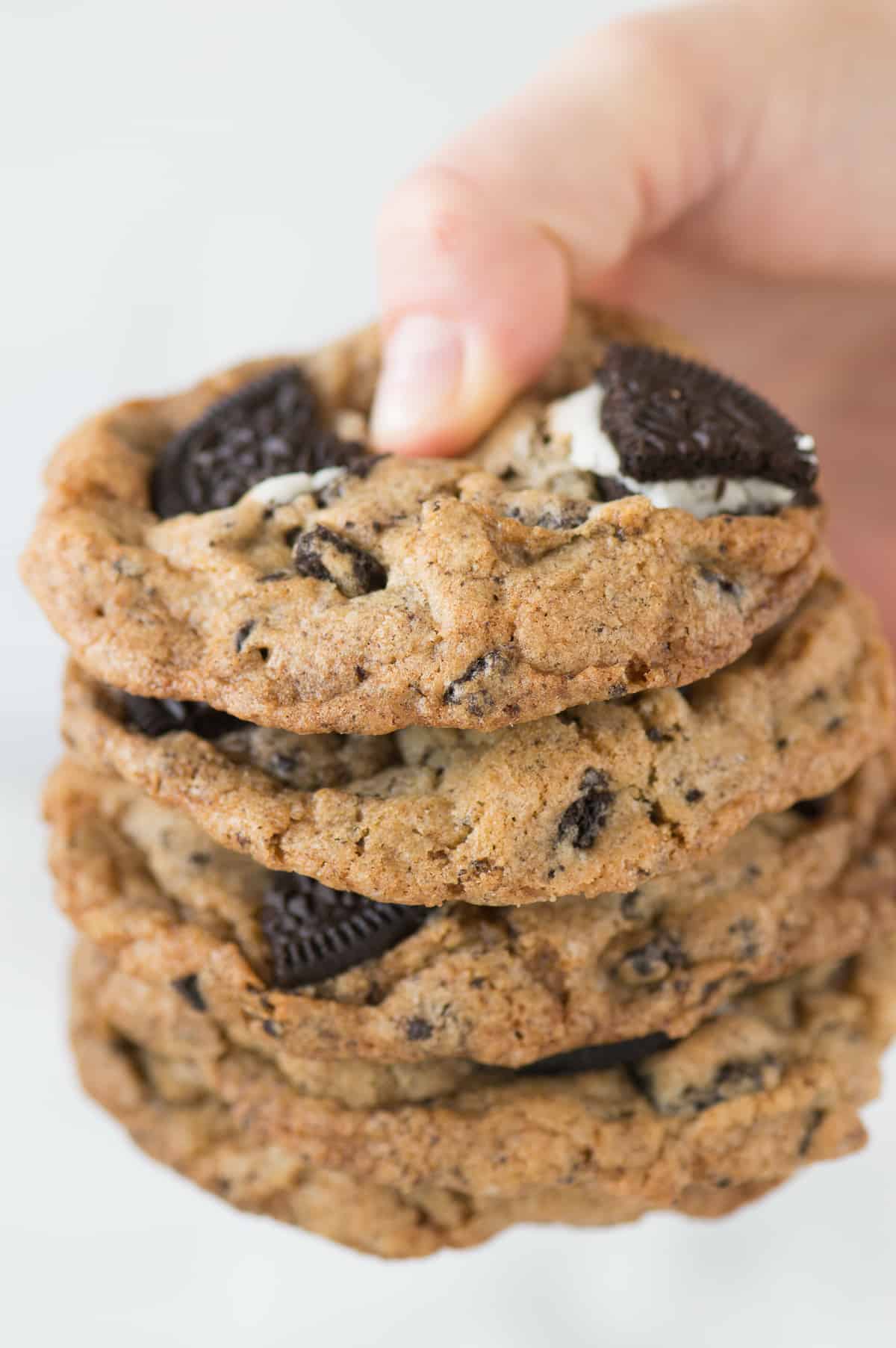 Let's take our favorite cookie and put it INSIDE cookies!!
And that's how oreo cookies were born.
Oreo Cookies Recipe is…
loaded with 3 cups of oreos.
crispy on the outside, but chewy on the inside!
a dupe for cookies and cream cookies.
ready to bake in 10 minutes because you don't chill the dough!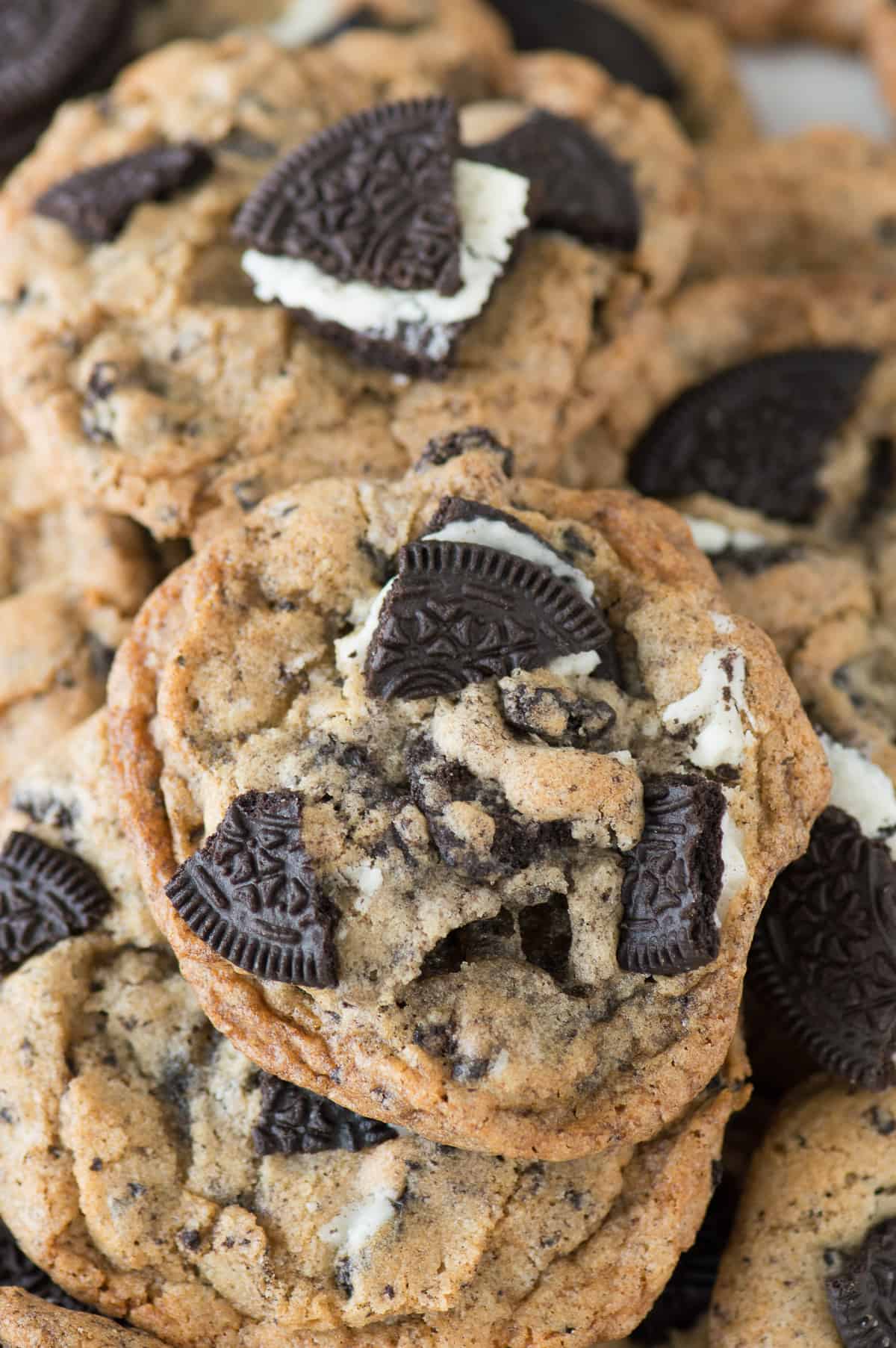 This week has been so dreary. I feel like I never realize how much I need the sun until it hides for a couple of days.
I feel more productive when the sun is out, plus I rely heavily on the sun and natural light to take pictures of each recipe, so if there's no sun, there are no photos happening.
And when I'm not taking pictures, I'm usually in my office doing computer work and my body's natural response is to want to take a nap! So I sure hope the sun shows it's bright face soon, I need it!!
Since Ryan started his new job, we have learned that his co-workers are excellent recipe tasters. There are about 80 people in his hallway and it seems like they really like dessert. I can't blame them :)
Ryan says that the treats usually don't make it past lunch time. And he's also told me that certain coworkers will e-mail a few other coworkers whenever they see him bring goodies so they can get to them before they disappear. I imagine it like this "Email Alert! Drop everything, Beth sent dessert, proceed to the lounge ASAP!"
Ingredients
all purpose flour: flour is necessary to build structure in cookies
baking soda: helps to leaven and lift the dough
salt: enhances the other flavors
butter: adds flavor and and tender texture
brown sugar: adds sweetness & flavor, keeps the cookies moist and adds chewiness
granulated sugar: adds sweetness, flavor and encourages browning
egg: binds the cookies together by providing structure
vanilla extract: adds flavor
oreos: the star of the cookie!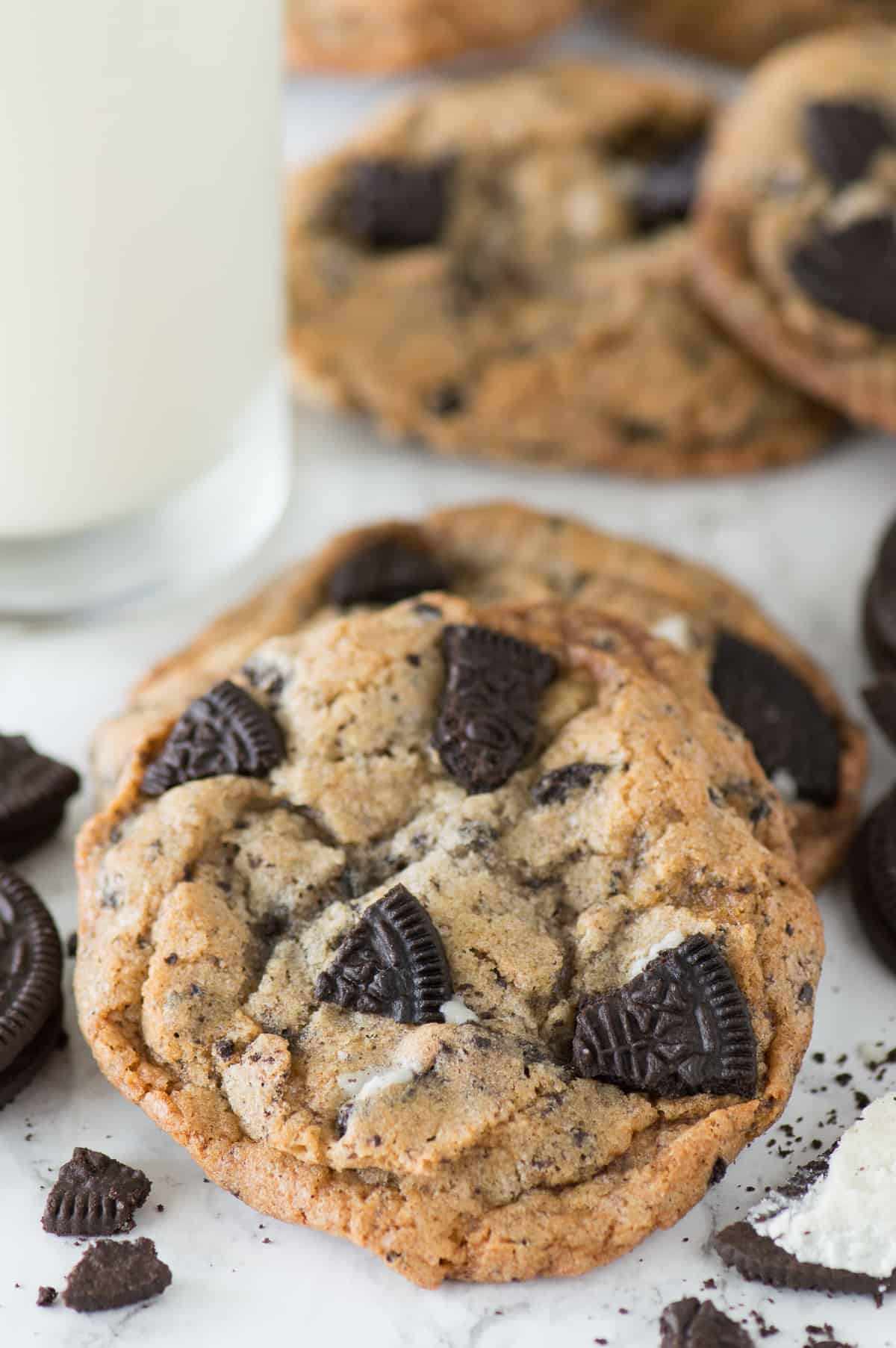 I wasn't too sure how these cookies would go over.. I mean, it's a cookie inside a cookie, I can see kids REALLY liking them, but sometimes I think adults have a more sophisticated palate.
Well that's a big misconception! Every single cookie was eaten. I think adults like sweet things just as much as kids.
These oreo cookies have 3 cups of chopped oreos inside them, plus I added larger oreo pieces to the tops of each cookie for presentation.
They are crisp on the outside, chewy on the inside, and exploding with oreos!
Baking Time Suggestions
For the cookies and cream cookies in the photos, the dough balls were about 3 heaping tablespoons, so that's a large cookie! I baked those for 14-16 minutes – just until the edge of the cookie would begin to turn golden.
If you make smaller dough balls, you should reduce the baking time otherwise the cookies will be over done.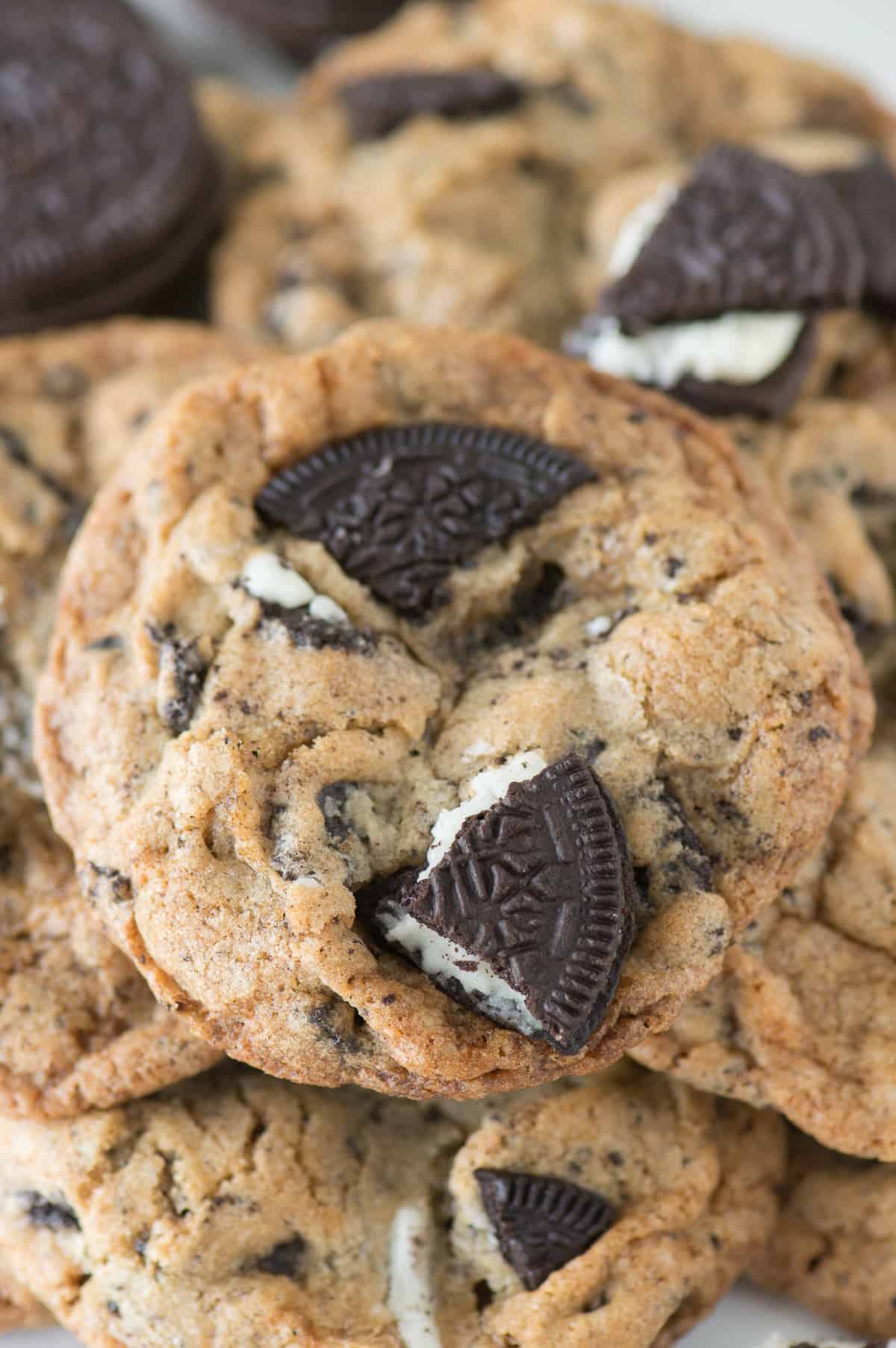 Total Time Required
10 minutes to make the cookie dough
14-16 minutes to bake the cookies
15 minutes to cool the cookies
Tips for Making Cookies
Properly measure the all purpose flour using the spoon and sweep method.
Use room temperature butter for easier creaming of the butter and sugar.
Use a cookie scoop to form uniform balls.
Press additional oreo pieces on the outside of the dough balls before baking for a loaded cookie presentation like the photos!
More Cookie Recipes
Oreo Cookies Video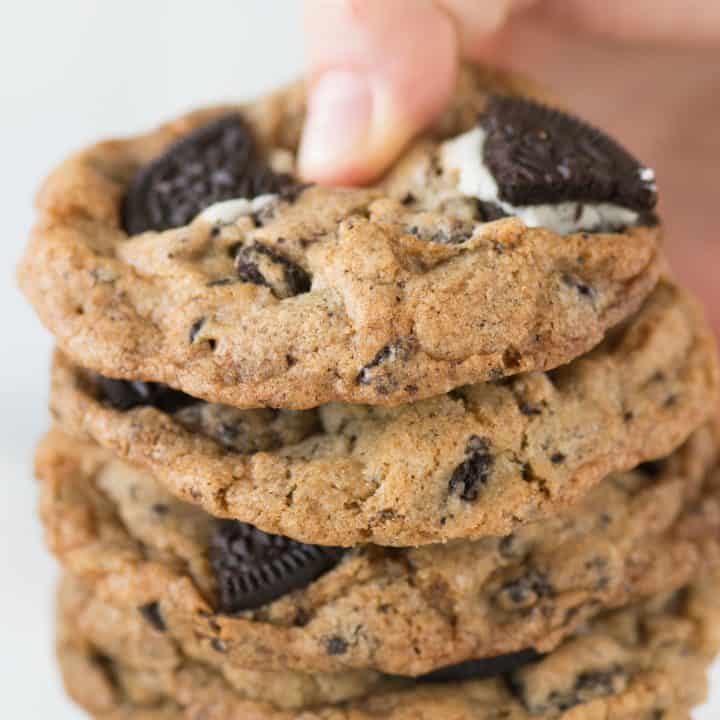 Oreo Cookies
Yield: 2 dozen
Prep Time: 10 minutes
Cook Time: 15 minutes
Total Time: 25 minutes
These cookies are loaded with 3 cups of chopped oreos! Some of the best oreo cookies or cookies & cream cookies we've tried! Crispy on the outside and chewy on the inside!
Ingredients
1 & 1/4 cup all purpose flour
1 tsp baking soda
1/2 tsp salt
1/2 cup (1 stick) unsalted butter, room temperature
1/2 cup packed brown sugar
6 tbsp granulated sugar
1 large egg
1 tsp vanilla extract
3 cups chopped oreos (not oreo crumbs but crushed oreo pieces) You can place the oreos in a ziploc bag and use a rolling pin to crush them - then measure out 3 cups.
Instructions
Preheat the oven to 350º F.
In a medium sized mixing bowl, combine the flour, baking soda, and salt. Set aside.
In a large mixing bowl, beat the butter, brown sugar and sugar with an electric mixer until blended, about 1 minute. Add the in egg and vanilla, beat again until mixed.
Gradually add in the flour mixture, mixing with a spatula just until combined (it's okay if there are some flour streaks). Mix in the chopped oreos with a spatula until evenly distributed.
Line a baking sheet with a silicone baking mat or parchment paper. Use a cookie scoop to drop the dough onto the baking sheet, about 3 inches apart. Bake for 15 minutes, or until the edges are light brown and the center is golden. Allow the cookies to cool for 15 minutes before removing them from the baking sheet. Store in an air tight container.
Notes
Recipe adapted from The essential chocolate chip cookbook