Oreo Ice Cream
3 ingredient Oreo Ice Cream – the easiest no churn oreo ice cream recipe!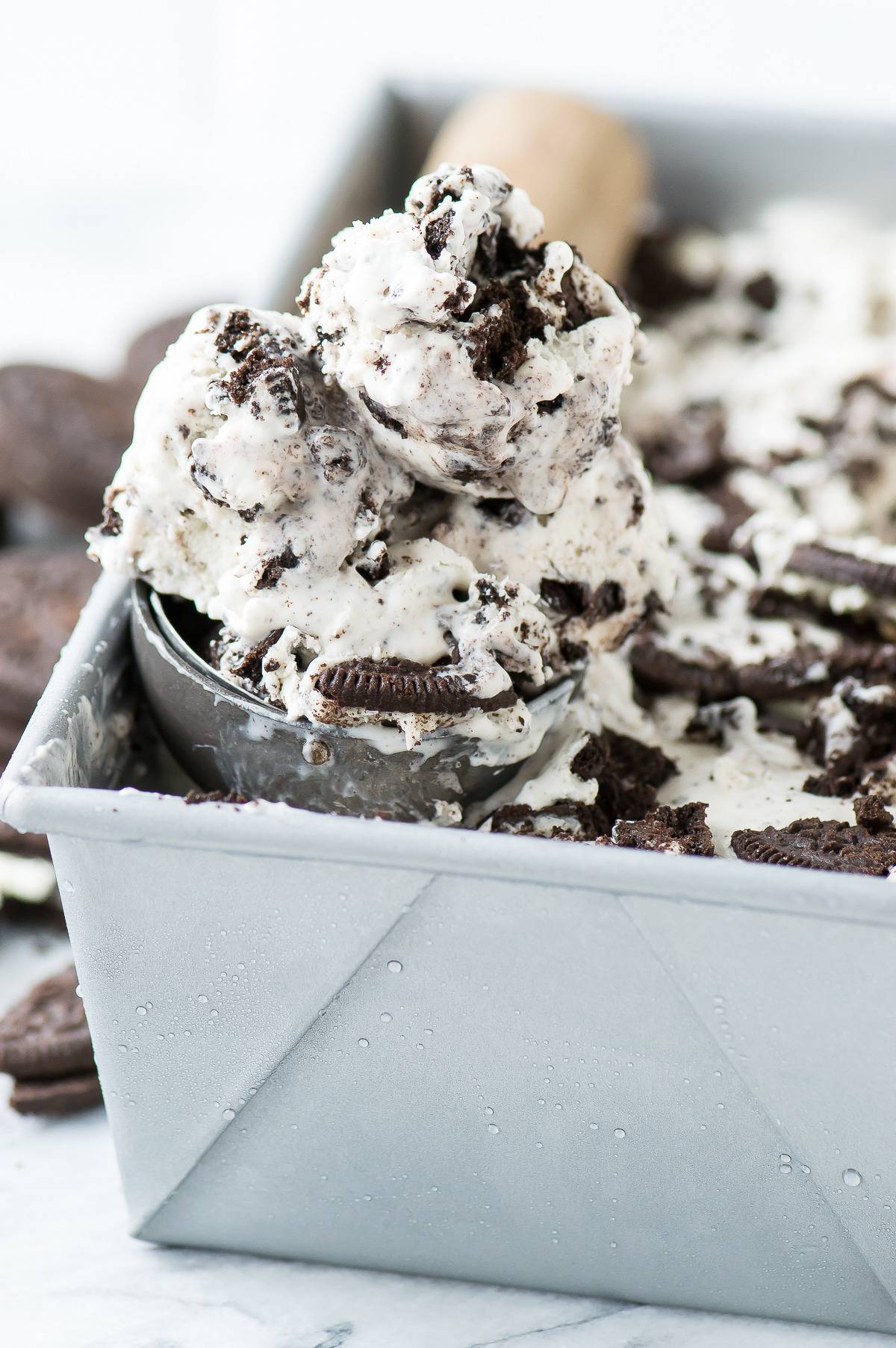 Who secretly loves blizzards and mcflurries?!
I DO!
And it's probably not a secret.
I am very predictable when it comes to my order – reese's blizzard. And if I don't get that, I get a buster bar.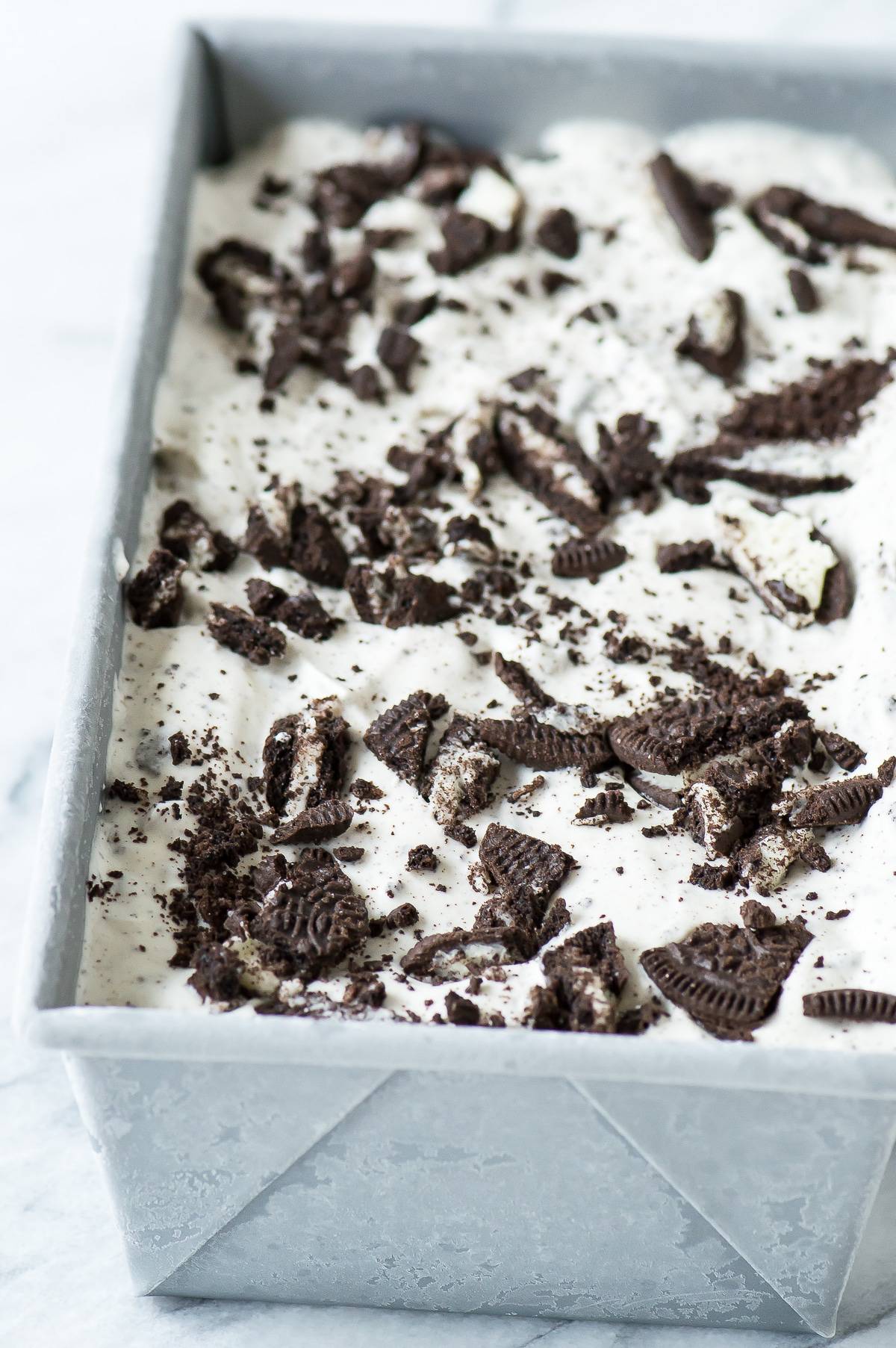 Oreo Ice Cream
The chocolate and peanut butter combo is always a good choice but sometimes you want a good cookies n' cream ice cream.
Since I have a gluten allergy I can't order an oreo blizzard but I can make the next best thing – homemade oreo ice cream!! And it's a cinch to swap gluten free oreos for regular oreos.
This recipe for oreo ice cream calls for THREE ingredients!
-2 cups of heavy whipping cream (equal to one pint) whipped into stiff peaks with an electric mixer
-one 14 oz can of sweetened condensed milk – practically like liquid gold :)
-1 package of oreos – you'll mix 2 cups of chopped oreos into the ice cream and then use a few more broken oreos to top the ice cream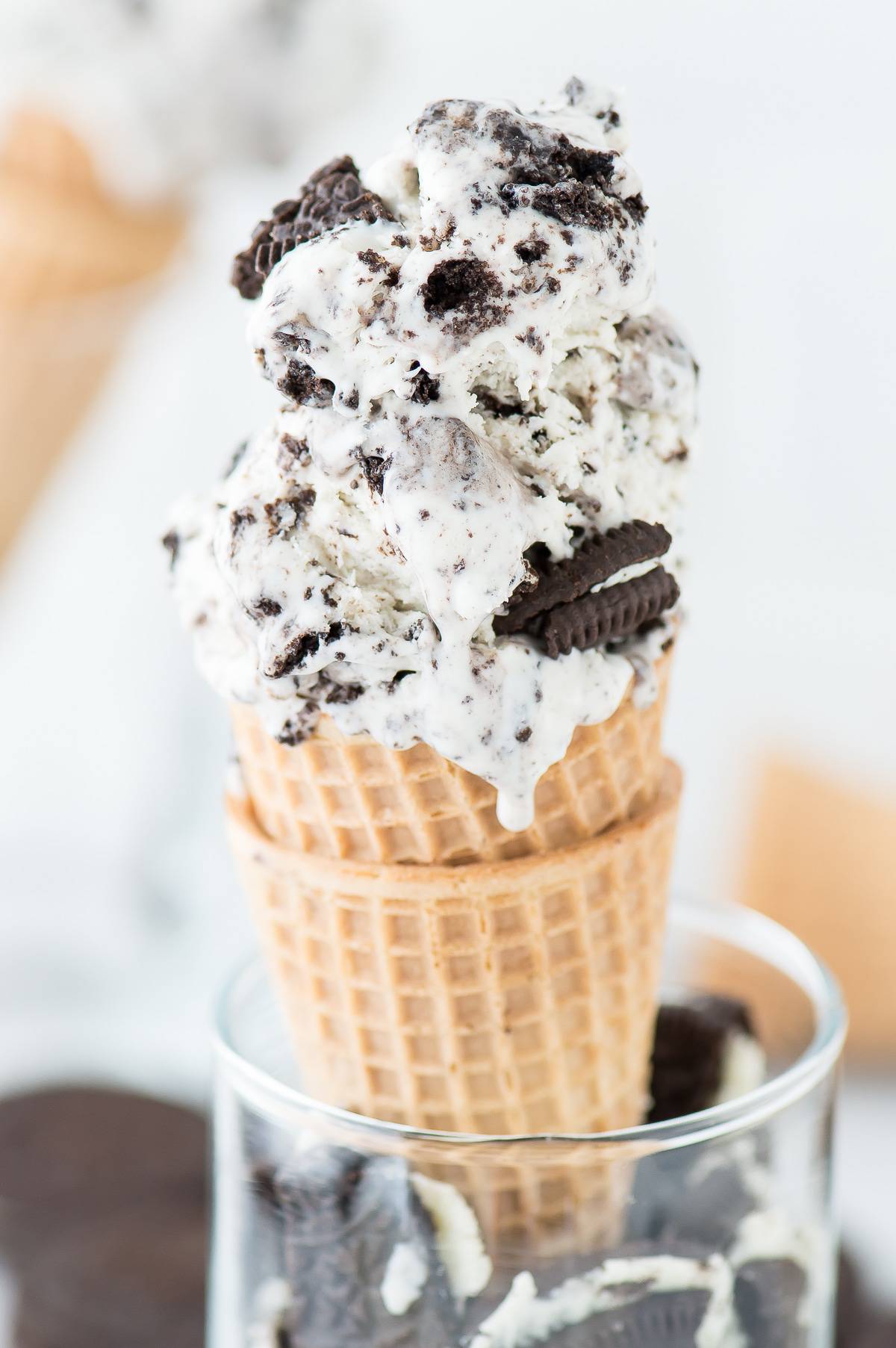 Tools You Will Need
The tools you'll need to make homemade ice cream include..
-metal mixing bowl
-electric mixer
-a container to freeze the ice cream in
You will definitely want to make the ice cream the day before you plan to serve it so it can freeze thoroughly.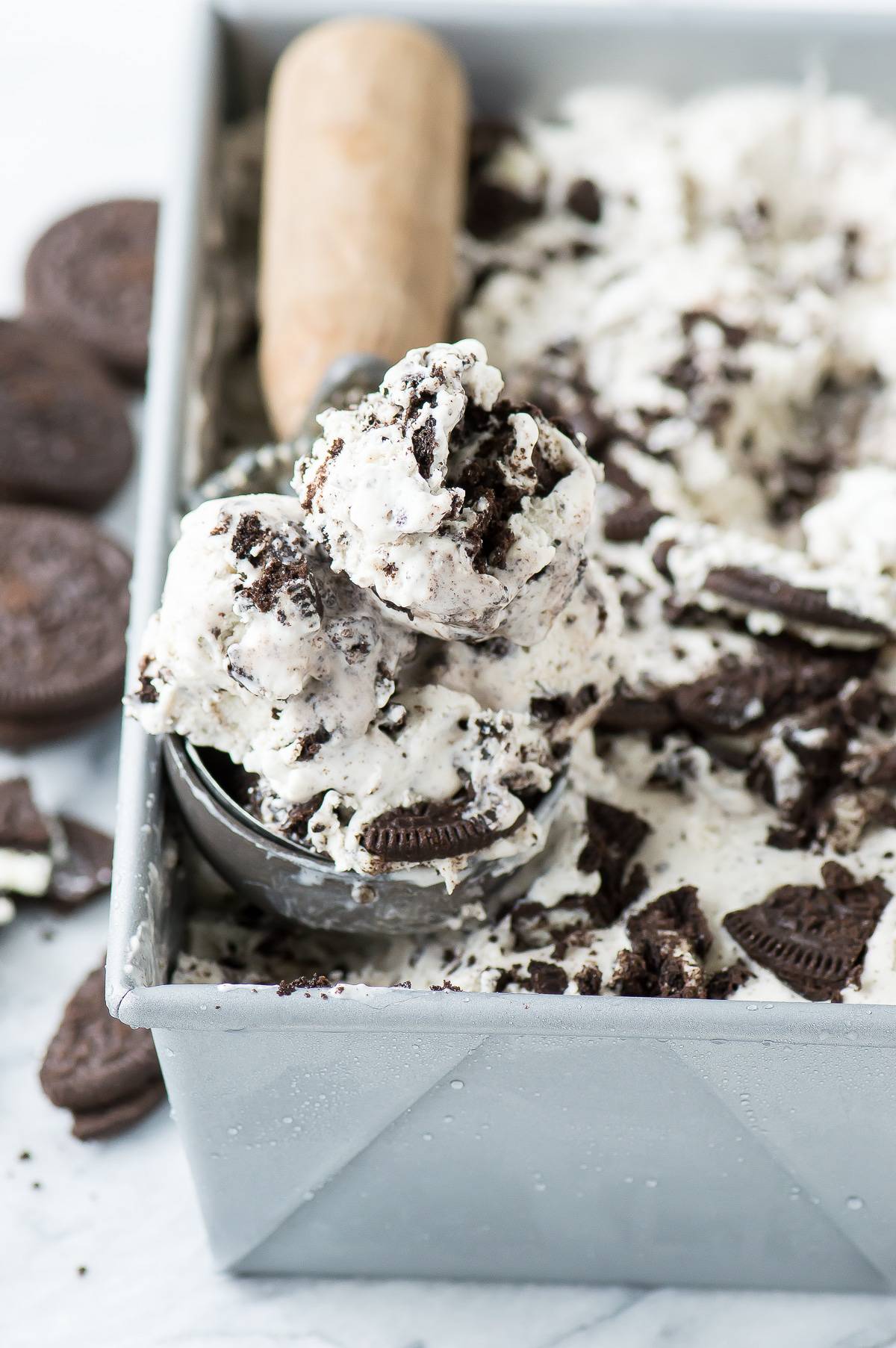 As for a container to freeze the ice cream in, you could use a metal loaf pan, a sturdy tupperware container or if you're really into homemade ice cream you could invest in a fun reusable ice cream container like this round one or this unique long one!
A container with a tight lid will help to prevent freezer burn but plastic wrap will work great if the ice cream isn't in your freezer for too many days. But really.. do you think this ice cream will last more than a few days?!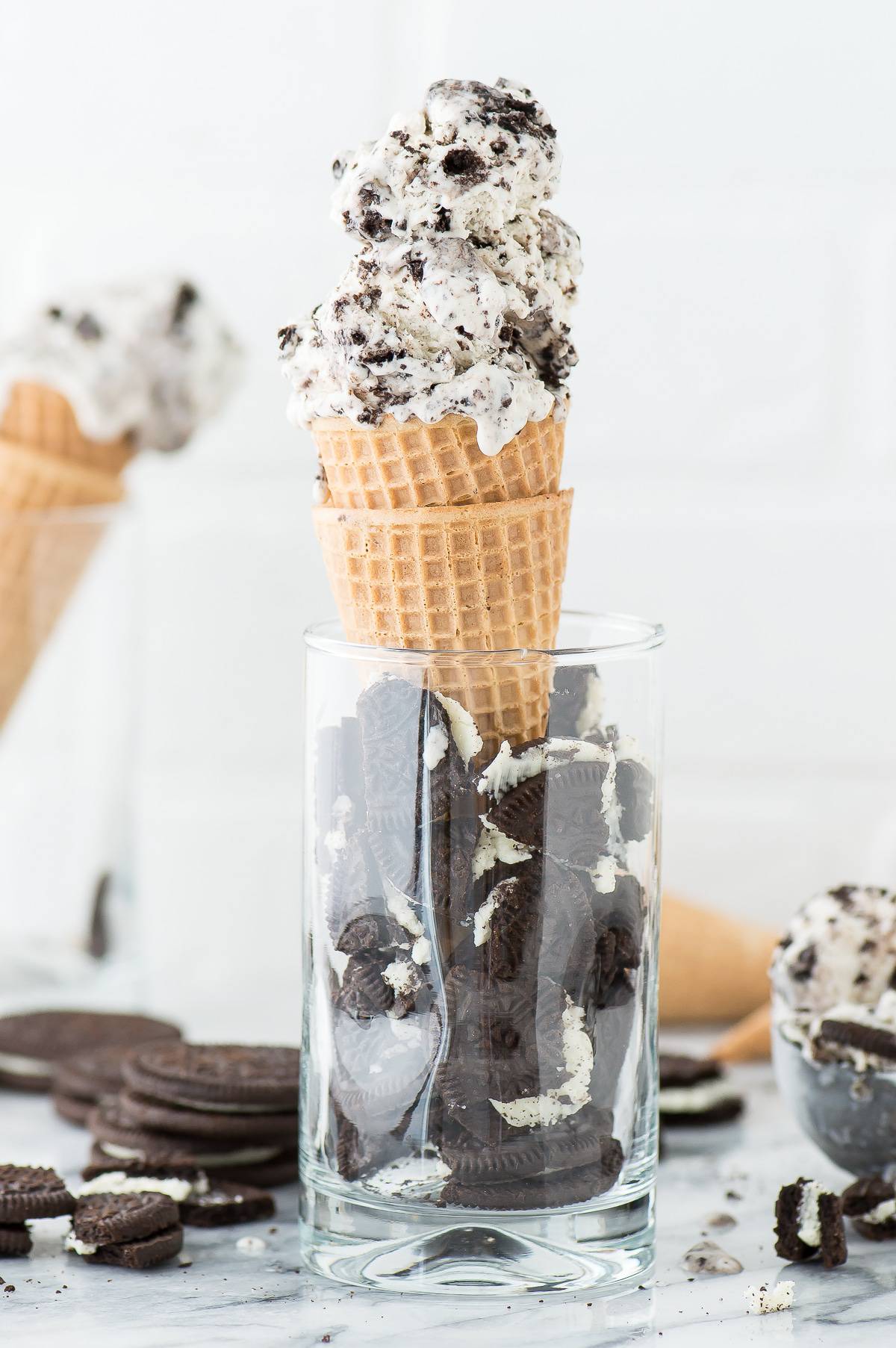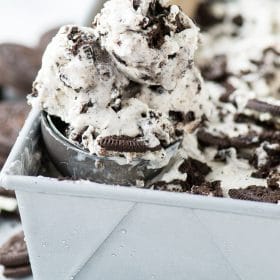 Ingredients:
2 cups heavy whipped cream
14 oz can sweetened condensed milk
2 cups chopped oreos
Directions:
20-30 minutes before beginning, place a metal mixing bowl and the beaters from the mixer in the freezer to chill.
Remove the bowl from the freezer.
Add the heavy cream, using an electric mixer beat the heavy cream into stiff peaks, about 3 minutes.
Stir in the sweetened condensed milk and mix with a spatula or mixer.
Add in the 2 cups of chopped oreos, mix to combine.
Pour the ice cream into a freezer safe container.
Top the ice cream with additional broken oreo pieces.
Freezer overnight.
Once frozen, scoop and serve!
Products used to make this recipe
(may include affiliate links)