Chocolate Crinkle Cookies
So many people have asked for this classic christmas cookie – these Chocolate Crinkle Cookies are so chocolatey and fudgy!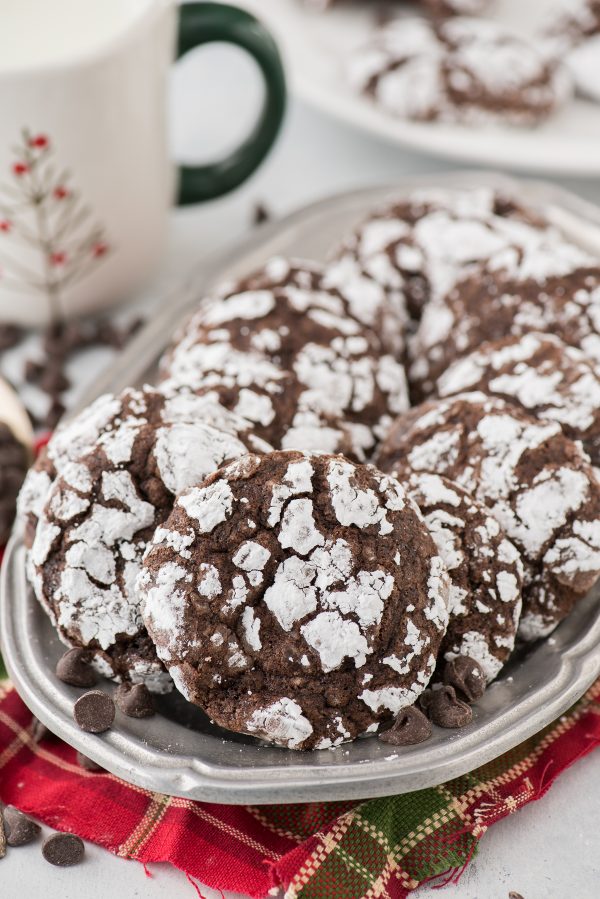 Why was I avoiding chocolate crinkles all my life?!
I don't think I even ever tried one until I baked these!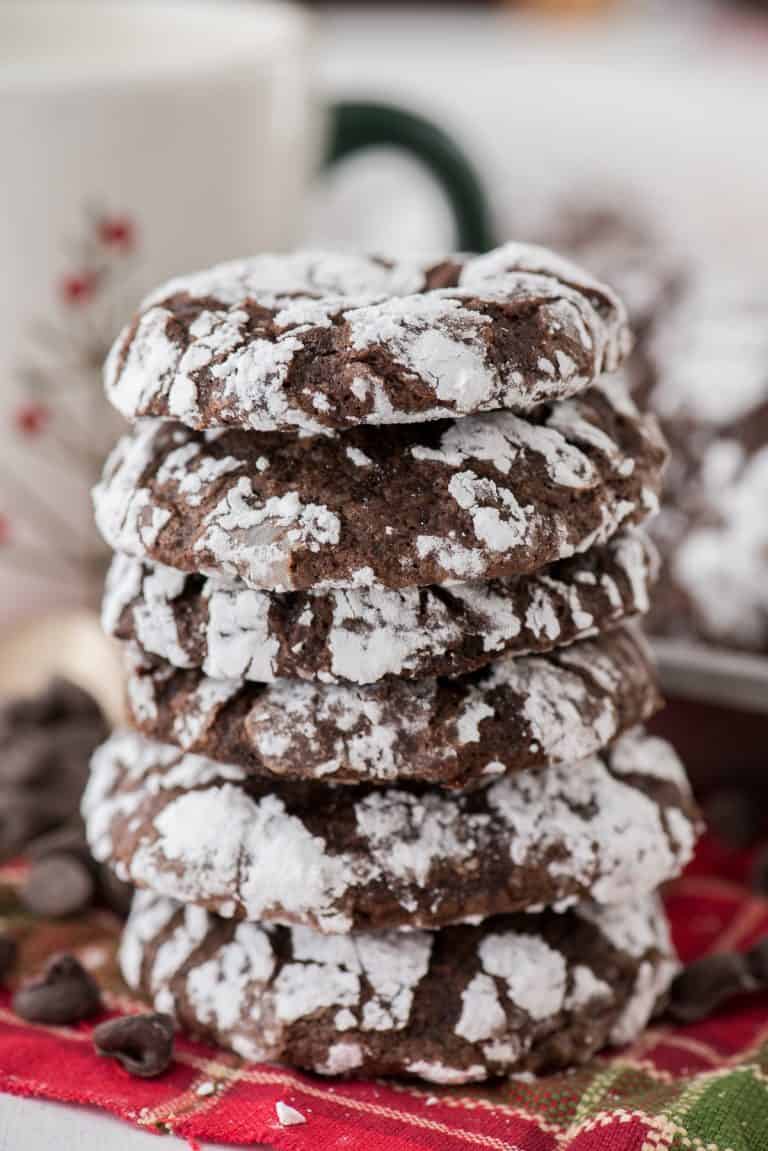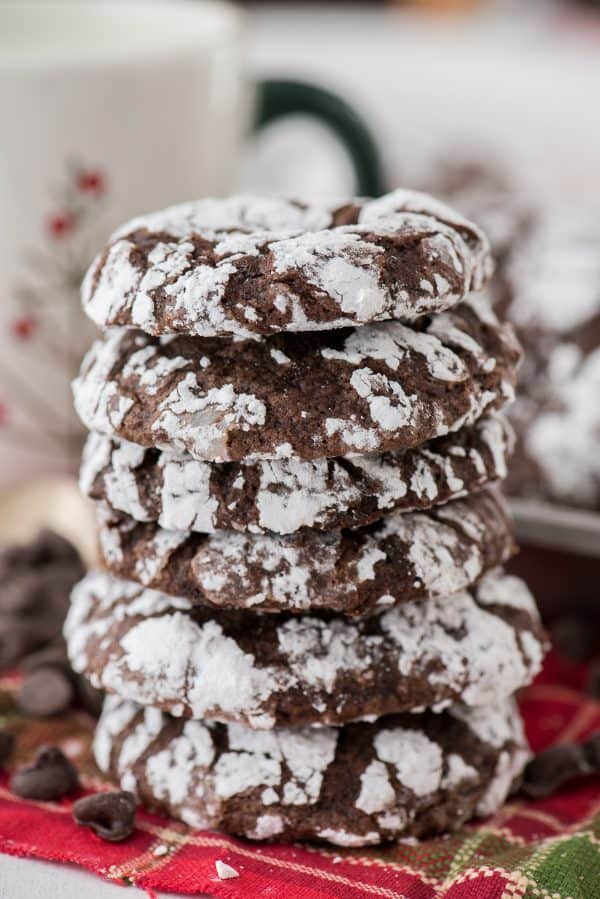 For some reason I was throwing shade at chocolate crinkles because I assumed that since they were rolled in powdered sugar that they would taste similar to russian tea cakes, which looked dry in my opinion.. so I figured that chocolate crinkles were hard too. And who wants a dry christmas cookie?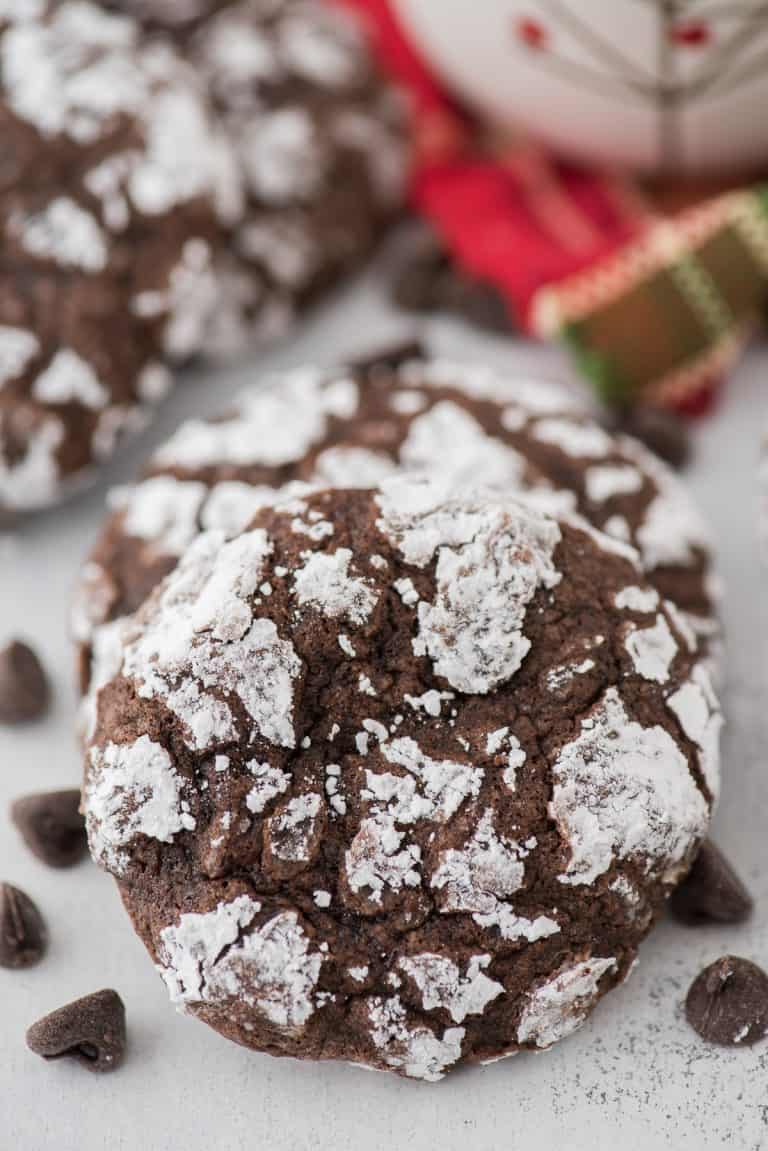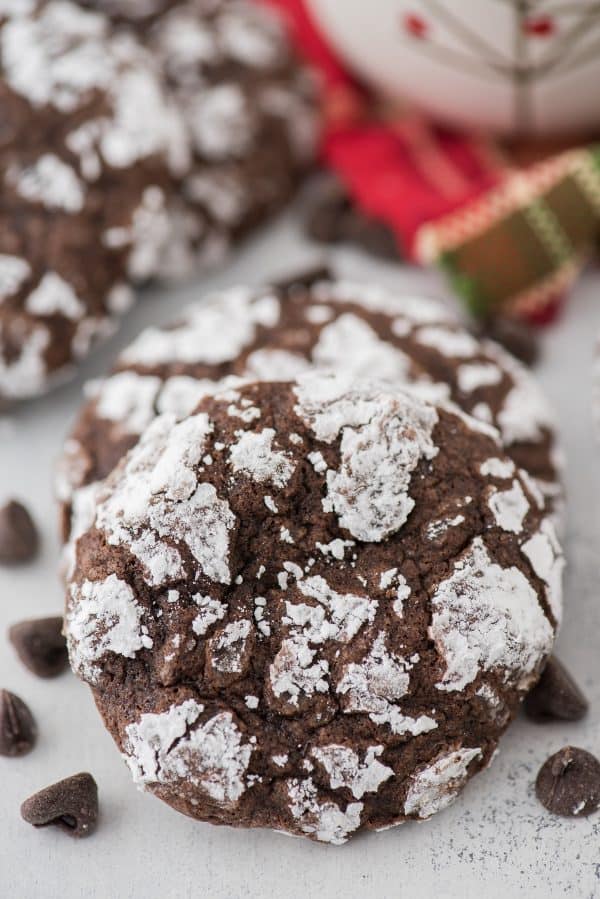 I now know that they are nothing like a tea cake and they are not dry AT ALL! I have been missing out on the FUDGIEST & CHOCOLATIEST cookie of my life.
And when I say fudgiest and chocolatleist, I mean you are going to need a glass of milk or something to consume with these cookies. I am going to admit that I don't like milk and hardly drink it.. unless it's in cereal, so I'll be the weirdo eating these cookies with a glass of water.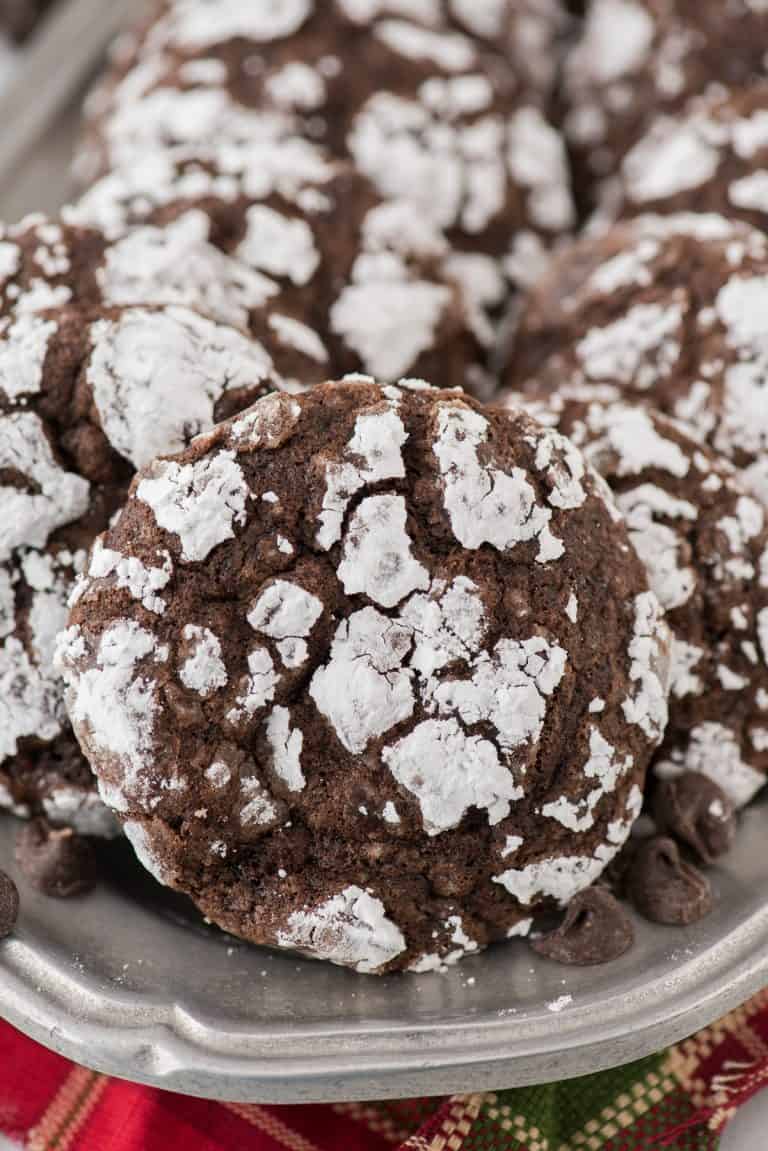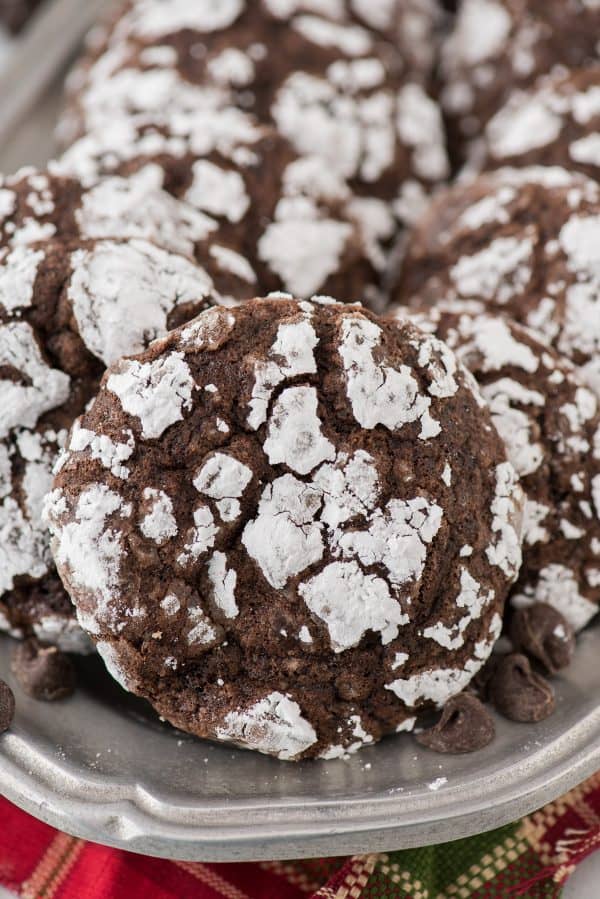 This is a refrigerator cookie. Meaning, you have to refrigerate the dough before you can bake it. And I know.. it's almost like I can hear the groaning because the last thing you want to do when making cookies is halt the process for 2+ hours to chill the dough.
Friends, I know. Even as a baker I don't like recipes that call for chilling. BUT if you know in advance that a recipe needs to be chilled, you can use that down time to make other cookies or watch episodes of Pretty Little Liars. I have a deep obsession.
One tip, the more powdered sugar you use when rolling the dough balls, I think the better the cookies look after they bake! I like to see those crackly tops – it reminds me of ice melting in a pond.
For a step-by-step of how to make this super fudgy brownie recipe, watch this short video: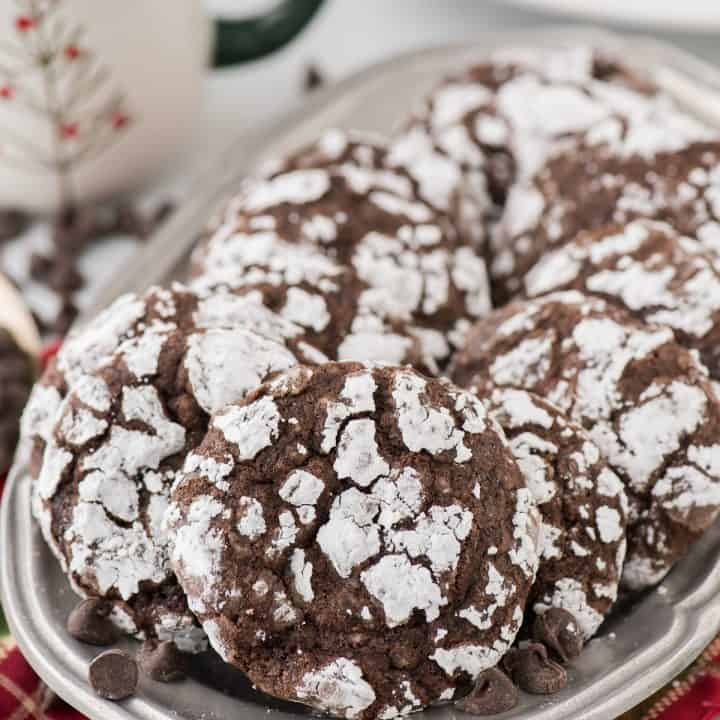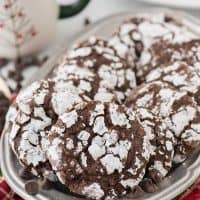 Chocolate Crinkle Cookies
Yield: 2 dozen
Additional Time: 3 hours
Total Time: 3 hours
So many people have asked for this classic christmas cookie - these Chocolate Crinkle Cookies are so chocolatey and fudgy!
Ingredients
1 & 2/3 cup all purpose flour
1/3 cup cocoa powder
2 tsp baking powder
1/2 tsp salt
1 stick butter (1/2 cup)
4 oz unsweetened chocolate
4 eggs
1 & 1/2 cups sugar
Powdered sugar for rolling the cookies (about 1 cup)
Instructions
In small mixing bowl, combine the flour, cocoa powder, baking powder and salt. Set aside.
In a small pot over medium-low heat, melt the butter and unsweetened chocolate. Stir occasionally until melted, remove from heat.
In a large mixing bowl, combine the eggs and sugar, whisk together. Then add the melted chocolate mixture, whisk again. Gradually add the flour mixture to the wet mixture, mixing just until combined. Cover the bowl with plastic wrap and refrigerate the dough for at least 2 hours (you can refrigerate it overnight!).
Preheat the oven to 350ºF. Line a baking sheet with a silicone baking mat or parchment paper. Pour powdered sugar into a bowl (about 1 cup). Using a small cookie scoop, form the dough into balls, then roll each bag in a generous amount of powdered sugar. Place the cookies around 2 inches apart on the prepared baking sheet. Bake for 16-20 minutes and allow the cookies to cool on the pan before removing them since they will be so fudgy. Serve and enjoy!