Oreo Acorn Balls
These Oreo Acorn Balls are SO adorable! Peanut butter oreo balls made to look like acorns!!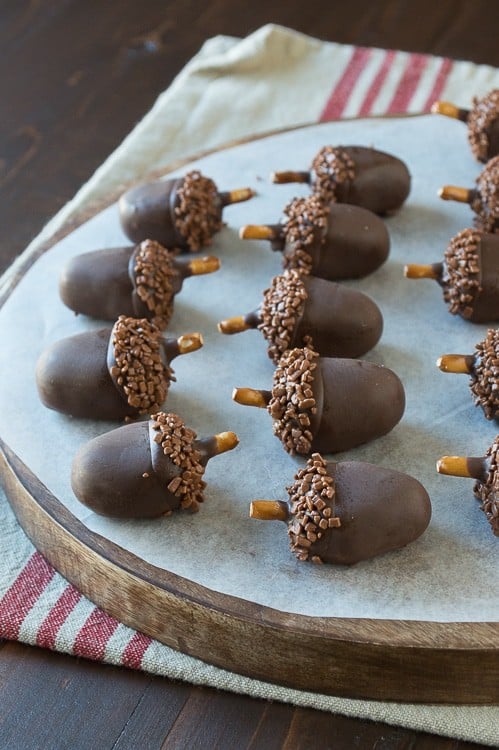 We're not
squirreling
around – it's another acorn treat!!!
We're nuts about acorns. Or maybe we're just nuts for nuts!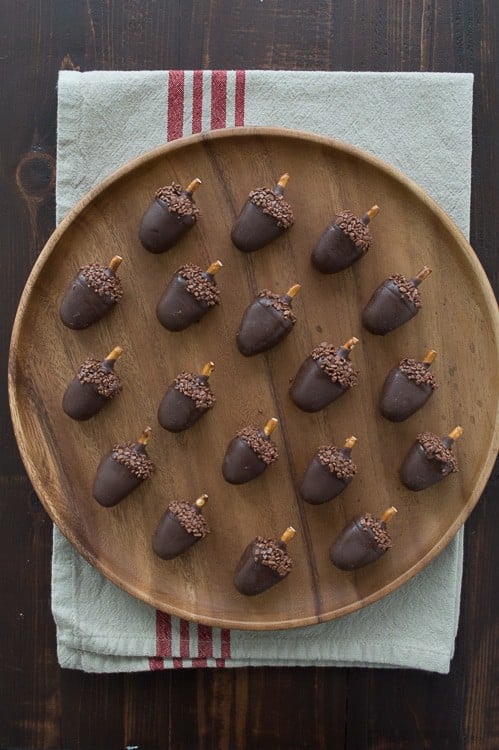 I posted a recipe for maple acorn sugar cookies last week. They are dreamy, and SO cute, and worth all the time they require. But my love for acorns couldn't stop there, so we're back with another acorn treat!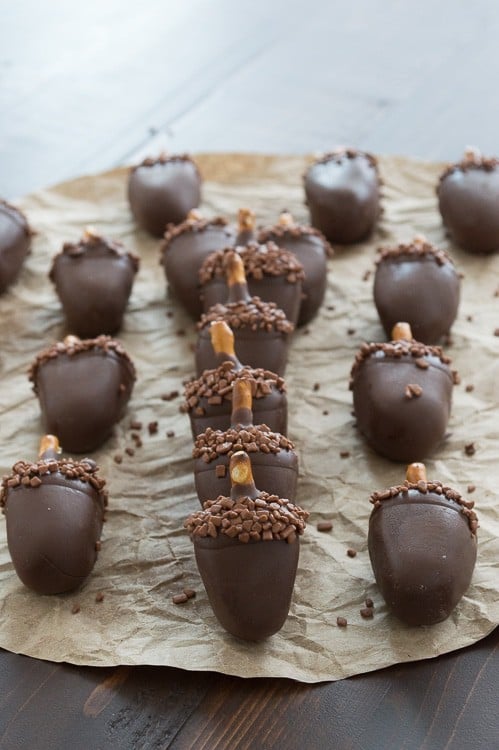 You probably already know that Ryan loves squirrels.
So much so that he subscribed to Wally the Squirrel's youtube channel! If you're confused, Wally is a family's pet squirrel and they post videos of him on his own youtube channel.
Only 11,000 people have subscribed to his youtube channel, but I bet you that all of those people are serious squirrel lovers.
Well this whole time (and I mean in this post and this post) I've been making Ryan out to seem like a crazy person who really like squirrels. But you know what? I really like squirrels too so I should stop making fun of him :)
Adorable Oreo Acorn Balls
And I really like these oreo acorn balls, they are so adorable!
This recipe is a fun twist on the classic oreo ball, which are usually, well balls. So shaping them into acorns makes them extra cute.
I also used peanut butter oreos to make these acorn balls extra nutty, and because squirrels love nuts, so why not, right?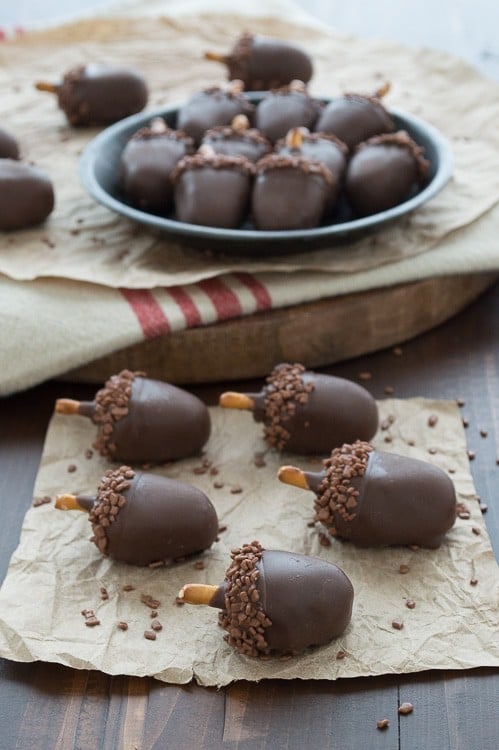 If you've made oreo balls before, you're probably familiar with the process, but if you haven't they are super easy and delicious, I mean, who doesn't like crushed up oreos dipped in chocolate? Especially when these Oreo Acorn Balls look like little acorns!
For a step-by-step of how to make this Oreo Acorn Balls recipe, watch this short video: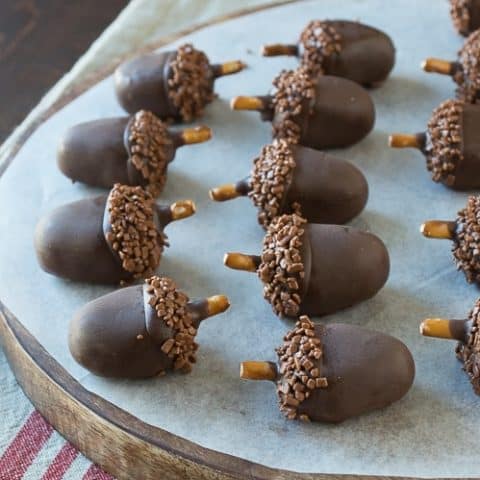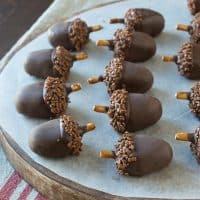 Oreo Acorn Balls
Yield: 30-40 balls
Additional Time: 3 hours
Total Time: 3 hours
These Oreo Acorn Balls are SO adorable! Peanut butter oreo balls made to look like acorns!!
Ingredients
1 package peanut butter oreos 15.25 oz, pulsed in food processor
1 package regular cream cheese 8 oz, softened
chocolate candiquik
1 tbsp crisco, vegetable shortening
Brown sprinkles, I used chocolate flakes but brown jimmies work great too
Pretzel sticks, broken into small pieces
Instructions
Allow the cream cheese to come to room temperature.
Put half of the oreos in the food processor and pulse until you have oreo crumbs. Add the other half of the oreos to the food processor and pulse again, until all the oreos are fine crumbs.
Once the cream cheese is soft, mix the oreos and cream cheese together, making sure the mixture is very well blended.
Use the tablespoon to measure the oreo mixture and form it into acorn shapes. I used a little bit more than 1 tbsp for each acorn. To make an acorn shape, form the mixture into an elongated ball, then pinch one end to make it slightly tapered.
Place the acorns on a baking sheet lined with wax paper and place them in the freezer for 1 hour.
After the acorns are hard, begin to melt the chocolate candiquik with the criso in a double broiler. You will need a double broiler to keep the chocolate warm while dipping all of the acorns. I prefer to remove 3-5 acorns from the freezer at a time for dipping. To dip, place 1 acorn in the saucepan with melted chocolate. Use a spoon to spoon chocolate on top of the acorn, if needed. To remove the acorn use a fork to lift it out of the chocolate. To remove excess chocolate from the acorn on the fork, tap your wrist 2 times with your other hand. Scrape the bottom of the fork on the edge of the saucepan to remove more chocolate, then move the acorn to another baking sheet lined with wax paper using a toothpick to help get the acorn off the fork smoothly.
Continue this process until all of the acorns are dipped. Allow them to harden at room temperature.
To add the chocolate sprinkles, dip the top portion of the acorn into the chocolate then dip that portion into a bowl with chocolate sprinkles.
To add the pretzel, dip one end of the pretzel into the chocolate and press it into place.
Return the acorns to the baking sheet to allow the pretzels to set. After they are set, serve and enjoy! Store leftovers in an container in the refrigerator.
Notes
Brown jimmie sprinkles can be used as well!