Candy Cane Oreo Balls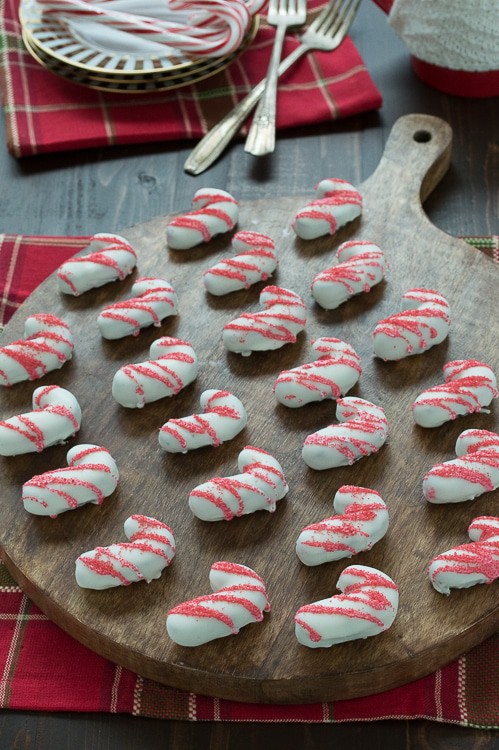 I am so glad I ordered mini cookie cutters. They are coming in handy for all sorts of things. But it seems that as my cookie cutter collection grows, so does my sprinkle collection. I've never really been a sprinkle person. But I've found that I've been slowly buying various colors as I've needed them for different recipes. I even find myself getting upset when the grocery store doesn't have the exact color I'm looking for. Or if they only have brown round sprinkles and I want brown sanding sugar.
It gets worse. For my holiday baking this year, I preemptively bought all sorts of christmas and new years eve sprinkles. Who am I turning into?! The sprinkles now need their own shelf in the cupboard and I don't have that kind of space to give!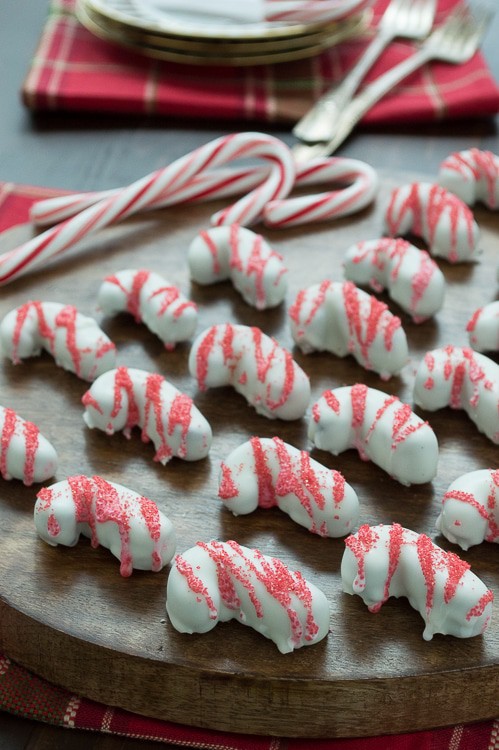 But lucky for everyone, this recipe uses red sugar sprinkles, which was no problem to find at the store. I don't like when I post recipes that use a specific ingredient which took me 3 trips to different grocery stores to find. It's no fun for you guys if you can't find the ingredients to make my recipes. So you need red sugar, you'll be able to find it :)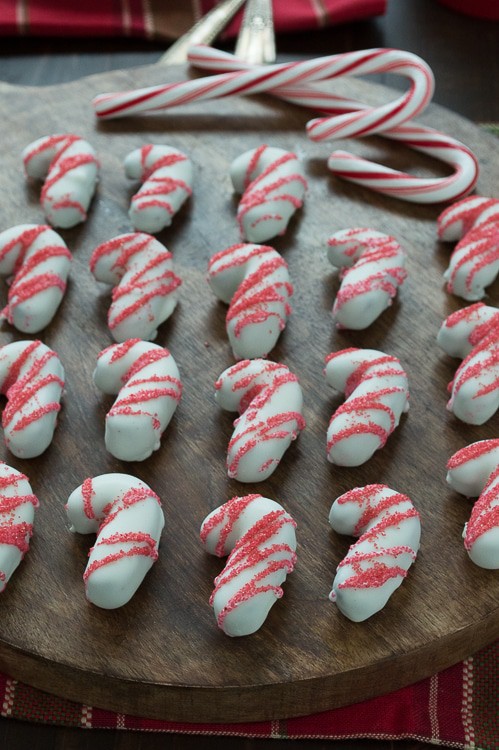 Living in a different state from my family means we get to face time when we want to 'hang out'. I must say I love face time, it was a terrific invention. My family in Minnesota was getting together to celebrate my sister's birthday, so they had me on face time on one phone and my brother, who lives in Wisconsin, on face time on another phone. I call it double face time, and it's great because then I can see and hear my brother too, and it feels like we're all together!
My family happened to face time me when I was in the middle of making this recipe. I already had my chocolate melting over a double broiler and I was knee deep in oreo crumbs, so I propped the phone against the wall and no one seemed to notice for a few minutes what I was doing. Then all of a sudden they were asking "What are you doing Beth?!" I showed them what I was doing and I even gave them a short lesson on making oreo balls.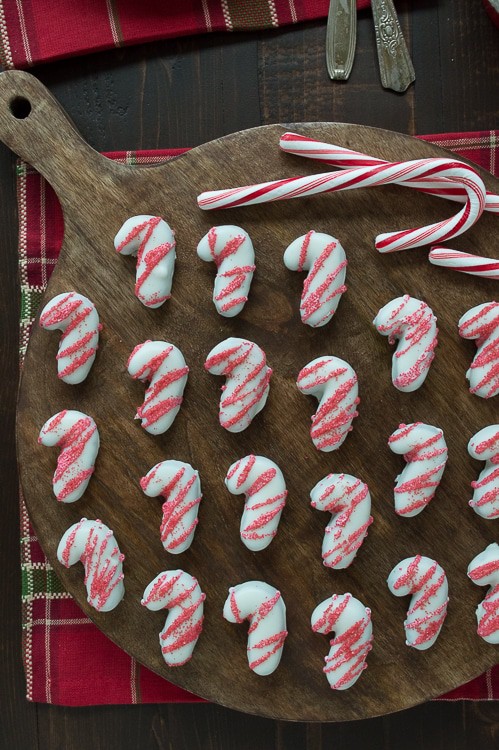 Do you know how to properly make and dip oreo balls? I sure hope so, otherwise we might have to face time :)
Okay, there probably isn't a wrong way to make oreo balls and dip them in chocolate, but there are some helpful tips that can make the process easier. It may be helpful to read the entire recipe before you begin making your oreo balls, we packed in lots of helpful tips.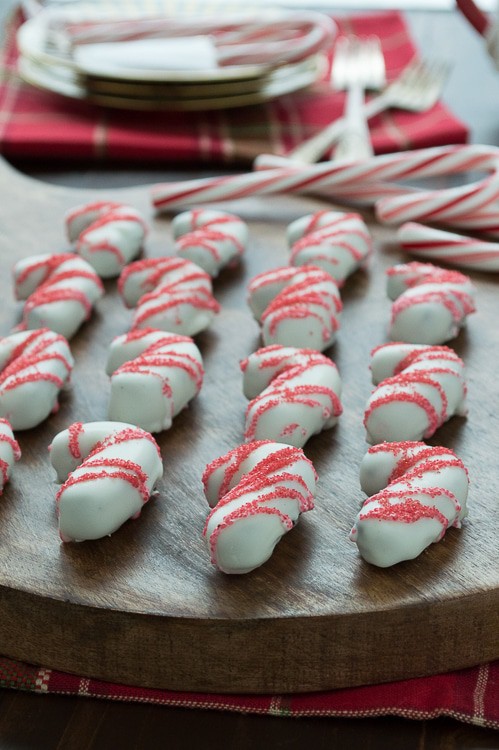 Well fam, what do you think.. did they turn out okay? :) These may just become my go-to christmas "cookie"!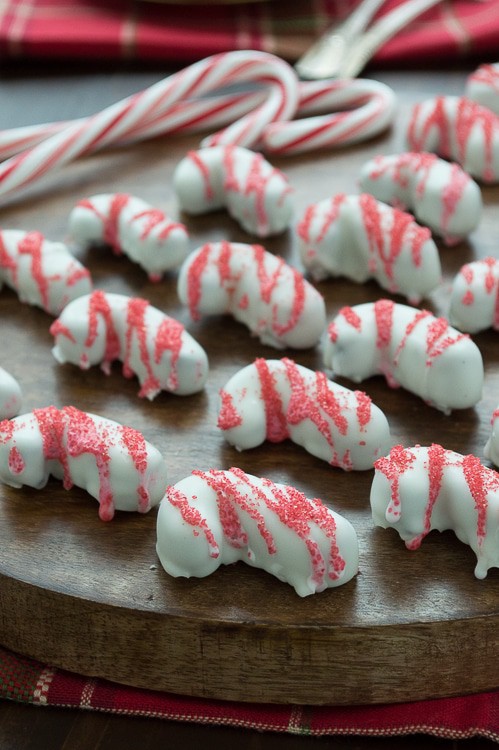 Candy Cane Oreo Balls
Yield: 30-40 oreo balls
Total Time: 2 hours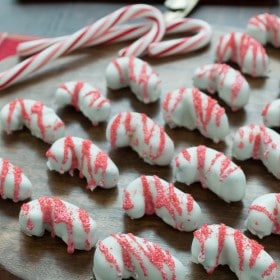 Ingredients:
1 package oreos (any flavor you want), pulsed in food processor
1 package regular cream cheese, softened
1 package white chocolate candiquik
1 tbsp crisco
red sprinkles
white royal icing: 2 cups powdered sugar, 1 tbsp meringue powder, 2.5 tbsp water
Directions:
Allow the cream cheese to come to room temperature.
Put half of the oreos in the food processor and pulse until you have oreo crumbs. Add the other half of the oreos to the food processor and pulse again, until all the oreos are fine crumbs.
Once the cream cheese is soft, mix the oreos and cream cheese together, making sure the mixture is very well blended.
Line a baking sheet with wax paper or plastic wrap, and press the dough mixture evenly around the pan, creating a uniform thickness. Use a mini candy cane cookie cutter to cut out candy cane oreo balls. Repeat this process with the leftover oreo mixture until it's gone.
Place the candy canes on another baking sheet lined with wax paper and place them in the freezer for 1 hour.
After the candy canes are hard, begin to melt the white chocolate candiquik and crisco in a double broiler. You will need a double broiler to keep the chocolate warm while dipping all of the candy canes. There isn't a specific temperature to put the stove at, your saucepan with the chocolate in it just needs to be warm enough to melt the chocolate without scalding it. It might take 8-10 for the saucepan to warm and the chocolate to melt completely.
I prefer to remove 2 candy canes from the freezer at a time for dipping. To dip, place 1 candy cane in the saucepan with melted white chocolate. Use a spoon to spoon white chocolate on top of the candy cane, if needed. To remove the candy cane, use a fork to lift it out of the white chocolate. To remove excess chocolate from the candy cane on the fork, tap your wrist 2 times with your other hand. Scrape the bottom of the fork on the edge of the saucepan to remove more chocolate, then move the candy cane to a cooling rack sprayed with non-stick cooking spray. I like to place my oreo balls on a cooling rack so the chocolate doesn't pool at the bottom of them, it will drip down instead, creating a nice shape. Spraying your cooling rack with non-stick spray is important. Re-spray as needed, you don't want your oreo balls sticking to the rack. Use a toothpick to help get the candy cane off the fork and onto the rack smoothly.
Continue this process until all of the candy canes are dipped. Allow them to harden at room temperature.
Once the candy canes are cooled and the chocolate has set completely, drizzle white royal icing in a zig-zag pattern across the candy canes and shake red sugar sprinkles over them. I like to drizzle a few at a time and then add the sprinkles. Shake the excess sprinkles off after they set for a minute. Continue this process until all of the candy canes are decorated.
Enjoy!
To make the royal icing: Combine the powdered sugar, meringue powder, and water in a mixing bowl and mix until the icing has a matte appearance, about 7-10 minutes. You will need to add more water to get the right consistency. Continuing adding 1/2 tsp of water until the icing runs off the back of a spoon. You want the royal icing to be drizzling consistency. Transfer to a squeeze bottle or ziploc bag with one corner cut off.
Products used to make this recipe
(may include affiliate links)