Candy Cane Oreo Balls
These are the best Christmas candy cane oreo balls!! Make candy cane shaped oreo balls using a cookie cutter or shape them by hand! Candy cane oreo truffles are the best no bake holiday treat!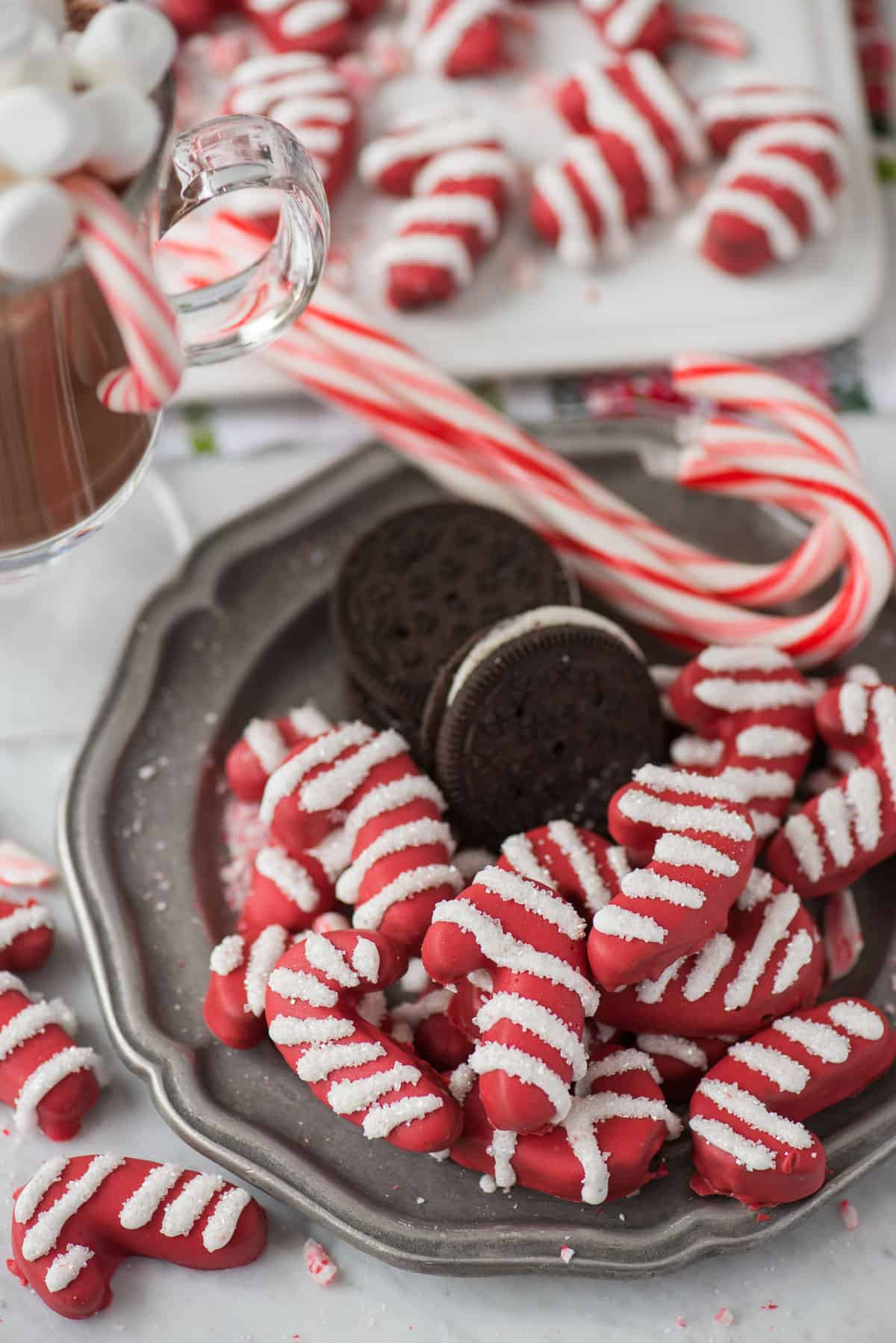 I am so glad I ordered mini cookie cutters. They are coming in handy for all sorts of things.
But it seems that as my cookie cutter collection grows, so does my sprinkle collection.
I've never really been a sprinkle person. But I've found that I've been slowly buying various colors as I've needed them for different recipes. I even find myself getting upset when the grocery store doesn't have the exact color I'm looking for. Or if they only have brown round sprinkles and I want brown sanding sugar.
Just the other day I had to explain the difference between jimmie sprinkles (the long skinny ones) versus nonparpeils (the ball ones) versus sanding sugar to Ryan.
Apparently being a dessert blogger turns you into a sprinkle expert!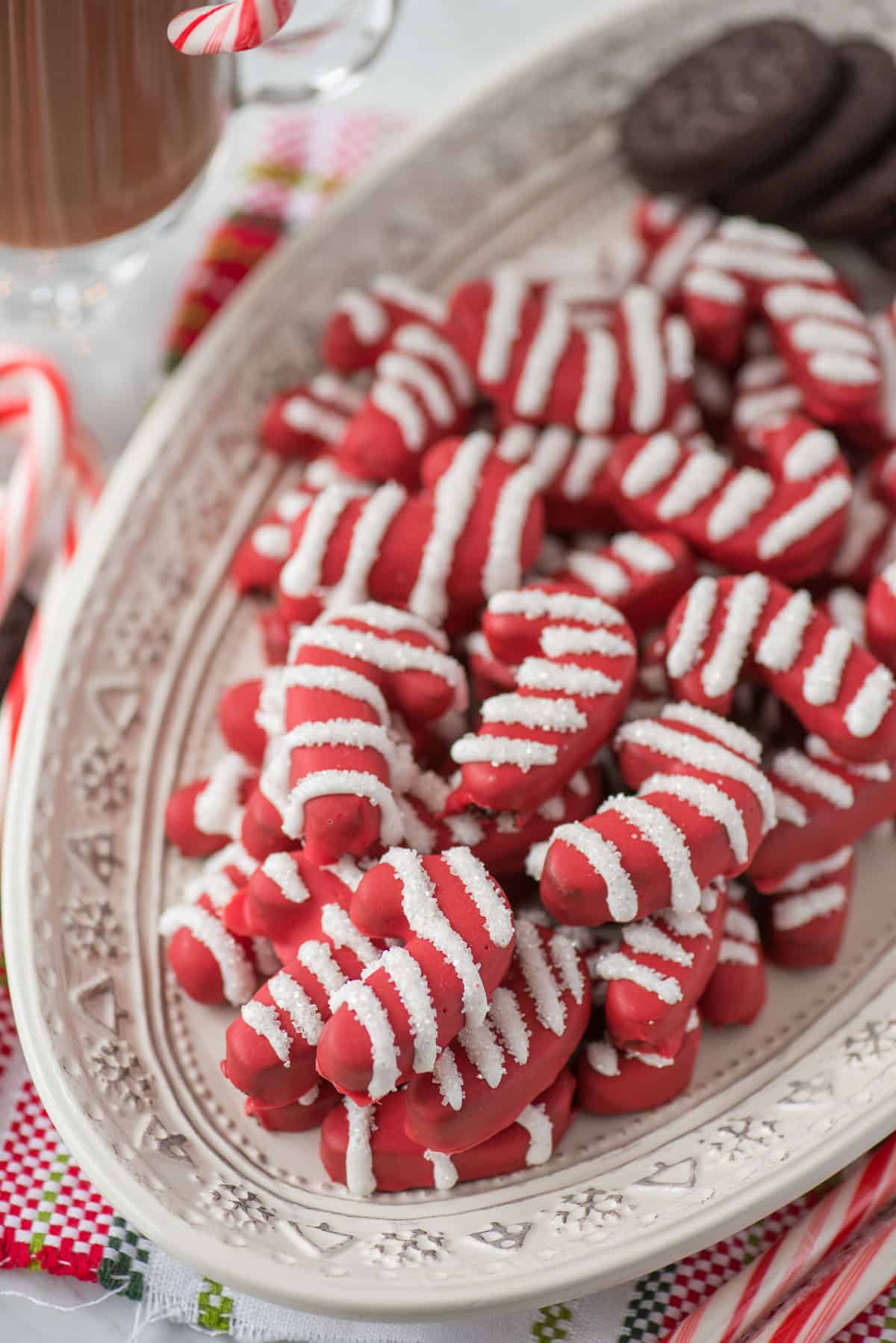 Did you know that you can make an oreo ball into ANY shape?! That's where the mini cutter cookies or regular sizes cookie cutters come in handy!
Instead of rolling the mixture into a ball, press the mixture onto a baking sheet and use a cookie cutter to cut out the shape!
Tools for making oreo balls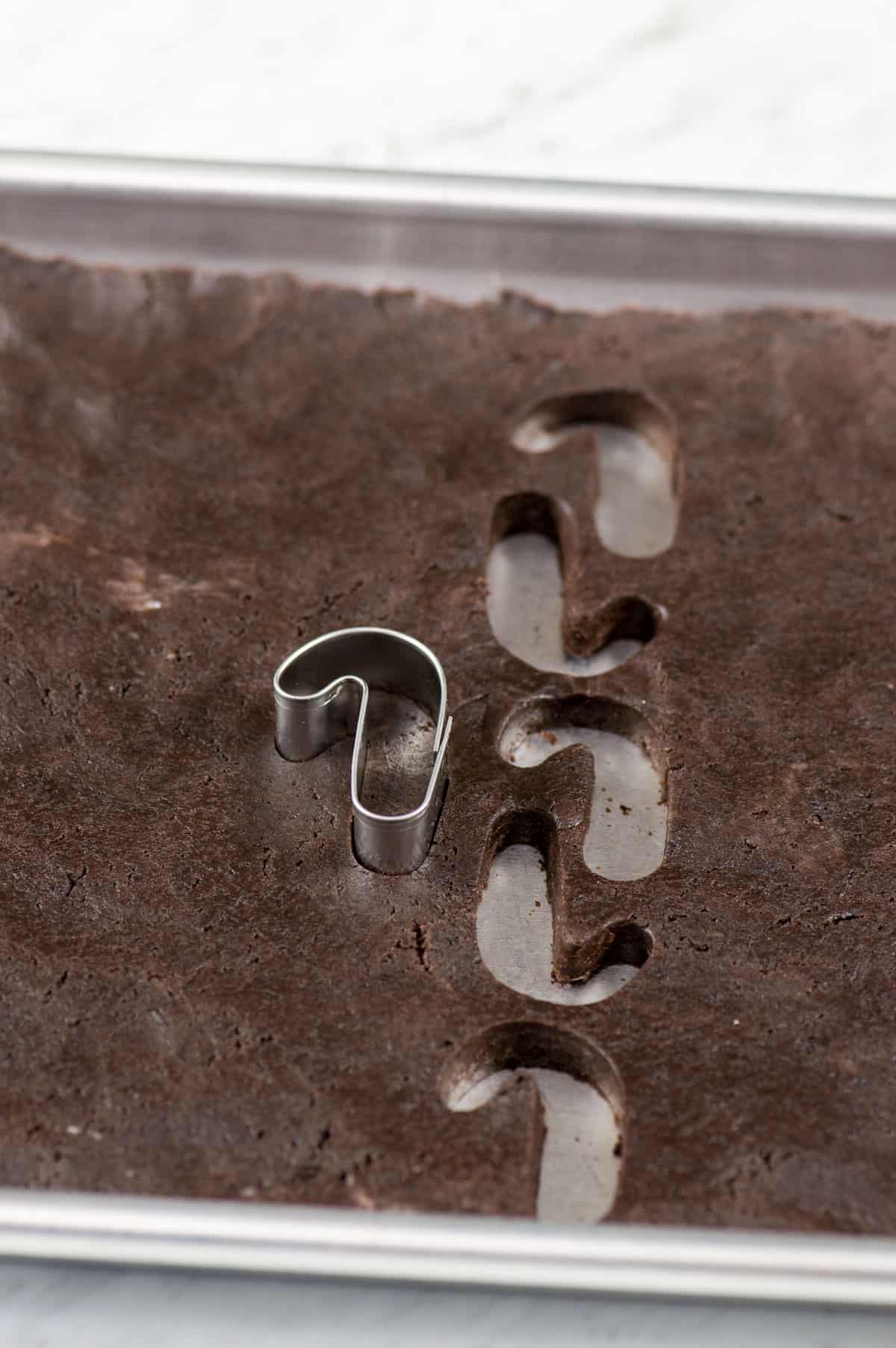 Where can I buy a mini candy cane cookie cutter?
Here is a set from Amazon that includes a mini candy cane!
What to use to coat oreo balls with?
I like to use almond bark or candy melts. If I am doing chocolate covered oreo balls I will use either chocolate or vanilla almond bark. If I want them covered in a specific color, use Wilton Candy Melts!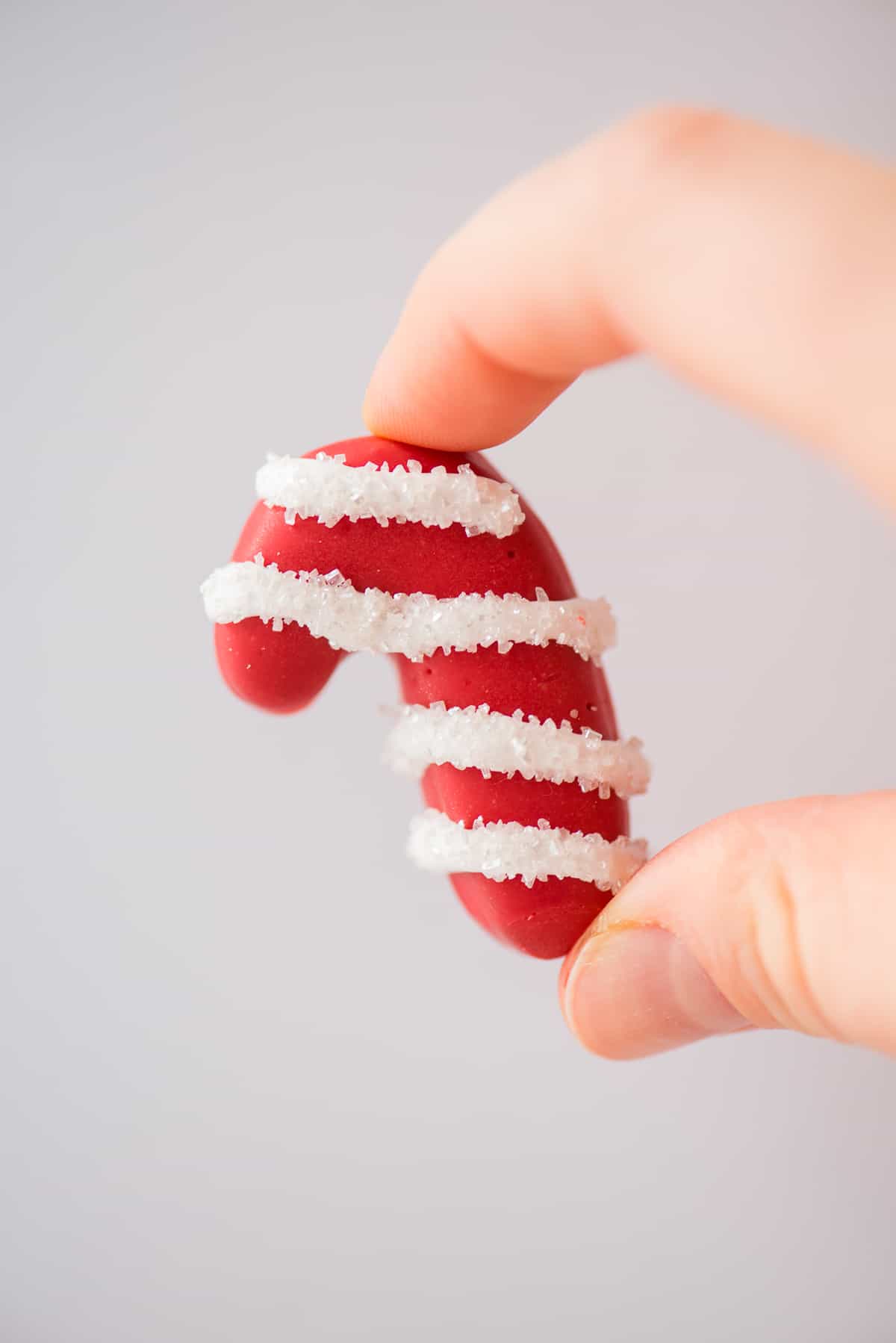 How long will oreo balls keep in the fridge
Place oreo balls in an airtight container for up to 1 week. Need them to last longer? Read the next point about freezing them!
Can oreo balls be frozen?
Yes! Oreo balls freeze well. Here's my pro tip: Place 5-6 oreo balls in a row, and wrap in plastic wrap then place them in an airtight ziploc bag for up to 3 months. Note: Be aware that the temperature change from the freeze to fridge (when thawing) may cause some of the chocolate coating to crack.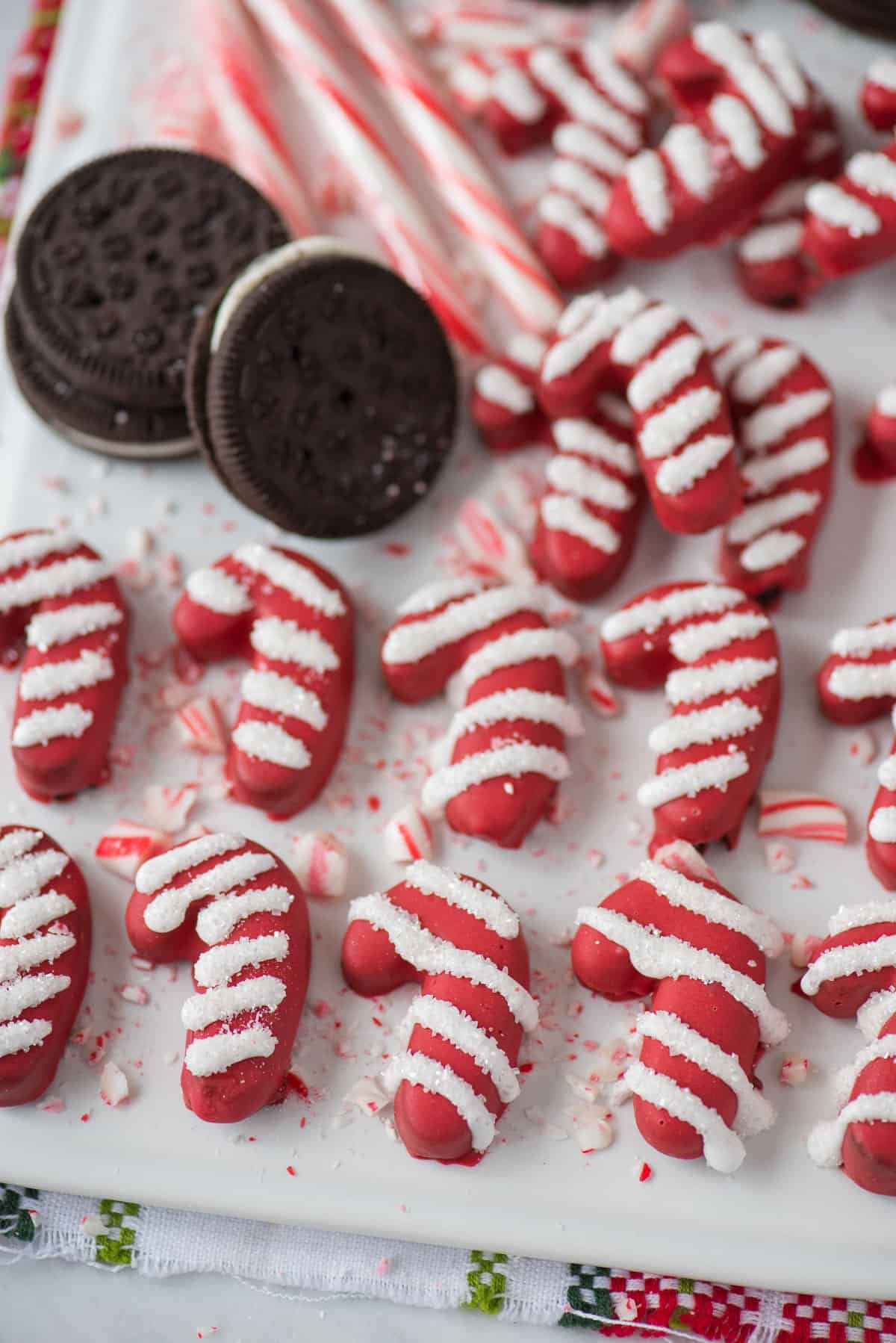 How to make oreo balls without cream cheese
I've heard you can substitute coffee creamer for the cream cheese! Just use enough creamer until the mixture sticks together. Plus, that way you can flavor the oreo balls!
Or I've also heard that you can use sweetened condensed milk in place of the cream cheese. Use just enough until the mixture sticks together.
Do oreo balls need to be refrigerated?
Oreo balls should be kept in the fridge until you serve them. Plus, most people think oreo balls taste best when cold. However, oreo balls can be left at room temperature. According to the FDA, cream cheese can be left out at room temperature for up to 2 hours.
I hope all that information on how to make oreo balls is helpful!
More Christmas Desserts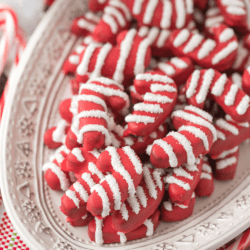 Candy Cane Oreo Balls
These are the best Christmas candy cane oreo balls!! Make candy cane shaped oreo balls using a cookie cutter or shape them by hand! Oreo truffles are the best no bake holiday treat!
Ingredients
1

package

oreos

,

14.3 oz

1

package

cream cheese

,

8 oz, room temperature

1

bag

red candy melts

,

plus vegetable shortening or oil for melting
Small batch royal icing
1

cup

powdered sugar

½

tbsp

meringue powder

1 ½

tbsp

water

,

(plus more as needed)
Instructions
Put the whole package of oreos into a blender and pulse until you have fine oreo crumbs.

Transfer the crumbs to a mixing bowl, add in the softened cream cheese and mix with an electric mixer until well combined. The mixture will stick together when it's all combined.

Press the oreo mixture evenly onto a small baking sheet. I used a quarter sheet pan which is 12.75 x 8.75. Freeze the baking sheet for 15 minutes.

Remove from the freezer. Use your cookie cutter to press into the the mixture, wiggling it slightly, then removing the cookie cutter. Use your fingers to remove the oroe mixture from the inside of the cookie cutter. Set the candy canes on another small baking sheet. Repeat until all the oreo mixture is used up.

Freeze the candy canes for 10 minutes.

Get out a larger baking sheet and line it with a silicone baking mat or parchment paper. Set aside until dipping.

Meanwhile, melt 1 bag of red candy melts over low heat. If the candy melts seem too thick, add a tablespoon of vegetable shortening or vegetable oil.

Remove a few candy canes at a time from the freezer. I don't recommend removing them all from the freezer at one time.

Drop a candy cane into the chocolate, coating it as needed, remove from the chocolate with a fork, tapping the excess chocolate off. Use a toothpick to scoot the candy cane off the fork onto the silicone lined baking sheet. Repeat until all the candy canes have been dipped.

Place the baking sheet in the fridge to help set the chocolate.

Once the red chocolate is set (and hard to the touch) make the royal icing.

In a small mixing bowl, combine the powdered sugar, meringue power, water and beat using an electric mixer for 5-7 minutes. If the mixture is too thick, add 1 tsp of water at a time until you get your desired consistency.

Sprinkle white sanding sugar over the stripes. Allow the royal icing to set (either at room temperature or in the fridge). Once it's set, tap off the excess sprinkles.

Transfer the candy canes to a platter and serve! It is recommended to keep oreo balls refrigerated, so keep them in the fridge until serving!
Calories:
200
kcal
,
Carbohydrates:
26
g
,
Protein:
2
g
,
Fat:
10
g
,
Saturated Fat:
5
g
,
Polyunsaturated Fat:
1
g
,
Monounsaturated Fat:
3
g
,
Trans Fat:
1
g
,
Cholesterol:
12
mg
,
Sodium:
148
mg
,
Potassium:
66
mg
,
Fiber:
1
g
,
Sugar:
19
g
,
Vitamin A:
152
IU
,
Calcium:
16
mg
,
Iron:
2
mg