Want our top 10 essential dessert recipes?
Get our favorite classic recipes in your inbox! It's 100% free, but we might make you hungry!
Church Windows
Church Windows! A classic no bake christmas cookie made with mini marshmallows, chocolate, walnuts and shredded coconut – these church window cookies are a family favorite!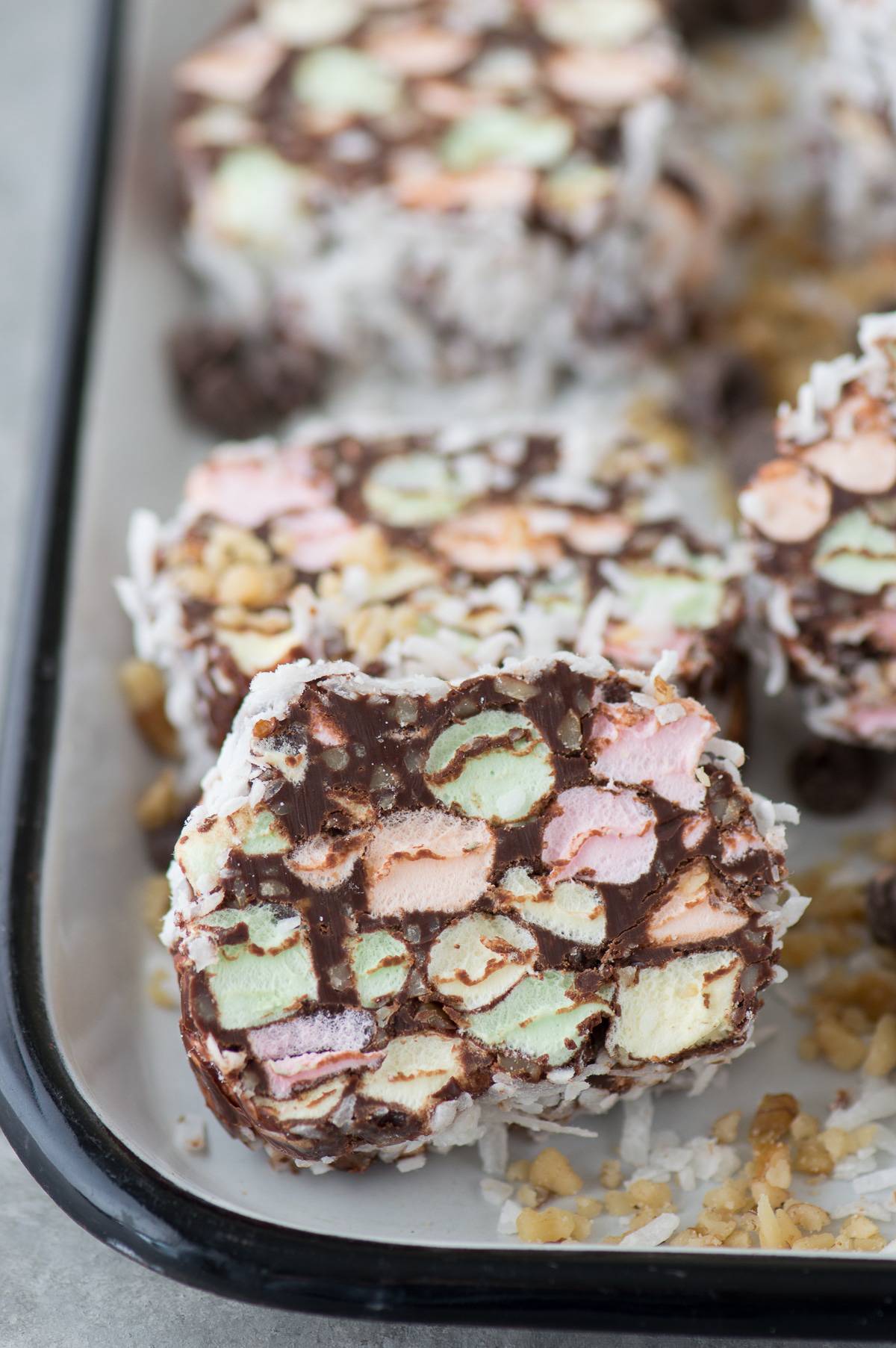 Everyone has that cookie that they grew up making and eating during the holidays.
This one is Ryan's favorite from his childhood!
And I assumed that this was a pretty common 'cookie'. But I shared these with 3 different groups of friends and no one had any idea what they were! Are these like a Minnesota thing? Haha.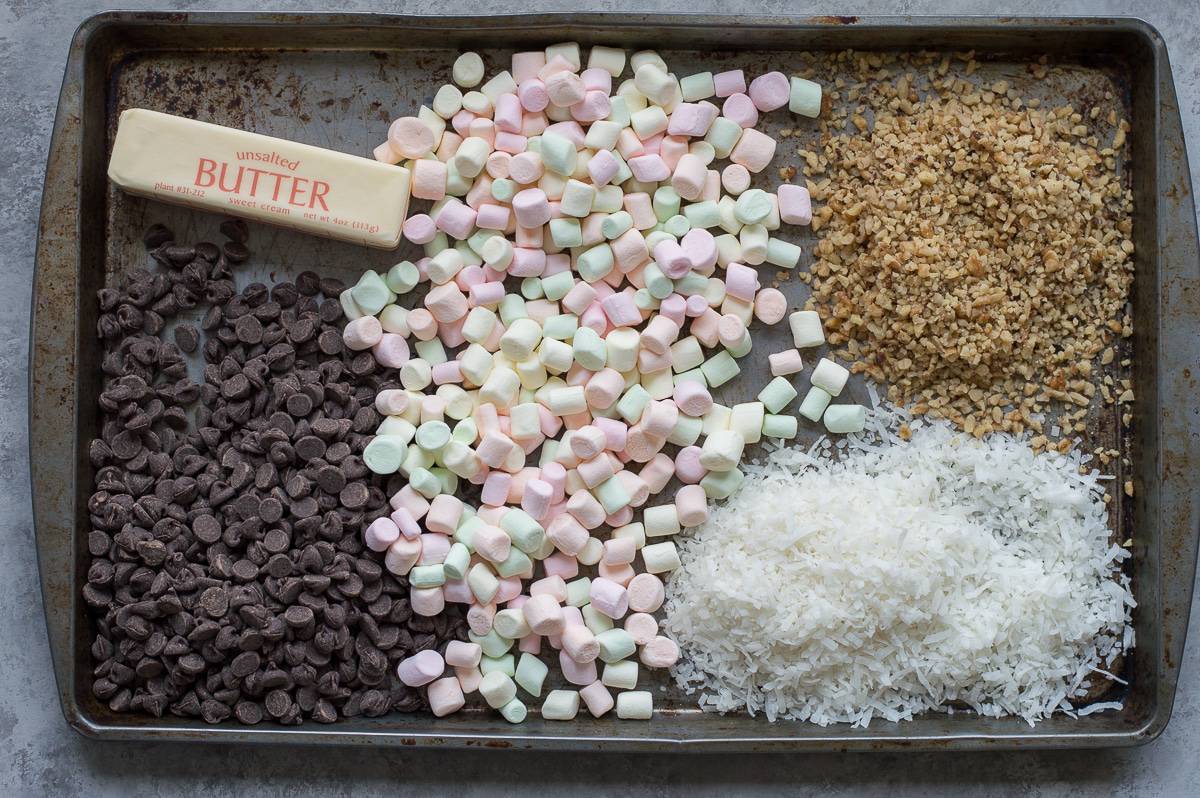 Church windows are a no bake cookie made with mini colored marshmallows, chocolate chips, walnuts and shredded coconut.
There are variations of this cookie, and feel free to make substitutions because there's no reason to skip this easy christmas recipe!
You could use pecans or almonds in place of the walnuts.
You could omit the shredded coconut or I've heard of people dusting the log of church windows in powdered sugar.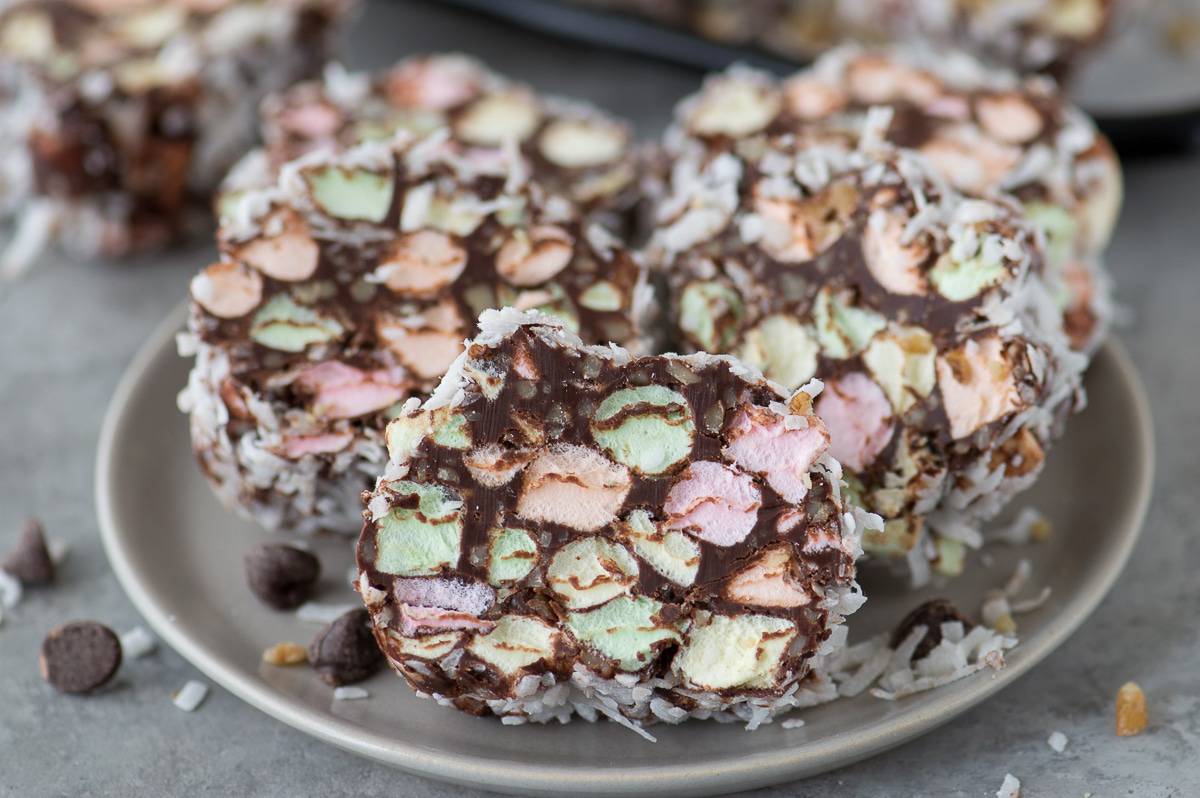 You could add peanut butter to the melted chocolate, or peppermint extract, etc.
You could use regular mini marshmallows (instead of the colored "fruity" ones) or you could use any type of marshmallows (I hear they have awesome flavors like gingerbread and peppermint) and cut the large marshmallows into smaller pieces.
If there's a will there's a way! Make these exactly how you want.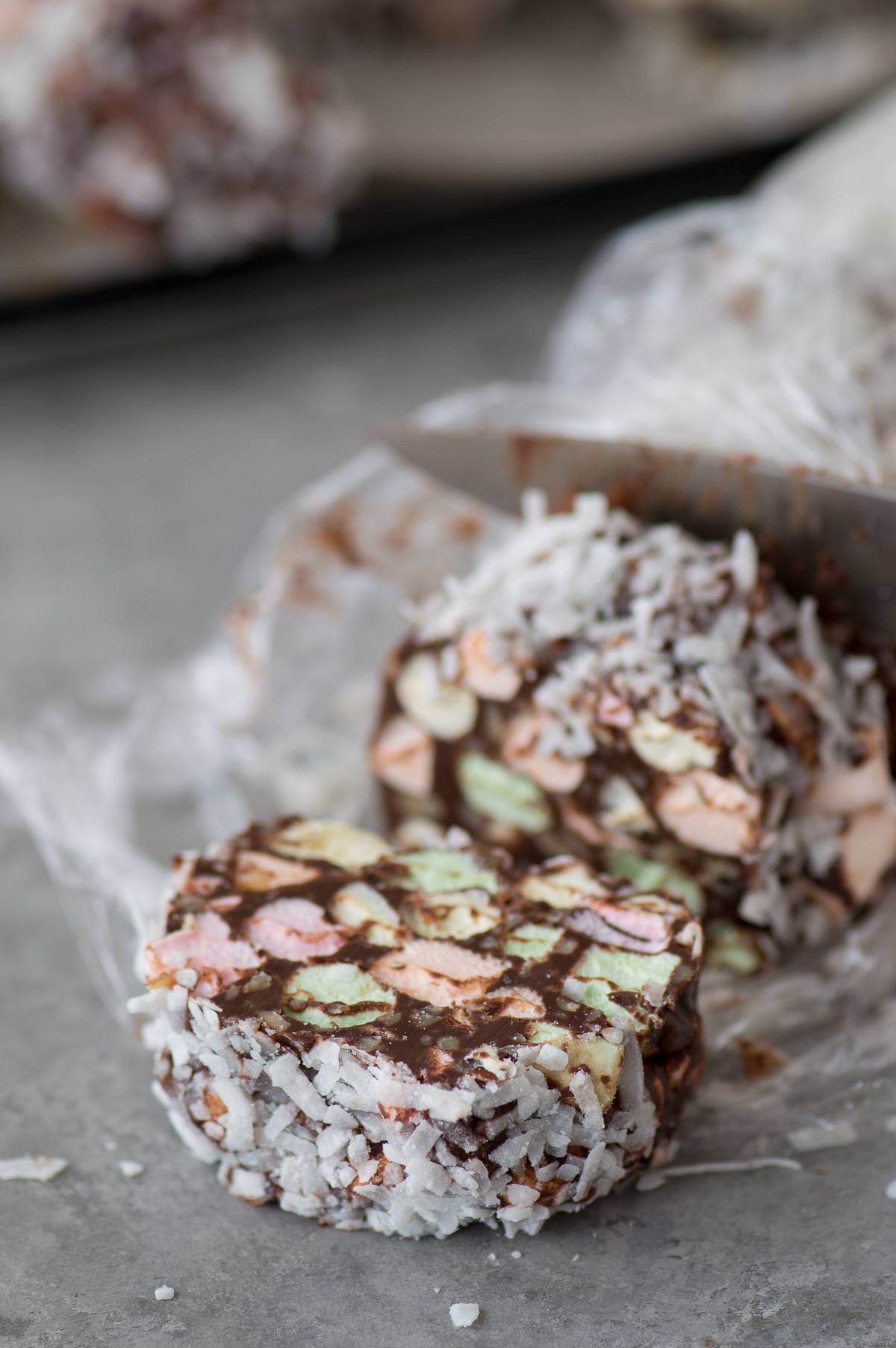 I'm pretty sure I'll make another version of these church windows because I can't help but take a classic recipe and give it an updated twist!
A single recipe will make 2 logs – you'll want to divide the chocolate-y marshmallow mixture in half because it makes rolling them into logs easier. See our quick 40 second video for a demonstration!
These cookies keep very well. I wrapped both logs in plastic wrap, the first log disappeared fast and the second log stayed wrapped in the fridge for 4 days before we cut into them. Just cut off the ends and slice the log into 1/2 inch rounds. The cookies don't stay as fresh for multiple days if you slice them and keep them in the fridge because the marshmallows get hard. But for a day or two they should be fine!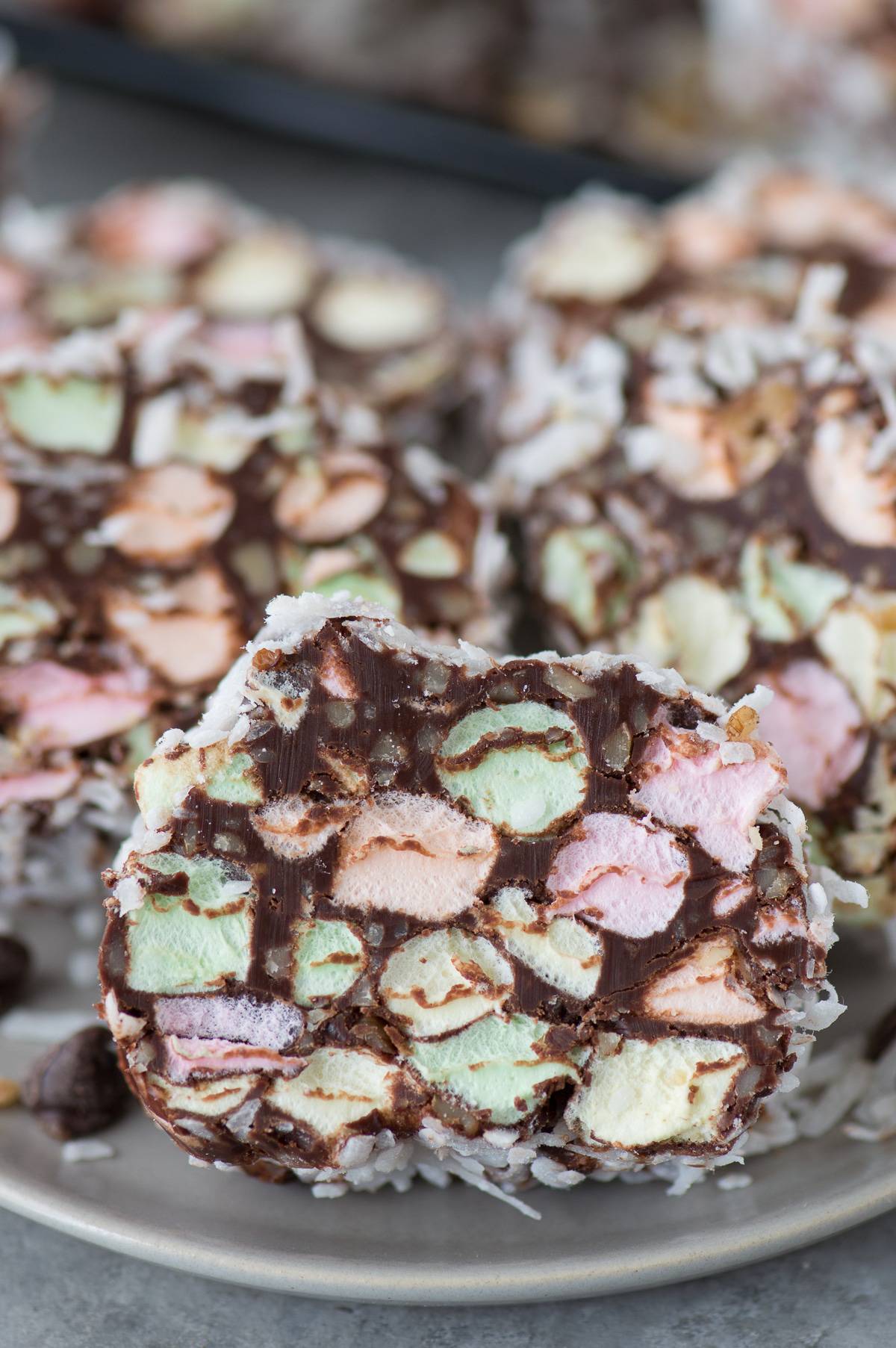 For a step-by-step of how to make this church window recipe, watch this short video:
Church Windows
Yield: 24+ church windows
Total Time:1 hour
Church Windows! A classic no bake christmas cookie made with mini marshmallows, chocolate, walnuts and shredded coconut - these church window cookies are a family favorite!
Ingredients:
1 stick butter, 1/2 cup
12 oz (2 cups) semi-sweet chocolate chips
1 cup finely diced walnuts
1 & 1/2 cup shredded coconut
1 bag mini multi colored marshmallows, 10 oz
Directions:
In a small pot melt the butter and chocolate chips, stirring occasionally until smooth and melted. Allow the chocolate to cool for 7-10 minutes before moving forward.
While the chocolate is cooling, prepare your 'rolling' station. Lay 2 pieces of long plastic wrap on a flat surface. Sprinkle each piece with a generous amount of shredded coconut, but reserve some.
Add the finely diced walnuts to the chocolate and mix to combine.
Dump the mini marshmallows into a large mixing bowl. Pour the cooled chocolate over the marshmallows and mix well to combine.
Place half of the marshmallow mixture in a log shape on one piece of plastic wrap (on top of the coconut) and place the other half of the mixture on the second piece of plastic wrap.
Sprinkle more coconut on top of the marshmallow mixture. Use the plastic wrap to roll the mixture into a uniform log shape, wrapping it tightly. Repeat with the second log.
Place the logs in the refrigerator for at least 1 hour, longer is great. Use a knife to cut the logs into slices.
Products used to make this recipe
(may include affiliate links)