Maple Acorn Cookies
Maple flavored sugar cookies – these acorn cookies are so adorable!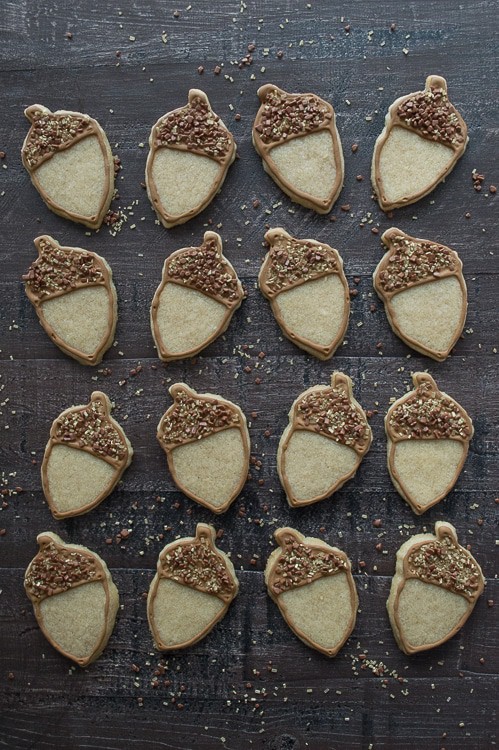 I love making quick and easy dessert recipes.
If you're looking for just that, a quick and easy dessert recipe, well, this is not it. Haha. 100% truth today.
But if you are looking to make the cutest cookies ever that are packed with lots of homemade love, I think this is the recipe you want.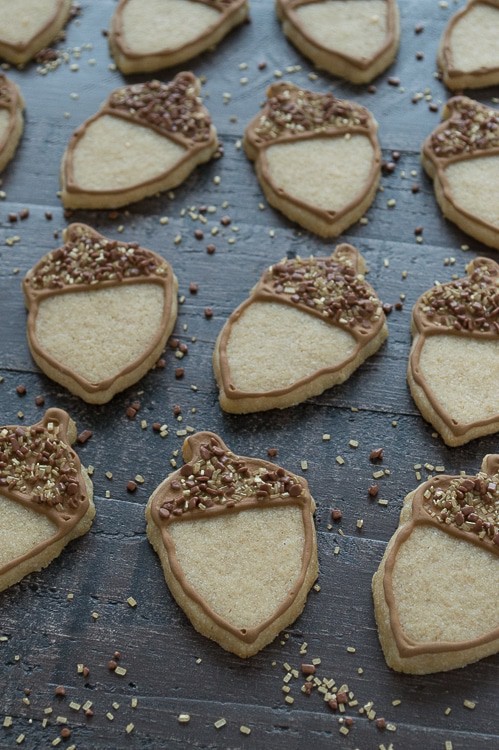 I mentioned in this post that Ryan loves squirrels.
He was hoarding all of the peanuts in our house so he could feed them to the squirrels. Talk about love. So when I bought an acorn cookie cutter, Ryan was way more excited about it then I was. The acorn cookie cutter made it's first appearance in this recipe, but sat in the drawer ever since. So I thought it was time to use it again. Mainly because I love making things for Ryan, especially if it involves squirrels because he turns into a middle school girl and squeals! I didn't just share that, oops!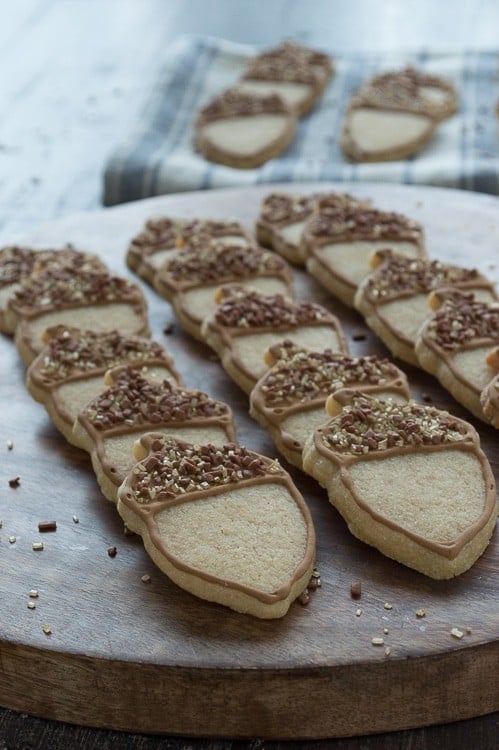 These are the cutest cookies that have ever came out of my kitchen and I hope you get a chance to enjoy them. But let's discuss the details you should know before you begin.
1. No matter how much time they take, they are super adorable :)
2. This recipe requires that you refrigerate the dough over night before using. It also requires 30 minutes of freezing to help the cookies keep their shape.
3. You may want to call up some friends to help you decorate the acorns. That was my biggest mistake. I thought it was going to be easy to outline the cookies in royal icing and then flood the top portion so I could add the sprinkles. This would be a great recipe to use for a holiday baking party, where you can divide the work among several people.
Wheww. This recipe doesn't seem that overwhelming any more after laying out the details. I thought these little cuties would be the last sugar cookies with royal icing to appear in my kitchen for a while, but now I'm thinking hey, that was fun and those were SO cute, I should make some more!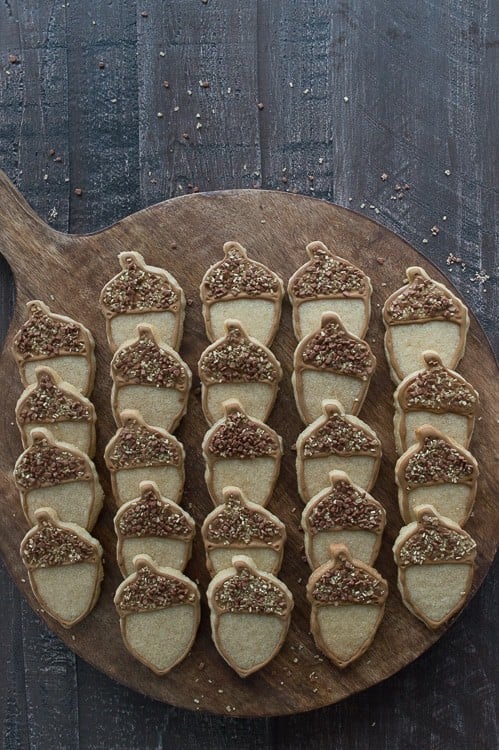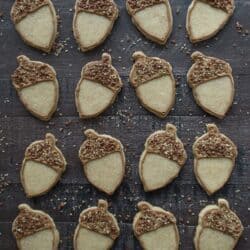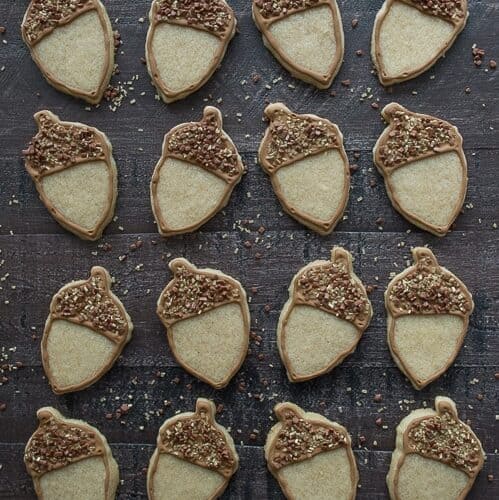 Maple Acorn Cookies
Maple flavored sugar cookies – these acorn cookies are so adorable! I love having fun with decorations.
Ingredients
Cookies
3

cups

all purpose flour

,

plus more for rolling

½

tsp

salt

2

sticks

unsalted butter

,

1 cup

½

cup

granulated sugar

½

cup

light-brown sugar

1

large

egg yolk

¾

cup

maple syrup

Vegetable oil cooking spray
Royal Icing
4

cups

powdered sugar

2

tbsp

meringue powder

5

tbsp

water

brown food coloring

Sprinkles

,

I used a mix of glitter gold and milk chocolate flakes
Instructions
Cookies
On the first day, combine the sifted flour and salt in a small bowl.

In a mixing bowl, beat together the butter, sugar, and brown sugar on medium-high speed until creamy, about 3 minutes.

Reduce the speed to medium-low, add in the yolk, beat again.

Then add in the maple syrup and beat again.

Add the flour to the mixture and beat until just incorporated.

Form the dough into 2 flat-ish balls and wrap each in plastic wrap and refrigerate over night.

On the second day, preheat the oven to 325 degrees F.

Using 1 dough ball at a time, roll the dough on a sheet of parchment paper sprinkled with flour. Roll to 1/4 inch thickness. Place the parchment paper on a cookie sheet and freeze the entire thing for 15 minutes.

Get another baking sheet and line that with parchment paper and lightly spray with cooking spray. Remove the dough from the freezer and begin to use your cookie cutter to cut the shapes. Place the cookies on the second baking sheet, about 1 inch apart from each other and place in the freezer for 15 minutes.

After 15 minutes, bake the cookies for 14 to 16 minutes or until they begin to turn golden brown.

Allow the cookies to cool completely on a wire rack before icing them.

Repeat the above steps until all the cookie dough has been used.
Royal Icing
Combine the powdered sugar, meringue powder, and water in a mixing bowl and mix on low speed until the icing has a matte appearance, about 7-10 minutes.

Slowly add in the brown food coloring, adding more to get your desired color of brown.

Transfer some of the icing to a

squeeze bottle

and cover the bowl with a damp washcloth. This is to prevent the icing from hardening.

Begin to outline the edges of the acorn cookies, making sure to also add a line of icing between the top and bottom halves of the acorn. It is best to have your arm and hand resting comfortable on a table. Continue until all of the acorns are outlined.

Clean the squeeze bottle as you will need it again.

Now we want to use the icing to flood the top portion of the acorns. In order to do that, you will need to add more water to the icing so the consistency is thinner. Add 1 tsp of water at a time, stirring by hand, until the icing runs off the back of a spoon.

Transfer some of the icing to the squeeze bottle. Begin to flood the top portion of the acorn cookies with icing, using a tooth pick to help spread the icing to the edges. You don't want to add too much icing, as this could cause the icing to overflow beyond the edges. Practice until you know how much icing you need. Immediately after flooding the top portion of the cookie add the sprinkles.

Continue to flood and add sprinkles to all of the acorns.

When all of the cookies are finished and set, store them in an air tight container.
Notes
Maple cookie recipe from Martha Stewart.
A great resource with royal icing tips.
Calories:
178
kcal
,
Carbohydrates:
32
g
,
Protein:
1
g
,
Fat:
5
g
,
Saturated Fat:
3
g
,
Polyunsaturated Fat:
1
g
,
Monounsaturated Fat:
1
g
,
Trans Fat:
1
g
,
Cholesterol:
19
mg
,
Sodium:
38
mg
,
Potassium:
35
mg
,
Fiber:
1
g
,
Sugar:
23
g
,
Vitamin A:
164
IU
,
Calcium:
14
mg
,
Iron:
1
mg