Want our top 10 essential dessert recipes?
Get our favorite classic recipes in your inbox! It's 100% free, but we might make you hungry!
Apple and Maple Butter Pop Tarts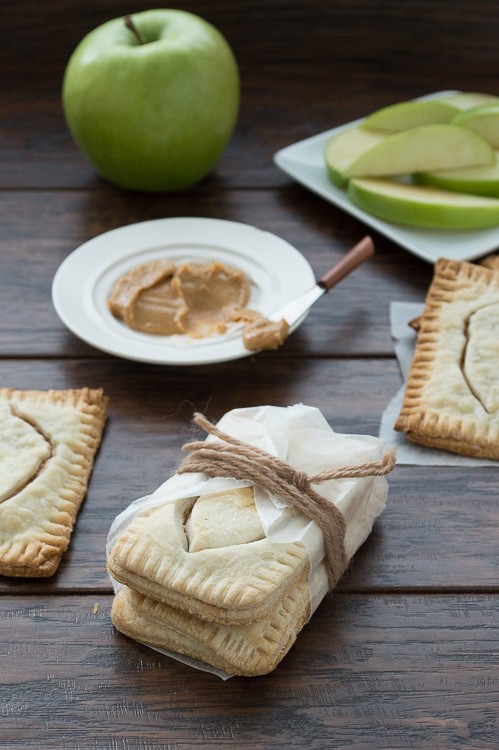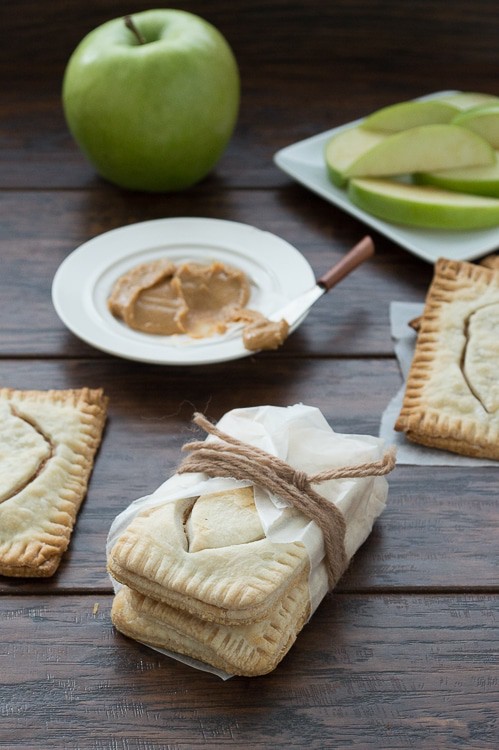 Let's talk pop tarts. Oh goodness, why are they so delicious?! There must be a little bit of magic packaged in that silver wrapper. We didn't have pop tarts that often growing up, but when we did buy them as a special treat, I didn't mind eating them straight out of the package or warmed up in the toaster. Now there are flavors I didn't even know existed like chocolate chip cookie dough and chocolate vanilla creme, my favorite were the s'mores ones. Unfortunately, pop tarts get a low nutrition score in my book. There might be magic in those silver wrappers, but there is also lots of sugar and processed ingredients, and not to mention that each pop tart is 200 calories!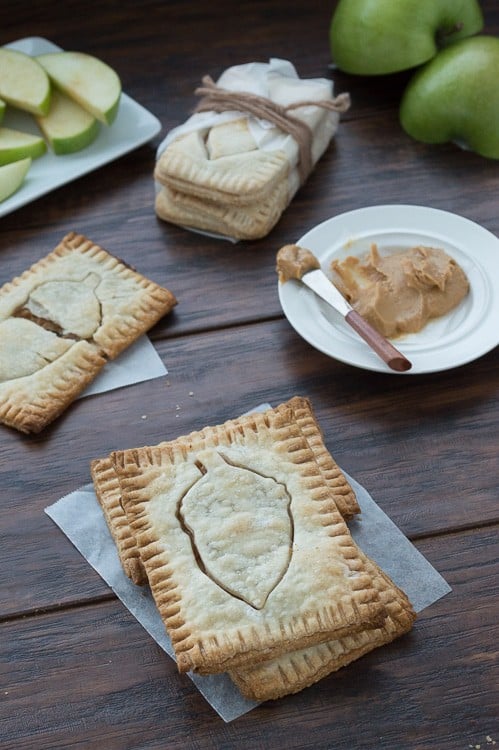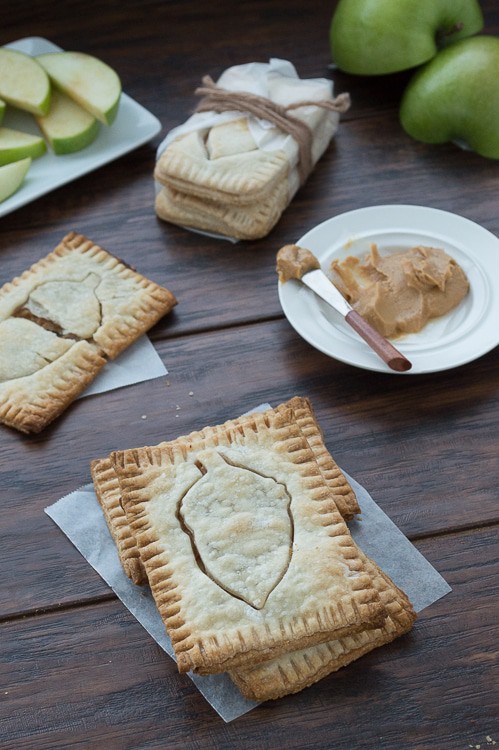 But no worries, you can still enjoy pop tarts – use our recipe to make homemade ones! I will admit, going to the store and putting the box of pop tarts in your cart is easier than making homemade ones, but is it more rewarding? NO!!!! Trust me, you'll feel super savvy and just like Betty Crocker when you whip up these apple and maple butter pop tarts in your own kitchen.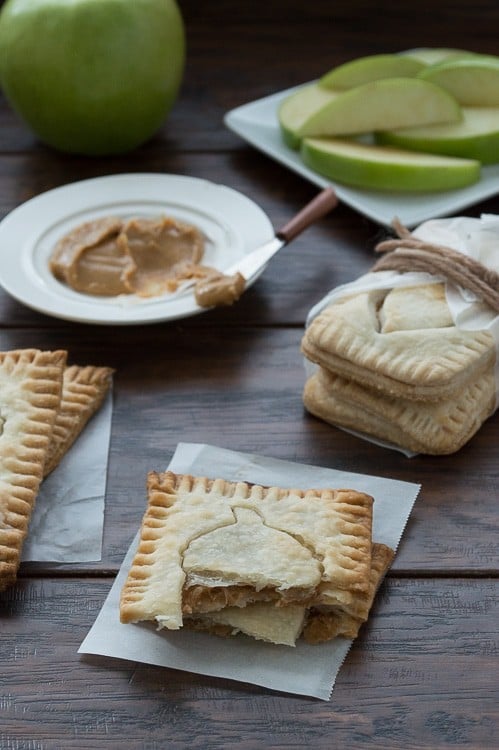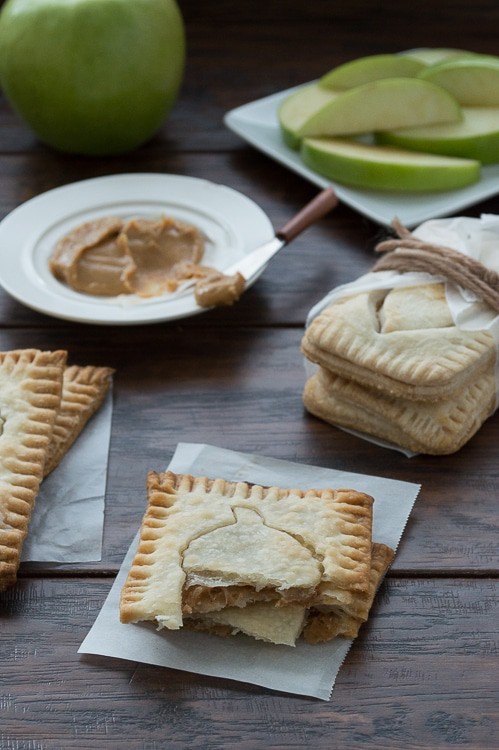 What's the best part about these pop tarts? I can count the number of ingredients that go into them on one hand — 5 ingredients! Well, technically there is another ingredient, it's water.. but that barely counts, so really there are 6. Chopped granny smith apple, cinnamon, nutmeg, water, mighty maple peanut butter and refrigerated pie crusts. All real ingredients and I like that. These pop tarts can be re-heated in the toaster, just like our favorite boxed variety. But they might not last that long after they come out of the oven, everyone will be grabbing for one!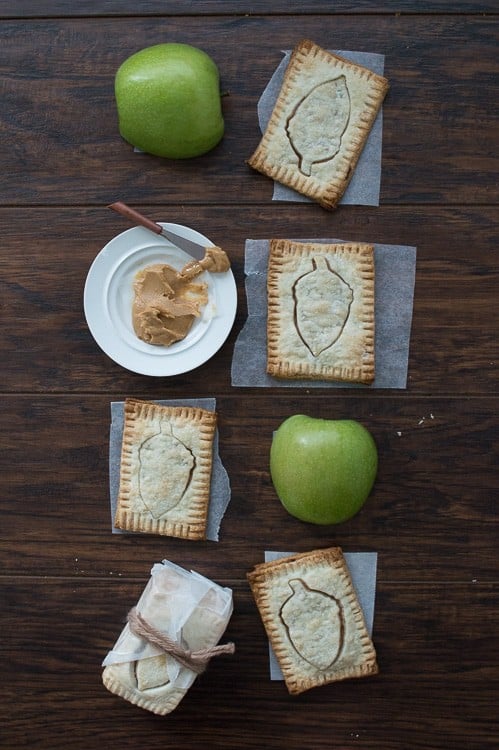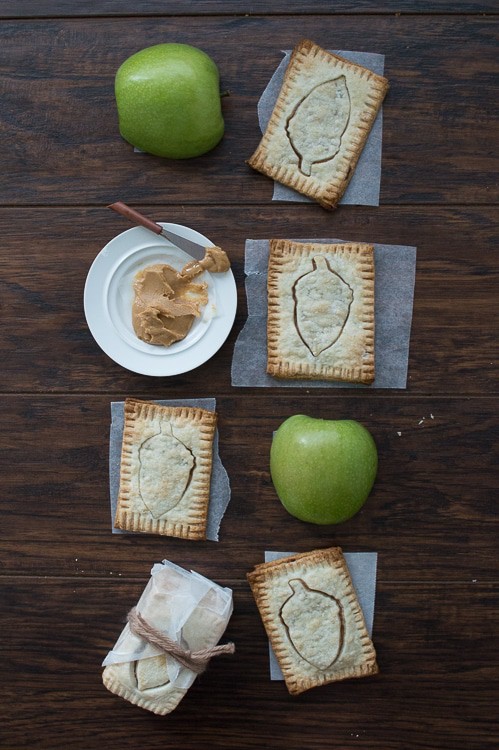 Apple and Maple Butter Pop Tarts
Yield: 6-7 pop tarts
Total Time:30 minutes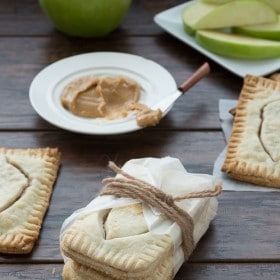 Ingredients:
1 cup chopped and peeled granny smith apple, cut into small pieces
1/2 tsp cinnamon
1/4 tsp nutmeg
1/3 cup water
3 tbsp Mighty Maple peanut butter, from Peanut Butter & Co
Refrigerated pie crust, 2 nine inch pies
Directions:
To soften the apples, combine the chopped apples, cinnamon, nutmeg, and water in a small pan and heat on medium for 5-7 minutes with the lid on, stirring occasionally. Once the apples are soft when poked with a fork, remove the pan from the heat and use a potato masher to smash the apples. Mash until you have your desired texture. Add the mighty maple peanut butter to the apple mixture, and stir until combined. Set aside.
Preheat the oven according to the temperature on the pie crust box.
Put one circle pie crust on the counter. Using a pizza cutter, cut the dough into even rectangle shapes, you can choose the size. I was able to get about 6 rectangles out of each pie crust. Place the rectangles on a baking sheet lined with a silpat. Place 2-4 heaping teaspoons of the apple and maple butter mixture in the center of each rectangle. Be sure to not get too close to the edges, or you will have a difficult time sealing the pop tarts.
Repeat the process with the other pie crust, cutting out as many rectangles as you can. If you have left over dough pieces, you can put them together and roll them out to make additional rectangles. If you'd like to stamp your pop tarts with a cookie cutter, do that now. Be careful to not press all the way through the dough.
Place these rectangles on top of the ones already on the baking sheet, making sure each pop tart has a top and a bottom.
Use a fork to firmly press the edges together.
Bake them in the oven for 8-10 minutes or until the pop tarts turn golden brown.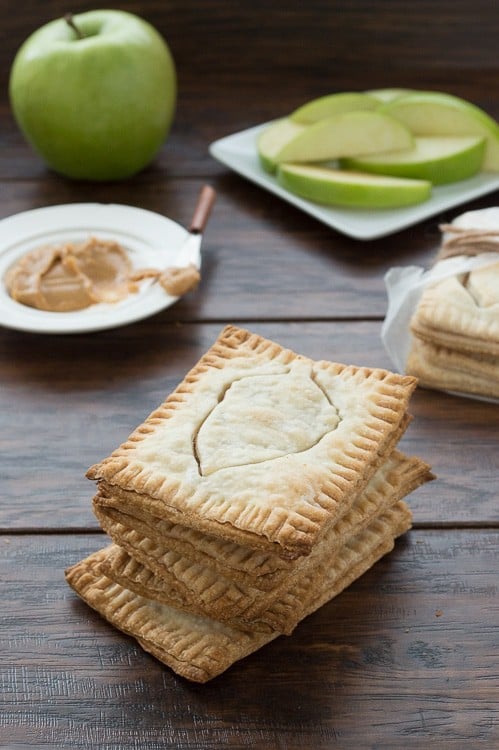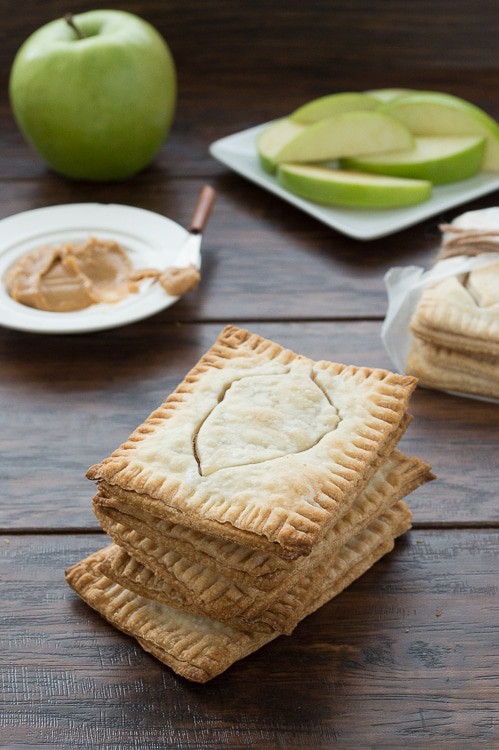 Peanut Butter & Co provided me with free product to use in a recipe. If you want to get your hands on their delicious peanut butter, you can find them at your local grocery store.