Want our top 10 essential dessert recipes?
Get our favorite classic recipes in your inbox! It's 100% free, but we might make you hungry!
2 Layer Chocolate Espresso Cake
 2 Layer Chocolate Espresso Cake – this cake got rave reviews! Everyone loves the pairing of chocolate & coffee!

Coffee Desserts
I enjoy ALL coffee flavored desserts! But the truth is that I don't actually drink coffee. I like the taste and the smell, but my body cannot tolerate the caffeine.
It's fine now because I'm able to make sleep a priority, but what am I doing to do when we have kids?!
I hear parents survive off of coffee!
A sweet friend of mine, Lindsay, who blogs at Life, Love and Sugar is expecting TWIN BOYS any day!! We, along with several other bloggers, are throwing Lindsay a surprise virtual baby shower!! Woohoo! This is our way of being able to celebrate with our blogging friends who live all around the country.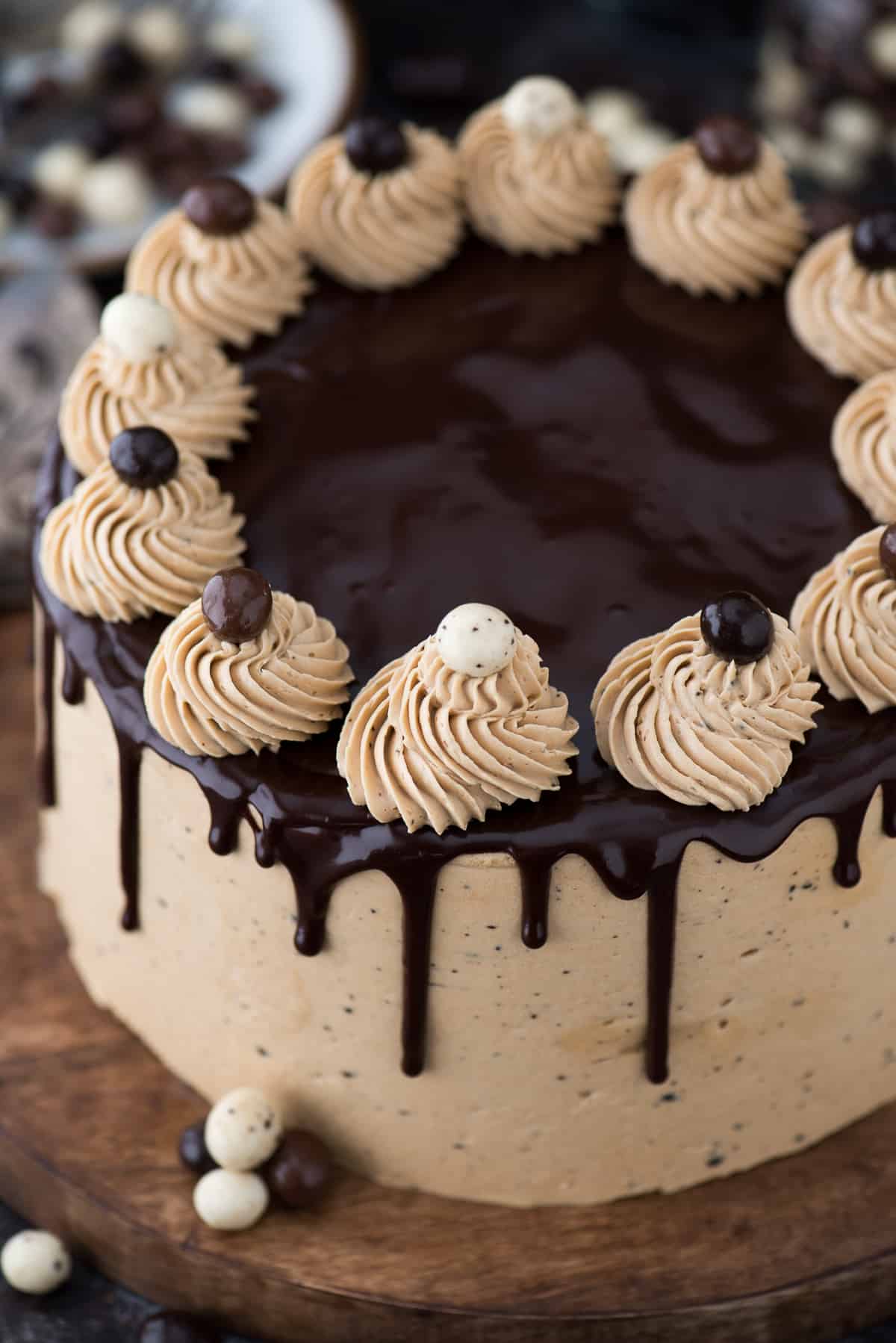 Lindsay was assigned as my mentor a few years ago, and when we got on the phone to talk, I remember that one of the first questions I asked her was "How do you cut your cakes so perfectly?" She is a cake GENIUS. I thought for sure that she had some trick! Well, as I learned there isn't really a trick, it's all about wiping your knife clean after each slice.
I definitely look up to Lindsay and envy her amazing cake talent, so I knew I needed to create a cake to celebrate the arrival of those baby boys!

Delicious 2 Layer Chocolate Espresso Cake
This Chocolate Espresso Cake is a 2 layer chocolate cake with espresso buttercream. It has a drippy chocolate ganache, because who doesn't love a drippy cake?! On top of the cake are swirls of espresso buttercream and chocolate covered coffee beans that I found in the bulk section of our grocery store.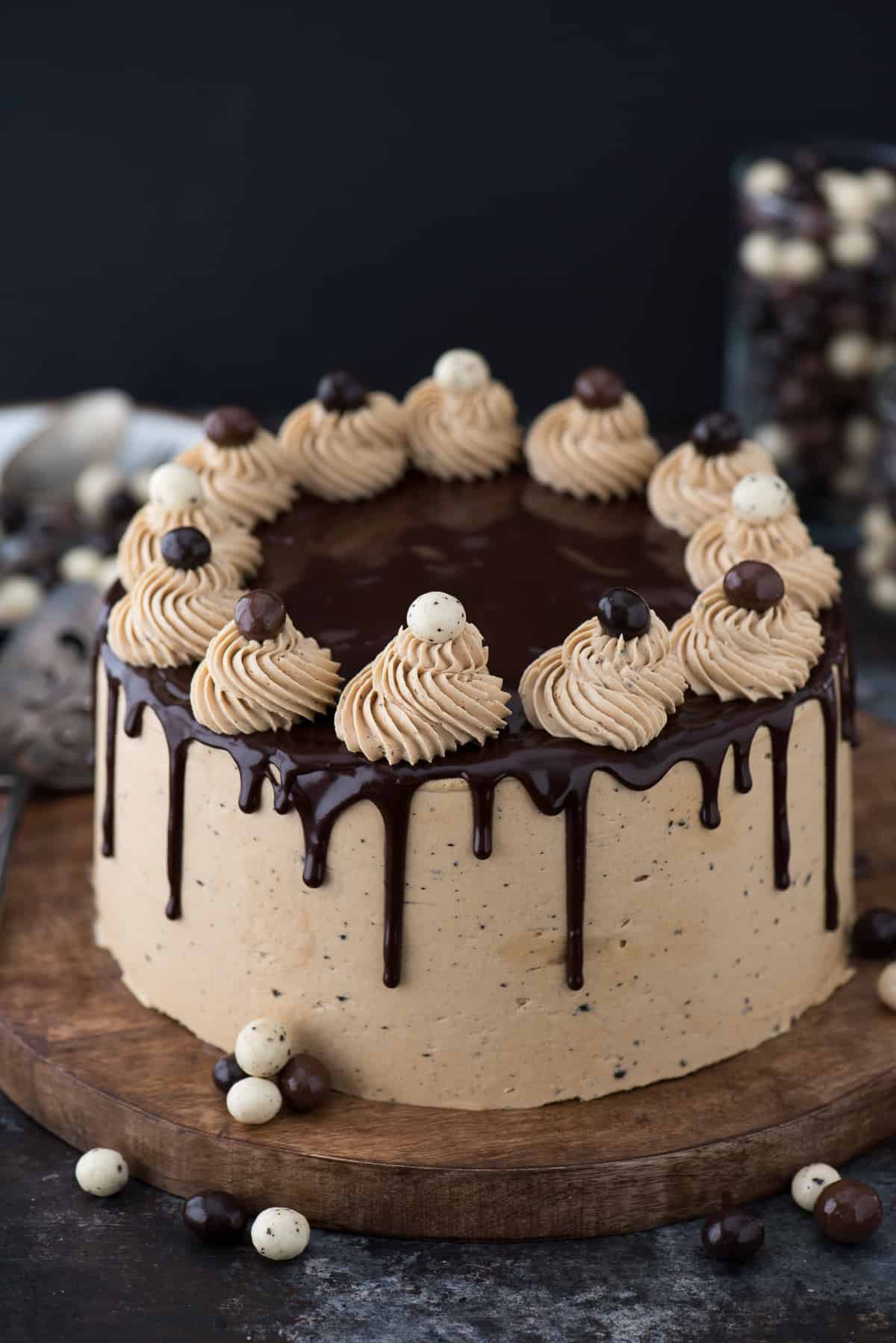 There are a few tools I recommend that will help make the cake process easier.
First, springform pans!! These are the type of pans that unhinge on the side and the bottoms are removable.
A cake turn able is really helpful! A piping bag and a piping tip will help you create nice swirls on the top of a cake. A squeeze bottle will help produce nice, clean, drippy chocolate ganache.
And here's the biggest tip – practice! Practice frosting a cake just for fun. And no matter what it looks like, it will taste good!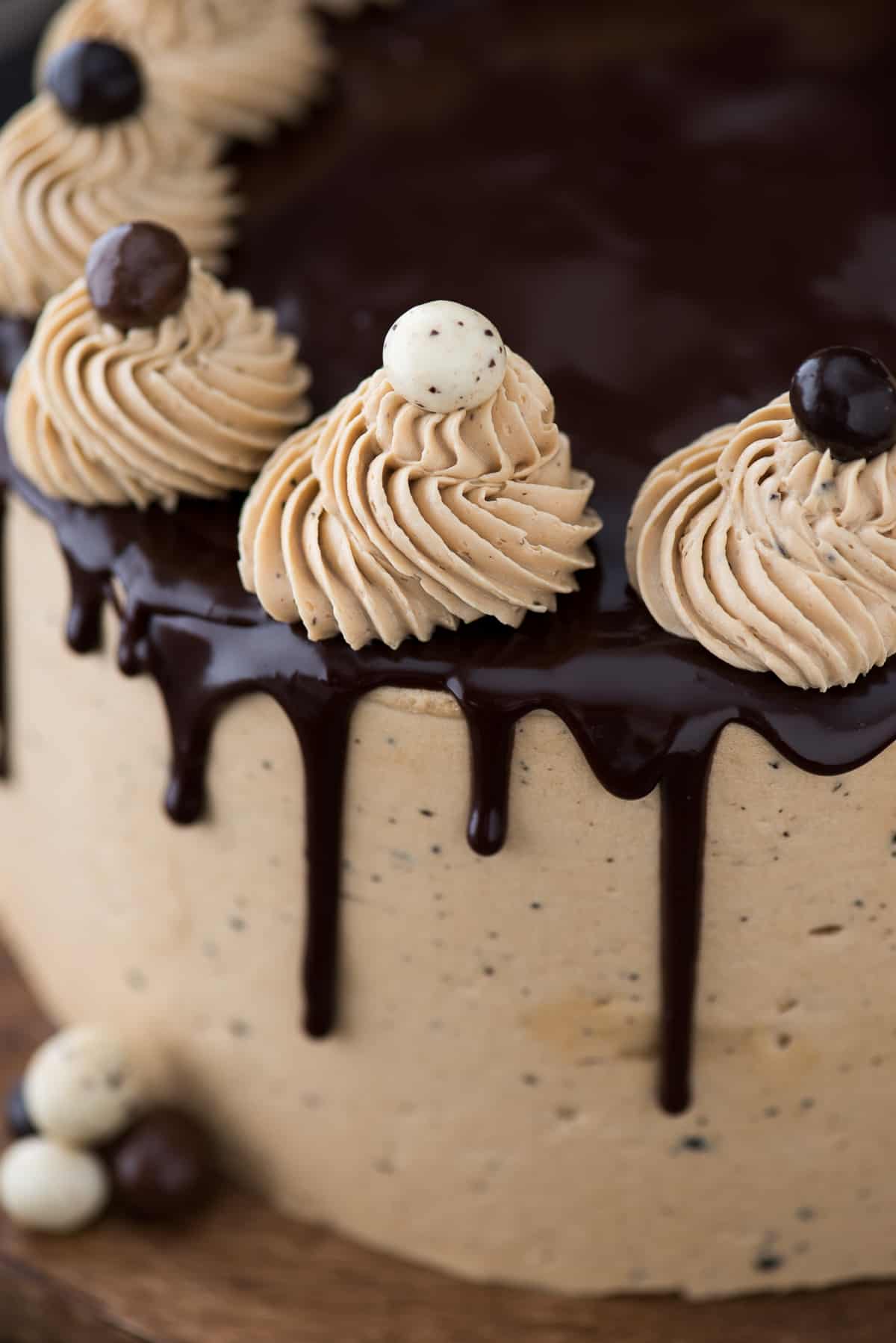 The 2 Layer Chocolate Espresso Cake recipe may seem like it calls for a lot of butter, but there is nothing worse than running out of frosting WHILE you're still frosting the cake! It's always better to make more than you need!
For a step-by-step of how to make this 2 Layer Chocolate Espresso Cake recipe, watch this short video:
See what everyone's bringing to Lindsay's virtual baby shower!
Banana Pudding Cupcakes, Lemon Coconut Cupcakes, Chicken Salad Cups,
Soft and Chewy Chocolate Chip Cookies, Star and Moon Decorated Cookies,
Lemon Poppy Seed Cupcakes, Cream Cheese Cookies with Nutella Glaze,
Salted Caramel Popcorn Brownies, Sugar Cookie Bars, Funfetti Cheesecake Pie,
Banana Chocolate Chip Cheesecakes, Sweet and Sour Slow Cooker Smokies
Red velvet Cookie Bars, Veggie Egg Muffins, 2 Layer Espresso Chocolate Cake
2 Layer Chocolate Espresso Cake
Yield: 8 inch cake, 2 layers
2 layer chocolate espresso cake - this cake got rave reviews! Everyone loves the pairing of chocolate & coffee!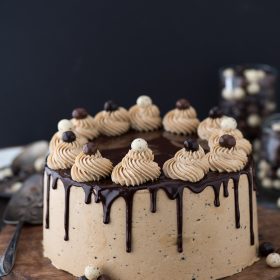 Ingredients:
CHOCOLATE CAKE
2 & 1/4 cups cake flour *see note below
2 & 1/2 tsp baking powder
1 tsp salt
1 stick unsalted butter, room temperature
1 & 1/2 cups sugar
3 oz unsweetened baking chocolate, melted & cooled
2 eggs
1/4 tsp baking soda
2 tbsp hot tap water
1 cup chocolate milk
ESPRESSO BUTTERCREAM
4 sticks unsalted butter, room temperature
1 cup vegetable shortening
2 tsp instant coffee granules dissolved in 2 tbsp milk
additional 2-3 tsp instant coffee granules
3-5 cups powdered sugar
Chocolate Ganache
1/2 cup heavy cream
3/4 cup semi-sweet chocolate chips
TO TOP THE CAKE (OPTIONAL): Espresso buttercream swirls and chocolate covered coffee beans
Directions:
CHOCOLATE CAKE
Preheat the oven to 350ºF.
Using butter, grease the bottom and sides of two 8 inch round cake pans or springform pans and line the bottoms with a round piece of parchment paper. To ensure even baking, place a bake even strip around the pan. You can make your own homemade bake even strip by cutting a towel or shirt to fit the size of your pan. Get the fabric really wet, then squeeze out the dripping water but do not squeeze it too dry. Secure the fabric around the pan with a safety pin.
In a small mixing bowl combine the cake flour, baking powder and salt. Set aside.
In a mixing bowl combine the butter and sugar, beat with an electric mixer until fluffy, 2 minutes. Add in the melted chocolate and eggs, beat to combine.
Place the 2 tbsp of hot tap water in a small bowl, stir in the baking soda then add to the batter. Add half of the chocolate milk to the batter, stir by hand with spatula to combine. Gradually add half of the flour mixture, mixing lightly. Repeat with the second half of the chocolate milk and second half of the flour mixture - mixing just until combined.
Divide the batter evenly between both pans, with about 2 & 1/4 cups of batter in each pan. Bake for 30-32 minutes or until a toothpick inserted in the center comes out clean.
Once the cake is done, allow it to cool in the pan on a cooling rack for 10 minutes. After 10 minutes, carefully remove the cake from the pan. If using a springform pan, remove the sides and bottom. Allow the cake to cool completely on a cooling rack. Once cool, remove the parchment paper round from the bottom of the cake. If you need to level the top of your cake, do so now using either a cake lever or knife.
Make sure the cake is completely cool before moving forward. If you'd like to make the cake several days in advance, wrap the cake in plastic wrap and place it in the refrigerator.
Espresso BUTTERCREAM
In a mixing bowl, combine the butter and vegetable shortening, beat using an electric mixer until fluffy. Add in the instant coffee granules that you dissolved in the milk. Add in additional instant coffee granules, about 1 tsp at a time until you get your desired coffee flavor.
Begin to add the powdered sugar, about 1-2 cups at a time, mixing by hand first, then with the electric mixer. Continue adding powdered sugar until the frosting tastes good to you and is well mixed.
Chocolate Ganache (make the ganache after you've frosted the cake)
Place chocolate chips in a medium heat-proof bowl.
In a small pot over low heat, heat the heavy cream until boiling.
Pour the heavy cream over the chocolate chips. Allow the mixture to stand for 1-2 minutes.
Use a spatula to stir the mixture until smooth.
Allow the ganache to come to room temperature before adding it to the cake.
HOW TO ASSEMBLE
Next, it's time to do a crumb coat. The crumb coat will help seal the crumbs in. Using your offset spatula, spread a thin layer of buttercream around the sides and the top of the cake. It's easiest to start off with more frosting on the cake and remove some as needed.

Place the entire cake in the freezer or fridge for 20 minutes to harden the crumb coat.

Begin to add the second layer of frosting. Spread an even layer of frosting on the top of the cake. Next either pipe on the frosting or spread on the frosting around the sides of the cake. Use a spatula or icing smoother to smooth out the frosting, scraping off excess as you go. Once the frosting is uniform around the cake, use the smooth side of Viva brand paper towels and a fondant smoother to smooth out any imperfections. Place the paper towel on the cake and gently rub the fondant smoother around. Repeat this process, moving the paper towel all around the cake.

Transfer the cake to your desired serving plate.

Once the ganache is room temperature, use a spoon or squeeze bottle to drizzle the ganache around the sides of the cake, allowing it to drip down the sides. Fill in the middle of the cake with ganache and spread evenly with the back of the spoon. Allow the ganache to set for 10 minutes.

Top the cake with espresso buttercream swirls. To do this I used a piping bag fit with a Wilton 1M piping tip. Add chocolate covered coffee beans if desired.

Slice and serve!
*You can make your own cake flour at home by measuring out 1 cup of flour, then removing 2 tbsp of flour and replacing it with 2 tbsp of cornstarch. Be sure to sift the flour and cornstarch mixture twice. This recipe turned out great using gluten free flour too! We love
King Arthur Gluten Free Measure for Measure Flour
.
Products used to make this recipe
(may include affiliate links)