Healthy Chocolate Cake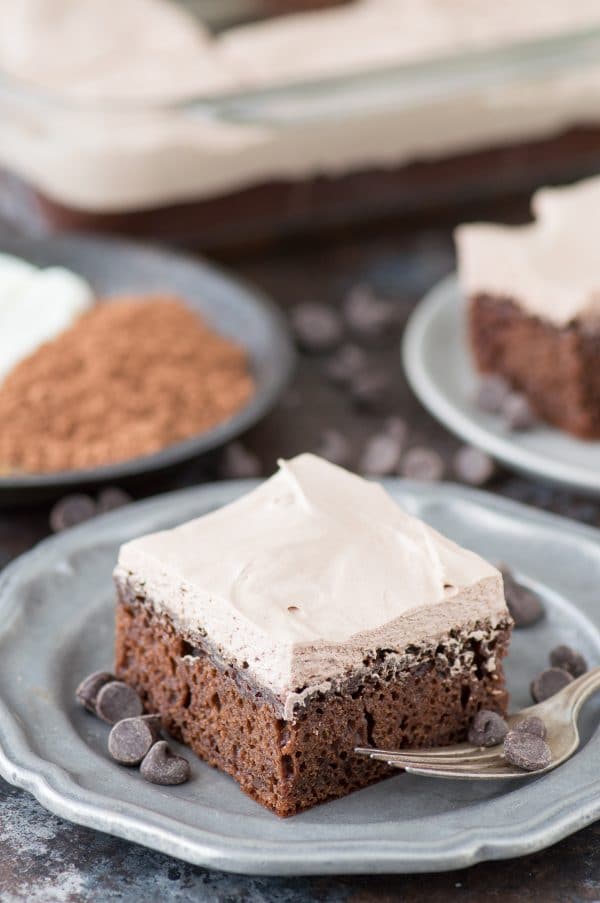 The BEST healthy chocolate cake at 175 calories per piece! No granulated sugar, oil or butter – uses honey and greek yogurt. Plus there's a healthier frosting recipe that's only 2 ingredients.
Holy smokes friends! I feel like a whole new woman because I am bringing you the healthiest chocolate cake recipe and it's SO delicious!
This healthy chocolate cake is refined sugar free and can be made gluten free. I've tested it with King Arthur's gluten free flour and it turns out amazing.
We already have an amazing recipe for healthier chocolate cake on our site – but my friend Ashley is allergic to bananas and that recipe uses bananas as a healthy substitute for butter and sugar.
So I really wanted to create a healthy chocolate cake recipe that didn't call for bananas so she could enjoy it!
This recipe turned out so great! Granted, it took 5 batches of trial and error to get the finalized recipe, but it was worth it!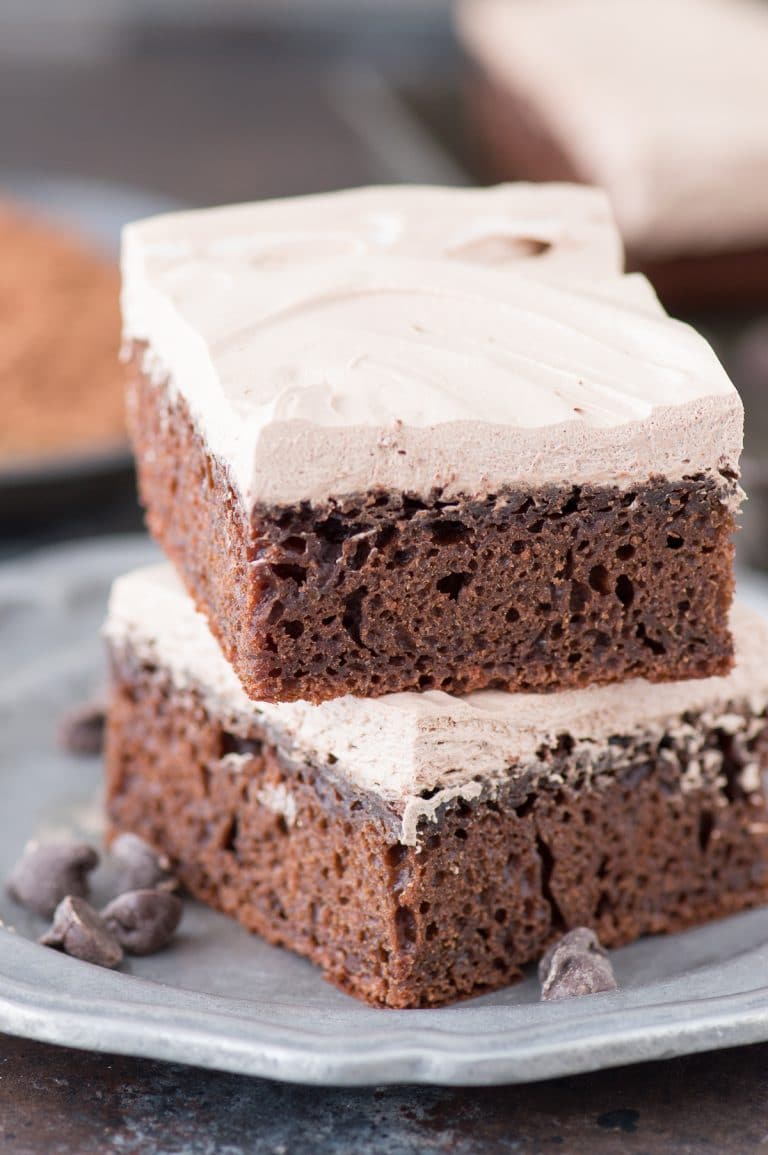 Ingredients
all purpose flour – but you can also sub whole wheat flour or gluten free flour
baking soda – to give the cake fluffiness
unsweetened cocoa powder – chocolate cake wouldn't be chocolate cake without it!
honey – healthier substitute to granulated sugar
milk – for moisture
greek yogurt – healthy fat and makes make so moist
egg – structure and leavening
vanilla extract – hello, good in everything!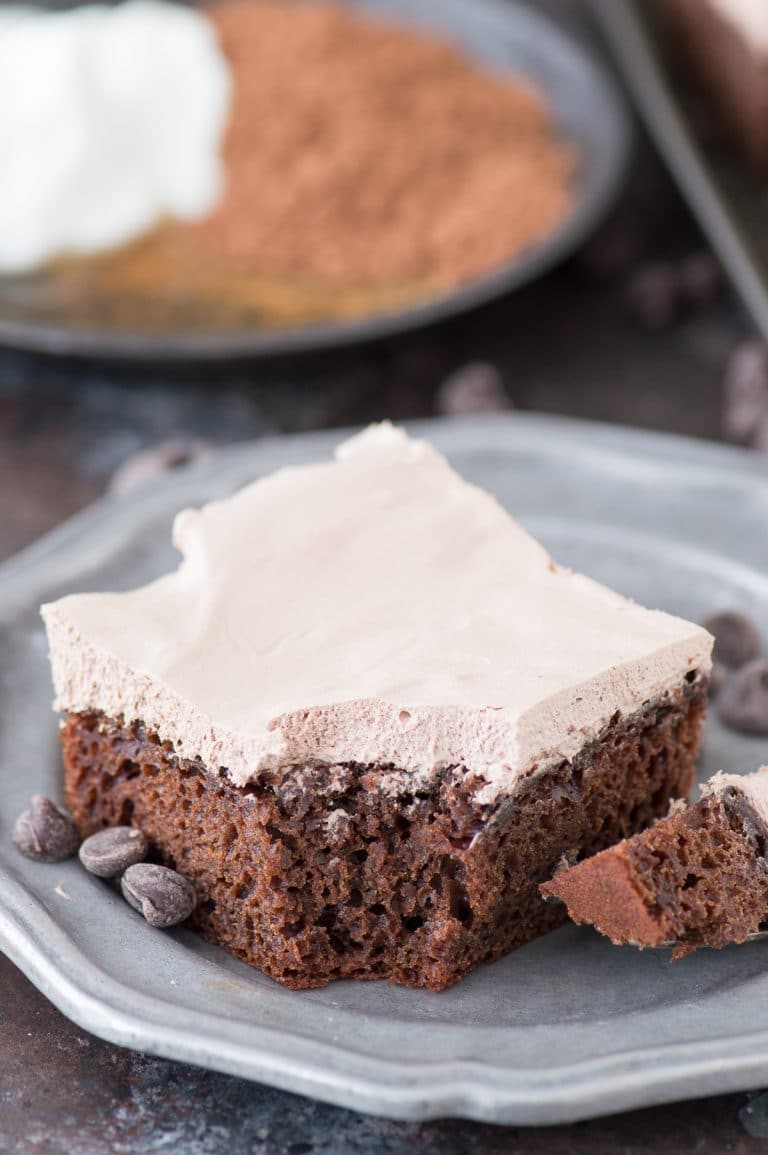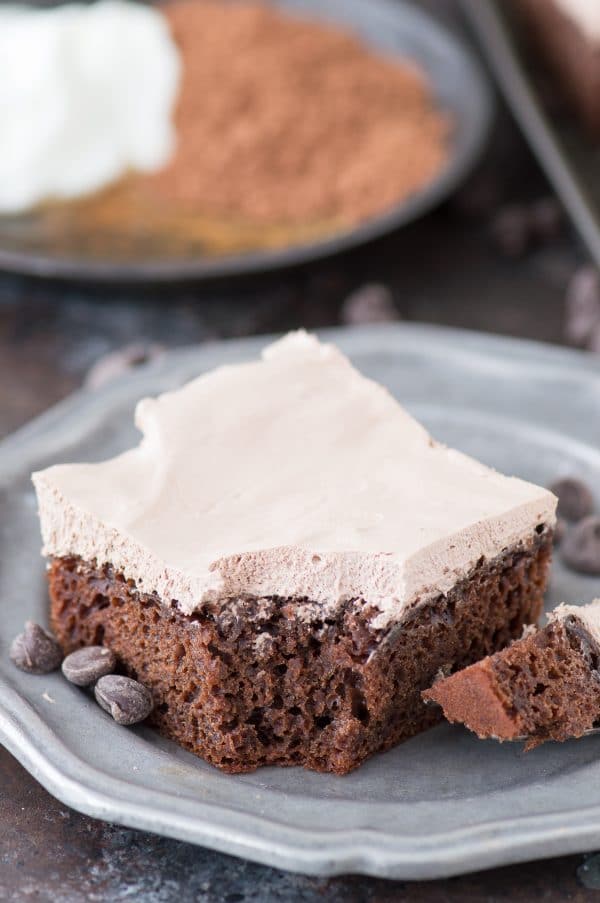 The frosting / topping on the cake is a little bit more of a cheat because it's not entirely sugar free – but if you compare it to a regular buttercream frosting you'd put on a chocolate cake, this alternative is a lot healthier.
Skinny chocolate cake frosting (2 ingredients)
cool whip – so creamy and light and about 165 calories for 1 cup
melted chocolate – adds nice rich chocolate flavor
If you're wanting a different alternative to that topping you could make a coconut cream chocolate frosting (whip the coconut cream and add melted chocolate) or I have seen avocado chocolate frosting before.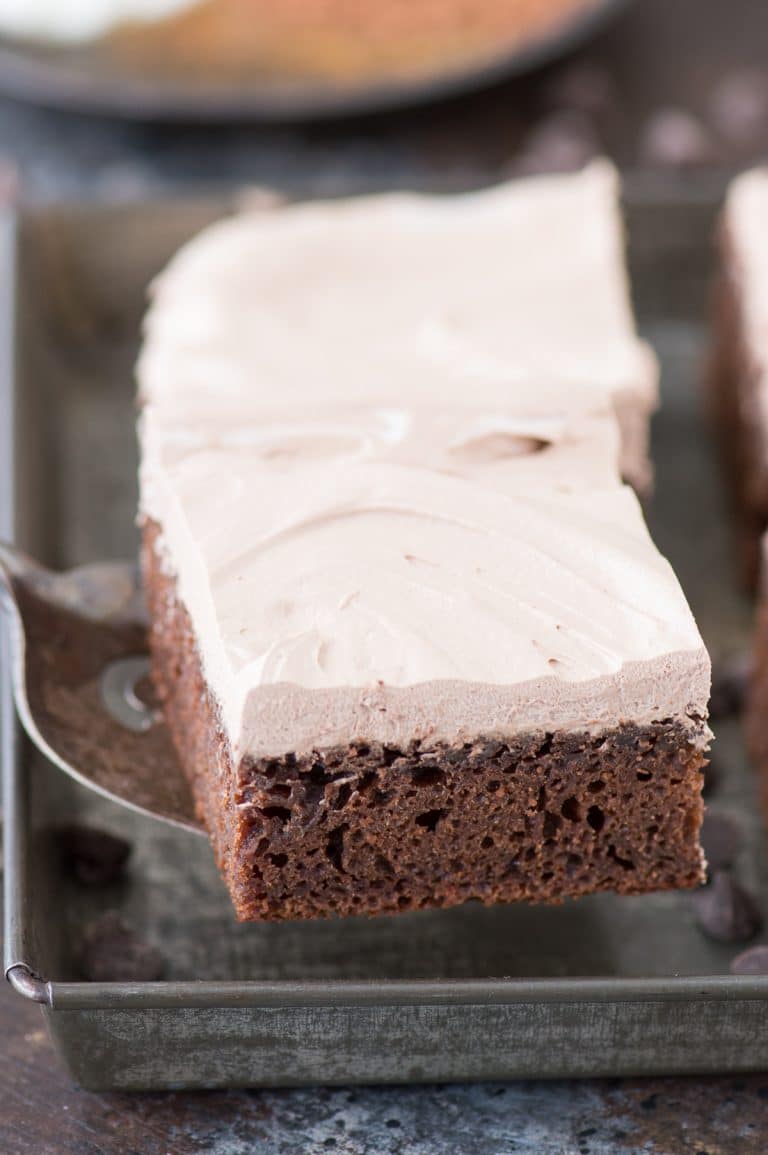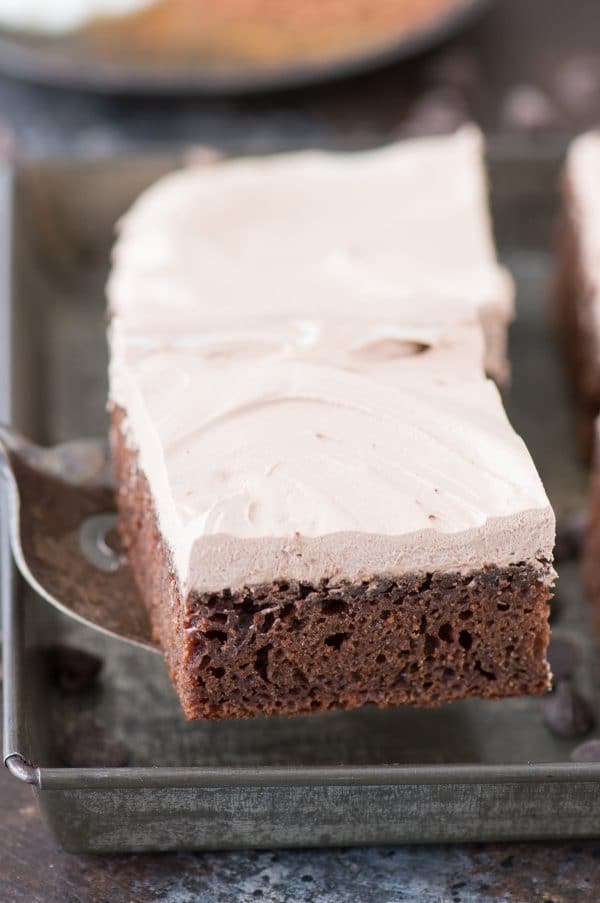 Healthy Chocolate Cake Calories
In total, the whole cake with the topping is only estimated to be 1,580 calories! Because the recipe is baked in a 8×8 inch pan, I cut the cake into 9 pieces – 1 piece is estimated to be 175 calories!
For someone who likes nightly dessert (Hi, that's me!) this is great news!
Plus, Ryan is kind of a stickler for "real" dessert and when he tried this cake, he said he'd go back for seconds. So it's husband approved. I also brought it to bible study and every single piece disappeared.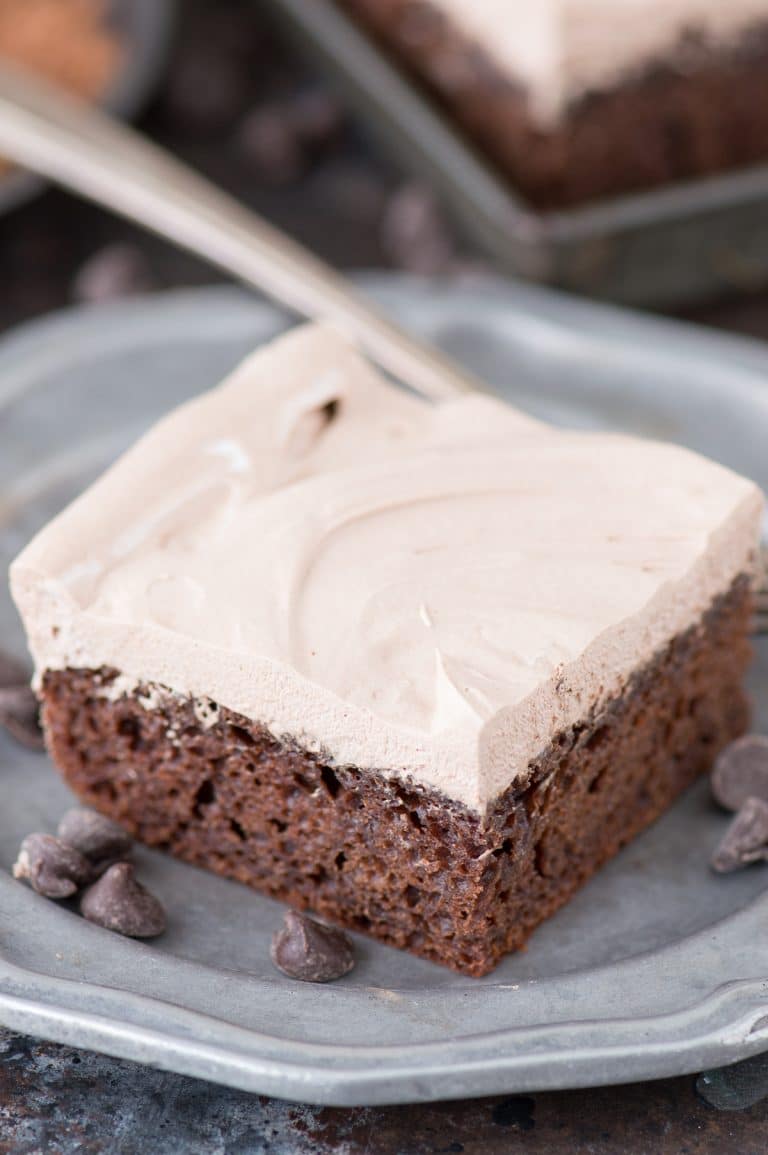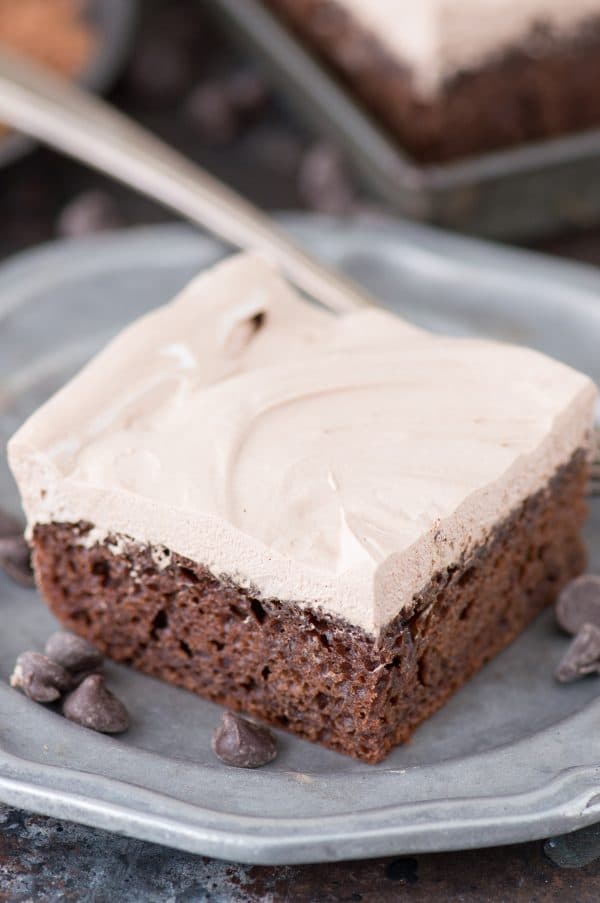 How to make healthy chocolate cake from scratch without bananas
It's all about ingredient swaps! Honey is used in place of sugar. Yes, the recipe for the frosting does contain chocolate chips, which contain sugar unless you buy the sugar-free ones.
Greek yogurt is used in place of oil or butter.
Healthy cake for first birthday or toddlers
This is a great healthy chocolate cake and frosting recipe to make for a first birthday or for toddlers if you are wanting to avoid added granulated sugar.
More healthier desserts
Stay Connected

Subscribe to The First Year newsletter to get our recipes sent to your inbox! Follow along on Instagram, Facebook, Pinterest, and Youtube. If you make this recipe, tag @beth_thefirstyear on instagram!
For a step-by-step of how to make this healthy chocolate cake recipe, watch this short video: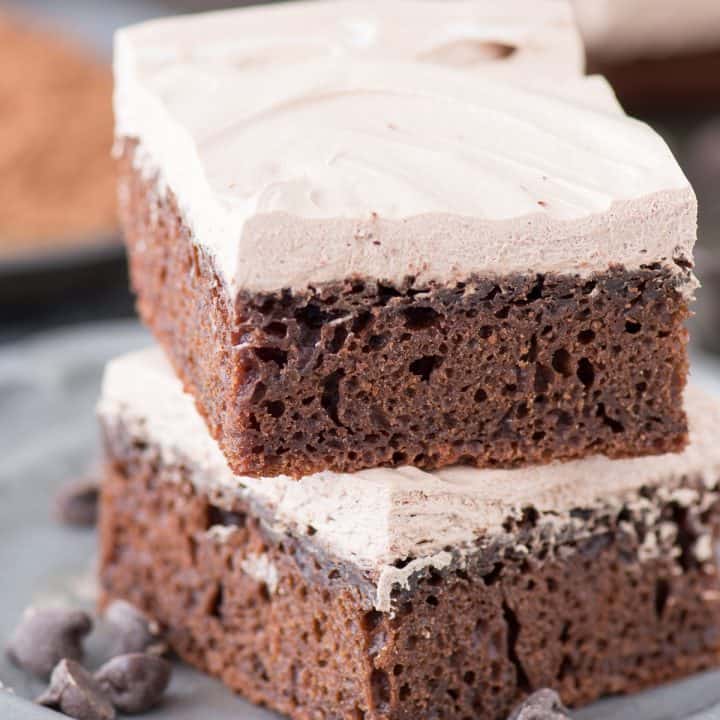 Healthy Chocolate Cake
Yield: 9 pieces
Prep Time: 10 minutes
Cook Time: 30 minutes
Additional Time: 15 minutes
Total Time: 55 minutes
The BEST healthy chocolate cake at 175 calories per piece! No granulated sugar, oil or butter - uses honey and greek yogurt. Plus there's a healthier frosting recipe that's only 2 ingredients.
Ingredients
2/3 cup skim milk
1 large egg
1/2 cup honey
1 tsp vanilla extract
1/4 cup greek yogurt
1 cup all purpose flour OR whole wheat flour OR gluten free flour
3/4 tsp baking soda
4 tbsp unsweetened natural cocoa powder (sifted)
1/4 cup semi-sweet chocolate chips (OR sugar free chocolate chips)
1 cup fat free cool whip
Instructions
Cake
Preheat the oven to 350º F.
In a mixing bowl, combine the milk, egg, honey, vanilla extract and greek yogurt, whisk together until combined.
In a separate bowl, combine the flour, baking soda and sifted unsweetened cocoa powder. Once mixed, add the dry ingredients to the mixing bowl and stir until just combined. Small clumps and flour streaks are okay!
Spray a 8 inch square baking pan with non-stick cooking spray. Pour the batter into the pan and bake for 22-24 minutes or until a toothpick inserted in the centers comes out clean.
Allow the cake to cool.
Topping
Place the 1/4 cup chocolate chips in a microwave safe bowl and microwave on 50% power until melted. To help the chocolate melt without burning you can add a very small amount of oil. Allow the chocolate to cool for 5 minutes.
In a mixing bowl, combine the melted chocolate and cool whip, stir until combined. Spread on top of the cooled cake. The cake can be covered and refrigerated until ready to serve.
Notes
I recommend sifting your cocoa powder. Some brands tend to be more clumpy and can leave chunks of cocoa powder in the cake after baking.
I've made this cake gluten free with King Arthur's gluten free flour and it turns out amazing.