Healthy Peanut Butter Chocolate Chip Quinoa Bars
Healthy peanut butter chocolate chip quinoa granola bars! 7 ingredients and 30 minutes to bake! The best homemade granola bar!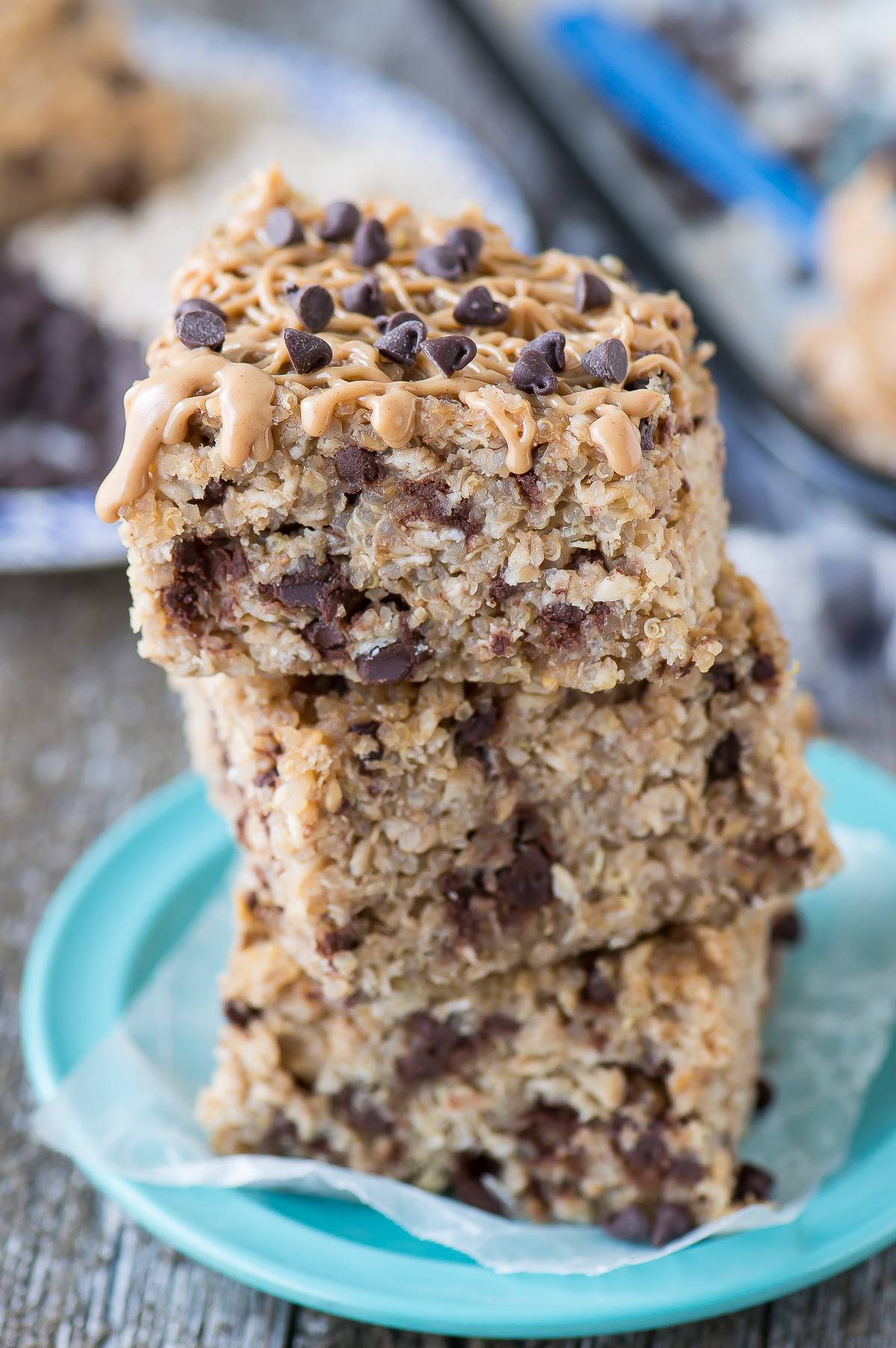 Healthy Peanut Butter Chocolate Chip Quinoa Bars
When quinoa came on the scene a few years ago everyone was raving about it. Having a gluten allergy and learning how to live off of rice (and potatoes & chocolate!) I was all for incorporating it into my diet. We tried quinoa taco skillet, quinoa stuffed peppers, quinoa in soup, quinoa oatmeal, quinoa chili.. we never ventured as far as quinoa burgers, because this girl likes her meat.
While quinoa in soup or chili is one of my top favs, the best thing to make with quinoa is a pan of chocolate chip quinoa granola bars!!

Tips for these Healthy Peanut Butter Chocolate Chip Quinoa Bars
My go-to recipe involves preparing the quinoa in advance then combining all of the granola bar ingredients, mixing them in a bowl and baking the bars in an 8 inch square pan. Of course I love this recipe because there's peanut butter and chocolate chips, and it tastes just as good as a snicker's bar but is 1000% healthier.
And to be honest, I'm not a huge fan of the plain nutty flavor of quinoa.. you definitely can't taste it when paired with peanut butter and chocolate :)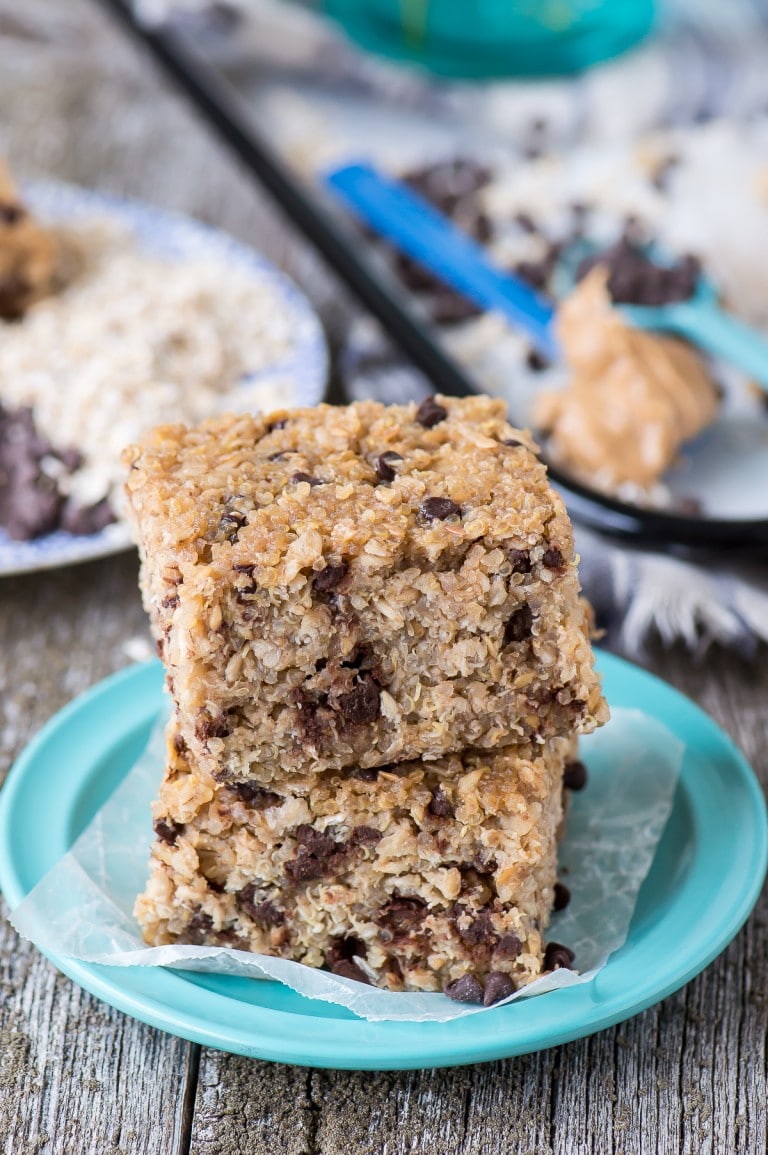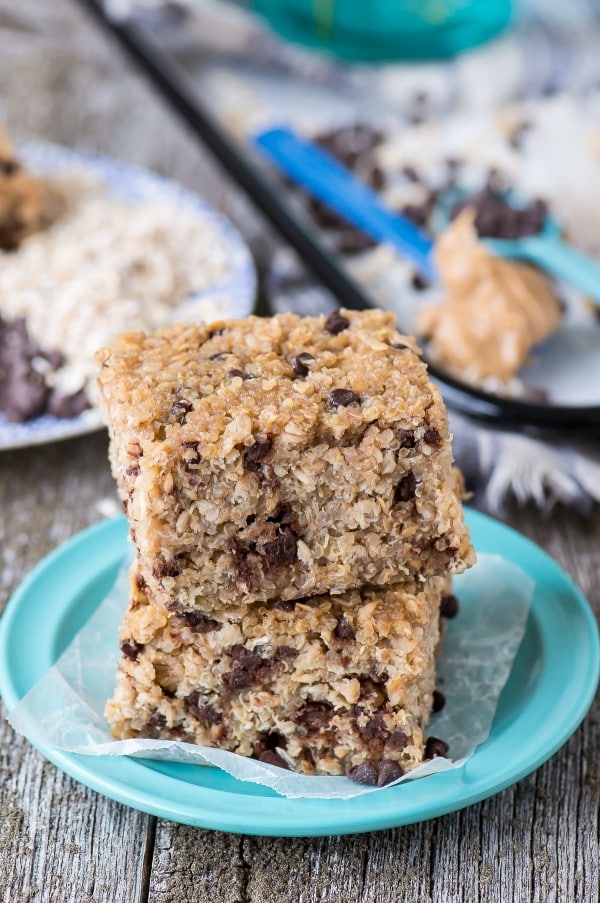 Another thing about our recipe for Chocolate Chip Quinoa Bars is that they turn out moist! I know moist can be such a weird word, but sometimes you want a more moist granola bar, versus the pre-packaged ones that leave you needing a glass of water.
I've made this same exact Chocolate Chip Quinoa Bars recipe probably 15 times and I never get tired of them. I've even forgotten the honey once, and I learned to never forget it now because I do like the sweetness it adds. I've eaten these for breakfast, snack, and even packed them to take while traveling. I love them as a pre and post work out snack or even a bed time snack.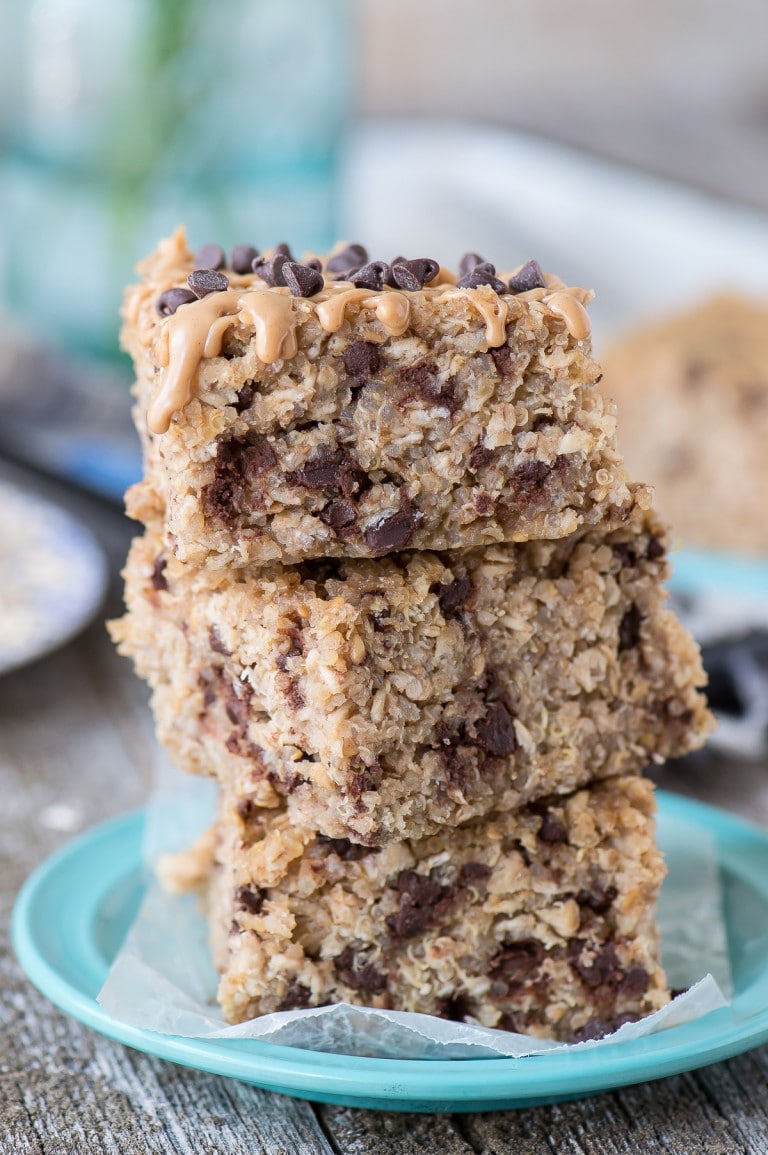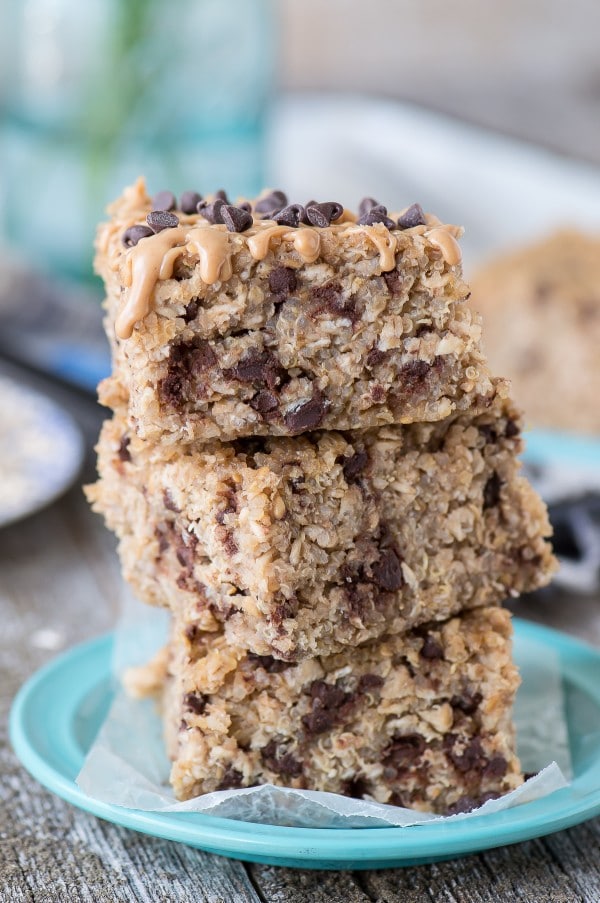 If I'm really fighting a tooth sweet craving, I'll drizzle melted peanut butter over a bar and add mini chocolate chips!
Seriously, these Chocolate Chip Quinoa Bars are good.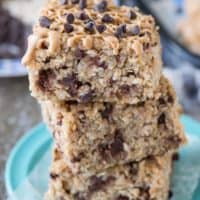 Healthy Peanut Butter Chocolate Chip Quinoa Bars
Yield: 8 inch pan
Additional Time: 50 minutes
Total Time: 50 minutes
Ingredients
3 cups cooked quinoa (equal to 1 cup uncooked quinoa)
2 & 1/2 cups rolled oats
3/4 cup chocolate chips (I like minis!)
1/4 cup flaxseed
3/4 cup creamy peanut butter (can use all natural)
3/4 cup milk
1/4 cup honey
Instructions
Cook the quinoa according to the directions on the package (takes about 15-20 minutes). You'll need 2 cups of water for 1 cup of uncooked quinoa. Allow it to cool before moving forward.
Preheat the oven to 350 degrees F.
Combine the cooked & cooled quinoa, oats, chocolate chips, and flaxseed in a bowl and mix to combine.
Add in the peanut butter, milk, and honey and stir to combine. *TIP* Spray the 1/4 cup with non-stick cooking spray before measuring the honey, it will ensure that it doesn't stick to the cup.
Spray an 8x8 inch baking pan with non-stick cooking spray. Transfer the quinoa mixture to the baking pan and distribute evenly with a spatula.
Bake for 21-26 minutes. Remove the pan from the oven and allow the bars to cool. Cut and store in an airtight container in the fridge.