Peppermint Frosting
Easy 5 ingredient peppermint frosting recipe with crushed candy canes!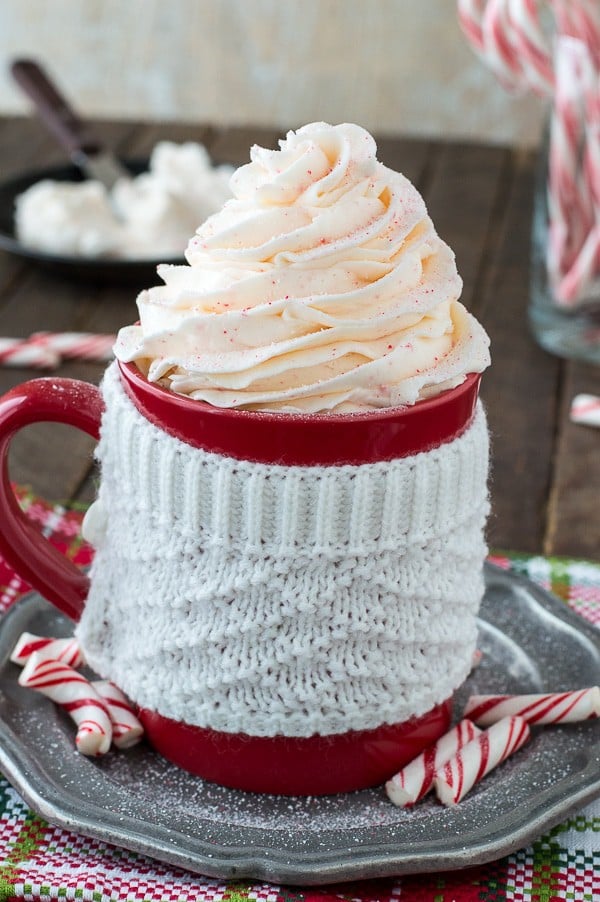 I showed these photos to one of my friends and they said, "YUM! What kind of drink is that?!"
I replied that it wasn't a drink, but that it was buttercream piped in a mug.
The response was "Oh, it looks like a drink."
*palm to face* I guess only a food blogger would put buttercream inside a mug and not assume it was actually drinkable.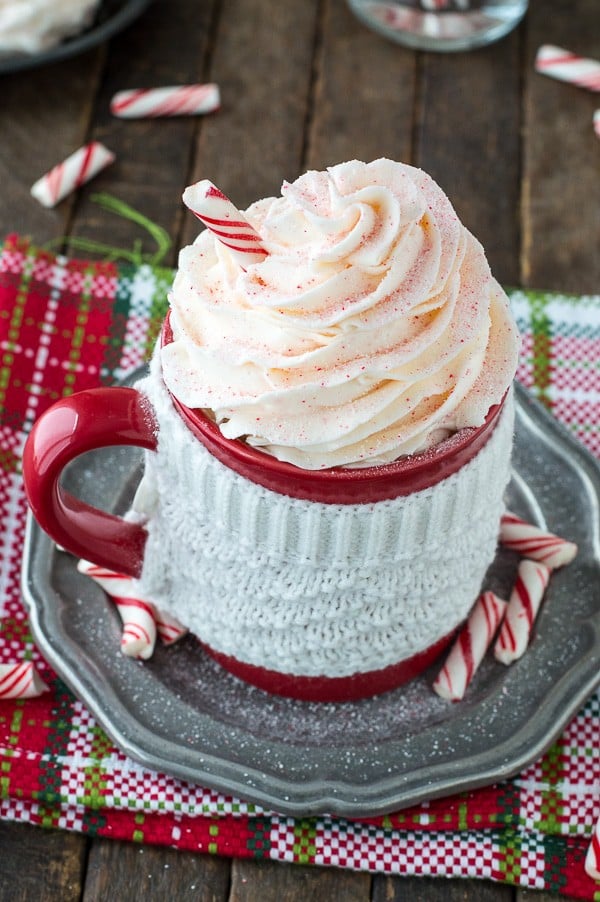 Let's just imagine.. if this was a drink, it would be awesome! We could pretend that the buttercream was peppermint whip cream piled high on top of hot cocoa. *Swoon*
..Not that I want to burst our dream bubble, but I can assure you that there is no hot cocoa hiding inside that mug. Just lots and lots of peppermint buttercream.
I hope we can all still be excited about this mile high peppermint buttercream. There are so many desserts that you can pair it with.
Peppermint Frosting Pairs With..
chocolate cake or cupcakes
brownies
macaroons
cookies
filling for a cake roll
Next week this peppermint buttercream will make another appearance in the form of a 3 layer cake!! I'm excited about that!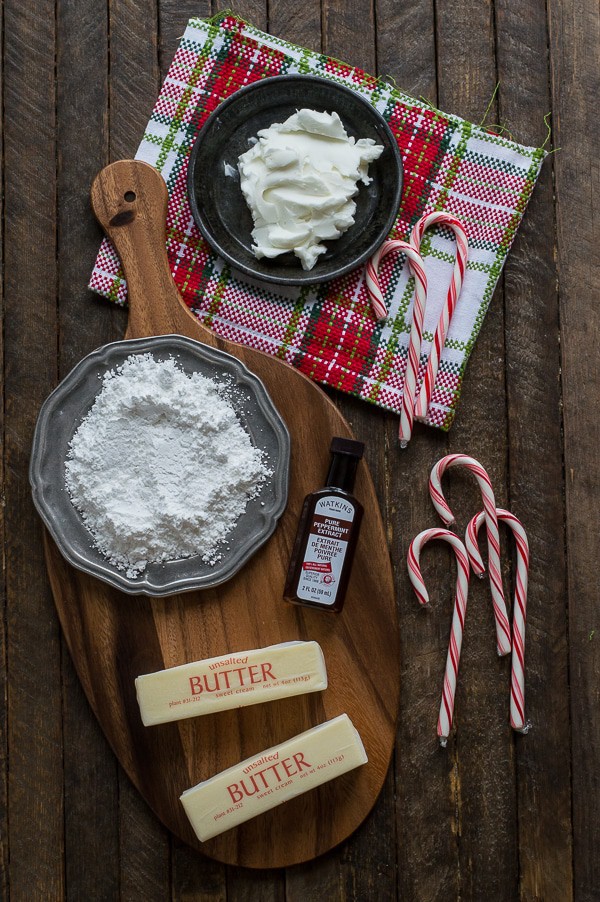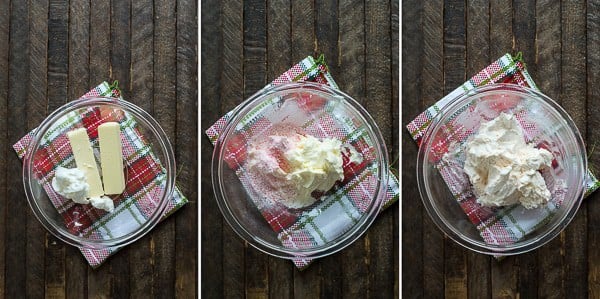 Ingredients
unsalted butter
peppermint extract (not mint extract)
crushed candy canes
powdered sugar
I remember when I used to be afraid of buttercream because I didn't know how to make it. But I'm here to tell you that you can't screw it up.
How To Make Peppermint Frosting
Get out an electric mixer and mixing bowl, I like one with tall sides. If you have a kitchen aid mixer, lucky ducky you, use that!
Step 1 – Beat the butter until fluffy.
Step 2 – Add in the peppermint extract, crushed candy canes, and powdered sugar. Stir with a spatula first, then beat with an electric mixer.
Step 3 – ta da – peppermint buttercream!
Now to find something chocolatey to spread this on :)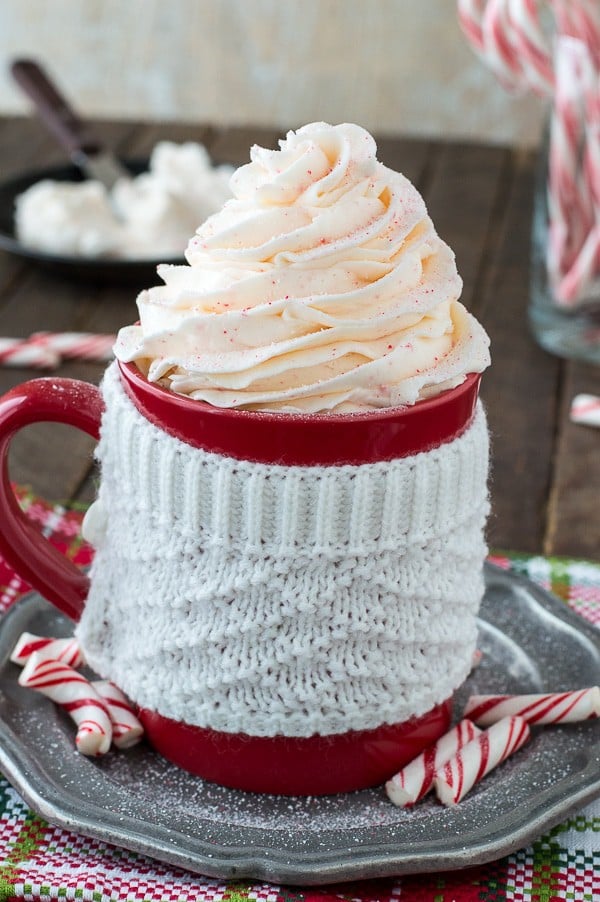 More Peppermint Desserts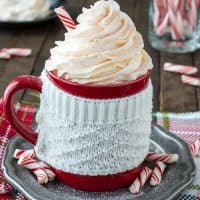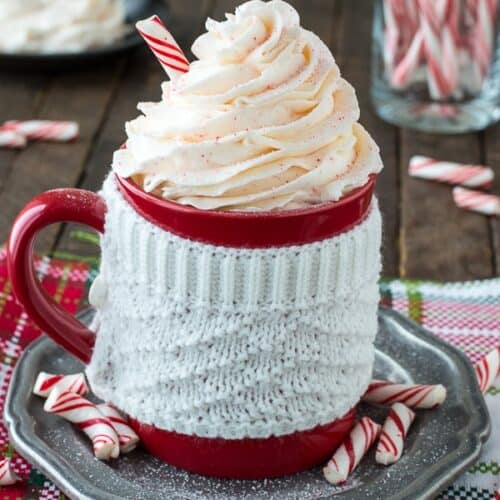 Peppermint Frosting
Easy 5 ingredient peppermint frosting recipe with crushed candy canes!
Ingredients
3

sticks

unsalted butter

,

room temperature (1 & 1/2 cup)

½

tsp

peppermint extract

2

tbsp

crushed candy canes

3-5

cups

powdered sugar
Instructions
In a mixing large bowl, beat the butter using an electric mixer until fluffy, 2-4 minutes.

Add in the peppermint extract and crushed candy canes, beat using electric mixer.

Begin to add the powdered sugar, about 1 cup at a time. Continue adding powdered sugar until the frosting tastes good to you. Add a tablespoon of milk or heavy cream if the frosting is too thick.

Enjoy with chocolate cake or cupcakes, brownies, macaroons, cookies, or as a filling for a cake roll.
Serving:
2
tablespoons
,
Calories:
164
kcal
,
Carbohydrates:
16
g
,
Protein:
1
g
,
Fat:
11
g
,
Saturated Fat:
7
g
,
Polyunsaturated Fat:
1
g
,
Monounsaturated Fat:
3
g
,
Trans Fat:
1
g
,
Cholesterol:
30
mg
,
Sodium:
2
mg
,
Potassium:
4
mg
,
Sugar:
16
g
,
Vitamin A:
353
IU
,
Calcium:
4
mg
,
Iron:
1
mg