Jelly Fish Oreo Balls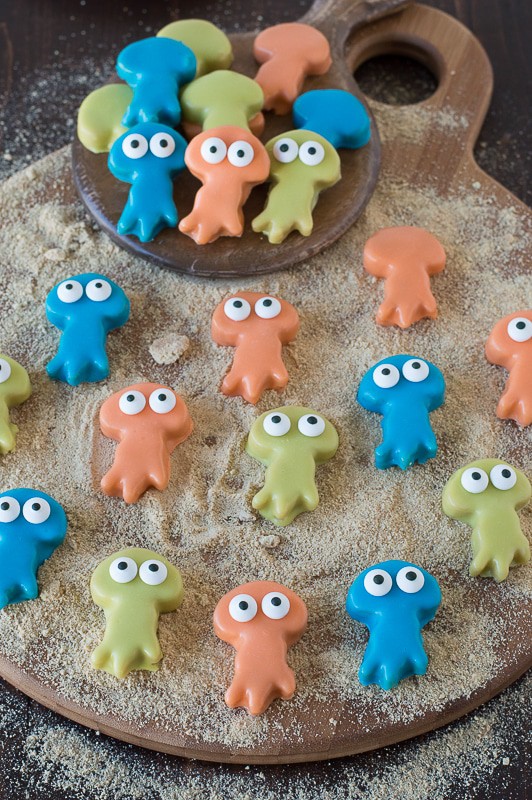 This week we've been sharing fun recipes that you could serve at an under the sea party. Don't miss out on these cute Octopus Cupcakes and these easy Under the Sea Graham Crackers.
I have been waiting in anticipation to share these adorable jelly fish oreo balls! I didn't share a sneak peek on instagram because I didn't want to share the cuteness with everyone and than make you all wait for the recipe. And by the time I actually shared the recipe on our blog, you'd say.. "she hasn't shared that yet? we saw those weeks ago!" Well.. I've been waiting for the right time.
So in all of their cuteness, here they are! Oreo balls that look like jelly fish.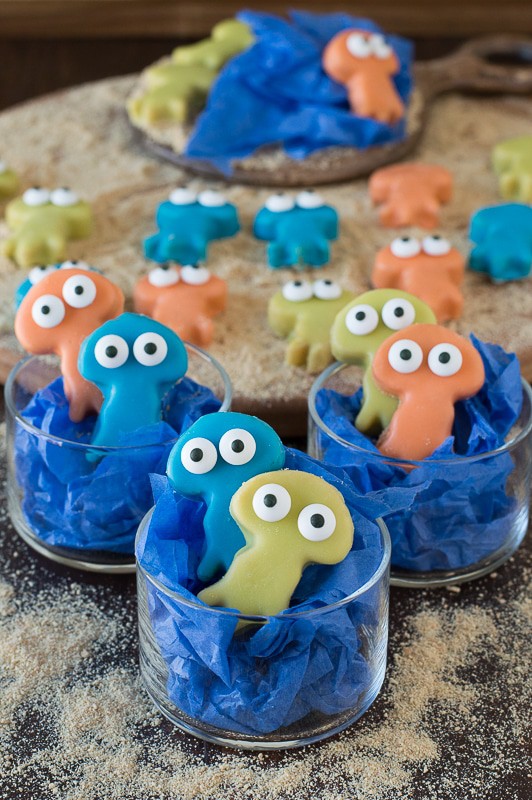 If you're not familiar with what an oreo ball is, you blend up a package of oreos into crumbs and mix it with a package of cream cheese. Then you form the mixture into balls and dip them in chocolate.
Typically oreo balls are round and shaped like a ball, but I've come to believe that you can make oreo balls shaped like anything. It started with oreo ball acorns for fall, then candy cane oreo balls and gingerbread men oreo balls for christmas, then football oreo balls for Super Bowl.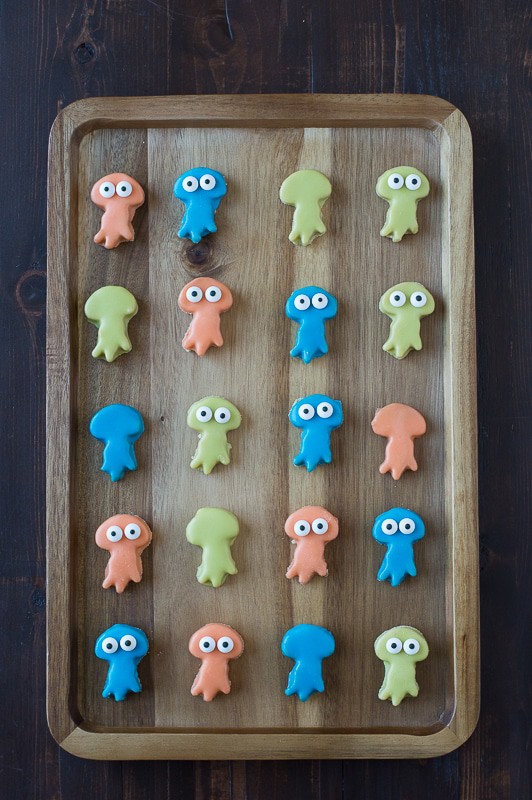 The main thing you are going to need to make jelly fish oreo balls is a jelly fish cookie cutter. You can buy a mini 2 inch jelly fish cookie cutter at AffordableCookieCutters.com for .99!
That cookie cutter website is the best and worst thing ever. It's the best because most of their cookie cutters are .99 cents each. The highest price I've seen is $1.25. And the quality of their cookie cutters are great, very sturdy.
And it's the worst thing because I added 20 new cookie cutters to my collection and now I am wanting Ryan to build me some sort of cookie cutter storage that hangs on the wall and doubles as a way to display them. I have a cookie cutter problem.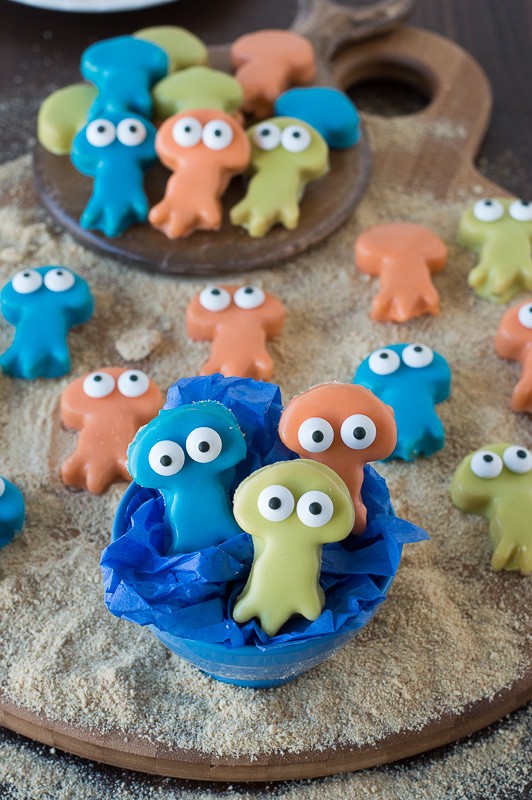 Oreo balls are always a hit at parties and these jelly fish ones are perfect for an under the sea themed party!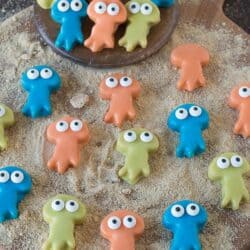 Jelly Fish Oreo Balls
Oreo balls (or truffles) are a quick and easy dessert everyone loves. I love to press them flat and use cookie cutters because - why not?
Ingredients
1

package

oreos

,

I used golden oreos

8

oz

regular cream cheese

,

room temperature - not low fat

Assorted color of candy melts

Vegetable shortening

,

about 1 tbsp for every 1/2 cup of candy melts

Candy eye balls
Instructions
Allow the cream cheese to come to room temperature.

Put half of the oreos in a food processor and pulse until you have oreo crumbs. Add the other half of the oreos to the food processor and pulse again, until all the oreos are fine crumbs. Once the cream cheese is soft, mix the oreos and cream cheese together, making sure the mixture is very well blended.

Line a baking sheet with wax paper or plastic wrap, and press the oreo mixture evenly around the pan, creating a uniform thickness. Place the pan in the freezer for 20-30 minutes.

Once the oreos are chilled use a mini jelly fish cookie cutter to cut out jelly fish oreo balls. Place the jelly fish on another baking sheet lined with wax paper or a silicone baking mat and return them to the freezer for 20 minutes.

After 20 minutes, begin to melt your choice of color of candy melts. In a small saucepan over low heat combine some candy melts and some vegetable shortening. The vegetable shortening will help the candy melts melt and will make the chocolate a good consistency for dipping. I don't measure the amount of vegetable shortening I add to the chocolate, just add enough until the chocolate easily runs off of your spatula. It might take up to 10 minutes to melt the chocolate, but keep the heat on low.

Remove about 5 jelly fish oreo balls from the freezer at a time. Allow them to come to room temperature for about 1 minute before dipping.

To dip, place 1 jelly fish in the saucepan with melted chocolate. Use a spoon to spoon chocolate on top of the jelly fish, if needed. To remove the jelly fish, use a fork to lift it out of the chocolate. To remove excess chocolate from the jelly fish on the fork, tap your wrist 2 times with your other hand. This will cause the excess chocolate to fall off. Scrape the bottom of the fork on the edge of the saucepan to remove more chocolate, then use a tooth pick to move the jelly fish to a baking sheet lined with a silicone baking mat.

Continue this process until all of the jelly fish are dipped, changing the color of the candy melts as you desire. Allow them to harden at room temperature.

Once the chocolate is set, use leftover melted chocolate to act as glue to glue eyes to each jelly fish.

Store the jelly fish oreo balls in an airtight container in the refrigerator, since they contain cream cheese. Storing them in the refrigerator can cause the chocolate coating to crack, so it's best to store them in the fridge for a shorter amount of time.
Calories:
121
kcal
,
Carbohydrates:
14
g
,
Protein:
2
g
,
Fat:
7
g
,
Saturated Fat:
3
g
,
Polyunsaturated Fat:
1
g
,
Monounsaturated Fat:
2
g
,
Trans Fat:
1
g
,
Cholesterol:
10
mg
,
Sodium:
117
mg
,
Potassium:
54
mg
,
Fiber:
1
g
,
Sugar:
8
g
,
Vitamin A:
127
IU
,
Calcium:
13
mg
,
Iron:
2
mg