Under the Sea Graham Crackers
Under the Sea Graham Crackers – easy to make and perfect for an under the sea party!
VIDEO RECIPE! Learn how to make these Under the Sea Graham Crackers!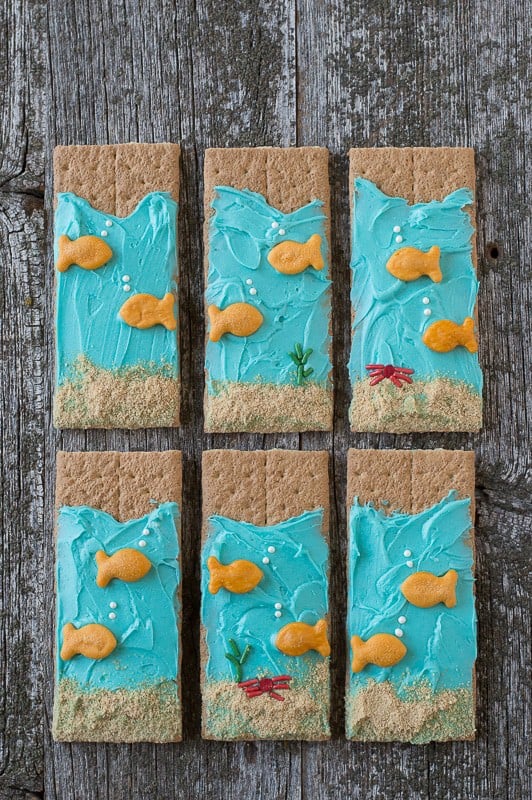 We're back with another recipe for Under the Sea Week! If you're getting ready to plan a birthday party, consider doing an under the sea theme – and make sure to invite me, because I love a good themed party :)
On Monday we shared a recipe for Octopus Cupcakes – all you need is vanilla cupcakes, blue buttercream, large marshmallows, orange candy melts and candy eyeballs! Get the recipe for those cute octopodes here. Isn't is crazy that octopi, octopodes and octopuses are all plural forms of octopus? :)
Today we're talking Under the Sea Graham Crackers, so get some graham crackers and frosting ready, because these are too cute!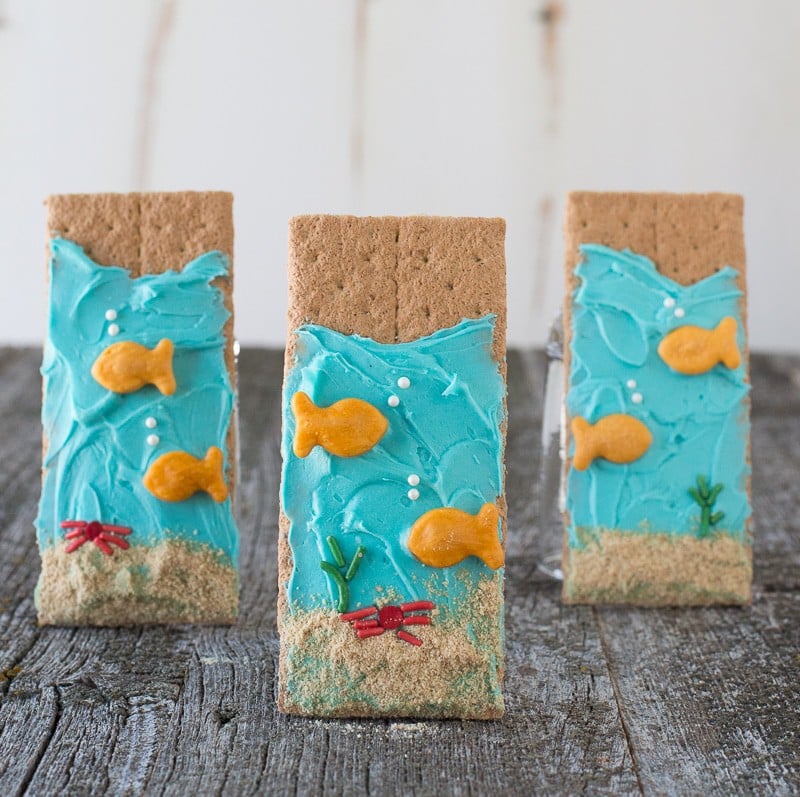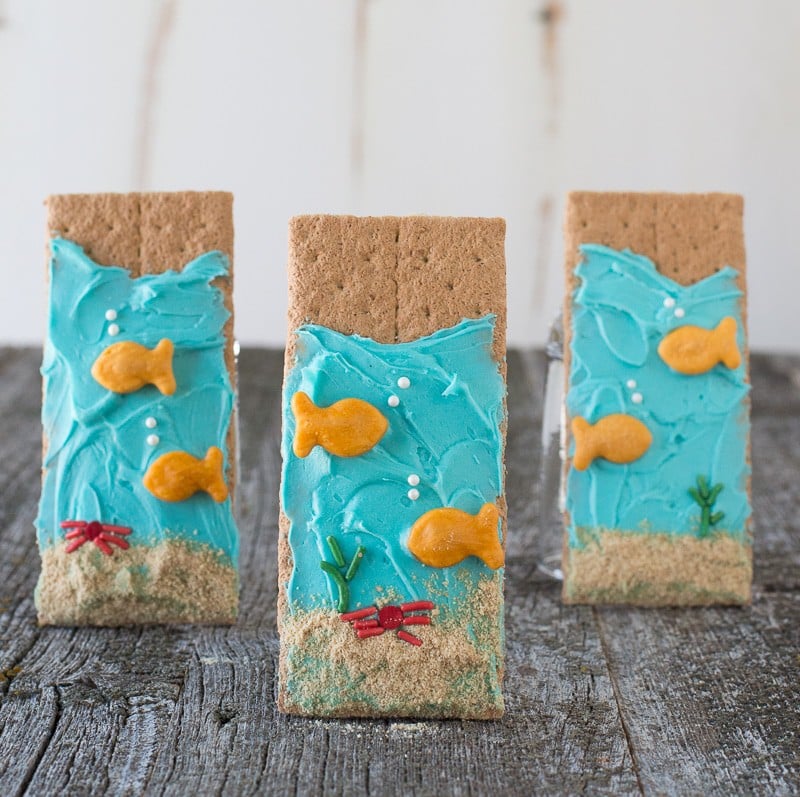 Today's "Recipe"
I feel like I can't even call today's Under the Sea Graham Crackers recipe a recipe. Maybe if I made my own homemade graham crackers from scratch it would feel more like a real recipe, but, let's all be honest.. we're not going to spend the time making our own graham crackers when we can purchase a box of perfect rectangles for under three bucks.
Also, there is no judgment you if you decide to use store bought blue frosting instead of making your own blue buttercream. If I was prepping other cute treats for an under the sea party, I would definitely save time where I could!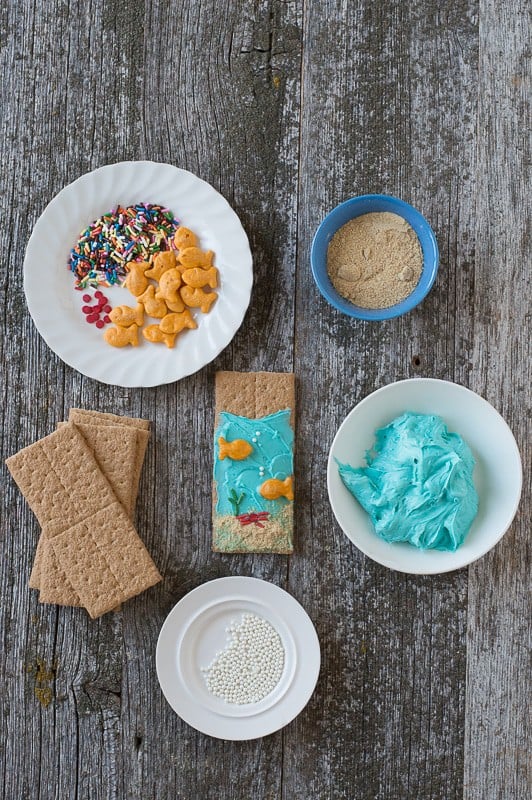 My Favorite Thing About These Under the Sea Graham Crackers
My favorite thing about these Under the Sea Graham Crackers is that they are incredibly easy to make. You'll need graham crackers, graham cracker crumbs, goldfish, blue frosting, white ball sprinkles, red and green long sprinkles (also called jimmies) and red round sprinkles.
When you assemble them, you'll start in the background, with the blue frosting and work your way to the foreground with all the little sea creatures.

The above photo shows the assembly and we also have step by step directions below.
Want to have even more fun? These Under the Sea Graham Crackers would even be the perfect snack for kids to make themselves at an under the sea party!

Put all of the decorated graham crackers together and you have one super cool edible ocean scene!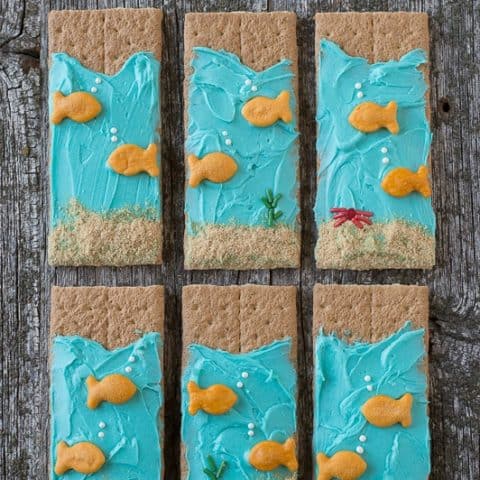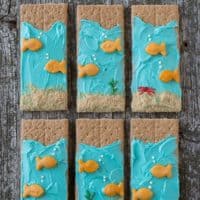 Under the Sea Graham Crackers
Additional Time: 20 minutes
Total Time: 20 minutes
Ingredients
Graham crackers
Graham cracker crumbs, in bowl
Gold fish crackers
White ball sprinkles
Green and red long sprinkles, or jimmies
Round red sprinkles
Blue buttercream
1 stick of butter, room temperature
1/2 cup vegetable shortening (can use butter instead)
2 cups powdered sugar
teal or blue food coloring
Instructions
Blue Buttercream
In a mixing bowl, combine the room temperature butter and shortening, beat using an electric mixer for 2 minutes, until light and fluffy.
Begin to add in the powdered sugar, about 1 cup at a time. Slowly beat the mixture until the powered sugar is incorporated. Continue this process, adding enough powdered sugar to make sure the frosting isn't too wet.
Add in your desired blue food coloring, mix by hand until the color is even.
To assemble the under the sea graham crackers
Take one graham cracker and using a spreader or butter knife, spread blue frosting on almost all of the cracker, but leave the very top of the graham cracker frosting free.
Place the bottom of the frosted graham cracker into the bowl with graham cracker crumbs, covering just the bottom of the cracker with crumbs or 'sand'. You can sprinkle extra crumbs on if needed.
Add two goldfish crackers. Then give each goldfish 2 air bubbles, using the white ball sprinkles.
Optional decorations include seaweed and a crab. To make the seaweed use several long green sprinkles and arrange them to look like seaweed. To make the crab, use one red round sprinkle and several long red sprinkles as legs and arrange them to look like a crab.