S'mores Bites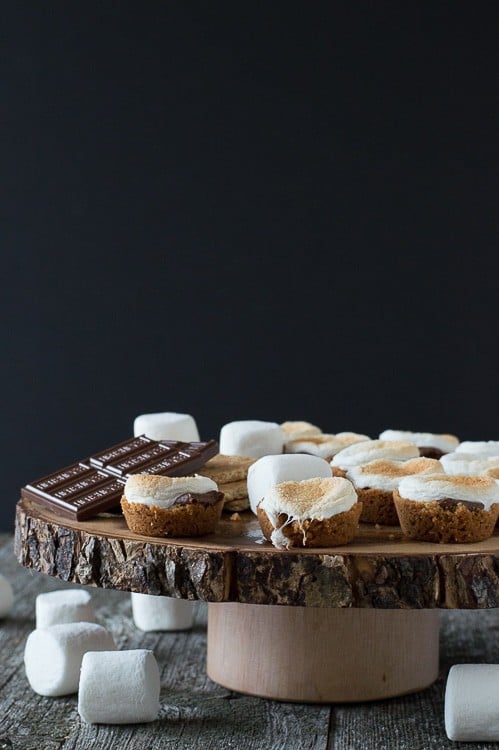 An easy S'mores recipe and one of our favorite desserts to make all year round. S'mores Bites are a twist on the classic s'mores dessert, make these mini s'mores in the oven!
Making and enjoying s'mores is a summer classic. But what do you do if you don't have access to a fire pit to make them the old fashion way? Well you get a bit creative- you can use the grill, the microwave, the stove, and dare I say a candle!
This recipe for S'mores Bites incorporates the 3 key ingredients that everyone loves, but is way more portable to bring to a party than a fire pit!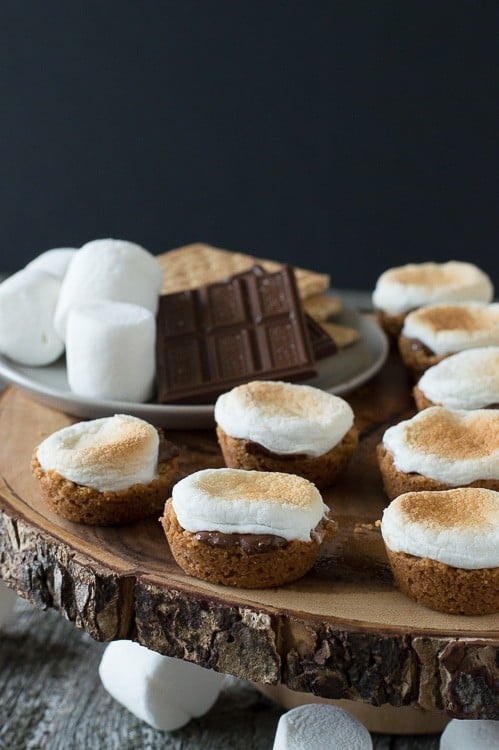 I wouldn't say they are less messy than the original s'mores, perhaps a bit fancier, in which case we suggest that you devour them with your pinky finger out and with a napkin on your lap.
Ingredients
graham crackers
powdered sugar
butter
hershey's chocolate bars
large marshmallows
Special Tools
The only special tool you need to make this recipe is a mini muffin pan!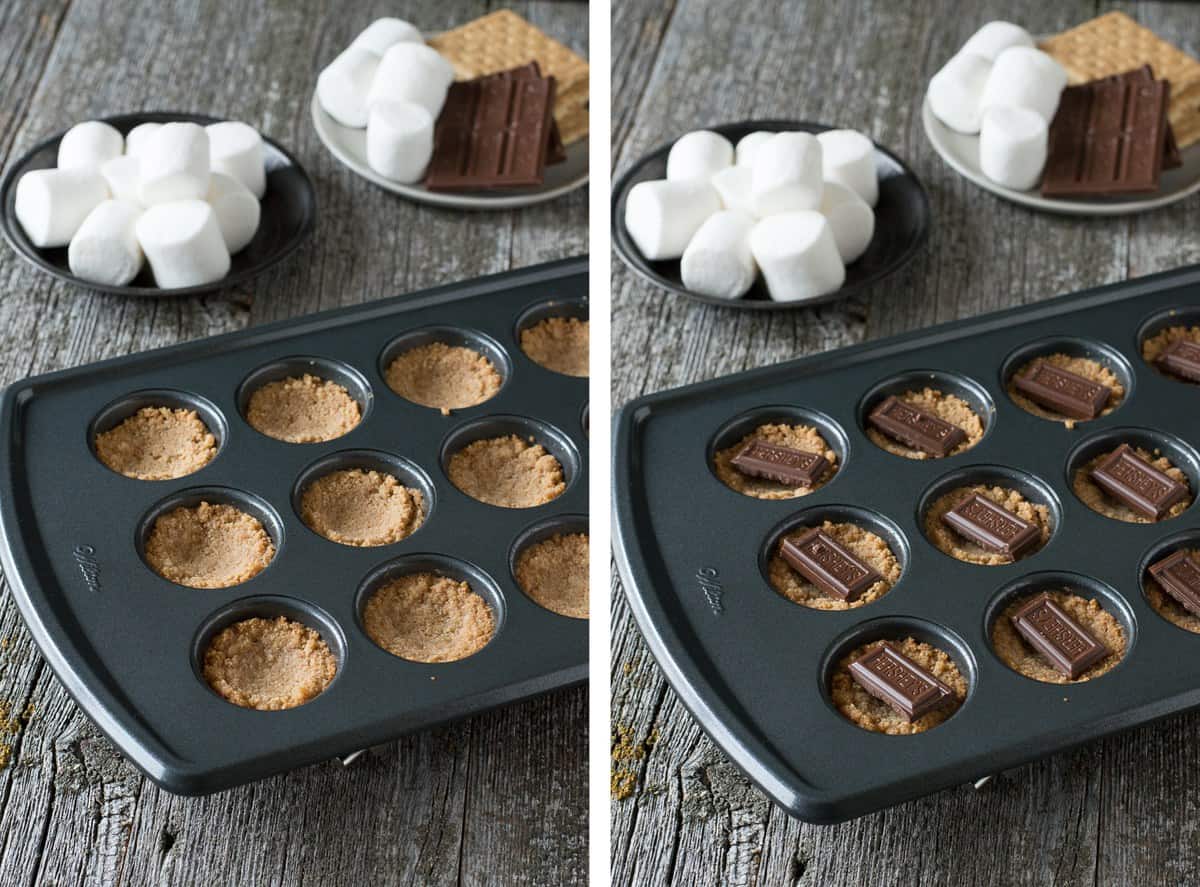 This photo shows the bites post-baking and in the process of putting the chocolate squares on.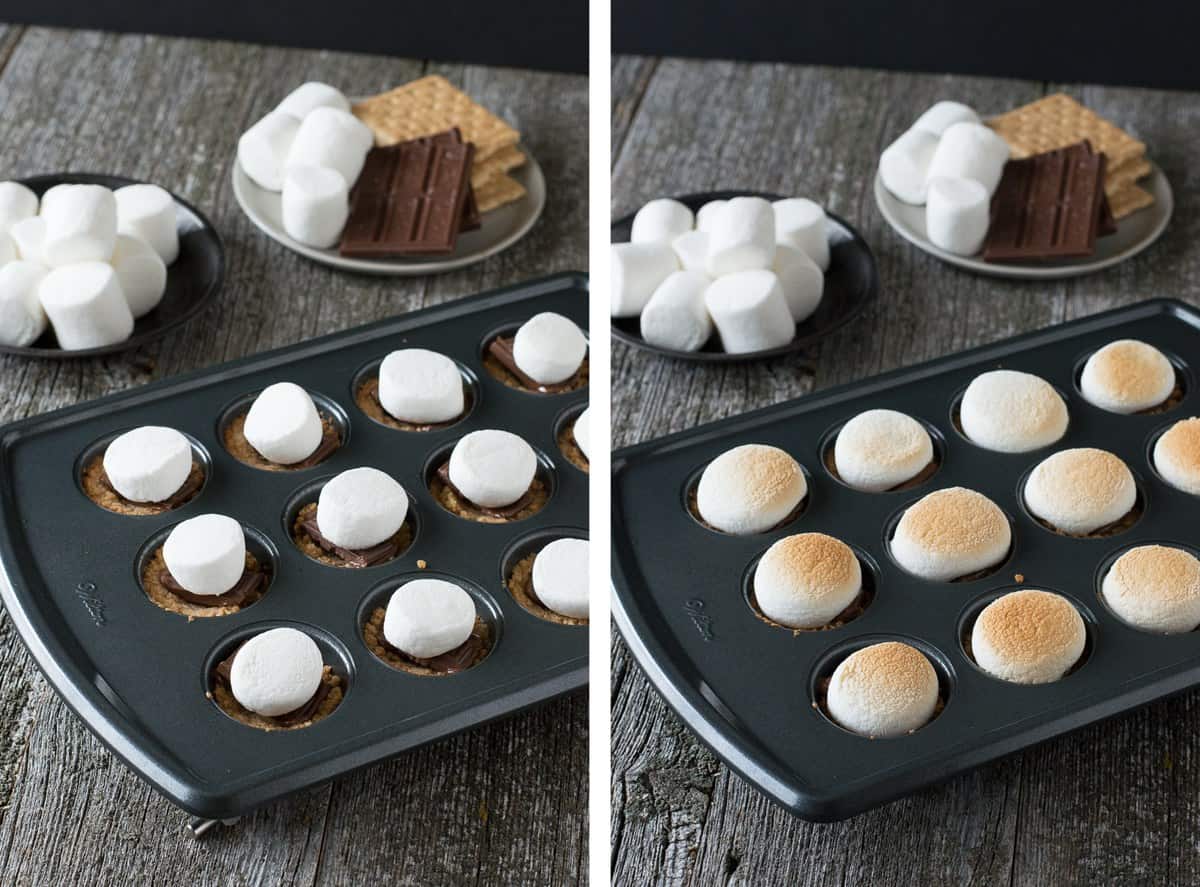 Onto the marshmallow stage, and then they go back in the oven. The 'hardest' part of this recipe is probably crushing the graham crackers, which I did with my slap chop because I didn't want to dirty up my food processor.
Total Time Required
5 minutes to prep the crust
5 minutes to pre-bake the crust
5 minutes to add the chocolate and marshmallows, then bake 2-4 minutes until gooey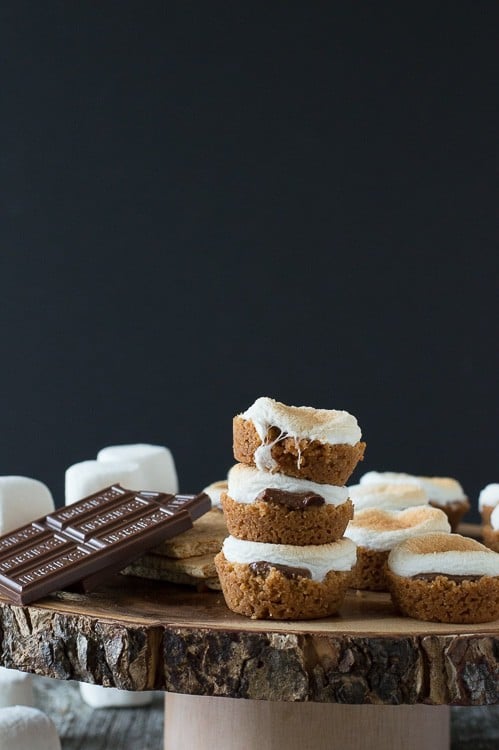 After finishing up you S'mores Bites ahead and eat the leftover Hershey's bars or you could save them for your next real bonfire!
More Dessert Recipes
Stay Connected

Subscribe to The First Year newsletter to get our recipes sent to your inbox! Follow along on Instagram, Facebook, Pinterest, and Youtube. If you make this recipe, tag @beth_thefirstyear on instagram!
For a step-by-step of how to make this S'mores Bites recipe, watch this short video: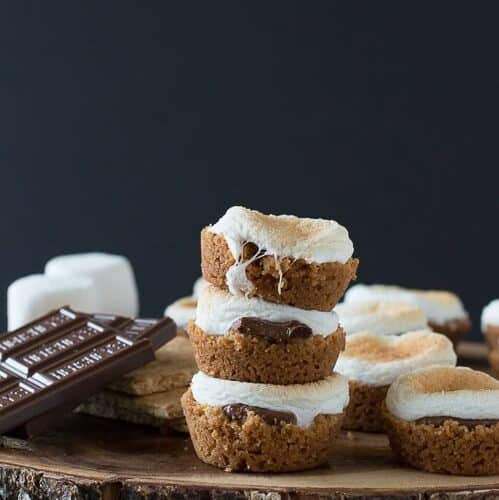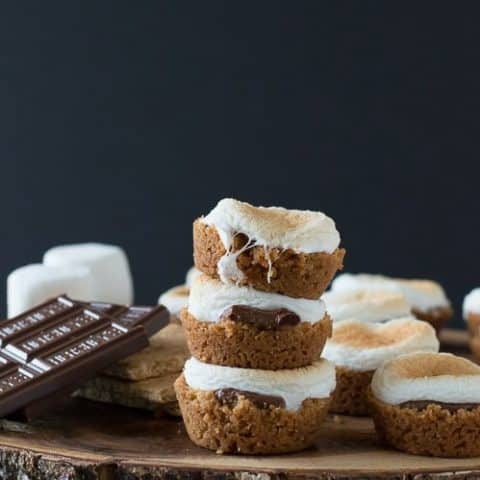 S'mores Bites
Yield: 24 bites
Prep Time: 10 minutes
Cook Time: 7 minutes
Total Time: 17 minutes
An easy S'mores recipe and one of our favorite desserts to make all year round. S'mores Bites are a twist on the classic s'mores dessert, make these mini s'mores in the oven!
Ingredients
7 whole graham crackers (equals 1 cup), finely crushed
1/4 cup powdered sugar
6 tablespoons unsalted butter, melted
2 (1.55 oz) milk chocolate candy bars (I used hershey's), divided into rectangles
12 large marshmallows, cut in half
Instructions
Preheat the oven to 350°F.
Finely crush the graham crackers into crumbs, using whatever method you want. I used my slap chop, but a food processor would work or even putting them in a plastic bag and smashing.
Combine graham cracker crumbs, powdered sugar and melted butter into a small bowl.
Evenly divide crumb mixture into each cup of a 24 cup mini muffin pan, grease slightly before using. Press crumbs down to form shallow cups.
Bake 4-5 minutes or until edges are golden.
While that's baking, break the candy breaks into the divided rectangle pieces. Also cut the marshmallows in half using a scissors that has been sitting in cold water.
Remove the pan from the oven and place one chocolate rectangle into each cup.
Place one marshmallow half, cut-side down, into each cup.
Return to oven for 2-4 minutes or until marshmallows are just slightly softened.
If you'd like the tops to be brown, turn the oven to broil, and broil the s'mores bites for 1-2 minutes.
Cool on a cooling rack for 15 minutes before carefully removing them from the pan.
Notes
Do not freeze, preferably eat within 3 days of making. Recipe adapted from Sweet Peas Kitchen.