Gingerbread Men Oreo Balls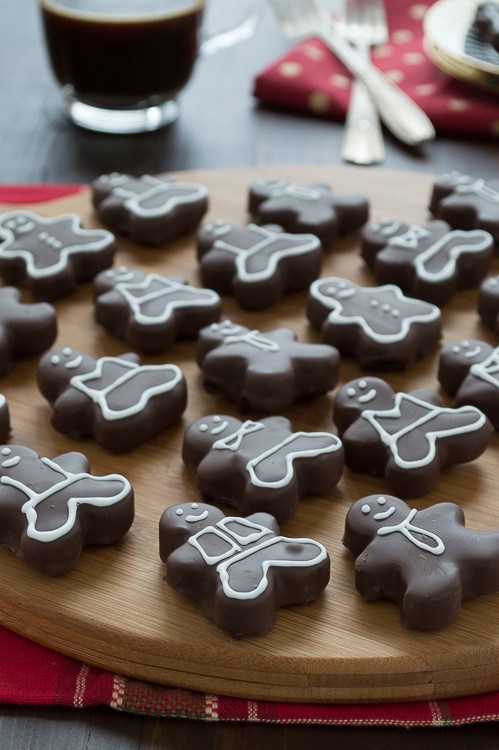 We are way ahead of schedule this year, it's the first time we have our Christmas shopping done before December 22nd!!
But, I will confess that most of the shopping was done through Amazon, what would I do without Amazon prime and their two day shipping? I don't think I will ever be the type of person to have my Christmas shopping done before December. I think I would have a hard time hiding gifts around my house because I have a hard time keeping a secret. The shorter amount of time they are in my possession means the shorter amount of time I have to keep a secret.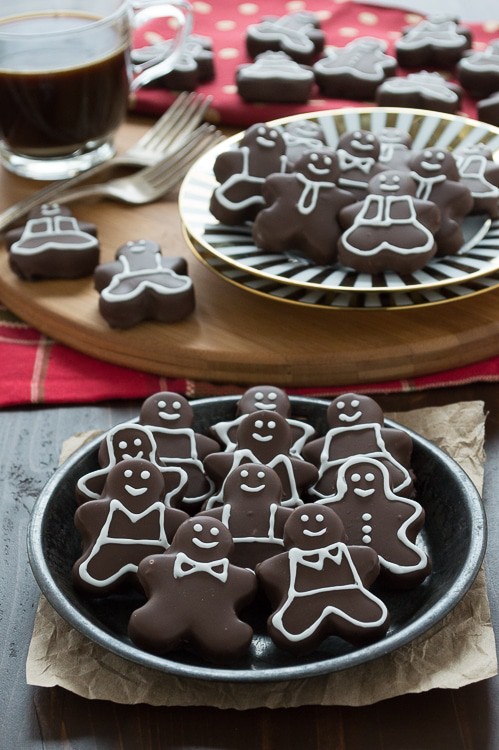 We can cross off one thing on the never ending to-do list. What else is on there? Make christmas cookies and assemble goodies containers for a few people.
I really hope that one gets done.. but it always seems like the easiest one to get crossed off the list because I don't have enough time. Which, you're probably thinking.. "Beth you must have tons of christmas treats laying around your house." Umm, I wish! A lot of the christmas recipes I've been sharing were made the week of Thanksgiving and the treats have disappeared. I am sure you can understand.. unless I pack them up and put them in the freezer, we eat them!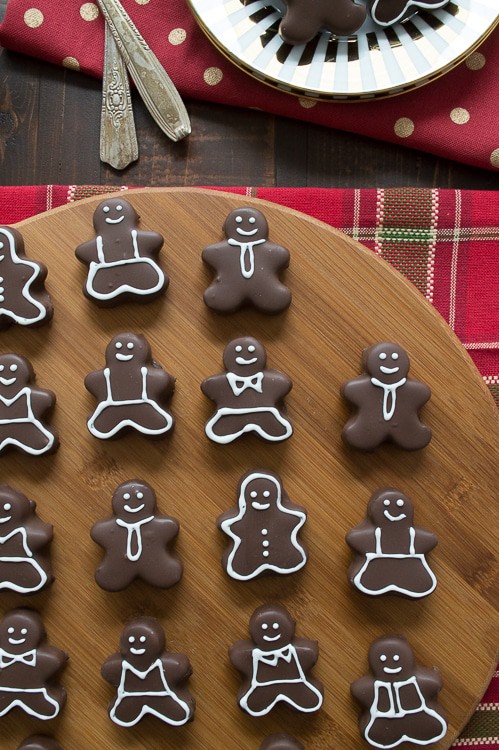 But people are counting on me to make christmas cookies because my bible study is going caroling this week! I am super excited, caroling is something I've always wanted to do, but I've never been able to find enough people who actually want to do it. I'm sure it will be cold and I don't have the best singing voice, but I'm looking forward to it.
I'm thinking about making these adorable gingerbread men oreo balls for caroling. But, I'm going to be straight forward, this isn't a "I'm just going to whip this recipe together in one hour" kind of recipe. It requires time, but if you gather up a few people to help you, turn on the Christmas music and drink some hot cocoa, you'll have these gingerbread men oreo balls done in no time!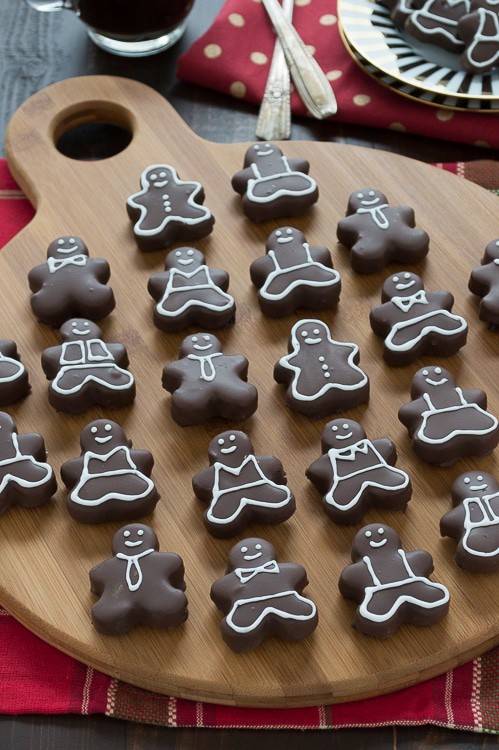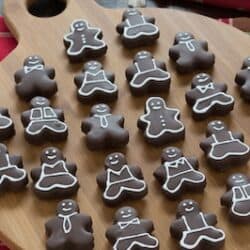 Gingerbread Men Oreo Balls
Yield:
36
gingerbread men
Oreo truffle balls are super easy and so delicious! Use the gingerbread oreos and take some extra time to shape little gingerbread men to really wow your guests for the holiday.
Ingredients
1

package

oreos

,

any flavor you want, pulsed in food processor

1

package

regular cream cheese

,

softened

1

package

chocolate candiquik

1

tbsp

crisco
White Royal Icing
2

cups

powdered sugar

1

tbsp

meringue powder

2.5

tbsp

water
Instructions
Allow the cream cheese to come to room temperature.

Put half of the oreos in the food processor and pulse until you have oreo crumbs. Add the other half of the oreos to the food processor and pulse again, until all the oreos are fine crumbs.

Once the cream cheese is soft, mix the oreos and cream cheese together, making sure the mixture is very well blended.

Line a baking sheet with wax paper or plastic wrap, and press the dough mixture evenly around the pan, creating a uniform thickness. Use a mini gingerbread man cookie cutter to cut out gingerbread men oreo balls. Repeat this process with the leftover oreo mixture until it's gone.

Place the gingerbread men on another baking sheet lined with wax paper and place them in the freezer for 1 hour.

After the gingerbread men are hard, begin to melt the chocolate candiquik and crisco in a double broiler. You will need a double broiler to keep the chocolate warm while dipping all of the men. There isn't a specific temperature to put the stove at, your saucepan with the chocolate in it just needs to be warm enough to melt the chocolate without scalding it. It might take 8-10 for the saucepan to warm and the chocolate to melt completely.

I prefer to remove 2 gingerbread men from the freezer at a time for dipping. To dip, place 1 gingerbread man in the saucepan with melted chocolate. Use a spoon to spoon chocolate on top of the gingerbread man, if needed. To remove the gingerbread man, use a fork to lift it out of the chocolate. To remove excess chocolate from the gingerbread man on the fork, tap your wrist 2 times with your other hand. Scrape the bottom of the fork on the edge of the saucepan to remove more chocolate, then move the gingerbread man to a cooling rack sprayed with non-stick cooking spray. I like to place my oreo balls on a cooling rack so the chocolate doesn't pool at the bottom of them, it will drip down instead, creating a nice shape. Spraying your cooling rack with non-stick spray is important. Re-spray as needed, you don't want your oreo balls sticking to the rack. Use a toothpick to help get the gingerbread men off the fork and onto the rack smoothly.

Continue this process until all of the gingerbread men are dipped. Allow them to harden at room temperature.

Once the gingerbread men are cooled and the chocolate has set completely, you can begin to decorate them with the royal icing. I like to transfer my royal icing to a squeeze bottle with a small tip. I feel like it gives me more control when decorating. Use the frosting to decorate the gingerbread men as you desire.

Once all of the gingerbread men are decorated, allow them to harden at room temperature. Store them in an airtight container in the refrigerator since there is cream cheese in the mixture.
To make the royal icing
Combine the powdered sugar, meringue powder, and water in a mixing bowl and mix until the icing has a matte appearance, about 7-10 minutes. You may need to add a little more water to get the right consistency. You don't want the icing to be runny, but have a thicker consistency, but you don't want it to be too thick where you can't get it out of the squeeze bottle. Transfer to a squeeze bottle or ziploc bag with one corner cut off.
Notes
This video is a great resource about dipping things in chocolate.
Calories:
200
kcal
,
Carbohydrates:
27
g
,
Protein:
1
g
,
Fat:
9
g
,
Saturated Fat:
7
g
,
Polyunsaturated Fat:
1
g
,
Monounsaturated Fat:
2
g
,
Trans Fat:
1
g
,
Cholesterol:
7
mg
,
Sodium:
84
mg
,
Potassium:
37
mg
,
Fiber:
1
g
,
Sugar:
23
g
,
Vitamin A:
85
IU
,
Calcium:
9
mg
,
Iron:
1
mg