Out of the Kitchen March 2015
We're back with another Out of the Kitchen post – Here's what we've been up to for the month of March!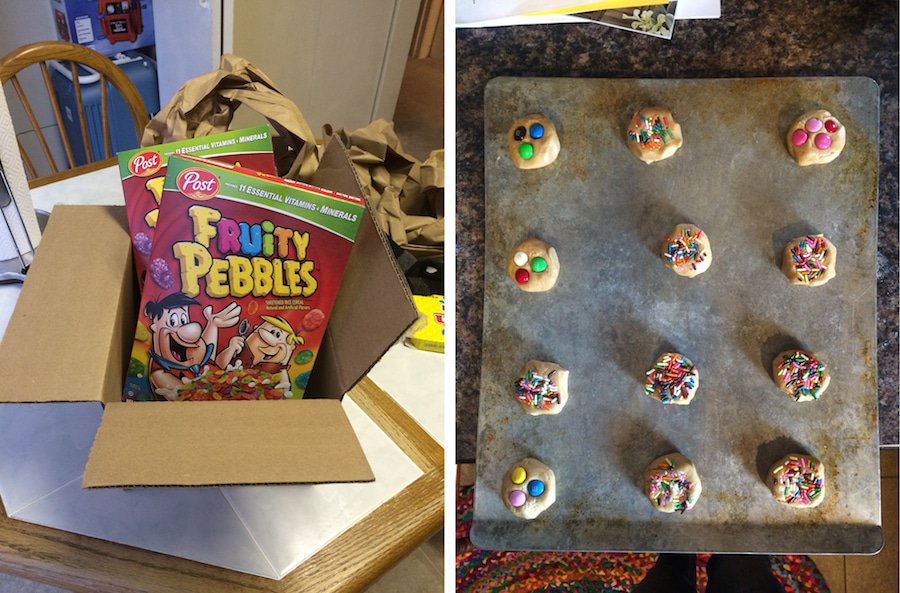 In March we had the opportunity to work with Fruity Pebbles! They found our Rainbow Donuts online and loved them, so we partnered together for these super cute Rainbow Sugar Cookies. April showers bring rainbows, hehe :) The photo on the right shows what happens when you let 3 year olds decorate cookies, very sprinkle-y and very fun!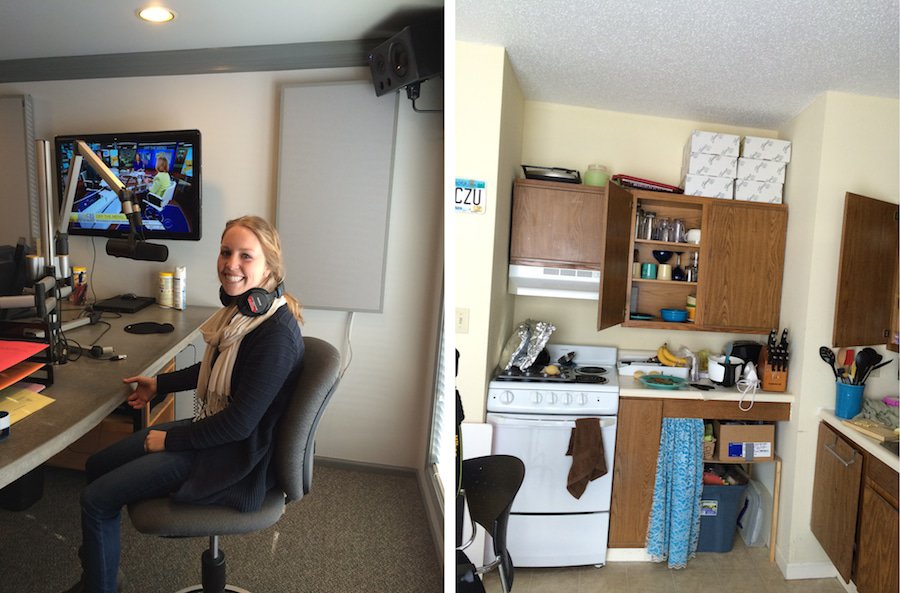 Here I am at the radio station!! I was invited to be on the radio to talk about what it's like being a food blogger. It was super fun, but I will admit I was very nervous but many people said that I have a good radio voice :) The photo on the right shows what it's really like in my kitchen. Messy, dishes everywhere, counters covered. Very glamorous.. not!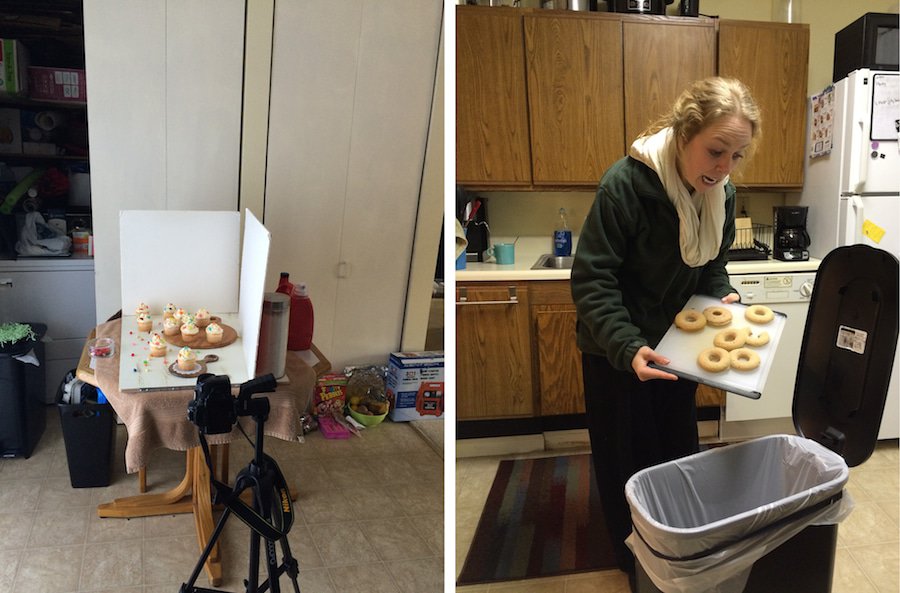 This is an in-process photo from these fun Jelly Belly Cupcakes. I love how bright and cheery they are, I just wish jelly beans were popular year round! The photo on the right shows real life baking. Not everything I make turns out. And when it's really bad, it goes into the garbage, like these donuts. But never fear, look below and because I tried my hand at them again!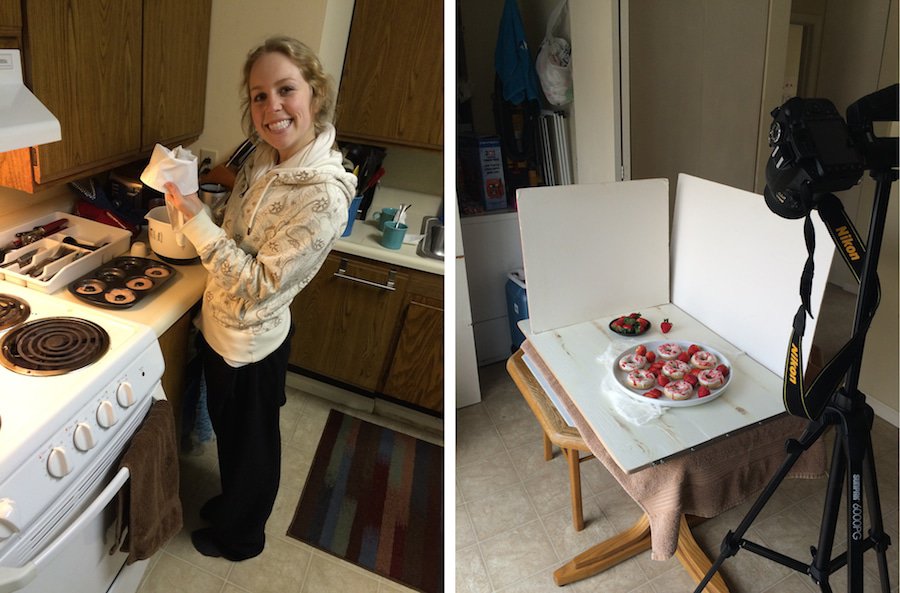 Donuts round 2 and much better this time. Both of these photos are for a delicious recipe involving donuts, cheesecake, and strawberries. Ryan said that this recipe was a piece of art.. awww! How sweet :) Keep your eyes peeled for the recipe.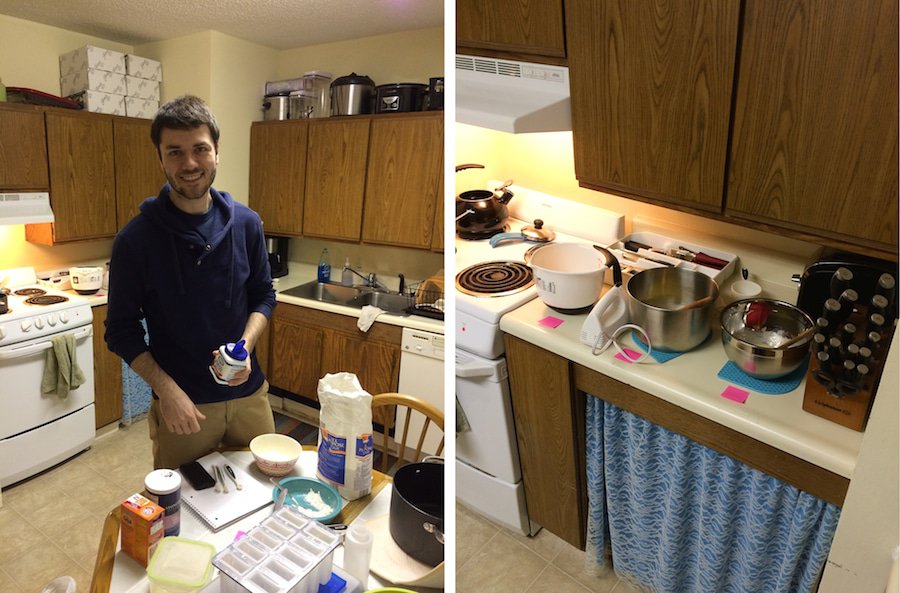 My sweet, sweet husband helped me out in the kitchen. We were trying out 3 different vanilla cupcake recipes and one definitely prevailed as the winner and it is now our go-to vanilla cupcake recipe. The recipe has been used here, here, and here. Since Ryan is a chemist, he was really proud of me for channeling my inner chemist in concocting 3 different recipes.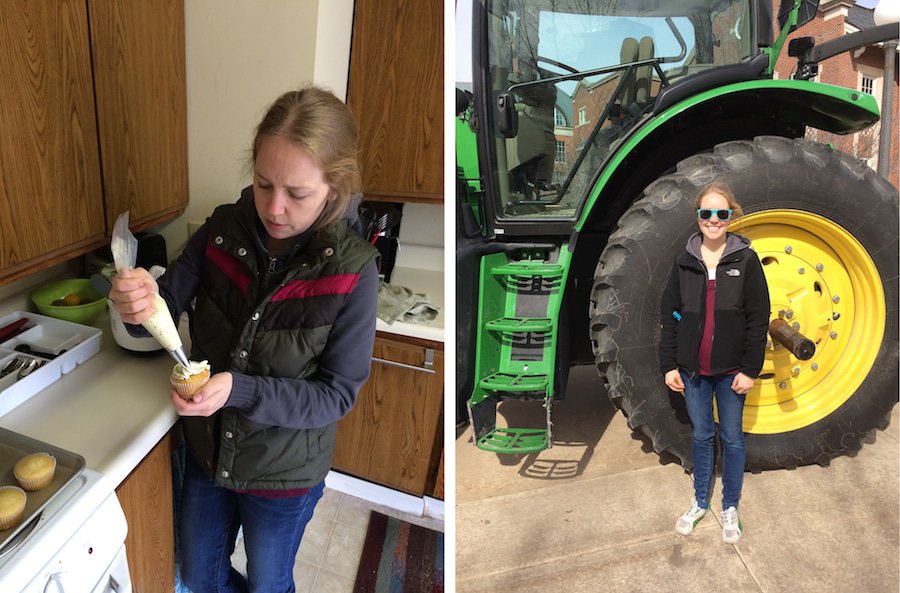 Here I am doing a little piping demonstration for Ryan. I even let him pipe the frosting on a few cupcakes. I don't think those ones were used in the photo shoot, he needs a bit more practice :) The photo on the right – when you find a tractor in the middle of campus and it's wheels are larger than you, it's mandatory that you take a photo!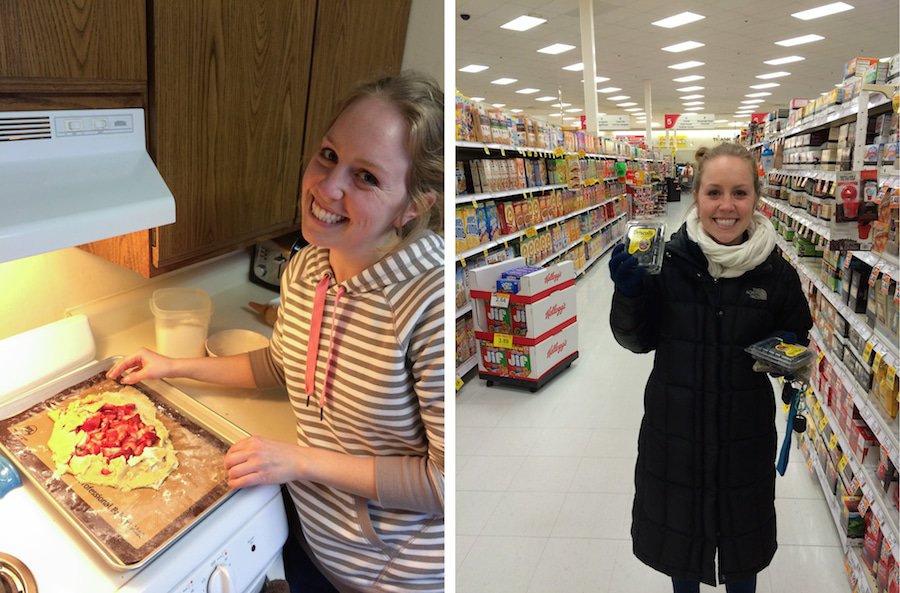 I'm super excited about this one! This is the first out of the pan pie of the season! It's one of our favorite recipes ever, find the recipe here! The photo on the right is my "I'm obsessed with blueberries" picture. So happy they are beginning to be in season!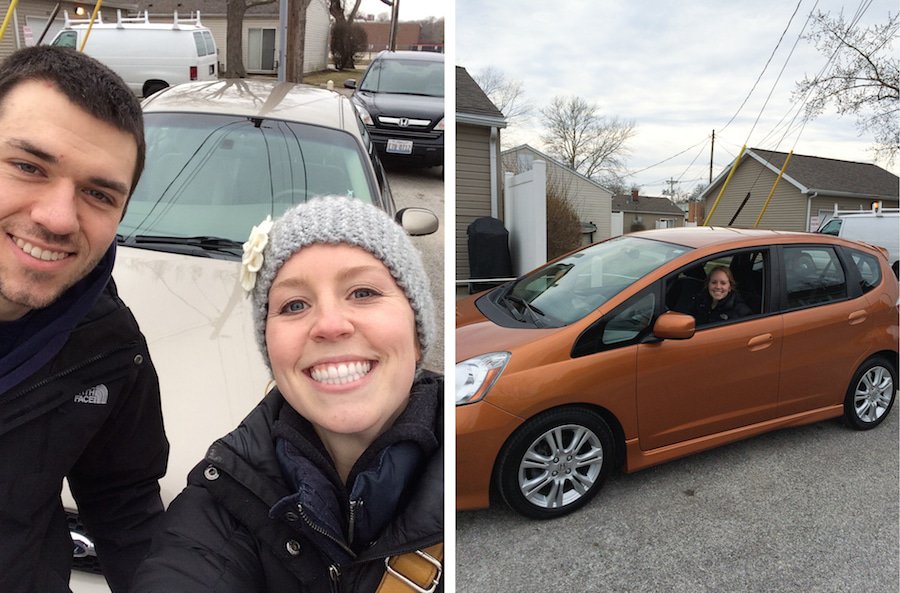 Last month in our out of the kitchen post, I shared a photo of us doing some leisurely reading, aka consulting consumer reports articles about the best used car to buy. Well, we finally decided! We traded in our old ford taurus (on the left), which was a whopping $800 for a honda fit! Yes, it's orange. Beggars can't be choosers. :)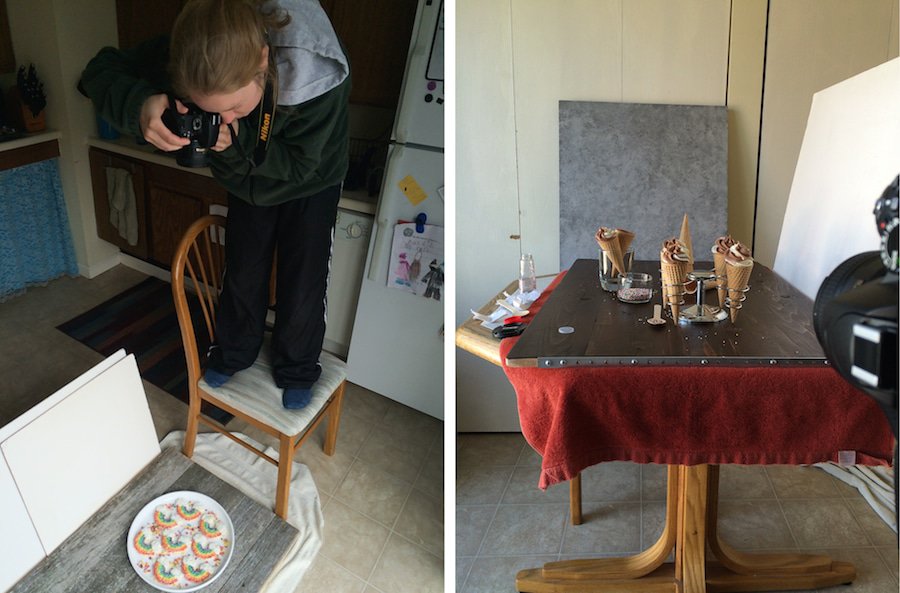 This is probably my least favorite way to shoot – standing on top of a chair, hunched over trying to get a good ariel shot. But I have learned that the foam roller is my best friend after shoots like this one. Golly, I'm only 25.. I wonder what will happen as I get older! The photo on the right is a sneak peek! This one is really delicious and I hope it convinces everyone that they need to buy an ice cream cone stand.. how cute, right!? It will be on the blog in the coming weeks.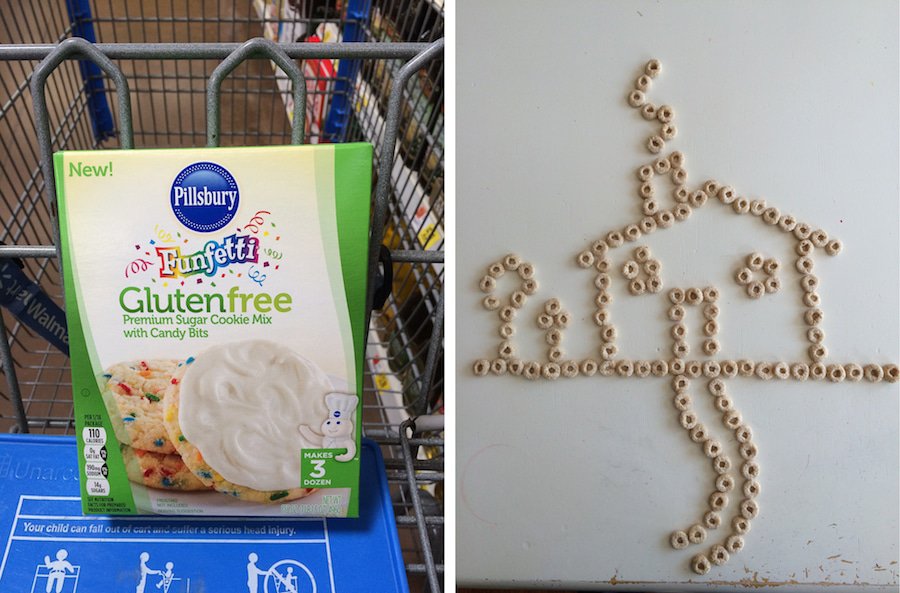 I do have a gluten allergy, so when I find new gluten free products in store, it's like winning the lottery. I was really excited to see that they now offer funfetti cookie mix.. but I didn't end up buying it because I remembered that I don't like funfetti cookies. Boooo, I know! The photo on the right is a fun snapshot of the kinds of activities I do with my nanny kids. This one was a big hit – I mean, who doesn't like eating and playing with their food?!
Thanks for seeing what we were up to in the month of March! See our previous Out of the Kitchen posts here.