Out of the Kitchen November 2020
We're back with another out of the kitchen post – here's what we've been up to for the month of November!
I haven't posted a monthly update since August. We found out we were pregnant in early September, so September and October were more difficult with morning sickness and not feeling great. I'm in my second trimester and have been feeling better for the most part! But catch up with my first trimester recap!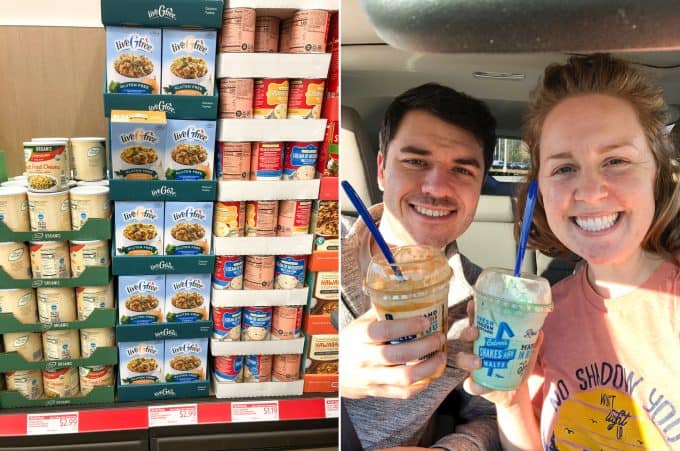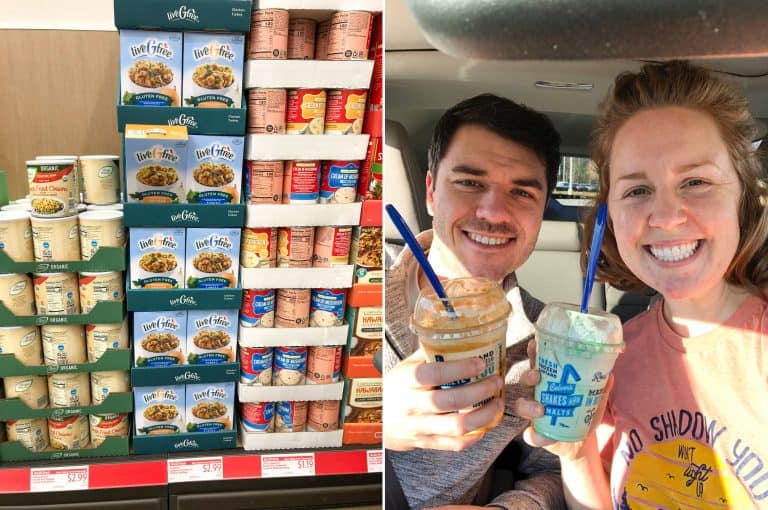 Aldi finally brought their gluten free stuffing back!!! It's a seasonal item so it isn't always available. I bought 7 boxes, hopefully that will last me til next year! The second photo – sweets finally sounded good again this month! We had some unusually warm weather in the beginning of November so we went on a hike and got custard afterward!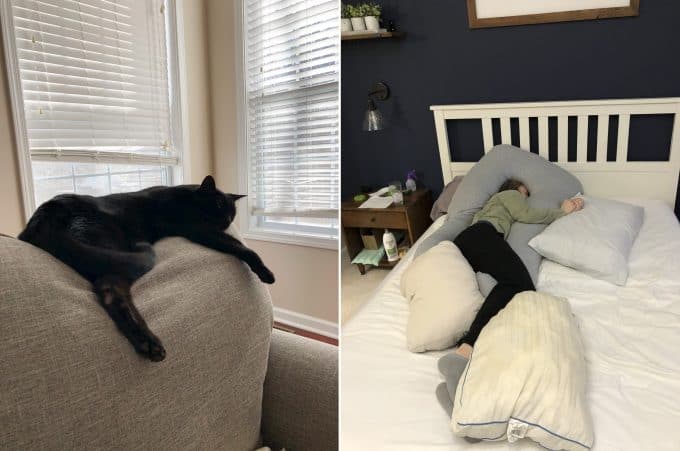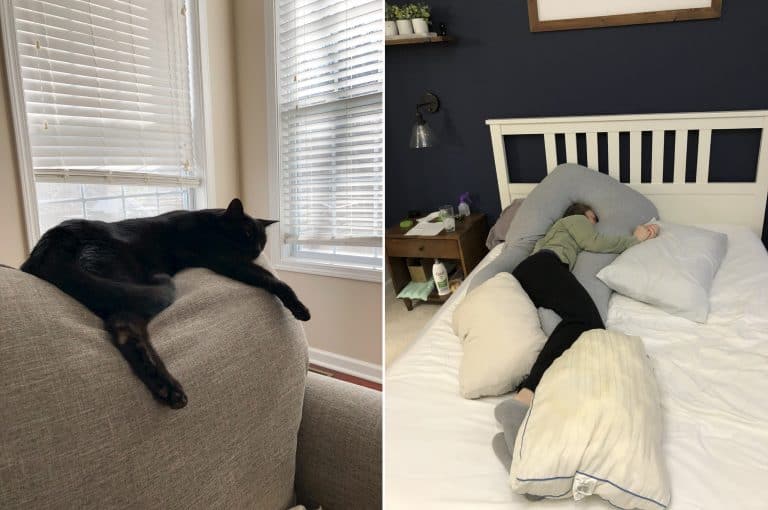 November still involved a lot of lounging and chilling. Salsa is on board! The second photo – when pregnant, you need all the pillows!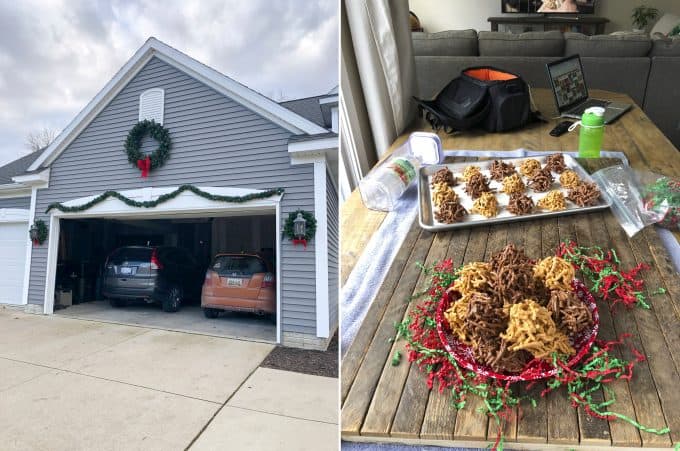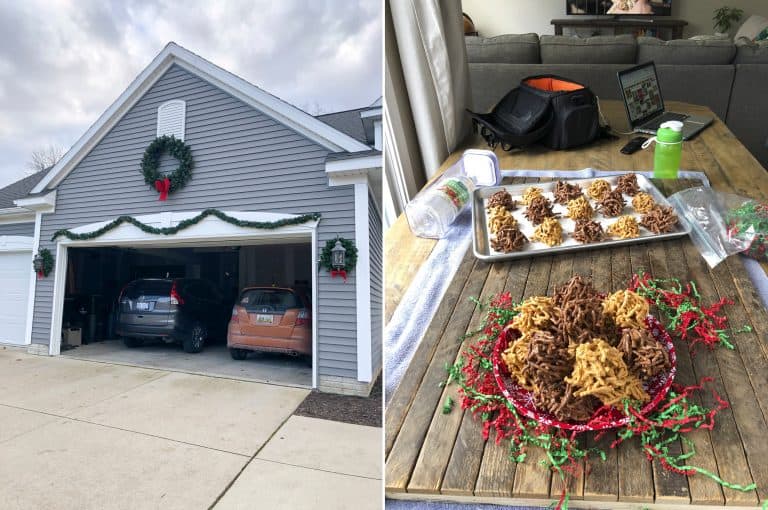 Since we had such nice weather in the beginning of November we put up our christmas garland early! I'll have to include a shot of the whole house next month when it's lit up. The second photo – I only worked on a handful of recipes in November, one being this haystack cookie recipe!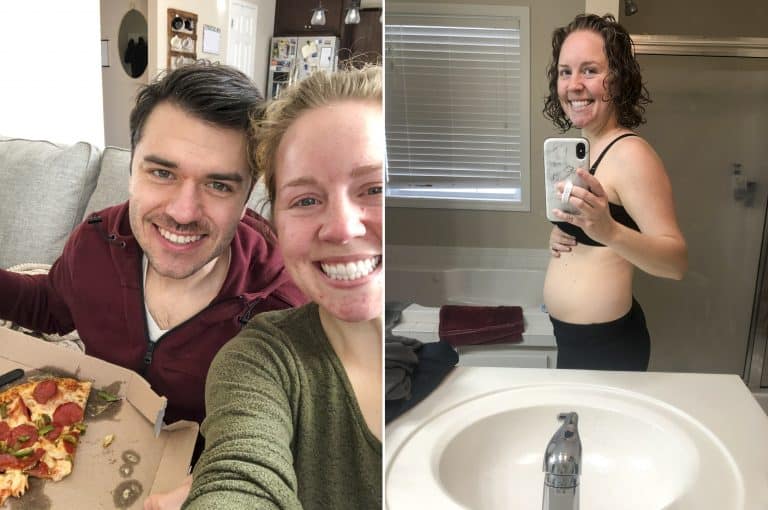 So this is kind of crazy! We found out I was pregnant while waiting for Domino's to be delivered to the house back in September. In November, we ordered Domino's again (I think they have the best gluten free pizza!) but this time while we were waiting for it to be delivered, we got an e-mail with the results of baby's genetic and gender screening! We'll be sharing baby's gender in December. I guess pizza and big news go hand in hand! The second photo – week 13 baby bump!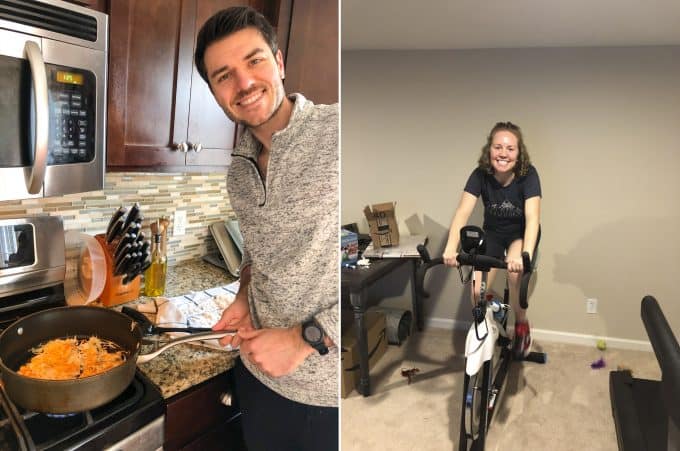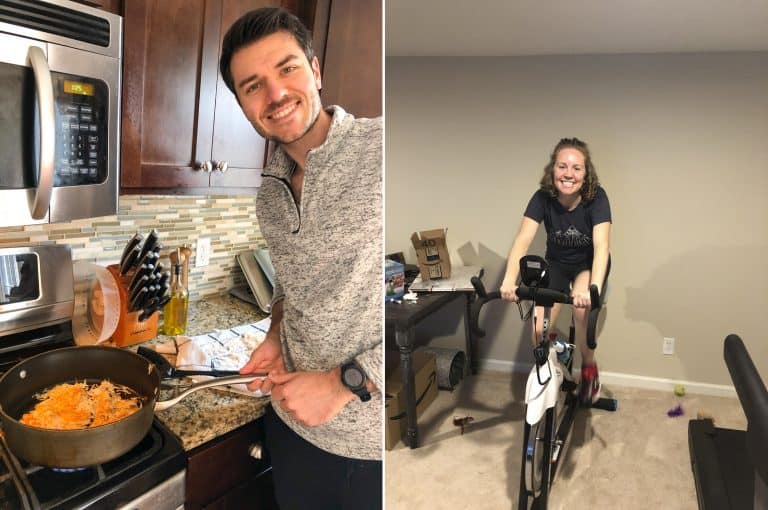 I (and the baby) have been craving hash browns. Ryan went all gourmet for me and made freshly grated hash browns one weekend!! The second photo – I found a used spin bike on marketplace for a great deal! I've been wanting one since I stopped running since being pregnant. I've been loving following the peloton classes on the bike!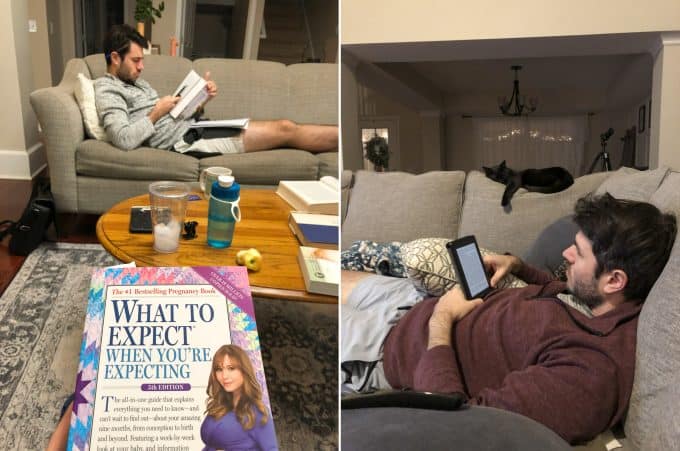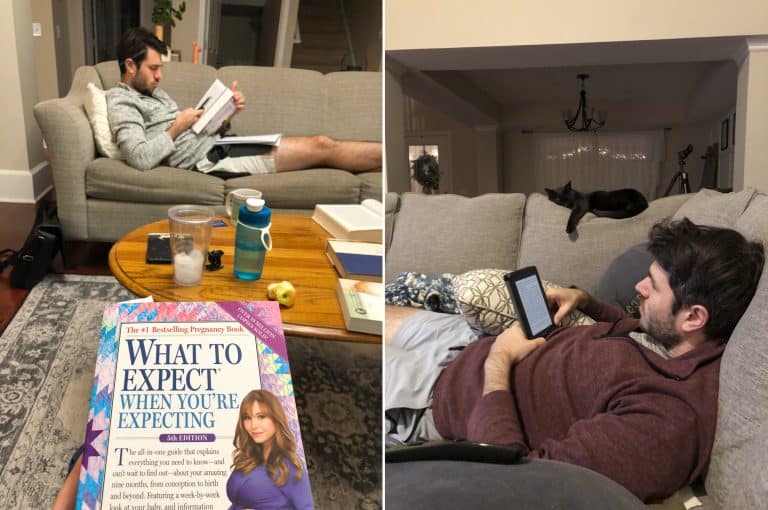 Ryan and I have both been reading about pregnancy and preparing for baby. It's been fun to share the things we're learning. Ryan has even watched videos about how to change diapers. He's going to be an amazing Dad! The second photo – just my boys hanging out on the couch. See Salsa on top of the couch?!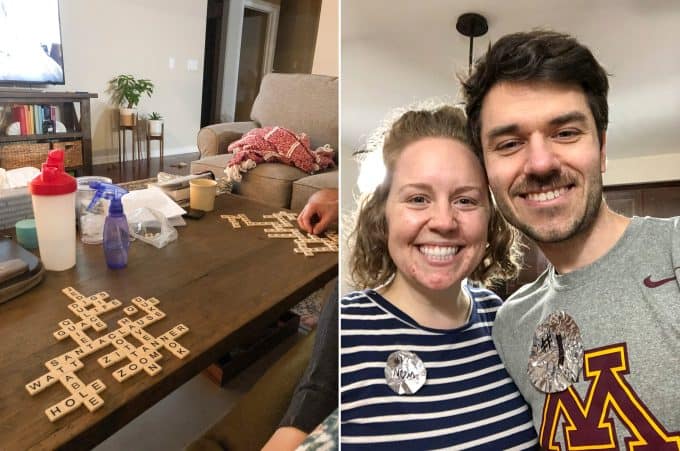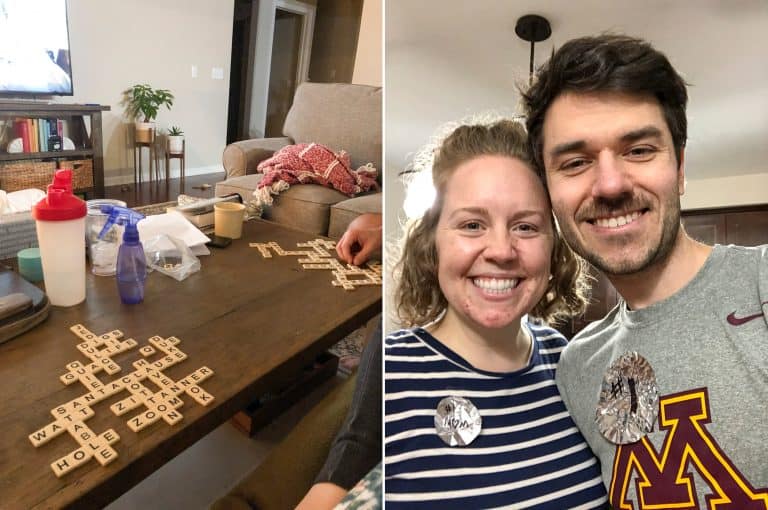 Now that I'm feeling better we're trying to be more intentional about having at home date nights. One night we played banana grams – I was pretty proud that I formed "santaclause"! The second photo – we also did house olympics! We had 5 rounds of activities – sock toss, candy cane drop, here kitty kitty, ballin', and indoor soccer. Ryan won so I made him a #1 badge. He surprised me with a #1 mom badge! I highly recommend doing house olympics!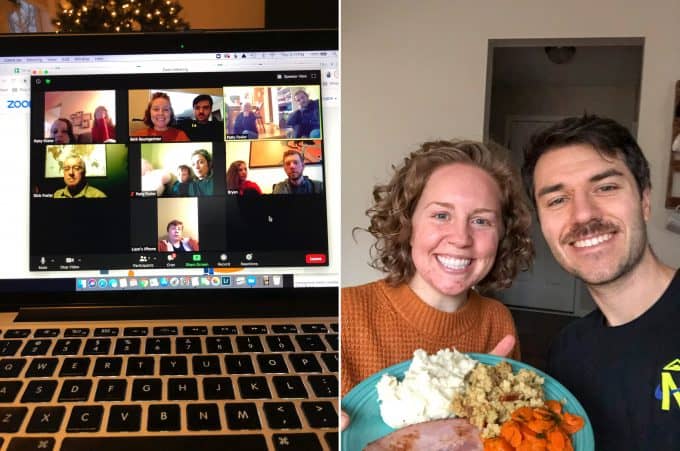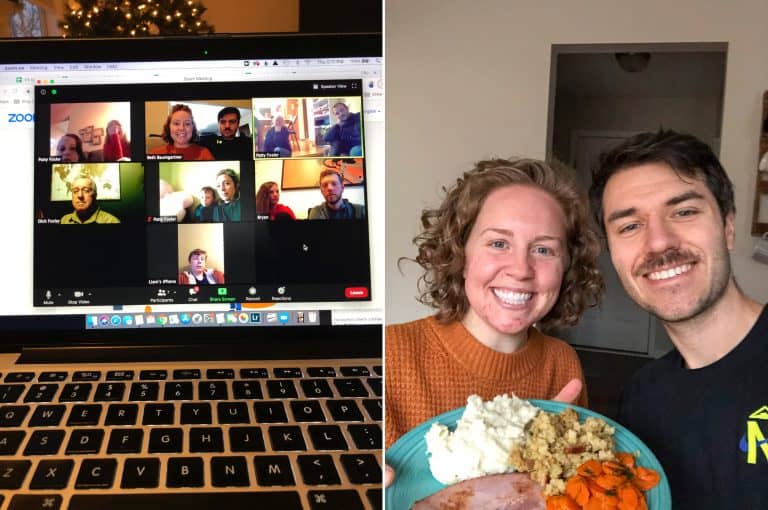 Ryan and I celebrated Thanksgiving just the two of us! We made ham, garlic mashed potatoes, sautéed dill carrots, stuffing, and peanut butter cheesecake. We also got to zoom with my family and Ryan's family which was a great way to connect! Then we kicked off the holiday season by watching Elf and drinking hot cocoa!