Rainbow Donuts
These fun Rainbow Donuts are made using fruity pebbles, white chocolate and shredded coconut! You won't be able to get your hand off these delicious donuts!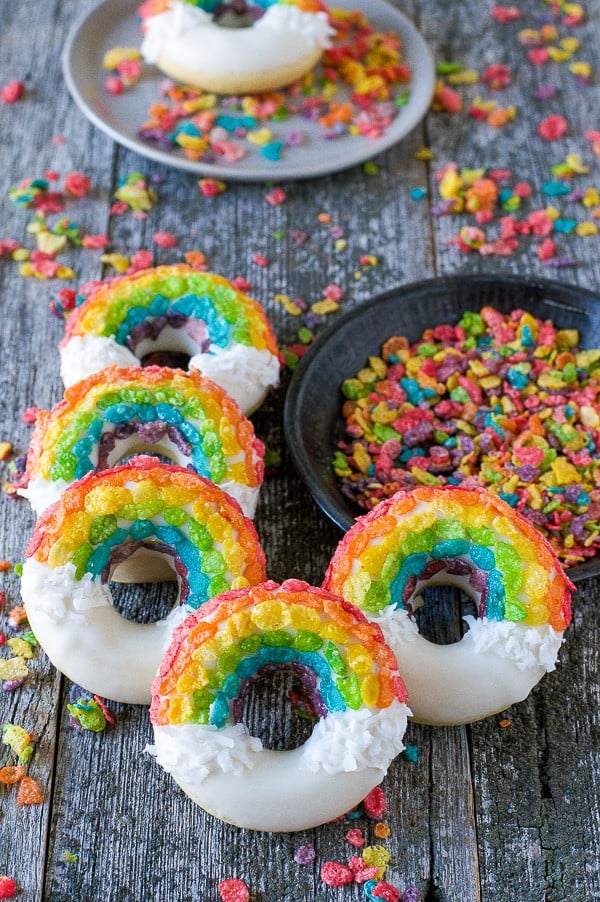 Did you see this picture I posted on instagram about a week ago? If you haven't, take a look at the picture below..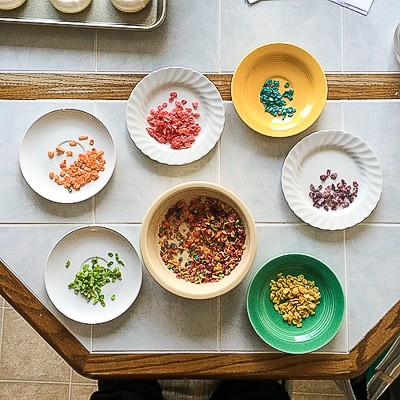 I captioned it, "This seemed like a good idea an hour ago. #help".
I was sorting a few boxes of fruity pebbles by color.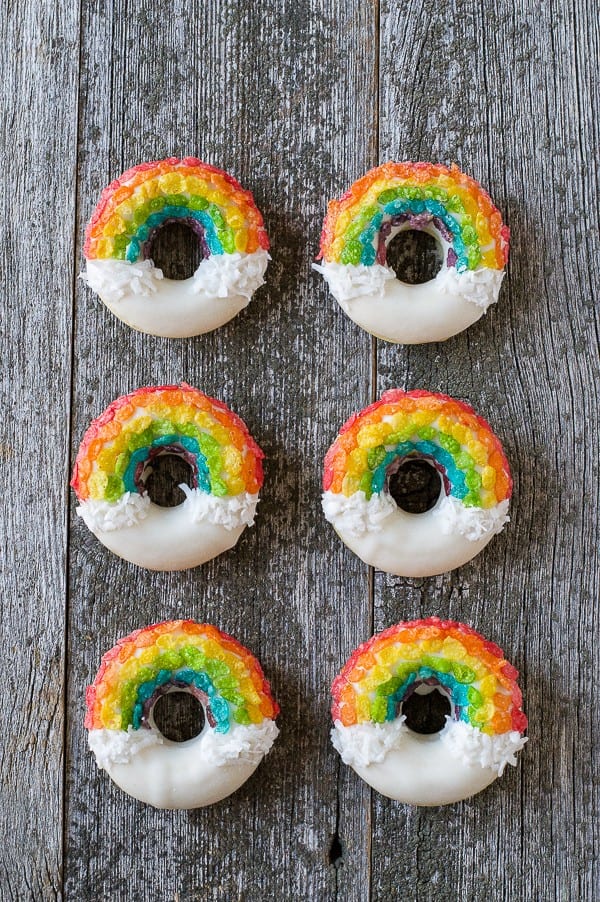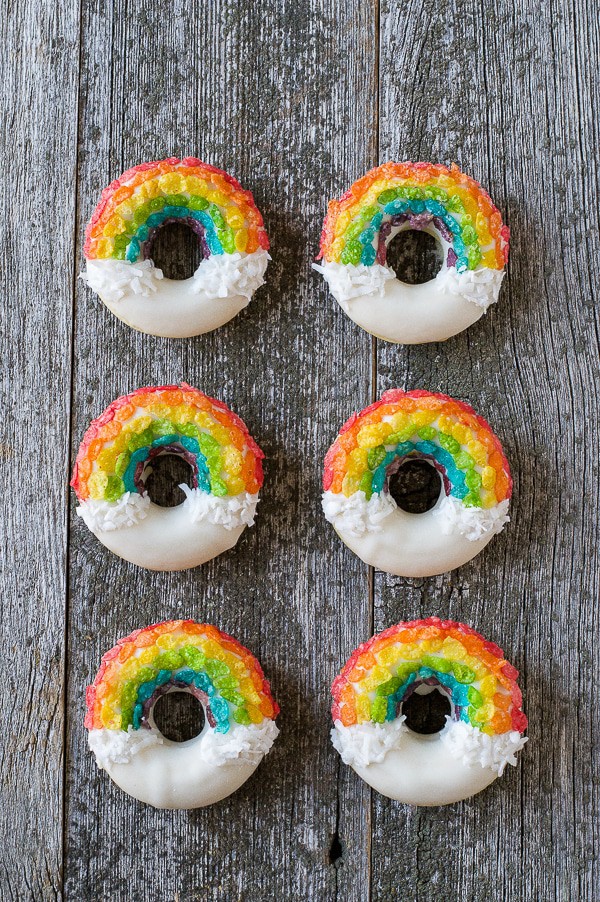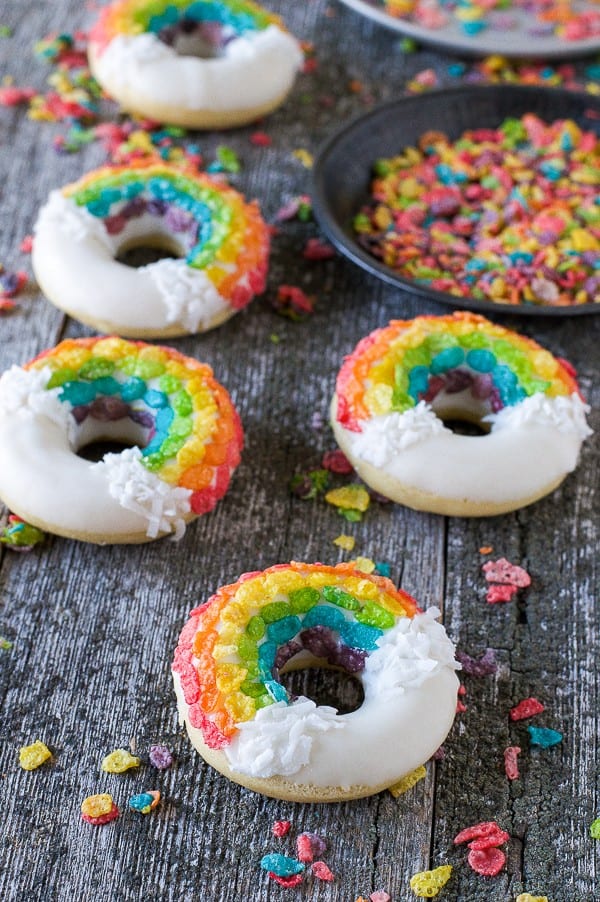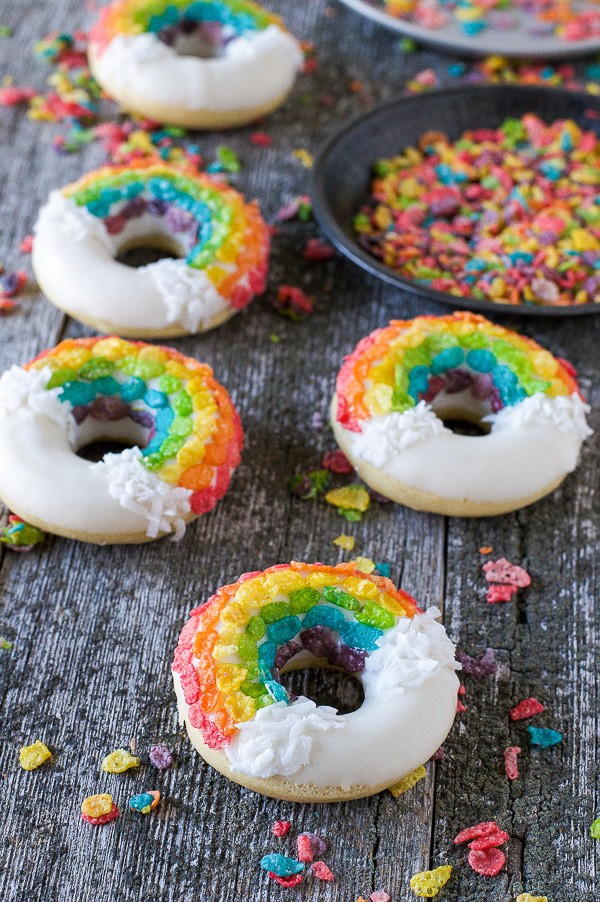 Rainbow Donuts
It really did seem like a good idea when I was brainstorming recipes for St. Patrick's Day. Some how my brain must have forgotten that fruity pebbles come in one large jumbled box of colorfulness, not neatly pre-sorted by color.
But, I learned a few things while separating fruity pebbles.
First, there is a serious shortage of purple and blue fruity pebbles.
Second, fruity pebbles are suppose to be pebbles, not fruity clumps. I encountered a lot of clumps that I had to carefully pull apart color by color.
Third, fruity pebbles make ridiculously cute rainbows, especially rainbows donuts :)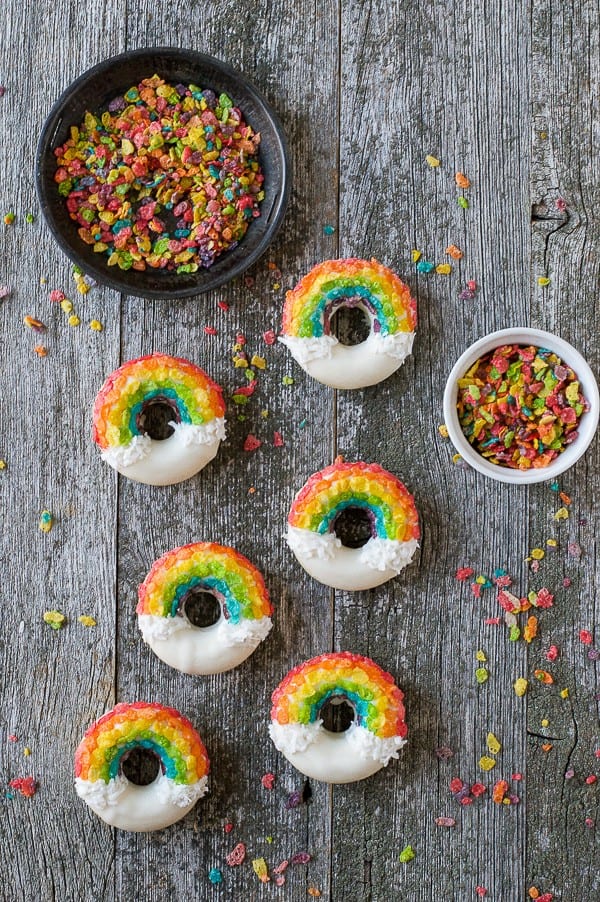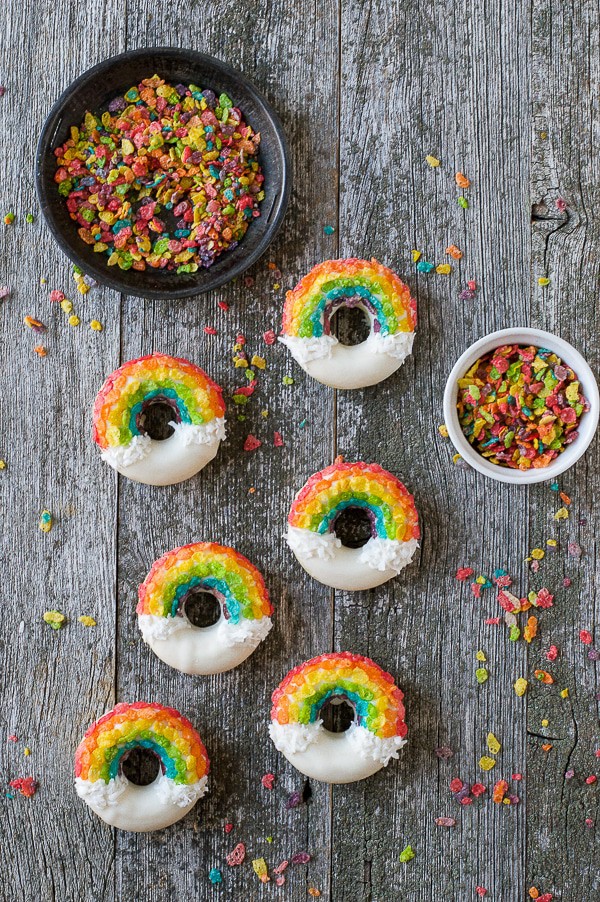 I may be a bad food blogger because I am sharing a recipe that is quite ridiculous and time consuming.
Between you and me, I don't actually expect you to make these rainbow donuts. I know! Why would I share something so cute but so ridiculous? Well let's reintroduce ourselves.. Hi I'm Beth and I like making over the top recipes.
If you do make these super adorable rainbow donuts, you need to send me a picture because you totally deserve an award. I'll even write you a letter and tell you how awesome you are.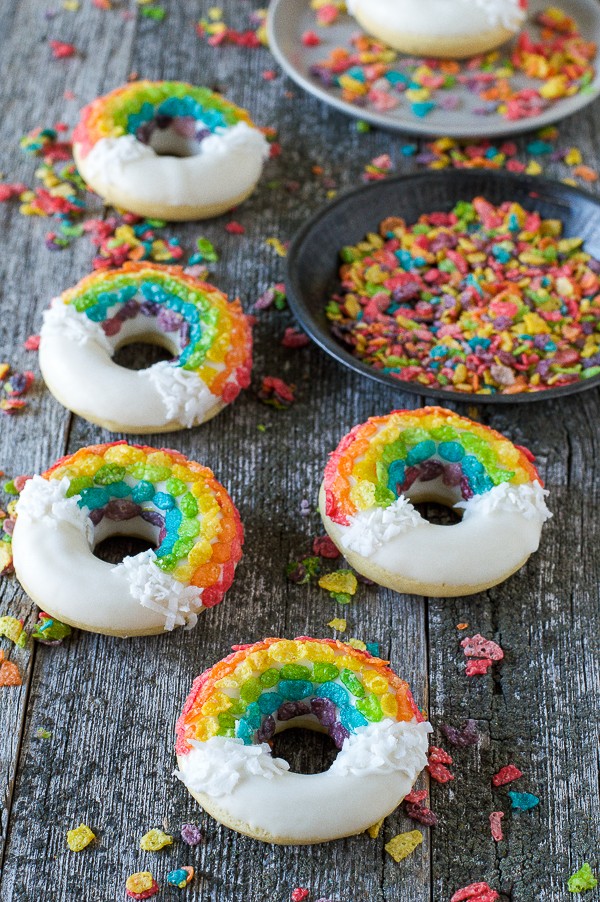 We have another recipe in store that uses fruity pebbles, but I promise you won't have to sort them by color like these rainbow donuts :)
More Recipes to Try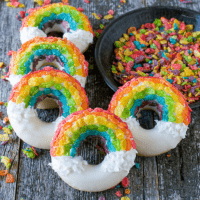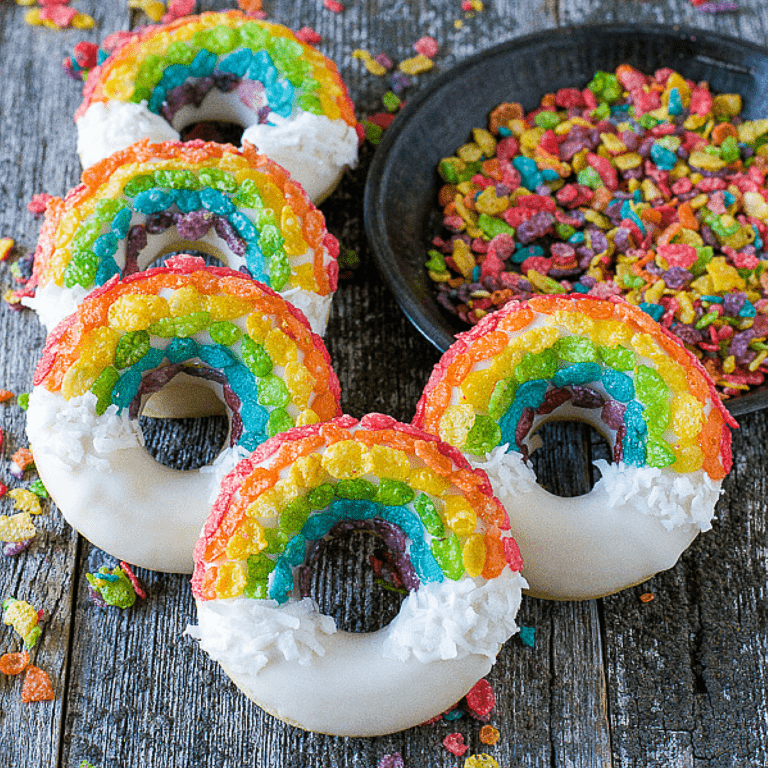 Rainbow Donuts
These fun donuts are made using fruity pebbles, white chocolate and shredded coconut! You won't be able to get your hand off these delicious donuts!
Ingredients
1

cup

flour

3

tbsp

sugar

1

tsp

baking powder

½

tsp

salt

6

tbsp

milk

1

large

egg

½

tsp

vanilla

3

tbsp

vegetable/canola oil

4

rectangles

vanilla candiquik

1

tbsp

vegetable shortening

Fruity pebbles

,

sorted by color (you don't need to sort the entire box)

Shredded coconut

,

small amount

Paint brush

,

new – never used before
Instructions
Donuts
Preheat the oven to 325 degrees F. Spray a donut pan with cooking spray, use a paper towel to lightly spread/remove excess spray.

In a large bowl combine the flour, sugar, baking powder and salt.

In another bowl combine the milk, egg, vanilla, and oil until well blended. Stir the dry ingredients into the wet ingredients, mix just until combined.

Transfer the batter to a large piping bag or use a ziploc bag with one corner cut off. Pipe the batter into the donut pan, filling each donut hole about 2/3 full.

Bake the donuts for 10 minutes, or until a toothpick comes out clean. Remove from the oven and let the donuts sit in the pan for 10 minutes before moving them to a wire rack to cool.

Remove the donuts from the donut pan and place them on a wire rack to cool.
FOR THE BASE ICING OF THE DONUTS
Melt the vanilla candiquik with the vegetable shortening in a microwave safe bowl. I like to place the candiquik and vegetable shortening in a small saucepan over low heat and melt the chocolate that way. You could microwave the candiquik and vegetable shortening on 50% power for 2 minutes, stirring every 20-30 seconds, until melted.

For dipping the donuts, it's easiest to transfer the melted chocolate to a small shallow dish, but large enough to fit a donut in. While hanging onto the edges of the donut, dip each donut into the chocolate and pause for a few seconds while the donut is upside down to allow to excess to fall off. Allow the donuts to cool on a cooling rack completely before adding the fruity pebbles.
FRUITY PEBBLES
Keep the chocolate warm during this process. The melted chocolate will act as 'glue' to hold the fruity pebbles on. Beginning with the red fruity pebbles, paint on a small amount of white chocolate then stick the red pebbles on. Continue this process until all of the red pebbles are on. Repeat with the rest of the colors – orange, yellow, green, blue, and purple.

Once the rainbow is finished, paint on some white chocolate underneath both ends of the rainbow and add the shredded coconut.

Enjoy and store the extras in an air tight container.
Calories:
204
kcal
,
Carbohydrates:
23
g
,
Protein:
4
g
,
Fat:
11
g
,
Saturated Fat:
2
g
,
Polyunsaturated Fat:
5
g
,
Monounsaturated Fat:
3
g
,
Trans Fat:
1
g
,
Cholesterol:
33
mg
,
Sodium:
284
mg
,
Potassium:
54
mg
,
Fiber:
1
g
,
Sugar:
7
g
,
Vitamin A:
69
IU
,
Calcium:
64
mg
,
Iron:
1
mg