Jelly Belly Jelly Bean Cupcakes
Jelly Belly Jelly Bean Cupcakes – the ultimate jelly bean cupcake with Jelly Belly jelly beans!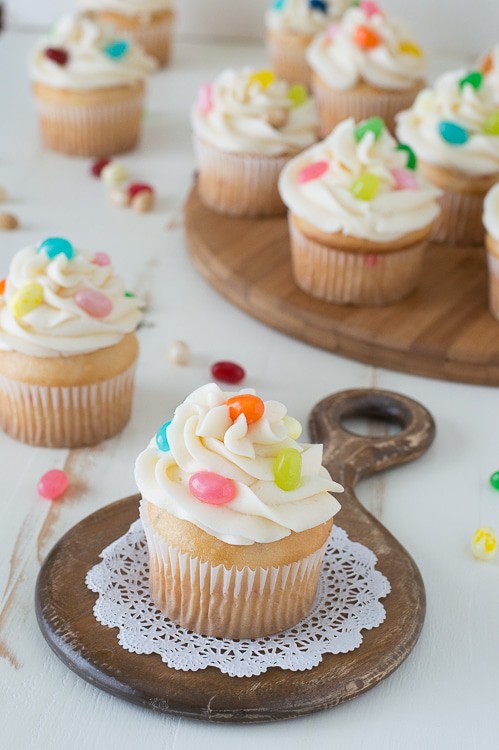 Raise your hand if you're an adult and still like to eat jelly beans :)
That's me. I like jelly beans, and pretty much any type of gummy candy. Like gummy worms, gummy bears, gummy lifesavers. If it's gummy, I think it's good.
Today we're specifically talking about jelly beans, and I want to let you know that a hierarchy exists in the jelly bean world.
Kids might not understand it quite yet, but I hope you know what I'm talking about.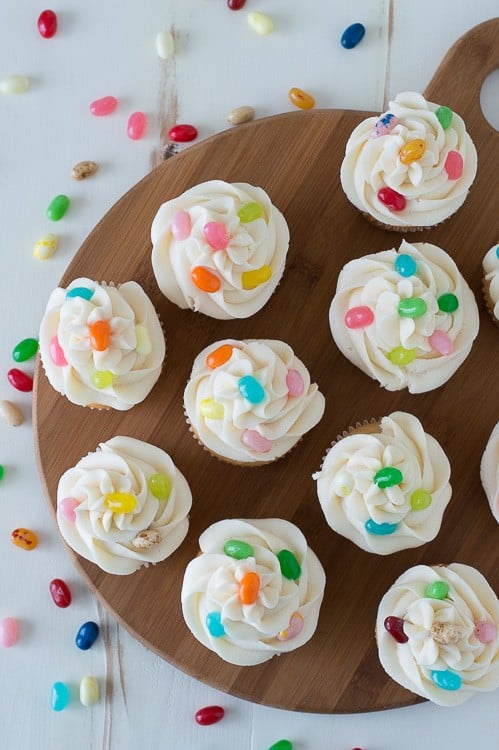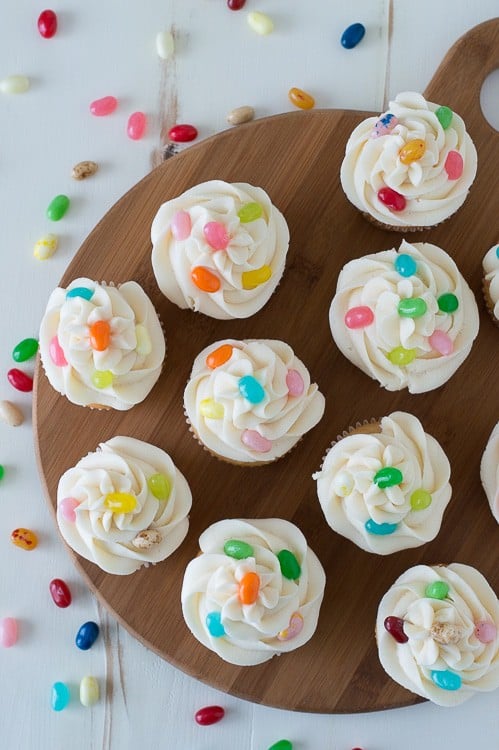 There are the 99 cent jelly beans, which are on the bottom of the pyramid. I like to call them 'the don't even waste your money on them' jelly beans because no one likes eating them.
Then we have a whole bunch of jelly bean brands mixed in the middle, like starburst, jolly rancher, nerds, life saver. It's kind of funny that all of those companies make other candy but wanted to capitalize on the jelly bean market. Jelly beans must be a lucrative business.
At the top of my jelly bean pyramid are jelly belly jelly beans.
I love how tiny they are, plus they have inventive flavors, like 7UP and tabasco sauce. Don't forget about the harry potter line of jelly beans or the chocolate covered ones. Maybe I should take a cue from Jelly Belly when it comes to creating recipes, I could foresee cream soda flavored cupcakes with tabasco sauce buttercream in the future :)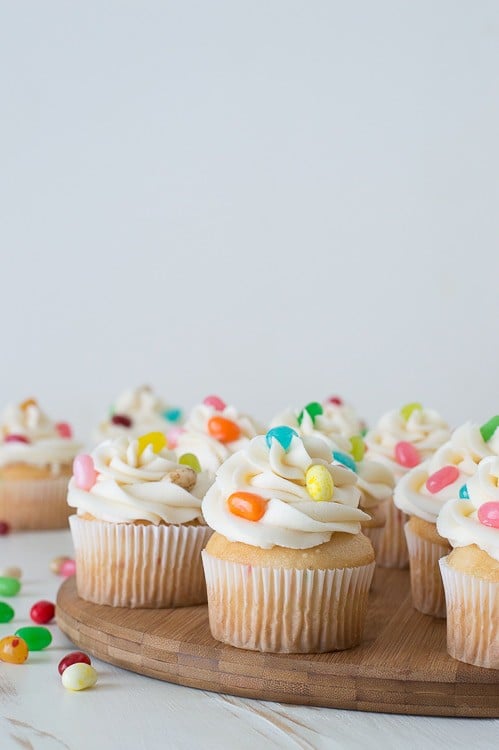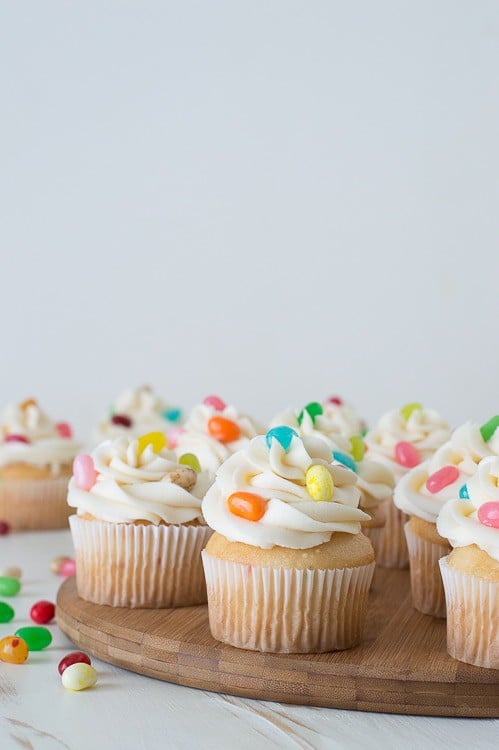 So if you find yourself with leftover jelly beans, or maybe you want to start on the Easter festivities early, make a batch of these fun cupcakes with jelly belly's in the batter and on top of the buttercream!
I just learned, after spending way too much time on the Jelly Belly website, that they sell their reject jelly beans, 'belly flops' as they like to call them for a fraction of the normal price! Hmmm.. something to consider :)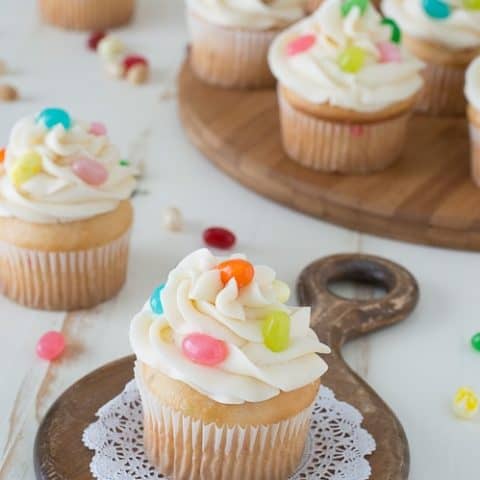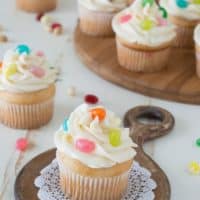 Jelly Belly Jelly Bean Cupcakes
Yield: 12 cupcakes
Additional Time: 45 minutes
Total Time: 45 minutes
Ingredients
Cupcakes
1 & 1/2 cups flour
1 tsp baking powder
1/2 tsp baking soda
1/4 tsp salt
3/4 cup sugar
2 eggs
1 stick butter, melted
1 & 1/2 tsp vanilla
1/2 cup sour cream
1 & 1/2 tbsp Jelly Belly jelly beans, crushed in blender or food processor (but not pulsed into jelly bean dust)
BUTTERCREAM
1 stick butter, room temperature
1/2 cup vegetable shortening
2-2.5 cups powdered sugar
1/2 tsp vanilla
dash of milk, if frosting becomes too thick
Jelly Belly jelly beans, to top
Instructions
CUPCAKES
Preheat the oven to 350 degrees F.
In a small bowl combine the flour, baking powder, baking soda, salt and sugar. Whisk and set aside.
In a mixing bowl combine the eggs, melted butter, vanilla, and sour cream until combined.
Slowly add half of the flour mixture to the liquid, stirring to combine. Repeat with the rest of the flour mixture.
Add in the crush jelly belly's and mix once more.
Divide the batter among a muffin pan lined with muffin liners, fill the muffin cups to be about a little more than 1/2 full.
Bake for 14-16 minutes or until a tooth pick inserted in the center comes out clean.
BUTTERCREAM
In a mixing bowl, combine the room temperature butter and shortening, beat using an electric mixer for 2 minutes, until light and fluffy.
Begin to add in the powdered sugar, about 1 cup at a time. Slowly beat the mixture until the powered sugar is incorporated. Continue this process, adding enough powdered sugar to make sure the frosting isn't too wet.
Add in the vanilla and beat until just combined.
Transfer a portion of the frosting to a large ziploc bag or piping bag. Push or squeeze the frosting down, getting rid of any air pockets. If using a ziploc bag, cut half one corner, making a hole between the size of a dime and a penny.
Begin to pipe the frosting onto a cupcake, starting with the outside edge and working your way into the center of the cupcake, progressively stacking the frosting as you go around in circles.
Garnish each cupcake with a few jelly belly jelly beans.