Out of the Kitchen February 2015
We're back with another Out of the Kitchen post – Here's what we've been up to for the month of February!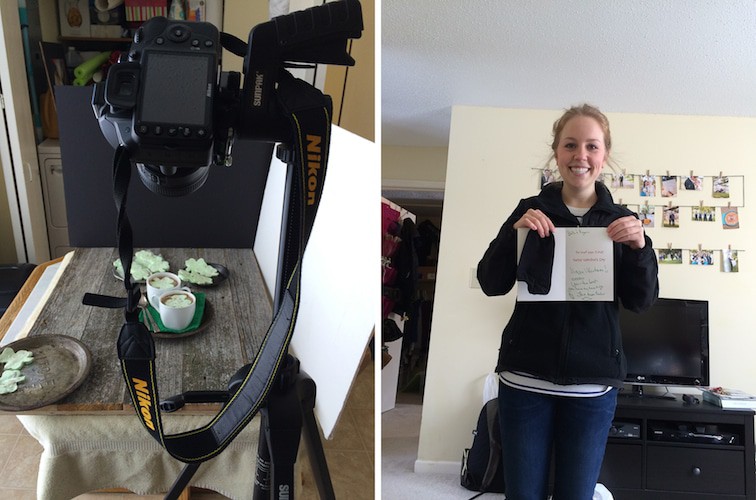 We have a little sneak peek for a recipe we'll be sharing on Monday – homemade shamrock marshmallows! They were so so good.. like I'm going to eat all of them and not share kind of good. Watch for that recipe coming tomorrow. And this second picture.. it cracks me up. My mom mailed me my missing sock. Just one. I must have left it in Minnesota over Christmas when we were visiting. I'm not quite sure where the other one is..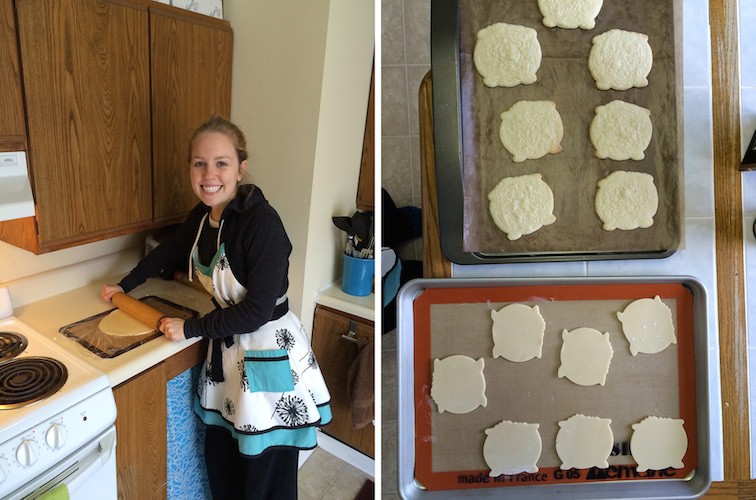 I'm rolling out sugar cookie dough for these Pot o' Gold Cookies! Unfortunately the first batch of sugar cookies didn't turn out. In the second picture you can see that the cookies looked perfect before I put them in the oven, but after they baked, they became wrinkly. They were edible and delicious but not great for putting royal icing on. I ended up making a lot of cookies that weekend before I got the perfect ones.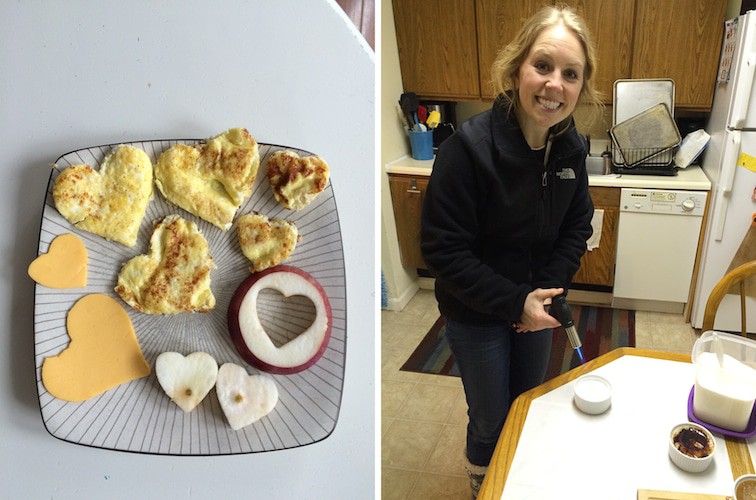 For Valentine's Day, I made my nanny kids a very 'heart-y' lunch. So cute, right? I learned that cutting scrambled eggs with a cookie cutter isn't the easiest thing, but it still worked! Second photo –  Ryan and I made espresso creme brûlée for Valentine's Day. It was amazing, we'll be sharing our recipe later this month! Plus, who doesn't like getting to use a kitchen blow torch?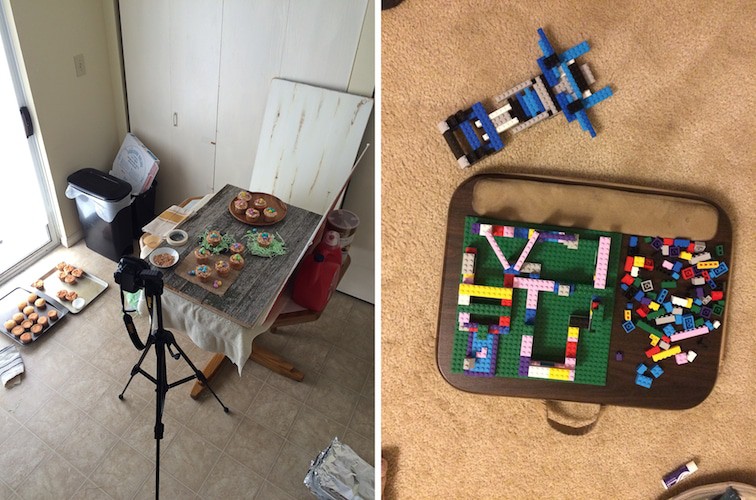 We're already beginning to make recipes for Easter! I learned that angel food cupcakes should not be filled to the top because they fluff up a lot when baking. But here is a sneak peek for a recipe we'll be sharing in a few weeks. Second photo – even grown ups like playing with legos :) Ryan built the cool blue spaceship and I built the house with a blue swimming pool.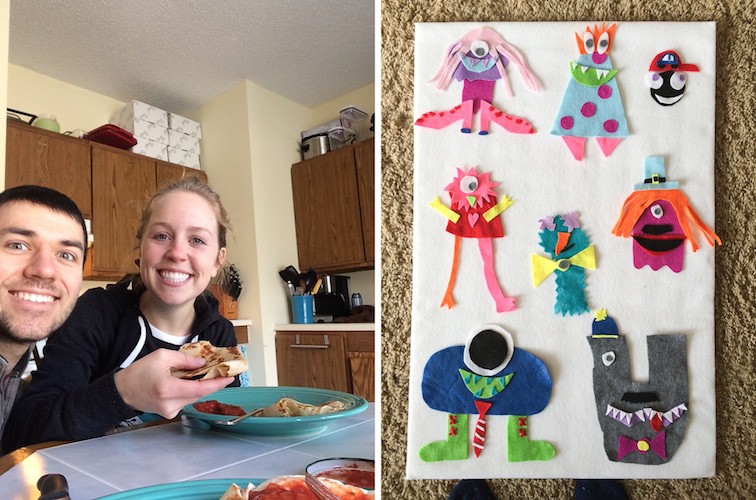 Oh gosh, this photo is great. When Ryan gets to be the photographer, things get interesting. He wanted to get our food in the picture, that's why you see a quesadillas in the bottom right hand corner on the photo. I love when his chemistry brain gets artsy :) Second photo – some felt monsters my nanny kids and I made! The possibilities are endless!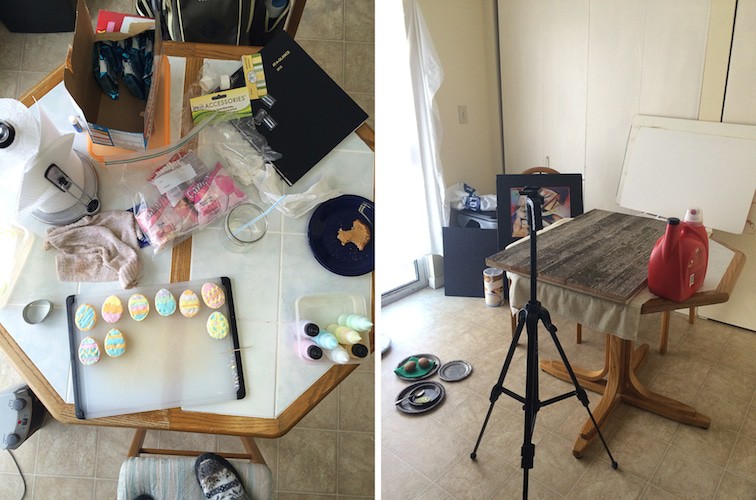 Another behind the scenes photo for Easter! This one involved a lot of royal icing and patience. Plus the plug-in heater to stay warm, peanut butter toast for breakfast, and Pandora set to 'Passion' station. Second photo – a behind the scenes photo from these layered melon kiwi jello cups. Somehow everything is on the floor…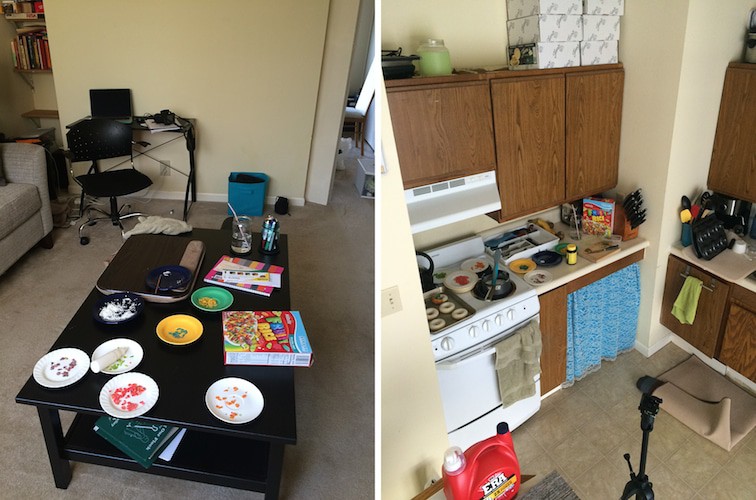 I hope you saw our recipe for these ridiculously cute Rainbow Donuts. Both of these photos are behind the scenes pictures from that recipe where I sorted fruity pebbles for far too long.. :)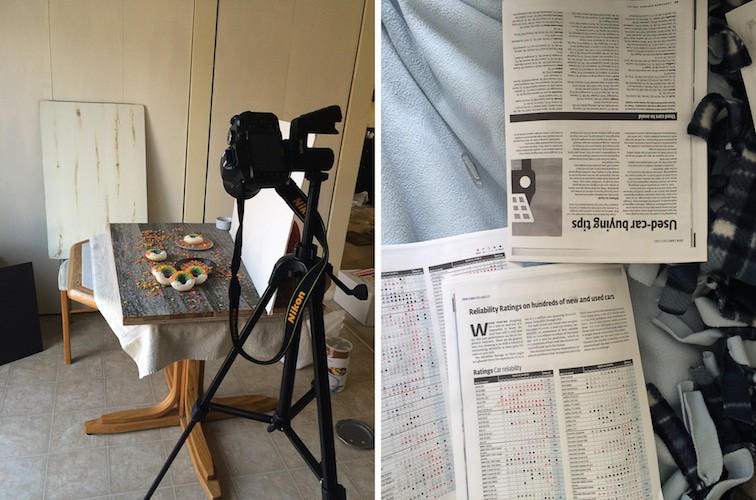 One more in action shot from the rainbow donuts! A vacuum comes in handy when trying to get a whole bunch of fruity pebbles off of your wood backdrops. Second photo – just some fun, leisurely reading (haha, I hope you sense my sarcasm). We were reading consumer reports articles about used cars. We're doing our research.. #idontknowwhichcartogowith
What was your favorite moment from February?