Rainbow Sugar Cookies
Use fruity pebbles and shredded coconut to decorate cut out sugar cookies to look like Rainbow Sugar Cookies!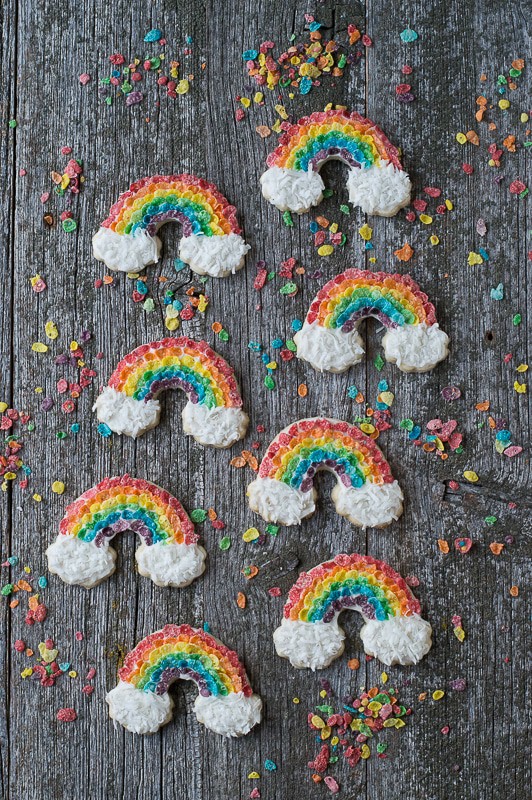 I did it again.
I sorted fruity pebbles by color.
The last time I sorted fruity pebbles by color I made these ridiculously cute rainbow donuts , now I came up with these crazy delicious Rainbow Sugar Cookies!
How to Make Rainbow Sugar Cookies
The first time around, my brain some how must have forgotten that fruity pebbles come in one large jumbled box of colorfulness, not neatly pre-sorted by color.
But this time, I knew what I was in for. I simply had to sort the fruity pebbles by color :) So I pulled out my muffin pan, the box of fruity pebbles, put on a tv show, and kindly asked my husband to help me sort. He agreed, and I love him very much for it :)
I found that it's easiest to sort the fruity pebbles by color using a muffin pan – that way you don't have to have 6 different plates or bowls out. It's also highly encouraged to periodically eat handfuls of fruity pebbles. This will help keep you sane while sorting!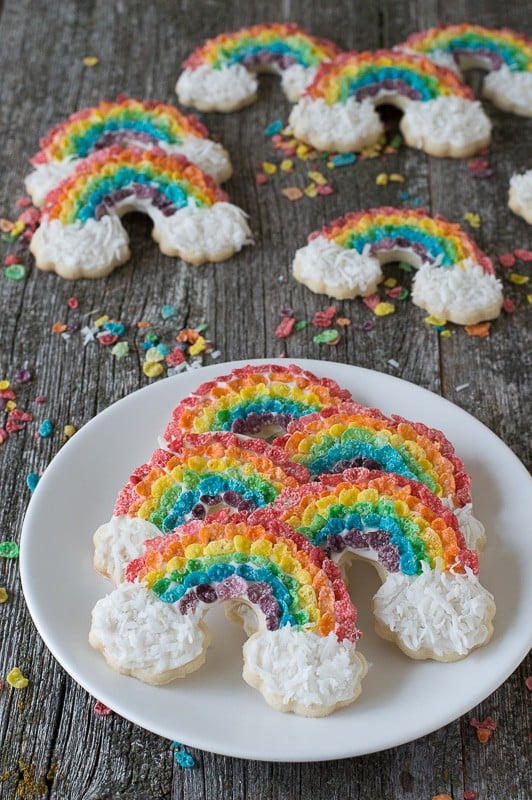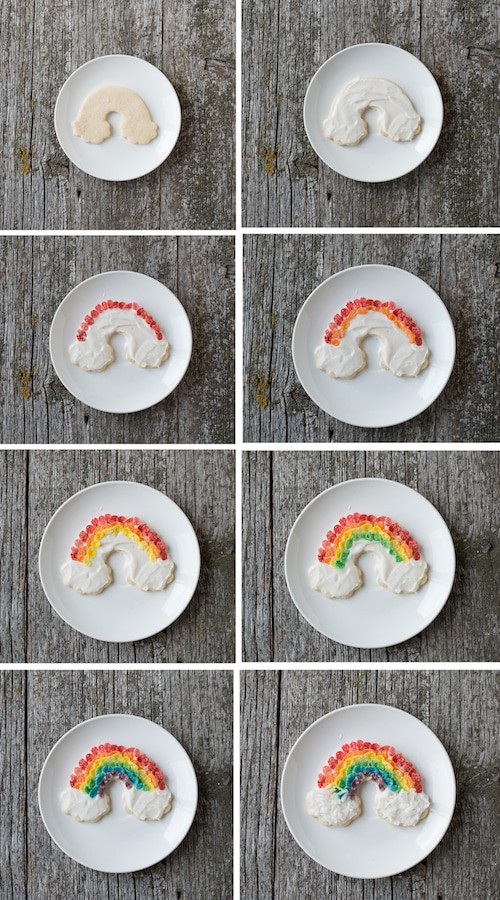 Rainbow Sugar Cookies
You will need a rainbow cookie cutter to make rainbow sugar cookies. This is the cookie cutter I used, I ordered it from CookieCutter.com. You could also use a rainbow cookie cutter that doesn't have any clouds on the end, like this one or something similar.
Assembling these yummy Rainbow Sugar Cookies is pretty simple. Once all of the cookies are cooled, spread some icing on them and begin to add the fruity peebles in rainbow order. Add the shredded coconut for the clouds last.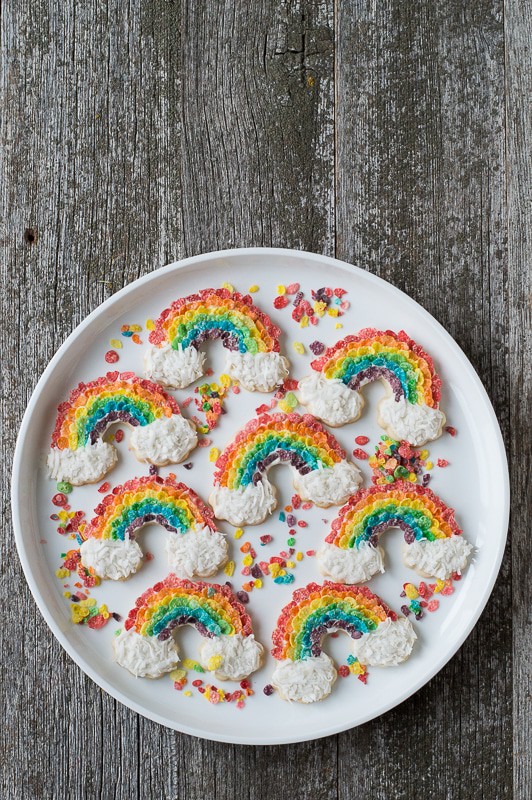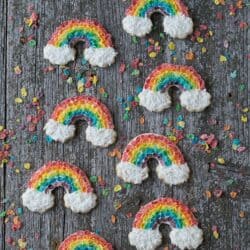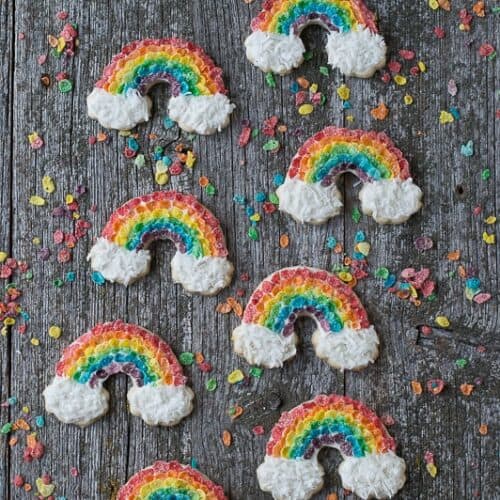 Rainbow Sugar Cookies
Use fruity pebbles and shredded coconut to make these delicious rainbow sugar cookies!
Ingredients
2 ½

cups

all purpose flour

1

tsp

baking powder

¼

tsp

salt

1

stick

1 stick unsalted butter

,

softened, 1/2 cup

1

cup

granulated sugar

1

large

egg

1

tsp

vanilla extract
Frosting
1 ½

cups

unsalted butter, softened

,

3 sticks

4

cups

powdered sugar

1

tsp

vanilla extract

1

tbsp

milk, or heavy cream works great too

Fruity Pebbles

,

sorted by color

Shredded coconut
Instructions
COOKIES
In a large bowl, combine the flour, baking powder and salt. Mix with a spoon or fork. Set aside. 

In a mixing bowl, combine the room temperature butter and sugar, beat with an electric mixer for 90 seconds. 

Add in the egg and vanilla extract and beat for 1 minute.

Add the flour in thirds, mixing just until the flour is incorporated. The dough will initially look crumbly almost sandy. But continue to mix until the mixture is thick and sticks together. Use your hands to gently knead the dough together at the very end of the mixing process – knead for only 20-30 seconds. 

Divide the dough into 2 flat discs, cover each with plastic wrap and place in the fridge for at least 1 hour to chill. The dough can be left in the fridge to chill for up to 2 days. 

After chilling, remove one disc and preheat the oven to 350ºF. 

On a very lightly floured surface (and I mean minimal) use a rolling pin to roll the dough to 1/4 inch thick. Frequently I will roll my dough on a silicone baking mat to eliminate the need to use flour. 

Use cookie cutters to cut out your desired shapes. Remove the dough scraps and use a spatula to transfer the shapes to a baking sheet lined with a silicone baking mat. Bake for 9-10 minutes. If your oven has a hot spot, rotate the cookie sheet half way through. 

The cookies will be pale in color – but will continue baking slightly once removed from the oven. Allow the cookies to cool on the baking sheet for at least 10 minutes. Then move to a cooling rack. Repeat the process with the remaining dough. If your dough is out of the fridge for too long, wrap it and chill it in the fridge for 15 minutes.

Allow the cookies to cool completely before frosting them. 
Frosting
Place the softened butter in a mixing bowl, beat using an electric mixer for 90 seconds. 

Gradually add the powdered sugar, I usually do 2 cups at a time, and add the vanilla and almond extracts, beat again. 

Taste the frosting to see if you want it sweeter. I liked the way mine turned out with 4 cups of powdered sugar. If the frosting is too thick add 1 tbsp of milk or heavy cream, beat until creamy.

Using a butter knife or spreader, spread the icing onto a rainbow cookie. Begin to add the Fruity Pebbles at the top of the cookie, beginning with red and going forward with orange, yellow, green, blue, and purple. Once all of the Fruity Pebbles are on the cookie, place shredded coconut where the clouds are. Repeat this process until all of the cookies are decorated. Store in an airtight container.
Calories:
475
kcal
,
Carbohydrates:
61
g
,
Protein:
3
g
,
Fat:
25
g
,
Saturated Fat:
16
g
,
Polyunsaturated Fat:
1
g
,
Monounsaturated Fat:
7
g
,
Trans Fat:
1
g
,
Cholesterol:
78
mg
,
Sodium:
77
mg
,
Potassium:
37
mg
,
Fiber:
1
g
,
Sugar:
45
g
,
Vitamin A:
775
IU
,
Calcium:
30
mg
,
Iron:
1
mg