Want our top 10 essential dessert recipes?
Get our favorite classic recipes in your inbox! It's 100% free, but we might make you hungry!
Out of the Pan Triple Berry Pie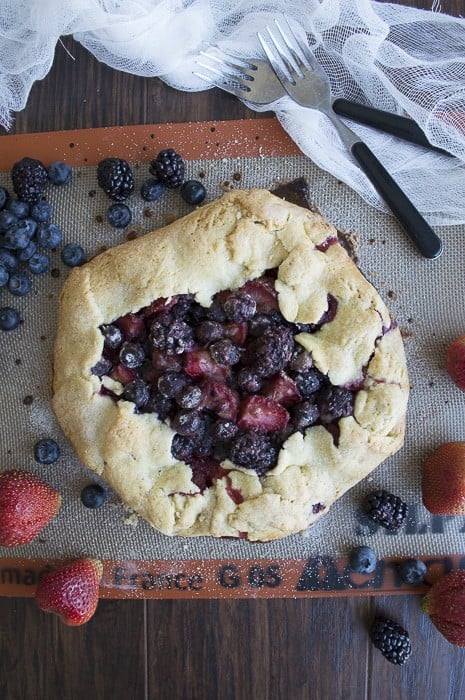 I can't stop raving about this out of the pan triple berry pie.
I kept telling Ryan "I don't even like berry pie but this is the BEST pie I've ever had!"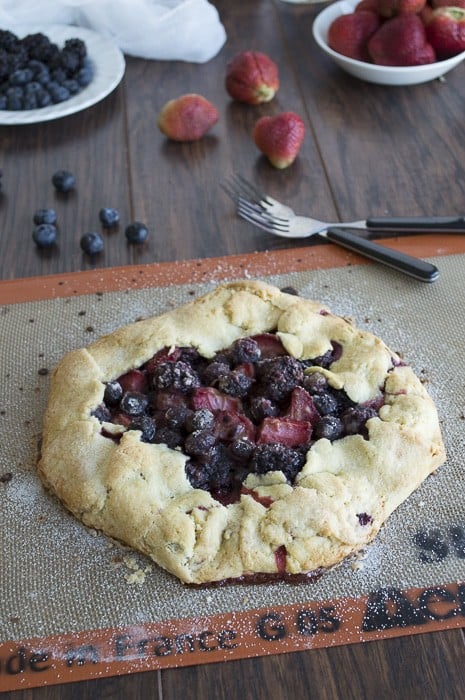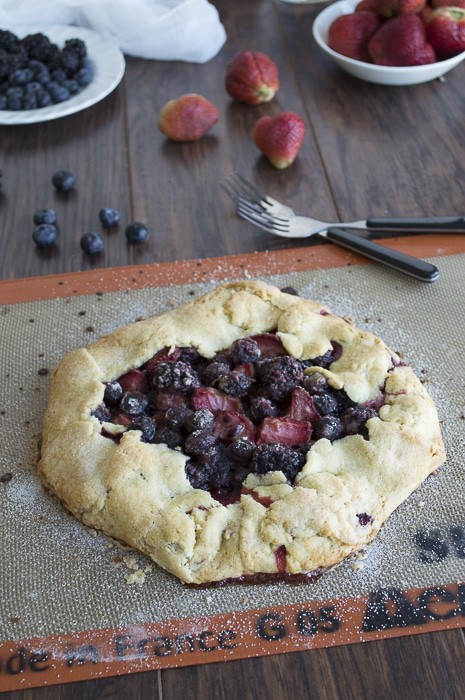 It's true, I usually would pick chocolate pie over berry pie.
But I am a changed woman.
I even raved about this pie to my family when we were home in Minnesota last week. I ended up making it for them.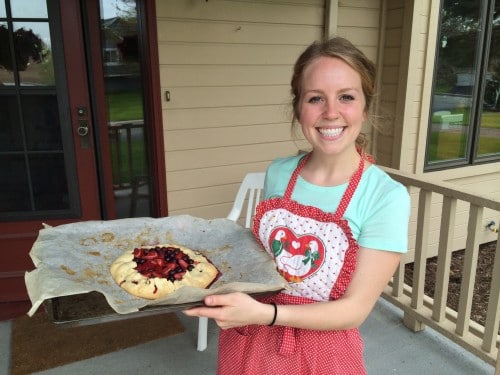 Now we all share a love for this pie.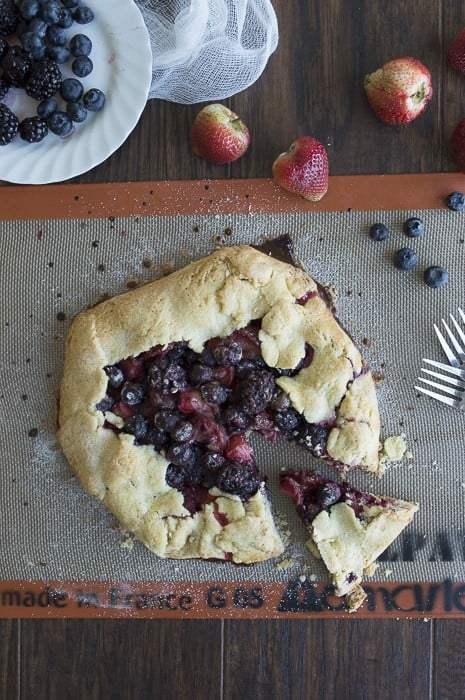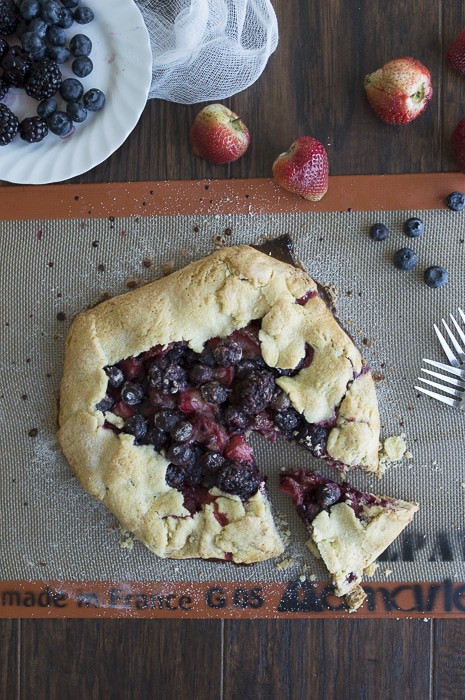 For the 12 hours this pie lasted (I should mention that the majority of those were sleeping hours) I enjoyed this pie both hot and cold.
You know that it's good if I didn't even bother to warm it up. And I didn't even pull the ice cream out of the freezer. It's the best thing I've ever made.. I hope you are getting the hints :-)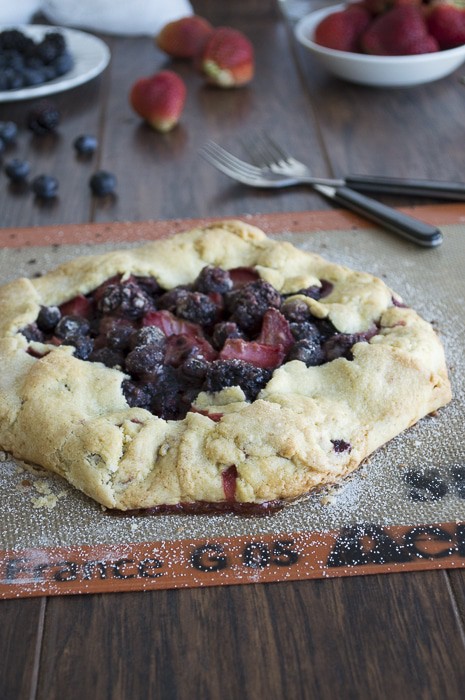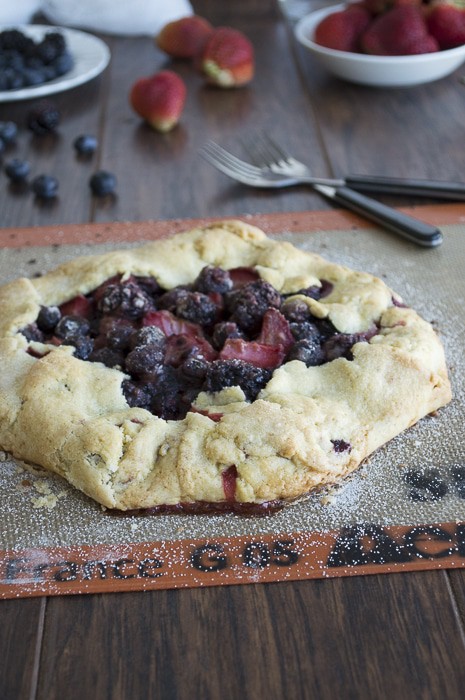 Out of the Pan Triple Berry Pie
Ingredients
Crust

1 cup flour
1/4 cup powdered sugar
1 tsp baking powder
1/4 tsp salt
6 tbsp butter, cut into small cubes
1 egg yolk
1 tbsp cold milk

Filling

2 cups fresh strawberries, blueberries and blackberries, washed and dried
1/8 cup sugar
1/8 cup flour
1 tsp cinnamon
Egg wash: 1 egg beaten with 1 tbsp water
1 tbsp sugar for sprinkling on top
Instructions
Crust

Mix the flour, powdered sugar, baking powder, and salt. Using your fingers cut in the butter until the mixture is crumbly. Add the egg yolk and milk and mixed until the dough is just combined. Gather the dough into a ball and cover or wrap with plastic wrap and refrigerate for 30 minutes.
Preheat the oven to 350 degrees F. In a medium bowl, toss the fruit with the sugar, cinnamon and flour.
Roll out the dough onto a piece of parchment paper or a silpat, you may need some flour to keep it from sticking, creating a 10 inch circle.
Place the fruit in the middle of the dough, leaving a 1 & 1/2 inch to 2 inch margin all around. Fold the edges of the dough in toward the center, pleating as necessary, do this all the way around so that the fruit is visible in the middle.
Brush the edges of the crust with the egg wash and sprinkle with the 1 tbsp sugar. Bake for 20 minutes or until the crust is golden brown and the juices are bubbling.
Cut and serve.
Recipe adapted from Desserts from the Famous Loveless Cafe
https://thefirstyearblog.com/out-of-the-pan-triple-berry-pie/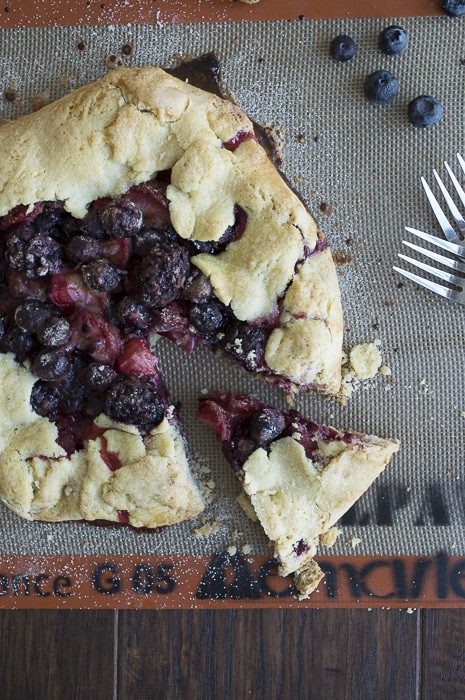 I've decided that this is going to be my new birthday cake. I am in LOVE!