Want our top 10 essential dessert recipes?
Get our favorite classic recipes in your inbox! It's 100% free, but we might make you hungry!
Mini Snicker's Cheesecakes
7 ingredient mini snicker's cheesecake recipe made in a muffin pan!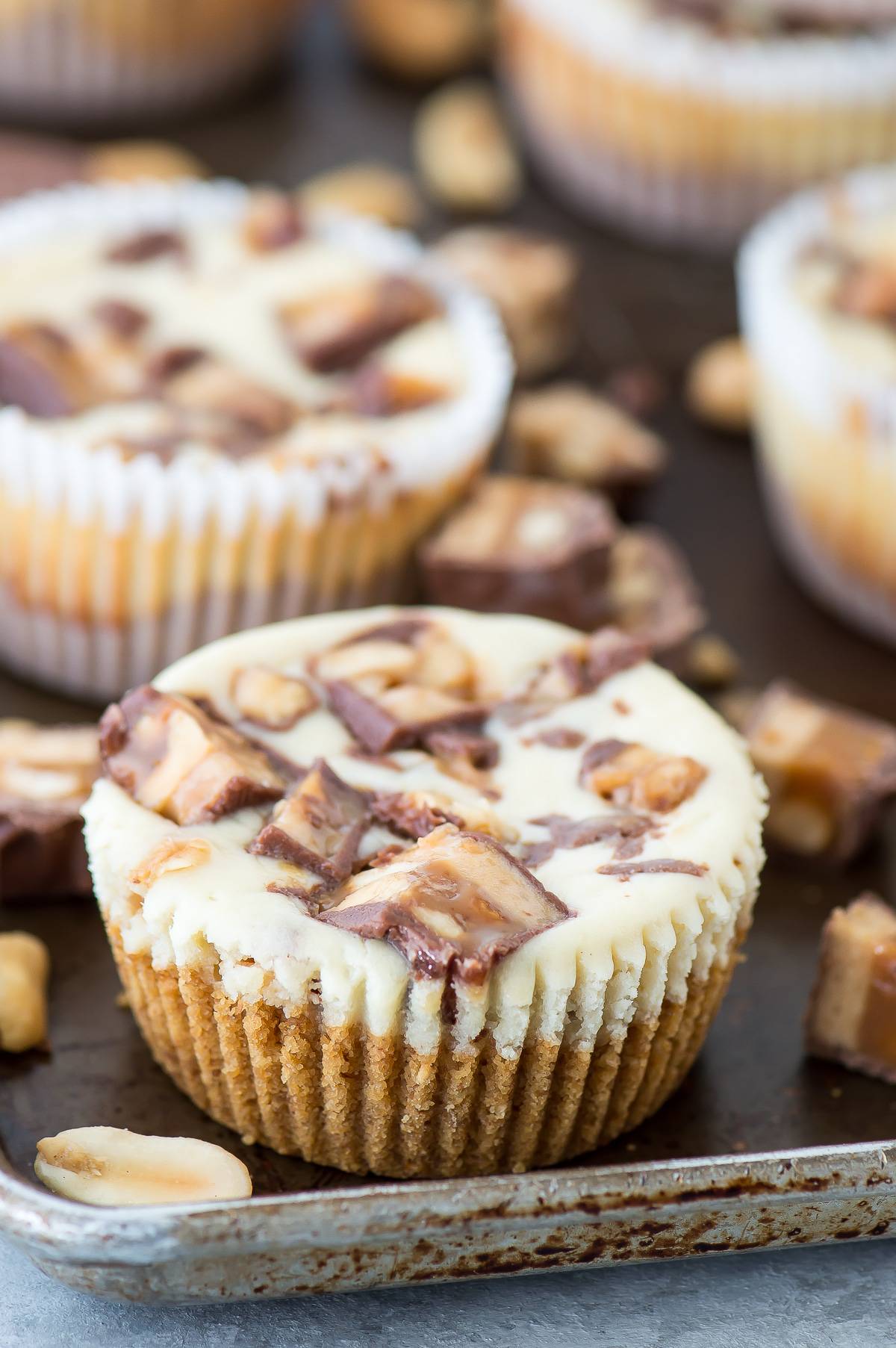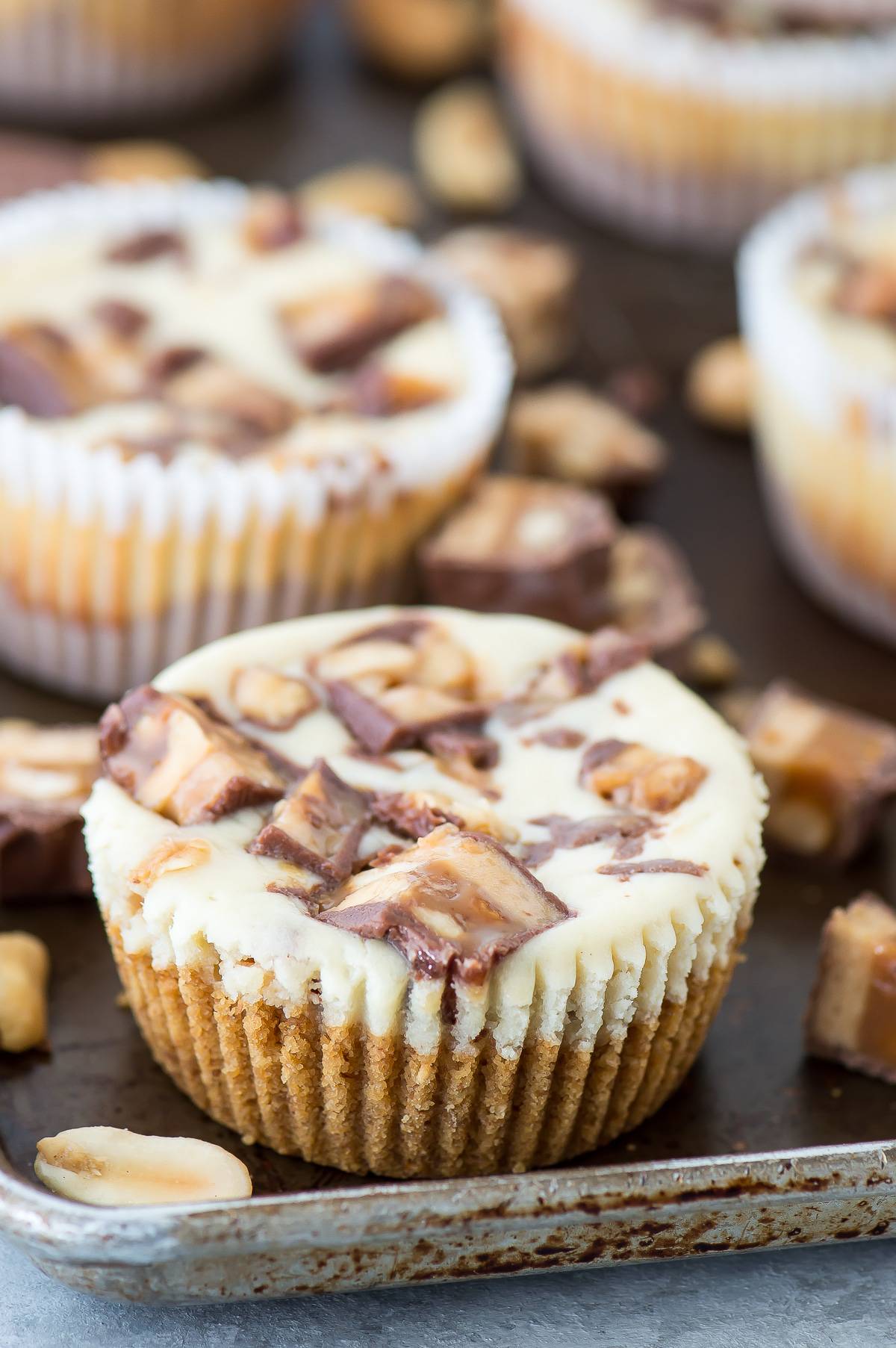 Mini cheesecakes are like cupcakes. Everything you love about the full sized dessert made teeny tiny.
But I do think there is one advantage to mini cheesecakes – there's more crust per bite! And if you're a crust lover you understand how great that is!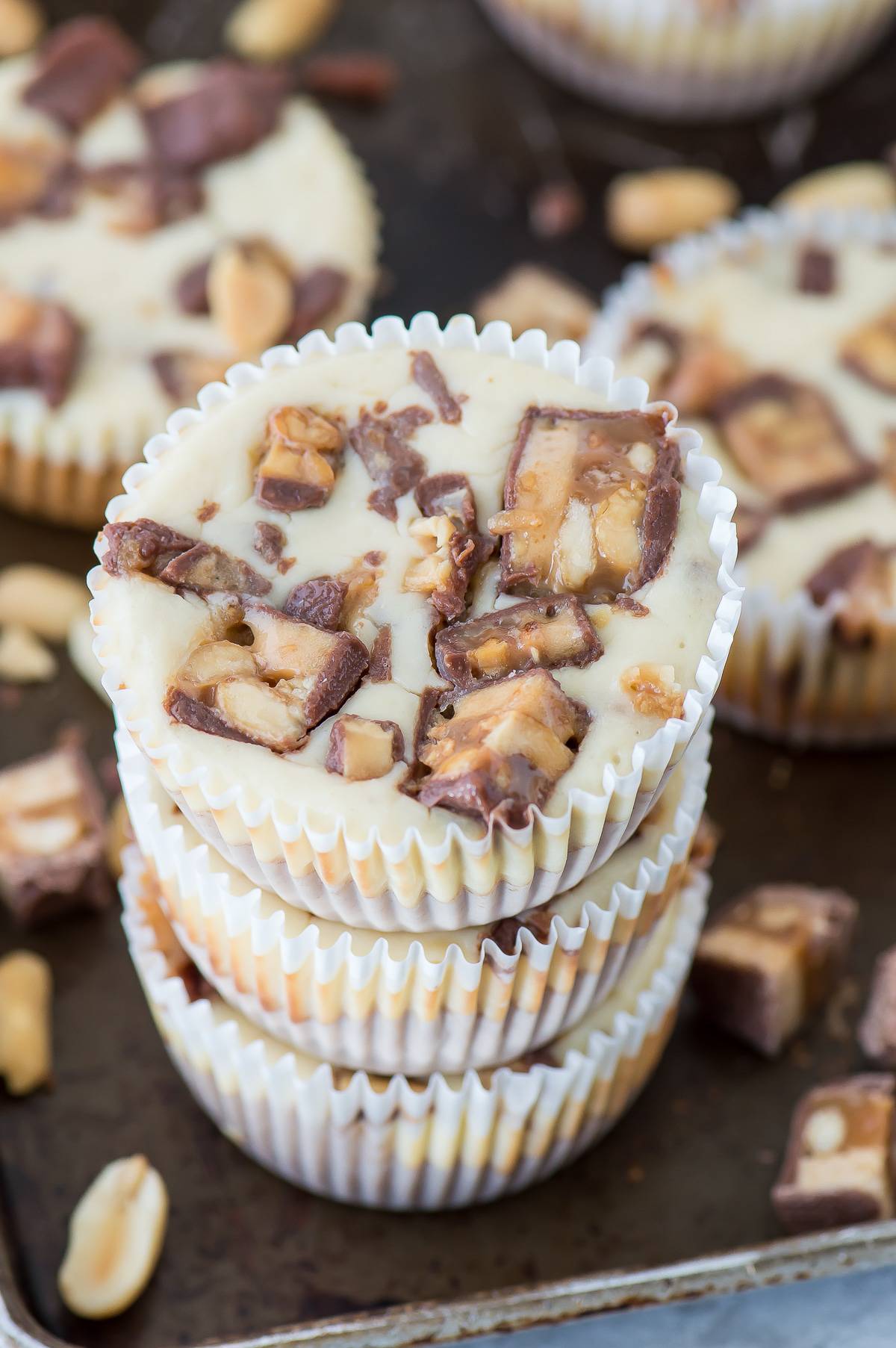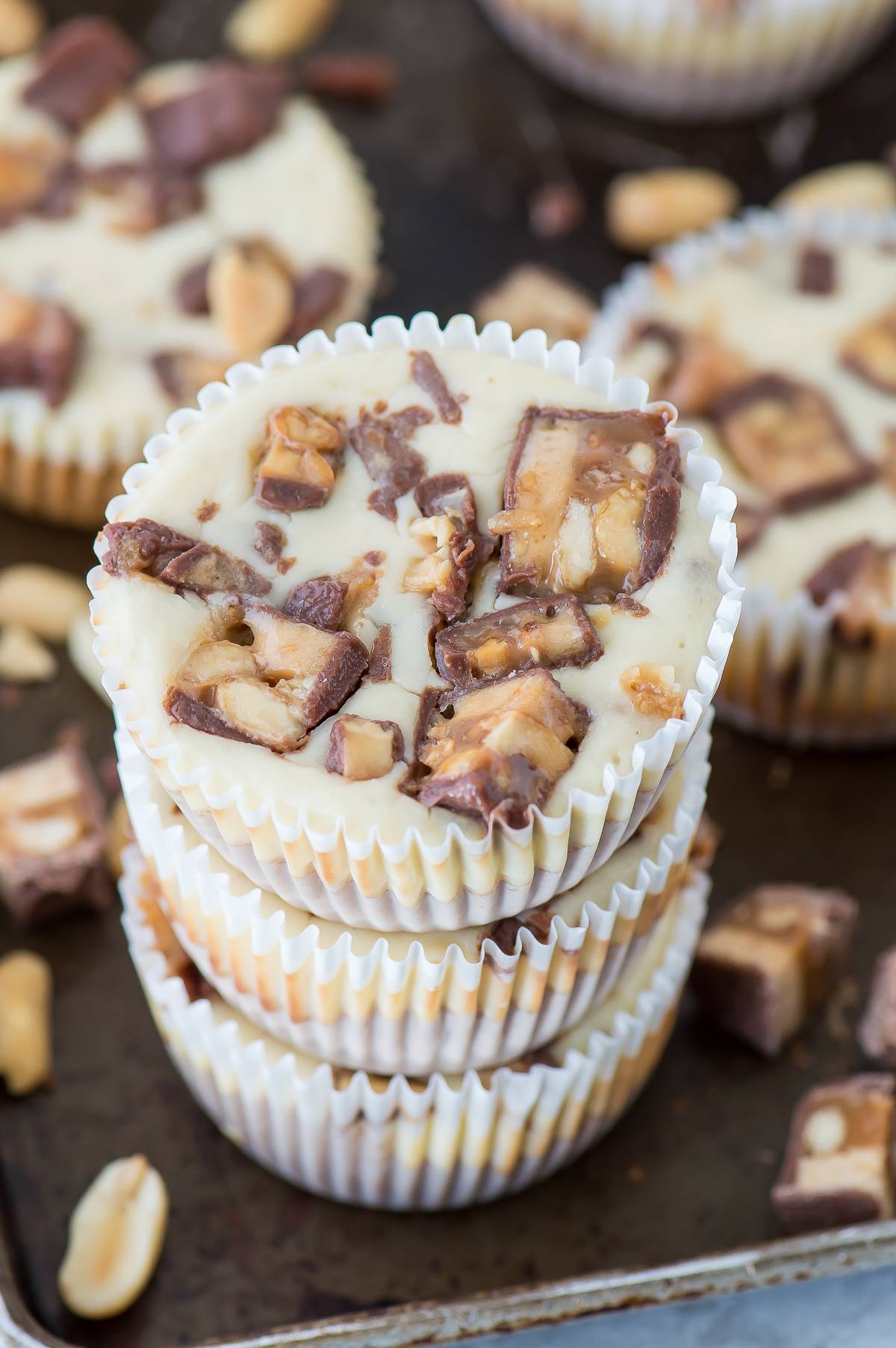 A few years ago I bought a mini cheesecake pan. Being a food blogger, I figured I needed one.. but I think I've used it 2 times.
While a mini cheesecake pan makes perfect mini cheesecakes, it doesn't seem realistic to post a recipe for mini cheesecakes that uses a mini cheesecake pan when only 20 out of the thousands of our readers own one.
Everyone's got a muffin pan so this method is much more applicable!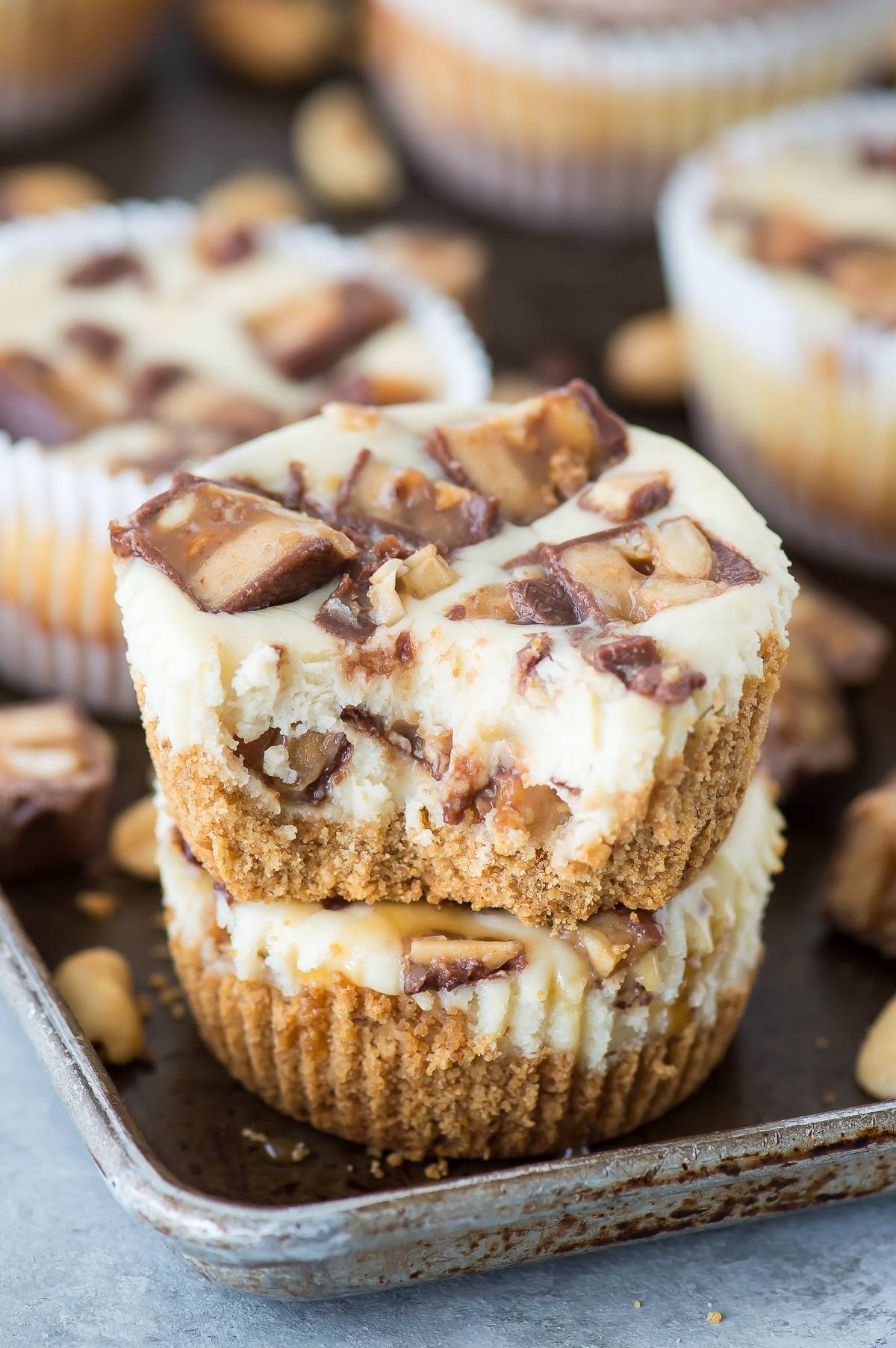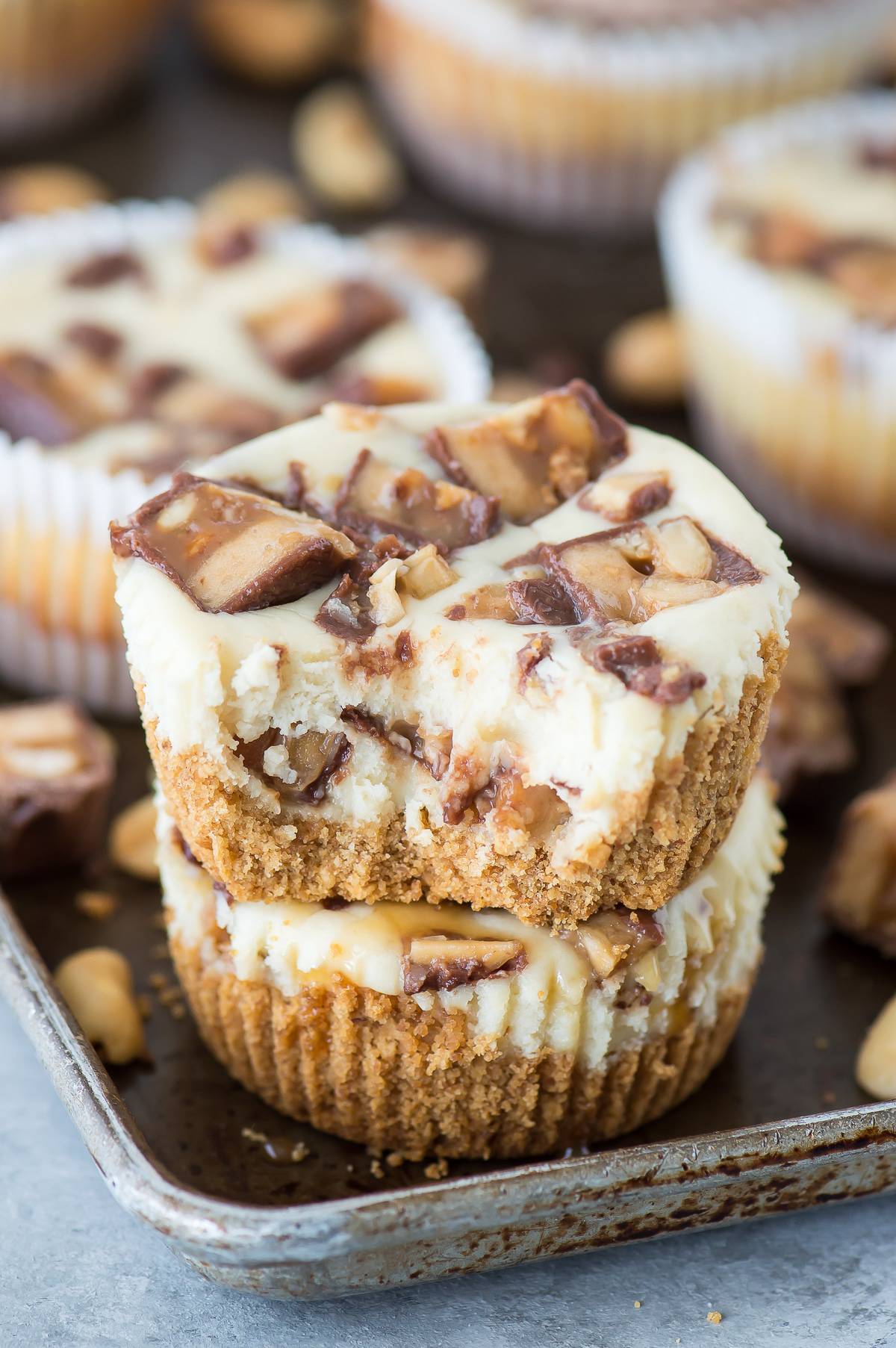 You'll need a regular size muffin pan and muffin liners. I use regular white paper muffin liners.
Once you press the graham cracker crumbs into the muffin liners, you'll pre-bake the crust for 5 minutes. Make sure you allow the muffin pan to cool before adding the cheesecake mixture. If you need to speed up that process, you can stick the muffin pan in the fridge.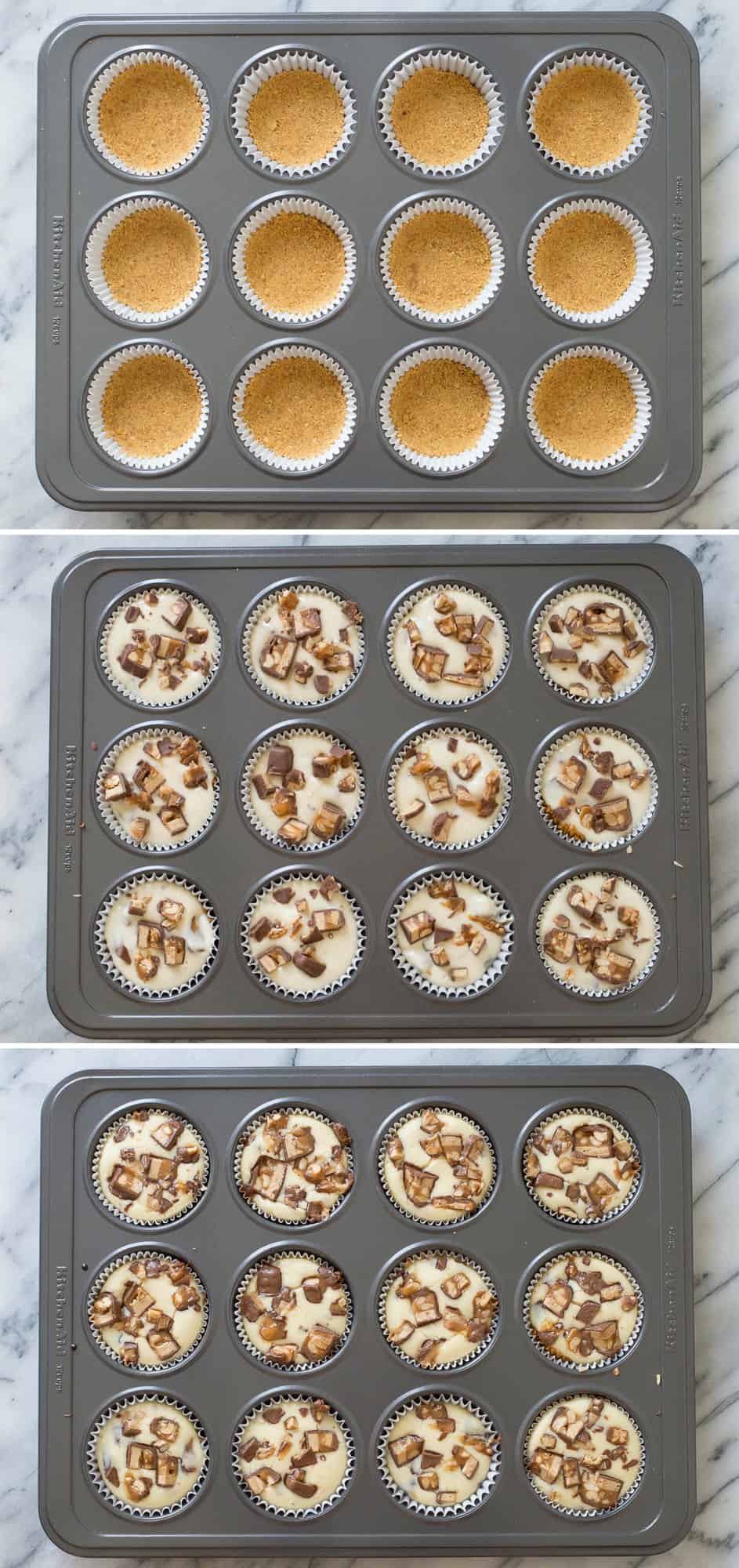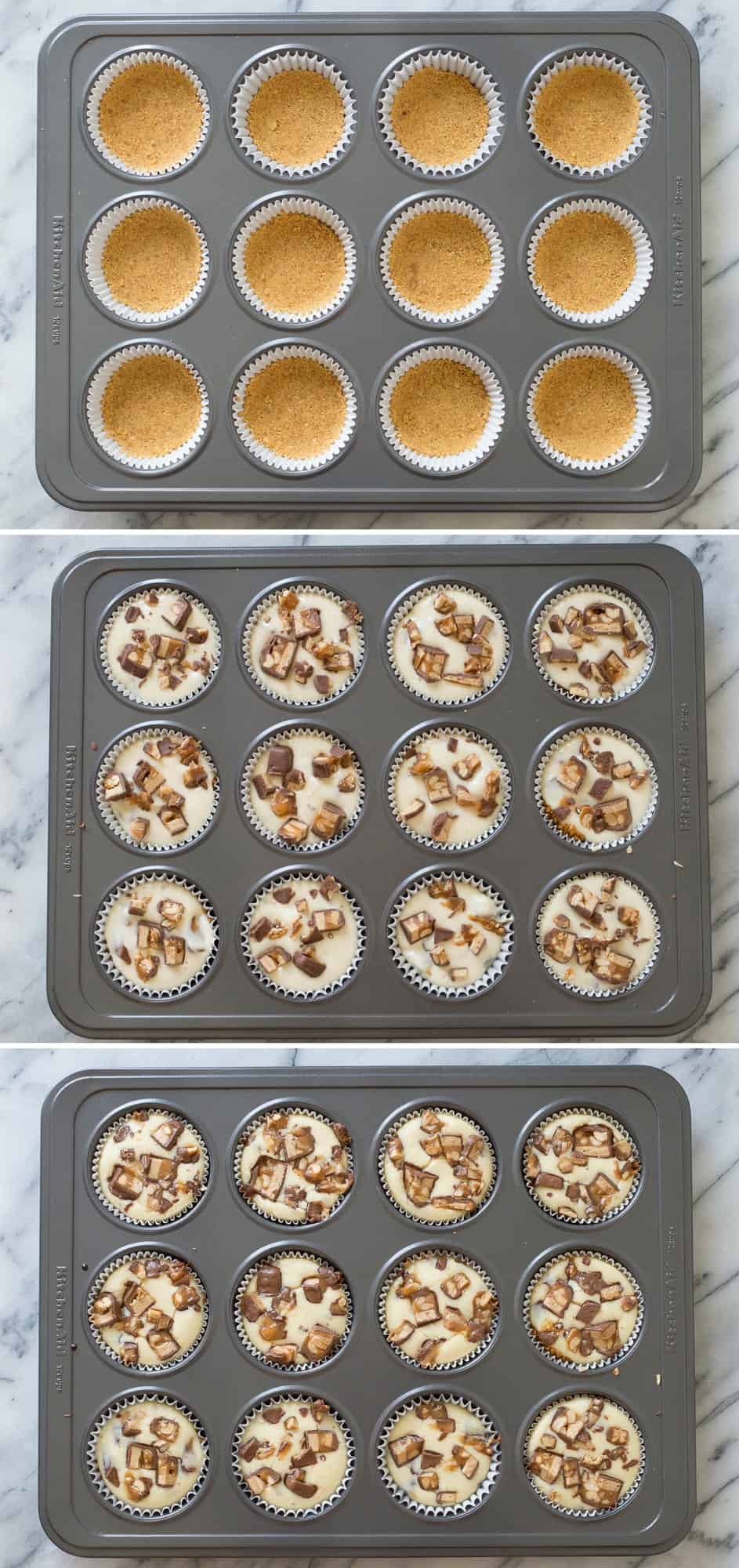 Then add the cheesecake mixture and chopped snickers. My taste testers said more snicker's the better. Bake them for 15-17 minutes (love the quick baking time compared to a larger cheesecake!) then allow them to cool and chill them before serving.
Mini cheesecakes aren't something you can eat once they are done baking. The key to delicious cheesecake is serving it chilled.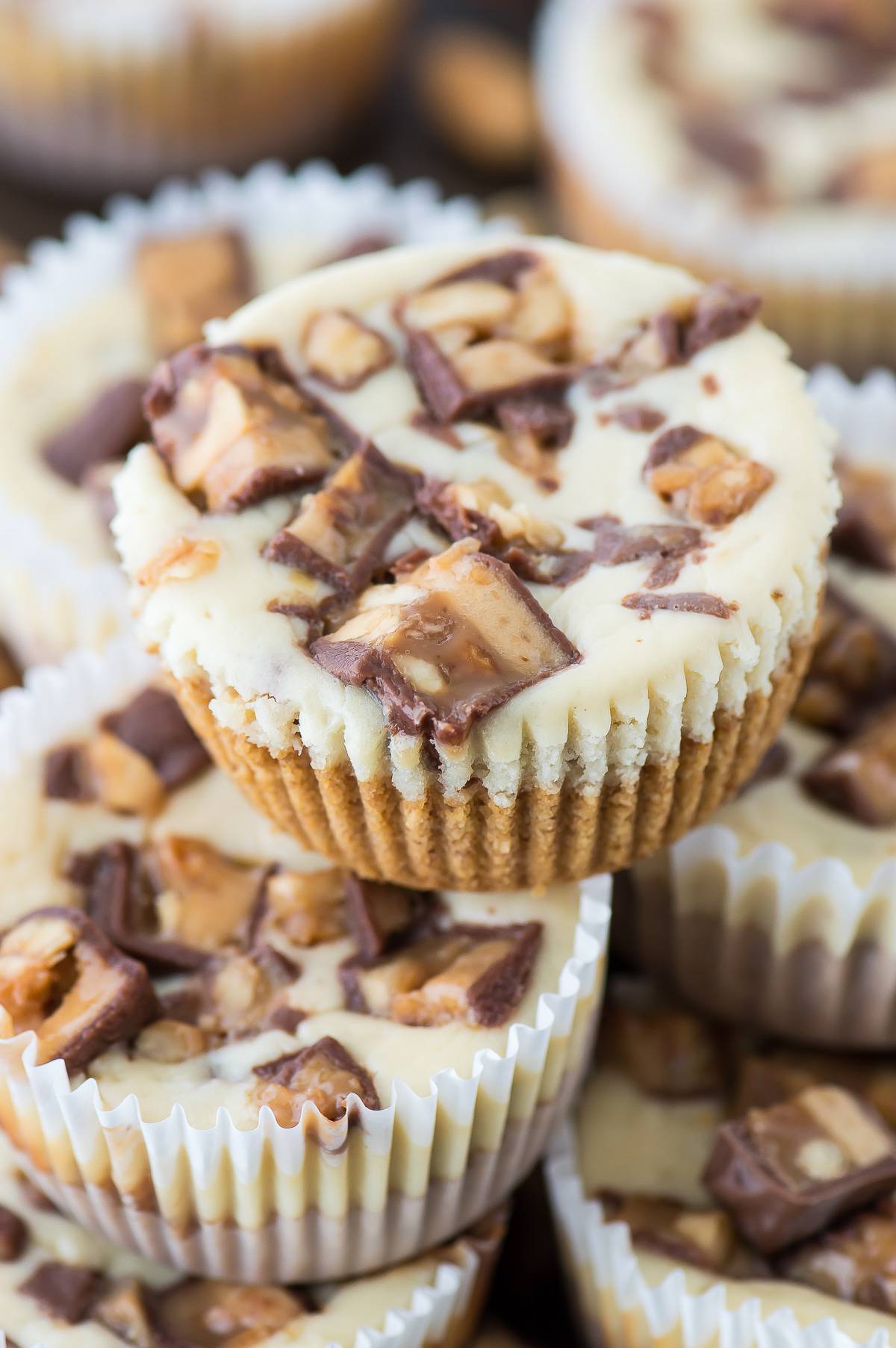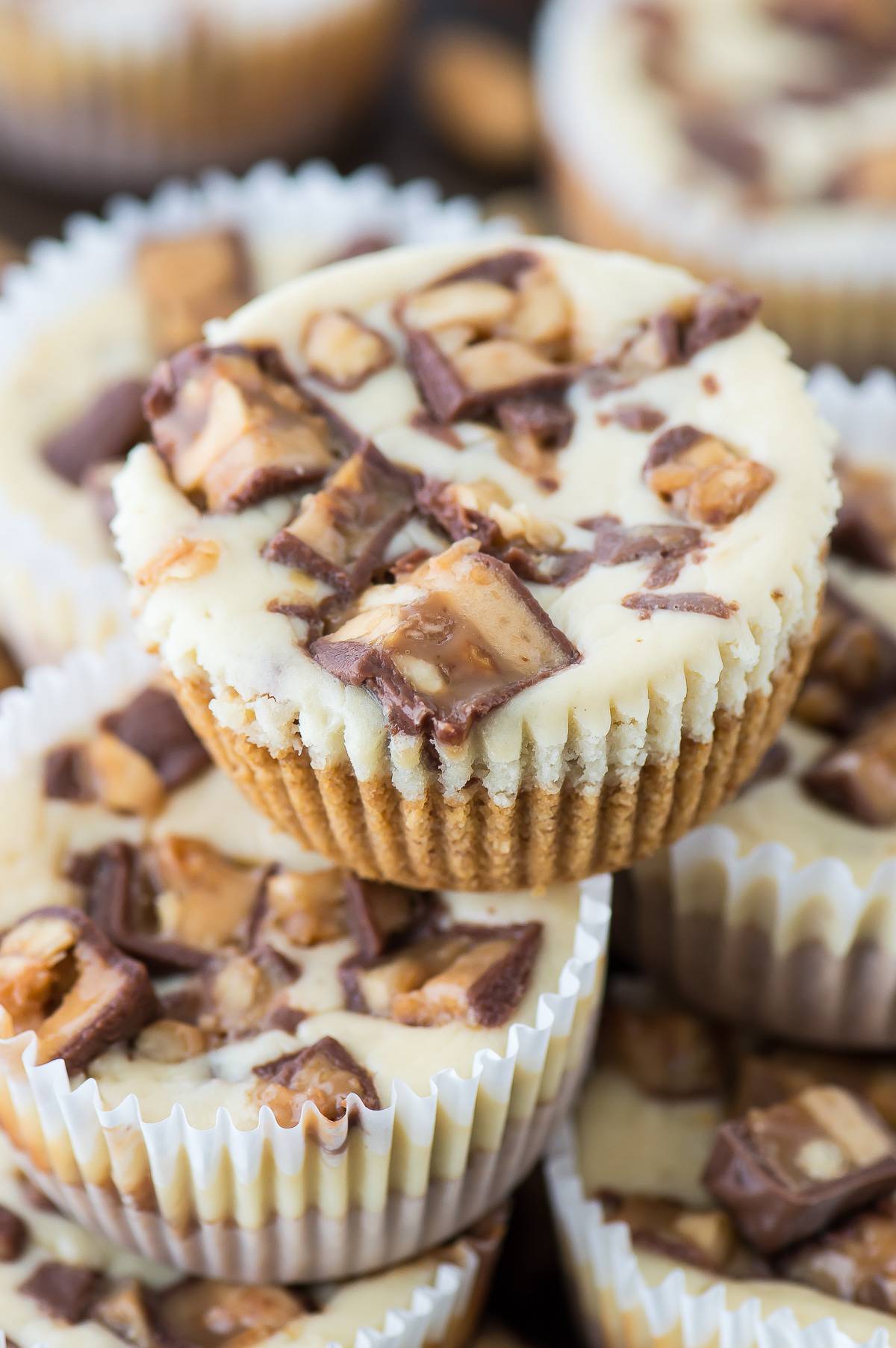 To be a little extra fancy, you could serve the cheesecakes with caramel and chocolate sauce drizzled over the tops.
Snicker's are one of my favorite candy bars so combined with cheesecake, these are irresistible!
Mini Snicker's Cheesecakes
Yield: 12 mini cheesecakes
Total Time:3 hours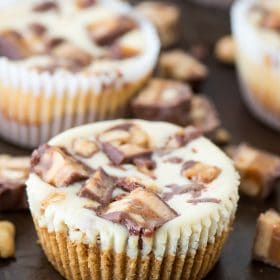 Ingredients:
Crust
1 & 1/2 cups graham cracker crumbs
4 tbsp melted butter
Cheesecake
two 8 oz packages cream cheese, softened
1/3 cup sugar
1 tsp vanilla extract
2 eggs, added one at a time
1/2 cup chopped snicker's plus more to top the cheesecakes (feel free to add more chopped snickers as you see fit)
Directions:
Crust
Preheat the oven to 350º F.
Line a regular sized muffin pan with 12 muffin liners.
In a mixing bowl, combine the graham cracker crumbs and melted butter until it resembles coarse sand.
Put 1 tbsp plus 1 tsp of graham cracker crumbs in each muffin cup.
Use a 1/3 cup (or similar) to press the crumbs down firmly into the pan.
Bake the crust for 5 minutes. Remove the pan from the oven and allow it to cool while prepping the cheesecake.
Cheesecake
In a mixing bowl, beat the cream cheese with an electric mixer until smooth, 2-3 minutes.
Beat in the sugar and vanilla extract until smooth.
Beat in the eggs, one at a time.
Then add the chopped snicker's pieces, mix with a spatula.
Place a little more than 2 tbsp of cheesecake batter in each muffin cup.
Top the cheesecakes with additional chopped snicker's if desired.
Bake for 15-17 minutes or until the center of the cheesecake is only slightly jiggly.
Allow the cheesecakes to cool to room temperature then place them in the fridge for at least 2 hours to chill before serving. If refrigerating overnight, loosely cover the cheesecakes in plastic wrap.
Products used to make this recipe
(may include affiliate links)